Supporting the INFORM Act
Retailers, brands and NACDS join Buy Safe America Coalition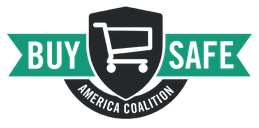 Several leading personal care and beauty brands are joining the ranks of the Buy Safe America Coalition, a group focused on combating organized retail crime and protecting consumers from counterfeit and stolen goods.

Walgreens, CVS Health, Ulta Beauty and Philips, along with the National Association of Chain Drug Stores have signed on to take part in the coalition, joining such members as the Consumer Healthcare Products Association and the Personal Care Products Council.

The coalition is responding to an uptick in counterfeit beauty and personal care products being sold, particularly in online marketplaces, though sales of stolen, fake and fraudulent beauty and personal care products has long been something sold online. Brand protection experts have estimated a 56% increase in counterfeit beauty and personal care products this year.

The coalition is urging Congress to pass the INFORM Consumers Act to modernize consumer protection laws by requiring online marketplaces to collect and verify basic seller information, and require sellers to provide the same information to consumers. drugstorenews.com

Published 9-17-20: Toymakers, retailers & The Toy Association the Buy Safe America Coalition

Published 8-14-20: RILA: Leading Retailers Launch Coalition to Protect Consumers Online

Published 8-31-20: ICSC, RILA and other industry groups seek online seller transparency

Click here to see the D&D Daily's INFORM Consumers Act toolkit and how you can help get it on Donald Trump's desk.
---

Protests, Looting & Violence

D&D Daily Crime Analysis:
Violence Remains Consistently High in Big U.S. Cities Throughout September,
Though Still Down from Historic July Fourth Weekend
155 shootings, 34 killed in 20 Major U.S. Cities from Sep. 25-27


*Sept. 4-7 Labor Day weekend data included 4 days
This past weekend, the D&D Daily continued to analyze violent crime in 20 major cities across the country, including those under the umbrella of 'Operation Legend.'



According to publicly reported data and media reports, these cities saw a combined total of 155 shootings and 34 killings from Friday through Sunday, with an average of 51.7 shootings per day and 11.3 killings per day.

The daily average was remarkably stable compared to last weekend, which saw an average of 49.3 shootings per day and 12.7 killings per day. It was also similar to the long Labor Day weekend earlier this month, which averaged 46.3 shootings per day and 11.3 killings per day.

July Fourth weekend remains a high point for violence this summer, with 233 shootings and 70 killings in 30 cities (big and small throughout the U.S.) over just two days during that holiday weekend, averaging 116.5 shootings per day and 35 killings per day.

Click here to view the complete breakdown of this past weekend's violence in 20 American cities and continue to follow along as the Daily monitors violence across the United States.

See our previously published four-week report covering this year's violent month of July.

Louisville, KY: More than 25 businesses damaged in looting since Wednesday

Police chief blames theft on opportunists, not protestors

Louisville Metro Police reported more than 25 business had been damaged in relation to looting since Wednesday's Breonna Taylor case decision. LMPD interim chief Robert Schroeder commented during a presser Saturday evening saying it's unclear if damaged property reported as looting is connected to protest activity.

"What I think is more likely is you have folks in the community who know our resources are tied up dealing with protests and taking advantage of the situation," Schroeder said. wave3.com wdrb.com


Smash & Grab Aftermath: Pictures show where an SUV drove into a Louisville GameStop before being looted.
Louisville police arrest at least 25 people during fourth night of protests over Breonna Taylor case
Louisville police arrested 25 people Saturday night as protesters demanding justice for Breonna Taylor took to the streets again. The 25 arrested face charges ranging from curfew violations, rioting in the first degree, theft by unlawful taking, possession of a controlled substance and trafficking marijuana, police spokesman Dwight Mitchell said. At least three of those arrested or cited were from out of town, Mitchell said.

Saturday marked the fourth night of demonstrations in Louisville since the attorney general announced no officers are being charged directly in the killing of Breonna Taylor. Louisville Mayor Greg Fischer said the protests have been largely peaceful. cnn.com
Hundreds of protesters stage 'sit in' at Brooklyn Bridge Friday Night
Some 500 Black Lives Matter protesters marched onto the roadway of the Brooklyn Bridge Friday night - where they sat down and blocked traffic for about an hour before moving on. The group wound up retreating back to Brooklyn about an hour later after a large number of cops massed on the Manhattan side of the bridge and began moving toward them. nypost.com
California woman arrested, charged for allegedly ramming protesters with car

NYPD officers charge at group of protesters and diners, arresting 12 on sidewalk

Portland: Police arrest 30 over weekend as governor calls for review

Seattle: 10 people arrested during protest after some set fires or hurled rocks at officers, police say

Black Lives Matter protesters gather outside Louisiana governor's mansion: 'Enough is enough'

---

COVID Update
US: Over 7.3M Cases - 209K Dead - 4.5M Recovered
Worldwide: Over 33.3M Cases - 1M Dead - 24.6M Recovered

Private Industry Security Guard Deaths: 189 Law Enforcement Officer Deaths: 114
*Red indicates change in total deaths

New Cases Rising Across U.S.
New York State Tops 1,000 New Coronavirus Cases in a Day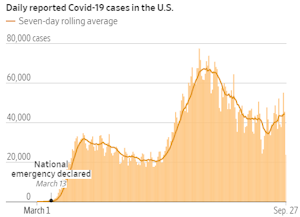 New York state reported 1,005 new coronavirus cases on Saturday, Gov. Andrew Cuomo said, marking the first time the state's daily caseload has risen above 1,000 since early June.

Across the U.S., the number of newly reported coronavirus cases continues to rise. The U.S. reported 55,054 new cases Friday, up from about 44,000 on Thursday.

The seven-day average of new Covid-19 cases has been trending up in some states since the beginning of September.

Nationwide, some officials continued to loosen restrictions. In Florida, Gov. Ron DeSantis, a Republican, said Friday that restaurants could reopen at full capacity, effective immediately. "We are saying in the state of Florida everybody has an opportunity and the right to work," Mr. DeSantis said. wsj.com

U.S. Trending In Wrong Direction As Coronavirus Cases Rise In First Week Of Fall
The United States posted its highest-average number of cases over a seven-day span since August on Saturday, according to data from the Centers for Disease Control and Prevention, signalling the mounting challenge for the country as it heads into what's expected to be a difficult flu season.

Infection rates in the U.S. continue to hit new records, with thirty-seven states experiencing increases in coronavirus cases over the past two weeks as the country posted its highest-average number of cases over a seven-day span since August on Saturday. forbes.com

NY COVID-19 infection rate hits highest level since mid-July
New York state's COVID-19 infection rate has hit its highest level since mid-July -with clusters in Brooklyn and Rockland and Orange counties fueling the worrisome figure, Gov. Andrew Cuomo said Monday.

Cuomo said the state is sending Health Department troops to the areas to ensure "additional testing and compliance measures'' are occurring. "It's very targeted and focused on those clusters,'' the governor said of the state's stepped-up efforts to make sure the deadly pandemic is kept under control.

The statewide infection rate was 1.5 percent Sunday - the highest it's been since July 13, when it was also 1.5 percent, according to New York's Web site. nypost.com

Labor Day & Reopenings Metrics - Officials Concerned
California COVID-19 hospitalizations could jump 89% in next month
Growing signs that the spread of the coronavirus may be intensifying again, state officials announced Friday.

The proportion of Californians testing positive remains low at 3% over the last two weeks, and number of COVID-19 patients in hospitals continues to decline,


But he said that some other metrics are prompting concern that a feared uptick in the virus' spread, which public health officials said was possible in the wake of the Labor Day holiday and more businesses reopening, may be materializing.

Many regions have seen a slight increase in the rate of cases per 100,000 residents, and COVID-19-related emergency room visits have trended upward over the last week in virtually all areas of the state. Number of new hospital admissions has also crept upwards.

Based on the current conditions the state is now forecasting that 4,864 people will be hospitalized with COVID-19 by Oct. 25, an increase of roughly 89% from Wednesday, when there were 2,578 patients.

October marks the start of the flu season, adding an additional layer of concern, Ghaly said. latimes.com

L.A. County sees no post-Labor Day spike in coronavirus numbers

Minn. Joins Neighbors Wisconsin, Iowa & Dakotas @ Lowest Pandemic Rating
Minnesota downgraded to 'uncontrolled' COVID-19 spread
Infection growth is only one measure of the pandemic's severity, but reflects the statewide spread of the SARS-CoV-2 virus.

Confirmed infections aren't necessarily a barometer of the severity of the pandemic, given that the majority of positive diagnostic tests involve people with mild or no symptoms, but they do uncover the widespread nature of the SARS-CoV-2 virus in the state. startribune.com

COVID-19 surveys halted in Minnesota amid racism, intimidation
People yelling at surveyors due to COVID-19 frustration ironically disrupted study that could have resulted in faster easing of restrictions.

A door-to-door COVID-19 testing survey has been halted due to multiple incidents in greater Minnesota of residents intimidating and shouting racial and ethnic slurs at state and federal public health survey teams. Including an incident in which a survey team was blocked by two cars and threatened by three men, including one who had a gun. startribune.com

UK Gov. Updates Retail COVID-19 Guidance and Support
Working safely during coronavirus (COVID-19)
Work and financial support during coronavirus
Applies to: England (see guidance for Wales, Scotland, and Northern Ireland)
Shops and branches
Guidance for people who work in or run shops, branches, stores or similar environments.
Priority actions to take - what businesses need to do to protect staff and customers gov.uk

"It's like being in a sci-fi nightmare film."
Whole Foods Store HR Mgr. Tells Corporate:
"I have never seen so many people look so stressed and so afraid."
"Team-member morale is the lowest I've ever seen it," a longtime HR manager said. "Global" - Whole Foods' corporate office in Austin, Texas - "keeps asking us for feedback, and we keep saying to them: Team members don't feel safe. They don't feel safe from the virus, and they don't feel safe from the customers. I have never seen so many people look so stressed and so afraid."

Also complaining about Prime workers:

Prime workers clogging aisles, ignoring virus protocols, and exacerbating severe understaffing at grocery stores. "They are everywhere," a Philadelphia Whole Foods employee said. "It's like being in a sci-fi nightmare film." businessinsider.com

Editor's Note: Sounds like Prime workers feel superior and walking around like they own the place. Because they do in one sense. And it makes sense that it could happen. It's going to take some time to change that behavior.

The Pressure Could Impact Shoplifting
The "Need To Feed"; Food Insecurity Rages On During COVID-19
The economic blows dealt by COVID-19 have clearly impacted people's ability to put food on the table, and it appears the worst is yet to come.

Nationally, we have more than 13.6 million (8.6%) unemployed as of August and government stimulus programs have run out. Local food banks and charity kitchens are overwhelmed as people struggle to feed their families.

Three different scenarios were created to map possible food insecurity growth that comes with increased levels of unemployment. Results span from a low of 3.3 million impacted to as many as 17.1 million people struggling with food insecurity.

The "Need To Feed" will only grow as many corporations are signaling in their 2021 forecasts that it's unlikely they will be hiring back to their pre-COVID-19 staffing levels. The on-going food insecurity crisis will require more than just a paltry government stimulus package. And the modest assistance provided by non-profits like Feeding America, No Kid Hungry, and Kids Against Hunger, and the network of local food banks will not enough to pick up the slack. forbes.com

Nearly 40% of frontline workers feel unprepared to do their job amidst pandemic
Axonify announced results of it's annual 'Global State of Frontline Employee Training Study' conducted in July/August 2020 by global market research firm Arlington Research.

This year's survey found that frontline workers are getting left behind, as 39% indicated they don't feel prepared to do their job in the current environment. And 30% of frontline workers don't trust their employers or are ambivalent about their employer's ability to deliver the training they need to do their jobs effectively, with employees in the US having the lowest confidence (64%). prweb.com

10,000 COVID-19 Complaints Filed With OSHA From Feb 1 to Sept. 16
The complaints appearing on OSHA's "closed" complaint list include some of the biggest corporate names in America: Amazon, Tyson Foods, Starbucks, Tesla and Boeing. csbj.com

44% of Travel Planners Say Conference Travel to Resume in 1st Half 2021 & 25% 2nd Half

WedMD: 70% of N95 Masks From China Don't Meet US Standards

---

NY Times Expose'
The eBay CEO & Global Security & Resiliency Case
'Inside eBay's Cockroach Cult:
The Ghastly Story of a Stalking Scandal'
In the deranged summer of 2019, prosecutors say, a campaign to terrorize a blogger crawled out of a dark place in the corporate soul.


Global Security and Resiliency, consisted of dozens of people, including retired police captains and former security consultants. But it was surprisingly intimate. "We're a family," James Baugh, the boss, and Stephanie Popp, her immediate supervisor, would say to the analysts. "We're Mom and Dad."

Mr. Baugh would bring the analysts into a conference room and show the scene from "American Gangster" where Denzel Washington coolly executes a man in front of a crowd to make a point. Or a clip from "The Wolf of Wall Street," where the feds are investigating shady deeds but none of the perpetrators can recall a thing. Or the bit from "Meet the Fockers" about a retired C.I.A. agent's "circle of trust."

On June 15, 2020, the U.S. Department of Justice charged six former eBay employees, all part of the corporate security team, with conspiring to commit cyberstalking and tamper with witnesses. Their alleged targets were almost comically obscure - a mom-and-pop blogging duo from a suburb of Boston and a Twitter gadfly who wrote often in their comments section. According to the government, their methods were juvenile and grotesque, featuring cockroaches, pornography, barely veiled threats of violence and death, physical surveillance and the weaponization of late-night pizza.

"This was a determined, systematic effort by senior employees of a major company to destroy the lives of a couple in Natick," said the U.S. attorney in Boston, Andrew Lelling, at a news conference, "all because they published content the company executives didn't like."

Each charge carries a sentence of up to five years in prison. Mr. Baugh, whose age was given as 45, and his deputy, David Harville, 48, were arrested. The other defendants are Ms. Zea, who is now 26; Ms. Popp, 32; Stephanie Stockwell, 26; and Brian Gilbert, 51. A seventh employee, Philip Cooke, 55, was charged in July. Contacted through their lawyers, none would comment except Ms. Zea, who said she would plead guilty. Ms. Popp, Ms. Stockwell, Mr. Gilbert and Mr. Cooke are expected to do the same. The case is still open. nytimes.com

In Case You Missed It... Here's the Daily's full coverage on the case:

July 8: Seventh Former eBay Employee Charged in Aggressive Cyberstalking Campaign

June 15: Former Senior Director of Safety & Security & Other Global Security Team Members Arrested, Facing 5 Yrs Prison & 3 Yrs Supervised Release & $250,000 Fine

June 15 Special Report: "Emotionally & Psychologically Terrorizing Middle-Aged Couple"

June 16: What They're All Saying - The Story Behind the Story - eBay's Former CEO Directed His Rage?

June 17: EBay's Former PR Chief Is 'Executive 2' in Cyberstalking Indictment

June 18: 'Having a Prosperous LP Career Without Compromising Ethical & Moral Standards'
- Op/Ed article by John Velke, SVP of Risk Management & Loss Prevention, Total Wine & More

June 22: ● eBay's Former CEO Denies Any Link to Cyberstalking
● eBay's Two Efforts - Separate & Independent - Asset Protection & Global Security
● eBay corporate statement provided to the Daily


Wild Fires Exploded Over the Weekend in Northern Calif.
More Calif. Bay Area Fire Warnings
Fires rampage through wine country, destroying numerous homes in Santa Rosa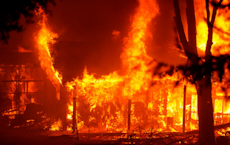 California wine country was devastated by yet another series of wildfires overnight as flames destroyed numerous homes and other buildings in Napa and Sonoma counties and thousands were forced to run for their lives in the darkness of night. The number of structures lost was still unclear.

Two other fires were also burning upwind of the fire encroaching on Santa Rosa, both of them flanking the town of St. Helena in Napa County: the Boyson fire to the west and the Glass fire to the north.

In Napa County, mandatory evacuation zones had been expanded to cover the hills on both sides of the northern Napa Valley, flanking the towns of St. Helena and Calistoga.

The Butte County Sheriff's Office issued an evacuation order for Pulga and Concow and an evacuation warning for the town of Paradise, which was mostly destroyed in the 2018 Camp fire that resulted in 86 deaths and the loss of more than 18,000 structures.

Crews reported no containment as of Sunday night, with the fire continuing to grow rapidly.

The fire weather warnings were issued for areas including the North Bay and East Bay Hills, as well as the Bay Area's interior valleys, the Sacramento Valley, the northern Sierra and mountainous areas of the North Coast.

California has seen more than 3.7 million acres burn this year - a record in the state's modern history, causing the deaths of at least 26 people and destroying more than 7,000 structures. latimes.com

Do we see heightened protests?
Fears grow of chaotic election
Sen. Mike Rounds (R-S.D.) said he expects "chaos in some of the states that have extended [the deadline for counting ballots] beyond the normal day of the election."

"I suspect we'll have three, four days before the vote tallies will be close enough to make a determination," he said.

"The leaders are going to have to remind people, 'Just wait, we'll get this counted.' It's going to vary by state. That is a cause for concern," said Sen. Tim Kaine (D-Va.).

With two critical dates after the election being target dates. Dec. 8th, the safe harbor date where states report to Congress its salte of electors, and Dec. 14th when the electors meet and formally elect the next president. thehill.com

Editor's Note: So in effect we could see unrest from Election Day to December 14th, if not longer, until Congress formalizes start of next year.

It's All in the Timing or Just Being "Tone-Deaf"
Neiman Marcus CEO shows off mansion while employees get pink slips & pay cuts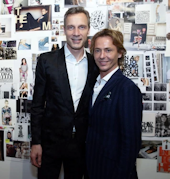 The CEO of Neiman Marcus is being blasted for flaunting his wealth in the midst of a bankruptcy that led to job losses and pay cuts for rank-and-file workers.

Geoffroy van Raemdonck, CEO, steered the luxury retailer out of bankruptcy on Friday - but not before he and his Dallas mansion popped up in an 11-page PaperCity spread showcases in the September issue of the luxury magazine aimed at high-net-worth people.

On top of he and other top executives stood to pocket as much as $9.9 million on the bankruptcy - with the biggest pot of $6 million being set aside for van Raemdonck, after he already received about $4 million in bonuses in February, before the pandemic hit.

Neiman didn't respond to multiple requests for comment. nypost.com
Sycamore Partners bids on Ann Taylor & other Ascena assets

Tween retailer Justice to close 23 stores

Costco co-founder told CEO 'I will kill you' following hot dog combo price hike suggestion


Quarterly Results
Costco Q4 comp's up 14.1%, e-commerce up 91%, revenue up 12.5%, full yr sales up 9.3%

---

Senior LP & AP Jobs Market
Director, Supply Chain AP job posted for Macy's in City of Industry, CA


The Director, Supply Chain Asset Protection is responsible for the total Asset Protection function for multiple locations within the Supply Chain network. The Director is part of the Supply Chain leadership team, and is responsible for working with their direct reports to manage talent strategies, shortage reduction, investigations, incident management, and building security in each of their assigned locations. Perform other duties as assigned. macysjobs.com


---

Last week's #1 article --

Breonna Taylor's Death: What to Know

Congress Extends International Cybersecurity Program Through 2027
FTC to Pursue Foreign Bad Actors - International Fraudsters & Scammers

Senate Passes SAFE WEB Act - On Trump's Desk Now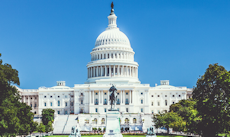 H.R. 4779 reauthorizes the U.S. SAFE WEB Act of 2006 through Fiscal Year 2027. The U.S. SAFE WEB Act affirms the Federal Trade Commission's (FTC) authority to pursue foreign actors engaged in fraud and deception affecting U.S. consumers and businesses. It also bolsters the FTC's cross-border cooperation with foreign law enforcement agencies. The bill was passed out of Energy and Commerce in November 2019, and passed the full House of Representatives by voice vote in December 2019. With last night's Senate passage, it now heads to the President's desk for signature.

Energy and Commerce Chairman Frank Pallone, Jr. (D-NJ) and Consumer Protection and Commerce Subcommittee Chair Jan Schakowsky (D-IL) released the following statement Friday:

"This important, bipartisan legislation strengthens the Federal Trade Commission's ability to protect Americans from international fraudsters and scammers. Particularly now, as we are witnessing a sharp rise in scams that prey on families affected by COVID-19, getting this bill signed into law is more important than ever.

H.R. 4779, a bill to extend the Undertaking Spam, Spyware, And Fraud Enforcement With Enforcers beyond Borders Act of 2006, and for other purposes. Improving the FTC's ability to combat unfair or deceptive acts or practices that are international in scope, through FY 2027. house.gov

When initially passed, some consumer groups and privacy advocates warned the law might infringe upon individuals' security rights. A 2008 study by a researcher at the University of Washington Law School found that shortly after its original enactment, the threat to individual privacy was minimal because the permissions kicked in only after the FTC had begun an investigation. spokesman.com

Ransomware is your biggest problem on the web. This huge change could be the answer

Making it illegal for companies to pay up when hit with ransomware could finally halt the 'scourge of the internet'.


Police always advise ransomware victims against paying off the criminal gangs that have encrypted their computer systems - and there are many good reasons for that.

At the most basic level, even after the companies have handed over the money, it's not always certain they will get their data restored. They are negotiating with crooks after all.

But even if they do get their data back, paying up is still a bad idea. It gives the crooks a big payday, which encourages further attacks - perhaps even on the same organisation again. And that big payoff means that gangs can invest in hiring more software developers and hackers to go after even bigger targets.

If paying the ransom were no longer a legal option, companies would have to make sure their systems were robust enough to stop the attackers in the first place. But it would also put much more pressure on police to track down gangs as well.s to go after even bigger targets. zdnet.com

Here's a list of all the ransomware gangs who will steal and leak your data if you don't pay
In an attempt to put additional pressure on hacked companies to pay ransom demands, several ransomware groups have also begun stealing data from their networks before encrypting it.

If the victim -- usually a large company -- refuses to pay, the ransomware gangs threaten to leak the information online, on so-called "leak sites" and then tip journalists about the company's security incident.

Companies who may try to keep the incident under wraps, or who may not want intellectual property leaked online, where competitors could get, will usually cave in and pay the ransom demand.

While initially the tactic was pioneered by the Maze ransomware gang in December 2019, it is now becoming a widespread practice among other groups as well.

At the time of writing, ZDNet has identified nine ransomware operations that are currently running or have maintained a "leak site," either on the dark web, or the public internet.

AKO, Avaddon, CLOP, CONTI, DARKSIDE, DOPPELPAYMER, LOCKBIT, MAZE, MESPINOZA (PYSA), NEFILIM, NEMTY, NETWALKER, RAGNARLOCKER, REVIL (SODINOKIBI), SEKHMET, SNATCH, SUNCRYPT zdnet.com