The D&D Daily's 2019 Year in Review
Top ORC Cases

Publisher's Note:
Thank you to all of those who submit cases to the D&D Daily. A special thank you to Law Enforcement officials who partner with Loss Prevention professionals to keep the stores safe out there.

Below are the Top 10 ORC cases published in the D&D Daily in 2019.

#1 (from July 11, 2019)
Queens, NY: NYPD bust $24 million gift card scam in Queens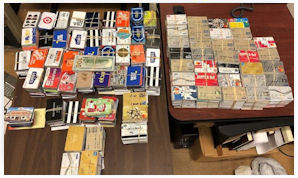 A Queens grand jury indicted 13 people accused of running a sprawling gift-card scam that raked in approximately $24 million over a two-year period. The 192-count indictment, announced Wednesday by the Queens DA's Office, charges that brothers Christopher and Bryan Nathoo oversaw a sophisticated crime ring that stole credit card information, used it to buy gift cards and then exchanged the cards for cash. "The defendants are charged with a multi-million-dollar gift-card fraud scheme that victimized banks and retail stores and hurt the credit ratings of countless law-abiding citizens," said New York State Financial Services Superintendent Linda Lacewell.

The investigation began with an NYPD Grand Larceny Division probe of a fence based out of a 150th St. address in Jamaica in 2015. The fence, allegedly controlled by the Nathoo brothers, employed a variety of confederates, including "fence manager, swipers, shoppers, fence employees, money launderer and more," according to the DA's Office. nydailynews.com


#2 (from Dec. 9, 2019)
$10 Million Best Buy Burglary Ring
Tulsa, OK: Burglary Ring Suspects Accused Of Crimes Across The State, Arrested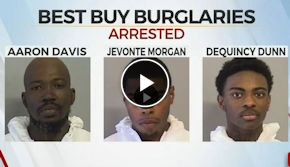 Police arrested a team of suspected burglars after a break-in at a Best Buy, Sunday in Tulsa. Officers said they're part of a burglary ring that stretches from Texas to the Canadian border. Tulsa police said they're responsible for break-ins across the state, and the country. Authorities said Aaron Davis, Dequincy Dunn and Jevonte Morgan have hit Best Buys in Oklahoma before. In August, Best Buy stores in Tulsa were burglarized. Then, last week the three targeted the Owasso Best Buy. And just a couple days ago, an Oklahoma City Best Buy was broken into.

They're allegedly responsible for about $10 million of stolen merchandise from Best Buys across the nation. Sunday morning, the Tulsa Police Burglary Unit set up a sting at three Best Buy stores in town. They said Aaron Davis was caught on surveillance camera breaking the glass at one of the locations. Davis, along with the other three, went in and stole all the Apple products from the display, about $20,000 worth of merchandise. Tulsa police caught him as he was running from the store. Investigators went to the hotel he was staying at and found Dunn and Morgan in the room with more loot from Best Buy.

Officers said Morgan confessed to the Oklahoma City Best Buy burglary. Davis has previous felony convictions. Dunn has an outstanding warrant for his arrest and will be moved to Texas. The three are waiting for their day in court. News On 6 is still waiting for information about the fourth suspect. newson6.com


#3 (from March 28, 2019)
Jersey City, NJ: 23 charged in multi-million dollar shoplifting ring
Walgreens, CVS, Duane Reade, and Ulta among chains targeted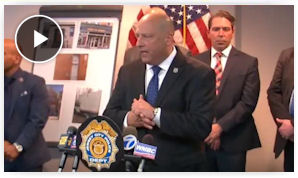 Police in New Jersey said 23 people were charged in a multi-million dollar shoplifting ring. Officials said a year-long investigation revealed that shoplifters would steal items from retailers costing them millions of dollars. It targeted large chains, including Walgreens, CVS, Duane Reade, and Ulta Beauty.

Those items were then sold online for full price to unsuspecting shoppers. Law enforcement described the ring as a "sophisticated operation." The operation originally started with hundreds of thousands of dollars in Jersey City, and that snowballed into millions of dollars in organized retail theft, spanning all the way out to Suffolk County, Long Island.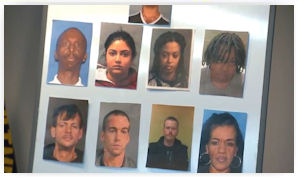 Police identified the ringleader as Stephan Williams, of Jersey City. The organization also employed a financier, drivers, cashiers, and individual shoplifters. Police said Williams or other high-ranking targets would find individuals and show them a catalog of items, such as over-the-counter medications, vitamins, and beauty supplies. The drivers would load up a car of five to 10 shoplifters and drop them off at retail locations throughout New Jersey and New York.

Those shoplifters were then tasks to steal items from the catalog and were paid for each item shoplifted. The items were then broken down, brought to a stock room on Bidwell Avenue in Jersey City, and sold on eBay. At least seven counties in New Jersey were targeted, as well as Queens, Nassau County, and Suffolk County. abc7ny.com


#4 (from Aug. 2, 2019)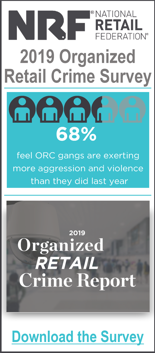 Seattle, WA: FBI: Delivery drivers involved in $10M+ Amazon Theft Ring
The two contract delivery drivers working for Amazon had a clear-cut assignment: They were supposed to bring packages from a warehouse south of Seattle to a post office for shipping, or sometimes drive to Seattle-Tacoma International Airport to pick up items that were being returned to the company. Instead, the FBI said in a search warrant affidavit unsealed last month, they routinely stole the items and sold them at pawn shops.

A police detective last summer noticed that one of the drivers had dozens of pawn shop transactions, and thus began an investigation that uncovered a theft ring that sold millions of dollars' worth of stolen goods on Amazon.com in the past six years, the FBI said. According to the search warrant affidavit, two storefront businesses posing as pawn shops bought the goods from shoplifters, then had the items shipped to Amazon warehouses, where they were stored until sold online. Entities associated with the alleged ringleader did at least $10 million in sales on Amazon since 2013, FBI agent Ariana Kroshinsky wrote in her affidavit. The agency said it was awaiting further records from Amazon to determine the full amount. abcnews.go.com


#5 (from June 11, 2019)
New York: Third Person Cops To $6.5M Navy Exchange Bribery Scheme
A 45-year-old New York man is the latest to plead guilty to conspiracy charges for his part in a scheme in which prosecutors claim a Navy employee was bribed to purchase nearly $6.5 million in liquor through a Navy Exchange for later resale, skirting taxes and restrictions in the process.

Fragoso, who isn't officially connected to the Navy, admitted to paying a Mitchel Field Navy Exchange supervisor $95,000 in bribes over a year, the DOJ said. In exchange, the supervisor helped him to purchase $1.3 million worth of the liquor at significant discounts, according to the statement. Fragoso, of Freeport, is the third person to plead guilty to the bribery scheme this year, according to court filings. law360.com


#6 (from Nov. 4, 2019)
Gilbert, AZ: Arizona couple busted in $2.7 million stolen beauty products operation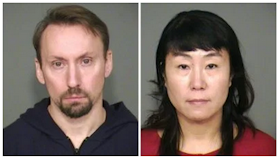 An Arizona couple was arrested for allegedly operating an interstate stolen goods operation that took in more than $2.7 million from online sales. Gilbert police Sgt. Mark Marino said 42-year-old Zach Robbins and his wife, 47-year-old Jie Robbins, were arrested after a search warrant was served at their home near Higley and Warner roads. Their arrest came after a three-month investigation. Detectives said they found around $500,000 to $750,000 worth of stolen over-the-counter health and beauty products inside the home. Police believe the married couple had been conducting interstate sales of stolen property for more than four years. Investigators also believe that the pair would pay others to shoplift items from local stores. Marino said the couple would then resell the merchandise through eBay and Amazon storefronts. The two were booked on charges of trafficking stolen property, money laundering, and illegal control of an enterprise. fox6now.com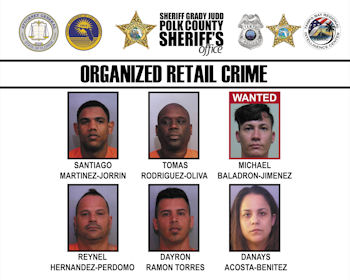 #8 (from May 8, 2019)
Polk County, FL: Retail theft suspects stole over $2 million in products across Florida, and shipped it to Cuba
Six people have been arrested and accused of orchestrating a retail theft scheme across 14 Florida counties, stealing over $2 million worth of goods. The suspects were arrested following an undercover investigation among state and local agencies in Florida. Detectives said the individuals targeted the following stores: Burlington Coat Factory, CVS, JCPenney, Publix, Walgreens and Winn-Dixie. Officials said the six suspects hit up to 10 businesses per day, between four and five nights a week. There were 150 reported thefts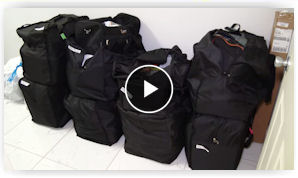 in the state, and at least 25 of those occurred in Polk County. The Polk County Sheriff's Office reported between $150,000 and $200,000 worth of goods were stolen.

The stolen items were then sold, and even shipped as far as Cuba for a profit, detectives said, which resulted in felony charges. Detectives worked with loss prevention personnel at each store, as well as the Tampa Bay Regional Intelligence Center (TBRIC), Hillsborough County Sheriff's Office, Tampa Police Department, Florida Department of Law Enforcement, and the Statewide Prosecutor for the Office of the Attorney General Ashley Moody. They obtained six arrests warrants and nine search warrants. fox13news.com polksheriff.org youtube.com


#9 (from May 10, 2019)
Torrance, CA: Police arrest 4, recover $2 to $3 Million in stolen goods
involving 'Sophisticated Retail Theft Ring'
Police recovered millions of dollars worth of high-end merchandise in Torrance on Thursday, May 9, and arrested four Gardena residents suspected of knowingly purchasing stolen goods and reselling them at local swap meets. Months of investigation led authorities to identify four people taking part in what officials described as a "sophisticated retail theft ring," in a Torrance Police Department press release. Torrance Police teamed up with El Segundo police detectives on the case.

Officers obtained warrants to arrest Edgar Baldeon, 41, Efrain Baldeon, 45, Jaciel Huerta, 28 and Maribel Sanchez, 46, and took them into custody Thursday. Authorities also recovered clothing, handbags, sunglasses, luggage and other stolen items worth between $2 million and $3 million dollars, police said. The items were allegedly taken from nearby department stores. Investigators believe the four people arrested on Thursday may have been responsible for crimes elsewhere in Southern California and other states. dailybreeze.com facebook.com

#10 (from June 7, 2019)
Winter Haven, FL: Retail theft suspects stole over $2 million in products
across Florida
Five people have been arrested and one is on the run accused of orchestrating a retail theft scheme across 14 Florida counties, stealing over $2 million worth of goods. The suspects, all from Tampa, were arrested following an undercover investigation among state and local agencies in Florida. Detectives said the individuals targeted the following stores: Burlington Coat Factory, CVS, JCPenney, Publix, Walgreens and Winn-Dixie, stealing items like razor blades, white strips, shoes, and cologne, among other items.

Officials said the six suspects hit up to 10 businesses per day, between four and five nights a week, stealing between 10-and-$15,000 worth of merchandise a night, storing the stolen goods inside a cooler and making several trips in and out of the store. "This is unbelievable to me that they can go out like a swarm of locusts and steal so much in one night," said Polk County Sheriff Grady Judd at a news conference Wednesday. fox35orlando.com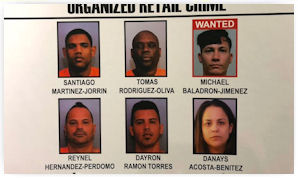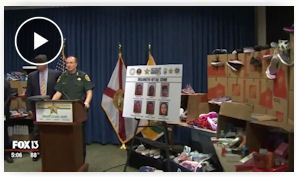 ---

Share on Facebook

Share on Twitter

Share on LinkedIn


Click here to read all of the Daily's exclusive retail crime reports

---
Auror
Sponsor of the D&D Daily's ORC News Column

Thanks, Auror, for making this column and this report possible.
Hey LP and AP Execs - Thank Auror!