COVID-19's Huge Impact on Retail Crime
Mid Year 2020 Retail Crime's Biggest Impact: Violence Came Indoors - It Gets Closer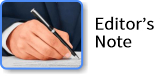 With in-store fatalities up 76% Mid-Year, according to our latest Retail Violent Fatalities Report, we're seeing the current increase in street violence nationwide come right inside America's retail stores. And with this highly charged presidential election right in front of us, it may even increase over the next 100 days. With the big concern being the reactions to the election results, regardless of who wins or loses.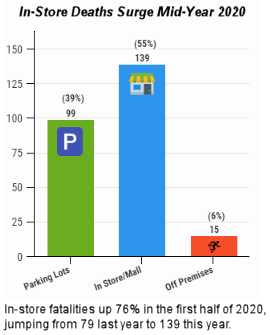 One merely needs to look at Portland's reaction to a labeled Trump caravan Saturday and how they reacted to it to see the political impact on what's happening. Not that we need to point out any individual incident.

Regardless of what you feel about the numbers in the reports and even with the large number of cases that go unreported for a myriad of reasons, these stats represent a structured, consistent, and thorough research model applied to over 2,500 web sources daily by four D&D Daily team members with one focused entirely on retail crime cases. Which is reflective in the relatively consistent quarterly and annual quantitative results themselves over the last five to six years.

The Predicted "Spike in ORC" isn't going to happen

Sure, it'll come back like always, but just like the job market - when folks disperse and find new ways to make money - the same thing holds true for the addicts. They had to disperse and find new ways to make money quickly. As they didn't have severance packages and the Cartel isn't known for offering loans and financing its customers. Although given these harsh circumstances, who knows? Maybe they did some creative stuff.

What, did you expect them to go through three months of cold turkey? One great point is that a certain percentage probably did seek help - enter rehab or kicked their habit on their own or with friends and family. That being probably the only good thing that happened from the pandemic.

Divisive Election and COVID-19 Stress - Contributing Factors That Aren't Going Away

The bottom line is though that in-store retail fatalities and its associated violence has skyrocketed 76%, the increased nation-wide murder rate and violence is up, as evidenced by Operation Legend itself, and the protests and riots are continuing. All in front of the backdrop of a volatile and divisive presidential election and the COVID-19 store mandates also instigating violent interactions. So the pressure, the stress, and the stage is set for ongoing violence.

More Protests and Riots Inside the Stores? What If & There's your ORC spike.

In our opinion, there's no end in sight and if anything, it may rise even further. Especially the two or three weeks around election day and then the reaction to the results either way. One thing for sure is this is going to be a fall season like no other and the retail industry needs to be prepared for the absolute worst case scenario and possibly more protests and riots inside the stores.

Just a thought,
Gus Downing






D&D Daily Analysis: Weekend Violence Remains Steady & High in Big Cities



147 Shootings, 36 Killed in 20 U.S. Cities Studied - Aug. 28-30

This past weekend, the D&D Daily analyzed violent crime in 20 major cities across the country, including those under the umbrella of 'Operation Legend.'

According to publicly reported data and media reports, these cities saw a combined total of 147 shootings and 36 killed - remarkably consistent with last weekend's analysis showing 147 shootings and 35 deaths.

Click here to view the complete breakdown of this past weekend's violence in 20 American cities and continue to follow along as the Daily monitors violence across the United States.

See our previously published four-week report covering this year's violent month of July.

---

State Police Return to Portland After Protest Shooting Leaves One Dead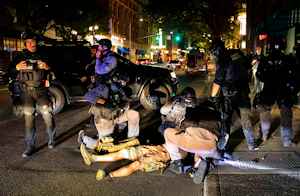 Oregon Gov. Kate Brown announced a plan to curb violence in Portland as the state's largest city was reeling after a fatal weekend shooting following clashes between Trump supporters and counter protesters.

Brown said Sunday that Oregon State Police would be returning to Portland to help local authorities and called for other local law enforcement agencies in the state to provide help amid the nightly protests that have taken place since the killing of George Floyd.

A man was fatally shot Sunday shortly after a caravan of vehicles carrying Trump supporters rolled through Portland, drawing heated counter protests. Founder of the right-wing group Patriot Prayer Joey Gibson identified the victim as Aaron "Jay" Danielson, and called him a "good friend."

Police provided few details about the shooting Saturday evening and said it wasn't clear whether it was politically motivated. Portland Police Bureau Chief Chuck Lovell said no arrests have been made and called for peace.

The caravan of Trump supporters rolled through Portland Saturday evening following a rally in nearby Clackamas. Fights and other skirmishes broke out between the groups. By 8:30 p.m., the caravan had left downtown, and 15 minutes later, the shooting occurred. usatoday.com

Suspect, 48, in fatal shooting of Patriot Prayer supporter is dad-of-two who describes himself as '100% ANTIFA' and 'took a loaded gun to a Portland protest earlier this year'

Portland Protests: 10 arrested Saturday and 29 arrested Sunday

Chicago protest: No arrests during 'Shut Down the Mag Mile' march
from Michigan Avenue to Loop, police say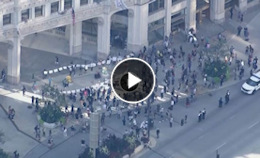 Hundreds of people gathered in Chicago along Michigan Avenue and marched into the Loop Saturday, calling for an end to police brutality. The call was for protesters to shut down the Magnificent Mile, and in a way they did, but not in numbers. Protestors dispersed just before 9 p.m. At its height, Saturday's protest numbered no more than a couple hundred.

Regardless, the fear of further unrest, after several days of violent clashes in Kenosha, Wisconsin followed by the shooting of Jacob Blake brought large numbers of police downtown. Businesses up and down Michigan Avenue either boarded up or closed early.

"Zero arrests were made during this evening's peaceful protest downtown. Thank you to EVERYONE who helped keep our downtown area safe. We will always facilitate & protect your First Amendment Rights in a safe manner, while ensuring the safety of residents, property & businesses," police said in a tweet Saturday evening. abc7chicago.com

Operation Legend Arrest
Man Charged in Federal Court With Illegally Possessing Loaded Gun After Allegedly Looting Downtown Chicago Store
Chicago Police officers observed Williams exiting a closed retail store in the first block of East Randolph Street in downtown Chicago at 5:00 a.m. on Aug. 10, 2020. Williams was carrying merchandise in his hands as he exited the store. As officers pursued and arrested Williams, a semi-automatic handgun fell from his body to the ground, the complaint states. The gun was loaded with seven rounds of ammunition in the magazine and one in the chamber, according to the complaint. justice.gov

Rioters, looters could lose unemployment benefits under new bill
U.S. Rep. Jim Banks, R-Indiana, has filed the "Support Peaceful Protest Act," which would prevent protesters convicted of committing acts of violence, looting or vandalism from federal unemployment assistance. The bill also would require those convicted of these crimes to pay for the cost of federal policing of the riot.

"Antifa thugs are descending on suffering communities, disrupting peaceful protests and leaving violence, looting and vandalism in their wake," Banks said in a statement. "They turned Milwaukee, Seattle and Portland into warzones, and now they're moving the chaos to Kenosha, Wisconsin. Who knows which community is next?" thecentersquare.com

New Tenn. law penalizes protesters camping on state property with felony, loss of voting rights

Massachusetts governor activates up to 1,000 National Guard members
Massachusetts Gov. Charlie Baker signed an order on Friday obtained by ABC News, activating up to 1,000 National Guard members in the state. The Republican governor did not cite a specific reason for signing the order. The Guard members are being deployed "in the event that municipal leaders require their assistance," according to a statement released by an unnamed spokesperson for the state's Executive Office of Public Safety and Security, and is "only at the request of, and in coordination with, the communities seeking support." abcnews.com

Police: Most arrested during Kenosha protests not from city
Of the 175 people arrested 102 have addresses outside of Kenosha, including 44 different cities. edmdigest.com

Protesters peacefully rally in Kenosha over the weekend, monitored by National Guard

'Hard to be downtown': Between riots and COVID, allure of downtown Minneapolis tested

Los Angeles: 56 arrested during LA protests against police brutality earlier this year

Washington, DC: 5 arrested after protesters start small fires, engage in tense standoff with police

Thousands gather for DC march on anniversary of MLK 'I Have a Dream' speech

---

COVID Update
US: Over 6.1M Cases - 187K Dead - 3.4M Recovered
Worldwide: Over 25.4M Cases - 852K Dead - 17.8M Recovered

Private Industry Security Guard Deaths: 186 Law Enforcement Officer Deaths: 93
*Red indicates change in total deaths

CA Plans Slow & Measured 2nd Reopening
Newsom unveils sweeping new coronavirus reopening rules for businesses
in California
Gov. Gavin Newsom unveiled a new plan on Friday to rekindle a California economy decimated by the COVID-19 pandemic, a four-tier system in which counties must show consistent success in stemming the transmission of the coronavirus.

"We're going to be more stubborn this time," Newsom said during a press conference in Sacramento Friday. "This more stringent, but we believe more steady approach."

Counties will be allowed to ease restrictions in progressive stages, slowly granting Californians the everyday freedoms they enjoyed before the outbreak. Unlike last time, the governor said the decision to grant counties the ability to open businesses will be based entirely on data showing the spread of the virus among residents.


The criteria for each tier will be uniform for all 58 counties in California, and the vast majority of counties - including all Southern California counties except San Diego - will begin in the first tier.

• Tier 1, widespread transmission: Most non-essential businesses must be closed. Counties in this tier have more than 7 new COVID cases per 100,000 people per day and a coronavirus test positivity rate of 8% and above.

• Tier 2, substantial transmission: Some non-essential indoor businesses remain closed. Counties in this tier have between 4-7 COVID cases per 100,000 people per day and a coronavirus test positivity rate of between 5-8%.

• Tier 3, moderate transmission: Some businesses can open with modifications. Counties in this tier have 1-3.9 new COVID cases per 100,000 people per day and a coronavirus positivity rate of 2-4.9%.

• Tier 4, minimal transmission: Most businesses can reopen, with modifications. Counties in this tier have less than one new COVID case per 100,000 people per day and a coronavirus positivity rate of less than 2%.

For example, restaurants in counties in Tier 1 will only be allowed to serve customers outdoors. Once a county moves into Tier 2, restaurants can serve customers indoors, but only at 25% capacity.

The new reopening rules require counties to wait at least 21 days before moving to the next reopening tier. latimes.com

Here Come the Enforcers
Complaints spur intensified virus-related inspections for Minnesota bars, restaurants

Is your hand sanitizer on the list?
OSHA: Ensuring You Are Providing Safe Sanitizer for Your Employees

CDC Publishes New Page
New Web Page on How to Select, Wear, and Clean Your Mask

New Jersey to resume indoor dining this week at 25 percent capacity

De Blasio hints indoor dining won't return in NYC until COVID-19 vaccine

---

McD's Says Former CEO Committed $57.3M Fraud
McDonald's says terms of former CEO's separation based on fraudulent statements

Easterbrook Had Filed Against McD's to Keep His $57.3M Severance Package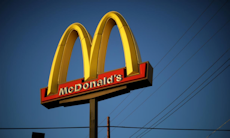 McDonald's Corp said on Monday former Chief Executive Steve Easterbrook's motion against the company should be dismissed, reiterating that the terms of his separation from the company were based on fraudulent statements.

Easterbrook responded on Aug. 14 to McDonald's lawsuit, which claimed that the former CEO had covered up and lied about sexual relationships with at least three employees while negotiating his severance package.

McDonald's said in a filing on Monday that it had dismissed Easterbrook based on his denial of having had a sexual relationship with any other employee and the absence of contradictory evidence on his phone.

"When McDonald's investigated, Steve Easterbrook lied. He violated the company's policies, disrespected its values, and abused the trust of his co-workers, the Board, our franchisees, and our shareholders," a company spokesman said on Monday. reuters.com

Editor's Note: Does the States Attorney's office get involved and file fraud charges? That would be a big feather right now for the embattled Kim Foxx. Probably not.


---

INFORM Act
The Federal ORC Legislation

Is Your Retailer Supporting the INFORM Act?
ICSC, RILA and other industry groups seek online seller transparency
Earlier this month ICSC, the International Council of Shopping Centers joined with other industry leaders to launch the Buy Safe America Coalition, a diverse group of associations that support efforts at all levels of government to combat organized retail crime (ORC) and protect consumers and communities from the sale of counterfeit and stolen goods.



The Buy Safe America Coalition is urging Congress to pass legislation requiring online marketplaces to collect and verify basic information of third parties who sell products on their platforms.

The Integrity, Notification, and Fairness in Online Retail Marketplaces for Consumers (INFORM) Act was introduced in March by Senators Bill Cassidy (R-LA) and Dick Durbin (D-IL) and a House version was introduced in July by Representative Jan Schakowsky (D-IL-09).

"As we look at the continued convergence of online and physical retail, we believe consumers should know who they are buying from online, just like they would in a brick-and-mortar store," ICSC Vice President for Federal Operations Jennifer Platt said.

Visit BuySafeAmerica.org for more information. isc.com

Click here to see the D&D Daily's INFORM Consumers Act toolkit and how you can help get it on Donald Trump's desk.

---

NYPD Cops: Expect Bloody Labor Day Weekend
NYC passes grim gun-violence milestone as shootings top 1,000 for the year
The city surpassed 1,000 shootings for the year on Sunday, according to NYPD data, which also shows an average of nearly 10 people fell victim to gun violence each day over the last four weeks.

With four more months left in 2020, New York City logged 1,004 shootings as of Aug. 30, according to NYPD data released Monday. Last year, there had been just 537 by that time.

The notable number comes a week before Labor Day when cops expected another bloody holiday weekend in the Big Apple.

The city has seen 13 straight weeks of surging gun violence - with 375 more shootings and 499 more victims compared to the same time last year. Averaging nearly 10 people per day were shot, NYPD data shows. nypost.com

America's "Barren Wastelands"
Above Average Malls Not Good Enough in 20's
What Happens to the 300 B's - C's & D's Are Doomed
The "Class B" mall-not the gold-standard Class A kind that are expected to make it out of the current recession fairly unscathed or the Cs and Ds whose days are almost certainly numbered. With their middle-of-the-road sales productivity, mix of national and regional tenants and one or more anchor vacancies, Class Bs are right in that gray area: Some will weather the storm, but many won't.
B Malls Across the U.S.
Every state but Maine has at least one of these mid-range shopping centers.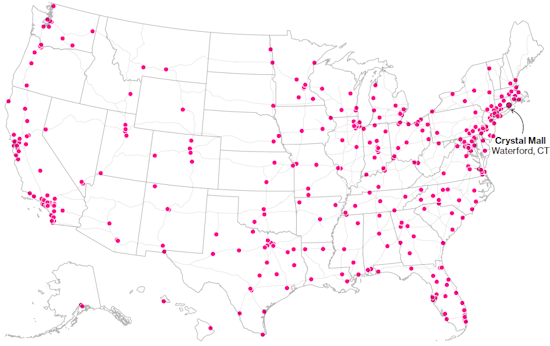 These middle-tier malls were already having a tough time before the pandemic hit, and while they're mostly managing to stay afloat for now, a record number of retail bankruptcies and companies voluntarily scaling back their store footprints puts them on the path for an uncertain future. "A lot of the B malls are going to become obsolete."

All in all, as many as 25,000 stores could close in the U.S. this year, mostly in malls, according to Coresight. That would demolish the previous record of about 9,800 closures, set in 2019. bloomberg.com

Forced Working From Home Negative Impact
4 major long-term psychological effects of continued remote work
There are worrying signs or at least rational reasons to predict the negative consequences of prolonged remote work.

But what happens when there is no choice and people who never worked from home are forced to do so? Can Zoom fully substitute for face-to-face contact, especially in the long term? What are the psychological consequences of continued remote work, and is there anything we can do to prepare for it?

What long-term working from home will do to us individually and culturally resembles the question of what social media addiction or hyper-connectivity will do to our brains and society. Let's wait and see.

Loneliness - Anxiety - Stress - No Substitute For Face-To-Face - A Bright Spot fastcompany.com

Bal Harbour Shops is evicting Saks Fifth Avenue for $1.9 million in unpaid rent

Gap to close 225 stores

Neiman Marcus Adds 2 More Stores to be Closed + 5 Others Already Listed


Quarterly Results
Hibbett Sporting Goods Q2 comp's up 65.2%, online sales up 212.2%, sales up 74.9%
Big Lots Q2 comp's up 31.3%, net sales up 31.3%

---

Last week's #1 article --

CDC Issues Guidance to Retailers Over Mask Violence
Don't Argue With Anti-Mask Shoppers, CDC Guides Retail Employees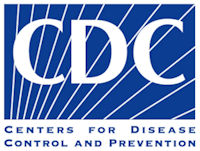 The Centers for Disease Control and Prevention has issued a warning about a new coronavirus health risk you probably didn't expect: getting slapped, choked or kicked in the workplace by angry customers. And the best way to avoid it is not to engage.

The health agency issued guidance this week for retail and service workers suggesting ways consumer-facing companies can limit violence toward workers that may occur when businesses implement policies to stop the spread of the virus. Or in other words, how to protect workers tasked with the unenviable job of asking shoppers to wear masks, keep six feet apart or wait their turn before entering a capacity-limited store.

Read CDC's Guidance for Retailers Here: Limiting Workplace Violence Associated with COVID-19 Prevention Policies in Retail and Services Businesses
Three Years After Landmark Breach, Security Transformation Nears Completion
Equifax CISO Jamil Farshchi Reflects on Breach, Recovery

Former Home Depot CISO Who Handled HD's 2014 Hack Joined Equifax in 2018 After Their 2017 Hack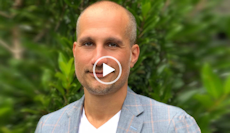 He'd worked at NASA and Visa, served as Time Warner's first CISO and stepped in at The Home Depot after it was hacked in 2014. But nothing quite prepared Jamil Farshchi for the spotlight he'd face when he took over as CISO at Equifax after the massive 2017 data breach that cost the former CSO and CEO their jobs. Farshchi discusses why he took the job and how the Equifax security organization has rebounded.

It was Sept. 7, 2017, when Equifax announced its breach, which resulted in the theft of personally identifiable information for 145 million Americans. The breach led to Congressional probes and dozens of lawsuits and formal investigations by state attorneys general. It also led to the departure of the company's CEO, as well as its top two information security personnel. Plus, it cost Equifax millions of dollars and an inestimable reputational hit. So why did Farshchi accept the CISO role in 2018?

"The predominant factor is the same reason I got into security to begin with," Farshchi says. "It's an extraordinarily dynamic field. There are always new challenges around the corner. And this was a really phenomenal opportunity."

In an exclusive video interview with Information Security Media Group, Farshchi opens up on the Equifax breach recovery, discussing:

• The unique challenge of this CISO role;
• The three acts of security transformation;
• The biggest challenges and lessons learned. govinfosecurity.com

How to prioritize security and avoid the top 10 IoT stress factors
Security threats involving IoT devices often stem from the fact that many IoT devices usually have single-purpose designs and may lack broader capabilities to defend themselves in a hostile environment.

Because the IoT industry has predominantly lacked a globally recognized, repeatable standard for manufacturers, channel owners, regulators and other key parties to turn to, IoT device security continues to be a major challenge. It's therefore especially important for companies to not only be aware of potential vulnerabilities, but also to take action to build more secure products - before they ever get into the hands of the end user.


Below are 10 design and development approaches/best practices that can help mitigate IoT security issues and ensure that IoT delivers on its promise to improve our lives.

10. Hiding live ports: The best practice for hiding live ports is to actually not hide them at all - and definitely to not use easy to peel off plastic covers.

9. Common/default passwords: Most people don't change their passwords from the default, making it easy for hackers to gain access to devices.

8. Relying solely on network security: Introducing layers of security can be a great way to avoid compromised data.

7. Sending without encryption: Avoid sending any information without encryption, because without it, communications between devices are simply not secure.

6. Overriding security and certificate checks: Simply put - small, compact digital certificates are a proven way for IoT devices to trust each other and for servers to authenticate IoT devices.

5. Public visibility: There is no need for a device to advertise unique information such as (but not limited to) serial number that will identify it and allow it to be identified over unsecure connections, whether Wi-Fi, Bluetooth or beacons.

4. Access of devices' private key: The security of digital certificates is only guaranteed when the private key is sufficiently protected from disclosure and unauthorized modification.

3. Blockchain for added security: Blockchain empowers IoT devices to defend themselves in hostile environments by making autonomous decisions with high degree of confidence.

2. Skipping or using insecure updates: Use signed, secure firmware updates. If someone has the ability to override secure software running on a sensor, that sensor is now exploited.

1. Rushing development: Sometimes manufacturers accelerate development timelines to get products out the door in a timely fashion. In haste, shortcuts are taken, and devices aren't manufactured with proper security controls. securitymagazine.com

Weather Channel uses augmented reality to show what a hurricane's "unsurvivable" storm surge means

Bipartisan Legislation Introduced to Encourage Growth of IoT

Featured Job Spotlights




Manager of District Loss Prevention
Seattle, WA - posted August 28
Will be responsible for driving company objectives in profit and loss control, sales performance, customer satisfaction, and shrink results. District Loss Prevention Managers are responsible for leading Loss Prevention functions within a specific operations district and for collaborating with Store Operations and Human Resources in an effort to prevent company loss...



District Loss Prevention Manager
Fort Wayne, IN - posted August 24
The District Loss Prevention Manager ensures shrinkage control and improves safety in the stores through proper investigation and training. This position is responsible to provide feedback, guidance and protection for our Team Leaders and Associates. This role has oversight and responsibility for approximately 16 to 20 store locations...



Senior Asset Protection Specialist
Santa Monica, CA - posted August 6
The Senior Asset Protections Specialist contributes to REI's success by mitigating and reducing shrink (including theft and fraud by customers and employees) and increasing physical security for people and products in a specified retail store...




Asset Protection, Retail Safety and Security Specialist
Bellevue, WA - posted August 6
This job contributes to REI's success by ensuring the security and safety of your store team and members by providing a presence on REI property and at events. Activities include but are not limited to: fostering partnerships with staff and taking action to address shrink and security...



VP - Loss Prevention
San Francisco, CA - posted August 24
The Vice President, Old Navy Loss Prevention will develop and lead the Loss Prevention and Safeness strategies and teams to protect the Old Navy organizations 1200+ stores, located in 3 countries, supported by 54,000+ employees who deliver approximately $8 billion USD in annual sales...



Senior Dir. of Safety & Loss Prevention
Atlanta, GA - posted August 25
This position is responsible for analyzing safety, shrink and total profit trends and exposures throughout the company. In addition, it is responsible for developing and implementing strategies to address them. The Divisional Safety & Loss Prevention Directors will dotted line report into this position...

Featured Jobs

To apply to any of today's Featured Jobs, Click Here