Mid Year Crime Stats Show COVID-19 Impact &
Well Documented Increase in Violence & In-store Aggressiveness

Fatalities Up 22% Over Mid-Year 2019 - Robberies Up 4% Over 2019
- ORC Cases Down 26% From 2019



With the 22% increase in retail violent fatalities being the most disturbing and concerning point of all the crime reports.

As the nation deals with the ongoing protests and riots scattered across the country the retail industry finds itself dealing the most significant increase in fatalities/violence as we've ever seen, even with a large part of the industry being shut down in the second quarter. Which makes this number even more concerning and alarming. As one might think these numbers would decrease across the board.

Given the nature of it's findings we purposely re-examined each incident and audited it thoroughly. So after over four years of conducting this research survey we can absolutely testify to it's creditability. And if there is any error at all it is that we excluded incidents or missed them entirely.

The report itself showed a number of note worthy developments and concerning changes:
Read full Analysis

---
Curfew expires after a welcome quiet night in rattled Minneapolis
More than 1,000 uniformed personnel were called upon to quell potential disturbances.

A second nighttime curfew in Minneapolis came and went Friday with barely a hint of what erupted earlier in the week, when rioters targeted buildings up and down Nicollet Mall and block after block of sometimes fiery destruction.

The plea to stay home appears to have largely been heeded as authorities reported nothing resembling the looting, fires and property damage from Wednesday night into Thursday that led to more than 130 arrests in Minneapolis.

"Thank you to everyone in the community who followed the curfews and helped to make last night a more peaceful one!" the Guard said on Twitter as daybreak arrived. startribune.com

Violent clashes in DC between protesters, police after RNC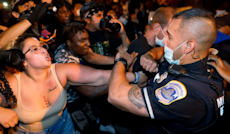 The protests started as a "noise demonstration and dance party" and seemed to intensify as the night continued. Videos emerged on social media that appeared to show city police clashing with protesters throughout city streets.

Protesters yelled and threw water bottles at police at the historic St. John's Church, which is near Black Lives Matter Plaza. Police made a string of arrests. Tensions escalated at one intersection in the nation's capital when police arrived on bicycles to confront demonstrators. foxnews.com

74 People Facing Federal Charges for Crimes Committed During Portland Demonstrations
Charges include assaulting federal officers, arson, failing to obey lawful orders, and damaging federal property

"Violent agitators have hijacked any semblance of First Amendment protected activity, engaging in violent criminal acts and destruction of public safety," said U.S. Attorney Williams.

Since May 26, 2020, federal law enforcement authorities have arrested 100 people for crimes committed during local demonstrations. Seventy-four face federal charges, including felonies, misdemeanors, and citation violations. Crimes include assaults on federal officers, some resulting in serious injuries; arson and attempted arson; damaging federal government property; failing to obey lawful orders; and unlawful use of a drone. justice.gov

Just 3 curfew arrests as night 5 of Kenosha protests remain peaceful
Protests in Kenosha remained peaceful from Thursday, August 27 into the morning on Friday, August 27. It marked the fifth night of protests following the police shooting of Jacob Blake. Around 1 a.m. on Friday, August 28, authorities arrived in riot gear to a nearby park. Kenosha Police say at least three people were arrested for breaking curfew, but protesters say police told them they wouldn't be bothered as long as they stayed in the Civic Center park area. cbs58.com



Kenosha, WI: Family Owned Furniture Store Owner weeps after 40-year business is burned down during riots
A business owner broke down in tears after seeing her furniture store torched during riots sparked by the police shooting of Jacob Blake in Kenosha, Wisconsin. Linda Carpenter and her son Scott told Town Hall reporter Julio Rosas Tuesday that their B & L Office Furniture store had been in business for 40 years. They were completely disheartened to find it reduced to ashes. disrn.com

---

COVID Update
US: Over 6M Cases - 185K Dead - 3.3M Recovered
Worldwide: Over 24.7M Cases - 838K Dead - 17.1M Recovered

Private Industry Security Guard Deaths: 186 Law Enforcement Officer Deaths: 93
*Red indicates change in total deaths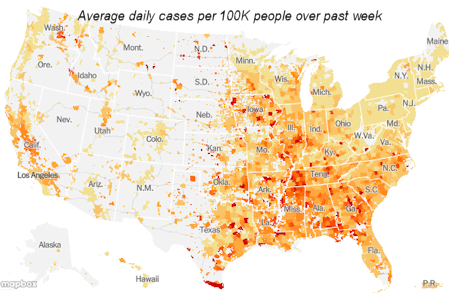 CDC Workplace violence and COVID-19 - 'Duty of Care'
CDC: Panic buttons, safe areas can protect employees from customer violence over COVID-19 policies

Limiting Workplace Violence Associated with COVID-19 Prevention Policies in Retail and Services Businesses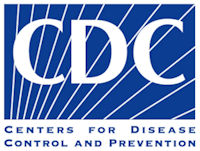 The Centers for Disease Control and Prevention updated its COVID-19 guidance this week for retailers and service businesses to prevent workplace violence associated with implementation of coronavirus prevention policies and practices, such as mandatory use of masks, social distancing and limiting capacity.

Among the agency's employer recommendations are providing employee training on workplace violence response, installing security systems such as panic buttons and alarms and training employees how to use them, assigning two workers to encourage prevention policies are followed and identifing safe areas for employees to go if they feel like they are in danger, such as a room that locks from the inside.

Employee training should address ways for employees to identify, avoid and respond to violent situations, the agency recommends. Staff should report any potential threats or violent acts to a manager or supervisor and remain aware of and support coworkers during threatening or potentially violent situations. Employees should not argue with a customer if the person makes threats and should not force anyone who is upset to follow prevention policies or other practices related to COVID-19.

From physical assault and verbal abuse to employees being shot at, workers have experienced various forms of anger from customers reacting to company policies to prevent the spread of the novel coronavirus. The Service Employees International Union surveyed over 4,100 McDonald's workers and found that 44% of respondents were verbally or physically assaulted by customers who weren't wearing masks.

These violent interactions aren't likely to dissipate any time soon either, especially as more employers, including McDonald's and Starbucks, and local governments require masks to be worn on premise. On Wednesday, Illinois began requiring restaurant and bar patrons to wear a mask while interacting with staff, including when they place an order, receive food and beverages and when an employee services a table. hrdive.com

Resources and Trainings on Workplace Violence

Employers can take action to prevent workplace violence

Provide Employee Training: Warning Signs & Response cdc.gov

Dallas COVID Trending Downward
COVID-19 cases in Dallas County have eclipsed 70,000, even as cases trend downward
"Today's new COVID-19 positive numbers continue a trend of lower cases," Dallas County Judge Clay Jenkins said in a written statement.

Dallas County health officials reported 219 new coronavirus cases Thursday, with the total for the entire pandemic eclipsing the 70,000 mark. The county also reported five new COVID-19 deaths. dallasnews.com

Dangers of third coronavirus surge in California focus on young people,
essential workers
Even as California finally begins to see declines in both COVID-19 deaths and hospitalizations, health officials and experts are preparing for a potential third surge of coronavirus cases fueled by two groups that already have been hit hard: low-wage essential workers and young people.

The summer spike in COVID-19 has started to ease, and governments soon will need to consider how they might begin to reopen the economy further. Gov. Gavin Newsom is expected to outline his plans Friday.

A new surge in the pandemic is far from a certainty - but experts said it's essential that California learn from the mistakes of the last reopening. Of the more than 12,600 California COVID-19 deaths so far, more than 8,800 have been reported since Memorial Day, around the time the economy began to reopen and some people got back to old routines. latimes.com

74% of Org.'s Have Started Travel Recovery Plans
Business Travel Picking Up, but Compliance Is Tricky
New research indicates an uptick in U.S. domestic business travel, although employers still face a changing patchwork of coronavirus-related federal, state and local laws and regulations affecting work travel.


According to an Aug. 5-9 poll of 827 companies worldwide by the Global Business Travel Association (GBTA), a trade group in the Washington, D.C., area, 74 percent of respondents reported that all or most of their organization's domestic business trips have been cut. That's progress, though-93 percent of respondents reported curtailed domestic business travel in April.

The survey found that 74 percent of organizations reported having started to develop a travel recovery plan and 31 percent planning to provide personal protective equipment (PPE) for their travelers, while another 20 percent will require employees to provide their own PPE in order to travel.

Reviewing Travel Policies for Compliance
"The safest approach is to prohibit work-related travel, but for employers for whom travel is essential, implementing a thoughtful travel policy can help reduce the risk of employees becoming sick or spreading illness to others in the workforce," he said. "As a starting point, employers should ensure that the travel really is essential."

He added that employers that require employees to travel may need to defend that requirement in response to various legal claims. shrm.org

Perfect Example - 'Conference Superspreader'
One Meeting in Boston Seeded Tens of Thousands of Infections, Study Finds
A February meeting of biotech executives became a coronavirus "superspreading" event with a transmission chain across the globe.

On Feb. 26, 175 executives at the biotech company Biogen gathered at a Boston hotel for the first night of a conference. At the time, the coronavirus seemed a faraway problem, limited mostly to China.

But the virus was right there at the conference, spreading from person to person. A new study suggests that the meeting turned into a superspreading event, seeding infections that would affect tens of thousands of people across the United States and in countries as far as Singapore and Australia.

The study, which the authors posted online on Tuesday and has not yet been published in a scientific journal, gives an unprecedented look at how far the coronavirus can spread given the right opportunities. nytimes.com

Law360: EEOC Backs 'Encouragement' for Now
COVID-19 Vaccine May Pose New Challenges For Employers
Law360 (August 26, 2020, 10:59 PM EDT) -- With numerous COVID-19 vaccine candidates in development and the Trump administration pushing for quick approval, virus-weary employers may soon have a tool to bring a sense of normalcy to their businesses. But any policy mandating inoculation for workers creates a minefield of legal risks, experts say. law360.com

---

What the CEO's Read
For the student of retail
A Divorce 64 Years in the Making

Malls Wedded Department Stores: Now a Collapsing 64-Year Marriage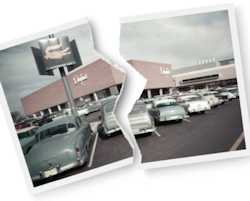 The wedding took place in 1956 in Edina, Minnesota with the opening of Southdale Center, the first enclosed mall in the U.S. Its beloved anchor spouse was Dayton's department store. Here's how it worked in 1956 and up to 2000: the department stores attracted traffic (paying little to no rent) and the malls brought in a myriad of other shops, particularly apparel retail chains which paid higher leasing costs because they were blessed with the huge traffic the anchors attracted. The concept was a one-stop shopping experience, which would compel the shoppers to hang around and browse and shop through the mall for hours.

The mall/department store marriage was beginning to collapse in the 90s as neither partner was resilient enough to prop up the other and attract the customers it needed to thrive.

So, the marriage of Dayton's and Southdale established the model that would rapidly be replicated across the U.S., to the delight of mall owners and their anchors, the department stores. It also welcomed the hundreds of emerging apparel retail chains and other shops, restaurants, movie theatres, etc. It also delighted consumers. Until it didn't.

Manifest Destiny - Broken Vows - The Apparel Apocalypse - The Triple Whammy and Ultimate Collapse of the Marriage - Divorce - Store Closures - Stores in Bankruptcy therobinreport.com

Question for Readers: Would Your Retailer Pay This Tab? Y/N
42% of Employee Population Paid For Unapproved OT
Answer Coming Monday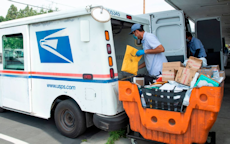 The USPS Office of Inspector General said the Postal Service exceeded planned and penalty overtime by nearly 14 million hours during the 2019 fiscal year and incurred $521.6 million in "questioned costs" as a result.

Forty-two percent of the Postal Service's 633,108 employees had unauthorized overtime in fiscal 2019.

"Although package volume grew, overtime costs and hours trended upward and consistently exceeded their planned overtime budgets from FY 2014 to FY 2019, despite declining mail volume and increased employee levels," the watchdog said in a report, dated August 25. "In addition, management did not always effectively manage their unauthorized overtime or ensure they had complete, accurate, and reliable employee payroll workhour data." cfo.com

Click here to let us know if your retailer would pay this tab

CVS puts time-delay safes in Massachusetts Pharmacies to deter opioid thefts
CVS Health said Thursday it will put time-delay safes in all 446 of its Massachusetts pharmacies in an effort to deter theft and limit diversion of opioids. The safes, which are already in the chain's Rhode Island stores, electronically delay how long it takes for pharmacy employees to be able to open the safe. The Woonsocket, Rhode Island-based company said the safes have already shown to be effective in other states. In 2015, after installing the safes in Indianapolis and across Indiana, there was a 70% drop in pharmacy robberies. The company went on to roll them out to 4,800 CVS pharmacies in 15 other states and the District of Columbia, and saw a 50% decline in pharmacy robberies. bizjournals.com

South Bend, IN: Mother of woman killed at Gas Station sues owners for negligence
The mother of a woman who was killed at a Phillips 66 near downtown South Bend in March is suing the owners of the gas station for negligence in her daughter's death, claiming the store should have taken steps to protect customers from a foreseeable, violent incident. The lawsuit argues that a high number of police calls to the property - over 60 in the last year - and a previous homicide at the site should have prompted store employees to intervene when a crowd gathered in the store's parking lot in the early morning hours of March 14, shortly before De'Ashay Thompson, 24, was shot and killed The lawsuit, filed by Thompson's mother, Christy Smith, earlier this month, alleges the gas station and convenience store was negligent by allowing the gathering on the site and not providing security to its customers. southbendtribune.com

Phoenix City Council approves $475K settlement in viral shoplifting case
The Phoenix City Council approved a $475,000 settlement Wednesday in the case of a family that accused Phoenix police of serious misconduct after their 4-year-old daughter accidentally stole a doll from a store. Dravon Ames and Iesha Harper received the settlement after an encounter with police in May 2019 got widepresad attention when video of officers using excessive force. The council passed the motion 6-2. The initial claim asked for $10 million in damages. ktar.com

Los Angeles, CA: Woman Alleges Race Played Role in Anthropologie Shoplifting False Arrest
A Black woman is suing the city of El Segundo and the parent company of Anthropologie stores, alleging she was arrested and falsely accused of shoplifting last summer because of the color of her skin. Sheronda M. Bonner's Los Angeles Superior Court lawsuit, filed Friday, alleges civil rights violations, false arrest, etc.

According to the lawsuit, the case "arises from employees of an Anthropologie store who see an entitlement that says only certain people belong in the store, their unfounded and false report to the El Segundo Police Department that accused plaintiff of grand theft and the El Segundo Police Department's false arrest of Sheronda M. Bonner, an older Black woman."El Segundo police handcuffed the 53-year-old plaintiff and put her in jail, according to her court papers. mynewsla.com

Tonawanda, NY: Speedway and Police criticized for handling of Customer's arrest
Speedway says it "sincerely regrets" the false accusations one of its employees made against a customer. On July 9th, Town of Tonawanda Police were called to Speedway for a report of a customer cashing in a lottery ticket that was stolen during a smash-and-grab break-in the night before. Eric Martin, a black man, was arrested and charged with criminal possession of stolen property and resisting arrest. Days later, on July 14th, Speedway called the Tonawanda Police and notified them that Mr. Martin had indeed paid for the ticket he was cashing, according to James Stauffiger, Chief of Police. Charges were dismissed. "At the end of the day this shouldn't happened. It shouldn't happen to Eric and it shouldn't happen to anybody else," said Martin, Sr. wkbw.com

US consumer spending rose a moderate 1.9% in July

Best Buy to Turn 250 Stores into E-Commerce Hubs

Coresight Research
Weekly Store Tracker
7,643 2020 YTD Closures
3,326 2020 YTD Openings


Quarterly Results
Abercrombie & Fitch Q2 digital sales up 56%, net sales down 17%
Gap Inc. Q2 comp's up 13%, digital sales up 95%, net sales down 18%
Ulta Beauty Q2 comp' down 26.7%, e-commerce sales up 200%, net sales down 29.4%
Tiffany Q2 comp's down 24%, net sales down 29%

---

Senior LP & AP Jobs Market
Senior Manager - Supply Chain Transportation, Security & Compliance job posted for The Home Depot in Atlanta, GA


The Senior Manager owns the strategic vision and planning for security transportation operations. They will utilize state of the art technology in implementing security measures. The Senior Manager will discover emerging and all security aspects in transportation, design and develop ways in a means to minimize accidents/incidents in transportation operations. careers.homedepot.com

---
PPS Debuts Product Line to Keep Customers and Employees Safe for Retail, Restaurants, and Grocers
Product Protection Solutions (PPS), a leader in retail security, is pleased to announce the latest addition to their Keepsafe series of protection tools, the Sentinel Shield, the Aeroglove and the LED Blue Light.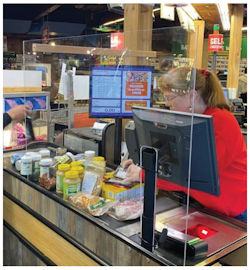 The PPS Keepsafe Sentinel Shield is an easy-to-mount solution that provides high-level results protecting associates and customers alike. PPS offers multiple versions including a free-standing version that requires no screws to mount as well as a version that can be hung from the ceiling or mounted to checkout counters via screws.

In an ever-changing environment, no one knows what threats may emerge. The PPS Keepsafe series is designed to protect people and profits, prevent Loss, and secure your bottom line.

"The very foundation of PPS has always been built on being agile. We solve the needs of our customers with quality solutions quicker and more reliably than any other solutions providers serving the retail and restaurant industries," said Chris Cox, Chief Executive Officer of PPS. "The COVID-19 pandemic has created a challenge for retailers and restaurants worldwide, and we believe we have a duty to help these industries get back on their feet as quickly as possible. The Keepsafe Sentinel Shield will help them adapt quickly to our new normal."

General Use and Application: Retail check-stands and lanes, C-Stores, Grocery, Restaurants, Customer service areas/desks, Return/Service desks, Pharmacy counters, Drive-thru activities

Keepsafe Sentinel Shield - Now that the U.S. Government has issued their three-phased approach for reopening the economy, PPS stands ready to meet the needs of retailers and restaurants we face our new challenges together. The Sentinel Shield is an easy-to-mount POS solution that protects both associates and customers. PPS offers multiple versions including a free-standing version that requires no screws to mount as well as a version that can be hung from the ceiling or mounted to checkout counters via screws.



Keepsafe Aeroglove by Hankscraft - The patented Aeroglove dispensing unit provides users the ability to safely put on poly, nitrile or latex gloves without contamination from touching the outside of the glove or box.

Keepsafe LED Blue Light - The LED Blue Light is a cost-effective way to sanitize specific areas and reduce the spread of bacteria and reduce illicit drug use in specific spaces, providing key benefits in safety and loss prevention.
RH-ISAC & Accenture Threat Trend Report
New Cybersecurity Threat Insights for Retail and Hospitality Companies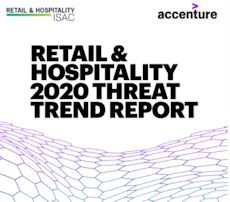 The latest Retail and Hospitality Threat Trend Report from Accenture and the Retail & Hospitality Information Sharing and Analysis Center (RH-ISAC) analyzes these IoCs and RFIs provided by members along with threat intelligence gathered by Accenture's iDefense threat intelligence team to provide a look back on trends. In addition, the report also looks ahead as companies deal with cyber threats during COVID-19.

Trend #1: Cybercriminal groups are reusing and recycling.

Bad actors are reusing previously observed tactics, techniques, and procedures (TTPs) with updated themes. The networks and websites of eCommerce businesses remained extremely attractive targets for threat actors throughout 2019. Due to the volume of customer and financial data processed by these organizations and actors' success at committing card-not-present (CNP) fraud, we believe eCommerce will remain in the crosshairs for quite some time.

Trend #2: The cybercriminal value chain has been "professionalized."

The criminal underground has rotated toward a new operating model which dictates a heavy reliance upon one another's skills: a larger degree of cooperation to enable more lucrative attacks. This poses a threat to many industries, including retail and hospitality, as the barriers to entry and return on investment for malicious actors tilt greatly in their favor.

Trend #3: Hospitality and travel organizations remain hotbeds for PII theft.

Because hospitality and travel companies process vast quantities of personally identifiable information (PII), cybercrime affecting the sector has been much broader in online booking, in-hotel wi-fi networks, and other customer or B2B touchpoints. We see an increasing number of supply chain cybersecurity incidents, which we expect to increase as more companies move data to new virtualized environments, cloud, and SaaS platforms.



Trend #4: Retail return fraud is expanding.

Accenture Cyber Threat Intelligence has observed three pertinent topics being discussed on criminal forums-identifying which retailers stolen cards can effectively be used at, contactless payment fraud, and refund fraud. rhisac.org

Companies seeing rise in cybercrime
SSN's latest News Poll shows industry seeing similar spike in attacks due to COVID-19

In fact, over the past 12 months, cyberattacks on U.S. companies shot up by 93 percent, according to an Atlas VPN investigation, a number that many experts agree will continue to climb as cyber criminals prey on those working at home and using a multitude of networks and devices that a hacker can gain access to or through.


When asked the million-dollar question - have you seen an increase in malicious cyber activity? - a whopping 92 percent saw an increase in activity with 67 percent saying "yes" and 25 percent saying "some" and only 8 percent saying no.

Looking at prevention and education, 69 percent of respondents said they have increased cyber-awareness training with so many working from home, with 23 percent saying they have not increased training and 8 percent saying they are considering it.

Looking at the rise in cybercrime, the VPN study reveals a real need for cybersecurity services right now, which is good news for cybersecurity providers, or integrators who offer cybersecurity services. securitysystemsnews.com

Internal Threat - Former Cisco Exec. Deletes Accounts
San Jose Man Pleads Guilty To $2.4M in Damaging Cisco's Network

Unauthorized Access Led to Deletion of 16,000 WebEx Teams Accounts

Sudhish Kasaba Ramesh pleaded guilty in federal court in San Jose today to intentionally accessing a protected computer without authorization and recklessly causing damage.

Ramesh admitted to intentionally accessing Cisco Systems' cloud infrastructure that was hosted by Amazon Web Services without Cisco's permission on September 24, 2018. Ramesh worked for Cisco and resigned in approximately April 2018. During his unauthorized access, Ramesh admitted that he deployed a code from his Google Cloud Project account that resulted in the deletion of 456 virtual machines for Cisco's WebEx Teams application, which provided video meetings, video messaging, file sharing, and other collaboration tools. He further admitted that he acted recklessly in deploying the code, and consciously disregarded the substantial risk that his conduct could harm to Cisco. As a result of Ramesh's conduct, over 16,000 WebEx Teams accounts were shut down for up to two weeks, and caused Cisco to spend approximately $1,400,000 in employee time to restore the damage to the application and refund over $1,000,000 to affected customers. justice.gov

Senior Job: Cybersecurity Principal - Data Protection for The Home Depot in Atlanta, GA
Counterfeit Credit Card Factory & Fencing Operation
Pineville Man Is Sentenced To 51 Months Prison For Credit Card Fraud
CHARLOTTE, N.C. Charles Vincent Brown, 36, of Pineville, N.C., today to 51 months in prison for credit card fraud.

Brown, Johnson and others used a stolen credit card number to create counterfeit credit cards, which they then used to purchase more than $250,000 of merchandise. According to court records, Brown and Johnson stole the credit card number of an individual identified as Victim #1, whose credit card had a credit limit of $300,000. The co-conspirators created counterfeit credit cards bearing the defendants' names and the names of other co-conspirators, and used them at multiple retail stores, including at Best Buy, Foot Action, Foot Locker, and Neiman Marcus.

According to court records, Secret Service agents executed a search warrant at Brown's apartment, and seized more than 560 pairs of high-end sneakers and other footwear, electronics, clothing, gaming equipment, and other items Brown had purchased using the counterfeit credit cards. Agents also seized computers, an embosser, a laminator, and other items used to manufacture counterfeit credit cards and fake identity documents. justice.gov

Sonora, CA: Arrest Made After Investigation Into Multiple Theft at Lowe's


A man has been arrested after a month-long investigation into multiple thefts of merchandise and power tools stolen from Lowe's Home Improvement store in Sonora. A search warrant was served on the residence and a storage unit owned by Shae P. Green. In June, Green was arrested after being identified as a shoplifter at Lowes where he "lifted up his shirt to brandish a firearm to the associate who tried to confront him." Neither the gun nor the stolen property was recovered at that time.

After a month-long investigation, and with a warrant, officers located the stolen property. Sonora Chief of Police, Turu VanderWiel, reports officers also found several Fentanyl pills, two firearms, and ammunition. He says certain aspects of the investigation are still ongoing. A list of the items officers recovered at the two locations has not been released yet. Green was arrested at his residence and later booked at the Tuolumne County Jail with bail set at $40,000. He faces felony charges including burglary, possession of stolen property, possession of narcotics for sale, and for being a felon in possession of firearms and ammunition. mymotherlode.com

Chicago, IL: Man freed from jail's huge COVID release charged with having $4,000 worth of looted merchandise
Due to COVID-19 concerns, Judge Alfredo Maldonado granted a defense motion to release Purdis on 25th March. Kevin was released on a recognizance bond. On the 19th of August, Wednesday in the afternoon Traffic police caught him for not wearing his seatbelt, and then Kevin was taken under the custody. When the Police seized his car they found boxes of Apple products, Roku devices, earbuds, and other products in the trunk of Kevin's car. Kevin was again sent to jail after being charged with electronics and other merchandise from the Apple Store, Target, and Best Buy that worth approx $4,000. According to Assistant State's Attorney James Murphy, looted goods included $2,948 worth of Apple gear, $180 worth of Best Buy merchandise, and $616 in Target inventory, prosecutors, and some of the boxes still had anti-theft devices attached. instachronicles.com

White Township, PA: PA State Police investigating $750 theft from Lowe's
Troopers at the Indiana (PA) station said they are seeking to identify a man and woman who are suspects in an Aug. 15 retail theft at the Lowe's along Ben Franklin Road South in White Township. State police spokesman Trooper Cliff Greenfield said a total of $746.90 worth of merchandise was stolen, including a Craftsman 2200-watt generator and various household items. indianagazette.com

Plano, TX: Police seeking information on two suspects in $1,100 theft at Rural King

Pullman, WA: Man arrested on Burglary charges following 2 Push-Out thefts totaling $800 at Walmart