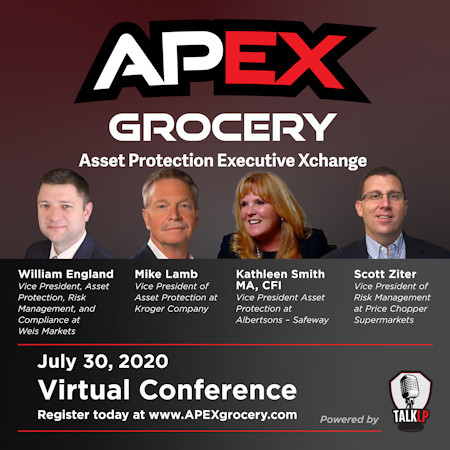 Virtual Conference on July 30:
Asset Protection Executive Xchange

Asset Protection Executive Xchange (APEX) is a virtual event series creating valuable content for Asset Protection and Loss Prevention professionals. Tackling the hottest industry topics in the unscripted way TalkLP has become known for, attendees will get a firsthand look into the minds of Asset Protection executives from across the industry.

APEX Grocery is specifically tailored to addressing the unique challenges grocers face. This event is open and available to ONLY grocers, foodservice providers, and any loss prevention/asset protection professional. Sponsoring solution providers are welcome and encouraged to attend.

APEX Grocery is a virtual event produced by TalkLP.

Register Here!

---

eBay Global Security Team Arrested by FBI Follow-Up,
eBay Former CEO & Corp. Communications Respond,
& Allied Universal Officer Jailed $600k Theft

NEW: eBay's Former CEO Denies Any Link to Cyberstalking
But Did Want to Create a Competitor to Challenge Her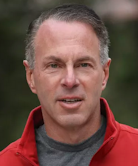 Devin Wenig says he had "no knowledge, no private understanding, no tacit approval" of the harassment campaign.

Former eBay CEO Devin Wenig, who led the company at the time, tells Recode that he was shocked to hear details of the campaign this week and that he gave "no direction" nor "tacit approval" for it.

But the former eBay chief executive was at times so frustrated with coverage from the news website in question that he on several occasions floated the idea internally that eBay should create its own competitor publication, multiple former eBay insiders told Recode.

"On Monday, I read the charges along with everyone else, and was shocked and outraged," Wenig told Recode in a statement. "It is important for me to reiterate, and an independent investigation confirmed, that I had nothing to do with and no knowledge of the activities alleged to have occurred. There was no direction, no knowledge, no private understanding, no tacit approval. Ever."

Still, the fact that eBay's security team allegedly felt comfortable executing such a campaign against the blogger and her husband suggests that the leadership team had, at best, problematic blind spots.

In court documents, copies of text messages showed Wenig twice instructing his communications chief, Steve Wymer, to "take her down," referring to the EcommerceBytes owner and writer Ina Steiner. On Thursday, Wenig told Recode in a statement that those texts "have been wildly misinterpreted and taken completely out of context in some media reports."

Wymer also sent text messages with an aggressive tone such as: "We are going to crush this lady."

Court documents also include an exchange between Wymer and the security chief Baugh in which Baugh references an unspecified "Plan B" in relation to the EcommerceBytes couple. Wymer expressed a willingness to manage any fallout internally, but the messages do not indicate that Wymer had any knowledge of what the "Plan B" entailed.

Neither Wymer nor Wenig has been charged, and authorities did not name them in the affidavit; instead, the two were simply referred to as Executive 1 and Executive 2. vox.com

eBay Clarifying Update on Federal Charges
eBay's Two Efforts - Separate & Independent
Asset Protection & Global Security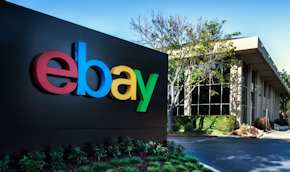 Given the recent events and regretful actions on the part of the Global Security team it's important to note that Asset Protection is a separate team and function at eBay.

With their Asset Protection team reporting into the legal arm and absolutely committed to the professional standards and ethics that we associate with any other well grounded and focused function and team.

Having worked with the team directly now for a number of years we at the Daily can attest to their professionalism, as can a number of colleagues who attend the Asset Protection's team annual collaborative conferences.

eBay Response: Global Security Team Fed. Charges
eBay's Corporate Communications Team - Additional Points
In an email to the Daily, eBay's communications team wanted to add a few points the industry should be aware of and hear officially:

• This was an aberrational incident involving unacceptable conduct by former employees.

• In addition to terminating those responsible, since learning of these events, eBay has worked to rebuild the GSR team, including appointing an experienced and well-regarded new leader in that area.

• eBay is confident that his leadership will ensure that the GSR team will fulfill its important responsibilities while acting at all times with integrity and consistent with eBay's Cultural Values and Code of Business Conduct & Ethics.

• eBay holds its employees to the highest standards of conduct and ethics and will continue to take appropriate actions to ensure these standards are followed by all employees.

In Case You Missed It... Here's the Daily's coverage from last week:

*Last week's #1 most-clicked article:
June 15: Former Senior Director of Safety & Security & Other Global Security Team Members Arrested, Facing 5 Yrs Prison & 3 Yrs Supervised Release & $250,000 Fine

June 15 Special Report: "Emotionally & Psychologically Terrorizing Middle-Aged Couple"

June 16: What They're All Saying - The Story Behind the Story - eBay's Former CEO Directed His Rage?: eBay Cyberstalking Makes All Major News Outlets

June 17: 1st Cyberstalking Case Ever on a Global Security Team - eBay Federal Charges Follow Up: EBay's Former PR Chief Is 'Executive 2' in Cyberstalking Indictment

June 18: Having a Prosperous LP Career Without Compromising Ethical & Moral Standards - Op/Ed article by John Velke, SVP of Risk Management & Loss Prevention, Total Wine & More


Allied Universal Guard Charged
In $660K Worth Of Rental Cars Stolen
Two charged in theft of 28 rental cars at BWI Airport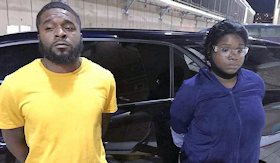 A man and woman were arrested Monday and charged with stealing at least 28 rental cars from BWI Thurgood Marshall Airport over six weeks in 2019.

Police said Shakierra Scott used her position as a security officer with Allied Universal Security Services, a company contracted by rental car companies at BWI, to allow Travis Scott to drive the rental cars from the secure facility without a contract. They then sold the rental cars, police said.

Transportation Authority Police, which has jurisdiction at the airport in Linthicum, said they conducted a lengthy investigation into the thefts from the BWI rental car facility in Hanover between May and July 2019. The vehicles had a combined value of more than $660,000.

Shakierra Scott was initially arrested in late July by the MDTA Police Special Operations Division and charged with stealing a single vehicle. Prosecutors opted not to take those charges to trial in September.

Both Scotts are being held without bail in the Anne Arundel County Detention Center on Jennifer Road. Neither has an attorney listed for them in court records. baltimoresun.com

---

Coronavirus Tracker: June 22
US: Over 2.3M Cases - 122K Dead - 980K Recovered
Worldwide: Over 9M Cases - 471K Dead - 4.8M Recovered

Fallen Officers From the COVID-19 Pandemic: 49 | NYPD Deaths: 45
Private Industry Security Guard Deaths: 150+

Re-Closing Stores Due To COVID Spikes
Apple to re-close 11 stores in 3 States
The closures include all six of Apple's stores in Arizona, along with two in Florida, two in North Carolina and one in South Carolina.

Apple, which has about 270 U.S. locations, has been reopening stores it closed during the COVID-19 crisis, with enhanced safety measures in place. chainstoreage.com

Mass Data Theft - The Big COVID Consequence
Mass Layoffs Risk Exodus Of Corporate Data, Experts Warn
The suspension of office work followed by mass layoffs were devastating consequences of the COVID 19 virus once it took hold in the United States in February. Mass data theft may be the next.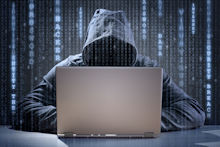 As corporations across industries rush to trim their payrolls and stay afloat financially, they are inviting data loss on a large scale, as millions of departing workers take sensitive company files and other data with them on the way out the door, experts warn.

A Spike in Data Exfiltration

Many of those departing employees will not leave empty handed, experts warn. "We've seen an enormous spike in exfiltrated data," said Joe Payne of the firm Code 42.

"The first thing we noted as COVID hit was a surge in VPN activity," That has meant a loss of visibility.

COVID's Double Whammy - Nothing says "I'm Leaving" like a ZIP File - USB Sticks - Close Collaboration with HR forbes.com

Read full article

Some Are "Too Far Gone To Be Saved"
Coronavirus Driven Tidal Wave of Bankruptcies Is Coming

Experts foresee so many filings in the coming months that the courts could struggle to salvage the businesses that are worth saving.

Already, companies large and small are succumbing to the effects of the coronavirus.

Edward I. Altman, the creator of the Z score, a widely used method of predicting business failures, estimated that this year will easily set a record for so-called mega bankruptcies - filings by companies with $1 billion or more in debt. And he expects the number of merely large bankruptcies - at least $100 million - to challenge the record set the year after the 2008 economic crisis.

Even a meaningful rebound in economic activity over the coming months won't stop it, said Mr. Altman, the Max L. Heine professor of finance, emeritus, at New York University's Stern School of Business. "The really hurting companies are too far gone to be saved," he said.

The flood of petitions from the worst economic downturn since the Great Depression could swamp the system, making it harder to save the companies that can be rescued, bankruptcy experts said. nytimes.com

Union Demands Food Retailers Reinstate Hazard Pay

G4S Announces Expansion of Return to Work Assurance Program to Help Organizations Meet Compliance Requirements During COVID-19 Reopenings

---

Protests/Riots Update

Seattle: Shooting reported in Seattle's 'CHOP' zone for second straight night
At least one person was shot on Sunday night inside Seattle's autonomous protest zone, where demonstrators have settled during the civil unrest sparked by the death of George Floyd at the hands of police officers.

The "CHOP zone" refers to the so-called Capitol Hill Organized Protest zone, which was originally created as a space for nonviolent demonstration but has descended into violence for a second straight night.

On Saturday, a 19-year-old man was killed after a shooting took place inside the zone. nypost.com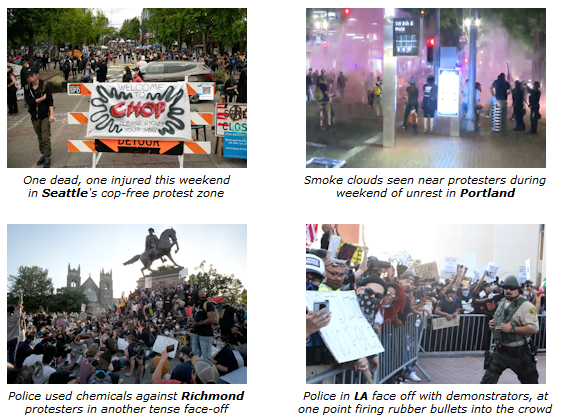 VIDEO: Former Minneapolis officer Kueng confronted at food store
One of the four ex-officers charged in the death of George Floyd is out of jail. A woman spotted former Minneapolis Police officer J. Alexander Kueng shopping over the weekend at Plymouth Cub Foods store. krqe.com

Portland: Downtown protest ends with officers firing 'munitions,' apparent foam-tipped projectile shot to the back of a person's head

Richmond: Protesters say Richmond police used tear gas to disperse 'unlawful assembly' near Confederate statue

Los Angeles: 600 protesters face off with deputies in Compton after shooting death of 18-year-old

Des Moines, IA: Hy-Vee responds to list of demands provided by DSM Black Lives Matter

'RIP Taco Bell': People tweet homemade recipes to boycott chain, show support for employee who says he was fired for Black Lives Matter mask

---

Police Reform/Defunding

The Race to Reform Police
19 States race to reform police practices in wake of George Floyd's death
Legislatures in 19 states and the District of Columbia have introduced more than 160 bills in the three and a half weeks since the killing of George Floyd.

Many of the bills up for debate are broad efforts to overhaul police department procedures to hold officers to greater account. Others are more narrowly targeted, banning chokeholds or the use of tear gas and rubber bullets during protests. Still more implement new training regimes meant to cut down on the number of police interactions that end violently.

Legislators in Minnesota have introduced 53 different measures, including bills to ban so-called warrior-style training and weapons. thehill.com

Police Reform Core Objective - Restricting 'Use of Force'
Legal Discussion on 'Use of Force' Movement
California Ahead of #8CANTWAIT Police Reforms
In the past week, Campaign Zero's "#8CANTWAIT" was launched in response to George Floyd's killing and the outcry for police reforms that followed. The campaign is a push for eight police use-of-force reform measures and a database that tracks how these eight policies, meant to curtail police violence, are employed in major cities. Campaign Zero and its advocates have urged and challenged state and local political and law enforcement leaders to implement these eight policies.

According to the Campaign Zero website, the fundamental basis for the #8CANTWAIT reforms is a large correlational study of the relationship between cities' demographic characteristics, their use of force policies and their level of police killings of civilians. The results, the group claims, are very clear: Adopting these policies is statistically associated with a lower level of police killings, whether judged per person or per arrest.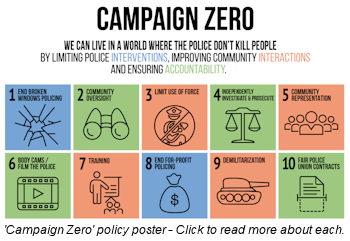 The eight policies are:

1. Require "de-escalation"

2. Require a warning by officers before shooting

3. Require officers to intervene when excessive force is being used

4. Require comprehensive use of force reporting

5. Ban chokeholds and strangleholds

6. Ban shooting at moving vehicles

7. Establish and require "use of force continuum"

8. Require that all alternatives be exhausted before shooting publicceo.com

President Trump Signs Executive Order on Safe Policing for Communities - Police Certification & Credentialing Guidelines

---

DOJ - FBI Protests/Riots Follow-Up Arrests

Seattle, WA: No arrests in shooting in Seattle protest zone that killed 1

Portland, OR: Several arrests early Sunday after protest turn violent at Portland's Justice Center

Minneapolis, MN: Woman Charged With Arson Of St. Paul Car Rental Agency

Philadelphia, PA: FBI uses 'Good "new"-fashioned police work' to arrest suspect for Arson of 2 Police cars

Davenport, IA: Police charge man in shooting death of woman at protest

Louisville, KY: 7 face Federal charges from civil unrest in Louisville

FBI trawled Facebook to arrest protesters for inciting riots, court records show

San Bernardino, CA: Two men arrested after tracking $9,000 of stolen cell phones in looting of T-Mobile store

Florissant, MO: 3 arrested after protesters clash with officers outside Florissant police headquarters

Evansville, IN: Three Arrested in Evansville for Attempting to Start Riot outside Walmart

Philadelphia, PA: Man Charged for Blowing Up an ATM and Illegal Possession of a Firearm during Protests

Philadelphia, PA: Police Release Surveillance Video Of Germantown Avenue Jewelry Store Burglary
---

NYC Retail Reopens - Phase 2
While NYC 'Bail Reform Not Working'

39 Shootings in 36 Hours
NYPD Detective Union President: Bail Reform Not Working
Weekly NYC Shootings Soar 358% Over Last Year, Data Shows

Two victims died in at least 21 shootings across four NYC boroughs between Friday and Saturday, officials said.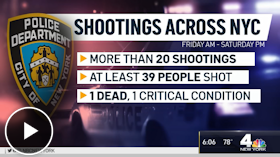 A total of 74 people were wounded in the 55 shootings, at least 19 of them injured in more than a dozen shootings across the five boroughs on Saturday alone. Most of that gunfire was in the Bronx; four of those shootings were in Brooklyn, two in Queens and one in Manhattan, the NYPD said.

The rise in shootings has exceeded a troubling trend that started earlier this year and comes on the heels of NYPD Commissioner Dermot Shea disbanding an anti-crime plainclothes unit that had focused on stopping people and searching for guns. On Monday, Shea reaffirmed his commitment to disbanding the anti-crime unit, telling NY1, "We cannot stop our way out of this problem." nbcnewyork.com

NYC shootings skyrocket as court closures let pistol perps walk free
We have over 1,000 people that have been indicted on a gun possession charge, where the cases are open, and they are walking around the streets of New York today," Chief of Crime Control Strategies Michael LiPetri told The Post.

That tally doesn't include about 800 additional defendants who are charged with illegally packing heat but have yet to be formally indicted when the courts ground to a halt, LiPetri said.

"This isn't the DAs' fault. I get it," LiPetri said. "They do have a very tough situation."

"We've never seen a higher percentage of parolee-involved incidents with shootings, since we've been tracking it in '05," he said.

LiPetri also observed that of the 110 people shot between June 1 and June 18, 24 percent had an open court case for gun possession. nypost.com

NYPD cops encouraged to 'strike' on July 4 to give city its 'independence'

Nordstrom to Reopen NYC Stores June 24th

---

Reopening America

NRF's Operation Open Doors
Guidance for retailers on safely reopening stores


Operation Open Doors - Path to Reopen Retail, led by NRF and Seyfarth LLP, is providing guidance and tools that NRF members can use as they navigate opening stores after this international health crisis. Areas for guidance on gradual reopenings include logistics, social distancing and safety issues, and how to bring employees back to the workforce. nrf.com

OSHA Recommends Hazard Assessments For Each Job
New OSHA Guidance Clarifies Return-to-Work Expectations


The Occupational Safety and Health Administration (OSHA) has issued guidance for reopening businesses that recommends each establishment conduct a hazard assessment for all jobs. It also clarifies OSHA's positions on temperature checks, coronavirus testing and face masks.

"This is fairly consistent with guidance that OSHA has already issued and posted on its website," said Cressinda D. Schlag, an associate at Jackson Lewis in Austin, Texas. "The challenge is how to work this guidance in with the patchwork of orders and other guidance" from federal, state and local governments and health authorities.

Among the key takeaways in the return-to-work booklet:

- Employers should conduct a thorough hazard assessment that examines the potential COVID-19 exposures for each job category and outlines protective measures.

- Employers may perform daily temperature checks and health assessments of employees, so long as the checks are administered transparently and fairly and anyone performing the checks is protected from possible infection. shrm.org

Masks On? What Employers Need to Know About Face Coverings at Work
The Occupational Safety and Health Administration (OSHA) offered some guidance on June 10, noting that "millions of Americans will be wearing masks in their workplace for the first time" as businesses reopen and offices repopulate after months of stay-at-home orders. "OSHA generally recommends that employers encourage workers to wear face coverings at work," the agency said, but it added that employers can decide not to, "based on the specific circumstances present at the worksite." shrm.org

Malls in New Jersey to re-open on June 29

AMC reverses controversial mask policy: Now all guests must wear masks

Flash Report: Masks Now Required Everywhere in California

OSHA Warning: Oregon OSHA enforces safe workplaces amidst pandemic - Issuing Fines

---

Industry News

ASIS International Announcement:
Global Security Exchange 2020 Transitions to Fully Virtual GSX+



New virtual experience delivers world-class security education, networking, and marketplace all over the globe

ASIS International, the world's largest association for security management professionals, today announced its decision to move Global Security Exchange (GSX) 2020 to a fully virtual experience, titled Global Security Exchange Plus (GSX+), which includes more than 80 industry-leading education sessions, a robust exhibition marketplace, and unique peer-to-peer networking opportunities.

Previously scheduled to take place 21-23 September in Atlanta, Georgia, USA, the new online GSX+ will bring together a global audience with live and on-demand features from 21-25 September. asisonline.org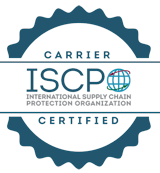 Priority Express Courier, a Capstone Logistics Company is the latest to be ISCPO Carrier Certified
The International Supply Chain Protection Organization (ISCPO) is pleased to announce that Priority Express Courier, A Capstone Logistics Company has been officially awarded the ISCPO Carrier Certified designation, as part of the ISCPO's Carrier Security Audit & Certification program. The regional transportation carrier has achieved full compliance with ISCPO Carrier Security Requirements, which includes a comprehensive due diligence process and analysis of various security standards necessary to ensure the integrity of goods flowing through the carriers and their clients' extended supply chain. iscpo.org

2020 TMA Monitoring Center Excellence Awards Winners Announced

Affiliated Monitoring Named Winner of 2020 TMA/SSI Monitoring Technology "Marvel" Award

---

Subway to add 50,000 workers

New York & Company Looking to Close All Stores

Bed Bath & Beyond Lays Off Hundreds - 148 @Corp & 220 @Ocoee, Fl., Contact Center

Brookfield & Simon Properties Suing Gap Over Unpaid Rent & Refusing to Open Stores in TX

Airlines Threaten Ban Travelers Refusing to Wear Masks

Carnival Loses $4B Amid Ship Lockdowns


Quarterly Results

Canada's Sobey's parent Empire Co. LTD. Q4 comp's up 18% excluding fuel, sales up 12.7%
Canada's Sobey's parent Empire Co. LTD. FY comp's up 5.7% excluding fuel, sales up 5.7%

Hudson's (airport stores etc) Q1 comp's down 22.5%, net sales down 23.4%

At Home Q1 comp's down 46.5%, net sales down 38%