Gatekeeper Helps Retailers Crack Down on Theft
Wegmans aims to crack down on shopping-cart thefts. Here's how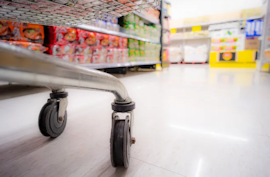 Wegmans Food Markets has installed a security system to prevent shopping-cart thefts at its Auburn, Cayuga County, store, and it could be added to other locations in the 106-store chain.

Last week, the Rochester-based company activated a Gatekeeper security system at the Auburn store, the Auburn Citizen reported Nov. 17. If someone tries to take a cart beyond the store's property, the wheels lock, Wegmans spokesperson Deana Percassi explained in an email.

Most such systems work via a buried cable around a property's perimeter. When a cart crosses over the cable, a signal is sent to a central transmitter, locking the cart's wheels (which employees can unlock to bring the cart back into service).

"At this time, Auburn is the only store using this system, but we will continue to evaluate the potential to roll this out to other stores," Percassi said. "There are several reasons why we decided to install the system at the Auburn store, including the cost of replacing carts, as well as the cost of locating and returning missing carts to the store."

She did not say how many carts the Auburn Wegmans is losing (although the Citizen story characterized it as an ongoing problem) or what the losses amount to in dollars but noted that cart theft is an industry-wide issue for U.S. retailers that results in annual costs of around $800 million, according to the Food Marketing Institute in Washington D.C.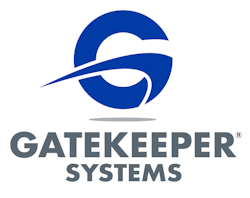 Tops supermarkets, which has 160 stores - most in New York state - has used a cart-locking system at 24 of its locations for more than 20 years, spokesperson Kathleen Sautter said in an email.

She declined to say which 24 "for security reasons," but she did say the system has not prevented cart thefts entirely.

"We do have people who will challenge the system by lifting and dragging the carts through the barrier," she said. "As you can imagine, having the carts stolen is a tremendous expense to our organization and frustrating for shoppers as well." democratandchronicle.com

---

The U.S. Crime Surge
The Retail Impact

Bay Area Retailers Flooded with Looters & Thieves

San Francisco, CA: California Nordstrom robbed by 80 looters in ski masks with crowbars and weapons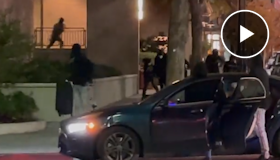 About 80 looters in ski masks ransacked a Nordstrom location outside of San Francisco, in a scene described by witnesses as "insane" and like something "out of a movie." "We probably saw 50 to 80 people in ski masks crowbars a bunch of weapons. They were looting the Nordstrom's right here. And I thought they were going to start beating cars. I had to start locking doors lock the front door lock the back door," local PF Chang's manager Brett Barrette told KGO. "There was a mob of people," Barrette added to CBS SF. "The police were flying in. It was like a scene out of a movie. It was insane."

The incident unfolded before 9 p.m. on Saturday evening in Walnut Creek, which is about 25 miles outside San Francisco. A local reporter tweeted footage of the scene and said about 25 cars pulled up outside of the Nordstrom before running in, grabbing merchandise and fleeing. Dozens of police cars responded, and Walnut Creek Lt. Ryan Hibbs told KPIX 5 there were reports that the looters smashed shelves during the incident. They quickly got back into their cars while carrying bags and boxes.

It's unclear how much merchandise was stolen, NBC News reported. Walnut Creek Police Department said that one employee was pepper sprayed and two others were kicked and punched. They were treated and released on the scene. foxnews.com

Police Warn of More Mass Robbery Attempts After Looters Ransack Walnut Creek Nordstrom
Walnut Creek Lt. Ryan Hibbs told KPIX that three people were in custody and others were being sought. "Walnut Creek Police investigators are in the process of reviewing surveillance footage to attempt to identify other suspects responsible for this brazen act," authorities said in Sunday morning news release. sanfrancisco.cbslocal.com

S.F. police respond to reports of looting, vandalism of Union Square stores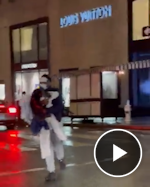 Police officers in San Francisco responded to the city's fashionable Union Square Friday evening following reports of looting and vandalism at retail stores there, according to a police spokesperson.

San Francisco Police Ofc. Robert Rueca said late Friday evening that the report came in at approximately 8:10 p.m. and officers arrived on scene to a retail store in Union Square in which they observed several suspects involved in criminal acts.

Reports say the Louis Vuitton fashion store on Geary Street was a major target. Multiple videos posted on social media showed the store being robbed.

Police have arrested multiple suspects, Rueca added, continuing that officers are responding to reports of other retail establishments where vandalism has occurred Friday evening. Additional officers are responding to the Union Square area. mercurynews.com

Hayward, CA: Smash-and-Grab Thieves Target Hayward Mall; Lululemon Store Robbed in San Jose's Santana Row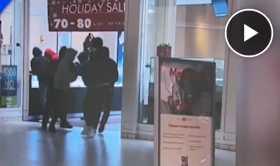 Looters targeting Bay Area businesses struck again Sunday evening, with smash-and-grab thieves hitting the Southland Mall in Hayward and suspects taking merchandise from a Lululemon store in San Jose. Hayward police told KPIX they responded around 5:30 p.m. Sunday to multiple calls from stores in Southland Mall. Witnesses said a large mob of people caused a huge disturbance inside the mall, with some briefly taking over a jewelry store. Witnesses described some 40 to 50 looters wielding hammers and other tools looted Sam's Jewelers, breaking glass cases and quickly fleeing. The Macy's store was also ransacked.

In video taken during the robbery, you can hear workers inside Sam's Jewelers screaming in fear. Witnesses say this was the tail end of a much scarier and bigger scene. "I would say at least 30 to 40 [people] from what I saw," said another witness, who declined to identify themselves. "But then after the main group of kids rushed out, we saw 15 to 20 scattering, some even came back in." KPIX spoke with two women who work near Sam's Jewelers. They and other mall workers said some kids ran into other stores and left with shoes and clothing. sanfrancisco.cbslocal.com

LA's Progressive DA Making the News - Progressives Typically Don't Prosecute Petty Theft Cases
'He's Remaking Criminal Justice in L.A. But How Far Is Too Far?'

To keep people out of prison, George Gascón is risking everything: rising violent crime, a staff rebellion and the votes that made him district attorney.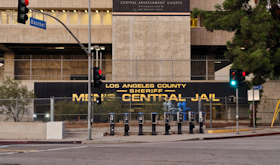 Last December, when George Gascón took over the largest local prosecutor's office in the country, he made a complete break from the past. His inaugural speech as district attorney of Los Angeles County at once thrilled progressive activists and alienated many of the lawyers sizing up their new boss. Standing alone at a lectern as a pandemic precaution, Gascón put his hands to his forehead and half-bowed, yogi-style, to thank the judge who swore him in over a video connection.

Gascón leveled an all-out attack on the status quo. The new district attorney described being arrested as "traumatic and dehumanizing," lifting his hands for emphasis. "Our rush to incarcerate generations of kids of color," he said, has torn apart "the social fabric of our communities." Signaling that the police should expect new scrutiny, Gascón promised to review fatal shootings in the county by officers, going back to 2012.

He turned the argument for the "tough-on-crime approach" of other local law-enforcement leaders on its head, blaming their strategy for an eight-year rise in violent crime. He accused his opponents of making "unfounded and self-serving claims" about how more punishment increases public safety. "The status quo hasn't made us safer," he said, jabbing his fingers into the air. Continue Reading

Democrats Turn a Blind Eye to Connecticut's Juvenile Crime Wave

The state desperately needs a special session of the Legislature to address it, but Gov. Lamont refuses.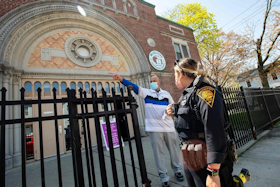 A juvenile crime wave is breaking across Connecticut. Tragically, children have been both victims and perpetrators.

Residents, chiefs of police, municipal leaders and community activists across the state are begging Democratic Gov. Ned Lamont to address the problem by calling the Democrat-dominated Legislature into special session. To date, these requests have been ignored, with deadly results.

Hartford has seen more than 30 homicides this year, making 2020 one of the deadliest years on record in Connecticut's capital city. In April a 3-year-old boy was shot and killed in a car by offenders who were themselves only 16 and 19. In neighboring New Britain, a 17-year-old with 13 prior arrests stole a car and struck and killed a jogger in June. In a Danbury mall in August, a 14-year-old in a dispute with other teens shot an innocent bystander-a 15-year-old girl.

Bridgeport, the state's largest city, has seen more than 10,000 incidents of shots fired so far this year, twice the number for all of 2020. Gun violence is "everywhere" in Connecticut, a neighbor of the victims told the Connecticut Post.

Connecticut's Democratic politicians consistently try to evade responsibility for the violence by pointing to national trends. They ignore the residents, law-enforcement officials and even the parents of juvenile offenders who are begging them to do something to help end the violence. After recent shootings that involved 10- and 14-year-old boys, Waterbury police chief Fernando Spagnolo urged elected leaders to take action: "We need some help from the legislators." Continue Reading

New Mexico Attorney General's office seeing more shoplifting rings ahead of holiday shopping season

'Increased levels of theft': Humboldt County retailers, law enforcement see more pilfering
---
Retail Abuse & Violence Against Shopworkers in the UK

Trade Associations & Retail Unions Fight for New Criminal Charges

UK: Retail unhappy as efforts to make attacking shopworkers a specific offence are rebuffed
Retailer organizations have united in disappointment at the government's continued unwillingness to introduce specific legal protection for shopworkers who are assaulted.

Although some peers in the House of Lords yesterday spoke in favour of the measures, two proposed amendments to the Police, Crime, Sentencing and Courts Bill were withdrawn.

The government argues that a wide range of potential offences already exist for assaults on shopworkers, including common assault, so there is no need for a specific offence of assaulting a shopworker.

James Lowman, chief executive of the Association of Convenience Stores (ACS), said: "We are extremely disappointed that the government has once again failed to take urgent action to protect colleagues working in our sector.

Another retail body, the NFRN, agreed and added that it would continue to press for greater protection for shopworkers.

Shahid Razzaq, chairman of its political engagement committee, said: "We will continue to lobby the government, police chiefs and police and crime commissioners for greater legal protection for everyone who works in retail." Shopworkers union Usdaw also pledged to continue pressing for legislative change and a simple standalone offence for assaulting a retail worker. talkingretail.com

Last week in the UK - Retail's Biggest Trade Union - USDAW
'Respect for Shopworkers Week' & 'The Freedom From Fear Campaign'

About Freedom From Fear: Usdaw's 'Freedom From Fear Campaign' works to prevent violence, threats and abuse against workers. We do this by engaging the public, shopworkers and the Government.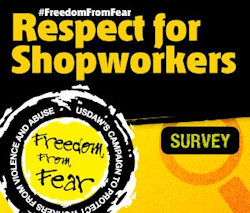 Results of last year's Usdaw's Freedom From Fear Survey show that 79% of shopworkers said that abuse was worse last year. 88% experienced verbal abuse, 60% were threatened by a customer and 9% were assaulted.

Usdaw survey reveals that nearly half of shopworkers are not confident that reporting abuse will make a difference usdaw.org.uk

Retail trade union Usdaw has today launched shocking statistics from their annual survey during the annual Respect for Shopworkers Week, 15-21 November. Interim results from nearly 3,500 retail staff show that in the last twelve months:

● 89% have experienced verbal abuse.
● 64% were threatened by a customer.
● 11% were assaulted.
● 46% said they were not confident that reporting abuse, threats and violence will make a difference.
● 7% of those who had been assaulted did not report the incident.

The annual Respect for Shopworkers Week runs from 15-21 November this year. During the campaign week Usdaw reps, activists and officials are raising awareness of the year-round Freedom from Fear Campaign, talking to the public at street stalls and in shops to promote a message of 'respect for shopworkers'.

Usdaw is campaigning for a new protection of workers law, like the ground-breaking legislation that came into force in Scotland in August this year. The union continues to call on the Government to extend those protections to shopworkers across the rest of the UK, which is supported by leading voices across the retail sector. pressreleasespoint.com

USDAW Survey: Survey of violence and abuse against retail staff

---

Rittenhouse Verdict Sparks Nationwide Unrest

NYC - Kenosha - Portland - Los Angeles - Chicago
Protests & riots spring up in NYC, other cities in response to Rittenhouse verdict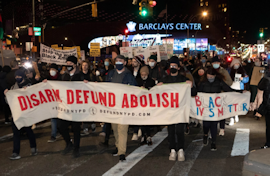 Protests sprang up in New York and other cities across the country Friday night in response to Kyle Rittenhouse's acquittal, resulting in at least five arrests and some property damage in Queens, according to the NYPD.

About 300 protesters also gathered outside Brooklyn's Barclays Center, where the Nets played the Orlando Magic Friday night, decrying the not-guilty verdict as a shameful racial double standard in the justice system.

Meanwhile, in Kenosha, Wisconsin, dozens of protesters congregated outside of the courthouse where Rittenhouse had been acquitted, for hours after the decision was announced.

A large-scale protest never materialized, and the small group was largely peaceful. One woman was arrested for drawing "Judge Schroeder must go" on the courthouse walls and steps in chalk, referring to Bruce Schroeder, the judge in the Rittenhouse trial, according to local reports.

Tensions escalated dramatically in Portland, Oregon where a riot was declared after a group of about 200 protesters began hurling objects at police officers and damaging city buildings, cops said.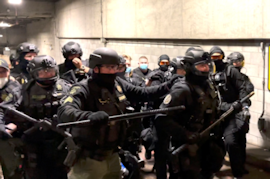 Portland Police Chief Chuck Lovell told KOIN that it is "reasonable to expect there will be some type of reaction to the verdict."

In Los Angeles, about 20 people gathered Saturday at Pan Pacific Park, marching peacefully along sidewalks and through the bustling Grove shopping center carrying signs reading "Kyle Rittenhouse and the Whole Damn System Is Guilty" and urging shoppers to join them.

Other small protests took place in Chicago, where people gathered on the city's streets to protest the verdict for a 90 minute peaceful march, local media reported. The Chicago Police Department had canceled many officers' days off in anticipation of any unrest in response to the verdict, according to WGN.

Chicago Mayor Lori Lightfoot released a statement in response to Friday's verdict in which she urged residents to "respect the jury's decision," while also criticizing Rittenhouse's actions. nypost.com latimes.com

Gun store promotes 'not guilty' sale after Rittenhouse acquittal
A Texas gun store and shooting range is facing criticism following a text message to customers announcing a "not guilty" sale after Kyle Rittenhouse was acquitted.

The Saddle River Range sent a text to customers early Saturday morning saying the large holiday sale would start later that day and last until Thanksgiving. The sale includes deals on firearms, optics, bags and gun parts, among other items.

The decision to promote the sale using an image of Rittenhouse was met with mixed emotions. The 18-year-old was acquitted Friday on charges stemming from killing two men and wounding another during the unrest that followed the shooting of Jacob Blake, a Black man, by a white police officer last year. hawaiinewsnow.com

Kyle Rittenhouse acquittal sparks sporadic protests and Portland clashes - but Kenosha remains peaceful

Windows smashed in downtown Portland Rittenhouse protest

---

COVID Update

451.4M Vaccinations Given
US: 48.5M Cases - 793.6K Dead - 38.4M Recovered
Worldwide: 257.9M Cases - 5.1M Dead - 232.8M Recovered


Former Senior Loss Prevention Executive
Know of any fallen LP exec? Let's remember & recognize.
Private Industry Security Guard Deaths: 325 Law Enforcement Officer Deaths: 535
*Red indicates change in total deaths


COVID Cases Tick Back Up Ahead of Holidays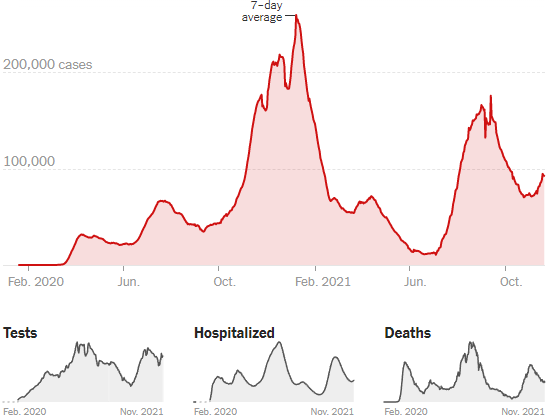 More COVID Deaths in 2021 Than 2020
U.S. Covid-19 Deaths in 2021 Surpass 2020's
The number of U.S. Covid-19 deaths recorded in 2021 has surpassed the toll in 2020, according to federal data and Johns Hopkins University, demonstrating the virus's persistent menace.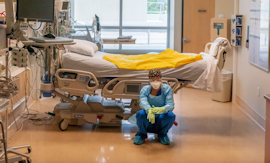 The total number of reported deaths linked to the disease topped 770,800 on Saturday, Johns Hopkins data show. This puts the pandemic-long total at more than twice the 385,343 Covid-19 deaths recorded last year, according to the most recent death-certificate data from the Centers for Disease Control and Prevention.

The spread of the highly contagious Delta variant and low vaccination rates in some communities were important factors, infectious-disease experts said. The milestone comes as Covid-19 cases and hospitalizations move higher again in places such as New England and the upper Midwest, with the seven-day average for new cases recently closer to 90,000 a day after it neared 70,000 last month.

Covid-19 has proven to be an enduring threat even in some of the most vaccinated places, many of which are confronting outbreaks again now, as the world prepares to live with and manage the disease for the long term. In Europe, parts of Austria, Germany and the Netherlands have imposed new restrictions in recent days after Covid-19 cases rose and hospitals came under strain. wsj.com

"We're definitely headed into our next surge"
COVID-19 cases rise with Thanksgiving gatherings on the way
COVID-19 cases are climbing nationally as the U.S. barrels into its second holiday season during the pandemic, with most families planning this year to gather for Thanksgiving.
The U.S. is in better shape than at this point last year, when authorities confirmed well over 160,000 COVID-19 cases every day.

The daily average of new cases stands below 100,000 and almost 200 million Americans are fully vaccinated. They can "feel good about enjoying a typical" holiday season, top infectious diseases expert Anthony Fauci said this week.

But with millions still unvaccinated and cases rising, experts are urging Americans, particularly the unvaccinated, partially vaccinated and vulnerable, to exercise caution when gathering with others. thehill.com

24 states have seen 100 percent increases in daily COVID cases over the last week
These states include Georgia, Idaho, Illinois, Massachusetts, Kentucky, Mississippi, Montana, New Hampshire and Alaska.

Twenty-two other states are also reporting increases in COVID-19 cases, though some at much smaller rates. The CDC wrote on Twitter Friday morning that the "#COVID19 level of community transmission in the U.S. remains high & cases are increasing." newsweek.com

Full Speed Ahead on Vaccine Mandate?
Employers Told to Follow ETS Despite Federal Appeals Court Injunction

Lawsuit challenges have been gathered together in one appeals court.

President Biden's workplace vaccination requirement for large employers may be blocked by a preliminary injunction issued by a federal appeals court, but that hasn't stopped his administration from insisting that employers continue to follow the new rule.

Earlier this month, the Occupational Safety and Health Administration (OSHA) issued an emergency temporary standard (ETS) requiring that employers with 100 or more employees must have all of their workers vaccinated against COVID-19 no later than Jan. 4, 2022. The next day, the Fifth Circuit court of appeals issued a preliminary injunction blocking enforcement of the ETS while challenges to it are heard in the federal court system.

Other private organizations that have embraced the OSHA ETS mandate also told employers they should continue to implement the mandate in spite of the court injunction, including the American Medical Association and U.S. Chamber of Commerce.

Opponents of the mandate include the National Retail Federation, American Trucking Associations and the National Federation of Independent Business, as well as the attorneys general of at least 26 states. Some labor unions wish to see the ETS expanded to include employers of 99 or fewer employees. ehstoday.com

Florida Putting a Halt to Vaccine Mandates
DeSantis bill signed in Brandon forces companies to slam brakes on COVID vaccine mandates

Florida lawyer representing health care workers called the vaccine guidelines a 'temporary victory'

Recent legislation signed into law by Florida Gov. Ron DeSantis is forcing companies to slam the brakes on coronavirus vaccine mandates for employees.

DeSantis signed multiple bills regarding vaccine mandates on Thursday during Florida's special legislative session. Under one of the bills, private employers must give workers the option of opting out of the vaccine mandate, including medical and religious exemptions.

"I told Floridians that we would protect their jobs, and today we made that the law," DeSantis said in a press release last week. "Nobody should lose their job due to heavy-handed COVID mandates, and we had a responsibility to protect the livelihoods of the people of Florida. I'm thankful to the Florida Legislature for joining me in standing up for freedom." foxnews.com

Lockdowns return to Europe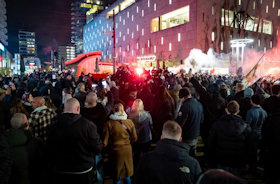 Facing a rapid rise in Covid-19 cases, Austria will restrict most people to their homes for up to 20 days starting Monday, while parts of Germany will impose similar measures this week. Rules meant to tame the virus's latest surge sparked protests in several European cities over the weekend.

On Saturday in Austria and Italy, people upset with renewed constraints marched to show their opposition. More protests were planned elsewhere in Europe.

Protests in Rotterdam against new Dutch Covid-19 restrictions turned violent Friday night, and police said they arrested 51 people, fired warning shots and used water cannons to control rioters who pelted officers with rocks, burned cars and set off powerful fireworks. wsj.com

More Restrictions in Europe Leads to Unrest & Violence
Covid restriction protests in European cities turn violent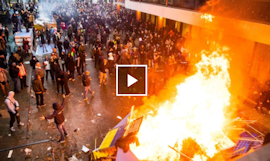 Thousands of demonstrators poured onto the streets of European capitals at the weekend as governments stepped up restrictions to combat the latest Covid wave sweeping the continent.

Police in Brussels fired water cannon and tear gas after being pelted with projectiles as 35,000 protesters challenged Belgium's beefed up anti-Covid measures and vaccination campaign.

Marching behind a banner stating "Together for Freedom", the crowd included far right activists, LGBT+ rights campaigners and people carrying the Flemish flag.

In the Netherlands, police made 19 arrests after riots in The Hague on Saturday night when officers charged protesters who set fire to bicycles. The Dutch authorities have imposed a three-week partial lockdown to curb cases, introduced a vaccine passport and banned New Year's Eve fireworks. thetimes.co.uk

Vaccine mandate lawsuits to be heard in Cincinnati's Sixth Circuit U.S. Court of Appeals

Disney World puts COVID-19 vaccination policy on hold for employees

Colorado's COVID-19 surge is an urgent warning for California
---

RILA & Buy Safe's ORC Study

75% of ORC Subjects Physically Assaulted an Associate - 41% Used a Weapon
Homeland Security Joins Retailers in Expressing Concern over ORC



Washington, DC - A study released yesterday by the Retail Industry Leaders Association (RILA) and the Buy Safe America Coalition sounds the alarm on the increasingly brazen and violent theft occurring in retail stores across the nation. Following publication, Department of Homeland Security officials affirmed the dangers of organized retail crime, linking criminal syndicates to more dangerous activities impacting local communities.

"Organized retail crime is leading to more brazen and more violent attacks in retail stores throughout the country. Many of the criminal rings orchestrating these thefts are also involved in other serious criminal activity such as human trafficking, narcotics trafficking, weapon trafficking, and more. Tackling this growing threat is important to the safety of store employees, customers, and communities across the country," said Steve Francis, Executive Associate Director with Homeland Security Investigations.

Among the study's findings:

● As much as $68.9 billion worth of products were stolen from retailers in 2019 (pre-COVID).

● Nearly 67% of asset protection managers at leading retailers surveyed report a moderate to considerable increase in organized retail crime, while 80% believe it will only get worse in the future.

● 86.2% of retailers surveyed said a ORC subject has verbally threatened an associate; 75.9% said an ORC subject has physically assaulted an associate, 41% said an ORC subject has used a weapon to harm an associate

Continue Reading


In Case You Missed It - Published in the Daily on Nov. 18

RILA & Buy Safe America Coalition Release ORC Study
Retail Theft Balloons to over $68 Billion as Organized Retail Crime Spawns Massive Criminal Enterprises Online; More Brazen Attacks in Stores
RILA & Buy Safe America Coalition Study Shines a Light on Economic and Human Impact of Organized Retail Crime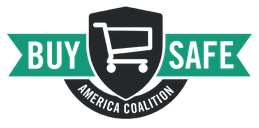 Washington, DC - Today, the Retail Industry Leaders Association and Buy Safe America Coalition released a new report examining the rise in organized criminal activity targeting local retailers, quantifying the economic impact these crimes are having on local retailers and communities. Beyond the startling economic impact, the report also details the significant impact retail crimes are having on employees, who increasingly encounter more brazen, and violent theft in stores.

Read the full report here

---

Just Days Before Macy's Thanksgiving Day Parade - Copycat Fears?
5 killed and 40 injured, including kids, when SUV plows into Wisconsin Christmas parade - terror not ruled out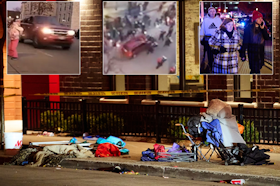 A driver blew past police barricades and plowed into a group of people marching in a Christmas parade in Wisconsin on Sunday, killing five people and injuring dozens of others, including children, officials said.

The carnage unfolded at the annual celebration in the small city of Waukesha shortly after 4:40 p.m. local time and left more than 40 people injured, city officials said. At least 12 of the victims are children.

A person of interest was in custody and police have not ruled out terrorism as a motive, according to Police Chief Daniel Thompson. It's also possible the driver was fleeing another crime scene.

"A parade is a celebration for our community. Today our community faced horror and tragedy in what should have been a community celebration," the mayor said.

Witnesses had reported that shots were fired by the driver, but police later clarified that an officer discharged their weapon at the vehicle. nypost.com

Editor's Note: While there is no specific retail connection to this tragedy, it's noteworthy given the proximity of the incident to this week's Macy's Thanksgiving Day Parade. Those in charge of the safety and security of the annual Macy's event - and similar events across the country - will most certainly be doubling down their efforts to avoid any potential copycat incidents.

Instacart Shopper Safety Alert
Instacart adds safety enhancements for its shoppers

E-grocer will alert its shopper community of local critical incidents, improve emergency calling function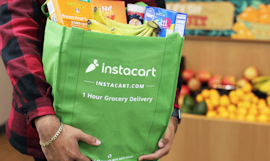 Online grocery platform Instacart this week introduced new safety features to support its shopper community, including Shopper Safety Alert technology that will notify shoppers of localized critical incidents as soon as they occur, helping keep shoppers safe on the platform. In addition, Instacart is enhancing its emergency calling functionality in the Shopper app, as well as introducing new resources to help the community shop safely.

Instacart's Shopper Safety Alert technology will give shoppers near real-time alerts when a critical incident occurs nearby. Developed in partnership with samdesk, a global disruption monitoring platform, this feature leverages multiple feeds, including law enforcement, social media, local news and other channels to generate automated alerts when there is a critical event. Shoppers within the area of an incident will immediately see the alert in the Shopper app to assess the situation and avoid the area. If a shopper is in the middle of an order, the app will automatically pause the order to prevent the shopper from entering the incident area. Instacart will also assess these situations in real time and may pause operations entirely in specific stores or regions if they pose a risk to the broader shopper community.

"We want Instacart to be a place where shoppers can earn safely, and we believe technology allows us to support shoppers in entirely new ways," said Daniel Danker, vice president of shopper & fulfillment at San Francisco-based Instacart. "Our new Shopper Safety Alerts will help protect shoppers in the unlikely event that they face an unexpected crisis, giving them near real-time information to avoid areas that may be unsafe. This update is part of our broader commitment to shopper safety, and we look forward to continuing our efforts to help shoppers earn safely." supermarketnews.com

"Just Walk Out" Tech Popping Up in UK's C-Stores
Amazon targeting 260 cashier-free Fresh grocery stores in UK by end of 2024
Those internal documents indicate targets of 60 new stores in 2022, 100 in 2023 and another 100 in 2024. They then aim to expand to Germany, Italy and Spain. coresight.com

Burger King Parent - Restaurant Brands Intern. to Buy 4th Banner - Firehouse Subs for $1B
Tim Horton's - Burger King - Popeyes Louisiana Kitchen & now Firehouse Subs
27,000 restaurants in 100 countries + Firehouse Subs 1,200 locations in U.S.- 97% franchisee operated chainstoreage.com

Target to keep stores closed on Thanksgiving for good

Zero-Waste Retailer Launches No-Waiting Checkout Solution


Quarterly Results

The Buckle Q3 comp's up 27.3%, net sales up 27.3%

PetCo Q3 comp's UP 15%, net sales up 15%

Foot Locker Q3 comp's up 2.2%, sales up 3.9%

Natural Grocers Q4 comp's up 2.5%, net sales up 3.2%, FY21 comp's up 0.7%, net sales up 1.8%

---

Senior LP & AP Jobs Market
Director, Assets LP job posted for Goodwill of North Georgia in Decatur, GA


The Loss Prevention Director is responsible for identifying, evaluating, controlling, and minimizing exposure to loss of or damage to physical assets; and maintains and improves access control for all GNG facilities. Proactively addresses issues related to theft, fraud, ethics and operational accountability. Oversees contracts and vendor relationships dealing with security, alarm system, and surveillance system; Oversees security, loss prevention and auditing needs for Goodwill and represents the company in a professional manner that reflects the values and standards of the organizations mission and goals. recruiting.ultipro.com

---

Last week's #1 article --

CVS plans to close 900 stores

Shootings & Deaths
Malden, MA: Man Fatally Shot Outside Malden 7-Eleven
A man was shot and killed outside a 7-Eleven in Malden Saturday night, the Middlesex District Attorney's office said. The shooting happened around 9:40 p.m. outside the Salem Street store. Investigators say the victim, a 22-year-old Boston man, had a "brief interaction" with a group of people before one of them opened fire, hitting him. The man was taken to an area hospital, where he was pronounced dead. patch.com

Philadelphia, PA: Armed Robbery of Uber driver with carry permit ends with 2 suspects shot, 1 dead
A Philadelphia Uber driver with a permit to carry shot two armed men who were attempting to rob him Saturday, killing one of the suspects, according to local reports. Three armed men approached the driver as he exited his car on the 3200 block of Longshore Avenue in Mayfair just after midnight. The suspects demanded money from the man, who told them there was some in his car, police told WPVI-TV. As the suspects searched the car, the unnamed Uber driver pulled his firearm and fired. Surveillance video obtained by KYW-TV shows the driver firing shots at the suspects. Police said the driver is licensed to carry a firearm, the outlets reported. Two of the suspects, both in their 20s, were struck several times and rushed to a hospital, according to authorities. One suspect died while the other remains in critical condition. Police said it was unclear whether the third suspect who fled was injured in the shooting. philadelphia.cbslocal.com

Amazon worker fatally struck by unlicensed driver near NYC warehouse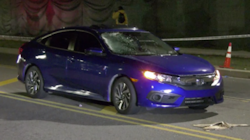 A woman who works for Amazon was struck and killed by a car operated by an unlicensed driver as she crossed a street in front of the company's Staten Island warehouse late Saturday night, police said. The 24-year-old was attempting to cross 5th Street across from the Amazon Fulfillment Center around 11:30 p.m. when she was hit by a Honda Accord that was traveling west, cops said. The victim suffered head and body trauma and was rushed to Richmond University Medical Center but couldn't be saved, cops said. nypost.com

Fairfield County, VA: Man Shot in Fairfax County C-Store, Police Say
Authorities say a man was shot in a Fairfax County store by another man who claims he fired his weapon in self-defense. Officers responded to the Food Star at 5521 Leesburg Pike in Virginia at around 6:43 p.m. Saturday. Fairfax County police say the victim was taken to the hospital with life-threatening injuries. Police said the shooter is with officers and detectives are currently investigating. nbcwashington.com

Update: Attleboro, MA: Boston Man Convicted of Murder in a 2017 Botched Drug Robbery

Oakland, CA: Gunfire Erupts As Smash and Grab Robbers Target Oakland Pot Dispensaries

---

Robberies, Incidents & Thefts
Rockville, MD: Man charged with attempted murder in McDonald's employee stabbing
A Rockville, Maryland, man faces attempted murder and assault charges after a fight between two employees at a McDonald's restaurant ended in a stabbing on Tuesday, Nov. 16. Thirty-one-year-old Isiah Anthony Hollins was arrested Friday on charges of attempted first-degree murder, first- and second-degree assault and reckless endangerment for allegedly stabbing a man multiple times outside the McDonald's at 1390 Rockville Pike. Officers arrived at the scene Tuesday evening around 11 p.m. and found a man in the parking lot suffering from non life-threatening knife wounds to his face and arms, police said. Detectives believe the fight started inside the restaurant and moved out to the lot, where the suspect pulled a knife from his vehicle and stabbed the victim repeatedly before driving off. wtop.com

Las Vegas, NV: Man beats PetSmart customer with dog bone over mask policy
Authorities say a man suffered a fractured skull after he allegedly was beaten with a dog bone inside a Las Vegas pet store during a quarrel over a mask policy. Las Vegas Metropolitan Police say 22-year-old Juan Hamilton was taken into custody on a warrant after the Nov. 8 incident. Court records show Hamilton was still being held on $5,000 bail on suspicion of attempted murder, battery, abuse of an older person resulting in substantial bodily harm, and burglary of a business. Reports say that eyewitnesses told police that Hamilton was in line behind another man when the two began arguing about the PetSmart store's mask policy. 8newsnow.com

Fond Du Lac, WI: Bystanders Helped Grab Kohl's Armed Robbery Suspect
Police in Fond du Lac are crediting bystanders for nabbing one of two suspects in an armed robbery at a local Kohl's. It happened Sunday afternoon. Police say two men came into the store and started breaking into the jewelry cases. One of them had a hammer. After the smash-and-grab, police say the suspects tried to run away, but one was grabbed by shoppers in the store. They held the suspect until police arrived. The second suspect got away. whbl.com

Holyoke, MA: 81-Year-Old Woman Pushed To The Ground, Robbed Outside Mall

Winston-Salem, NC: Police investigating third Armed Robbery of Dollar store in two days

Roseville, CA: Roseville shopping centers, police prepare for rise in thefts during holidays

Fresno, CA: Police advise business owners to lock up merchandise as holiday season approaches

Featured Job Spotlights

Help Your Colleagues By Referring the Best

Refer the Best & Build the Best


---






Asset Protection Manager
Philadelphia, PA - posted November 5
As an Asset Protection Manager II you will be responsible for one of our highest shortage locations with an elevated scope of responsibility that may include executive direct reports and increased staff levels, higher Sales Volume or significant Shortage risk. You will be the subject matter expert on Asset Protection and Shortage Reduction Strategies within your location...


Safety Director (Retail Background Preferred)
Jacksonville, FL - posted November 3
This role is responsible for developing, implementing, and managing purpose-directed occupational safety and health programs designed to minimize the frequency and severity of customer and associate accidents, while complying with applicable regulatory requirements. This leader is the subject matter expert on all safety matters...





Director, Loss Prevention & Safety
Goleta, CA - posted September 24
The Director of Loss Prevention & Environmental, Health and Safety plans, organizes, implements, and directs HERBL's programs, procedures, and practices to ensure the safety and security of company employees and property...






Corporate Risk Manager
Central (Denver, Kansas City, Oklahoma, Little Rock & Calif.)
- posted October 5
Summary of Role and Responsibilities: A proactive approach to preventing losses/injuries, whether to our employees, third parties, or customer's valuables. They include but are not limited to cash in transit, auto losses, or injuries...






AP Lead
Manhattan, NY - posted October 19
This role will conduct investigations focusing on Habitual Offenders, high impact external theft/fraud incidents through the use of company technology (CCTV, Incident Reporting, Data Analysis). This role directly teaches and trains Store Leaders and Brand Associates in the safe practices of effectively handling external theft events...






Regional Loss Prevention Manager
Houston, TX (Remote Opportunity) - posted October 14
The position will be responsible for: Internal theft investigations; External theft investigations; Major cash shortage investigations; Fraudulent transaction investigations; Missing inventory investigations; Reviewing stores for physical security improvements...





Environmental Health, and Safety Manager
Eden Prairie, MN - posted October 7
The Environmental Health, and Safety Manager will implement policies to ensure a safe and healthy work environment. Inspects the facility to identify safety, health, and environmental risks. Develops and implements inspection policies and procedures, and a schedule of routine inspections. Prepares and schedules training to cover emergency procedures, workplace safety, and other relevant topics. Read more here






Field Loss Prevention Manager
Seattle, WA - posted October 7
Staples is focused on our customer and our community. As a Field Loss Prevention Manager for Staples, you will manage and coordinate Loss Prevention and Safety Programs intended to protect Staples assets and ensure a safe work environment within Staples Retail locations...






Asset Protection Lead
Hudson Valley, NY - posted September 13
Responsible for protecting the assets of the company and ensuring a safe environment for our employees and customers. Utilizes the tools and resources available to initiate and follow through on internal investigations. Work closely with store management to increase LP awareness...
---

Featured Jobs

To apply to any of today's Featured Jobs, Click Here