The D&D Daily's Exclusive & Industry's Only
Q4 & 2020 'Retail Violent Fatalities Report'
Most Yearly Fatalities & Incidents Ever Reported
523 Fatalities in 2020 - Up 40% in Last 5 Years
485 Incidents (Up 37%) - 123 Associate Fatalities (Up 41%)




Analysis: Five-Year 40% Spike in Retail Fatalities Reflects Nation's Increasing Murder Rate & Gun Violence Trend
With murder rates and gun violence trends skyrocketing across America, it's no surprise to see fatality rates continue to climb in Retail America as well – especially given the protests and rioting around racial injustice, the historical unemployment rates, the business failures from the COVID-19 shutdowns, and the digital transformation retail's going through.

With the customary retail sectors that typically experience violent criminal acts for the most part unaffected by the shutdowns, there was no break in violent activity for retail.

One alarming trend was the gradual movement of fatalities occurring in the parking lots and off-premises to occurring more now in-store, virtually even with parking lots. This has resulted in more aggressive consumers, which has been increasingly reported over the last two years, leading to an all-time-high 70% of violent retail fatalities occurring during the commission of a crime (robberies, burglaries, thefts).

Texas and California, the two highest populated states, continue to lead the way in fatalities year after year. When it comes to cities, Philadelphia took the top spot for the first time in 2020, following the civil unrest the city saw last year.

All in all, it was a difficult year for the nation's retailers and the violent fatalities are continuing to increase. However, while our society itself is struggling to find answers and resolutions to these murder rates and gun violence, retailers can find some solace in the fact that Retail's 5% increase year over year in 2020 is a far cry from the numbers the majority of the major cities are experiencing.

- Gus Downing, D&D Daily Publisher & Editor

---
Yearly Comparison
2016 - 2017 - 2018 - 2019 - 2020
Up 5% From 2019
Up 40% From 2016



Up 14% From 2019
Up 37% From 2016




• Fatalities up 40% from 2016 & 5% from 2019
• Incidents up 37% from 2016 & 14% from 2019

---
4th Quarter Comparison
2016 - 2017 - 2018 - 2019 - 2020
Up 15% From Q4 2019
Up 80% From Q4 2016




Up 25% From Q4 2019
Up 85% From Q4 2016





• Fatalities up 80% from Q4 2016 & 15% from Q4 2019
• Incidents up 85% from Q4 2016 & 25% from Q4 2019

---
---

2020's
523 Retail Violent Fatalities by Category
76% Victims - 24% Suspects
256/49% Customers, 123/24% Associates, 16/3% LP/LE/Security

128/24% Suspects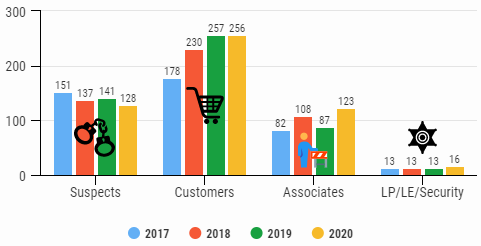 523 Total 2020 Fatalities
• 24%, 128 Suspects - Down 9% from '19
• 49%, 256 Customers - Flat from '19
• 24%, 123 Associates - Up 41% from '19
• 3%, 16 LE/LP/Security - Up 23% from '19

498 Total 2019 Fatalities
• 28%, 141 Suspects - Up 3% from '18
• 52%, 257 Customers - Up 12% from '18
• 17%, 87 Associates - Down 19% from '18
• 3%, 13 LE/LP/Security - Same as '18


488 Total 2018 Fatalities
• 28%, 137 Suspects - Down 9% from '17
• 47%, 230 Customers - Up 29% from '17
• 22%, 108 Associates - Up 32% from '17
• 3%, 13 LE/LP/Security - Same as '17



424 Total 2017 Fatalities
• 36%, 151 Suspects
• 42%, 178 Customers
• 19%, 82 Associates
• 3%, 13 LE/LP/Security

---

2020 Fatalities Location
48% Parking Lots, 47% In-Store, 5% Off Premises




2020 Totals
• 48%, 251 killed in parking lots
• 47%, 247 inside store or mall
• 5%, 25 died off premises

2019 Totals
• 43%, 216 killed in parking lots
• 46%, 227 inside store or mall
• 11%, 55 died off premises

2018 Totals
• 51%, 250 killed in parking lots
• 35%, 172 inside store or mall
• 14%, 66 died off premises

2017 Totals
• 50%, 214 killed in parking lots
• 37%, 156 inside store or mall
• 13%, 54 died off premises

---

2020: 123 Associate Fatalities
70% Commission of Crime, 19% Workplace Violence
6% Murder/Suicide, 5% Accidental




2020 Totals
•

87 killed during robberies, burglaries or thefts


•

23 killed in argument/co-worker/workplace violence




• 7 killed in

murder/homicide/suicide




•

6 killed in accident



2019 Totals
•

54

killed during robberies, burglaries or thefts


•

16 killed in argument/co-worker/workplace violence




• 11 killed in

murder/homicide/suicide




•

6 killed in accident





2018 Totals
•

55

killed during robberies, burglaries or thefts


•

19 killed in argument/fight




• 20 killed in

murder/homicide/suicide




•

14 killed

by former co-worker/relative/other

2017 Totals


• 58

killed during robberies, burglaries or thefts


• 10 killed in argument/fight


•

8 killed by former c-worker


•

5 killed by relative/customer




• 1 killed in

murder/homicide




---
---

2020 Total Fatalities by Gender
85% Male - 15% Female



2020 Totals


• 85%, 447 Males
• 15%, 76 Females



2019 Totals


• 83%, 411 Males
• 15%, 76 Females


• 2%, 11 n/a





2018 Totals


• 77%, 377 Males
• 16%, 77 Females


• 7%, 34 n/a





2017 Totals


• 77%, 371 Males
• 16%, 42 Females


• 7%, 11 n/a






---

2020: 123 Associate Fatalities By Gender & Method






2020 Totals


•

88%, 108 Males
• 12%, 15 Females



2019 Totals


• 79

%, 69 Males
• 20%, 17 Females


• 1%, 1 n/a





2018 Totals


• 69

%, 74 Males
• 23%, 25 Females


• 8%, 9 n/a





2017

Totals
• 78

%, 64 Males
• 18%, 15 Females


• 4%, 3 n/a




2020 Totals


•

88

%, 109 shot


• 7%, 8

stabbed/beaten


• 5%, 6 car crash/other



2019 Totals


•

85

%, 74 shot


• 10%, 8

stabbed


• 5%, 5 fire/accident/crash/other





2018 Totals
•

83

%, 90 Killed by gun
• 12%, 13

stabbed/beaten


• 3%, 3

run over


• 2%, 2

medical reasons/other





2017 Totals
•

83

%, 72 Killed by gun
• 12%, 7

stabbed/beaten


• 3%, 3

other



---
2020 Fatalities by Store Type


C-Stores Top Store Type Five Straight Years
2020:
1. C-stores (34%)
2. Restaurants (16%)
3. Gas Station (9%)
4. Mall (7%)
5. Grocery (7%)
2019:
1. C-stores (26%)
2. Restaurants (16%)
3. Gas Station (9%)
4. Specialty (8%)
5. Big Box (8%)

2018:
1. C-stores (21%)
2. Gas Stations (12%)
3. Other (11%)
4. Restaurant (10%)
5. Mall (9%)

2016:
1. C-stores (26%)
2. Gas Stations (25%)
3. Big Box (21%)
4. Restaurants (9%)
5. Dollar Stores (8%)

2017:
1. C-stores (18%)
2. Big Box (17%)
3. Gas Stations (12%)
4. Restaurants (9%)
5. Other (7%)

---
---

2020 Fatality Incidents by Weekday
Tuesday & Wednesday Highest - Friday Consistently Lowest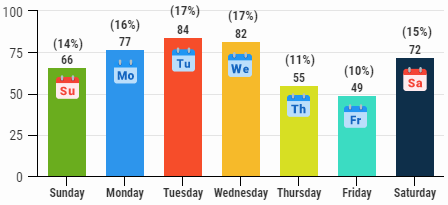 *2016:
1. Sunday
2. Friday
3. Saturday
4. Wednesday
5. Monday
6. Tuesday
7. Thursday


2017:
1. Monday - 71
2. Sunday - 63
3. Saturday - 62
4. Wednesday - 58
5. Tuesday - 56
6. Thursday - 49
7. Friday - 42


2018:
1. Saturday - 89
2. Wednesday - 79
3. Sunday - 77
4. Monday - 77
5. Tuesday - 70
6. Thursday - 57
7. Friday - 38


2019:
1. Tuesday - 78
2. Wednesday - 74
3. Thursday - 65
4. Monday - 63
5. Saturday - 63
6. Sunday - 60
7. Friday - 38


2020:
1. Tuesday - 84
2. Wednesday - 82
3. Monday - 77
4. Saturday - 72
5. Sunday - 66
6. Thursday - 55
7. Friday - 49
---

2020 Fatality Incidents by State
California & Texas Top States for Five Straight Years
2016:
1. Texas (43)
2. California (39)
3. Florida (31)
4. Georgia (23)
5. Ohio (7)

2017:
1. Texas (52)
2. California (49)
3. Georgia (27)
4. Florida (25)
5. Tennessee (17)

2018:
1. Texas (54)
2. California (45)
3. Florida (33)
4. Georgia (24)
5. New York (18)

2019:
1. California (46)
2. Texas (44)
3. Florida (31)
4. Georgia (27)
5. North Carolina (21)

2020:
1. California (65)
2. Texas (44)
3. Florida (36)
4. Georgia & NC (25)
5. Michigan (19)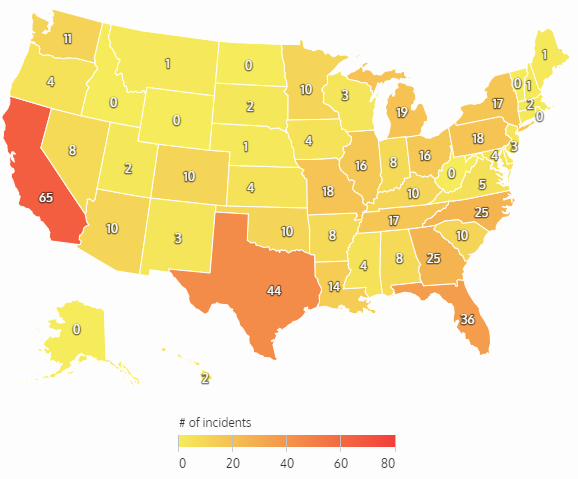 ---

2020 Fatality Incidents by City
Philadelphia Overtakes Houston for Most Retail Fatalities

2020 Top Cities
1. Philadelphia, PA
2. Chicago, IL
3. Houston, TX
4. Memphis, TN
5. Atlanta, GA
6. Cleveland, OH

2019 Top Cities
1. Houston, TX
2. Los Angeles, CA
2. Philadelphia, PA
2. Charlotte, NC
3. Chicago, IL
4. Cleveland, OH
4. Tulsa, OK
5. Las Vegas, NV

2018 Top Cities
1. Houston, TX
2. Las Vegas, NV
2. Birmingham, AL
3. Nashville, TN
3. New Orleans, LA
3. Jacksonville, FL

2017 Top Cities
1. Houston, TX
2. Memphis, TN
3. Atlanta, GA
4. Las Vegas, NV
5. Colorado Springs, CO

2016:
1. Houston, TX
2. Atlanta, GA
3. Detroit, MI
4. Phoenix, AZ
5. Chicago, IL



The D&D Daily's data tracks with other reports showing
big murder spikes in major U.S. cities.

---

Reporting Methodology:
The D&D Daily gathers retail-store specific information from public news media sources throughout the United States and reports it daily through our industry-renowned e-newsletter. We do not survey any retailers or third parties nor collect information from any retail executives. All of this information is available through public news media outlets. We do not claim nor does it represent all such incidents or deaths that may occur in retail locations or retail corporate facilities, as many may not be reported in the news media depending on a number of variables outside of our control. We are not responsible for the accuracy of the information reported in the various news media outlets. We do not name any retailer, retail executive, suspect, or victim.

Reposting/Sharing: Portions of this report or its findings may be reposted or shared with proper attribution to the D&D Daily and a link back to this report page where possible. Email our team to let us know!

About The D&D Daily:
The D&D Daily is the #1 daily digital news source for the retail industry focused on retail trends, Loss Prevention, Asset Protection and Cyber Security. Established in 2010, this free daily e-newsletter is designed to deliver the information, news, trends, retail crime data, technology developments, executive movement, and jobs every day. Using a 2-minute drill type format, this '#1 copy-paste tool' allows retail executives to see what's important, relevant and critical, share it throughout the organization quickly and easily, while saving the executives time and providing them with the information they need to reduce shrink, increase profitability and help make America's retail stores safe. Visit www.D-Ddaily.net and sign up for your free email.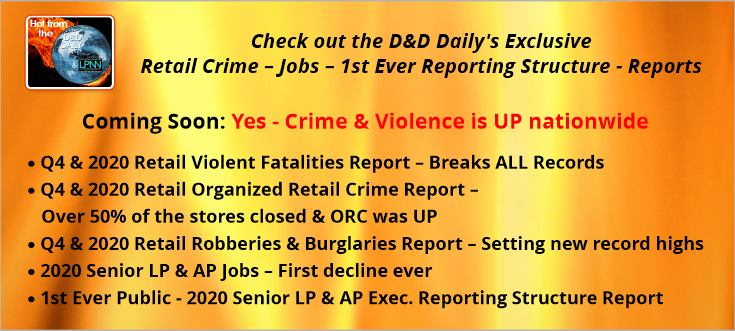 ---

Share on Facebook

Share on Twitter

Share on LinkedIn


Click here to read all of the Daily's exclusive retail crime reports

---