Election Day Delivers 'Boringness'

All things considered, it was a relatively peaceful day of voting

Boringness is not an inherently bad thing.
Sometimes nothingness is a virtue. Especially this year.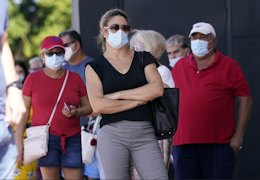 On their final day of voting, millions of Americans proceeded to their local polling places without a problem as of Tuesday afternoon as fears of potential voter violence or intimidation largely failed to materialize amid one of the most heated presidential elections in American history.

As with many elections, there were a few isolated incidents. There was what police described as a "pushing match" between Democratic and Republican demonstrators outside one poll in Houston, witnessed by a Times reporter. In Charlotte, N.C., police reported arresting one voter who had loitered outside his polling place with a legally carried gun and who returned after being banned by a precinct official. He was charged on suspicion of trespassing.

But after store owners in cities across the country boarded up their windows and the White House surrounded itself with fortifications, for the overwhelming majority of Americans, voting went calmly and orderly, according to elections officials and poll-watching groups. Without violence, and largely without the kind of drama seen over the weekend with some "Trump trains" and "MAGA drags" that ended with groups of Trump supporters clashing with groups of opponents. latimes.com

---

Criminal Justice Reform - Nationwide Elections of Key D.A.'s
Democrat Progressive Prosecutors Movement
Backed by Mega-Donors & George Soros

With push for progressive D.A.s, elected prosecutors feel the pressure
of a changing profession

LA County DA Race - A microcosm of - and perhaps now the most important battleground in - A national struggle over the future of how prosecutors operate in the U.S.
As criminal justice reform has moved from a back-burner issue to the forefront of American politics, advocates have increasingly targeted elected district attorneys as a weak link in efforts to cultivate a more equal justice system and hold police and public officials accountable.

A combination of victories by nearly a dozen progressive candidates in Philadelphia, Chicago, San Francisco and other locales, and rising public anger over police misconduct, has given momentum to an effort that only a few years ago seemed quixotic. Some contend that even prosecutors not up for reelection are embracing reform, or at least reform rhetoric, in a bid to retain popularity and preempt challenges similar to Gascón's.

Prosecutors traditionally have been close allies with local law enforcement. But ideas such as lowering incarceration rates, ending cash bail and diverting low-level offenders from the criminal justice system have become common themes even for mainstream prosecutors, evidence of a new mindset in a profession that once was mostly centered on conviction rates and police support.

"It's a cat that's out of the bag," said Chris Lazare, an organizing director with the Real Justice political action committee, one of the most prominent groups pushing for reform-minded district attorneys. "It's slow for sure, but it's working."

In Philadelphia, an upset win by then-civil rights attorney Larry Krasner put a defense lawyer in power in a city with some of the highest per capita incarceration rates in the country. At the same time, Black Lives Matter and other community groups began targeting district attorneys with protests and bad publicity after controversial police killings of Black and Latino people across the country.

Since Krasner's win, Lazare said the Real Justice PAC has helped the campaigns of at least 35 candidates for district attorney, including Chesa Boudin in San Francisco, Joe Gonzales in the county covering San Antonio and Kim Foxx in Cook County, Ill., the second-largest prosecutor's office in the country, which encompasses Chicago. latimes.com


Progressive Prosecutor & Drafter of Prop 47 Takes L.A. County D.A.'s Job
Bad News for Retail Shoplifting & ORC Cases

Los Angeles County Dist. Atty. Race - Nation's Largest Prosecutor's Office

Former San Francisco Dist. Atty. and Democrat, George Gascón wins over incumbent Los Angeles County Dist. Atty. Jackie Lacey Tuesday in the pivotal race to lead the nation's largest local prosecutor's office.

The contest between Lacey and Democrat Gascón has been considered a litmus test of Southern California's appetite for criminal justice reform.

Gascón, 66, who served as San Francisco's top prosecutor from 2011 to 2019, represents a wave of progressive prosecutors focused on reducing the criminal justice system's footprint while maintaining public safety. The movement has achieved election victories in Chicago, Philadelphia and St. Louis in recent years, and a public defender was elected to replace Gascón last year in San Francisco.

While Gascón has taken flak for surging property crime rates in San Francisco during his tenure and his involvement in the drafting of Proposition 47 - which lowered several felonies to misdemeanors under California law - his use of diversion programs and ability to manage violent crime while lowering the city's jail population has drawn praise.

Out Funded With Mega-Donors - CJ Reform Wins Over Traditional Tough-on-Crime 2-Term Incumbent Prosecutor

As interest increased, more than $19 million poured into the race. Lacey collected roughly $7 million in her reelection bid, much of it coming in a flood of law enforcement union contributions from organizations representing rank-and-file L.A. police officers and county sheriff's deputies.

Gascón's coffers surged above $12 million by the end of the race, with much of his funding coming from Bay Area mega-donors who have backed reforms such as Proposition 47, which reclassified some nonviolent offenses from felonies to misdemeanors, and measures to abolish the death penalty. Liberal philanthropist George Soros also gave more than $2 million to Gascón, and the political action committee Color Of Change raised more than $3 million for Gascon in the final two months of the race. latimes.com


Cook County Democrat & Progressive Prosecutor Wins 2nd Term State's Atty
'Foxx rocks' - incumbent wins big in state's attorney's race

Kim Foxx is one of a slate of progressive prosecutors nationwide calling for systemic change.

"Tonight, voters chose safety and justice instead of law and order," Foxx said in a statement. "They chose criminal justice reform and equity instead of wrongful convictions. They chose a way forward instead of going back."

Foxx, the first African American woman to serve as the county's top prosecutor, won another four years to continue making changes she has said will make the system fairer for Black and Latino people. Her office, for example, has raised the bar on felony shoplifting charges and pushed for the pretrial release of more detainees on bail.

Foxx raised more cash than O'Brien overall during the full campaign, with her committee taking in some $5 million between the beginning of 2019 and the end of last month. During the same period, O'Brien's committee took in about $1.1 million. Her campaign was bolstered by a political action committee that took in $2 million from a group tied to liberal hedge fund billionaire George Soros.

During Foxx's first three years as top prosecutor, her office dropped all charges against 29.9% of felony defendants. suntimes.com


The ORC Criminal's Response
Progressive Prosecutors + Tightening & Decreasing Police Budgets
= Even Fewer Shoplifting Arrest & Prosecutions
As numerous DA's have publicly acknowledged not prosecuting for misdemeanor shoplifting, this trend will continue to grow and impact retailers nationwide. Posing a number of issues at the store level and on a national level. Especially as the ORC criminals learn how to respond and take advantage of the situation. Couple this with decreasing police resources and funding and we might see a huge drop off in ORC association support and/or engagement. Just some thoughts, Gus Downing

José Garza Redefines 'Progressive Prosecutor' in Texas Travis County

The Facts on Progressive Prosecutors

The Progressive Prosecutor Project - How and why the nation's crime busters are becoming criminal enablers

Progressive prosecutors aim to change the criminal justice system from the inside


CA's ORC Law Fails
California Prop 20 Fails

Voters by a 63% to 37% margin rejected proposals

Prop. 20 would have barred criminals convicted of certain serious offenses from earlier release, increased penalties for repeated retail thefts, toughened parole standards and allowed for broader DNA collections.

Opponents said the measure would have set back reforms just as the nation focuses on a criminal justice system that has treated people of color inequitably.

Jay Jordan, executive director of Californians for Safety and Justice that backed the reforms, called the proposition's defeat "a significant milestone in California's ongoing effort to make its criminal justice system more effective" and said it would advance national reform efforts.

"We just weren't able to educate as many Californians as we'd hoped on how Prop. 20 would tackle violent crime and retail theft," Richard Temple, political consultant for Proposition 20, said in admitting defeat.

Finally, it would have allowed repeated thefts of property worth $250 or more to be prosecuted as felonies. Police and business owners said the 2014 ballot measure's misdemeanor penalty allows organized theft rings to repeatedly steal up to the $950 limit knowing that they likely face only a citation and no jail time. pressofatlanticcity.com


Oklahoma City, OK: Voters Defeat Sentencing Reform SQ805 61% to 39%
Oklahoma State Question 805, the Criminal History in Sentencing and Sentence Modification Initiative, was on the ballot in Oklahoma as an initiated constitutional amendment on November 3, 2020. It was defeated. The legislation would have written into the OK constitution that repeat felons couldn't have prior convictions used for Sentence enhancements - basically treating them as 1st offenses forever.


4 States vote 'yes' on marijuana, paid leave in meaningful election for HR
Voters in four states approved ballot measures to legalize recreational marijuana use, while those in two states voted to establish medical marijuana programs, in an election that could bring sweeping changes to HR compliance at the state level.

In California, voters approved a measure backed by gig economy companies including Uber, Lyft and Doordash that would classify workers using their platforms as independent contractors despite a law passed last year by state lawmakers that arguably classified many as employees.

Employers in a number of states may need to shift compliance operations to account for the coming wave of recreational marijuana legalization in Arizona, Montana, New Jersey and South Dakota. A 2019 Paychex survey found that 38% of employers were unprepared to manage employee recreational use of cannabis, while 34% said the same of medicinal use. Employment law sources have previously emphasized the need to understand testing protocols as well as how pre-existing policies are impacted by new legislation. Some of the ballot questions specified that employers would not be prohibited from taking adverse actions based on employee marijuana use, but others did not. hrdive.com

Legal weed 2020: States that legalized marijuana, mushrooms on Election Day

---

Protests & Violence

Scattered protests in US cities, but no wide unrest seen - yet

Protesters in Washington, Los Angeles, Raleigh, Portland
take to the streets amid Election Night vote tallies

Scattered protests took place from Washington, D.C. to Washington state in the hours after polls closed, but there were no signs of widespread unrest or violence linked to the U.S. election. The outcome of the hard-fought contest for the presidency remained undecided Wednesday, stirring worries that prolonged uncertainty could yet spark conflict. But overnight demonstrations in cities including Seattle, Washington and New York remained largely peaceful.

In Washington, more than 1,000 people protesting President Donald Trump converged on Black Lives Matter Plaza on Tuesday night, just a block from the White House, while hundreds more marched through downtown, sometimes blocking traffic and setting off fireworks. At one point, the marchers stabbed the tires of a parked police van to flatten them.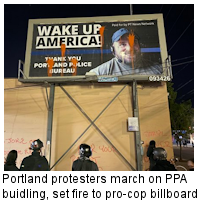 Hundreds of people marched in Portland, where demonstrators chanted "This is what democracy looks like" and some were seen openly carrying guns. Oregon Gov. Kate Brown had put the National Guard on standby, since the city has has seen almost nightly protests since the death of George Floyd under a Minneapolis police officer's knee in May.

In Seattle, police said they arrested several people, including someone who put nails in a road and another who drove over a barricade and into a police bike lane. No one was injured.

The Los Angeles Police Department early Tuesday had called a "citywide tactical alert" to ensure enough officers are on hand to address any incidents on Election Day." Shortly after 8 p.m. local time, the department announced it was attempting to disperse a "large and unruly crowd." Several dozen protesters faced off against officers in riot gear. They had been among about 100 demonstrators who marched Pershing Square, then to Staples Center to a light-rail station a few blocks away where officers formed a skirmish line. Several arrests were reported.

In Chicago, one of the bridges near downtown's Trump Tower had been lifted over the Chicago River - a common sight in recent months amid incidents of looting or unrest in the city. The move has been used to restrict access to downtown.

About 200 protesters marched through the North Carolina capitol of Raleigh, WRAL-TV reported. The TV station added arrests were made after protesters threw fireworks and other items at police. The protest was declared unlawful and was broken up around 10 p.m., the outlet reported.

In Minneapolis, police arrested several demonstrators from among about 30 who had gathered in the city's uptown, WCCO-TV reported. apnews.com usatoday.com

More than 520 events, marches planned to 'protect the results'
More than 520 events are planned nationwide by Protect the Results on Wednesday and beyond if activists decided to mobilize in the event President Donald Trump either refuses to accept election results or prematurely declares victory. Protect the Results is a coalition of more than 165 grassroots organizations, advocacy groups and labor unions led by activist groups Indivisible and Stand Up America. usatoday.com

NYPD prepared for any post-election mayhem; could 'freeze' city areas if unrest erupts

Security guard charged in fatal shooting at Denver protest leaves jail after posting $500,000 bond

---

COVID Update
US: Over 9.7M Cases - 238K Dead - 6.2M Recovered
Worldwide: Over 48M Cases - 1.2M Dead - 34.5M Recovered

Private Industry Security Guard Deaths: 203 Law Enforcement Officer Deaths: 135
*Red indicates change in total deaths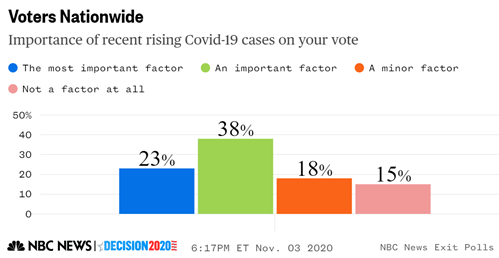 US Reports 2nd Highest Number of New Covid-19 Cases - 91,000+
The country's five highest days of coronavirus cases have all been recorded since October 29, affirming experts' warnings another surge is well on its way and will only get worse. The nationwide 7-day average of new cases now stands at about 86,363 -- more than double what it was on September 4. And while doctors have stressed basic public health measures like masks and social distancing can turn things around, such measures remain a point of contention in some parts of the US.

Now only five states are trending in the right direction -- Alabama, Hawaii, Louisiana, Tennessee and Vermont -- while at least 36 are reporting more new cases than the previous week, data from Johns Hopkins University shows. cnn.com

McDonald's franchisees face more COVID-19 OSHA complaints
The chain has had to fend off a steady stream of pandemic-related complaints throughout the country, perhaps illustrating the challenge of having such a large franchised system with the potential for disparate safety enforcement.

Early in the pandemic, chains big and small created new labor policies to protect essential workers, and McDonald's was one of them - rolling out wellness checks and pledging to pay hourly workers in quarantine. That latter policy, however, applied only to employees at company-owned stores, though the company has said many franchise owners have committed to the same benefits.

Despite these efforts, however, the chain's class action lawsuit, combined with the recent OSHA complaints, could suggest a pattern of bad policy enforcement. These types of complaints have been filed against company-owned chains like Chipotle as well, suggesting that compliance is challenging for the industry even at companies with corporate control across their whole footprint.

Legislation has been passed that specifically targets big chains to ensure they offer paid sick leave during the pandemic, but considering the steady stream of complaints, this may work better on paper than in practice. And as these complaints pile up, it's worth noting that some restaurants have been working to pass legislation providing COVID-19-related liability protections. restaurantdive.com

---

UK's LP Think Tank - ECR Retail Loss Group
On-Demand Webinar & Report:
Self-Checkout - How Design Thinking Can Unlock Growth & Reduced Losses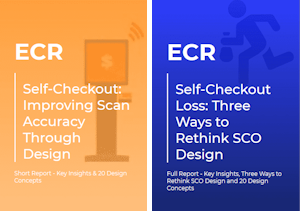 As previous studies from the ECR Retail Loss Group have highlighted, self-checkouts present retail stores with opportunities, problems and challenges.

In this unique study, academics and designers partnered with four of our retailer members to immerse themselves in the self-checkout experience, understanding from the perspectives of the shopper and self-checkout supervisors, their journey from entry to exit, and the design challenges and frustrations.

Two reports have been generated for this project: this 'short' report presents research insights and twenty design concepts, each responding to specific problems revealed through the process. The second and 'full' report includes this content containing the aforementioned content in addition to a comprehensive account of DAC's design-led approach, methodology and crime science thinking. We encourage you to review each of these in your business, with as many functions as possible, including those on the shop floor and in the critical role of the self-checkout supervisor.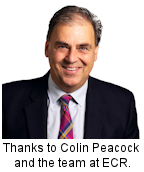 Most of all, we encourage you to consider the three recommendations from the researchers: First, given the design issues the researchers uncovered, organisations should consider a survey of self-checkout hosts, to listen to their ideas on what is working and what is not working at the self-checkouts. Secondly, organisations could encourage their top managers from across the different functions, to immerse themselves in the self-checkout experience and journey, mapping the journey of the shopper, documenting the failure points and to co-create new design approaches to improve participation, the customer experience and increase accuracy. Finally, the researchers recommended that retailer organisations consider adding a seat at the table for a designer, to help oversee the expansion of self-checkouts.

Watch ECR's webinar recording here.

---

Corporate America Speaks: Stay Home - Stay Safe - Stay Calm & Be Civil
Companies Ban Work Travel, Warn Employees of Civil Unrest in Election Week

Employers urge workers to be vigilant while voting and to prepare for possible delays in results, with some discouraging travel to nation's capital

U.S. companies geared up for Election Day with a flurry of memos and emails urging employees to avoid work travel and be on guard against civil unrest and potential disruptions.

Top executives at consulting firms, airlines, health care companies and others have sent notes to employees in recent days, some with strikingly different messages than in previous elections

Companies are advising staffers to stay close to home, urging employees to trust the election results, and to be aware that it might take longer than expected to get them. "Regardless of who wins," Mr. Ryan said, "we want peace and safety." wsj.com

Senior Dir. of Safety & Security Faces 9 More Charges
Two Former eBay Security Executives Indicted on More Charges
in Cyberstalking Publishing Couple in Boston


Two former eBay, Inc. executives were indicted today by a federal grand jury in Boston in connection with their roles in a cyberstalking campaign targeting the editor and publisher of a newsletter that eBay executives viewed as critical of the company.

James Baugh, 45, of San Jose, Calif., eBay's former Senior Director of Safety & Security, and David Harville, 48, of New York City, eBay's former Director of Global Resiliency, were indicted on one count of conspiracy to commit stalking through interstate travel and through facilities of interstate commerce, two counts each of stalking through interstate travel, two counts of stalking through facilities of interstate commerce, two counts (Baugh) and one count (Harville) of witness tampering, and two counts (Baugh) and one count (Harville) of destruction, alteration, and falsification of records in a federal investigation. Baugh and Harville were previously charged by criminal complaint and arrested on June 15, 2020.

Co-conspirators and former eBay employees Philip Cooke, 55, Brian Gilbert, 52, Stephanie Popp, 32, Veronica Zea, 26, and Stephanie Stockwell, 26, previously pleaded guilty to conspiracy to commit cyberstalking and conspiracy to tamper with witnesses.

Among other things, the indictment alleges that Baugh convened meetings to plan and coordinate the various parts of the harassment campaign; directed Harville to travel with him to Boston for an "op" targeting the victims and their website; directed Stockwell to "make up" allegations that the victims had made direct threats to eBay, the company's CEO and its employees as cover in case the surveillance team was stopped; and posed as Zea's husband when a Natick Police detective arrived in the lobby of Boston's Ritz Carlton hotel to investigate eBay's connection to the harassment campaign.

Among other things, the indictment alleges that Harville flew from California to Boston intending to place the victims under surveillance; attempted to install a GPS tracking device on the victims' car; purchased tools intending to break in to the victims' garage; lied to an eBay investigator who was responding to the Natick Police's request for assistance; and deleted evidence from his company-issued cell phone after learning of the criminal investigation.

The charges of conspiracy to commit stalking and stalking each carry a sentence of up to five years in prison, three years of supervised release, a fine of up to $250,000 and restitution. The charges of witness tampering and destruction, alteration and fabrication of records in a federal investigation each carry a sentence of up to 20 years in prison, three years of supervised release, a fine of up to $250,000 and restitution. The witness tampering charges also carry the potential for forfeiture. Sentences are imposed by a federal district court judge based upon the U.S. Sentencing Guidelines and other statutory factors. justice.gov

Editor's Note: Once again, the Global security group is not and has never been a part of eBay's Loss Prevention effort or team. And the current Global Security Team and effort is operating within and comprised of industry best-in-class programs and members.

Obviously after obtaining guilty pleas from the five team members involved, the DOJ was able to piece together the full extent of the activity and process the additional charges it felt were warranted. Sad commentary on the security industry when a CEO can influence a leader to this extent.

Target agrees to settlement in safety complaint
Target Corp. will pay $464,750 in penalties and agree to be monitored for compliance with federal exit access and storage hazard regulations to settle complaints about worker safety at eight stores, including its Danvers location.


In a settlement last month between the company and the federal Occupational Safety and Health Administration (OSHA), the retailer agreed to improvements in workplace safety that will also affect approximately 200 stores in the Northeast, according to the Labor Department.

The complaints were first made public earlier this year and involved stores in Massachusetts, Connecticut, and New York.

The chain was storing excess inventory, supplies and equipment in a way that hindered access to employee emergency exits, the agency said earlier this year.

Inspectors cited the eight locations, including the Danvers store, between May and December of last year.

The retailer initially challenged the citations, but recently agreed to the settlement, which also covers stores in New Jersey.

The agreement requires Target to allow managers to delay the arrival of new inventory if there is no safe place to store it or find an alternative such as a trailer or off-site facility; set up surveillance cameras to monitor some "high risk" locations, have outside managers visit at least twice a year for monitoring, arrange for a third-party audit of store egress safety at least once a year, with mandatory followups if a store fails the initial audit, retraining employees, and permit OSHA inspectors access to the stores to ensure the settlement terms are being met.

"Obstructed emergency exit access impedes employees' ability to exit swiftly in the event of a fire or other emergency and unsafe storage of materials exposes employees to crushing and struck-by hazards," said OSHA Regional Administrator Galen Blanton in a press release announcing the settlement. "Employers are responsible for supplying their employees with safe and healthful workplaces." salemnews.com

Read OSHA's Press Release

Mall Owners Are Scrambling For Terms
Mall Shakeout Just Beginning as Complex Debt Drowns Owners

The 2 US mall owners that filed for bankruptcy on Sunday could be just the beginning

Some of CBL's peers, like Taubman Centers Inc. and Washington Prime Group Inc., have already been scrambling to get lenders to ease terms of their credit agreements. They've asked debt investors to relax requirements like the minimum amount of earnings they need relative to their borrowings, according to regulatory filings. bloomberg.com


Quarterly Results
HelloFresh Q3 US sales up 124.7%, International sales up 131.5%
Weis Markets Q3 comp's up 14.8%, e-commerce up 160%, revenue up 14.4%
Ahold Delhaize Q3 US net sales up 6.8%, US online sales up 114.7%
Indigo Books & Music Q2 retail revenue down 19.3%, online revenue up 113.6%, consolidated revenue up 0.9%