Vector Security, Inc. with NHL Pittsburgh Penguins Presents
'Defender of the Year' Award to Local VA Hospital Nurse
Award honors frontline worker during COVID-19 pandemic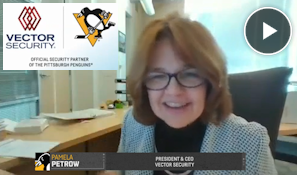 Vector Security®, Inc., a leading provider of intelligent mobile security and automation solutions to homes and businesses, in partnership with the National Hockey League's (NHL) Pittsburgh Penguins®, presented the 2020 Vector Security Defender of the Year award to Melissa Nadeau of Monroeville, PA. An ICU nurse for 18 years, Nadeau was selected jointly by Vector Security and the Pittsburgh Penguins from a number of entries submitted during the contest period.

Vector Security developed the Defender of the Year award and designed a custom, one-of-a-kind goalie mask as a centerpiece of the recognition. Several Penguins players autographed the mask, including Sidney Crosby, Kris Letang and Tristan Jarry.

"Vector Security is proud to honor Melissa with our first-ever Defender of the Year award for the work that she has done throughout her career and especially the last eight or nine months fighting COVID-19 at the VA hospital," said Pam Petrow, President and CEO of Vector Security. "It takes a special person to step up in times like these and help our veterans who are most in need." Read More Here

Watch the virtual award ceremony featuring Vector Security CEO Pam Petrow, Pittsburgh Penguins Radio Broadcast Host and PensTV Host Josh Getzoff, and Allegheny County (PA) Executive Rich Fitzgerald.

LPRC Anti-Sweep Offender Feedback Survey: Tally Smart Shelf



Tally's smart-sensing pad perceived by offenders as 'difficult to defeat' and a 'highly effective crime prevention technology'

Read more in today's Vendor Spotlight below.

---

Protests & Violence
The D&D Daily continued to analyze violent crime in 20 major cities, including those in the DOJ's 'Operation Legend', where they've made over 5,000 arrests since its onset in July.

There were 134 shootings and 28 killings from Friday through Sunday, with an average of 44.7 shootings and 9.3 killings per day. Since the July 4th holiday weekend, there have been
3,970 shootings and 916 killings
.
Click here to view the complete breakdown of violence in 20/36 major cities from July to August.
President Trump promises 'wild' protests in Washington D.C. on Jan. 6:
the day Congress is set to finalize election results
President Donald Trump promised his supporters there would be a "wild" rally in Washington, DC, on January 6, the day when Congress is scheduled to meet to formally finalize the presidential election results. "Statistically impossible to have lost the 2020 Election," Trump tweeted on Saturday. "Big protest in DC on January 6th. Be there, will be wild!" businessinsider.com

Security company that subcontracted guard in fatal shooting denied settlement
The Denver Department of Excise and Licenses announced Friday that it rejected a settlement agreement with Pinkerton, the company that subcontracted the unlicensed security guard accused of killing a man following a protest in downtown Denver. Earlier this month, Isborn Security Services surrendered its license as part of a separate settlement. Pinkerton is fighting to keep its license. kdvr.com

Viral videos show anti-mask protest at AZ mall: 'They're endangering people'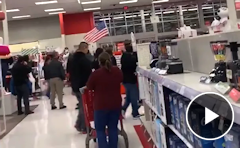 Videos showing a group of maskless protesters decrying COVID-19 health guidelines at Phoenix's Christown Spectrum Mall went viral on Friday as Arizona, along with the rest of the country, continue to see a record number of new cases. Several videos, filmed at different stores including Target and Walmart, showed the group walking through as some waved American flags and held signs opposing masks and other guidelines.

Jenny Guzman, one of the Target shoppers who took video of the protest, told The Arizona Republic that she noticed people shouting near a group of Target security guards and drew closer to see what the commotion was about. "I turned to look and then I saw people coming in, not wearing masks, with signs and a big giant American flag chanting and yelling - demanding that people take their masks off and just saying fallacies about wearing masks," Guzman said. usatoday.com

---

COVID Update
US: Over 18.3M Cases - 325K Dead - 10.6M Recovered
Worldwide: Over 77.4M Cases - 1.7M Dead - 54.3M Recovered

Private Industry Security Guard Deaths: 247 Law Enforcement Officer Deaths: 171
*Red indicates change in total deaths
Every state's single-day record for new cases
has been since November 1, except Hawaii
(Though it's important to remember how limited testing was, especially in the spring.)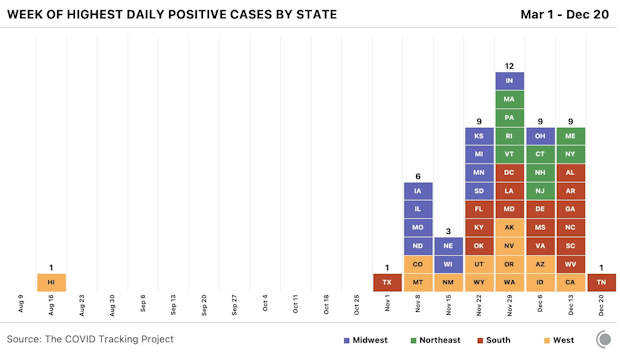 COVID Economic Relief
Congress Strikes Long-Sought Stimulus Deal to Provide $900 Billion in Aid
Congressional leaders on Sunday reached a hard-fought agreement on a $900 billion stimulus package that would send immediate aid to Americans and businesses to help them cope with the economic devastation of the pandemic and fund the distribution of vaccines.

The deal would deliver the first significant infusion of federal dollars into the economy since April, as negotiators broke through months of partisan gridlock that had scuttled earlier talks, leaving millions of Americans and businesses without federal help as the pandemic raged. While the plan is roughly half the size of the $2.2 trillion stimulus law enacted in March, it is one of the largest relief packages in modern history. nytimes.com

Americans will get stimulus checks as soon as next week, Mnuchin says

Leading Retailers Welcome COVID Relief Legislation


The bipartisan COVID relief deal announced today is vitally important for families and businesses whose lives and livelihoods have been upended by COVID-19. Today's agreement does not solve every problem families and businesses will face in 2021 as we look to recover and rebuild, but it is an important first step, and one that will provide hope to those struggling in this pandemic.

This holiday season brings the promise of vaccines and the hope of brighter days around the corner, but with millions still out of work and over 100,000 Americans currently hospitalized with severe coronavirus symptoms, funding for unemployment, health care, and first responders is what many families and communities desperately need right now. We urge Congress to quickly pass this relief bill and ask President Trump to sign it. rila.org

Grocery store employees among next vaccine group
CDC: Older adults, front-line essential workers to get Covid vaccine next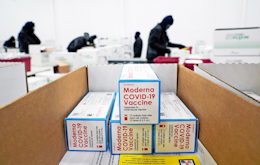 People ages 75 and older and front-line essential workers will be next in line to receive Covid-19 vaccines, according to recommendations from a Centers for Disease Control and Prevention advisory committee. On Sunday, the Advisory Committee on Immunization Practices voted in favor of the recommendations, which will go on to the CDC for final approval.

The new proposal comes less than a week after the first Covid-19 vaccines went out to health care workers and people living in long-term care facilities across the country. That group is referred to as Phase 1A. The Food and Drug Administration has granted emergency use authorization to two Covid-19 vaccines, from Pfizer-BioNTech and Moderna.

In addition to those 75 and older, the next phase, deemed Phase 1B, would include first responders, such as firefighters and police officers, as well as teachers, day care staff and others working in education. Corrections officers, U.S. postal workers, public transit workers and those whose jobs are essential for the food supply - from farmers to grocery store employees - are also next up to receive the vaccine. Altogether, this group includes about 49 million people. nbcnews.com

1,000 Grocery Workers Give Blood Samples
University of Minn. grocery store worker antibody study to help
unlock COVID-19 clues

Grocery store workers' antibodies examined to determine virus' spread.

A University of Minnesota study of COVID-19 in grocery store workers could help solve vexing questions about the true spread of the infectious disease and guide state strategies to slow it down before the vaccine is broadly available.

Public health Prof. Craig Hedberg is recruiting 1,000 grocers from across Minnesota to mail self-collected blood samples to see if they contain antibodies in response to the coronavirus that causes COVID-19. Patterns in the positive results by worker type and geographic location will offer important clues, he said. startribune.com

Supermarkets in L.A. County see unprecedented coronavirus infection rates
Supermarkets have been hit hard by the unprecedented explosion of the coronavirus in Los Angeles County, further straining an essential service that needs to remain open despite the new stay-at-home order.

Outbreaks are increasing at an alarming rate across industries, officials say - an unavoidable consequence of so many people falling sick in the region. But those at grocery stores and other essential retailers pose a unique challenge for officials attempting to reduce coronavirus transmission, as well as for county residents trying to pare down their activities to only what is necessary.

L.A. County is investigating ongoing coronavirus outbreaks at 490 businesses, compared with 173 a month ago, according to county data. The increase in outbreaks drives home officials' warnings that the only way to stay safe is to stay home, even as many businesses remain open.


Barbara Hughes, a cashier at a Food 4 Less in Palmdale, said she had to put in 70 hours last week because so many of her colleagues are out with COVID-19. Twenty-one employees have recently tested positive for the virus, according to county records.

Of the six outbreaks at Food 4 Less locations reported to the county during the pandemic, three - including the one at Hughes' store - were first logged this month, linked to the current surge, according to a Times analysis of outbreaks posted on the county's website. An outbreak is defined as three or more cases among staff in a 14-day period.

There have also been new outbreaks reported in December at three Trader Joe's locations, two Whole Foods Market stores, three Sprouts Farmers Market branches and several smaller grocery chains, county and company records show. latimes.com

Apple is temporarily closing all California stores, a dozen more around U.S. amid COVID-19 surges
Apple is temporarily closing all 53 of its retail stores California and about a dozen outlets in other states because of COVID-19 surges. The closures come during the final days of the busy holiday shopping season.

Besides California, Apple is closing, or already has shuttered, all four of its stores in Tennessee, all three in Utah, all four in Minnesota, its two stores in Oklahoma, and outlets in Anchorage, Alaska; and Albuquerque New Mexico, the company says. usatoday.com
A View of All OSHA COVID-19 Alerts Since March 2020
All OSHA COVID-19 Publications in 2020
All OSHA COVID-19 Downloads in 2020
Despite health warnings, holiday travel has already set a record
for busiest weekend of the pandemic
Pre-Christmas air travel surpassed 1 million daily passengers nationwide for three consecutive days this weekend - breaking the record for most weekend travelers of the pandemic and outpacing Thanksgiving numbers that assumed that title and worried health experts last month. The 3.2 million passengers screened Friday, Saturday and Sunday mark the only time during the pandemic that over 1 million air travelers were seen three days in a row.

The influx in air travel undercuts health officials' guidance for Americans to stay home this holiday season. The Centers for Disease Control and Prevention issued guidance earlier this month that discouraged travel and urged those who need to travel to acquire coronavirus tests before and after their journey. washingtonpost.com

Biden to receive the coronavirus vaccine on live television on Monday

This interactive tool tracks covid-19 travel restrictions by country

Stuarts Draft, VA: Over 20 COVID cases reported at Target distribution center

1 in 5 prisoners in the U.S. has had COVID-19, 1,700 have died


UK Faces New COVID-19 Strain

'Out of Control' New COVID Mutation Across the Pond
EU nations, Canada ban travel from UK, fearing rapidly spreading virus variant
A growing list of European Union nations and Canada barred travel from the U.K. on Sunday and others were considering similar action, in a bid to block a new strain of coronavirus sweeping across southern England from spreading to the continent.

British Health Secretary Matt Hancock has said the strain is "out of control" around London and southeastern England.

France, Germany, Italy, the Netherlands, Belgium, Austria, Ireland and Bulgaria all announced restrictions on U.K. travel. British Prime Minister Boris Johnson said early indications are that the variant is 70% more transmissible and is driving the rapid spread of infections in the capital and surrounding areas.

The European Centre for Disease Prevention and Control said Monday that while preliminary analysis in the U.K. suggests the new variant is "significantly more transmissible," there is no indication that infections are more severe. Experts, however, have stressed that even if the new strain is not more lethal, it's inevitable that more cases will lead to more hospitalizations and subsequent virus-related deaths. usatoday.com

UK nixes Christmas gatherings, shuts London shops over virus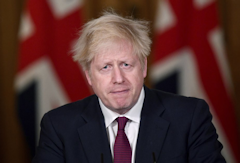 Millions of people must cancel their Christmas get-togethers and most shops have to close in London and much of southern England, British Prime Minister Boris Johnson said Saturday as he imposed a new, stricter level of coronavirus restrictions on the region to curb rapidly spreading infections.

Johnson said Saturday that the capital and large areas in southern England already placed under the highest level of the U.K. government's three-tiered coronavirus alert system will move into a new Tier 4 that requires all non-essential shops, hairdressers and indoor leisure venues to close after the end of business hours Saturday.

With just days to go until Christmas, Johnson also announced that a planned easing of socializing rules that would have allowed up to three households to meet in "Christmas bubbles" from Dec. 23 to Dec. 27 will be canceled for Tier 4 areas and sharply curtailed in the rest of England.

While restaurants, pubs, bars and theaters in much of England are already closed and prepared for a bleak Christmas, all shops in Tier 4 areas that don't sell food or medicine received only hours' notice that they must shutter after Saturday until officials review the situation on Dec. 30.

The British Retail Consortium said it was "hugely regrettable news," especially coming just two weeks after a month-long lockdown in England ended and at the height of the year's peak retail period. apnews.com

British Retail Consortium responds to Tier 4 restrictions in England

UK retail sales pick up ahead of Christmas, January plunge feared

U.K. Braces for Possible Shortages of Some Foods as France Closes Border to Trade

Experts expect vaccines to protect against the UK's fast-spreading Covid strain

NY Gov. Cuomo: UK's COVID-19 mutation 'is on a plane to JFK' without testing

---

FBI: Zoom Security Exec Chinese Spy?
China is Watching - Listening & Recording

DOJ Says Zoom Security Exec Working With Chinese Gov't to Surveil Users & Suppress Video Calls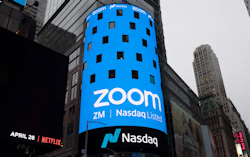 A security executive with the video-tech giant Zoom worked with the Chinese government to terminate Americans' accounts and disrupt video calls about the 1989 massacre of pro-democracy activists in Tiananmen Square, Justice Department prosecutors said Friday.

The case is a stunning blow for Zoom, one of the most popular new titans of American tech, which during the pandemic became one of the main ways people work, socialize and share ideas around the world. The California-based company is now worth more than $100 billion.

But the executive's work with the Chinese government, as alleged by FBI agents in a criminal complaint unsealed Friday in a Brooklyn federal court, highlights the often-hidden threats of censorship on a forum promoted as a platform for free speech. It also raises questions about how Zoom is protecting users' data from governments that seek to surveil and suppress people inside their borders and abroad.

Prosecutors said the China-based executive, Xinjiang Jin, worked as Zoom's primary liaison with Chinese law enforcement and intelligence services, sharing user information and terminating video calls at the Chinese government's request.

Jin monitored Zoom's video system for discussions of political and religious topics deemed unacceptable by China's ruling Communist Party, the complaint states, and he gave government officials the names, email addresses and other sensitive information of users, even those outside China.

A Zoom spokesperson said in a statement Friday that the company has cooperated with the case and launched its own internal investigation. Jin, the company said, shared "a limited amount of individual user data with Chinese authorities," as well as data on no more than 10 users based outside China. Jin was fired for violating company policies, the statement said, and other employees have been placed on administrative leave until the investigation is complete.

In an updated statement on Zoom's website, the company said it "fell short" by terminating the meetings instead of only blocking access to participants in China, to abide by Chinese law. washingtonpost.com

Editor's Note: Well - Is the 'Zoom Craze' over or do we really care about China's communist party listening in? Heck, they're in a lot of the networks already with Huawei and the Russians are now in all the networks too with the SolarWinds hack. Hey, the U.S. is an open book now. It's pretty safe to say anything coming out of either country is probably phoning home. I'm just hoping we have been doing the same thing.

4 Retailers Among List of 17 Worst Companies in America to Work For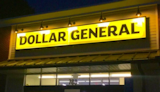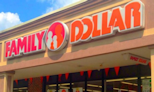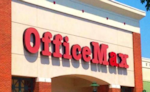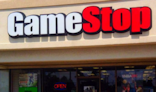 We've compiled a list of the worst-rated companies on Glassdoor, focusing on those with at least 10,000 employees and 1,000 reviews. In the case of ties, we prioritized companies that workers would be least likely to recommend to a friend.

Of the 17 worst companies listed, four were retailers:

8. OfficeMax
9. Family Dollar
10. Dollar General
15. GameStop yahoo.com
What's ahead for the 2021 workforce?
How has COVID-19 redefined the workforce? LinkedIn's final Workforce Report of 2020 chronicles this year's labor-market trends and what they mean for the year ahead:
Walmart and Amazon launch return options as some predict holiday onslaught
Walmart has partnered with FedEx to allow online shoppers to return items from their homes, according to a company post Monday. The new free service, Carrier Pickup by FedEx, lets customers set up an appointment online for a FedEx associate to pick up packages from their doorsteps. Walmart also added features to its app to make in-store returns faster. Walmart's announcement comes days after Amazon announced an extended return policy for the holiday period and "no-box, no-label" returns at more than 500 Whole Foods Market locations. retaildive.com

Top retailers enhance last minute holiday pickup and delivery options
Walmart's offering includes paid two hour delivery for orders made by 1 pm on December 24th, plus free next-day delivery for orders made by the 21st at 2 pm. Target is offering curbside and in-store pickup until 5 pm on Christmas Eve and is offering same-day delivery via Shipt. Amazon is extending delivery options for Prime members. retailwire.com

MoneyGram, After Spending Millions on Compliance, Wants Stronger Due-Diligence Rule

Nike posts $11B quarter and plans for 30 new stores

JCPenney to close 15 more stores after exiting bankruptcy

Billionaire Ray Dalio's son dies after crashing car into Verizon store


Last week's #1 article --

Atlanta: Lenox Square Mall to add metal detectors, gun-sniffing K-9s
to security plans after shootings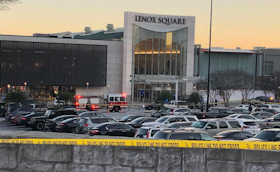 One of Atlanta's busiest malls will be adding metal detectors to a growing list of safety precautions in the face of multiple shootings, or reports of shots fired inside or nearby, in the last year.

"Lenox Square is one of the most surveilled environments in Atlanta and has 18 times more security personnel by square acre than the city of Atlanta," the mall said in a statement.

Officials with Lenox Square are adding new methods to their security protocol. In addition to linking their more than 200 security cameras and adding license plate readers at vehicle entrance points, the mall said it has recently added K-9 patrols trained to detect firearms. Perhaps the most talked-about additions, however, are metal detectors designed to check for firearms.

And, finally, the mall pointed to an "Operations Intelligence Center" staffed with 120 trained specialists who are tasked with monitoring closed-circuit surveillance video in real-time. 11alive.com

---

Shootings & Deaths
Tucson, AZ: 3 facing murder charge in shooting death of C- store clerk
Tucson police are investigating a deadly shooting that happened on the south side Saturday morning. Officers responded to the Quik Mart on S. Park Avenue for a welfare check on a convenience store clerk, according to TPD. Upon arrival, officers found a man inside the store with obvious signs of gunshot trauma. Shortly after Tucson Fire medics responded, the victim was pronounced dead at the scene, police say. The victim/ employee has been identified as 47-year-old Toby Lee Uribe Through continued investigation, it was determined that just before 3 a.m. two men entered the store, one man forcibly opened a beer cooler, while the second man pointed a firearm at Uribe, according to TPD. The first suspect left the store with the items when the second suspect fired his weapon striking Uribe. kgun9.com

Miami, FL: Man shot and killed over $10 debt outside a Little River Gas Station
A woman who identified herself as the girlfriend of a man shot and killed outside a Miami gas station early Sunday morning said she believes his death was over a $10 debt. "Word on the street is that it was over $10 from a couple years ago," Nicole Marks said. Police placed yellow evidence markers on the outdoor countertop at the Chevron gas station convenience store in Miami's Little River neighborhood. Authorities received the 911 call around 3:45 a.m. Sunday. local10.com

Los Angeles, CA: Children Sue Westfield Mall, Shooting Suspect Over Father's Death
A lawsuit was brought against Westfield Century City Mall on behalf of three children of a man fatally shot outside a restaurant in January. A lawsuit was brought against Westfield Century City Mall on behalf of three children of a man fatally shot outside a restaurant in January, alleging police should have been called after an argument broke out among patrons before the situation escalated. The shooting occurred about 10:30 p.m. Jan. 20 at the mall in the 10200 block of Santa Monica Boulevard and resulted in the death of Ryan Deshane Givens Jr., 29, of Los Angeles. The three plaintiffs are minors and the Los Angeles Superior Court lawsuit filed Monday alleges wrongful death, negligence and assault and battery. Also named as defendants are Javier's Century City, a Mexican food restaurant, and the accused shooter, 27-year-old Brandon Hinton. patch.com

Houston, TX: 16-year-old gunman who shot woman in head outside Houston gas station is still on the run
A 16-year-old male opened fire on a vehicle at a north Houston gas station late Thursday, shooting a young woman in the back of the head, police said. The shooting was reported before 9 p.m. outside a store in the 1300 block of Crosstimbers, according to the Houston Police Department. As of late Friday morning, police had not released the teenager's identity because he is facing charges in juvenile court. Police said the teen is still on the run and facing a charge of aggravated assault with a deadly weapon. The victim's name has also not been released, but police said she is an 18-year-old who is in critical condition. Police said the victim and a 20-year-old man were sitting in a car outside the gas station when the suspect came outside. He looked into the vehicle and then opened fire on both before fleeing the scene. khou.com

Brockton, MA: Woman Shot in Taco Bell Parking Lot
A 27-year-old woman was shot in the head outside of a Taco Bell in Brockton in the early hours of Monday morning. Police responded to the Taco Bell parking lot after a reported shooting at 1:12 a.m. Officers began treating the victim for a gunshot wound to the head. Investigators believe the shooting happened while she was parked and sitting in the driver's seat of her Honda Civic. The bullet struck another vehicle as well. No other injuries were reported. nbcboston.com

---

Robberies, Incidents & Thefts
Virginia Beach, VA: Police Chief responds to viral video of innocent man being detained inside food court of Lynnhaven Mall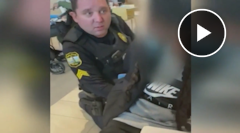 A video showing a Black man being detained in Lynnhaven Mall on Saturday has gone viral over social media, resulting in an investigation by the Virginia Beach Police Department. In the video posted by BLM 757, it shows a Black man eating with his family in the food court of the mall, when an officer began to put his hands behind his back to handcuff him. In the video you can hear both the man and a woman he is with questioning the officers as to what is going on. The video shows the officer continuing to walk the man outside of the mall handcuffed as the man pleads for the reasoning. The officer releases the man once outside and begins to explain why he detained the man, as seen in the video. In the video the officer says that a description of another Black man fit his description. The officer attempts to apologize for the misunderstanding in the video, but the man continues to express the embarrassment he has faced. wavy.com

Visalia, CA: Wild video shows screaming 'shoplifter' dragged across the floor by security guards during apprehension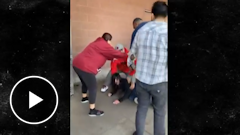 A witness says it happened Wednesday at the WinCo Foods on Caldwell Ave. in Visalia. In the video, the woman is seen kicking her legs while crying and pleading for help. Visalia Police Department confirmed 27-year-old Victoria Vargas of Hanford was caught, with a male companion, stealing expensive tequila. 25-year-old Raul Luna of Hanford ran from the store while Vargas was detained but he returned later and was arrested. You can also hear the man recording the incident telling the two WinCo employees, "You can't drag her, it's illegal." tmz.com

Houston, TX: Hit and run, robbery take place at Willowbrook Mall
Houston Police are investigating the scene at Willowbrook Mall, after receiving a call about a hit and run and a robbery on Sunday, Dec. 20. Police received the hit and run call around 2:50 p.m., the robbery tip came in about ten minutes later. fox26houston.com

New York, NY: Fire truck slams into children's clothing store overnight in Brooklyn

Featured Job Spotlights






Loss Prevention Auditor and Fraud Detection Analyst
Raleigh, NC - posted Dec. 14
As a Loss Prevention Auditor and Fraud Detection Analyst for Staples, you will conduct LP operational field audits remote, virtual and in person, within a base of 60 retail stores to ensure compliance to operational standards to drive operational excellence and preserve profitability...






Leader, Asset & Profit Protection
San Fran/Chicago/NY/West Palm Beach - posted Dec. 14
As the leader of the Data/Analytics & Investigations strategy, you should have strong analytical/investigation skills, the drive to innovate, and the ability to build strong partnerships to lead through the influence of others. They will be personable, open to learning, collaborating with others...






District Asset Protection Manager
Seattle, WA - posted Dec. 11
As the District Asset Protection Manager you will lead administration of Asset Protection programs and training for an assigned district in order to drive sales, profits, and a customer service culture...






Regional Manager LP, Audit & Firearms Compliance
IL, WI, MN, IA, ND, SD, NE, OK, MO & KS - posted Dec. 9
The Regional Loss Prevention Manager is responsible for the control and reduction of shrinkage at the stores in their Territory. Investigate and resolves all matters that jeopardize or cause a loss to the company's assets...






Customer Success Specialists
Multiple Locations - posted Oct. 9
The role of the Customer Success Specialist is to engage, empower, and excite our community. As a Customer Success Specialist, your primary responsibility is to ensure both retailers and law enforcement, who make up our community, have great experiences and achieve real crime reduction outcomes from using our platform. Apply Here






Sales Representatives
NuTech National - posted Oct. 13
NuTech National, an established and rapidly growing 40+ year electronic security company is expanding our National Sales Team. Seeking motivated, driven and successful sales reps to expand our national retail and governmental vertical markets. Top pay, benefits and signing bonus available. Please apply to melissa@nutechnational.com

Featured Jobs

To apply to any of today's Featured Jobs, Click Here