Join global executives, Wednesday, May 26th, and Thursday, May 27th, for The Road to Recovery Spring 2021 Symposium. This 2-day event will focus on the best practices and strategic recommendations to keep people safe, restore operations, and help organizations manage their reputations and communications to foster consumer safety and trust.

President Bill Clinton would be kicking off the symposium followed by executive C-level panels on May 26 and May 27. We'll be hosting roundtables specifically for security and IT professionals to discuss tackling the information security challenges and cyber threats of the pandemic.

Other Speakers Include:

This event is free of charge and one you will not want to miss! Space is limited, so register today to reserve your spot. Click here to register

---

Protests & Violence

Gun injuries put over a half-million people in hospitals from 2000 to 2016,
study finds

First-of-its-kind database provides state-level estimates of gun hospitalizations
over time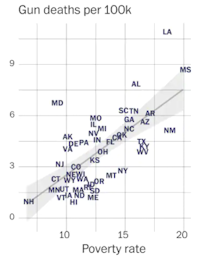 Tens of thousands of people are admitted to hospitals for gun injuries every year, according to
a first-of-its-kind database
that underscores how
the societal costs of gun violence extend well beyond mortality.
Developed by researchers at the Rand Corp., a California-based think tank, the study found
roughly 550,000 people were admitted for gunshot wounds from 2000 to 2016
, representing billions of dollars in health-care costs annually, as well as untold pain and suffering.
The data comes as narrow Democratic control of Congress and the White House has ushered in
hopes among advocates for new policies
intended to curb gun violence in the United States. A spate of
high-profile mass shootings in 2021
has ratcheted up pressure on lawmakers to act.
Much of the research on gun control deals with homicide and suicide data because state and federal governments typically keep detailed records of how and when people die. But injuries also exact a considerable economic and public health toll: Gun-related hospital visits account for an estimated
$2.8 billion in health-care spending annually
, as well as
billions more
when lost work and wages are factored in.
A 2017 study found that the average gunshot patient incurred hospital costs of more than $95,000.
Shootings never stopped during the pandemic: 2020 was the deadliest gun violence year in decades
Precise numbers for those hospitalizations, however, have previously been unavailable. There's no comprehensive national database of gunshot injuries, for instance. And as the Rand researchers found, the quality of hospitalization data varies widely from state to state.
Editor's Note: The exact same thing we run into in compiling our crime reports.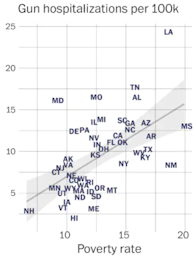 The Rand data include estimates of gun-related hospitalizations for all 50 states from 2000 through 2016. The people behind the database hope their work will allow other researchers to better understand how state-level policies influence gun violence.
At the state level, gun injuries roughly track the better-known homicide data.
Louisiana leads the nation
with an average of 24 gun hospitalizations for every 100,000 people each year. At the bottom of the list is Hawaii, with less than one-tenth the injury rate of Louisiana.
At the state level,
gun ownership rates aren't closely correlated with gun hospitalizations.
There's a well-known relationship between
gun ownership and suicide
, for instance. But that relationship doesn't apparently extend to gun injuries. Morral said that
injuries, however, are closely correlated with rates of violent crime overall.
And that suggests another driver: poverty.
People living in poor households "
had more than double the rate of violent victimization
" than those in high-income areas.
washingtonpost.com
Give back NY judges' power to require bail for clear threats to public safety

At least Bronx Judge Louis Nock tried: He
set bail for the accused serial synagogue vandal at $20,000
on the theory that smashing glass counts as a violent felony and so allows for remand even under New York's noxious "no bail" law. But a different judge
cut suspect Jordan Burnette loose under supervised release
just hours later.
By conventional thinking, none of the
42 counts allowed
for bail to be required for the perp, not even the several hate-crime offenses.
Notably, Nock recently lamented,
"My hands are tied" by "the new bail rules" as he released without bail a man charged with attacking an undercover Asian cop.
And Bronx Assistant District Attorney Theresa Gottlieb agreed that "given the number of attacks, we probably would have asked for substantial bail before January of 2020." But, she went on, "The Legislature did not include hate crimes in its revision of bail reform and,
under the law as it exists today, this is not eligible.
"
This, for the
accused culprit in an 11-day terror spree. Yes, terror
: The shattering of synagogue doors and windows is a blatant echo of Kristallnacht ("Night of Broken Glass"), when mobs of Nazis attacked German Jews' houses of worship, stores and homes, setting many ablaze - the prelude to the Holocaust.
nypost.com
13th Straight Day of Demonstrations in NC
Elizabeth City, NC: More arrests Monday night as protests continue over
Andrew Brown Jr.'s death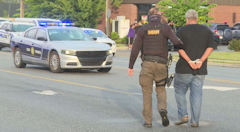 On the day that Andrew Brown Jr. was laid to rest in Elizabeth City,
at least four more people were arrested during evening protests.
Monday marked the 13th day demonstrators were out on the streets seeking justice following the shooting death of Brown by Pasquotank County deputies attempting to serve an arrest warrant.
Around 8:30 p.m. four people walked out the Pasquotank County Courthouse after being
arrested and charged with impeding traffic.
One of those arrested was Kirk Rivers, the brother of the President of the Pasquotank County Chapter of the NAACP. Kirk says, "The four of us were all arrested together because we believe in the justice for Andrew Brown."
The protesters say they will continue to be out every day at 5:00 o'clock to protest.
witn.com
In Colombia, 19 Are Killed in Pandemic-Related Protests
At least 19 people were killed and hundreds more injured during days of protests across Colombia, in which tens of thousands of people have taken to the streets to
demonstrate against a tax overhaul meant to fill a pandemic-related fiscal hole.
nytimes.com
---

COVID Update

247M Vaccinations Given
US: 33.2M Cases - 591.5K Dead - 25.9M Recovered
Worldwide: 154.2M Cases - 3.2M Dead - 131.6M Recovered

Former Senior Loss Prevention Executive
Know of any fallen LP exec? Let's remember & recognize.

Private Industry Security Guard Deaths: 279 Law Enforcement Officer Deaths: 297
*Red indicates change in total deaths


CVS Says Covid-19 Vaccinations Slow as U.S. Rollout Runs Into Hesitancy
CVS says demand for shots down about 30% after administering more than 17 million doses in the U.S. The pharmacy chain has administered more than 17 million shots, which are now available at more than 8,300 U.S. locations. Like rivals, CVS has begun offering same-day appointments for injections in a bid to improve uptake. wsj.com

Workers are slowly returning to offices: Dallas takes the lead, while San Francisco and NY trail behind
The number of employee office visits in 10 large cities reached 26.1% of the pre-pandemic level the week ending April 21, according to Kastle Systems, the largest provider of technology that tracks such data through swipes of keycards and other devices. While Dallas and other Texas metro areas have solidly topped that average, cities such as San Francisco and New York have lagged. usatoday.com

OSHA increasingly issuing COVID-related citations
OSHA Emergency Temporary Standards (ETS) Coming
The Occupational Safety and Health Administration's (OSHA) has changed its mind and has decided to issue Emergency Temporary Standards (ETS) that employers will be expected to adhere to regarding COVID-19 in the workplace. It is estimated that the ETS will be published no later than June.

OSHA is already increasingly issuing COVID-related citations under the General Duty Clause of the OSH Act to require employers to mandate, e.g., masking and social distancing."

OSHA also chose to recently unleash a National Emphasis Program regarding stepped-up enforcement efforts nationwide, initially targeting the hospital and healthcare industry. ehstoday.com

Which Health & Safety Attributes Most Important to Consumers
3rd Study- 2,000 Americans Surveyed - 25 Brands in 4 Key Industries

Whole Foods Best at Implementing COVID-19 Safety Measures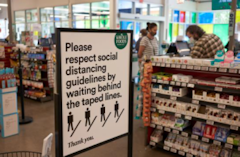 Whole Foods Market was a big winner in Ipsos' Health and Safety Best Brand Awards, presented by global research firm Ipsos based on the results of the latest "Consumer Health & Safety Index," an in-store benchmarking study that assesses how retailers are operating more than a year into the pandemic.

"The brands receiving Ipsos' Health & Safety Awards are being recognized for their responsiveness, diligence and excellence in creating safe in-store experiences for both customers and employees," said Shohini Banerjee, SVP, U.S. channel performance at New York-based Ipsos.

The Mystery Shoppers visited almost 3,500 individual locations and evaluated each brand's compliance with key health-and-safety measures. These included areas such as social distancing, mask compliance, cleaning and hand sanitizer availability. Top-performing brands were given awards for their overall performance, with awards also bestowed by category to highlight the individual nature of the marketplace in which these brands compete.

In the grocery category, Whole Foods and Food Lion led the pack, with Austin, Texas-based Whole Foods holding on to its No. 1 spot from previous Ipsos studies and also earning the Best in Industry designation. Salisbury, North Carolina-based Food Lion was No. 3 in the grocery industry but was recognized as a Best in Category winner for the presence of sanitizers at strategic points in its stores, including at entrances, checkouts and in restrooms.

Among big-box retailers, while Richfield, Minnesota-based electronics store chain Best Buy kept its spot as the top performer in the big-box industry, winning the Best in Industry, Minneapolis-based Target demonstrated improvement in its focus on health and safety, coming in second in the big-box industry and winning the Best in Category award for cleanliness. Issaquah, Washington-based Costco, which has consistently demonstrated strong performance across several waves of the Ipsos' index, came in third, and also received the Best in Category award for restrooms and barriers to enforce distancing.

As well as garnering Industry and Category awards, Whole Foods, Best Buy, Target and Costco received Best Overall Brand awards. These brands demonstrated strong performance through the end-to-end customer journey, setting them apart from the rest of the 24 participating brands in the Index.

Each brand included in the third wave of "Ipsos' Consumer Health & Safety Index" received scores for their compliance to each of the health-and-safety policies observed by mystery shoppers. progressivegrocer.com

Almost half of U.S. workers suffering from mental health issues due to COVID
Published Today in ehstoday.com

Employees Need Help with Mental Health
"The stigma of mental illness, therapy and mental health at work can keep many employees from using resources," said Dr. George James, a licensed marriage and family therapist and member of the CNBC Financial Wellness Council. "So it has to be driven, encouraged and supported from the top down."

And that's where EHS professionals can step in. Unfortunately, they have a strong case to make in creating a workplace program since almost half of the American workers are suffering from mental health issues due to COVID-19, according to a report, 2020 Behavioral Health Impact Update.

This number is up significantly, 46% compared to 39% prior to COVID-19. However, 39% is still a large part of the workforce that is dealing with these issues, and most are probably dealing with it alone.

Across the country, mental health associations have been vocal about the need to address this issue. In December 2020, the CEOs of 14 mental health advocacy organizations and professional organizations formed a coalition to engage with all levels of government-federal, state and local-to recognize, but more importantly address the issues.

"Just as the public health care system was unprepared for a pandemic, an unprecedented mental health crisis afflicting half of all Americans has overwhelmed the mental health care system. Since the onset of the pandemic, prevalence of depression symptoms have jumped three-fold, overdose deaths have increased in 40 states and the CDC reports that 25% of young adults struggle with suicidal ideation," the group said in a release. To address this they created a plan, A Unified Vision for Transforming Mental Health and Substance Use Care · Well Being Trust.

The CDC, in a document entitled Mental Health in the Workplace, points to the workplace as being an effective place to address the issues due to its inherent structure. ehstoday.com

From Hot Spot to Hope
New York Region to Accelerate Reopening, Raising Hopes and Anxiety

New York, New Jersey and Connecticut are pushing ahead with May 19 reopening plans, and the subway will return to 24-hour service.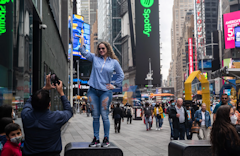 New York and its neighbors New Jersey and Connecticut announced on Monday that they were lifting almost all their pandemic restrictions, paving the way for a return to fuller offices and restaurants, a more vibrant nightlife and a richer array of cultural and religious gatherings for the first time in a year.

The relaxation of rules starting May 19 is a testament to the fact that coronavirus cases are down and vaccination rates are rising, offering a chance to jump-start the recovery in a region that became a center of the global pandemic last spring.

New York will also bring back 24-hour service to the subway on May 17, after a year of overnight closures, a move critical for night-shift workers and a symbolic boost to a city that takes pride in a transit system that had, until the pandemic, never closed for extended periods. nytimes.com

DeSantis declares COVID 'state of emergency' over in Florida,
overrides local restrictions
Declaring Florida's COVID-19 emergency over, Gov. Ron DeSantis on Monday signed an executive order invalidating all remaining local emergency COVID orders and signed a bill into law that bars businesses, schools and government entities across Florida from asking anyone to provide proof of a COVID-19 vaccination. yahoo.com

McKinsey and Company
Speaking out on purpose
Like it or not, as a company leader, you play an important part in helping your employees find their purpose and live it.

Our insights

● Why it matters. The COVID-19 pandemic has caused many employees to reevaluate both their personal and work lives. Many now expect their jobs to provide purpose. If a company can't meet that goal, employees will seek out one that will. Getting purpose right can create well-being both for individual employees and your company.

● What employees want. Purpose comes from forces outside work, as well as from daily work itself. But mandating purpose will backfire. Instead, CEOs need to see themselves as employee influencers rather than controllers. It's time to start closing the gap between the experiences of upper-level management and frontline employees when it comes to opportunities to truly live purpose at work.

Find Your Purpose

---

Over Last Five Years Over 300 Inspections & $9.3M in Proposed Penalties
Dollar Tree Faces $265,000 in Penalties for Repeat Safety Violations
In the past five years, the discount retailer has been inspected more than 300 times that have resulted in more than $9.3 million in proposed penalties.

Dollar Tree store workers across the country continue to face the same hazardous working conditions at the national discount chain as they have for many years. Since 2016, the Occupational Safety and Health Administration has inspected company locations more than 300 times.

Following an October 2020 inspection at a Dollar Tree store in Beverly Hills, Florida, OSHA determined that the company exposed workers to fire, entrapment and struck-by hazards, blocked exit routes, and improperly stacked boxes and other materials that might fall and injure workers. OSHA proposed $265,265 in penalties.

Since 2018, inspections at Dollar Tree Stores in Alabama, Florida, Georgia and Tennessee have resulted in proposed penalties of more than $1.3 million. Nationwide, Dollar Tree inspections in the past five years have resulted in proposed penalties of more than $9.3 million.

"Dollar Tree Stores have a history of not taking the safety of its workers and customers seriously," said OSHA Area Director Danelle Jindra in Tampa, Florida. "Until appropriate precautions are taken to protect their employees from these well-known and frequent hazards, OSHA will continue to hold them accountable."

The company has 15 business days from receipt of its citations and penalties to comply, request an informal conference with OSHA's area director, or contest the findings before the independent Occupational Safety and Health Review Commission. ehstoday.com

Compliance Officers Play Growing Role in Corporate Sustainability Efforts
Dell, Western Union and other companies are showcasing the work of their compliance departments to attract ESG-focused investors

Companies looking to show investors their commitment to sustainability are relying more on the work of their chief compliance officers.

The role played by compliance in ensuring that employees act ethically has a natural place in corporate efforts to attract sustainability-minded investors, these companies say.

Some compliance executives also have been tapped to help manage social or environmental goals that go well beyond their role's traditional remit, as companies look to put muscle behind the pledges they make on such issues and address legal risks that can be involved.

"A compliance officer is viewed as a leader in ethics, in good corporate practices," said Taylor Pullins, a former sustainability director for Houston-based oil-and-gas producer Noble Energy Inc. "Right there, they have a role in disclosing internally to employees and to the market about why they are a responsible corporation."

With many companies now setting broader environmental, social and governance goals, compliance officers have taken on a bigger role. Corporate governance experts expect that involvement to continue, in part due to the legal risks associated with such commitments.

Some compliance officers and corporate governance experts think there is room for compliance to take on an even greater role in ESG as the function's responsibility for managing nonfinancial risks of all kinds grows. wsj.com

'The therapist at CVS will see you now'
CVS HealthHUBs To Pilot Behavioral Health Services In 34 Locations
CVS Health is preparing to launch a behavioral health pilot program in 34 HealthHUB locations in four states. The pilot launched at 17 HealthHUB locations in three states: Florida (six locations), Pennsylvania (four locations); and Texas (seven locations). By July 2021, 17 more pilot locations are slated to open with six in New Jersey, one in Florida, three in Pennsylvania, and seven in Texas.

For the pilot the HealthHUBs, which provide consumers with care concierge services for chronic disease management and other primary and preventive care services, are working with the CVS MinuteClinic service, which provides direct medical services. Mental health counseling services are provided by a MinuteClinic® licensed therapist within a CVS® HealthHUB™ location. The social workers provide adults ages 18 and older with behavioral assessments, referrals, on-the-spot counseling, and personalized care plans.

CVS Health is a different kind of health care company. It is a diversified health services company with nearly 300,000 employees united around a common purpose of helping people on their path to better health. In an increasingly connected and digital world, it meets people wherever they are and changing health care to meet their needs. Built on a foundation of unmatched community presence, the CVS Health diversified model engages one in three Americans each year. From its innovative new health care management services at HealthHUB locations, to transformative programs that help manage chronic conditions, CVS Health seeks to make health care more accessible, more affordable, and simply better.

Among other retailers, Walmart operates about 20 Walmart Health in-store clinics that charge $45 for 45-minute counseling sessions. According to therapist directory GoodTherapy.org. CVS charges $59 for a telehealth session. retailwire.com openminds.com


Quarterly Results

Under Armour Q1 DTC up 54%, E-commerce sales up 69%, North America revenue up 32%, International sales up 58%, Wholesales up 35%, total revenue up 35%

Travel Centers of America (TA) Q1 fuel sales up 11.2%, nonfuel sales up 5.4%

CVS Q1 Retail/LTC Segment comp's total store up 0.4%, Pharmacy up 4.1%, Front Store down -11.4%, Prescription volume up 1%, total revenue up 2.3%,
CVS Q1 Pharmacy Services revenue up 3.8%, Consolidated total revenue up 3.5%

Publix Q1 comp's up 2.4%, sales up 3.9%

---

Senior LP & AP Jobs Market
Divisional Asset Protection Director job posted for Lowe's in Mooresville, NC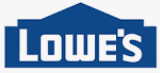 The primary purpose of this role is to maximize profitability of the company by protecting the people and assets for their division of responsibility. The DAPD is directly responsible for Safety, Shrink, Expenses and Liability and provides direct leadership to field personnel in the Asset Protection, Safety & Hazmat Department within their respective division. The Division Director will have responsibility for ensuring that stores within their division are implementing and executing safety programs in order to create safe store environments for customers and employees. sjobs.brassring.com

---