Tyco Kantech strengthens intrusion support, mobile and cybersecurity applications in latest version of EntraPass software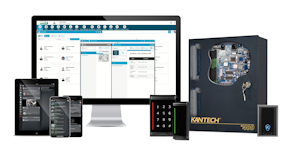 Johnson Controls, the global leader in smart, healthy and sustainable buildings, and architect of the OpenBlue digital connected platforms, has released the newest version of the Tyco Kantech EntraPass security management software. EntraPass version 8.30 features additional support for Tyco DSC PowerSeries intrusion alarm panels, including a fully functional virtual keypad, enhanced support for EntraPass web macOS functionality, cybersecurity updates and other optimizations for a more streamlined user experience.

For a more seamless combination of access control and intrusion, additional support for the Tyco DSC PowerSeries alarm panel family includes a fully functional virtual keypad, with the same functions, navigations and emergency keys as the physical DSC intrusion alarm panels. This enables system operators to perform intrusion functions remotely from an EntraPass workstation, such as the arming/disarming of intrusion panels or acknowledging/cancelling alarms without needing to be physically present at the keypad's location. Read more here


ADT sues Ring for trademark infringement



For decades, ADT's Famous Blue Octagon-an iconic trademark recognizable virtually anywhere in the United States-has been a symbol of ADT's dedication to its customers. ADT's more than 6 million customers proudly display ADT's Famous Blue Octagon to let others know that ADT is always there to help protect and connect what matters most to them.

Read more about the lawsuit

---

Protests & Violence

Grocery workers, already reeling from the pandemic, face new trauma
from store shootings
Recent attacks in Colorado and New York have added a new layer of vulnerability for millions of supermarket employees: "I don't feel safe"

The Boulder attack and other deadly grocery store shootings, including one last month in Long Island, underscore a new layer of vulnerability for millions of grocery workers, many already overwhelmed after taking on bigger workloads, longer hours and heightened health risks in the year-plus of the pandemic.

The prolonged stress, public health experts say, can lead to depression, anxiety, high blood pressure, heart disease and other conditions. Now they're dealing with one more stressor, said Bethany Brand, a psychology professor at Towson University in Maryland who specializes in trauma.

"Statistically the odds of any one grocery worker being killed at work are extremely small, but that is not how our brains work," she said. "The impact of these events is real with heightened levels of stress and anxiety for many employees."

Even workers not directly affected by the shootings say they are struggling to sleep and are fearful of going to work, as they confront an ever-present threat of gun violence in the workplace. Last Wednesday, less than a month after the Boulder shootings, a gunman opened fire in a Stop & Shop in Long Island, killing one manager and two employees.

And while workplaces around the country have added active shooter drills and discussed lockdown scenarios with employees, mental health experts say they have been slower to address the trauma that such events can leave behind. Some workers may be scared to return to work or find that violent events in the news can be re-traumatizing. washingtonpost.com

Debate Over Police Body Cam Footage
As Body Cams Become Common, a Debate Over When to Release Footage

The question of timing has become an unsettled new frontier of policymaking as the use of police body cameras is more the rule rather than the exception.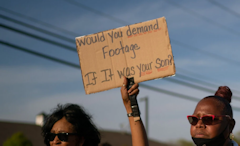 Ma'Khia Bryant had been dead only a few hours when the authorities in Columbus, Ohio, released body camera footage from the police officer who had shot and killed her. Andrew Brown Jr. was killed by sheriff's deputies in Elizabeth City, N.C., nearly two weeks ago, and it could be many more weeks - or even months - before video of his death is publicly shown.

As body-worn cameras have become more commonplace, and public pressure on officials to take police accountability more seriously has mounted, so too have demands to quickly release the footage of violent or fatal encounters between law enforcement officers and citizens. A video can mean the difference between drawing attention or dying in obscurity.

But it is not always that easy. While more police chiefs and mayors have recently made ad hoc decisions to quickly release videos of high-profile incidents, activists and lawmakers in some states are pushing for faster public access. That has made the question of timing an important and unsettled new frontier of policymaking as the use of body cameras among law enforcement in the United States becomes the rule rather than the exception.

As of 2018, at least 23 states and the District of Columbia had passed laws related to the public disclosure of body-worn camera footage, according to the National Conference of State Legislatures, and many states are considering measures this year. Few states consider body-worn camera footage exempt from public records requests, although most states have passed various exemptions associated with the disclosure - from who is allowed to view the video to the time frame in which it must be released. nytimes.com

New Police Tactics for Protests After 'Excessive Use of Force'
Columbus police may not use tear gas, rubber bullets on peaceful protesters after running 'amok', judge rules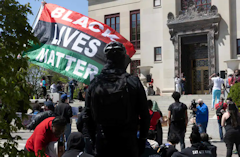 A federal judge on Friday ordered police in Columbus, Ohio, to stop using force against nonviolent protesters in the city as part of a preliminary injunction that denounced tactics of officers who the judge said ran "amok" against demonstrators following George Floyd's death last summer in Minneapolis.

In an 88-page opinion, Judge Algenon L. Marbley of the Southern District of Ohio described the physical violence, tear gas and pepper spray used by Columbus police as "the sad tale of officers, clothed with the awesome power of the state, run amok."

Marbley said that authorities often used force "random and indiscriminately" against peaceful protesters in Columbus without provocation.

Marbley's ruling favored 26 plaintiffs who sued the city after taking part in the demonstrations last summer, alleging that officers responded to protesters who posed no threat of violence with excessive use of force. The lawsuit, which was filed last July, alleged that officers used pepper spray and tear gas and assaulted protesters with a sound cannon, batons, and rubber and wooden bullets. washingtonpost.com

Letting the Rioters in the Front Door
GOP lawmaker charged with 'knowingly' letting rioters breach the Oregon Capitol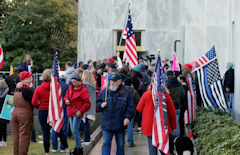 As far-right demonstrators gathered outside the Oregon Capitol in December in the hope of ending coronavirus restrictions, state Rep. Mike Nearman (R) appeared to deliberately allow entry to two men trying to breach the building as he was leaving.

Without hesitation, two rioters on Dec. 21 rushed inside the state Capitol in Salem, Ore., held doors open and signaled for others to come in before police arrived to cut off the security breach, according to surveillance video obtained by the Oregonian and Oregon Public Broadcasting.

Nearman, 57, now faces criminal charges for his role in allegedly allowing the rioters to breach the Oregon Capitol, Marion County District Attorney Paige E. Clarkson announced Friday. The GOP lawmaker has been charged with misdemeanor counts of first-degree official misconduct and second-degree criminal trespass, according to court documents. washingtonpost.com

Long-Lasting Health Impacts of Teargas
Hundreds report health issues after being teargassed during Portland protests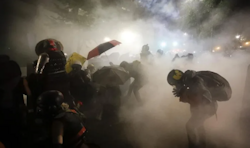 More than a thousand people reported lasting health effects after being exposed to teargas during protests in Portland, Oregon, last summer, according to a newly published scientific study.

Nearly 900 people reported abnormal menstrual cycles, including intense cramping and increased bleeding, that began or persisted days after their initial exposure to the teargas. Hundreds of others complained of other negative health impacts, including severe headaches, nausea, diarrhea, and mental health concerns.

The new research, based on an online survey of more than 2,200 people, challenges claims that the health consequences of being teargassed are minor and temporary, said Dr Britta Torgrimson-Ojerio, a researcher at Kaiser Permanente Northwest and the lead author of the study. yahoo.com

---

COVID Update

246M Vaccinations Given
US: 33.1M Cases - 591K Dead - 25.8M Recovered
Worldwide: 153.5M Cases - 3.2M Dead - 130.9M Recovered

Former Senior Loss Prevention Executive
Know of any fallen LP exec? Let's remember & recognize.

Private Industry Security Guard Deaths: 279 Law Enforcement Officer Deaths: 297
*Red indicates change in total deaths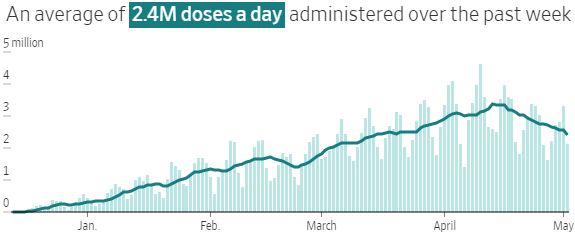 5 Law Enforcement Officers Died From COVID-19 in April
119 Law Enforcement Officers Died in Line of Duty in 2021 So Far
- Up 20% over 2020
YTD COVID-19 has been linked to 63 law enforcement deaths in 2021

Virus Spreading Too Quickly + Not Enough Americans Getting Shots
Reaching 'Herd Immunity' Is Unlikely in the U.S., Experts Now Believe

Widely circulating coronavirus variants and persistent hesitancy about vaccines will keep the goal out of reach. The virus is here to stay, but vaccinating the most vulnerable may be enough to restore normalcy.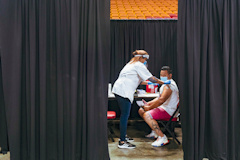 Now, more than half of adults in the United States have been inoculated with at least one dose of a vaccine. But daily vaccination rates are slipping, and there is widespread consensus among scientists and public health experts that the herd immunity threshold is not attainable - at least not in the foreseeable future, and perhaps not ever.

They are coming to the conclusion that rather than making a long-promised exit, the virus will most likely become a manageable threat that will continue to circulate in the United States for years to come, still causing hospitalizations and deaths but in much smaller numbers.

How much smaller is uncertain and depends in part on how much of the nation, and the world, becomes vaccinated and how the coronavirus evolves. It is already clear, however, that the virus is changing too quickly, new variants are spreading too easily and vaccination is proceeding too slowly for herd immunity to be within reach anytime soon. nytimes.com

Global Virus Cases Reach New Peak, Driven by India and South America
Worldwide, the number of new coronavirus cases has shot upward since the beginning of March, more than doubling in two months. For the past two weeks, new global cases have exceeded their previous high point in early January. The average daily rate of new cases has now been above 800,000 for more than a week.

The increase in cases is largely being driven by the uncontrolled outbreak in India, where new cases have risen sharply for the past month and show no signs of abating. India now accounts for more than 40 percent of the world's new cases.

After briefly discussing the state of the virus in Brazil, which has begun to see a decline in deaths from its worst days earlier this month, Dr. Tedros added: "The pandemic has taught us that no country can ever let down its guard." nytimes.com

California coronavirus cases keep 'falling like a rock' despite surges in Oregon, Washington
Even as Oregon and Washington face new COVID-19 surges, there is growing optimism that California remains in recovery mode as coronavirus cases continued to fall dramatically along with related deaths.

California has continued to do better than any other state, with the lowest per capita coronavirus case rate in the nation over the last week. Texas has double California's rate; New York, quadruple; and Florida has nearly six times California's case rate. Michigan still has the nation's highest rate, 299 cases per 100,000 residents - 10 times California's rate of 29 cases per 100,000 residents.

"In California, we've done much better," UC San Francisco epidemiologist Dr. George Rutherford said. "We're truly No. 1 here again: So we have a 37% decline in cases overall, and a 5% decline in hospitalizations, and almost a 50% drop, over the last two weeks, in terms of mortality."

The coronavirus positivity rate "has fallen like a rock," he said last week, hovering around 1%. latimes.com

They Want You Back at the Office
How to coax corporate America to return to work? First, get rid of the dead plants.

The people who profit off corporate America's use of offices are trying to coax corporate America back to the office.

Having refined their sales pitches to play up air filtration systems, flexible lease terms and swing space - "as you think about who's going to be coming back in, or if you'll need that large boardroom," as Ms. Fair put it - brokers are back in their own workplaces in force, acknowledging that some things have changed while also seeking to prove to their clients, and themselves, that the office will soon return to something close to what it was.

For now, the brokers are doing all they can: taking showings to Zoom; sweetening deals and offering leases with more wiggle room; embracing the idea of a more flexible workplace while betting that won't backfire; and marketing the office as a place to which people want to return - if not for a full business week.

"Are offices going to be essential? They seem to be essential," said Bruce Mosler, chairman of global brokerage at Cushman & Wakefield. "I'm optimistic the office is going to be the hub of the universe but, let's face it, we've learned technology is going to play a bigger role. People are going to work a little differently."

Most lease renewals over the last year were for shorter periods of time, according to data from Cushman & Wakefield, as businesses opted to defer big decisions.

The market has only grown more crowded, as the amount of space companies are seeking to shed keeps climbing. According to CoStar's data, a record 24 million square feet of office space is available for sublease in Manhattan - a 56 percent rise from the start of 2020, and a figure far outstripping the 16 million square feet on offer at the height of the Great Recession. In some suburban markets like Dallas and Houston, too, that number has risen, according to CoStar.

87,000 NYC Workers Returned to Work Today nytimes.com

One of the hottest topics in the medical field right now
COVID's Mental Health Impact - In every major news outlet

Inside the mental health shadow pandemic caused by COVID-19
The virus has taken the lives of more than half a million people nationwide - but COVID's psychological side effects are leaving more than just a trail of dead bodies. Many who survived the virus just couldn't handle the new normal of quarantines, lockdowns, record unemployment, the fear of the unknown, the loneliness, the anxiety, the isolation, the sense of dread ... the worry of "will this ever end?"

This is the mental health Shadow Pandemic that accompanied the viral one.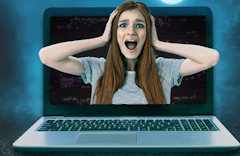 Even before COVID, the state of the nation's mental health wasn't so hot. In 2019, there was a record number of suicides (over 47,000) and overdoses (over 70,000), as well as record rates of depression and anxiety as many young people struggled to hang on.

So COVID was like gasoline poured on an already raging fire - depression rates have since tripled, and for the 12-month period ending last June, fatal overdoses have increased by almost 20 percent to an all-time-record high of 81,000.

As for suicides, we don't yet have an accurate tally because the American system for tracking them is slow and the final numbers may take up to two years to fully tabulate. But research data indicate a record 1 in 4 people under 30 seriously contemplated taking their own lives during COVID.

Our pandemic-necessitated reliance on screens is partly to blame for all this. Research has shown that more screen time leads to more depression - and more depression leads to more screen time.

So can we conclude that our "new" depression is lifestyle driven? It would seem so.

Now, as vaccines finally enable us to emerge from the pandemic, we must start battling this Shadow Pandemic as well. Schools should be offering in-person learning wherever possible. We should all get outside more, be more physically active, occasionally shut off our ever-present screens, and begin to safely connect in-person with those closest to us. As Morgan Freeman said in "The Shawshank Redemption," we need to "get busy living or get busy dying." nypost.com

Pandemic Shift to Remote Work is Hurting NYC Stores
'We're Suffering': How Remote Work Is Killing Manhattan's Storefronts

Landlords cut small retailers a break on rent during the pandemic, but stores are still struggling because too few office workers and tourists have returned.

A big shift toward working from home is endangering hundreds of locally owned Manhattan storefronts that have been hanging on, waiting for life to return to the desolate streets of Midtown and the Financial District.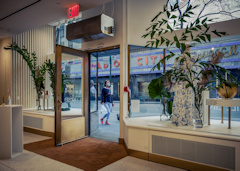 The fate of these stores, and by extension the country's two largest business hubs, will hinge in large part on how long landlords will keep offering the rent breaks that have kept many retailers afloat. Landlords themselves are under growing financial pressure as office vacancies soar and commuters and visitors stay away.

At risk is Manhattan's unique retail culture - the jewelers, barber shops, event spaces and bars - that has long brought vibrancy and familiarity to the street-level canyons of its skyscraper-filled office districts.

"Right now, we're suffering," said Gili Vaturi, who operates Torino Jewelers on Lexington Avenue. She said her sales are still so weak that she is not covering all of her costs even with a much-reduced rent deal with her landlord, GFP Real Estate, which owns dozens of Manhattan properties and has a large minority stake in the landmark Flatiron Building.

Even as the national economy snaps back, the mostly empty office buildings in Manhattan mean many storefronts have not yet seen a rebound. The stores are a crucial contributor to New York's economy and employment. While the city is home to some of the largest companies in the world, small businesses employed about 900,000 people and made up 98 percent of all businesses before the pandemic. nytimes.com

Positivity Rate Continues to Decline in NY
New lows seen in New York's COVID-19 infection rate
New York's COVID-19 positivity rate continues to slide, hitting numbers not seen since November, Gov. Andrew Cuomo said Saturday. Of the 232,942 tests reported Friday, 3,725 - or 1.6 percent - came back positive, the lowest since Nov. 3, Cuomo said.

When measured on a seven-day average, the statewide positivity rate Friday was 1.89 percent, the lowest since Nov. 6. It was 1.83 percent in New York City, down from 2.42 percent one week earlier. nypost.com

Oregon Places 15 Counties Under Its Strictest Lockdown Restrictions

TSA extends mask requirement for planes, other public transportation in U.S. until September

---

European Union (EU) 'Serious & Organized Crime Threat Assessment,'
the EU SOCTA 2021
"Virtually all criminal activities now feature a online component &
many crimes have fully migrated online."

Published Every 4 Years - Equivalent to the U.S. FBI's Annual Crime Index

Organized Crime "THE MOST PRESSING INTERNAL SECURITY THREAT TO THE EU"
COVID's Impact - Online & Offline Fraud - Violence Increasing - All Crime has Online Component

Europol publishes its Serious and Organised Crime Threat Assessment 2021

Europol publishes the European Union (EU) Serious and Organised Crime Threat Assessment, the
EU SOCTA 2021
.
The SOCTA, published by Europol every four years
, presents a detailed analysis of the threat of serious and organised crime facing the EU. The
SOCTA is a forward-looking assessment that identifies shifts in the serious and organized crime landscape.
The SOCTA 2021 details the operations of criminal networks in the EU and how their criminal activities and business practices threaten to undermine our societies, economy and institutions, and slowly erode the rule of law. The report provides unprecedented insights into Europe's criminal underworld based on the analysis of thousands of cases and pieces of intelligence provided to Europol.
The
SOCTA reveals a concerning expansion and evolution of serious and organised crime in the EU
. The document warns of the potential
long-term implications of the COVID-19 pandemic
and how these may create ideal conditions for crime to thrive in the future.
As the EU is facing the COVID-19 pandemic, one of the most significant crises since the end of World War II,
criminals seek to exploit this extraordinary situation
targeting citizens, businesses, and public institutions alike.
Key findings of the SOCTA 2021:
● Serious and organized crime has never posed as high a threat to the EU and its citizens as it does today.

● The COVID-19 pandemic and the potential economic and social fallout expected to follow threaten to create ideal conditions for organized crime to spread and take hold in the EU and beyond

● The trafficking and exploitation of human beings, migrant smuggling, online and offline frauds and property crime pose significant threats to EU citizens.

● Around 60 % of the criminal networks active in the EU use violence as part of their criminal businesses.

● More than 80 % of the criminal networks use legal business structures

● The use of violence by criminals involved in serious and organised crime in the EU appears to have increased in terms of the frequency of use and its severity. The threat from violent incidents has been augmented by the frequent use of firearms or explosives in public spaces.

● Criminals are digital natives. Virtually all criminal activities now feature some online component and many crimes have fully migrated online. Criminals exploit encrypted communications to network among each other, use social media and instant messaging services to reach a larger audience to advertise illegal goods, or spread disinformation.


Organized Property Crime: Fencing and Organized burglaries and thefts -- Continue Reading
---

April the busiest month for senior movement in years
April's 38 Senior Leadership Announcements & 3 Retail AP Teams Re-Shuffled
We'll have some exact figures for you tomorrow.
But this is certainly an indication that retail senior leadership is starting their engines for the industry's re-opening and showing their priority on Asset Protection. Especially given the atmosphere of increased violence, dwindling police response and apprehensions, and long lasting COVID restrictions. Just my thoughts.

VP IT Operations Getting Kickbacks From 9 Vendors in Elaborate Scheme
Former Netflix Executive Convicted Of Receiving Bribes And Kickbacks From Companies Contracting With Netflix

Federal Jury Finds Former Netflix Vice President Guilty of Fraud for Obtaining Pay-To-Play Bribes and Kickbacks from Tech Startups Seeking to Sell to Netflix

SAN JOSE - A federal jury convicted Michael Kail, 49, the former Vice President of IT Operations at Netflix, of wire fraud, mail fraud, and money laundering. The verdict follows a two-week and a half week trial.

Kail was indicted May 1, 2018, of nineteen counts of wire fraud, three counts of mail fraud, and seven counts of money laundering, in violation of mail fraud, wire fraud, honest services fraud, and money laundering. The indictment also sought forfeiture of Kail's Los Gatos residential property. The jury returned a verdict of guilty on 28 of the 29 counts.

Kail, of Los Gatos, was employed at Netflix as the Vice President in charge of IT Operations from 2011 until July 2014. The evidence demonstrated that Kail accepted bribes in 'kickbacks' from nine tech companies providing products or services to Netflix. In exchange, Kail approved millions of dollars in contracts for goods and services to be provided to Netflix. Kail ultimately received over $500,000 and stock options from these outside companies. He used his kickback payments to pay personal expenses and to buy a home in Los Gatos, California in the name of a family trust.

To facilitate kickback payments, the evidence at trial showed that Kail created and controlled a limited liability corporation called Unix Mercenary, LLC. Established on February 7, 2012, Unix Mercenary had no employees and no business location. Kail was the sole signatory to its bank accounts.

Two days before Unix Mercenary was registered, Kail signed a Sales Representative Agreement to receive cash payments from Netenrich, Inc. amounting to 12% of the billings from Netenrich, Inc. to Netflix for its contract providing staffing and IT services to Netflix. Later in 2012, Kail began to receive 15% of all billing payments that VistaraIT, LLC, a wholly owned company of Netenrich, received from Netflix. From 2012 to 2014, Netenrich, Inc. paid Unix Mercenary approximately $269,986, and VistaraIT, LLC paid Unix Mercenary approximately $177,863. The payments stopped in mid-2014, when Kail left Netflix.

Kail faces a maximum sentence of twenty years in prison and a fine of $250,000, or twice his gross gain or twice the gross loss to Netflix, whichever is greater, for each count of a wire or mail fraud conviction, and ten years in prison and a fine of $250,000 for each count of a money laundering conviction. Sentencing to occur in approx. three months.

Evidence at trial showed that several more companies paid kickbacks to Kail.

Platfora, Inc. - a data analytics software program.
Sumo Logic, Inc.
Netskope, Inc
Maginatics, Inc.
ElasticBox, Inc.
Numerify, Inc. justice.gov

Are you doing business with any of these providers?

EU, UK, Canadian Privacy Officials Talk Views & Progress on Facial Rec. Usage
Nuance and focus the watchwords on facial recognition for more privacy officials
Policy debates over facial recognition are still wide-eyed and emotional, but a recent conference keynote shows that some government officials are just confident enough to decide which areas not to focus on.

That is a significant step in the evolution of AI regulation. While in developed economies a pro-regulation consensus is building, one that includes top executives of Microsoft, IBM and Amazon, efforts uniformly remain unfocused and reactive.

The missing component required for public acceptance of facial recognition is trust, and, to date, government missteps and vacillation have engendered little of it. Any sure-footedness is encouraging.

Three privacy officials, from the European Union, the UK and Canada, discussed their agencies' facial recognition priorities on a panel during the International Association of Privacy Professionals' annual summit this month.

After highlighting two black eyes for the facial recognition industry - the ongoing Clearview AI saga and the equally brazen case of commercial biometric spying in Canada - participants turned to policy. biometricupdate.com

Editor's Note: Great position piece that shows the progress and evolution of facial recognition acceptance.

How far into the future? Probably not as far off as you think.
"Do you take crypto?" - 'How long before we can all pay with cryptocurrency?'

A change in payment, e-commerce, retail and financial industry is emerging, and it is going to be momentous.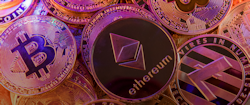 Bitcoin's valuation recently hit $60,000 for the first time, adding a bigger spotlight to the rapidly growing crypto space. Companies, banks, corporate treasuries and anyone involved in the financial industry are now looking into the viability of cryptocurrency as an everyday payment method.

The interest in crypto is growing rapidly from private investors and the financial industry simultaneously, there are a few hurdles which need to be jumped first before this becomes a mainstream method of payment.

For example, the concept of regulated cryptocurrencies ('stablecoins'), increase in accessibility from payment providers such as PayPal and Square, as well as changes in ecommerce are driving cryptocurrencies to the forefront.

"Banks, financial infrastructure, payment business, corporate treasuries, institutional and retail investors, are already enthusiastically embracing the possibilities of crypto."

Digitalisation and automation of our currency is an unstoppable force, and while there needs to be big strides made in regulation and application, it's only a matter of time before we're paying for goods in retail with our crypto wallets. chargedretail.co.uk

UK: Aldi files trademark for checkout-free store format after filing
Shop & Go trademark
Discount grocer Aldi is looking into a range of possible new technology investments after trademarking 'Shop & Go' with the Intellectual Property Office (IPO), including a possible new cashierless store or self-scanning handsets for customers.

Aldi is exploring its own cashierless store format, in the same vein as Amazon Fresh, which opened its first UK store in west London in March.

Exact details of the trademark are thin, and the patent could also relate to possible new in-store scanning devices for customers, in the mould of Sainsbury's SmartShop or Asda Scan & Go, or even the development of a customer facing app.

The firm had sought companies developing "sensor-based item monitoring in stores" with "real or near-real time" stock level monitoring, as well as shelf or basket sensors or "use of handheld devices or robots". retailgazette.co.uk

Companies 'Caught Flat-Footed'
What a difference a couple of weeks makes

From Apple to Domino's Pizza, U.S. Companies Scramble to Meet Surge in Demand
Labor shortages, raw materials not in stock, supply chain not up to speed yet.

But problems are acute for some individual businesses and even entire industries. Executives from gadget giant Apple to mattress seller Tempur Sealy International said last week that supply-chain issues could curb their growth in the short term. Others have responded by raising prices on everything from diapers to air conditioners.

The Covid-19 outbreak paralyzed both supply and demand last spring. This spring, vaccinations and government stimulus have created imbalances in many sectors.

"The very sudden stop to the economy, and then the very quick restart, has created a lot of havoc-a lot of businesses have gotten caught flat-footed."

Domino's Pizza Inc. and other chains are struggling to find enough workers. Darden Restaurants Inc., which operates Olive Garden, LongHorn Steakhouse and other chains, is raising wages to attract restaurant workers. Amazon.com Inc. said last week it will dole out raises to more than 500,000 workers this spring instead of next fall as competition for workers picks up.

"The demand for labor has rebounded faster than the supply," "That does not mean that this is a structural issue. I think that supply does respond-it just takes a bit longer." wsj.com

Driver Shortage Could Lead to Gas Shortages This Summer
The COVID-19 pandemic pushed many tanker truck drivers out of the business, and new hires haven't yet made up the difference.

Kroger to test 5 lb. grocery delivery by drone at their Ralph's division in CA

Urban Outfitters to open 34 stores in 2021

Casey's to hire 5,000 new team members during "Hire For Good' event May 13

New Research Shows Only 48% of Fuel Merchants Meet EMV Deadline


Quarterly Results
Carter's Q1 comp's U.S. Retail up 27%, Wholesale up 12%, Inter. up 19%, U.S. eCommerce net sales up 38%, net sales up 20.3%


Last week's #1 article --

Starbucks employees' ultimatum: We won't work if there are police present
Employees at a Minnesota Starbucks refused to open the store if a police officer was directing traffic in the parking lot, so the company shut down the busy drive-through window.