Stop Wasting Energy and Protect Your Merchandise with the
Keepsafe™ Energy Caps

We've designed a cap specifically for the security of these high shrink items.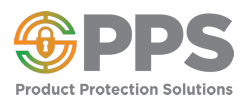 Product Protection Solutions (PPS) Keepsafe™ Energy Caps will protect your high shrink, energy drinks! The Energy Caps are part of the Keepsafe™ Beverage Protection Series. This series will keep your bottled and canned beverages, wine, champagne, premium liquors, and health and beauty bottled goods protected.

Read more in the Vendor Spotlight column below

---

Protests & Violence

Decriminalization of Shoplifting is Rapidly Accelerating
The impact on retailers called out in WSJ main article

Anticop Movement Wants Road Anarchy Too
The death of Daunte Wright bolsters demands to get police officers out of traffic-law enforcement.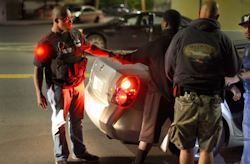 Traffic laws didn't kill Daunte Wright, but critics of the police are using his death to call for an end to their enforcement. Likewise with George Floyd and laws against counterfeiting.

Calls are escalating to take the police out of traffic enforcement and retail theft response.

New York state Attorney General Letitia James has proposed that New York City police cease routine traffic stops. Urban League President Marc Morial told CNN that police departments should "discontinue the discredited broken-windows policing of the 1990s," including traffic enforcement. Instead, the thinking goes, unarmed civilian traffic agents and speeding cameras should enforce the rules of the road. Berkeley, Calif., has already banned officers from making stops for many traffic offenses, and jurisdictions like Lansing, Mich., and the District of Columbia are following suit.

But it is precisely high-crime areas that most need traffic enforcement. The National Highway Traffic Safety Administration, an office of the Transportation Department, has a program based on the "nexus of crashes and crime." For decades, research has found that neighborhoods with the highest rates of fatal accidents also have the highest rates of violent crime. And when the police pay inadequate attention to traffic violations, "people feel they may break the law with impunity," according to a 2000 study.

Milwaukee has documented the inverse correlation between car stops and nonfatal shootings, robberies and car thefts. When traffic enforcement declines, those crimes increase, says former Police Chief Edward Flynn. It is a truism of policing that "criminals are bad drivers," Mr. Flynn says. "They don't follow traffic laws or update their vehicle registration. Years ago, I learned that expired inspection stickers were the quickest way to find a warrant fugitive."

As for shoplifting and the use of phony currency, stores are under pressure not to call the police or even to detain offenders. The effective decriminalization of shoplifting in San Francisco unleashed widespread looting, as this page noted last November. In New York and Chicago, gangs of thieves regularly rampage through stores grabbing high-end items, confident in their impunity. The victims of such predation are not only corporations but immigrant small-business owners.

This process of decriminalization has been going on for several years and is rapidly accelerating. Left-wing district attorneys decline to prosecute arrests that are said to have a disparate impact on blacks for crimes including subway fare evasion, trespassing, resisting arrest, disorderly conduct, public intoxication and even some gun-possession offenses.

The solution to the rare but tragic police-involved deaths of unarmed civilians is not to get the police out of law enforcement. It is improved tactical and antistress training for officers, combined with an unequivocal message from political and community leaders to anyone who comes in contact with police: Comply with officers' lawful commands, and don't resist arrest. wsj.com

Feds Used Aerial Surveillance Over 15 Cities During 2020 Protests
Government Used Drones, Aircraft to Spy on Black Lives Matter Protests

The flights, revealed in documents obtained by The Intercept, underscore the growing militarization of policing.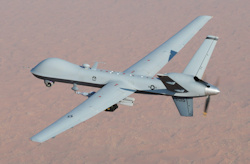 The U.S. Marshals Service flew unmanned drones over Washington, D.C., in response to last summer's Black Lives Matter protests, documents obtained by The Intercept via the Freedom of Information Act show.

The documents - two brief, heavily redacted emails - indicate the Marshals flew the drones over Washington on June 5 and 7, when nationwide protests against police brutality in the wake of George Floyd's murder were at their height.

The surveillance flights occurred just days after the Trump administration ordered the mobilization of the near entirety of federal law enforcement against Washington's protesters. The aggressive physical crackdown against Black Lives Matter rallies, particularly in Washington, D.C., spurred its own wave of outrage as police beat, chased, and chemically dispersed largely peaceful demonstrators.

Less visible law enforcement responses to the rallies also drew intense criticism, including the use of social media surveillance and, in particular, the use of aerial surveillance over multiple cities by the Air National Guard and Department of Homeland Security.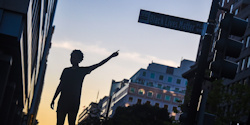 Government aircraft monitored 15 cities during the protests, according to the New York Times, filming demonstrators in New York, Philadelphia, and Dayton, Ohio; a Predator drone was deployed over Minneapolis.

Matthew Guariglia, a policy analyst at the Electronic Frontier Foundation, told The Intercept that the fact there's a Marshals Service drone program at all is indicative of how thoroughly crime-fighting agencies in the United States now resemble war-fighting forces. theintercept.com

Some Minneapolis Stores to Remain Boarded Up for Months
After Derek Chauvin Verdict, Minneapolis Isn't Taking Down Plywood Just Yet

Businesses in other U.S. cities breathe a sigh of relief after last year's unrest following the murder of George Floyd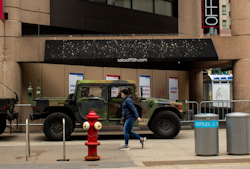 Downtown remained largely boarded up the day after a jury found former Minneapolis Police Officer Derek Chauvin guilty of murdering George Floyd, whose killing sparked a summer of unrest here and across the country.

Store windows along the retail district in downtown Minneapolis remain so thoroughly covered with plywood that finding the entrance to the few stores that remain open is challenging. The streets Wednesday were generally empty and fencing surrounded some government buildings. There were still national guardsmen in camouflage clustered in groups of four or five trying to keep warm in the 40 degree temperatures.

Maj. Gen. Shawn Manke, Minnesota National Guard adjutant general, said troops will be leaving soon.

Some businesses say they plan to keep safety precautions in place for several months. The funeral for Daunte Wright, a 20-year-old Black man shot by a police officer earlier this month just outside Minneapolis, is Thursday. The anniversary of Mr. Floyd's murder is next month, and the trial of the three remaining former officers who are charged with aiding and abetting Mr. Chauvin in second-degree murder is scheduled for later this summer.

There is concern in the business community that any of those events-or some unforeseen incident-could spark additional riots, Mr. Weinhagen said.

"The boards will come down, the National Guard will go away," said Roy Gerber, 53. "But nothing will be much different in my lifetime.... Change is slow." wsj.com

Looting Caravan Hits California Stores
Early Morning Looting Caravan Targets Stores In Emeryville, Oakland;
One Suspect Arrested
A roving gang of looters targeted the GameStop and Best Buy stores in Emeryville late Wednesday night, shattering windows, ransacking shelves before fleeing with an unknown amount of merchandise.

Emeryville police said that shortly after midnight a large caravan of 25-30 vehicles arrived at the Best Buy on the Oakland-Emeryville border.

Several people exited the vehicles and tried to enter the locked business by force. After smashing the front windows, they were thwarted in their efforts by metal roll-up style gates installed following looting last year during a night of unrest related to George Floyd's murder.

Oakland police also responded to the scene, but the looters had fled before the officers arrived. The looters then turned their attention to the Game Stop retail store located at 3980 Hollis St. in Emeryville a short distance away.

Once inside the business, store merchandise was stolen. The individuals ran back to the vehicles with the stolen merchandise and fled the scene as marked police units began to arrive.

Emeryville police said one suspect - 18-year-old Jose Lujan of Oakland - was taken into custody without incident. The investigation is ongoing, and investigators are currently seeking the identity of all involved. sanfrancisco.cbslocal.com

Police Groups to Push Back on Probes in Talks with Merrick Garland
The groups say they will express concerns over probes like the one into Minneapolis while recognizing that changes are needed

Leaders of the nation's largest law-enforcement organizations and unions said they would air their concerns directly to Attorney General Merrick Garland on Friday over the Justice Department's broad civil-rights probe into the Minneapolis Police Department.

Some police groups are skeptical of sweeping investigations like the one launched Wednesday in Minneapolis, saying they can unfairly force cities to make costly changes that are burdensome to rank-and-file officers.

The investigation is examining whether Minneapolis police engage in patterns of unconstitutional conduct through excessive force, discrimination and other behavior. Like other so-called pattern-or-practice investigations, it could lead to a legal settlement known as a consent decree, outlining a number of prescribed changes that are then overseen by a federal monitor.

Other law-enforcement leaders said they planned to discuss their other priorities, such as federal grant money for matters such as education, training and body cameras. wsj.com

LA Mayor Pushes for Police Budget Increase As Homicides Surge
'It's a slap in the face': LA activists protest mayor's police budget increase

Families of people killed by Los Angeles police called this week's verdict in Chauvin trial a win, but are pushing forward with demands to defund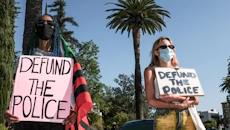 Los Angeles activists denounced a budget proposal by the mayor that includes increases to the law enforcement budget, one day after the conviction of Derek Chauvin in Minneapolis fueled renewed scrutiny of police across the US.

Protesters who gathered outside a local police union building near downtown LA on Wednesday celebrated the rare guilty verdict in a police murder case, but also called for systemic changes locally, including the defunding of the LA police department (LAPD).

In the face of intense pressure, LA's mayor, Eric Garcetti, last June agreed to some reductions in LAPD funding. But this week, Garcetti outraged advocates and civil rights groups with his proposed 2021-22 budget, which seeks to allocate $1.76bn for LAPD, a 3% increase.

The mayor's office has cited an uptick in homicides and said the city needed to hire more officers to replace retirees. He has called his proposal a "justice budget" with a number of programs meant to address inequality and increased spending on gang intervention officers. theguardian.com

Anti-Cop Demonstration in NYC
Protesters vandalize Central Park monument and clash with police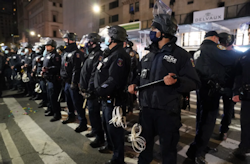 Protesters clashed with police in Manhattan on Thursday night after a monument was vandalized by cop-haters in Central Park.

Six people were arrested in Columbus Circle near the USS Maine National Monument, which was defaced with anti-police graffiti, cops said. "ACAB," an acronym for "All Cops are Bastards," and "F-k 12," which means "F-k the police," were spray-painted onto the monument.

The NYPD condemned the vandalism in a social media post. "We respect everyone's right to peacefully protest, but vandalism is not part of peaceful protest," the department wrote on Twitter. nypost.com

Granting Immunity to Motorists Who Drive into Protesters
Oklahoma governor enacts bill that can protect drivers who hit protesters
Oklahoma Gov. Kevin Stitt signed a bill into law that grants immunity to drivers who unintentionally injure or kill protesters while attempting to flee a riot. It also stiffens penalties for people who block roadways in an effort to protest.

The bill is a reaction to an incident in Tulsa that involved a clash on the highway between a driver and demonstrators who had spilled out onto the road. Democrats questioned whether the bill was needed since the driver in the case wasn't charged.

A group protesting the legislation briefly gained entry to the House Chambers inside the State Capitol in Oklahoma City on Wednesday. The session resumed after the protesters left the Capitol building. kxii.com

Civil rights leaders, family, lawmakers push for police reform as they mourn
Daunte Wright
Several lawmakers who attended, including Sen. Amy Klobuchar (D-Minn.) and Rep. Ilhan Omar (D-Minn.) said they were using their voices to call for the passage of the George Floyd Justice in Policing Act. The bill, which has already passed the House, seeks to overhaul policing and institute a federal ban on chokeholds and qualified immunity for law enforcement. washingtonpost.com

How protest laws could change in Oregon and states across the country
Lawmakers say they're cracking down on violence, not protests. Critics say the bills would criminalize activities protected by the First Amendment.

Peaceful protesters flood Knoxville streets in response to police shooting

'At least' 100 more to be criminally charged for Capitol insurrection

---

COVID Update

219M Vaccinations Given
US: 32.6M Cases - 584.2K Dead - 25.2M Recovered
Worldwide: 145.4M Cases - 3M Dead - 123.4M Recovered

Former Senior Loss Prevention Executive
Know of any fallen LP exec? Let's remember & recognize.

Private Industry Security Guard Deaths: 279 Law Enforcement Officer Deaths: 287
*Red indicates change in total deaths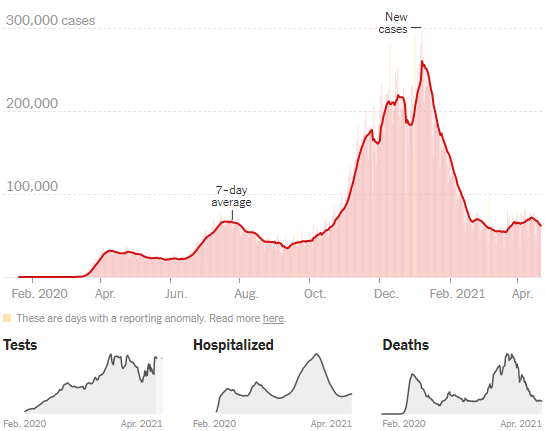 From Worst to First in California
California Moves to Reopen Businesses, Welcome Customers Back into Stores as Infection Rate Declines

Just a few months ago, California was the epicenter of the coronavirus pandemic in the U.S. Hospitals in Los Angeles were drowning in patients, and ambulances were idling outside with people struggling to breathe, waiting for beds to open.

The death count was staggering - so many that morgues filled and refrigerated trucks were brought in to handle the overflow.

Now as cases spike in other parts of the country, California has gone from worst to first with the lowest infection rate in the U.S. even as it has moved quickly to reopen more businesses with greater customer counts and allow larger gatherings.

A scramble to get COVID-19 vaccinations has given way to an open invite in many places. Where people lined up hours and counties struggled to get doses, there now appears to be a glut of the shots in many locations.

Gov. Gavin Newsom has been allowing businesses and schools to reopen by county based on case levels. At different points in the pandemic, he has faced heavy criticism for being too restrictive, and now some worry he is moving too quickly.

All counties have improved enough to move out of the strictest of four tiers, and 38 of the 58 counties - accounting for 87% of the state's population - now are in the second least-restrictive tier. Newsom said he plans to lift most remaining coronavirus restrictions by June 15. cp24.com

Mass Vaccination Sites Shutting Down Due to 'Lack of Customers'
The U.S. begins closing mass vaccination sites as demand falls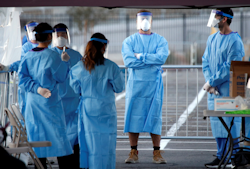 County health departments that a month ago couldn't keep up with vaccine demand have now started closing some of their mass vaccination sites for lack of customers, and some counties are declining vaccine shipments.

Now that more than half of adults in the United States have received at least one Covid-19 vaccine dose and the country has surpassed 202 million administered doses, demand for shots appears to be slowing in many areas. White House and health officials are comparing the next phase of the vaccination campaign to a get-out-the-vote effort.

The largest vaccination site in Las Vegas, the Cashman Center, will close on May 5 as the list of open appointments grow and the lines to be inoculated have dwindled. Palm Beach County in Florida said on Tuesday that it would shut its three mass vaccination sites. In Galveston County, Texas, a mass drive-through clinic at a county park won't operate after May 1.

"We got about 50 percent of our people vaccinated," he said, "and we recognize that next 25 percent is going to be a lot harder than the first." nytimes.com

Health Officials Concerned
Covid-19 Vaccine Supply Set to Outpace Demand
The nation's supply of Covid-19 vaccines is set to outpace demand in the next two to four weeks, according to a national health nonprofit, as state health officials pivot from managing a flood of interest in the shot to persuading people to get it.

In Texas, Austin-area leaders held a joint meeting last week to workshop how to increase Covid-19 vaccine outreach efforts as 10,000 local immunization appointments went unfilled. In California, the administrator of a Los Angeles Covid Vaccine Hunters Facebook page posted that the hunt is over; doses are plentiful. In Birmingham, Ala., the county health director told reporters Tuesday he is ready to get down on his knees and beg residents to get shots.

As of Thursday, 52% of adults in the U.S. had gotten at least one dose of a vaccine, according to the Centers for Disease Control and Prevention. That proportion ranged from 72% in New Hampshire to 39% in Mississippi.

Many people aren't opposed to the vaccine but are either unmotivated to go out of their way for it, or limited by transportation, scheduling or other barriers, Dr. Sell said. wsj.com

456 Grocery COVID-19 Deaths & 91,400 Infections of Exposures
Grocery worker COVID-19 infections, deaths rise: UFCW report
Union applauds chains helping to drive vaccinations for frontline associates

Since March 1, the number of grocery workers infected or exposed to coronavirus has climbed 24%, while deaths from the virus have jumped 30%, UFCW reported Thursday. The union said the upsurge follows store outbreaks at Whole Foods Markets, Costco Wholesale, Trader Joe's and other grocery retail chains across the country.

Among UFCW members nationwide, there have been a total of 456 deaths from COVID-19 and at least 91,400 infections or exposures to the virus among frontline workers. UFCW said its latest estimates include 178 deaths and at least 39,900 infections or exposures among grocery workers; 132 deaths and 22,200 infections or exposures among meatpacking workers; and 50 deaths and 11,700 infections or exposures among food processing workers.

Overall, UFCW represents 1.3 million workers in the grocery store, meatpacking, food processing, health care, retail sectors, among other industries.

UFCW cited The Kroger Co., Aldi, Lidl, Publix Super Markets, Target and Trader Joe's as some of the retailers incentivizing workers to go and get a COVID vaccine.

UFCW added that it also has secured on-site vaccinations for frontline workers at Albertsons Cos. supermarkets, CVS Pharmacy stores, Tyson Foods, Cargill and National Beef, among other U.S. grocery retail and food industry employers. supermarketnews.com

Surveys Nationwide Are Showing Similar Trends
Not much deviation between surveys week after week

U.S. Workers Split on Employers Requiring COVID-19 Vaccination Proof & Management of Unvaccinated Workers
Younger Workers More Excited, Anxious About Returning to Workplace

Employees Expecting a Different Workplace; Want Employers Involved in Safety Protocols
The 2021 Eagle Hill Consulting COVID-19 Vaccines and the Workplace Survey measures employee sentiment about COVID-19 vaccines, returning to the workplace, as well as testing and safety protocols. Read the infographic here.

"Workers remain split on employee vaccine requirements, and we're also seeing differing views on whether workers should provide proof of vaccinations before returning to work," Jezior added. "Another sticky issue for employers is how to handle employees who choose to remain unvaccinated - should they be permitted to interact in-person with colleagues and customers or be given special allowances to work from home?"

"The bottom line for employers - they have to keep the lines of communication open with employees and really listen and respond to their concerns. Employees know their workplace will be different, but managing any type of change is often met with resistance. The stakes are even higher when workplace changes involve employee health and safety," Jezior explained.

Differing Employee Views on Unvaccinated Employees

● More than half (55 percent) of workers say non-vaccinated employees should not be given special allowances to work from home.

● Close to half of workers (44 percent) say non-vaccinated employees should not be allowed to travel for work.

● Many workers (39 percent) say non-vaccinated employees should not be permitted to work in-person with customers.

● More than one-third of workers (35 percent) say non-vaccinated employees should not be allowed to work in-person with co-workers.

● The vast majority of workers (83 percent) say non-vaccinated employees should be able to stay with their employer.

Employees Have Mixed Views on Returning to the Workplace

● Gen Z and Millennials are most excited about returning to workplace, 47 percent and 30 percent, respectively, which is substantially higher than their Gen X (26 percent) and Boomer (15 percent) counterparts.

● Yet, younger workers are more concerned about contracting COVID-19 at work - Gen Z at 28 percent, Millennials at 26 percent, Gen X at 23 percent and Boomers at 14 percent.

COVID Testing & Safety Protocols

● Regarding social distancing, 84% concur that employers should require or encourage social distancing.
● Regarding masks, 81% agree on employers requiring or encouraging mask use. prnewswire.com

Millennial & Gen Z Consumers Top Group For Not Standing in Lines
Long Wait Lines Caused by COVID Occupancy Limits Cost Retailers $100B
Customers are walking out of stores due to long lines caused by COVID-19 occupancy limits, and U.S. retailers are losing substantial revenue.

Since the outbreak of COVID-19, 25% of respondents said they are "much more likely" to avoid entering stores or are more likely to walk out of stores without buying anything because of lines for service. An additional 28% of consumers said they were "more likely" to do so. Quidini calculations indicate U.S. retailers are losing a total of $100 billion per annum in immediate lost revenue opportunity as a result.

Respondents' biggest concerns when waiting in lines are contracting COVID-19 at 47%, lack of comfort (35%), lack of certainty and information (34%), wasting time (28%), and disliking waiting in poor weather conditions such as rain or snow (26%). chainstoreage.com

Kroger Taking Heat for Closing Stores Over $4 Hazard Pay Ordinances
'It's devastating': As a Seattle QFC store winds down, neighbors and politicians thank employees, criticize closure
Saturday will be the final day for the QFC in Seattle's Wedgwood neighborhood, and on Thursday afternoon, a somber crowd of soon-to-be former customers and neighbors, along with TV crews and a few political officials, gathered for a bittersweet send off for the store's 51 employees.

Shortly after 3 p.m., around a dozen employees, some with tears in their eyes, filed out the front doors to a round of applause, warm words of thanks and individual checks of $205.88, courtesy of a neighborhood fundraising effort.

A QFC spokesperson said all employees at both locations had been offered positions at other stores. seattletimes.com

EEOC Comes Out With Bold Message
Coronavirus is not a 'get-out-of-jail card' for ADA compliance, EEOC commish says
As the pandemic evolves and the country's response shifts, employers must remember that ADA regs still require individualized assessments.

The coronavirus pandemic does not absolve employers of their Americans with Disabilities Act responsibilities, a U.S. Equal Employment Opportunity Commission official told attendees at an April 8 American Bar Association conference.

"There are likely to be significant changes to key underlying assessments in the ADA space, namely what constitutes a direct threat, and what rises to an undue hardship," Andrea Lucas, an EEOC commissioner. hrdive.com

Michigan among a few states seeing a spike in COVID cases among children

Covid case numbers continue to decline in Pennsylvania

Ohio's statewide case rate falls after month of increases

6 things you must do if you're planning to work remotely permanently


Retail Sales Surge in the UK as COVID Restrictions Ease
UK retail sales jump 5.4% as businesses grow at fastest rate since 2013
The partial reopening of Britain's locked down economy has stimulated the fastest private sector growth in more than seven years, according to a closely watched monthly update of the economy.

Retail sales volumes in the UK jumped 5.4% in March from the previous month, as coronavirus restrictions began to ease. This is up from February's 2.2% growth, and far stronger than the 1.5% gain expected by the City.

Figures just released by the Office for National Statistics showed that compared with March last year, sales were up 1.6%. However, over the three months to March, sales volumes fell 5.8% on the previous three months, due to the latest lockdown.

Some travel and social distancing restrictions were lifted in England at the end of March, leading to higher consumer spending, the ONS said. The strongest growth in March was in clothing stores (up 17.5% on the month), other non-food stores (up 13.4%) and petrol stations (up 11.1%), the first monthly growth since October. theguardian.com

Lockdowns Begin in Germany
Germany to impose 'emergency brake' law across almost entire country to curb Covid infections
Germany's new "emergency brake" rules for areas with high Covid-19 infection rates, intended to curb the spread of the virus, will come into force Saturday, Health Minister Jens Spahn said. They will affect almost the entire country.

The controversial new law gives the national government power to impose lockdowns on states for the first time, ending the patchwork of state-by-state measures.

The federally imposed shutdown will affect almost all of Germany, with only a few municipalities having low enough levels of transmission to avoid the restrictions. cnn.com

Why India's COVID tsunami should concern Americans

---

Amazon's 'Just Walk Out' Going Full-Size Supermarket
Amazon's automated checkout is coming to full-size supermarkets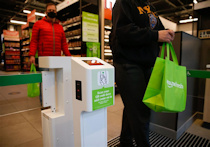 Amazon.com is poised to bring its automated checkout technology to full-size supermarkets, a significant milestone in the race to revolutionize how people buy their groceries.

Planning documents for a 34,000 square feet store under construction in Brookfield, Conn., contain all the hallmarks of an Amazon Fresh grocery store and also identify a dozen entry and exit gates as well as ceiling-mounted racks to run wiring to camera arrays, a setup that until now has only appeared in Amazon Go convenience stores.

Amazon appears to have solved a significant technical challenge, creating a grab-and-go system that can handle scores of shoppers at once and cover large supermarkets without being prohibitively expensive to build and operate. The breakthrough, if it works, would catapult Amazon ahead of rivals, which are testing similar camera-based technology developed by various startups. Executives at these companies have acknowledged that they are perhaps a year or two away from installing cashierless systems in full-sized supermarkets.

Widespread adoption of automated checkouts will likely fuel critiques from labor unions that have accused Amazon of seeking to eliminate cashiers, one of the most common jobs in the U.S. The company has said the goal of its Just Walk Out program is shopper convenience, not cutting labor costs. Amazon says it has created thousands of grocery jobs since the launch of the first Fresh store last year.

Amazon has been working for years to streamline its Just Walk Out system, making the gear more cost effective for its own stores as well as appeal to other companies that might license the technology. post-gazette.com

New Product Recall Regulations Coming?
After a child died in a Peloton treadmill accident, US lawmakers push for new product recall powers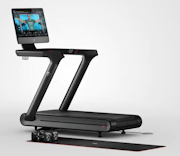 A group of US lawmakers on Thursday introduced a bill to give US regulators more power to recall products deemed to be dangerous. It follows the news of Peloton's refusal to recall its $4,295 Tread+ treadmill, after reports that a child died and others were injured while using the machine.

Peloton insisted that the machine was safe to use, provided customers follow the instructions and warnings. Critics said US regulators should be able to enforce product recalls, rather than just request them.

A law - Section 6(b) of the Consumer Product Safety Act - prevents regulators from enforcing recalls and lets manufacturers restrict information released by regulators if there is a problem with a product. The new bill introduced Thursday aims to revoke that section of the law.

Sen. Richard Blumenthal, one of the three lawmakers to introduce the new bill, said in a statement Thursday that current laws "allow companies to call the shots on how and when to notify the public about their hazardous products, keeping important safety information from the public."

Reps. Jan Schakowsky and Bobby L. Rush are the other two lawmakers who introduced the bill. Elliot Kaye, a commissioner for the CPSC, said in 2019 that "people die because of Section 6(b). It is that simple."

The new legislation - the Sunshine in Product Safety Act - would revoke Section 6(b) and allow the CPSC "to communicate vital health and safety information about potentially dangerous products to consumers without risking retaliation by the manufacturer," the three lawmakers who put forward the bill said.

Peloton did not immediately respond to Insider's request for comment on the new bill. In a previous comment, a spokesperson told Insider that "a recall has never been warranted." businessinsider.com

Retail Must be Ready for 'Normalization'
Retailers' next challenge: Bringing consistency to the frontline
Since March 2020, retailers have operated in crisis mode. Some retail chain locations were more prepared technologically and physically to quickly offer longer store hours, BOPIS, or curbside pickup than others. Various grocery stores in the same chain and the same city were better able to keep supplies like paper goods in stock than other ones.

Retailers, especially grocers, can't assume that their pandemic-induced sales boost they've enjoyed will continue as people return to offices and restaurants.

This means that retailers need to ensure they are front and center in their customers' minds as life finally begins to normalize and consumers have more options. Retailers in all segments must have a strategic approach to ensure consistent experiences for customers and employees, regardless of the store location or shopping channel used.

With so many changes coming out of the retail space, retailers and their frontline employees must be agile. They must have training methods that work in this fast-moving environment. What's more, those training methods must ensure frontline employees feel engaged, appreciated, and prepared to adjust, perform their roles while providing an outstanding customer experience. chainstoreage.com

Three Questions You'll Need to Answer When Planning Hybrid Conferences
Hybrid conferences may be the next big thing in meetings, but because they involve face-to-face and virtual participants, they come with their own unique set of planning challenges.

Planning a conference that includes both in-person and virtual components is no easy feat and requires meeting professionals to consider additional logistics and possibly new technology solutions. Here are three questions to answer during the early stages of planning.

How do we staff a hybrid conference? Hybrid meetings will require even more staffing adjustments to make sure attendees have a worthwhile experience.

Do we need different marketing strategies? Registration numbers for virtual conferences increase dramatically the week before and even past the event's start date. To maximize your online audience increase your marketing efforts the week before the event.

How do we facilitate connections between in-person and virtual participants? Some ways that organizers have overcome this challenge: putting a screen onstage to allow remote attendees to take part in a presentation and ask questions, hiring a virtual emcee to who collects questions and comments from the remote audience, and handing out tablets to in-person attendees to allow them to have one-on-one chats with virtual participants. associationsnow.com

Retail Impact of $15 Minimum Wage
Chipotle will raise prices by 2-3% if a $15 minimum wage passes
Raising the federal minimum wage to $15 an hour would require Chipotle to increase its menu prices, but the move would be "manageable," the company's chief financial officer said.

For customers, this could mean an additional charge of about $0.20 to $0.35 per meal, as the average person spends about $11 on a burrito or other meal at Chipotle.

Other restaurant chains, including Waffle House, have discussed the impact of higher wages and an increase in prices on their menus.

Restaurants have been forced to hike prices in the past in response to increases in the minimum wage at the state level. Executives at The Cheesecake Factory and Texas Roadhouse told Insider's Kate Taylor they have raised menu prices in the past because of state minimum-wage increases. businessinsider.com

Tractor Supply to Open 80 New TSC & 10 New Petsense Stores in 2021
& Remodel 150 to 200 Stores

Victoria's Secret owner wants to sell the lingerie brand in $2B deal

NYC rents are in free fall, now reaching record lows


Quarterly Results
Tractor Supply Q1 comp's up 38%, e-commerce up 'triple digit percentage', net sales up 42.5%

Sketchers Q1 DTC comp's up 10.2% (up 25.7% domestically - down 27.4% internationally), DTC e-commerce sales up 143%, DTC sales up 18.1%, total sales up 15%

Canada's Metro Q2 comp's up 5.5%, sales up 5.1%

---

Senior LP & AP Jobs Market
Director of Security job posted for Jushi in Las Vegas, NV


The Director of Security manages a staff of security guards who are responsible for patrolling and inspecting the organization's property against diversion, theft, fire, vandalism, and terrorism, as well as ensuring the safety of personnel and visitors while on or about the organization's premises. We identify, evaluate, and acquire U.S.-based cannabis operations within each state to vertically integrate, produce, and distribute medical-grade cannabis formulations in the United States, offering patients and customers premium, high-grade cannabis and related products. indeed.com

Director of Security Technology (Remote) job posted for Jushi
The Director of Security Technology develops and implements technology, supporting infrastructure, and disaster recovery programs in accordance with company standards. Creates functional strategies and specific objectives, along with developing budgets, policies, and procedures to support the functional infrastructure. This position will travel to these states: CA, CO, FL, IL, MA, NV, OH, PA, VA. indeed.com

---