March Networks' New AI-Enabled X-Series Hybrid Recorders Leverage NVIDIA SoC for Accelerated Application Development

March Networks®, a global video surveillance and video-based business intelligence leader, is pleased to introduce its X-Series Hybrid Recorders, a new high-performance platform that's optimized to support Artificial Intelligence (AI) applications with NVIDIA system-on-chip (SoC) technology.

The X-Series is March Networks' most powerful recording platform to date, delivering a 400% increase in throughput over its previous generation recorders. It is a true hybrid platform supporting a mix of analog, HD analog and IP channels, but with all the power and storage capacity needed for demanding all-IP installations. Available in 16, 24, 32, 48 and 64-channel configurations, the embedded, Linux-based appliances also feature a dedicated AI engine and SoC technology from American GPU and AI computing leader NVIDIA.

Read more here


---

RLPSA 2021 Annual Conference 'To Go':
The Results Are In!
By Amber Bradley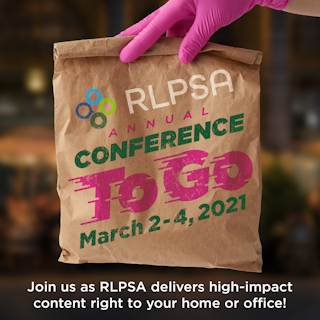 RLPSA Annual Conference TO GO finished-off Thursday with record attendance of restaurants, franchisees, grocers, c-stores, and retailers in attendance. The conference featured speakers such as Octavio Jara, President of RLPSA, as well as many other industry professionals covering critical and relevant topics such as:

• "Getting Comfortable with Uncomfortable Conversations: Diversity & Inclusion" presented by James Fripp, Chief Diversity Officer for YUM! Brands, and Steven Antoine, Chief Security Officer for YUM! Brands

• "Domestic Terrorism: The New Normal" presented by David Johnston, Senior Director, Loss Prevention & Corporate Security, Inspire Brands, Dan Moren, Senior Manager, Global Security & Resilience, Starbucks, and FBI / Federal Law Enforcement

• "Drive-thru & Curbside: Balancing Safety & Security with Speed & Accuracy" presented by Rick Walker and Rose Roth, Chick-fil-A, Kevin Shaw, Workforce Practices and Corporate Security, Darden, and Rocco Prate, Loss Prevention & Corporate Security, Wendy's

• "Constantly Innovating for Delivery Safety & Security" moderated by Van Carney, Director of LP, Safety, and Security for Domino's and panelists include Craig Jones, Senior Manager Safety, Security, and Loss Prevention at Papa Johns, and Scott Sanford, Director of Loss Prevention for GoPuff

• "Everything You need to know to De-escalate a Tough situation," presented by Wicklander-Zulawski & Associates' Joe Wolf, CFI

Hear what some of the attendees are saying:

• "Great virtual conference - easily the best of its kind that I have seen!" - Jason Swanson, Senior Manager of Asset Protection with MOD Pizza

• "BEST virtual conference ever. Very engaging!" - Heather Hearn, Senior Security Advisor with Wawa

• "This was SUCH a great conference! So engaging and fun! I've done quite a few virtual conferences and this was the BEST!" Rebecca Alexander, Program Manager, Global Safety & Compliance with Starbucks

• "Great job! Love the platform and flow!" - Chad McManus, Senior Manager, AP with T-Mobile

The conference included inspirational speakers MLB Legend Jim Abbott and Captain Richard Phillips, the Captain of the Maersk Alabama who was rescued by Navy SEALs after being captured by Somali pirates.

RLPSA is looking forward to its in-person conference in April 10 - 13, 2022 in downtown Denver at the newly renovated Sheraton!

---

Violence & Protests

Last Minute Possible Change
Possible Delay? Stay Tuned
The Minnesota Court of Appeals ruled Friday that a trial judge was wrong to refuse reinstating third-degree murder against former Minneapolis police officer Derek Chauvin, who is scheduled to be tried next week in the killing of George Floyd.

A legal scholar and attorney have said it could cause a delay if Chauvin's attorney, Eric Nelson, asks the Minnesota Supreme Court to review the ruling, or, if Nelson invokes his client's constitutional rights to a fair trial and argues that he needs more time to prepare for the added count. startribune.com

Starting Monday: Expecting Protests & Gatherings in Minneapolis
What you need to know about the trial of ex-Minneapolis police officer Derek Chauvin
Minnesota will once again be the focus of international attention when the murder trial of former Minneapolis police officer Derek Chauvin begins on Monday. He is charged with second-degree murder and second-degree manslaughter in the killing of George Floyd in south Minneapolis on May 25. The events that led to Floyd's death, which a bystander recorded on video and posted to Facebook, immediately drew international outrage and spurred a global protest movement.

It will be the first high-profile criminal trial in a Minnesota state court to be broadcast live. Three other former Minneapolis officers will face trial later in the summer. Here are answers to questions you may have about the trial and how to watch it.

Jury selection is scheduled to begin Monday. Regardless of how long it takes to finalize the jurors, opening statements are slated for March 29. The trial is expected to last several weeks. During jury selection, each day's session will begin at 8 a.m., with first hour reserved for motions. Jury selection begins at 9 a.m, and is expected to end by 5 p.m.

A video and audio feed of the proceedings will be provided by Court TV, beginning with jury selection on March 8. And on Star Tribune's website.

City officials have placed concrete barriers and other "fortifications" around government buildings, including the Government Center, Minneapolis City Hall and police precincts.

Law enforcement and Minnesota National Guard troops are expected to maintain a visible presence in the downtown area and commercial corridors around the city, including Nicollet Mall, Hennepin Avenue, S. Washington Avenue, Lake Street and West Broadway.

So far the only road closure announced in downtown Minneapolis is S. 6th Street between 3rd and 4th avenues, which runs under the Government Center's two adjoining towers. It closed Monday.

Demonstrations are expected near the Government Center on the morning of March 8, when jury selection begins. There will likely be additional protests and gatherings in downtown Minneapolis or elsewhere in the city throughout the trial. startribune.com
Photos show intense security around the US Capitol ahead of a QAnon insurrection that nobody showed up for yesterday

NYC: Police union seeks to intervene in federal suit against NYPD
New York City's largest police union is seeking to intervene in a federal lawsuit against the NYPD over the department's response to George Floyd protests last summer - claiming in a court filing that city leadership may not have officers' best interests in mind. The motion to intervene was announced Thursday by Pat Lynch, president of the Police Benevolent Association, who claimed in a statement that cops were "besieged" by "violent criminals" during the uprisings - then scapegoated by city leaders.

The legal action by the PBA was filed in a Manhattan federal court lawsuit brought by Attorney General Letitia James in January, which seeks a federal monitor to oversee the department "to end the pervasive use of excessive force and false arrests by the New York City Police Department against New Yorkers in suppressing overwhelmingly peaceful protests." nypost.com

Ferguson activists, Michael Brown's father demand $20M from BLM
The father of Michael Brown and other activists from Ferguson, Missouri, are demanding financial support from Black Lives Matter after the organization revealed it raised over $90 million last year. Michael Brown Sr., whose son was fatally shot by a white police officer in August 2014, along with the other activists that helped propel the movement, want $20 million from the group to help their community.

"Where is all that money going?" Brown Sr. asked in a Tuesday press release from The International Black Freedom Alliance. "How could you leave the families who are helping the community without any funding?" foxnews.com

Portland: Feds quietly dismiss dozens of protest cases
Federal prosecutors have dismissed more than one-third of cases stemming from last summer's violent protests in downtown Portland, when protesters clashed with federal agents. KGW reviewed federal court records and found 31 of the 90 protest cases have been dismissed by the U.S. Department of Justice, including a mix of misdemeanor and felony charges. kgw.com

Portland sports bar owner forced to shut down after business vandalized blasts city response to riots

A newly proposed Tennessee bill would give immunity to drivers who unintentionally hit protesters blocking streets

Kentucky bill would make it a crime to insult police officers

'Why aren't we coming together?' Seattle still reeling from year of violent protests
---

COVID Update

82.5M Vaccinations Given
US: Over 29.5M Cases - 533K Dead - 20M Recovered
Worldwide: Over 116M Cases - 2.5M Dead - 92M Recovered

Former Senior Loss Prevention Executive
Know of any fallen LP exec? Let's remember & recognize.

Private Industry Security Guard Deaths: 279 Law Enforcement Officer Deaths: 266
*Red indicates change in total deaths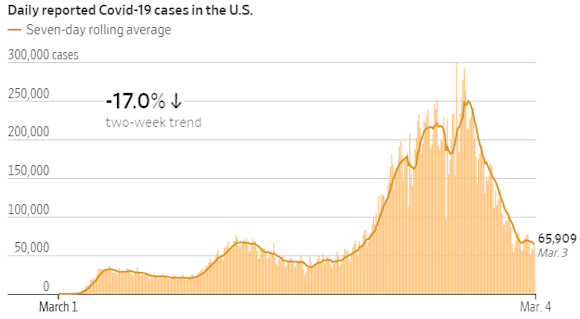 Two-Week Trend - COVID Cases Down 17%
COVID Cases Appear to be Plateauing Nationwide While Decreasing Slightly
While most states continue to see declines, some states are seeing an uptick. The Journal's analysis showed that in more than 15 states as of Wednesday, the average number of new cases over the past seven days was greater than the average number of cases over the past 14 days, a sign cases are on the rise. Those states include Texas, Arkansas, New Jersey and Mississippi.

In all, the U.S. has reported 28.8 million cases, and more than 520,000 people have died, according to Johns Hopkins data. World-wide, more than 115.6 million cases have been reported and over 2.56 million people have died. wsj.com

As Texas Drops Mask Mandate, Covid-19 Cases Bear Watching
As states continue to ease restrictions, the business world's reaction remains mixed. Hyatt Hotels Corp , Target Corp. , Starbucks Corp. and CVS Health Corp. , are among the major corporations saying they have no plans to drop mask requirements. Gym operator Life Time Inc., Albertsons Cos. and a number of local restaurants plan to stop mandating masks or return to normal capacity, or both.

According to the Kaiser Family Foundation, as of Wednesday, 21 states were considered to be reopened, up from eight in early January. An additional 22 states have eased restrictions. wsj.com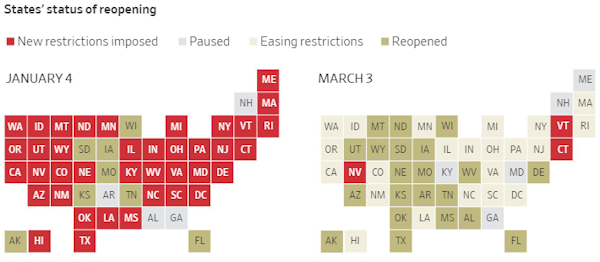 Dr. Fauci slams Texas, Mississippi for 'inexplicable' decision to lift mask mandate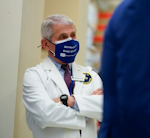 Dr. Anthony Fauci is urging Texas and Mississippi residents to keep wearing face coverings after their Republican governors lifted COVID-19 mask mandates in the states - slamming the decision as "inexplicable."

But Fauci, the president's science adviser, said Thursday that "now is not the time to pull back" on the public health measures. "The good news is we have vaccines coming online. You see the curve of infections coming down," Fauci, director of the National Institute of Allergy and Infectious Diseases, said on MSNBC's "Morning Joe."

"But we have reached a bit of plateau where the deflection isn't going straight down the way it was," he said, adding, "I would advise the people of Texas and Mississippi to just abide by the public health measures we talk about all the time."

"I understand the need to want to get back to normality, but you're only going to set yourself back if you just completely push aside the public health guidelines - particularly when we're dealing with anywhere from 55 to 70,000 infections per day in the United States," Fauci told CNN's Erin Burnett. nypost.com

Here We Go Again? New Strain "Evades" the Vaccine?
Happy Anniversary NYC - On COVID's 1st Birthday

New COVID Strain "Proliferating Vigorously Across NYC
A new strain of the coronavirus, known as B.1.526, is proliferating vigorously across New York City, after having originated in February in a part of upper Manhattan known as Washington Heights.

"I am concerned about its immune escape," Dr. Eric Topol told Yahoo News, a reference to the strain's heightened ability to evade the body's antiviral armaments, including a vaccine. Vaccines remain broadly effective against the coronavirus, including B.1.526, but the emergence of new varieties will require constant vigilance from virologists.

The eventual goal is a universal coronavirus vaccine that could defang any and all versions of the spiky pathogen.

The new variant's arrival comes along exactly a year after New York City began reporting coronavirus cases. "The variants are the X factor here," New York City Mayor Bill de Blasio said Tuesday.

As the arrival of the new variant shows, the pandemic is far from over. Some half-dozen strains of the coronavirus are now spreading across the United States.

As the CDC has warned, opening up while new strains of the coronavirus are gaining force may ultimately prolong the pandemic. "Fatigue is winning," CDC Director Rochelle Walensky cautioned on Wednesday

26 percent of the coronavirus cases identified last week were of the B.1.526 variant. "It's really all over the city." yahoo.com

Europe Experiencing an Unwelcomed Resurgence of COVID After six weeks of declining numbers
Rising 9% in the past week. World Health Organization officials attributed some of the increase to a more contagious variant, first detected in the United Kingdom, that is driving an outbreak in the Czech Republic and Hungary. washingtonpost.com

---

OSHA Failed Essential Workers Across the Nation

Was it a Structural/Organizational problem or internal Leadership issue?
Or Was it the Previous Administration? Or a mixture of all of the above?

OSHA's Job Is Workplace Safety. In the Covid-19 Pandemic, It Often Struggled.
Federal and state agencies conducted fewer inspections than in the past and often handled coronavirus complaints through no more than an exchange of letters, a Wall Street Journal investigation shows.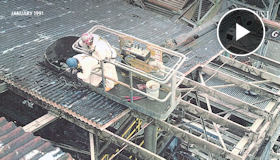 The Occupational Safety and Health Administration faced one of the biggest workplace-safety challenges in its 50-year history when the coronavirus struck.

It didn't meet the moment.

Instead of thoroughly investigating complaints of unsafe practices at workplaces, the federal agency and state OSHA agencies it oversees often took limited steps, OSHA records and state health data show, leaving workers more vulnerable to workplace outbreaks.

Structural/Organizational Problem?: OSHA's mandate, spelled out in a 1970 law, is to help ensure safe and healthy working conditions, by setting workplace standards and enforcing them.

The agency's rules are largely designed to minimize chemical-exposure risks and injuries such as falls and electric shock-for the most part, problems that are readily identifiable and correctable. It has struggled to address the altogether different hazard of the coronavirus: invisible, lacking a sure corrective and permeating blurred lines between workplace and the world outside.

Leadership Problems?: Federal OSHA, which regulates workplaces in 29 states, sets standards for state agencies elsewhere. Federal OSHA said when the virus struck that it had rules in place to protect workers. Yet some state agencies took an opposite position-that there were no rules to enforce to address many Covid-19 concerns. Other state agencies created rules of their own.

Understaffed & Not Supported By Previous Administration?: Workers flooded state and federal OSHA agencies with complaints alleging their workplaces weren't safe. On the federal level, OSHA's compliance-officer staff had declined in recent years. Managers needed to limit the officers' exposure to Covid-19. Compounding the challenge early on were shortages of masks and shifting guidance from authorities about who needed to wear them, in the face of a poorly understood threat. Continue reading



Wall Street Journal Investigation:
How OSHA Struggled to Address Workplace Safety During
the Pandemic
A Wall Street Journal investigation found that OSHA, the agency whose job it is to ensure worker safety, conducted fewer inspections and often took limited steps to address complaints of unsafe work practices during the pandemic. Investigative reporter Alexandra Berzon joins host Annmarie Fertoli with the details. wsj.com

---

The Post Pandemic Top 10 Most Valuable Global Retail and Apparel Brands



By Tony D'Onofrio, Global Retail Influencer

Five years since it last held top spot, Apple is named world's most valuable brand by Brand Finance Global 500 2021 ranking as diversification strategy finally pays off, brand value US$263.4 billion.

As new technologies drive brand value across industries, Tesla leaves traditional auto marques behind with fastest brand value growth in ranking, up 158%. E-commerce brands thrive in new normal, with Alibaba.com doubling in brand value, but chain retailers are cashing in on home delivery too - Walmart climbs up to 6th rank.

Hospitality suffers from travel and dining restrictions, as Marriott and Airbnb check out from ranking and Starbucks, McDonald's, and KFC see brand values drop. WeChat overtakes Ferrari to become world's strongest brand with top score of 95.4 out of 100 and AAA+ brand strength rating.

As we emerge from the COVID-19 in 2021, the importance of branding will increase. In this post, we will concentrate on the top retail brands that will lead the recovery in the new normal. tonydonofrio.com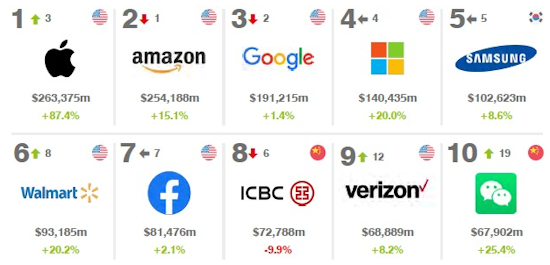 ---

Half of Workers Wish to Remain Remote Permanently
Some CEOs are pushing return-to-work dates into the fall or refusing to commit to specific dates, signaling to workers that 2021 may be another year of working remotely.

New research from the Society for Human Resource Management (SHRM) shows that 27 percent of organizations plan to bring all employees back to the worksite when the COVID-19 vaccine becomes more widely available. Thirty-four percent of organizations are unsure when they will bring all employees back; 18 percent do not ever plan to have all employees return; and 5 percent of respondents reported that a return-to-work date has already been set.

Research shows that the skepticism many companies previously had about maintaining productivity while working from home started to erode in 2020, but negative aspects of the remote experience-isolation, diminished collaboration, longer hours and burnout-are getting starker as we approach the one-year anniversary of the abrupt transition to remote work.

Potential downsides to remote and hybrid work arrangements come from an erosion of the organizational norms that culture and performance rely on, such as trust, cohesion and shared experiences, and from the risk of two divergent organizational structures emerging: one in person, one virtual.

Another concern is polls that show many workers don't want to return to the way things were before the pandemic. SHRM found that over half (52 percent) of 1,000 U.S. workers would choose to permanently work from home on a full-time basis if given the option. shrm.org

5 ways to check on your team's well-being without being invasive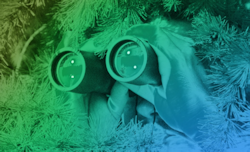 Supporting employee wellness is not always easy. Between lockdowns, reshuffled family responsibilities, and ever-changing health news, our pre-COVID-19 strategies aren't necessarily effective right now. Our current work days may not be "normal," but we can adapt and apply new techniques to help our teams through the good times and the bad.

The pandemic is shining a light on mental health. More people are talking about critical topics like stress, anxiety, resilience, and burnout. Complete wellness also includes more components. According to a Gallup study, conducted globally, well-being has five interconnected elements: Take a minute and read how you can help your teams well-being

Continue Reading

Turning into Zoom Zombies
"Zoom Fatigue" Setting In? Now having it's own classification BTW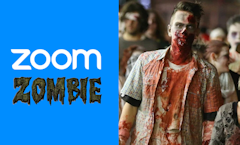 People working from home amid the pandemic are exhausted with video calls, and now there's a study suggesting possible reasons for that mental toll. A researcher from Stanford University found that the amount of close-up eye contact, the tendency to stare at our own faces, the lack of movement during the conversations and the required mental effort increase the burdensome feeling now known as "Zoom fatigue."

The study's author also suggested some easy antidotes: turning off the self-view function, minimizing the video call screen and taking breaks.

Four reasons you're tired of Zoom calls - and what to do about it washingtonpost.com


Dollar Tree to Open 3,000 Rural Concept Stores

Burlington Stores to Open 100 Stores in 2021


Quarterly Results
Costco Q2 comp's up 12.9%, e-commerce up 74.8%, sales up 15%

Kroger Q4 comp's up 10.6%, digital sales up 118%, sales up 10.7%
Kroger FY 2020 comp's up 14.1%, digital sales up 116%, sales up 14.2%

Qurate Retail, Inc Q4 retail sales up 7%, eCommerce sales up 12%
Qurate Retail, Inc FY 2020 retail sales up 5%, eCommerce sales up 11%
QxH Q4 sales up 1%, FY 2020 sales up 3%
QVC Q4 sales up 16%, FY 2020 sales up 10%
Zulily Q4 sales up 11%, FY 2020 sales up 4%
Cornerstone Q4 sales up 30%, FY 2020 sales up 19%
Total Q4 sales up 7%, FY 2020 sales up 5%

Big Lots Q4 comp's up 7.9%, ecommerce sales up 130%, net sales up 8.1%
Big Lots FY 2020 comp's up 16.1%, net sales up 16.5%

Hibbett Sports Q4 comp's up 21.9%, stores comp's up 17.7%, ecommerce up 44.8%, Q4 net sales up 20.4%
Hibbett Sports FY 2020 comp's up 22.2%, stores comp's up 13.3%, ecommerce up 89.3%, net sales up 19.9%

Burlington Stores Q4 comp's flat, net sales up 4%, FY 2020 total sales down 21%

---
Gap Inc Q4 comp's flat (when open), store sales down 28%, digital sales up 49%, total net sales down 5%
Gap Inc FY 2020 comp's flat, digital sales up 54%, total net sales down 15.7%
Old Navy Q4 comp's comp's up 7%, net sales up 5%, FY 2020 net sales down 5.6%
Gap Global Q4 comp's down 6%, net sales down 19%, FY 2020 net sales down 26.8%
Banana Republic Q4 comp's down 22%, net sales down 27%, FY 2020 net sales down 42.4%
Athleta Q4 comp's up 26%, net sales up 29%, FY 2020 net sales up 15.2%

Ruth's Hospitality Group Q4 comp. owned comp's down 39.7%, sales down 43%, FY 2020 comp's down 40.2%, sales down 40.9%

---

Senior LP & AP Jobs Market
Dir. AP Programs & Infrastructure job posted for Nordstrom in Seattle, WA


The Director of Asset Protection Programs and Infrastructure will lead, develop, prioritize and implement cross functional initiatives that support organizational strategies across business units of Stores, Supply Chain and Corporate Offices. This business leader will be a collaborative change agent, recommending and influencing program and process improvement to drive productivity, produce and achieve KPI benchmarks, accomplish departmental goals and ultimately support reduced shrink. nordstrom.wd5.myworkdayjobs.com

---