Security Leadership: Women on the Frontline

What does success look like in the enterprise security industry?

Sandy Chandler, Director of Loss Prevention for Ulta Beauty,
recognized among 13 female security executives leading the way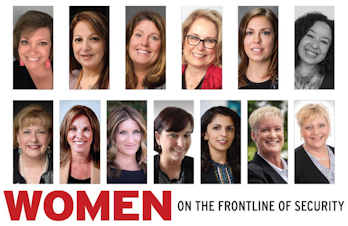 First, we believe it's important that all public servants should be commended and recognized for their contributions, particularly during the COVID-19 pandemic. So many enterprise security professionals are on the frontlines, in harm's way without much recognition, and some are risking their lives to provide help, services and expertise. Thank you to all security leaders and first responders!

Security Magazine spoke with 13 female executives who are bound by the same passion: to serve, protect and facilitate public or private safety and security - and all succeeding in security leadership roles:
● Dollie Kelly, Vice President, Security & Retail Operations, C&F Bank
● Kim Loy, Chief Product Officer, ACRE Industries
● Dr. Eman El-Sheikh, Director and Professor, Center for Cybersecurity, University of West Florida
● Haylea Parkes, Vice President, Global Security & Crisis Management, CBRE
● Mary Hough, Vice President, Security Management, Corporate Security Overwatch
● Jenai Marinkovic, Chief Security Information Officer & Chief Technology Officer, Tiro Security
● Jo Stewart-Rattray, Director, Information Security & IT Assurance, BRM Advisory and Chief Security Officer, Silver Chain Group
● Gail Coury, Vice President, General Manager, Silverline Managed Services, F5 Networks
● Fiona Walters, Executive Vice President, Commercial, Americas, G4S
● Lyndsey Taylor, Business Security Director & Crisis Management Leader, GE Appliances, a Haier Co.
● Reema Anand, Vice President, Cybersecurity Governance, Risk & Compliance, Visa, Inc.
● Sheri Piper, Cyber Range Master, Security Solutions, Tech Data
● Sandy Chandler, Director, Loss Prevention, Ulta Beauty, Inc.
Read about all of their stories here: securitymagazine.com

---
Have an LP/AP Hero On Your Team?
Send us the story and let's share them with the industry.
Let's Show Their LP Pride & Actions
---

Coronavirus Tracker: July 1
US: Over 2.7M Cases - 130K Dead - 1.1M Recovered
Worldwide: Over 10.6M Cases - 515K Dead - 5.8M Recovered

Fallen Officers From the COVID-19 Pandemic: 51 | NYPD Deaths: 45
Private Industry Security Guard Deaths: 150+

US reports over 48,000 new single-day coronavirus cases,
setting a new record for the fourth time in a week

CDC map: 30+ states are open despite having 'zero' days of decreasing cases
As the United States struggles to contain the spread of the coronavirus, focus has turned to California, Arizona, Texas and Florida, which have seen dramatic spikes in recent days. But a map from an internal document produced by the Centers for Disease Control and Prevention obtained by Yahoo News shows that as many as 32 states are not seeing decreases in COVID-19 cases.

The map is a starkly visual reminder that many of the states have ignored CDC guidance, which recommended not reopening until they had achieved 14 days of declining cases. yahoo.com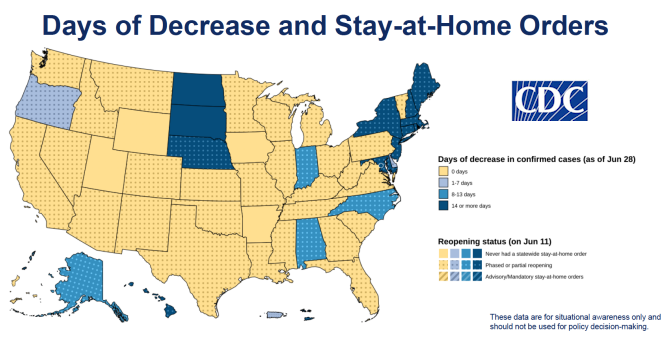 Steps for businesses to respond to COVID now & prepare for what comes next
The effects of the COVID-19 pandemic on businesses, not to mention our individual lives, will be felt for many months and possibly years to come. Supply chains have weakened links. Business and leisure travel have all but ceased. Offices are closed and more employees than ever before are working from home; many of those employees are trying to balance productivity with caring for loved ones and perhaps supplementing their child's virtual school. And of course, many businesses have had to reduce their operations, or pivot to other means of staying viable and many, many people are out of work all together. But, even as the outlook and timelines to getting back to normal change every day, there are things we can be doing now to make the current conditions as workable as possible and recovery and rebuilding a smoother and accelerated process.

There is hope in these uncertain times: with the right planning and execution, businesses can bounce back from what's quickly becoming a global recession and return to good health. It takes the right strategy, a flexible approach and a desire to achieve organizational resilience.

The five areas below are worth considering as one navigates through the current crisis and accelerates the resilience journey, which will minimize negative impact now during this pandemic and for future unforeseeable disruptions.

1. Using PPE and stopping the virus' spread
2. Maintaining supply chain strength
3. Guard against cyber threats
4. Continuity planning
5. The final step - continual learning
securitymagazine.com

Reopening the Office is a Messy Business
Texas Tried Reopening Offices Early.
It Was Hard Even Before the Coronavirus Surge.

Companies brought back office workers, only to send them home again. Others still can't figure out how to get people up a 50-story skyscraper.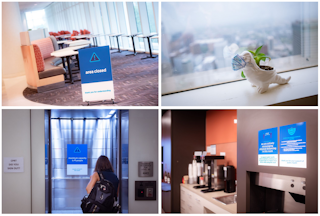 Texas got back to work faster than most states. It now serves as a warning to the nation: reopening offices and other businesses may be messier and more prone to disruption than many imagined.

Some companies brought back office workers in May or early June only to face coronavirus outbreaks within days or weeks. Others still can't figure out how to send people up a 50-story skyscraper. Chevron says limiting riders on some elevators would create dangerous crowding in lobbies, so the company is telling its masked workers to refrain from speaking on the ride up.

Even as the state's government rapidly reopened offices, bars, restaurants, salons and gyms, many companies chose not to rush their workers back into skyscrapers and sprawling suburban office campuses. They are reluctant to do so when many workers remain anxious about catching the virus and are productive enough at home. wsj.com

Going Up? Not So Fast
Strict New Rules to Govern Elevator Culture
Employers, office building managers and the Centers for Disease Control and Prevention are all drafting new guidance to keep elevator rides from becoming a breeding ground for coronavirus infections. The New York Times reports some companies are hiring "elevator consultants" to figure how to get thousands of highrise workers to their desks safely. One member of the group developing the CDC's guidance says the recommendations will include masks, urging people to "not talk unless you have to" and limiting the number of riders, though it won't specify a number. nytimes.com

Workers getting laid off for a 2nd time, as virus surge puts reopenings on hold
Millions of American workers are suffering from economic whiplash, thinking they were finally returning to work only to be sent home again because of the coronavirus's latest surge. Stores, restaurants, gyms and other businesses that reopened weeks ago are shuttering once more, and this time Congress appears less inclined to provide additional aid. Other companies that had banked on customers returning and restrictions lifting - such as hotel chains, construction firms and movie theaters - are seeing hours cut and reopening dates pushed back indefinitely as consumer demand stalls.

And many governors, including some who had drawn scrutiny for initially playing down the virus's risks, are issuing new safety restrictions, in some cases just weeks after the first round of guidelines had begun to lift.

Thousands of workers are caught in these rapidly shifting seas, many of them hourly and low-wage service employees, and are now facing unemployment for a second time. They say the past few months have been jarring: navigating unemployment in March, preparing to go back to work in April or May, and now confronting the prospect of another long stretch without a paycheck. washingtonpost.com

N.Y., N.J. And Connecticut Add Several States To List That Must Quarantine

California Gov. Newsom to tighten coronavirus restrictions ahead of 4th of July

Dr. Fauci warns Congress that new US coronavirus cases could rise to 100,000 a day

Fauci says drinking at bars should stop 'right now' to stem spread of COVID-19

This chart shows the link between restaurant spending and new cases of coronavirus

VIDEO: Wild brawl erupts in Arkansas restaurant over social distancing dispute

Morgantown, WV: Planet Fitness customer tests positive for COVID-19; health officials advise 205 others who visited the gym to quarantine for 14 days

United Airlines is tripling flights despite a spike in coronavirus infections

Senate extends Paycheck Protection Program for small businesses through Aug. 8
---

Police Reform & Protests

"Corporate America cannot sit this one out"
Top CEOs Urge Congress To Pass Police Reform As George Floyd Bill Stalls
The influential Business Roundtable issued a Wednesday statement urging Congress to pass police reform before lawmakers' August recess and amid social unrest sparked by the anti-racism movement and calls to defund law enforcement, while a reform bill named for George Floyd stalled last week.

"Corporate America cannot sit this one out," said the Roundtable's statement, which offered up a five-pronged policy approach to reform that included the banning of chokeholds and "better" data tracking of police misconduct.

The Roundtable also calls for the establishment of community policing, more robust training and minimum national policing standards, but does not mention the reallocation of police budgets to other social or community programs, which is what most people mean when they say "defund the police." forbes.com

NYPD Budget Cuts Not Enough for Some Protesters
New York City demonstrators seen 'occupying' outside City Hall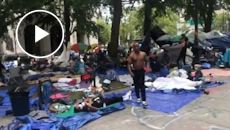 Hundreds of protesters in New York City continued their occupation of City Hall overnight following Tuesday night's City Council vote that included $837 million in budget cuts and funding reallocations involving the New York Police Department.

Demonstrators were seen earlier on Tuesday in tents prior to the City Council vote. The area has been described as New York City's version of an "autonomous zone." Protesters have demanded the city "defund the police" -- a movement demonstrators have been calling for across the country, since the death of George Floyd in police custody in late May.

Many demonstrators say the budget changes weren't enough, and some plan on staying camped outside City Hall indefinitely. foxnews.com

Cops attempt to clear NYC Occupy City Hall protesters after City Council vote

Seattle police clear CHOP zone, make arrests after mayor's executive order

Iowa's historic police reform law takes effect

A month into protests, Milwaukee residents have no plans to stop marching

Hong Kong protests: more than 300 arrested as controversial security law comes in

---

Global Brands Respond to Racial Inequality
Human Resources Boss At Adidas Quits
As Diversity Continues To Dominate The Retail Agenda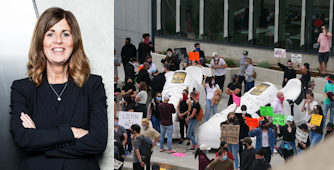 The head of human resources at Adidas, Karen Parkin, has resigned over comments she reportedly made at an Adidas meeting last year. And this is just another example of global brands having to take action over racial inequality in the wake of the death of George Floyd in May.

In a letter sent to employees, Ms. Parkin acknowledged that she had lost the trust of Adidas employees. Ms Parkin reportedly used the term "noise" at a meeting for employees at the headquarters of Adidas brand Reebok, when referring to the issue of racism.

For weeks, a group of Adidas employees have held protests outside of the company's North American headquarters in Portland, Ore. They say the company's top executives have fostered a culture that permitted racism and discrimination, and failed to invest in Black employees or respect Black culture while exploiting those two groups to sell shoes and apparel.

Ironically, Parkin's departure leaves the board of Adidas being comprised exclusively of white males, although the company has said that it is addressing issues of diversity and inclusion. Meanwhile, the company has pledged that a minimum of 30% of hires in the U.S. would be filled by people of black and Latino ethnicity and that the ambition was to have 12% of them in leadership positions by 2025. forbes.com nytimes.com

Managing Change: Target CEO Talks About Protests, the Pandemic
and Permanent Shifts in Retail

Brian Cornell says the nation's eighth largest retailer - and the entire industry - must drive change and say 'enough' to racial injustice.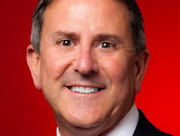 Brian Cornell, chairman and CEO of Target Corp., had a tough job before this year, steering a 1,900-store chain through a changing retail landscape. Starting in March, it became much more challenging.

Target, along with the rest of the retail industry, is now "dealing with the pandemic, civil unrest in the country, the economic downturn, and we're working remotely, so the bar is really high," Cornell said during a National Retail Federation virtual conversation.

Long-range planning at Target used to mean thinking three-to-five years in advance. Now, Cornell said, that horizon has shrunk to four weeks, with adjustments needed daily.

NRF President and CEO Matt Shay said the Federation invited Cornell not only to discuss the pandemic, "but also, closer to home, the terrible events surrounding the killing of George Floyd right in their hometown, and how Target is helping communities respond and heal and move forward."

Target is headquartered in Minneapolis, the city where the killing of George Floyd by a police officer sparked protests across the country. A Target store near the scene of the killing was looted, and 175 Target stores were closed around the country due to protests. uschamber.com

Rethinking Leases: The Pandemic Is Changing How Retailers Want To Pay Rent
Struggling retailers paid just under 60% of the rent owed to landlords during April and May, when the COVID-19 pandemic shuttered stores and restaurants in shopping centers and High Streets across the U.S.

With restrictions now lifting in many states, retailers are asking for lease modifications, including percentage leases that consist of a base rent along with a percentage of monthly sales. There's also been a spike in interest in pop-up shops from brands that previously hadn't considered the short-term format.

Retailers that saw revenues plunge precipitously during the pandemic are reopening their stores at 25% to 50% of normal capacity, as mandated by the states. Facing uncertain consumer demand amid reduced levels of operation, they're pushing for percentage leases. forbes.com

Virus germ fears driving people away from cash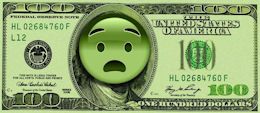 People have suddenly stopped using money - of the bill-and-coin variety - for fear it may spread the virus. Some worried shopkeepers have stopped accepting it, too.

Why it matters: The coronavirus may have changed our buying and payment habits forever. Online shopping is through the roof, and consumers are rushing to get "contactless" credit and debit cards, which are tapped at a merchant terminal rather than inserted or swiped.

Driving the news: The coronavirus has made us scared to touch anything, and there's a perception that money is dirty and payment terminals carry germs. ATM use is down 32%, according to Visa, and 63% of consumers say they're using less cash.

Yes, but: Health experts say they consider it unlikely that cash is spreading COVID-19 (though hand-washing is always recommended). axios.com

Grocers ponder the future of their self-service stations
More than three months after shutting down, salad bars and hot bars are burning a hole in retailers' bottom lines. Getting them up and running safely and profitably is a major challenge. grocerydive.com

Luckin Coffee says independent probe into sales fraud is 'substantially' complete

Macy's posts nearly $4 billion in losses, doesn't expect another shutdown

NPC International, Pizza Hut's largest franchisee, files for bankruptcy

Uber Makes $2.6B Offer to Buy Postmates Food Delivery Service

Walmart to end sales of 'All Lives Matter' merch on its site


---

Senior LP Job Postings Removed from Website:

• SVP, Chief Safety & Risk Officer - Allied Universal - Santa Ana, CA or Conshohocken, PA
• Dir. of LP - 10 Spot/MadRag - North Bergen, NJ
• Dir. of Security & Loss Prevention - Anzar Enterprises - San Diego, CA
• Dir. Security & Safety, Support Operations - Bass Pro Shops - Springfield, MO
• Dir. of Security - Maggie's Farm Marijuana - Pueblo, CO
• Sr. Dir, Security and Threat Management - PayPal - New York, NY
• Dept Head, AP & Associate Safety - Ocean State Job Lot - North Kingstown, RI

---