CONTROLTEK is Moving Main Chicago Distribution Center to New Facility



CONTROLTEK is moving its main distribution center in Chicago to a new facility. The move will take place the week of June 28, 2021, & July 5, 2021. This investment back into the company is another strategic step in CONTROLTEK's commitment to deliver on the company's core promise: to provide solutions that protect and always be the people that deliver.

As with any significant growth, it does not come without its challenges. Our goal is to provide you with as much transparency and guidance as we can during our period of expansion. We do anticipate a delay in the fulfillment of orders during this time.

If you are needing product(s) between now and mid-July, we highly recommend that you determine your next 4-6 weeks requirements and place orders by Friday, June 18th. We want you to ensure you have enough inventory to support your operations through the middle of July.

Please do not hesitate to reach out to us with any questions or needs you may have.

---

Violence & Protests

35 States Proposed 99 Bills to Limit Where, When and How Demonstrators
Can Protest - 3 Proposed at the Federal Level
As 'Anti-Riot' Laws Pass, Legal Challenges Grow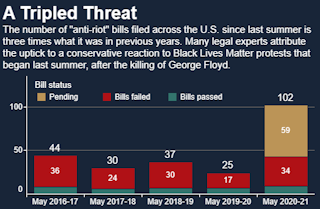 Weeks after Florida Gov. Ron DeSantis signed into law what he called "the strongest anti-looting, anti-rioting, pro-law-enforcement piece of legislation in the country," two different federal lawsuits sought to overturn it.

The 52-page law, known as H.B. 1, expanded the definitions of rioting and inciting a riot. It added stiffer penalties for riot-related offenses and barred defendants from being released on bail before their first court appearance. The law made it a felony for three or more people to act jointly in a way that could harm people or property. H.B. 1 also created an affirmative defense for those who harm or kill protesters accused of "acting in furtherance of a riot."

Since last May, the number of bills seeking to limit when, where and how demonstrators can protest have tripled compared to prior years, according to data compiled by the International Center for Not-for-Profit Law.

"It's been a real spike this year at just a completely different level," Nicholas Robinson, a legal adviser for ICNL, told Law360. "We've never seen anything at the scale that we've seen this past year. The overwhelming number of bills this year were in response to the Black Lives Matter protests last summer."

Those bills target protesters who block traffic and gather without a permit. One would make it impossible to be a public employee in Indiana after an unlawful assembly conviction. Several bills make it illegal to protest near "critical infrastructure," like oil and gas pipelines. Some legislation, including the Florida law, an Oklahoma law and a bill in Iowa that seems poised to pass, have granted legal immunities to motorists who hit protesters with their cars.

Nine bills have already passed, many of them in April. Prosecutors aren't necessarily in favor of the new laws.

Vera Eidelman, a staff attorney with the American Civil Liberties Union, confirmed civil rights attorneys have their eyes on the legislative landscape.

The Florida lawsuits could serve as a bellwether for future litigation that could challenge these laws as unconstitutional, according to Rachel Kleinman, senior counsel for the NAACP Legal Defense Fund, and co-counsel for the Dream Defenders suit. law360.com

Editor's Note: Interestingly enough Law306.com, which is a restricted web site, has posted this article open to the public as part of their open communications policy they adopted for the COVID-19 pandemic.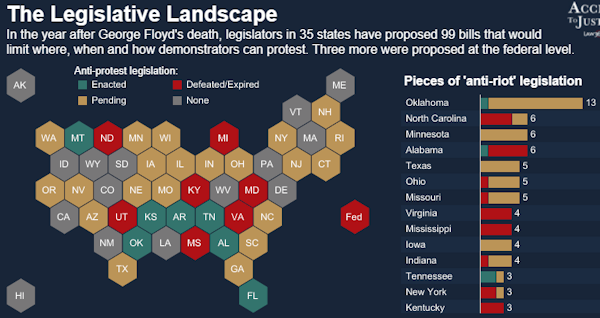 For a second year, most U.S. police departments decline to share information on their use of force
FBI is trying to create a reliable database on police shootings, but only 27 percent of local and federal agencies are contributing numbers

Despite a presidential order, congressional demands and a proposed new law requiring police to tell the FBI how often officers use force, for the second straight year only about 27 percent of police departments have supplied data to the National Use-of-Force Data Collection program launched in 2019. With such a meager response, the FBI will only release a list of participating agencies and no data whatsoever about how often police fire their weapons, cause serious injury or kill people.

It's a source of ongoing frustration among law enforcement executives, whose only nationwide data on police use-of-force comes from databases created by The Washington Post, and websites such as Fatal Encounters and Mapping Police Violence. In 2015, then-FBI Director James B. Comey told top policing officials he could get the latest box office data on popular movies, but "it's ridiculous - it's embarrassing and ridiculous - that we can't talk about crime in the same way, especially in the high-stakes incidents when your officers have to use force."

But the submission of such data by the police is voluntary. And attempts to induce the police to supply the numbers so far haven't worked. washingtonpost.com

Editor's Note: The same holds true for the annual FBI Uniform Crime Reporting Program (UCR). It's a voluntary non-funded report that takes a significant amount of time for the 18,000 agencies to compile and submit.

WSJ Opinion / Commentary
The Deadly Results of Defunding the Police
In 2020 nearly four children and teens were shot and killed each day in America on average. Yet the national press habitually ignores any victim who isn't killed by the police, distorting our understanding of what is really going on.

The movement to "defund the police," which rose to prominence after Floyd's death, has actually gotten innocent black people killed. As police have pulled back, our neighborhoods have been left unprotected. Crime has skyrocketed. Major American cities saw a 33% increase in homicides last year as a pandemic swept across the country.

A recent Gallup poll found that 81% of black people say they don't want less police presence in their communities.

As radical progressives continue to try to defund the police, our families, friends and neighbors have paid the price. The defund-the-police movement has been a death sentence for innocent black children. Parents and grandparents suffer mightily from the grief.

I have dedicated much of my life to solving the problem of violence in America's low-income neighborhoods, and I can tell you that the answer isn't to slash police funding.

Over the past year, we have focused too much on oppression from outside the black community and not enough on what's happening inside our neighborhoods. Our kids have been paying the price. It's time to rally around the police and our families to work for healing, protection and transformation. wsj.com

6,500 Officers Drafted for Possible Violence as World Leaders Meet
Thousands of UK police poised for G7 protests
Thousands of police have been drafted in from across Britain to beef up security for what organisers promise will be disruptive and "annoying" protests when G7 leaders gather for a summit this week.

The first in-person meeting of the leaders of major developed economies for nearly two years will take place in Cornwall on the tip of southwestern England, with the focus on the COVID-19 pandemic and climate change.

Police have closed off roads and coastal paths to Carbis Bay, the small seaside resort which is hosting the event, erecting steel fences and putting other restrictions in place.

An extra 5,000 officers have been drafted in to help the operation with about 6,500 officers and staff involved altogether, Devon and Cornwall Police said.

While the threat of terrorism remains - Britain is on its third highest alert level of "substantial", meaning an attack is considered likely - the most overt issue will be dealing with a swathe of protests, some of which will endeavour to cause major disruption to highlight their causes. reuters.com

More Cops Punished for BLM Protest Misconduct
Three Ohio police officers charged after their response to BLM protests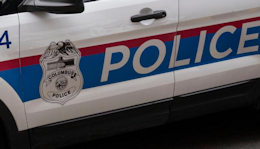 A special prosecutor and independent investigator filed charges against three Columbus, Ohio, police officers Wednesday as part of an investigation into alleged misconduct during the George Floyd protests last summer, according to the city's Department of Public Safety.

Officer Traci Shaw was charged with three counts each of assault, dereliction of duty and interfering with civil rights, after video taken at the event allegedly showed Shaw exiting her police cruiser and pepper-spraying individuals.

Officer Phillip Walls was charged with two counts each of assault, dereliction of duty and interfering with civil rights, after video allegedly showed him pepper-spraying "peaceful protestors who are standing on the sidewalk," according to a complaint.

Sgt. Holly Kanode was charged with one count of falsification and one count of dereliction of duty, after she allegedly told an officer filling out an arrest report that the individual had "grabbed hold of another Officer and jerked him to the ground with his gear," despite body camera evidence to the contrary, according to a complaint. cnn.com

NYC's Crime Surge Could Boost Ex-NYPD Officer in Mayoral Race
Why NYC Might Elect a Former Cop as Mayor

One year after the anti-police brutality protests.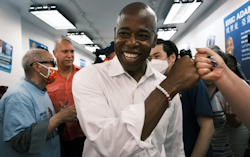 Eric Adams has consistently polled at or around the top of the heap of people running in the Democratic primary for New York City mayor-and the Democratic primary is widely considered the determinant of who wins the mayor's office this fall.

Adams was an officer in the NYPD for more than 20 years, and he has centered that experience during his campaign. Standing with the police is not an obvious way to win a Democratic primary right now, especially since the debate over police brutality has been going on a long time in this city.

But violent crime is up in New York, people who study this kind of thing are finding it hard to explain why, and public safety is now on people's minds. Does Adams' polling success posit a different direction for the same city that saw massive protests against police violence just last summer? slate.com

Water Protests in Oregon Spark Fears of Confrontation Between Police & Activists

Watchdog Report: Police Did Not Clear Protesters To Make Way For Trump Photo-Op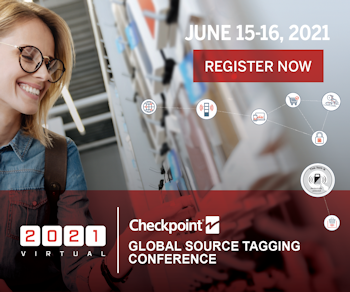 ---

COVID Update

304.7M Vaccinations Given
US: 34.2M Cases - 613.4K Dead - 28.2M Recovered
Worldwide: 175.2M Cases - 3.7M Dead - 158.7M Recovered

Former Senior Loss Prevention Executive
Know of any fallen LP exec? Let's remember & recognize.

Private Industry Security Guard Deaths: 279 Law Enforcement Officer Deaths: 307
*Red indicates change in total deaths



Looking Back on Business Lockdowns & Mask Mandates
Which Covid-19 restrictions really worked - and which ones really didn't?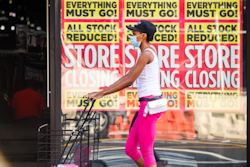 After a year of debates over mask mandates, lockdowns, and school closures, that mixed evidence might suggest a certain fatalism: Did none of these state policies really matter? Or was the virus going to spread no matter what states did? Was it all for nothing?

Mask Mandates

The evidence on lockdowns may be dicey, but the science on masks is clear: They work. Even experts I spoke with who think harsh lockdowns may have been counterproductive say indoor mask mandates were clearly effective.

Social Distancing Policies

If you look at a list of states by their number of Covid-19 deaths per capita, it's hard to discern much of a pattern. States in the Northeast, where the virus first arrived and where states were most aggressive in restricting people's activities, rank at the top: New Jersey, New York, Massachusetts, and Rhode Island go first, second, third, and fourth.

But after that, the picture becomes more confused: Mississippi, Arizona, Alabama, and South Dakota - where the virus didn't land until later and which were some of the most relaxed states in their policy responses - are also in the top 10.

Lockdown Measures

The Texas story is a good example of one clear takeaway on state policies: Early interventions did help slow down Covid-19, but the longer the pandemic dragged on, the less effective they were. Some states were victims of bad timing, with the virus spreading rapidly before any of these policies could have an effect; I would put New York and New Jersey in that bucket. But other states that would also eventually see among the most cases and deaths per capita - some of those Southern and Midwestern states - may have suffered because compliance fell off, a pattern potentially driven by their states' lax policies as well as their political makeup. vox.com

"Vaccination, Vaccination, and Vaccination - It's That Simple", Fauci Said
The Pandemic: Will You Need a Booster Shot in 2022?
"This may become an annual wellness strategy to reduce the effects of the virus as we do with the flu," said Dr. Eneida O. Roldan, chief executive officer of the Florida International University Health Care Network.

COVID-19, or one of its many variants, will still be circulating in 2022, but at much lower levels because of vaccinations.

"I don't think we'll ever go back to 2019 where we'll have no COVID," said Dr. Sergio Segarra, chief medical officer for Baptist Hospital. "I think there will always be a certain amount of our population that will have COVID."

Vaccines will mainly be given through pharmacies like CVS, Walgreens and Publix, just like the flu shot.

One constant: the challenging, but critical, public health mission to combat vaccine hesitancy and misinformation, particularly in underserved communities. Efforts to get people shots across the world will still be underway.

The U.S. will likely control COVID-19, which means the disease will be manageable enough that there will only be occasional cases instead of outbreaks, Dr. Anthony Fauci, said during FIU's annual Hemispheric Security Conference in May.

"Vaccination, vaccination, and vaccination. It's as simple as that," Fauci said. "We have been fortunate enough that we have a highly effective series of vaccines - not just one - that if we vaccinate the overwhelming portion of the population, we can get to that strict control." govtech.com

America's Race to Vaccinate the World
Biden to Send 500 Million Doses of Pfizer Vaccine to 100 Countries Over a Year

The White House's move is part of a nascent campaign to inoculate the world, and came as President Biden faced intense pressure to do more.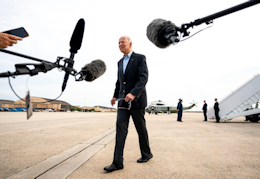 President Biden, under pressure to aggressively address the global coronavirus vaccine shortage, will announce as early as Thursday that his administration will buy 500 million doses of the Pfizer-BioNTech vaccine and donate them among about 100 countries over the next year, according to people familiar with the plan.

The White House reached the deal just in time for Mr. Biden's eight-day European trip, which is his first opportunity to reassert the United States as a world leader and restore relations that were badly frayed by President Donald J. Trump.

"We have to end Covid-19, not just at home, which we're doing, but everywhere," Mr. Biden told American troops after landing at R.A.F. Mildenhall in Suffolk, England. "There's no wall high enough to keep us safe from this pandemic or the next biological threat we face, and there will be others. It requires coordinated multilateral action."

People familiar with the Pfizer deal said the United States would pay for the doses at a "not for profit" price. The first 200 million doses will be distributed by the end of this year, followed by 300 million by next June, they said. The doses will be distributed through Covax, the international vaccine-sharing initiative. nytimes.com

Applicants Holding Employers Accountable
Applicants are actually openly screening potential employers

Job Candidates Seek Assurances on Workplace Safety, Flexibility
Only one-quarter of surveyed workers prefer to be in the office full time

Job seekers are holding potential employers to higher standards in workplace health and safety efforts, diversity initiatives, and flexible work arrangements in the wake of the coronavirus pandemic and social unrest of 2020, according to a recent survey.

Amber Ferrari, marketing manager at Jobvite, added that the bottom-line takeaway from the survey is that recruiters and employers must continue to personalize the candidate and employee experience if they want to attract and hire the best talent.

#1 Concern for Job Seekers: Fear of COVID-19

Exposure to COVID-19 is a principal concern for job seekers. Nearly 60 percent of respondents would turn down a job if the employer did not have clear health and safety protocols related to the virus in place. The same percentage of job seekers have inquired about prospective employers' COVID-19 safety measures. About 55 percent said they have or would decline a job offer if the employer did not require employees to wear masks at the workplace.

Vaccines are a divisive issue: About half of respondents think employers should require employee vaccinations, while 36 percent are opposed to mandating the vaccine. Half of those who disagree with a vaccine mandate would not get a vaccine even if it was incentivized by their employer.

"Job seekers are feeling empowered to ask about these things," Gilliam said. "They know they have a choice of job, and it shows they will do what's right for them and their personal situation."

Flexible Work

Job candidates value flexible work options and prefer a hybrid in-person/remote-work arrangement once the pandemic subsides, according to the survey. Nearly three-quarters (74 percent) of surveyed job seekers said the availability of remote work figures highly in their decision to reject or accept a job offer, and 35 percent said they have declined or would decline a job offer that required them to work only in person. Just one-quarter of surveyed workers prefer to be in the office full time.

Workplace Culture and Diversity

The importance of company culture and diversity, equity and inclusion (DE&I) efforts play a big part in the decision to apply for a job. About 86 percent of job seekers say workplace culture is somewhat or very important, and 49 percent inquired about the employer's goals and efforts around improving diversity in the workplace during their job interviews. Forty-two percent said they would reject a job offer if the company lacked diversity or clear goals for improving diversity in hiring. shrm.org

'Night Shots' Program Launched by Rite Aid
Rite Aid Extends Vaccinating Hours Every Friday in June to Increase COVID-19 Vaccine Accessibility
Rite Aid is proud to support the White House and the National Month of Action by extending vaccination hours at select locations in June to make it easier to get vaccinated against COVID-19 and advance equity. This initiative to improve vaccine access and equity, is in accordance with the federal government's nationwide effort to get 70% of U.S. adults at least one shot by July 4, 2021.

Rite Aid will launch 'Night Shots' Friday, June 11, and extend vaccinating hours until midnight at more than 200 locations. This extended service will also be available at participating stores Friday, June 18, and Friday, June 25. On the same dates, 27 Rite Aid locations will administer COVID-19 vaccines for the full 24hour day. All vaccines during the extended hours are available quickly and easily via walk-ins. Offering extended hours for COVID-19 vaccine availability helps to ensure everyone, especially individuals with less flexible work hours, has the opportunity to get vaccinated. businesswire.com

Lawsuit Over COVID Protocol Violations
A former employee is suing In-N-Out, accusing it of violating labor laws and COVID protocols in California
A former In-N-Out employee filed a lawsuit accusing the chain of violating the state labor code and COVID-19 protocols, National Restaurant News reported.

Luis Becerra's June 7 complaint accuses In-N-Out of retaliation for using sick leave and engaging in protected activities, failing to enforce COVID safety regulations, and not paying wages owed at the end of employment. Becerra worked for In-N-Out for five years until May 2020, when he says he was unfairly terminated. businessinsider.com

Nevada man charged in the theft of more than 500 blank vaccine cards

Free incentives offered at vaccine clinics for restaurant, hospitality workers

Even with many mask mandates in New York State lifted, COVID cases drop

Teen Hospitalization Rates for COVID Climb As Mask Mandates Drop

---

Bezos Follows Up on Promise to Employees - Funds New Effort With NSC
Amazon and National Safety Council Create First-of-its-Kind Partnership
To Solve the Most Common Workplace Injury in the U.S.

The five-year partnership between Amazon and NSC will work to invent new ways to prevent common musculoskeletal injuries, like sprains and strains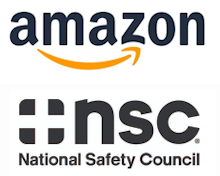 Today Amazon and National Safety Council (NSC) announced a five-year partnership to invent new ways to prevent the largest category of workplace injuries in the U.S., musculoskeletal disorders (MSDs). Amazon and NSC have been working together for months on this first-of-its-kind collaboration.

"Through this partnership we'll be able to solve problems that people face every day so they can live their fullest lives," said Lorraine Martin, president and CEO of National Safety Council. "Going to work should be a positive, rewarding, and safe experience. We are grateful for the generous support of Amazon to help companies around the world solve this important issue while fueling our nonprofit mission to keep employees safe in the workplace."

The partnership will aim to prevent MSDs across a variety of industries by engaging key stakeholders, conducting research, inventing new technology and processes, and scaling the results. The collaboration is made possible by Amazon's $12 million contribution, the largest corporate contribution in the history of NSC, and will include five key components:

Advisory Council: Establishing an international advisory council to bring together safety experts, corporations, and researchers in public and private sectors. The advisory council will work together to review the most promising approaches to MSD prevention, shape the development of partnership components, and engage external parties on MSD prevention. Continue Reading

Support Grows for New Measurements to Assess Retail Industry
As e-commerce has grown, the way the retail industry's performance is measured and assessed has remained the same.

And that's likely not providing an accurate picture, according to the National Retail Federation, which recently backed up calls for a new "Satellite Account" to better measure the industry.

Traditional statistical measurements from the Bureau of Labor Statistics likely aren't reflecting the whole truth about the industry. Namely, the federal stats don't separate e-commerce, which boomed over the last year. The government numbers also count "retail" workers as those who work in stores, which misses the thousands of others who work in warehouses and distribution centers to fulfill online orders.

"In recent years, critics have claimed the retail industry is facing an existential crisis, that retail is not growing and that we are entering--if not already in--a retail apocalypse," National Retail Federation Chief Economist Jack Kleinhenzsaid. "This is not an accurate picture, and the analysis driving this conclusion is incomplete. But why has this become the conventional wisdom? The lack of government data that accurately reflects the retail industry is at least partially to blame.

In need of an update to the industry's measurements, BLS asked NRF's Committee on National Statistics to assess the industry standards of productivity measurements. The Committee's recommendation was to create a labor productivity satellite account to track or analyze different components of the retail industry. According to NRF, satellite accounts pull data together to provide a better picture of economic sectors that cross traditional lines. There are examples from other industries, including health care, outdoor recreation and small business, that BLS could learn.

"NRF has been a strong advocate for better retail data from government agencies and has emphasized the need to capture aspects of the industry's transformation that are not reflected in current statistics," Kleinhenz said. "We are hopeful that work on creation of a retail satellite account will begin immediately, and we are prepared to bring industry perspective to assist in the launching of this essential and timely initiative." retailleader.com

Editor's Note: The exact same argument can be said of the retail Loss Prevention and Asset Protection industry. With LP & AP data and the industry itself being virtually non-existent in the government agencies data collection and reporting efforts.

With crime data, shrinkage data, and job classification data for retail LP and AP. With inclusion, standardization, and redefining being the three objectives.

Don't Expect Retailers to Just Start Speeding Up Vendor Payments Any Time Soon
Welcome to the New Normal

Will Extended Payments to Suppliers Last Beyond the Pandemic?
Now, more than a year later, some retailers are still pushing for extended payment terms to remain in place, wanting to hold on to the extra cash, The Wall Street Journal reported.

Since the start of the pandemic, chief financial officers have put a focus on cash, with companies aiming to boost their cash balances in 2021. That's led to companies wanting to keep the flexible timelines with suppliers. Retail, in particular, faced some of the biggest cash-flow challenges of the pandemic.

In the first quarters of fiscal 2021, the average number of days it took big U.S. companies to pay suppliers rose to 58 days, up 5.5% from the average of 55 days seen in the same period last year, Hackett Group data found. For fiscal year 2020, the average days to payment reached 62, up 7.6% from the previous year. retailleader.com

Editor's Note: With what everyone just went through and are still going through, remember the 'Apocalypse', that certainly is still steaming along like a five engine train. Online is still sucking the blood out of the brick and mortars, which will only continue to grow. So cash flow for everyone in retail will continue to be the #1 priority and stretching payables regardless of who it is, is the only tool they have.

So the best course of action is get use to it and be grateful you're still in the game. And turn it into a positive. Let your client know that the relationship and partnership is what matters and if you can help their situation out normally by not balking at longer payments, then maybe once in a while when you're in a crunch, you can call in a favor for a faster payment on one or two invoices. Hey just some thoughts from a vendor who once waited one year for a payment. But I still got the payment. - Gus Downing

McD's Racial Bias Lawsuit Dismissed
McDonald's beats racial bias lawsuit brought by black franchise owners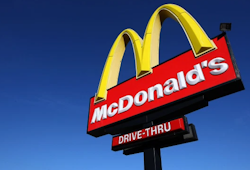 A federal judge has dismissed a lawsuit accusing McDonald's of racial discrimination for steering black franchise owners to underperforming stores.

In a decision on Tuesday, US District Judge Harry Leinenweber said the plaintiffs did not show that McDonald's executives or managers treated black store owners differently from non-black owners, or when this might have occurred.

"The court does not mean to imply that McDonald's operations over the years have not been tainted by the brush of racism," but historical discrimination did not justify the lawsuit, the Chicago-based judge wrote.

James and Darrell Byrd, brothers with four McDonald's restaurants in Tennessee, accused the company of placing black franchisees in economically undesirable inner-city locations with high security and insurance costs and below-average sales.

They also said the Chicago-based fast-food chain denied black owners the same opportunities for growth and financial assistance that it offered white owners. Leinenweber said the Byrds could amend their complaint, but dismissed their steering claims for good because the statute of limitations had run out. nypost.com

These businesses found a way around the worker shortage:
Raising wages to $15 an hour or more
Across the country, businesses in sectors such as food service and manufacturing that are trying to staff up have been reporting an obstacle to their success - a scarcity of workers interested in applying for low-wage positions.

The experience of 12 business operators interviewed by The Washington Post who raised their minimum wage in the last year points to another element of the equation: the central role that pay - specifically a $15-an-hour minimum starting wage - plays in attracting or dissuading workers right now.

Nine of the businesses had increased pay to at least $15 an hour since March, amid struggles to hire in the face the tight labor market. The other three increased wages last year.

"The more employers improve the quality of the jobs and the more they think of workers as an asset that needs to be maximized, the better they're going to be able to find and retain workers long term," he said.

One restaurant raised their minimum wage to $15 an hour and "We've seen an explosion of interest," Puckett said. Job applications increased fivefold on its website and were 10 to 15 times higher on the jobs portal Indeed, he said.

Other business owners said that they had raised wages to out-compete other companies for the best workers. washingtonpost.com

Be Nice or Pay Up
Subway franchisees say a new contract forces them to sign away their First Amendment rights to criticize the struggling chain
Subway is forcing franchisees to choose between higher fees and a "draconian" new agreement, creating yet another conflict at the struggling chain.

In recent weeks, insiders have been buzzing about a new deal that Subway presented to franchisees at renewal time. The agreement is significantly stricter than the prior one, granting Subway control over hours of operation, requiring franchisees to participate in menu promotions, and banning negative comments about the company "in any forum."

A representative for Subway told Insider that the agreement was "competitive and comparable with other franchise agreements" in the restaurant industry. John Gordon, an expert on the restaurant industry, said that "no one in their right mind" would sign Subway's new "draconian" agreement.

Subway franchisees have another option if they don't want to sign the new agreement, but it's financially onerous. businessinsider.com

New Rules for Food Delivery Platforms
NY Liquor Authority adopts new rules on food delivery fees
The SLA on Wednesday adopted new rules that will require New York restaurants with a liquor license to add up all the fees a delivery company charges them each year to ensure the they don't exceed 10 percent of the restaurant's annual revenue.

If the fees exceed 10 percent of the restaurant's annual revenues, the delivery company will need to be added to the restaurant's liquor license.

The SLA adopted the new rules to address concerns that food delivery apps like Grubhub, Uber Eats and Doordash may be violating long-standing rules prohibiting businesses with a liquor license from sharing their profits or revenues with anyone not already on that license. nypost.com

Macy's fireworks will be live on July 4 in NYC for 'biggest show yet,' de Blasio says

---

Senior LP & AP Jobs Market
Zone Asset Protection Director job posted for Family Dollar in Chicago, IL

The Director-Loss Prevention is responsible for the overall shrink performance of the Zone. The Director-Loss Prevention is assigned to and manages a team of 4 to 9 Regional Loss Prevention Managers who support the regions that comprise the Zone (Currently, the Company has 6 groups totaling approximately 1350 stores each). The Director possesses a high degree of knowledge and experience in Loss Prevention as well as strong analytical skills that are vital to the business operation. The Director is responsible for assessing Zone, Regional, and District procedures to ensure the protection of inventory, cash, equipment and other Company assets. sjobs.brassring.com

Divisional Manager of LP job posted for Sherwin-Williams in Cleveland, OH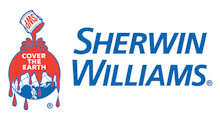 This position is responsible for managing loss prevention and security field operations and programs that protect the human and material resources of the Corporation's assets throughout PCG including Automotive Finishes, Product Finishes/PCG, General Industrial, Industrial Wood, Coil, Packaging, and EPS. This position manages and resolves loss prevention and security related issues impacting the aforementioned Division's inventory, fixed assets, liquid assets, human resources, and all other tangible facets that potentially have adverse financial consequences to the company. jobsearch.sherwin.com

---