Have an LP/AP Hero On Your Team?
Send us the story and let's share them with the industry.
Let's Show Their LP Pride & Actions

---

ADT Partners with Dollar Tree Inc. to Deliver Industry-Leading Solutions to Retail Locations Nationwide
One of the leading providers of commercial security to provide advanced security technologies and monitoring services at thousands of the retail chain's locations



ADT (NYSE: ADT) announced today that, via ADT Commercial, its commercial channel, it is joining forces with Dollar Tree, Inc. (NASDAQ: DLTR), to help provide protection to its retail locations nationwide. ADT Commercial, a premier provider of commercial security, fire, life safety and risk consulting services in the U.S., will provide comprehensive and innovative security solutions and monitoring services at the majority of Dollar Tree and Family Dollar locations across the U.S.

Read more in today's Vendor Spotlight below.


---

NRF Announces Tractor Supply Company President and CEO Hal Lawton
as Next Guest in Retail Leadership Series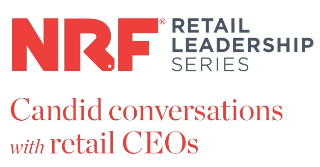 WHAT: The NRF Retail Leadership Series is a virtual program featuring candid conversations between NRF President and CEO Matthew Shay and CEOs from retail brands and leaders across the economy. Shay and Lawton will discuss Lawton's experience taking the helm of a company during a global pandemic, the need for transparent and timely communications with team members, and offering new delivery and fulfillment options for consumers.

WHO: Moderator: Matthew Shay, president and CEO, NRF
Guest: Hal Lawton, president and CEO, Tractor Supply Company, and NRF board member

Other upcoming guests will include Ritch Allison of Domino's, Brian Cornell of Target, Marvin Ellison of Lowe's, John Furner of Walmart U.S., Jeff Gennette of Macy's Inc., Kevin Johnson of Starbucks, Patrice Louvet of Ralph Lauren, Chris Nassetta of Hilton, Sonia Syngal of Gap Inc., and many more.

WHEN: Thursday, June 11, 2020, at 11 A.M. EST

REGISTER: Register here. After registering, you will receive a confirmation email containing information about joining the webinar.

---

A Weekend of Peaceful Protests in U.S. as Demonstrations Go Global
The scenes were dramatically different from the chaos of the previous weekend
as curfews were lifted & law enforcement pulled back
Streets in countless cities and towns across America
filled with demonstrators again on Sunday as largely peaceful protests over systemic racism and police brutality, sparked by the death of George Floyd in Minneapolis, headed towards a third week.
Rallies swelled as some cities lifted the evening curfews and withdrew national guard support
, and protesters claimed a landmark victory as a veto-proof majority of the Minneapolis city council pledged to dismantle the city's troubled police force.
The scenes were markedly different from the previous weekend
, which saw
police beating back protesters with teargas and batons
, and a non-violent gathering in a Washington DC park on Monday forcibly cleared in military-style assault ahead of a photo opportunity for Donald Trump.
This weekend's protests, which saw
moments of levity and jubilance
, appeared to reflect a
shifting mood across the country.
theguardian.com
Huge Crowds Around the Globe March in Solidarity Against Police Brutality
As peaceful protests continue across L.A., National Guard plans to pull out of area
President Trump orders National Guard to leave Washington DC
Most Americans Say Country 'Out of Control' in New Survey
---

Protest Arrests & Looting
Murder & Shootings Spike - 1 Officer Killed, Another Saved

Murders up 160%, Shootings Up 67% in New York City Amid Demonstrations
Shootings, murders rose dramatically in NYC last week amid backdrop of protests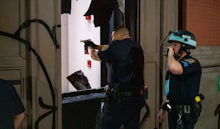 Murders and shootings in the Big Apple skyrocketed last week compared to the same period last year, law enforcement sources said. From last Monday to Sunday night, there were 13 murders in the city, compared to five killings during the same week last year, sources said.

The city reported 40 shootings last week - the most in a week since 2015. In the same time period in 2019, there were 24 shootings, sources said. The increase in violence came as demonstrators marched city streets to protest the police killing of George Floyd in Minneapolis. nypost.com

Looters Kill Retired St. Louis Police Captain Defending Pawn Shop;
Officers in 3 cities wounded during protest violence
Retired St. Louis Police Department Captain David Dorn was killed early Tuesday morning outside of a local pawn shop he was reportedly defending from suspected looters, more than 40 years after his time at the police academy, and 13 years after his retirement from the police department.

Dorn, 77, died at 2:30 a.m. in the middle of a street after being shot in the torso by suspected rioters, according to the police incident report. The retired captain was said to be defending Lee's Pawn and Jewelry - a business that belonged to an old friend of his, KMOV4 reported. yahoo.com

Chicago, IL: City Paying Up To $1.2M To Private Security Firms To Deter Looting
After peaceful protests of the Minneapolis police killing of George Floyd were marred by widespread vandalism and looting, city officials announced they would pay up to $1.2 million to three private security firms to avoid a repeat of last weekend's mayhem. Over 100 private security guards from Monterrey Security, AGB Investigative Services and Illinois Security Professionals will be dispatched to retail corridors across the city - with a particular focus on the South and West sides, city officials said. wbbm780.radio.com

'They saved me': How protesters protected a lone cop, a moment captured in powerful photos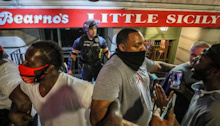 Hinshaw's nearest help was still blocks away. The crowd moved closer, and the yelling got angrier. Protesters hurled questions at him. Hinshaw tried to reason with the crowd. The 32-year-old was scared. It was only going to take one person, and everyone would jump in, he knew.

It was at this moment that a man emerged from the crowd in a red University of Louisville mask covering the lower half of his face. He put himself between the closest protester and Hinshaw. The Courier Journal captured the moment in a photograph that has now been shared across the nation. Local entrepreneur Darrin Lee Jr. spotted Hinshaw and the advancing crowd and linked arms with the stranger in the red mask. yahoo.com

Looters were able to target high-end stores in New York due to an intelligence failure, NYPD says

Philadelphia ShopRite reopens after being looted for 15 hours straight

Minneapolis, MN: 530 Businesses damaged in Minneapolis, St. Paul after riots

St. Louis, MO: Losses continue to rise as over 100 businesses have been hit by looters

Seattle, WA: Man drives into Seattle George Floyd protest, shoots one protester

---

Calls to 'Defund' Police Continue
Minneapolis Dismantles PD - NYC Announces Cuts

Minneapolis council - a veto-proof majority - backs disbanding police force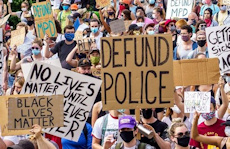 A majority of the members of the Minneapolis City Council said Sunday they support disbanding the city's police department, an aggressive stance that comes just as the state has launched a civil rights investigation after George Floyd's death.

Nine of the council's 12 members appeared with activists at a rally in a city park Sunday afternoon and vowed to end policing as the city currently knows it. Council member Jeremiah Ellison promised that the council would "dismantle" the department.

"It is clear that our system of policing is not keeping our communities safe," Lisa Bender, the council president, said. "Our efforts at incremental reform have failed, period."

Bender went on to say she and the eight other council members that joined the rally are committed to ending the city's relationship with the police force and "to end policing as we know it and recreate systems that actually keep us safe." yahoo.com

De Blasio Vows for First Time to Cut Funding for the N.Y.P.D.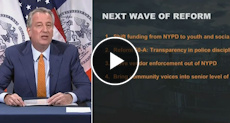 Mayor Bill de Blasio on Sunday pledged for the first time to cut the city's police funding, following 10 nights of mass protests against police violence and mounting demands that he overhaul a department whose tactics have caused widespread consternation.

The mayor declined to say precisely how much funding he planned to divert to social services from the New York Police Department, which has an annual budget of $6 billion, representing more than 6 percent of Mr. de Blasio's proposed $90 billion budget.

Mr. de Blasio said the details would be worked out with the City Council in advance of the July 1 budget deadline. nytimes.com

NYPD Commissioner Dermot Shea '1,000 percent' supports police funding cut

Minneapolis OKs ban on police choke holds, neck restraints

Portland bans cops from using loudspeakers to break up protests

Denver police ordered to stop using tear gas and plastic bullets in protests

Cities Ask if It's Time to Defund Police and 'Reimagine' Public Safety

---

Department of Justice Responds to Unrest
Barr Denies Systemic Racism - DOJ Charges Outside Agitators

Barr Says There Is No Systemic Racism in Policing



The attorney general's remarks, which mirrored those of other administration officials, came as the president was scheduled to meet with law enforcement officials at the White House.

Attorney General William P. Barr said on Sunday that he did not believe racism was a systemic problem in policing, echoing other top administration officials' defense of an important part of President Trump's base as protests against police killings of unarmed black people continued across the nation.

"I don't think that the law enforcement system is systemically racist," Mr. Barr said in an interview with the CBS program "Face the Nation." "I think we have to recognize that for most of our history, our institutions were explicitly racist."

Their defense mirrored comments made last week by the national security adviser, Robert C. O'Brien, and came as the protests over the killing of George Floyd last month and racial injustice in policing continued to gain momentum. nytimes.com

Pittsburgh, PA: Man Charged with Possession of a Destructive Device after Placing a Backpack of Homemade Explosives Downtown

Two Pennsylvania men arrested and charged for traveling to Cleveland to commit acts of violence
---

Coronavirus Tracker: June 8
US: Over 2M Cases - 112K Dead - 761K Recovered
Worldwide: Over 7.1M Cases - 407K Dead - 3.4M Recovered

Fallen Officers From the COVID-19 Pandemic: 41 | NYPD Deaths: 45
Private Industry Security Guard Deaths: 135+

NYPD Chief of Transportation William Morris succumbs to coronavirus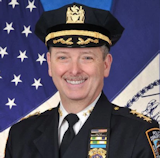 Highest ranking member of the department to die of the virus

NYPD Chief of Transportation William Morris, a veteran of the department for nearly four decades, died Saturday as a result of coronavirus (COVID-19), Police Commissioner Dermot Shea said.

"It saddens me to inform you that, after nearly 39 yrs of service to the people of NYC, Chief of Transportation William T. Morris passed away on Saturday from #COVID19," Shea wrote on Twitter. "The condolences & prayers of the entire department are with Billy & his loved ones during this difficult time."

Morris, 61, died after being hospitalized with the virus for a month and a half. nypost.com


---

'Worst Case Scenario'
How Would Texas Respond to a Hurricane in the Middle of COVID-19?

Forecasts show a 60% chance of above-normal activity this hurricane season,
with 13 to 19 named storms.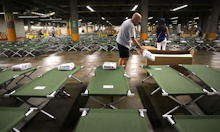 A worst-case scenario would be a major hurricane hitting the coast in late October as cold and flu season begins and as cases of COVID-19 could see a second spike across the country, according to Dr. Thomas A. LaVeist, dean of Tulane University's school of public health and tropical medicine. "That could be devastating," LaVeist said. "That will be a huge strain on resources."

Ordering an evacuation is typically the to-go response during a major hurricane, but officials will have to weigh whether that is the best course during the COVID-19 crisis, LaVeist said.

"It's not only the risk of the hurricane. It's also the risk of the evacuation," LaVeist said. govtech.com

The Ipsos Consumer Health & Safety Index, launched Wednesday
Ipsos' inaugural Consumer Health & Safety Index uncovers gaps in store practices

Benchmarks COVID-19 health and safety at retailers across seven industries.

Ipsos Mystery Shoppers conducted in-store visits of over 5700 retailers across the U.S. and learned which brands are successfully implementing health and safety measures and which ones are not.

Today, Ipsos, the global research firm, announced the launch of the Consumer Health & Safety Index: an ongoing health and safety benchmarking study that evaluates how retailers across seven industries are operating amid the COVID-19 pandemic.

Ipsos conducted a two-pronged study, first surveying 2,000 Americans to understand which health and safety attributes are most important to consumers in the current COVID-19 retail environment, followed by thousands of mystery shops that measured brand compliance to these health and safety attributes across 45 major U.S. brands.

"The ability to deliver on health and safety efforts is now the most important aspect of the customer experience, and it will be for some time", said Nick Mercurio, executive vice president and service line head of U.S. Channel Performance at Ipsos. "We found that 62% of shoppers would stop shopping at a retailer not taking health and safety seriously. Ensuring protections are in place to keep consumers safe, healthy and loyal in the 6-foot economy is the primary driver that inspired our inaugural Consumer Health & Safety index."

• Employees at 25% of the stores visited in the Index wore face coverings improperly or not at all inside the store.

• Employees at 51% of stores visited were not wearing gloves inside the stores.

• 77% of the stores visited did not provide any hand sanitizing or hand washing solution inside the entrance.

• 82% of the stores visited did not provide any hand sanitizing or hand washing solution at checkout.

• 64% of the stores visited had no staff actively cleaning interior high traffic areas, such as carts/baskets, counters, credit card readers, doors, and demos.

• 31% of the stores visited did not have plexiglass dividers at checkout.

• 58% of the stores visited were not observed to be managing the number of customers entering stores.

While there is definitely room for improvement, a few brands stood out among the crowd and offered superior performance implementing the health and safety measures of the new economy. Read more

Survey: More than half of employers to screen workers for COVID
Fifty-eight percent of employers are planning to conduct employee temperature or health screenings as part of reopening business plans, according a survey of 1,010 executives released Tuesday by the San Francisco-based employment law firm Littler Mendelson P.C.

The survey also found that 78% plan to reopen within three months, with 34% of those respondents saying they will do so within one month. Increasing frequency and depth of cleaning and disinfecting worksites was named the top safety protocol as 90% of respondents said they intend to focus on cleaner facilities.

Meanwhile, 87% said they plan on limiting or restricting employee contact in common areas; 86% plan on encouraging face coverings; 78% plan on maintaining distant work areas; 78% plan on continuing remote workspaces; and 68% plan on rotating work schedules. businessinsurance.com

Mastercard Launches Recovery Insights Initiative to Inform Business and Government Economic Response Efforts
To assist in these efforts, Mastercard has launched Recovery Insights, a set of tools, innovation and research that can provide some certainty today and support data-driven decision-making for a more digital tomorrow.

The initiative draws on Mastercard's analytics and experimentation platforms, its longstanding consulting practice and unique data-driven insights. "Enabling smarter decisions with better outcomes is our goal. And, it's what airlines, restaurants, CPG brands, banks, governments and countless others are seeking right now," said Raj Seshadri, president of data and services, Mastercard. businesswire.com

Chicken Industry Price-Fixing:
Four Sr. Execs - Including Pilgrim's Pride CEO - Indicted on Antitrust Charges
The chief executive of one of the country's biggest chicken producers and three other industry executives were indicted Wednesday on charges they conspired to fix prices on chicken sold to restaurants and grocery stores, the Justice Department's first charges in a continuing criminal antitrust probe.

Pilgrim's Pride Corp. CEO Jayson Penn and a former company vice president, Roger Austin, were charged in the one-count indictment, returned by a federal grand jury in Denver. Colorado-based Pilgrim's, majority owned by Brazilian meat conglomerate JBS SA, is the nation's second-largest chicken producer. Also charged were the president of Georgia-based Claxton Poultry Farms, Mikell Fries, and a vice president, Scott Brady. wsj.com

Why June Rent Payments Are The Next Big Challenge Facing Retail
Many retailers across the U.S. failed to make rent payments in recent months as their businesses struggled in the face of mandated store closures. Now, with states allowing retail stores to reopen, the question is whether finances will improve to the point to allow companies to pay landlords. forbes.com

NYC reopens under Phase 1 today - Non-essential retailers allowed curbside or in-store pickup

Buyout firm Sycamore Partners in talks to buy J.C. Penney

Ascena Retail Group and Brooks Brothers edge toward bankruptcy filings

Gap to shutter Hill City men's athletics brand

Gap to 'mothball' unsold inventory until next year

Dunkin' Donuts plans to hire 25,000 employees as states reopen

Luxury British handbag maker Mulberry to cut 25% of global workforce

---

Senior LP & AP Jobs Market
Sr. Dir, Security and Threat Management job posted for PayPal in New York, NY
This leader will be responsible for the protection of that value proposition through ownership of a holistic security testing program, quality assurance functions, and critical incident response teams including cyber forensics and critical investigations. indeed.com
Senior LP Job Postings Removed from Website:

• Dir. of Loss Prevention - Gulfstream Goodwill Industries - Lake Worth, FL
• Dir. Asset Protection SE - Home Depot - Atlanta, GA
• Dir. Asset Protection - Jiffy Lube - Irving, TX - May 29
• Safety Manager - Wakefern Food Corp. - Woodbridge, NJ - May 1


---

Last week's #1 article --
Police Restraint Technique Used Again
Seattle cop removes colleague's knee from protester's neck, video shows
New video shows a Seattle cop stop his colleague from using his knee to pin a protester by the neck during demonstrations against the killing of George Floyd - who died after being restrained in the same manner.

Journalist Matt McKnight shared footage Saturday night of two officers tackling a white protester to the ground outside of a T-Mobile store. In the clip on Twitter, one of the officers can be seen kneeling on the neck of the man despite repeated cries from multiple protesters.

"Get your f-king knee off his neck," one of the bystanders could be heard shouting. nypost.com