Zebra Technologies Introduces Proximity Sensing, Alerting & Contact Tracing Software for the Enterprise

Timely solution helps customers implement comprehensive reopening strategies



Zebra Technologies Corporation (NASDAQ: ZBRA), an innovator at the edge of the enterprise with solutions and partners that enable businesses to gain a performance edge, today launched Zebra MotionWorks® Proximity. The solution offers proximity sensing with user-level alerting and contact tracing to enable employers to help protect their employees' health while in the work environment.

Governments around the world have issued guidelines requiring employers to develop and implement appropriate policies such as, but not limited to, social distancing, contact tracing and disinfection. Zebra's MotionWorks® Proximity solution meets the requirements outlined in the guidelines and the needs of many enterprises looking for a viable option to enhance their reopening strategies. zebra.com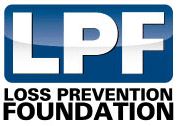 LPF Announces May LPC and LPQ Professionals
The Loss Prevention Foundation would like to recognize and congratulate the following individuals who successfully completed all of the requirements set forth by the board of directors to be LPQualified (LPQ) and/or LPCertified (LPC). View Full List Here

---

Peaceful Demonstrations Continue for 10th Night
But What Will the Weekend Bring in NYC, LA and D.C.?
Protests remain calm, but even larger crowds could turn out this weekend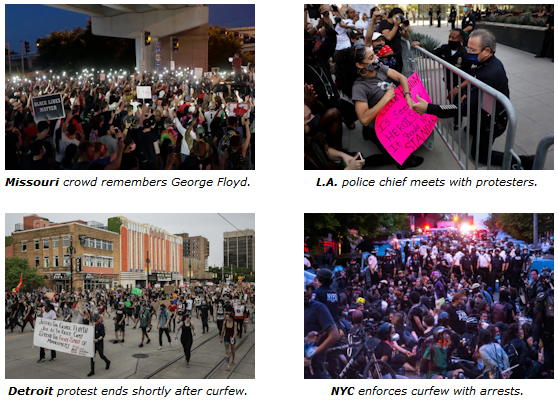 Protesters gathered around the country for the 10th straight day on Thursday, with large crowds forming in New York, Washington and Minneapolis, where the memorial service was held for George Floyd, who died while in police custody.

New York: Video circulated on social media of New York police officers arresting a delivery worker on Thursday night, despite regulations that allow essential workers to continue working after curfew. Shortly after midnight, Mayor Bill de Blasio tweeted that the arrest was "NOT acceptable" and that he had spoken with the police commissioner, Dermot Shea, about the matter. In a second tweet, he added that the same applies for journalists.

Los Angeles: Large crowds gathered in Los Angeles for another day of mostly-peaceful protests. At one point, Police Chief Michel Moore came out and spoke to people in the crowd.

Washington D.C.: As a spring storm tore through Washington, well over a hundred protesters chanted at the mouth of Lafayette Square: "We're not leaving."

Detroit: Another night of peaceful protests ended shortly after curfew in Detroit. Michigan Gov. Gretchen Whitmer and Detroit Mayor Mike Duggan attended the demonstration, as did Detroit Pistons head coach Dwane Casey. nytimes.com

1 Million Protesters in D.C. on Saturday?
Police chief says it could be the 'largest that we've had'
"We have a lot of public, open-source information to suggest that the event on this upcoming Saturday may be one of the largest that we've had in the city," D.C. Police Chief Peter Newsham said during a briefing Thursday.

"We expect that Saturday's demonstration will, like I said, be more of the same peaceful demonstrators coming to exercise their First Amendment right in Washington, D.C.," he said.

Chatter on social media suggests that as many as 1 million demonstrators could turn out to the nation's capital on Saturday, which sets up the possibility of more clashes with law enforcement and even violent agitators trying to take advantage of the large protest. wtop.com

Chicago, IL: Thousands Expected To March In Weekend George Floyd Protest

Large crowds expected to attend Green Bay protests this weekend

32,000+ National Guard Troops in 32 States Still Activated

---

'Defund the Police' Movement Gains Steam
Trend Will Impact Retail Response Even Further

Protesters, officials call for police to be defunded

NYC, Philadelphia, LA among the cities targeted for cuts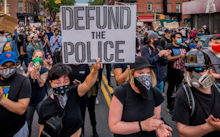 Some protesters and officials are calling for police departments to be defunded and for the money to instead be put toward programs that benefit communities of color.

The call for police budget cuts comes at a time when most states were already faced with the need to reevaluate spending amid deficits and economic uncertainty that are a result of the coronavirus pandemic.

On Wednesday in Phoenix, protesters carried signs calling for the defunding of police. That same day in Seattle, demonstrators carried "Black Lives Matter" signs, calling for cuts to the police department's budget and shifting the money to social programs. Protesters have also called for budget cuts in New York City, Philadelphia and Los Angeles.

In New York, the police department faces the threat of budget cuts for the first time in at least 20 years, the New York Post reported. yahoo.com

NYC Budget Debate Between de Blasio & the Council Might be Dominated
by Push to "Defund the Police"
Anthonine Pierre, Deputy Director at the Brooklyn Movement Center, is part of a coalition of police and criminal justice reform groups calling for a restructuring of the NYPD's budget. "It's time to defund the police, it's time to take $1 billion from their budget," Pierre said.

Advocates are calling on Mayor Bill de Blasio to slash the NYPD's $6 billion budget. Instead, they want the mayor to redirect funds to youth services and social programs -- all which they say will be needed as the city's most vulnerable recover from the economic impact of the COVID-19 crisis.

The call to "defund the NYPD" is likely to become a flash point in this year's budget negotiations. A budget agreement is due at the end of June. ny1.com

Los Angeles Mayor Eric Garcetti, City Officials Cutting $100 Million-$150 Million From LAPD Budget, Funds To Be Reinvested In Communities Of Color
"We will not be increasing out police budget," said the mayor. That allocation is pegged at $1.8 billion in the mayor's previously proposed budget.

The mayor proceeded to announce $250 million in cuts to the proposed budget and to reallocate those dollars to communities of color, "so we can invest in jobs, in education and healing." L.A. Police Commission President Eileen Decker then announced that $100 million-$150 million of those cuts would come from the police department budget. deadline.com

Minneapolis City Council members aim to 'dismantle' police department, 'rethink' public safety
Several members of the Minneapolis City Council this week have expressed support for radical changes to how the city handles law enforcement, including a move to "dismantle" the police department and replace it with "a transformative new model for public safety."

Jeremiah Ellison, the son of Minnesota Attorney General Keith Ellison and a representative of the city's Ward 5, explicitly led calls to "dramatically rethink" how the city keeps its people safe. foxnews.com

What does "defund the police" mean?
The basic idea is less that policing budgets should be literally zeroed out than that there should be a massive restructuring of public spending priorities. The idea might be dismissed as politically untenable or lacking public policy backing. But it interacts in a potent way with the other crisis of the moment - the Covid-19 pandemic, which has pushed state and local government budgets into crisis.

The "defund" slogan dances ambiguously between abolition-type schemes and just saying officials should spend less money on policing at the margins. The Black Lives Matters #DefundThePolice explainer page argues that "law enforcement doesn't protect or save our lives. They often threaten and take them." vox.com
Two Officers Charged In Floyd's Death Were On The Job For Less Than A Week And Derek Chauvin Was Training Them, Lawyer Says
---

Protest Arrests & Looting
Mass Arrests in NYC - Saks in the News - Retailers Beef Up Security

NYPD enforces curfew, arrests dozens of protesters across NYC

Police finally enforced an 8 p.m. curfew Thursday evening by busting up protests across the city - making dozens of arrests.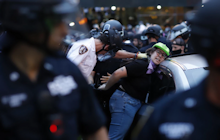 Thousands of protesters had continued to march in defiance of the deadline, including in Upper Manhattan, in the Bronx and in Brooklyn, on the eighth day of citywide demonstrations against police brutality.

An approximately 100-person demonstration in the Bronx organized by activist group DecolonizeThisPlace, devolved into chaos when NYPD cops in riot gear blocked off the march near East 136th Street and Brook Avenue. The marchers chanted "let us go," but their pleas fell on deaf ears.

Just minutes after 8 p.m., cops stormed in to make arrests. They were seen pulling individual protesters out of the melee, placing them in zip ties and taking them into vans, as a recording about the curfew played. nypost.com
Safest Store in NYC - Saks Fifth Gets More Press
Retailers continue to beef up security as looting fears continue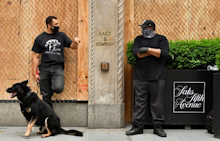 Retailers across the country are boosting their defenses to protect against looting, including by hiring armed guards, planting scouts to keep watch out front and securing storefronts with barbed wire, The Post has learned.

As The Post reported on June 2, iconic department store Saks Fifth Avenue has fortified its New York City flagship with a razor wire-topped fence and security guards outfitted with attack dogs. But sources say the trend is becoming more widespread and even hitting the normally peaceful suburbs.

Security professional Michael Sapraicone, head of Squad Security, says he's received multiple requests by retailers looking to protect against a spate of high-profile ransackings by people looking to take advantage of nationwide civil unrest. Some of the requests are too risky to even consider, he said. "We are turning down the calls we are getting to put armed guards inside unopened stores at night." nypost.com
"It might be safer to rob a bank"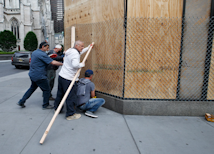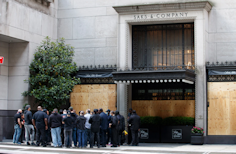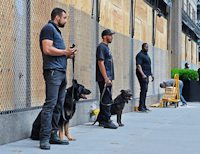 Davenport, IA: 23-year-old man killed in protests; identified to have been a part of the group that attacked a jewelry store and was armed

Looters cost NYC businesses 'tens of millions,' experts estimate

Salt Lake City, UT: Utah man who drew bow and arrow on protesters hit with felony charges

San Leonardo, CA: Looters Drive Away With 80 Luxury Cars Worth $2.7 Million From Dealership

Los Angeles, CA: Hard-hit by break-ins, the Jewelry District never lets its guard down

De Blasio chides NYPD for arresting deliveryman post curfew

---

Department of Justice Responds to Unrest
Barr Blames Extremists - Injuries & Hospitalizations - Looters Charged

Attorney General William P. Barr's Remarks on Mr. George Floyd and Civil Unrest


As I told the governors on Monday, we understand the distinction among three different sets of actors. The large preponderance of those who are protesting are peaceful demonstrators who are exercising their First Amendment rights.

At some demonstrations, there are groups that exploit the opportunity to engage in looting. And finally, at some demonstration, there are extremist agitators who are hijacking the protests to pursue their own separate and violent agenda.

We have evidence that Antifa and other similar extremist groups, as well as actors of a variety of different political persuasions, have been involved in instigating and participating in the violent activity. We are also seeing foreign actors playing all sides to exacerbate the violence. justice.gov

Around 114 law enforcement officers injured in Washington riots, AG says
Injuries of varying severity as a result of the unrest in the US capital, were inflicted upon 114 employees of various US security agencies, including special services, US Attorney general William Barr announced during a press conference.

"From Saturday until today, the lion's share of these injuries came over the weekend, there were 114 injuries to law enforcement, most of those to federal agents and inflicted right around the White House. There were 22 hospitalizations and most of those were serious head injuries or concussions that required monitoring and treatment," Barr said. tass.com

Three Men Face Arson Charges For Setting Fire To Police Vehicle During Vegas Protest

Worcester Man Charged with Civil Disorder and Possession of a Destructive Device

Raleigh Man Arrested for Attempting to Set Fire to Raleigh Police Department Vehicle

---

Walmart's Senior Manager, Global Technology - Charged in $8M COVID Fraud
Arkansas Project Manager Charged in Oklahoma with $8M COVID-Relief Fraud

Fraudulently Sought $8M+ in CARES Act SBA Paycheck Protection Program Loans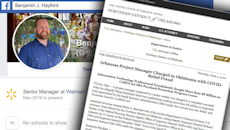 A project manager employed by a major retailer was charged in a complaint unsealed Wednesday for allegedly filing fraudulent bank loan applications seeking more than $8 million in forgivable loans guaranteed by the Small Business Administration (SBA) under the Coronavirus Aid, Relief, and Economic Security (CARES) Act.

Benjamin Hayford, 32, of Centerton, Arkansas, was charged in a federal criminal complaint filed in the Northern District of Oklahoma with wire fraud, bank fraud, making false statements to a financial institution, and making false statements to the SBA.

Hayford allegedly sought millions of dollars in forgivable loans guaranteed by the SBA from multiple banks by claiming fictitious payroll expenses. To support his applications, Hayford allegedly provided lenders with fraudulent payroll documentation purporting to establish payroll expenses that were, in fact, non-existent. In addition, Hayford represented to a financial institution that the Limited Liability Partnership for which he applied for relief was established in January 2020 and was operating as of Feb. 15, 2020. In fact, a search of the contents of Hayford's email account revealed that Hayford did not create the partnership until April 2020, several days before he began applying for Paycheck Protection Program (PPP) loans.



Benjamin J. Hayford, Senior Manager, Global Technology Operations & Portfolio at Walmart: LinkedIn page shows Founding Partner of Global Policy & Strategy Partners (GPS Partners) starting May 2018 to present right below his current position at Walmart as Senior Manager, Global Technology Operations & Portfolio from Oct 2019 to present after having started at Walmart in May 2019 as Senior Manager, Global Business Services Transformation.

A Walmart spokesperson clarified that the charges are not related to his work at the company, issuing the following statement:

"Mr. Hayford has been suspended without pay under our arrested associate policy and no longer has access to any company property or systems. The criminal charges filed by the Department of Justice are not connected to Walmart or Mr. Hayford's work for the company. Because this is a federal criminal charge, we are referring additional questions to the Justice Department." kfor.com justice.gov linkedin.com

---

Coronavirus Tracker: June 5
US: Over 1.9M Cases - 110K Dead - 712K Recovered
Worldwide: Over 6.7M Cases - 394K Dead - 3.3M Recovered

Fallen Officers From the COVID-19 Pandemic: 41 | NYPD Deaths: 43
Private Industry Security Guard Deaths: 135+

---

1st COVID Class Action Moves Forward
McDonalds Can't dodge COVID-19 Class Action Safety Suit in Illinois
Ill. state court refused Wednesday to toss out a proposed class action of Chicago McDonald's employees accusations that the company and certain franchisees haven't done enough to protect them amid the ongoing COVID-19 pandemic.

The Judge rejected McDonald's argument that government agencies had primary jurisdiction to hear claims that the fast-food giant allegely subpar response to the coronavirus has endangered its workers and constitutes a public nuisance.

"No one is asking the court to create any safety regulations" regarding the pandemic, Judge Reilly said. The dispute in the workers case concerns whether McDonald's has followed regulations already distributed in response to the health crisis. law360.com

"Tidal Wave" of OSHA Record-Keeping Violations Coming
How Can Employers Tell If COVID-19 Is Work-Related?
Employers should expect a "tidal wave" of OSHA citations for record-keeping violations, said Eric Conn, an attorney with Conn Maciel Carey in Washington, D.C. But he said that employers usually will prevail if they conduct case-by-case workplace analyses for employees who have contracted COVID-19 and either conclude an illness is not work-related or record it in the OSHA 300 log if it is.

Employers must investigate whether workers with COVID-19 contracted it at work, but determining that is difficult because the virus is so widespread. One option employers have is to document alternative explanations for the cause of the illness, if there are any, to prevent Occupational Safety and Health Administration (OSHA) penalties.

If someone at work contracts the coronavirus, investigate the cause and document the investigation. If the case is not work-related, carefully document the reasons why not. This may not prevent an OSHA citation, but it can be useful for a company defending itself against paying penalties.

An employee's COVID-19 illness is likely to be work-related if any of the following apply:

• There is a cluster of employees who have tested positive.
• An employee tests positive shortly after long-term interaction with someone else at work who also tested positive.
• A worker has regular, frequent exposure to the public.

OSHA included an exception to the recording rule: Coronavirus is not work-related if there is an alternative, nonwork explanation, Conn explained. "That's an enormous carve-out that almost swallows the entire rule," he said. shrm.org

The Five Most Valuable Global Retail Brands in the Surreal Age of COVID-19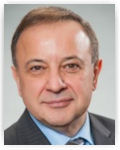 By Tony D'Onofrio, Global Retail Influencer

Every year I look forward to the latest BrandZ Global Most Valuable Brands Report. Timely for 2020, BrandZ published a separate Global Top 75 Retail Brands edition that includes in-depth COVID-19 analysis on the impact of the pandemic to brands. "The combined value of the BrandZ Top 75 Most Valuable Retail Brands has risen by 12% in the past year, to $1.514 trillion. These brands come from four sub-categories: Pure Retail, Fast Food, Apparel and Luxury, and they are growing despite - and in some cases as a result of - severe disruption in the market." Read More Here
Top 5 Global Retail Brands


A Conclave of America's Top CEOs Talks Race and Making Change
More than 300 chief executives, mayors and government officials gather online for a rare peer-to-peer conversation about race relations and social justice

Leaders of General Motors Co., Johnson & Johnson, American Airlines Group Inc. and other big businesses gathered via Zoom this week for a roundtable about the business impacts of the coronavirus. With protests gaining momentum across the U.S., the participants quickly changed the subject.

What followed was a rare peer-to-peer conversation among more than 300 chief executives, mayors and government officials about race relations and social justice-and the public role plenty of chief executive officers now see for themselves.

"There are few decisions we make that aren't political-whether it's access to restrooms, whether it's what candidate we might support in a particular stand that we're going to take on an environmental issue-so, frankly, I think that comes with the territory," Johnson & Johnson CEO Alex Gorsky said.

The CEOs this week on the call stressed a heightened sense of urgency and responsibility to drive change. wsj.com

RILA: Retail Response to Protests
This week leading retailers responded publicly to the senseless death of George Floyd and the injustice, anger, and devastation it has uncovered. As we collectively seek to do better, retailers have a critical role to play as communities, cities, and the country look to change, heal, and rebuild.

Linked below are responses issued and actions taken from across the retail industry to date. See the list of 47 retailers with links to their statements.

AP Hero
Heroic Actions from a Front-Line AP Worker
Molly Turner, Asset Protection Coordinator at Stop & Shop


We are proud to share stories that describe truly heroic actions by our associates in these difficult times. Here is a story about Molly Turner, Asset Protection Coordinator.

Molly has been making masks and meal baskets to help those in need. Molly has sewn over 5,000 fabric face masks and donated them to a local hospital. She has also raised funds, shopped for and made meal baskets that include 30-minute meals for families of four. She has donated over 50 meal baskets to healthcare workers assigned to that hospital's COVID unit.

Way to go, Molly!!
#staysafe #heroic #difficulttimes #thoseinneed

Thanks to Jim Cosseboom for submitting this article: linkedin.com

Centers for Disease Control and Prevention sends out updated:
Interim COVID-19 Contact Tracing Communications Toolkit for Health Departments

Ragan Communications, Corporate Communications Leader
Crisis Communications: How to communicate during civil unrest

NYC reports no new coronavirus deaths for first time since mid-March

'A path forward': J.C. Penney's bankruptcy judge approves $900 million lifeline

Looting, COVID-19 Prolong Modell's Bankruptcy Pause

J.C. Penney's 154 store closings list released: Is your local store facing liquidation in bankruptcy?

Wilson's Leather to liquidate

Coresight Research
Retail Store Databank Week 23
4,005 2020 YTD Closures
3,348 YTD Openings


Quarterly Results
Michaels Q1 comp's down 27.6%, sales down 26.8%
Express Q1 sales down 53%
Gap Q1 stores down 61%, online up 13%, net sales down 43%
Old Navy Global stores down 60%, digital up 20%, net sales down 42%
Gap Global stores down 64%, digital down 5%, net sales down 50%
Banana Republic Global stores down 61%, digital down 2%, net sales down 47%
Athleta stores down 50%, digital up 49%, net sales down 8%

---

Senior LP & AP Jobs Market
Associate Director, Safety & Loss Prevention job posted for HelloFresh
in Grand Prairie, TX
In this position, you will assist the Director of Safety & Security in managing multiple projects and multiple sites, inclusive of distribution center safety, corporate safety, building security, loss prevention design, site visits, investigations, and project management, as well as drive the safety culture and compliance in multiple sites, on-board and train site Safety & Loss Prevention Managers and conduct audits as necessary. linkedin.com


---