APEX Women Mindshare: The Verdict Is In



by Amber Bradley, Owner & Brand Strategist, Calibration Group, LLC

Well, the feedback is in from last week's APEX Women and here it is, straight from the attendees' keyboard:

● "This is the third or fourth virtual seminar I have listened to this year and APEX Women was by far the best! Others had one or two good sessions, but all of these were fantastic! Well done." - said one attendee.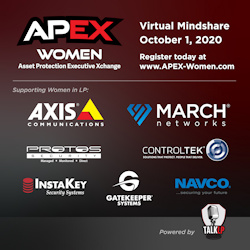 ● "This virtual presentation was a phenomenal opportunity. I am very satisfied with the information that was presented and what I learned. Thank you so much, TalkLP, for engaging with the audience and having such great presenters. I am looking forward to attending the next one!" - said another APEX mindshare fan.

● "I felt like I was sitting in my living room with a group of friends sharing ideas and lending support. What a great environment! Loved every minute!" - said the APEX attendee.

TalkLP's Asset Protection Executive Xchange (APEX) virtual mindshare series executed the only virtual event dedicated to empowering women in the loss prevention and asset protection industry on Oct. 1. The mindshare was also available for men to attend as the agenda covered valuable information for any LP professional.

Missed APEX Women? View the replay on-demand here.

Stay tuned for more upcoming APEX Virtual Mindshare events!

Read the full recap here


The Busy LP Event Season Continues
Four More Virtual Industry Conferences Coming This Week:
---

Protests & Violence

D&D Daily Crime Analysis:
Violence Remains High in Big U.S. Cities in First Weekend of October,
But Slight Drop in Shootings Could Be New Trend As Winter Approaches
122 shootings, 36 killed in 20 Major U.S. Cities from Oct. 2-4


This past weekend, the D&D Daily continued to analyze violent crime in 20 major cities across the country, including those under the umbrella of 'Operation Legend.'

According to publicly reported data and media reports, these cities saw a combined total of 122 shootings and 36 killings from Friday through Sunday, with an average of 40.7 shootings per day and 12 killings per day.

The daily average of shootings dropped slightly from last weekend's 51.7, but deaths slightly increased from last weekend's 11.3 killings per day. Overall, the numbers have remained remarkably stable throughout the summer, but it's possible that the slight decline in shootings this past weekend could be a new trend as winter approaches.

July Fourth weekend remains a high point for violence this summer, with 233 shootings and 70 killings in 30 cities (big and small throughout the U.S.) over just two days during that holiday weekend, averaging 116.5 shootings per day and 35 killings per day.

Click here to view the complete breakdown of this past weekend's violence in 20 American cities and continue to follow along as the Daily monitors violence across the United States.

See our previously published four-week report covering this year's violent month of July.


Amazon workers march to Jeff Bezos' mansion,
calling for higher wages, protections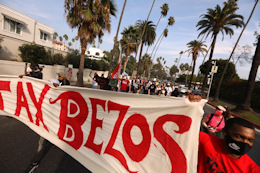 Demonstrators on Sunday marched to Amazon founder Jeff Bezos' Beverly Hills mansion, protesting company working conditions during the COVID-19 crisis and calling for higher wages, free healthcare and child care for employees.

Protesters rallied at Will Rogers Memorial Park in Beverly Hills, then marched to the gates of Bezos' home, carrying signs and chanting "Tax Bezos."

The demonstration was sponsored by the Congress of Essential Workers, a collective of servers, teachers and warehouse employees, and led by the group's founder, Chris Smalls, a former Amazon warehouse manager who said he was fired in March after organizing a work stoppage over the company's handling of the COVID-19 pandemic.

Organizers released a list of demands, including that the company provide workers with adequate protective equipment and cleaning supplies, as well as an increase of $2 per hour for hazard pay.

Amazon revealed last week, after months of pressure from workers and labor groups, that nearly 20,000 of its frontline U.S. workers have tested positive or been presumed positive for the coronavirus. But the online retail giant says the infection rate of its employees is well below that seen in the general U.S. population. latimes.com

40 Minneapolis businesses ask city leaders to help bring back customers

Minneapolis restaurants say the damage done this year will linger for decades.

Business owners in downtown Minneapolis are rallying together, calling on city leaders for more support when it comes to public safety in the area.

"We're trying to get the people back downtown to increase that safety at the same token we're trying to get the city's assistance to say yes there is a crime issue and we want to speak up and say that we're doing something about it," said Tanya Spaulding, Principal and Partner at Shea Design, serving as a representative for more than 40 business owners who recently submitted a letter to the mayor's office and city council asking for a plan of action.

They're asking city leaders to make public safety a priority while helping businesses survive. At the rate things are going, some say downtown is like a free for all.

"You're getting harassed or yelled at, or there's a fight in front of you, there's a bit of trepidation and you don't see anyone dealing with it right now," said Spaulding. kare11.com

Seattle: 16 arrested after explosive thrown at officers, buildings tagged with anti-cop graffiti

NYC: Driver slams into cyclists during Black Lives Matter protest

Chicago: Man faces 14 counts in connection to downtown looting

Portland: Man pleads guilty to federal arson charge for fire set inside Justice Center in late May

Kenosha, WI: ATF asking public to help ID people connected to Kenosha arson investigation

---

COVID Update
US: Over 7.6M Cases - 214K Dead - 4.8M Recovered
Worldwide: Over 35.5M Cases - 1M Dead - 26.7M Recovered

Private Industry Security Guard Deaths: 190 Law Enforcement Officer Deaths: 117
*Red indicates change in total deaths


As cold weather arrives, U.S. states see record increases in COVID-19 cases
Nine U.S. states have reported record increases in COVID-19 cases over the last seven days, mostly in the upper Midwest and West where chilly weather is forcing more activities indoors.

On Saturday alone, four states - Kentucky, Minnesota, Montana and Wisconsin - saw record increases in new cases and nationally nearly 49,000 new infections were reported, the highest for a Saturday in seven weeks, according to a Reuters analysis. Kansas, Nebraska, New Hampshire, South Dakota and Wyoming also set new records for cases last week. reuters.com

NYC's First Major Reopening Reversal
Fearing 2nd Wave, N.Y.C. Will Adopt Restrictions in Hard-Hit Areas
For many weeks, public health officials had expressed concern that a second wave of the coronavirus would hit New York City, which until recently had achieved striking success in beating back the outbreak after a devastating spring that left more than 20,000 residents dead. On Sunday, with those fears growing, Mayor Bill de Blasio announced an emergency crackdown, saying that he intended to impose new restrictions in 20 hot spots in Brooklyn and Queens that have been experiencing rising positivity rates.

The plan is a major setback for New York City, amounting to the first significant reversal in the reopening and offering further evidence of the challenges in curbing the pandemic. The city over the last month had taken several strides forward, allowing indoor dining for the first time and becoming the first major school district in the country to bring children back into its public schools.

But under the new restrictions, Mr. de Blasio would close all schools - public and private - in nine of the city's 146 ZIP codes, as well as all nonessential businesses. Indoor and outdoor dining in restaurants in those areas will not be allowed. nytimes.com

NY Gov. Cuomo Orders Schools in NYC Hotspots Closed Tuesday; Nonessential Biz Stays Open

U.S. one step closer to national contact tracing
Covid-19 contact tracing apps can now work across state lines
States are now able to create contact tracing apps that work with those from other states, thanks to a national server that works with the exposure notification tool developed by Apple and Google and stores information about potential exposures from all states that use it. This gives us the potential for a nationwide digital contact tracing system.

Some states - New Jersey, New York, Pennsylvania, and Delaware - have teamed up to form a regional alliance of apps with a common codebase. vox.com

Consumers Adjust Holiday Shopping Due to COVID
and Are Willing to Grant Retailers Leeway
A new survey from Convey finds that a significant portion of shoppers recognize the uncertainty that retailers face and are willing to give them some latitude - but in exchange, they want free shipping, clear communication and delivery promises to be kept.

COVID Impact on Holiday Shopping
Even as most stores across the country have reopened, the impact of the global pandemic will continue to be felt. Shoppers are planning to shop earlier and mostly online, and they're conscious of COVID's impact on retailers - even if they aren't willing to commit their dollars accordingly.


● Nearly 4 in 10 consumers (39%) will start holiday shopping earlier this year, while 44% say COVID will have no impact on when they begin their gift-buying.

● 8 in 10 shoppers (82%) will do most of their holiday shopping online - and nearly 1 in 3 (30%) will do ALL of it online.

Amazon Momentum Grows
During shelter-in-place orders this spring, consumers learned how to buy everything from groceries to clothing to furniture online - and in many cases, that meant shopping at Amazon. Heading into the holiday season, the online giant is poised to dominate like never before, despite some consumers' misgivings about its impact on retail as a whole.

● Amazon is the number one choice for holiday shopping with 61% of respondents planning to shop there this holiday.

● A distant second choice are big box retailers (Walmart, Target and Best Buy), where 16% of respondents plan to find gifts. businesswire.com

3 Ways to Motivate Your Team Through an Extended Crisis
As we flip our calendars to yet another month of our large-scale Covid-19 remote-work experiment, it's no wonder that motivation, performance and well-being are flagging for many. Months in, managers need new tools to reenergize their teams, to accurately identify and diagnose recurring struggles and to empathetically help employees address their problems.

Using a well-established theory of motivation called self-determination theory, or SDT, we have identified three main psychological needs that leaders can meet to help their employees stay engaged, confident and motivated.

1. Relatedness - 2. Competence - 3. Autonomy shrm.org

SHRM: Answers to the Most Common Coronavirus Questions

Oregon OSHA Releases Near Final Draft of its COVID-19 Standard

Economists says COVID-19 and lack of stimulus endanger growth

---
---

Legal Perspective of CDC Workplace Violence Guidelines
In Case You Missed It

Preventing Physical and Verbal Covid-19 Workplace Violence
Employers should take a 360-degree view of Covid-19 workplace violence prevention, as threats to employee safety can come from customers, co-workers, and even from an employee's own internal stresses. Epstein Becker Green attorneys look at CDC guidelines and recommend clear written policies and procedures, training, and ongoing empathetic employer communications.

Scores of stories are recounting shootings, assaults, and other workplace violence against employees by customers across a variety of work environments-most often because of a customer's refusal to abide by mask-wearing guidelines. Employees have been screamed at, spit on, slapped, and, in a few tragic worst-cases, killed simply for trying to enforce mask-wearing rules.

Aware of the negative and, sadly, sometimes violent reactions that mask-wearing and social distancing guidelines have provoked, the Centers for Disease Control and Prevention recently released guidance, "Limiting Workplace Violence Associated with COVID-19 Prevention Policies in Retail and Services Businesses."

Included in its workplace violence definition are the obvious physical assaults along with threats and "verbal assault," defined broadly to include words intended to cause "negative emotions of the person being assaulted."

CDC Looks at Physical and Verbal Assaults - Co-Worker Stress Can Spark Violence - Training, Clear Prevention Policies, Communication bloomberglaw.com

Global Perspective of Cargo Theft
Criminals Eye Stalled Supply Chains for Weak Links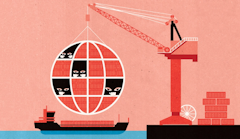 Cargo theft was on the rise in 2019. The National Retail Federation's Organized Retail Crime Report found that 73 percent of retailers surveyed in the United States suffered cargo thefts in 2019, compared with just 30 percent in 2018. According to the Cargo Theft Report 2020 from BSI and TT Club, 2019 saw an average of eight global cargo thefts per day, with 87 percent of attacks targeting trucks.

Despite these slower than usual rates of cargo theft in the first few months of the pandemic, TAPA warns that transportation organizations should expect a spike in crime as regions reopen and criminals seek to make up lost revenue.

The association is already seeing an uptick in attacks. TAPA EMEA recorded 118 cargo thefts in June, according to preliminary data, including nine major thefts with loss values of 100,000 euros ($117,000) or more.

COVID-19 uncovered a lack of preparedness along supply chains that criminals can exploit, says Thorsten Neumann, president and CEO of TAPA for the EMEA region.

From organized crime to PPE, drug cartels, the shutdown impact, to 70 percent of supply chain and cargo theft is associated with insider involvement, whether intentional or accidental, this is a great detailed overview of the current state of what's driving cargo theft and the global trends. asisonline.org

California Governor signs new "rest period" for private security officer bill
AB 1512 provides some relief - through January 1, 2027 - from rest period laws for the security industry, possibly paving the way for later legislation benefitting other industries. AB 1512 authorizes registered private patrol operator employers to require certain security officer employees (those registered under the Private Security Services Act) to remain on the premises during rest periods, to remain on call, and to carry and monitor a communication device. The security officer must be permitted to restart a rest period anew as soon as practicable if the rest period is interrupted. This later, uninterrupted rest period would qualify as a compliant rest period. If a security officer cannot take an uninterrupted rest period of at least 10 minutes for every four hours worked (or major fraction thereof), the officer must be paid one additional hour of pay at the base hourly rate. AB 1512 went into effect immediately upon the Governor's approval on September 30, 2020, but does not apply to cases filed before January 1, 2021. calpeculiarities.com

Survey: 3/4 Shoppers Want Stores To Close on Thanksgiving
Three-quarters (76%) of the more than 1,500 U.S. consumers surveyed said they want retailers to close on Thanksgiving Day, according to the Accenture Holiday Shopping Survey. Slightly more than half of those cited the desire to give workers a well-deserved day off, with the remainder saying retail workers should spend the holiday with their families.

Health, safety and the livelihood of store employees are also on consumers' minds, with 61% saying they plan to minimize in-store shopping to reduce health risks to essential workers. The same number said they'd be inspired to shop with retailers that demonstrate visibly high commitments to health, safety and hygiene practices. retailleader.com

Regal Cinemas Suspending Operations at All U.S. Locations

17 retailers that could go bankrupt as the COVID-19 era wears on

Walmart provides interactive drug safety site

California exceeds 4 million acres burned by wildfires in 2020



---

Senior LP & AP Jobs Market
Director of Safety job posted for Kanes Furniture in Pinellas Park, FL


Kane's Loss Prevention Manager is an integral part of the Distribution Center management team and is responsible for managing all security and safety issues in accordance with Kanes' policies and practices. The Loss Prevention Manager will implement security and safety programs and procedures to promote awareness, prevention, and control of losses and/or safety-related incidents and will identify loss prevention strategies and identify and address potential security and safety concerns. indeed.com
Senior LP Job Postings Removed from Website:
● Dir. Global Security Technology - Disney - Glendale, CA
● Dir. of AP & Safety - Paradies Lagardére - Atlanta, GA
● Dir. of Investigations - Peloton - Plano, TX
● Dir. Security, High Rise - United Protective Services - Dallas, TX
● Sr Mgr - Supply Chain Transportation, Security & Compliance - The Home Depot - Atlanta, GA
● Safety & Security Manager - Maggie's Farm Marijuana - Pueblo, CO
● Manager, Safety and Security - Thrive Market (eCommerce Retailer) - Sparks, NV

---

Last week's #1 article --

Ballistics report contradicts Kentucky AG's account of Breonna Taylor shooting

Multi-State Grab-and-Go Crew
Conn. Burglary Crew of 8 Indicted for Northeast Burglary Spree
On September 15, 2020, a federal grand jury in Hartford returned a six-count indictment charging the 8 individuals with offenses related to their involvement in an extensive commercial burglary spree:

The indictment stems from "Operation American Steal," a long-term multi-agency investigation into numerous "grab and go" thefts from various retail fashion stores in Connecticut and nearby states. A "grab-and-go" scheme is a type of theft where one or more perpetrators enter a retail store, grab as many items of clothing or other goods as they can carry, leave the store without paying for the merchandise, and depart in a waiting getaway vehicle.

The indictment alleges that the eight defendants were part of a network of individuals who burglarized Polo Ralph Lauren, T.J. Maxx, Balenciaga, Burberry, Macy's, Marshalls, Dick's Sporting Goods, Tommy Hilfiger and other stores in Connecticut, Massachusetts, New Hampshire, Vermont, and New York. They then transported the stolen merchandise to Connecticut and sold the items on the internet or the street. justice.gov

Refund Trio Hitting TJX in 3 States
Third Jacksonville Woman Pleads Guilty In Scheme To Defraud Retail Merchants
Sierra Marvette Townsend (33, Jacksonville) has pleaded guilty to conspiracy to commit wire fraud. She faces a maximum penalty of 20 years in federal prison and payment of restitution to her victims. A sentencing date has not yet been set.

Townsend and others traveled to north Florida, Georgia, and South Carolina to commit fraud involving HomeGoods, TJ Maxx, and Marshalls. Over the course of multiple years, Townsend used five different identities when making fraudulent returns at these stores. These fraudulent returns resulted in the stores issuing gift cards to Townsend and others worth thousands of dollars. After obtaining the store gift cards, Townsend and others typically sold or pawned them.

On February 18, 2020, co-defendant Katrina Monique Morris (39, Jacksonville) and co-defendant Lashundra Monyett Gibbs (38, Jacksonville) pleaded guilty to conspiracy to commit wire fraud. Morris and Gibbs are both scheduled to be sentenced on December 2, 2020. justice.gov

Nashville, TN: Fugitive and "chronic shoplifter" steals from the same Gucci store on three separate occasions


27-year-old Lamonteisha Johnson was charged with three counts of theft after she was caught on video stealing over $2,700 worth of merchandise from the same Gucci store three times within a five-month period. On February 16th, Lamonteisha Johnson was seen on in-store security cameras inside the Gucci store located in The Mall at Green Hills taking a pair of shoes valued at $670 and hiding them in her bag before she left the store. She was also identified from a photo taken of her during the same visit. According to the affidavit, it was reported that Lamonteisha was a "chronic shoplifter" and was familiar with several businesses in the mall. scoopnashville.com

Logan, UT: Electronics thief caught removing security tags from merchandise inside Walmart; concealed drugs and stolen checks