The Covid Impact
Dozens of Webinars Weekly
It's Almost Webinar Overload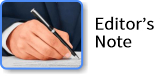 It's time to challenge your old views and recognize this digital technology resource for what it is and to take full advantage of the opportunity to broaden and deepen your team's knowledge base.

As these educational vehicles go well beyond the self-serving need for sales and actually offer a free opportunity to keep your key team members and your high potentials up to date with the technology offerings in the industry.

Which serves and benefits your team's performance.

As it's not about who you're currently using as much as it's about what's available - what's new - what are the differences - and where are we going.

Staying on top of technology takes a commitment to being always open to new ideas, new ways of doing things, new twists on the old standards, and being open to new relationships based on your own interactions and opinions, not based on someone else's.

Which is really one of the top reasons we miss opportunities. As we allow our trusted friends to influence us, and rightfully so in many instances. However, when it comes to new technology you've got to be relentlessly driven to what's new and how can we benefit from it and how does it fit long term?

Obviously, putting this into practice requires a time commitment that can only be met by using your team members and developing a strategy to take full advantage of this new COVID-inspired webinar trend.

Which some could say was going to happen eventually given the digital transformation and the rise in travel costs, but now it is readily available as a free resource for your team's educational development.

All it requires is a well thought out approach, structured follow up, and a different mindset.



---

On-Demand Webinar: Salient-sponsored Security Today DemoCast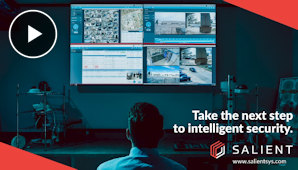 While COVID-19 might be grabbing up the headlines, the need for security products and services continues. The Security Today DemoCast collects several new compelling products and demos into a single online event.

See CompleteView 20/20 VMS in action and learn about:

● What separates CompleteView 20/20 VMS from the rest
● Features such as QuickReview, Search by List, Thumbnail Search, Timeline Search
● BriefCam Video Synopsis, and more
salientsys.com
More from Salient:
● Understanding Video Management Systems: The essentials of video security recording technology
● Looking to the Future: Security tech trends to watch

ISC East 2020 In-Person Event Has Been Cancelled


ISC East 2020, scheduled for Nov. 18-19, 2020, in New York City, has been canceled due to the ongoing impact of COVID-19 and continued restrictions on large events. While we cannot convene in person for 2020, Reed Exhibitions, along with Premier Sponsor SIA (Security Industry Association), announced that ISC East in partnership with ASIS NYC Chapter, will collaborate to host a virtual event on Nov. 18. The ISC East 2021 event will take place at the Javits Center on Nov. 17-18, 2021. isceast.com

---

COVID Update
US: Over 6.2M Cases - 189K Dead - 3.5M Recovered
Worldwide: Over 26M Cases - 863K Dead - 18.2M Recovered

Private Industry Security Guard Deaths: 186 Law Enforcement Officer Deaths: 101
*Red indicates change in total deaths

"Don't Ask, Don't Tell" COVID Policies
Covid Gag Rules at U.S. Companies Are Putting Everyone at Risk

Employees say the biggest names in American business have banned them from alerting others to coronavirus outbreaks; and OSHA is turning a blind eye.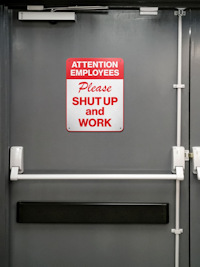 In the past few months, U.S. businesses have been on a silencing spree. Hundreds of U.S. employers across a wide range of industries have told workers not to share information about Covid-19 cases or even raise concerns about the virus, or have retaliated against workers for doing those things, according to workplace complaints filed with the NLRB and the Occupational Safety and Health Administration (OSHA).

Workers at Amazon.com, Cargill, McDonald's, and Target say they were told to keep Covid cases quiet. The same sort of gagging has been alleged in OSHA complaints against Smithfield Foods, Urban Outfitters, and General Electric. In an email viewed by Bloomberg Businessweek, Delta Air Lines told its 25,000 flight attendants to "please refrain from notifying other crew members on your own" about any Covid symptoms or diagnoses. At Recreational Equipment Inc., an employee texted colleagues to say he'd tested positive and that "I was told not to tell anybody" and "to not post or say anything on social media." One complaint says trailer manufacturer Great Dane LP set as its policy "Don't ask, don't tell."

Amazon, McDonald's, and Target dispute the allegations. REI says it doesn't prohibit employees from, or punish them for, raising concerns or discussing their own health. General Electric Co. says it hasn't threatened employees for discussing Covid-related concerns, and Delta says it hasn't punished staff for sharing diagnoses. Smithfield Foods Inc. says its policy "is the opposite of the allegations in the complaint." Urban Outfitters Inc. says it encourages employees to report concerns and that OSHA has found no wrongdoing on its part. Cargill Inc. says it considers health information private. And Great Dane denied requests to comment.

In many cases, workers say their bosses have cited employee privacy to justify the gags, including federal privacy laws such as the Health Insurance Portability and Accountability Act of 1996. But such laws don't require companies to silence employees on safety matters.

On the contrary, federal laws, including those that created OSHA and the NLRB, guarantee employees the right to communicate about and protest their job conditions. The federal bodies have failed to make companies obey the law. Many thousands of OSHA complaints about coronavirus safety issues have yielded citations against just two companies - a health-care company and a nursing home - totaling about $47,000.

Employer crackdowns on free speech threaten to mask another wave of Covid infections and make the end of the year far deadlier than it otherwise might be. "In many places, workplace exposures are driving the pandemic," says epidemiologist David Michaels, who ran OSHA under President Obama and is now a professor at George Washington University. "To stop this pandemic, workers need to be listened to rather than silenced." bloomberg.com

CVS Employees Allege 'Pattern of Bullying', Safety Concerns
Georgia: CVS District Leader instructed pharmacy staff not to tell patients their medications were filled by someone who tested positive for COVID-19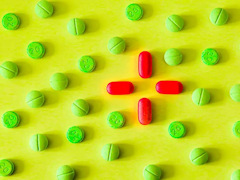 A leaked email revealed a CVS district leader instructed employees not to tell patients that their medications had been filled by someone who tested positive for COVID-19.

A Georgia CVS technician shared the internal email with Business Insider. The email from the district leader asked employees to track down which prescriptions were filled by a COVID-19-positive employee and pull them from the shelves. However, if a patient had already picked up one of those prescriptions, the standard policy was to "NOT make an outreach call."

The technician said workers were threatened with disciplinary action or termination if they told customers that someone in the store had tested positive for COVID-19.

CVS spokesperson Michael DeAngelis told Business Insider, "It is not our policy to prohibit our pharmacies from informing patients if their prescription was filled when an employee who tested positive for COVID-19 worked in the pharmacy."

At least 14 CVS employees across the country have reached out to Business Insider and said CVS has a pattern of "bullying" staff, as well as flagrantly disregarding the safety of both staff and customers. Business Insider granted anonymity to all sources over job-security concerns and confirmed their identities.

Staffers said CVS has ignored incidents of potential coronavirus exposure. After the Georgia technician's coworker showed symptoms and tested positive, staff who'd worked in close proximity with the coworker were instructed not to get tested "because they couldn't have anyone else out of work," the technician said. businessinsider.com

Retail Eviction Proceedings Pick Up as Economy Restarts
Proceedings for the eviction of retail tenants are picking up across the country as courts reopen and states' moratoriums on evictions are expiring or getting curtailed as the economy reopens.

While overall retail rent collections have improved to 77% in July from around 54% in April, some tenants, particularly from the apparel, fitness and theater categories, have continued to struggle with payments, according to real-estate data from Datex Property Solutions. wsj.com

NRF: Pandemic remains a 'shock' for small businesses
The National Retail Federation warned that disruption from the COVID-19 pandemic hasn't ended for small retailers, whose owners are "increasingly pessimistic." The trade association also called for continued economic stimulus measures to help small businesses suffering from the pandemic fallout.

"The coronavirus continues as a shock to America's small employers," NRF Chief Economist Jack Kleinhenz said in a press release. "Small businesses are the backbone of American ingenuity and impact local economies in cities and towns across the country, but responses to recent surveys highlight the fragility of many small business enterprises and the importance of the need for well-tailored economic policy." nrf.com
---

Protests & Violence

Operation LeGend Results in 355 Arrests, Including 33 Murder Suspects


U.S. Attorney Tim Garrison announced today that 355 arrests have been made and 122 firearms seized by local and federal law enforcement officers in Operation LeGend.

Among those arrested since the launch of the operation, 88 are federal defendants in the Western District of Missouri and 21 are federal defendants in Kansas (18) and Texas (3). Among the remaining 246 arrests, 33 were homicide cases and 62 were fugitives with either state or federal warrants for their arrest. The remaining 151 non-fugitive arrests were either supervised release violators or were referred for prosecution in state court. justice.gov

DOJ investigates protest leaders, funding in Portland and other cities
The Justice Department has launched a criminal inquiry into the leadership and financing of protests against police abuse that have roiled American cities as the protest movement has become a political flashpoint in the contentious presidential campaign.

Federal authorities asserted Tuesday that they are not targeting free speech rights, but rather "coordinated, criminal activity ... and violence related to riots, destruction of federal property and violence against law enforcement officers."

The acknowledgement by the Justice Department followed remarks by Acting Homeland Security Secretary Chad Wolf, who late Monday first disclosed the inquiry as "targeting" leaders of organizations and those who may be funding their movement "across the country." usatoday.com

LA: Protests continue over deputies' fatal shooting of Black man stopped on bike
Protesters marched on Tuesday for the second day in a row from the scene where a Black man was fatally shot by deputies to a Los Angeles County Sheriff's office, demanding answers over the latest deadly encounter between police and a Black American. The sheriff's office has said Dijon Kizzee was stopped for riding his bicycle in violation of vehicle codes, tried to run away, and was then shot after dropping a bundle of items that included a handgun. But with no body cameras in use by the deputies and no cell phone video yet to surface, activists say the public is being asked to take the sheriff's department's account of the incident at face value, and given the recent spate of fatal police encounters with Black men, protesters are once again claiming injustice. cbsnews.com

Nearly 100 Days of Unrest in Portland
Portland Police Chief: Violent protests come 'at increased cost'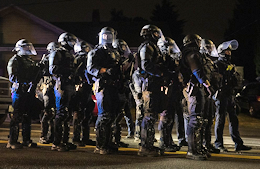 Portland's police chief has denounced protesters who broke windows and set a fire to a business in the upscale apartment building where Mayor Ted Wheeler lives, labeling the events an escalation in the street violence that Oregon's largest city has endured for months.

The demonstration began late Monday and stretched into the predawn hours of Tuesday, targeting Wheeler, who is also police commissioner and has been criticized for heading up a police force that has repeatedly used tear gas against the demonstrators.

Portland Police Chief Chuck Lovell said the demonstrators also wound up targeting other people who live in Wheeler's building and have had nothing to do with the protests. Previously, the demonstrators have almost always clashed with police outside symbols of authority - police buildings and courthouses. apnews.com

Portland Mayor Ted Wheeler moving to avoid rioters targeting his home

Photos show devastation in riot-torn Kenosha, Wisconsin

---

Retailers Join 'Time to Vote' Movement
Walmart, Best Buy, Patagonia giving workers time off on Nov. 3 to vote
The US has one of the lowest voter turnout rates among developed countries. According to the Pew Research Center, 56% of those who were eligible to vote cast their ballots in the 2016 presidential election. Though there may be a number of reasons for citizens not voting, a growing number of companies are joining a movement that's aiming to ensure that work schedules and demands are not among them come November 3.

Through the "Time to Vote" campaign, a nonpartisan movement begun by Patagonia, Levi Strauss, and PayPal, more companies are making public commitments to giving their employees time to vote. More than 700 companies have joined the movement so far.

Here are some of the retailers and consumer companies that have added their name to the list and shared specific plans about how they're empowering their employees to vote:
● Walmart
● Gap Inc.
● Patagonia
● Levi Strauss
● J. Crew

● Apple
● Best Buy
● Nike
● VF Corporation
● Starbucks

● Everlane
● Sweetgreen
● Ben & Jerry's

businessinsider.com
Old Navy to pay store employees to work election polls in November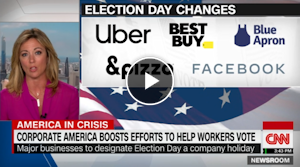 With Election Day on the horizon, many companies are giving their employees the day off to vote. But Old Navy is taking a different approach to get employees involved in the democratic process. The retailer announced on Tuesday that it will pay store employees for eight hours who serve as poll workers for the 2020 election. The company said employees "will also be eligible for compensation from their local jurisdiction."

Old Navy, which is owned by Gap (GPS) and has 50,000 field employees across more than 1,000 stores, is partnering with the Civic Alliance and Power the Polls to recruit 250,000 new poll workers to "ensure polling sites stay open and operate efficiently across the country." cnn.com

'Dash Cart' Wipes Out Cashiers
With Amazon's Fresh store, the autonomous checkout wars have begun

Retailers are racing to find ways to take cashiers completely out of the picture.



The new brick and mortar concept boasts a slew of high-tech features, including an autonomous checkout tools that lets customers put items into a smart shopping cart (called Dash Cart) that tracks and tallies the items so they don't have to checkout.

Standard Cognition, autonomous checkout solution provider, co-founder and CEO Jordan Fisher told Modern Retail that the startup has experienced "an influx of inbound inquiries" for its services from both large and independent retailers, mostly in the drugstore and convenience area, over the past few months.

The cashier-less technology may also be used at Amazon-owned Whole Foods locations as early as 2021, according to the New York Post. Amazon is reportedly trying to get the autonomous checkout technology ready to be deployed in grocery stores in the next few months. modernretail.com

Race for Cashierless Checkout Heats Up
Giant Eagle GetGo debuts checkout-free store
Tech startup Grabango (Gra-ban-go) has heated up the race for faster retailing by debuting its checkout-free technology at a Pittsburgh convenience store, becoming one of the first outlets to allow shoppers to skip the line at an existing store. Giant Eagle GetGo, a 3,000 square foot store located on the busy Route 28, began using the technology on Tuesday, giving shoppers the chance to choose items they want to buy, scan their phone at the exit and walk out without waiting in line.

The switch is a milestone for the technology, which has mostly been limited to new or remodeled stores powered by Amazon and several other startups, and comes after a year of stealth-mode testing. forbes.com

Neiman Marcus adds 3 stores to closure count

Macy's plans rollout of smaller stores away from malls

Amazon's new NYC Whole Foods Market is basically an Amazon warehouse

Casey's General Stores rolls out curbside pickup

J.Jill avoids bankruptcy - for 10 more days

*Publishing Note: Our weekly LP Newswire email will not be published this week, and will resume publication next Thursday.


Quarterly Results
At Home Q2 comp's up 42.3%, net sales up 50.5%
Shoe Carnival Q2 comp's up 12.6%, e-commerce sales up 332%
Macy's Q2 comp's down 34.7%, net sales down 36%, e-commerce sales up 53%
Build-A-Bear Workshop revenue down 49%, e-commerce sales up 299%


---

Senior LP Job Postings Removed from Website:
• Dir. of LP - 10 Spot/MadRag - North Bergen, NJ
• Security Dir. - Southern Glazer's Wine & Spirits - St. Louis, MO
• Dir. AP - Stop & Shop - Quincy, MA

---
Glendale, CA: Multi-Agency Task Force Arrest Two For Alleged Identity Theft
Two men (Juan Perez and Uriel Martinez), were arrested by Glendale police and the Eurasian Organized Crime Task Force for alleged multiple counts of identity theft, police announced Tuesday. Their alleged crime spree, which reportedly involved the use of counterfeit bank cards and the theft of diesel fuel, came to light after a Glendale resident contacted police about some fraudulent charges made to the resident's credit card, Hauptmann said. One of the credit cards that Perez allegedly used belonged to an FBI agent whose government credit card was skimmed at the Glendale gas stations.

Perez and Martinez were eventually stopped at the Rosemead station, where detectives allegedly found about 30 counterfeit bank access cards in Perez' possession. Martinez was allegedly found to be holding 75 bank cards. A search warrant was then served on Perez's residence where an addition 100 fraudulent cards, a credit card/reader writer and a laptop computer were found and seized by detectives, authorities said. mynewsla.com

Spring Hill, FL: Miami couple used fake IDs to buy $20K worth of cell phones
at Verizon
A Miami couple is facing charges of fraud after deputies say they used fake IDs to buy numerous cell phones. Security personnel contacted Hernando County Sheriff's deputies about a possible identity theft at a Verizon store in Spring Hill. They told deputies an employee at the store was helping Joshua Lorenzo, 22, and Jolena Montano, 21, get numerous cell phones using fake IDs. Deputies say they arrested Lorenzo and Montano at the Verizon retailer when they arrived to pick up the phones. Deputies say the couple lives in Miami. Lorenzo was charged with grand theft over $20,000, organized fraud over $20,000, criminal use of personal identification information and unlawful use of a two-way communication device. Montano was charged with organized fraud over $20,000. Pending further investigation, deputies say the employee will likely face organized fraud charges as well. wtsp.com

Montgomery County, MD: Montgomery Police Officers Charge Three Suspects with Home Depot Theft and Stolen Vehicle Offenses
On Tuesday, August 25, 4th District officers responded to the Home Depot for the report of a shoplifting that had just occurred. Home Depot loss prevention personnel stated to police dispatchers that one suspect had stolen approximately $1,800 worth of merchandise from the store and that this suspect was currently inside a pick-up truck in the store parking lot. A Police check showed that the vehicle that the suspect was in had been reported as stolen from Anne Arundel County. Upon arrival, officers located the suspect's truck in the parking lot. Officers observed two suspects sitting inside the truck and a third suspect placing property, that was later determined to have been stolen from the Home Depot, into the bed of the truck. stl.news

Hoboken, NJ: Walgreen Shoplifter fights with Staff, stealing $1,000 of cosmetics
Just after 6:30 p.m., Officers Harold Milne and Enrico Gnassi responded to a robbery in progress at Walgreens on 1st & Washington and were able to detain Contey, who was seen shoplifting approximately $1000 worth of cosmetics. As he was leaving with the items, he was confronted by Walgreens employees and attempted to fight his way out of the store. Despite the physical altercation, no one was injured. tapinto.net

Shootings & Deaths
Jacksonville, FL: Double shooting outside Jacksonville gas station leaves 1 dead
Investigators said they don't know if a robbery or an argument led up to the shooting. They have no suspect information as they search for security camera video for possible evidence. jacksonville.com

Buffalo, NY: Update: Ex-boyfriend pleads guilty to killing woman inside McKinley Mall
The ex-boyfriend of a woman who was fatally stabbed inside an upstate New York mall pleaded guilty Tuesday to her murder. Prosecutors said Keith Sparks killed Mallicia Tipps inside the Sears store at the McKinley Mall in suburban Buffalo in September 2019. Sparks was arrested later that night at his Niagara Falls home. Police said at the time of Sparks' arrest that he followed Tipps' vehicle to the mall and chased Tipps and her friend from the parking lot into the store, where he stabbed her several times. The 38-year-old victim died at the scene. washingtontimes.com

Joliet, IL: 2 Dead In Will County Liquor Store Shooting
Two people died Tuesday night in a shooting in Joliet's unincorporated Ingalls Park, and the Will County Sheriff's Office blanketed the area investigating the violent crime. The slayings happened at the Ingalls Park Liquor Store. Sheriff's investigators and crime scene evidence technicians were out in force. Will County Sheriff's Office Chief Deputy Sheriff Dan Jungles said the deadly shootings happened at 8:42 p.m. Late Tuesday night, Jungles confirmed that two victims had died. patch.com
Wallkill, TX: Valero employee shot while chasing shoplifters
On Monday, August 31, at 11:50 pm, Wallkill Police responded to reports of "shots fired" at the Valero gas station at 28 Carpenter Avenue in the town. Responding officers found the victim, a 19-year-old male employee of Valero with a gunshot wound to his left arm. The employee, a resident of the Town of Wallkill, was transported to Garnet Health Medical Center, where he is listed in stable condition. The victim told detectives that he was chasing several individuals who were shoplifting when one of the subjects shot him. midhudsonnews.com
Jacksonville, FL: At least 2 shot in overnight car shooting near Regency Square Mall
An early Wednesday shooting near the Regency Square mall resulted in one man killed and another person wounded, according to the Jacksonville Sheriff's Office. Officers getting off shift at the police substation at the mall heard gunshots about 1:30 a.m. and rushed over to find a victim in a car on Atlantic Boulevard near Monument Road suffering from multiple gunshot wounds. The Sheriff's Office said the man isn't expected to survive. jacksonville.com

---

Robberies, Incidents & Thefts
Allen Park, MI: Woman attempts to rob Allen Park Del Taco at drive-thru;
threatens to 'start shooting'
A woman who attempted to rob a fast food restaurant through the drive-thru lane was thwarted in her attempt, as an employee locked the window and called police. The attempted robbery occurred during the one hour each day that the restaurant is closed for cleaning. A 911 call was made at approximately 4:15 a.m. Aug. 28 at Del Taco on Southfield Road. thenewsherald.com

Santa Ana, CA: Robbery Crew Targeted Traveling Jewelry Salespeople; The ringleader has been sentenced to 45 months in prison
The ringleader of a robbery crew that targeted traveling jewelry salespeople, following them for many miles at times and inflicting at least $835,000 in losses, was sentenced to 45 months in federal prison. Federico Santiago Quiroz Lucca, 52, also known as Christian Sergio Alessandro Hernandez Valenzuela, of Los Angeles, was also ordered to pay $835,000 in restitution, the U.S. Attorney's Office said in a press release. He was sentenced by U.S. District Judge James V. Selna. instoremag.com

Baltimore, MD: Man Sentenced To Over 6 Years In Federal Prison For String Of Video Game Store Robberies
A Baltimore man was sentenced to over six years in federal prison for a string of video game store robberies in 2018. Stewart Williams, 37, was sentenced to 77 months in federal prison for a federal robbery charge in connection with a series of four robberies of video game stores committed over a 12-day period. baltimore.cbslocal.com

Pakistan International Airlines (PIA) terminated services of 74 employees on various charges, including submitting fake or tempered degrees, sabotaging company property, taking bribe and for their involvement in theft and smuggling of narcotics, during August

---

Fire/Arson
Clay, NY: Amazon Distribution Center not damaged by 3rd-floor fire
A third-floor fire at the construction site soon to be an Amazon distribution center did not damage the facility, according to an Onondaga County officials. Firefighters with the Moyers Corners and Liverpool fire departments responded to the fire at 8:40 p.m., according to dispatch logs. The fire was minor and accidental, said county spokesman Justin Sayles. syracuse.com

Salt Lake City, UT: Woman suspected of starting fire at store in attempt to steal cart full of groceries
A woman is in the Salt Lake County Jail following an attempted arson and theft Monday night at a local grocery store. It happened at the Smith's Marketplace in Millcreek. Investigators don't know yet what the suspect's motivation or mindset were at the time, but the fire didn't last very long, no one was injured and she's now in custody. fox13now.com