3xLOGIC Announces VIGIL v11.5 Server Software Release

Impressive array of new features and functions plus integration with company's new line of VISIX Gen III cameras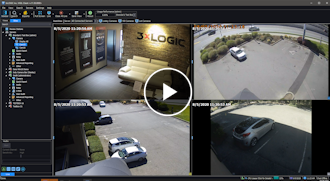 3xLOGIC, Inc., a leading provider of integrated, intelligent security solutions today announced release of the latest iteration of its highly-popular VIGIL Server Software, version 11.5. See a VIGIL 11.5 video overview here.

VIGIL Server software, now 64-bit, is the core around which all other 3xLOGIC applications are built. The Easy Setup Wizard guides installation, so you're up and running in minutes. VIGIL Server utilizes proprietary 3xLOGIC RapidStream Technology and Substream Motion Detection capabilities to provide high resolution over low bandwidth networks. Also, the new 64-bit architecture means customers are no longer limited to 32 cameras per server. Read More Here

---

Peace Restored on 4th Night of Kenosha Protests




'Riot Police Nowhere to be Found'
Kenosha peaceful on fourth night of protests as riot police & armed militias stay away after deadly shooting
One day after police say a 17-year-old shot and killed two protesters and seriously wounded another in Kenosha, Wis., a fourth consecutive night of protests over the police shooting of Jacob Blake was smaller and mostly peaceful. Both police and the self-declared militia members who were ever-present on Tuesday mostly stayed away from protesters Wednesday night.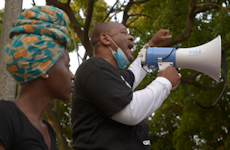 The night's demonstrations began hours after authorities named Rusten Sheskey as the officer who shot Blake, and announced an arrest and homicide charges for 17-year-old Kyle Rittenhouse, who attended the protest with a group of armed men who claimed to be protecting a gas station. Sheskey, who is on administrative leave, has not been charged.

On Wednesday night, a group of about 60 to 100 people gathered in a park that's surrounded by the courthouse and other government buildings. The group chanted, and some people spray-painted art promoting peace and healing on the sidewalk. Although an eight-foot-high fence guarded the courthouse, the riot police who repeatedly fired tear gas at protesters Tuesday were nowhere to be found.

Tuesday's night's violence prompted the White House to authorize sending 2,000 National Guard troops from other states to Wisconsin. President Donald Trump said Wednesday in a series of tweets that "federal law enforcement and the National Guard" will be sent to Kenosha to restore law and order.

The Wisconsin National Guard already has 10,000 troops. Gov. Tony Evers on Tuesday ordered 250 to Kenosha. He doubled the number Wednesday. washingtonpost.com usatoday.com

Facebook Ignores Kenosha Militia Group's 'Call to Arms'
Facebook initially failed to remove a Kenosha militia page despite complaints

Once again, the company is facing criticism for letting people incite violence on its platform.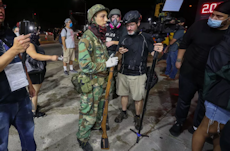 Facebook didn't take heed when its users sounded the alarm about a militia group issuing a "call to arms" on its platform. That call to arms came before the violence in Kenosha, Wisconsin, on Tuesday night, which left two people dead and one injured, according to a new report.

Before the shooting, at least two Facebook users flagged a page called "Kenosha Guard" for inciting violence, according to The Verge. But the company told users that the page did not meet the company's criteria for removal. On Wednesday morning, after violence at the protests already broke out - and armed militia groups took to the streets - Facebook ended up taking down the page for violating its policies on dangerous groups. vox.com

17-year-old charged with homicide after shooting during Kenosha protests, authorities say
The shooting came as self-declared militia members and armed counterprotesters have appeared in the city, which is reeling from days of unrest. Authorities have not said whether Rittenhouse is a member of any of the groups.

Armed civilians - many wielding AR-15-style rifles - took position near stores and businesses saying they intended to fill a vacuum left by a law enforcement. Some had stood near the gas station where Tuesday night's shooting began with a confrontation just before midnight. washingtonpost.com

Justice Dept. to Open Investigation Into Kenosha Shooting

NBA, WNBA, MLB and MLS games called off as players boycott in response to Kenosha
police shooting of Jacob Blake

Peaceful Marches and Armored Vehicles: Scenes From Kenosha Protests


Other Protest News Around the U.S.

Police Chief: "We Have to Restore Peace and Order"
Minneapolis sets citywide curfew for 8 p.m. Thursday night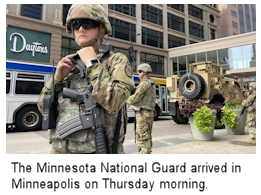 Minneapolis officials on Thursday drew a distinction between the people who looted stores and burned businesses Wednesday night and those who protested peacefully after George Floyd's death.

Minneapolis Police Chief Medaria Arradondo said, "We will have a presence again around the entire city and continue to be in constant communication."

He said two officers were injured Wednesday night.

He added: "You will see a presence out there but we have to turn the tide here in our city and I'm determined that we do that. We have to restore peace and order." startribune.com

Task force announces several dozen arrests tied to recent massive protests in L.A. County
The SAFE LA task force includes the local police chiefs, FBI agents, L.A. County Sheriff's commanders and U.S. Department of Justice prosecutors. A tally of the arrest numbers the chiefs released Wednesday adds up to 56 so far: Los Angeles police have arrested 14, Long Beach arrested 23 and Santa Monica arrested 19. dailynews.com

Many California police reform efforts have stalled despite push from George Floyd protests

Demonstrations flare in Gresham, Portland Wednesday night; 11 arrests but no riot declared

FBI expands investigations into violence during Portland protests

Louisville community leaders criticize police response to Tuesday protest

Suspect arrested in connection with fire at Seattle's East Precinct taken into federal custody

Op-ed: Anti-cop rioting devastates the very communities it pretends to defend

---

COVID Update
US: Over 6M Cases - 183K Dead - 3.3M Recovered
Worldwide: Over 24.3M Cases - 830K Dead - 16.9M Recovered

Private Industry Security Guard Deaths: 186 Law Enforcement Officer Deaths: 93
*Red indicates change in total deaths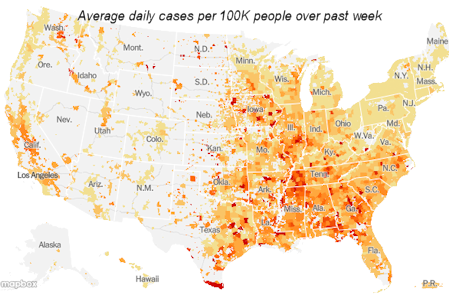 Mitigation Measures Showing Effects
Here Comes Fall
US faces long road on COVID-19 amid signs of improvement
Coronavirus cases nationally are falling from their July peaks and some hard-hit states are showing signs of improvement, a hopeful sign even as the country deals with about 1,000 COVID-19 deaths every day. The positive news is still dwarfed by the negative reality of the pandemic's hold over the country.

Though the situation is not as bad as it was in July, when cases peaked around 70,000 per day, the virus is still circulating around United States at a very high level, with around 40,000 new cases per day.

Governors in many of the hardest-hit states, such as Arizona, Florida and Texas, after initially resisting action, put in place measures like closing bars and allowing local mask mandates, steps that experts say have helped those states improve.

Experts stressed that some of the improvement is from people starting to take the virus more seriously and more widespread mask wearing, after early mixed signals on that front, and that any complacency or letting up could cause another spike.

Another major question is how bad the fall will be. The coming flu season combining with the coronavirus, as students go back to school and colder weather forces more activity indoors into tighter spaces, has led to fears of another resurgence.

"Just because we're starting to see a decline doesn't mean that we've passed the point that we can start loosening those restrictions." thehill.com

COVID Safety Measures Work Against Flu Too!
Southern Hemisphere's Winter "Flu Season Knocked Down"
As flu season nears, some health experts brace for a 'twindemic'
"This could be one of the worst seasons we've had from a public health perspective, with COVID and flu coming together. But it also could be one of the best flu seasons we've had," said Dr. Robert Redfield, director of the U.S. Centers for Disease Control and Prevention.


U.S. health officials are pushing Americans to get vaccinated against the flu in record numbers this fall, so hospitals aren't overwhelmed with a dueling "twindemic."

It's also becoming clear that wearing masks, avoiding crowds and keeping your distance are protections that are "not specific for COVID. They're going to work for any respiratory virus," Redfield said.

The evidence: Ordinarily, South Africa sees widespread influenza during the Southern Hemisphere's winter months of May through August. This year, testing tracked by the country's National Institute of Communicable Diseases is finding almost none. That's unprecedented. latimes.com

CDC director walks back change in coronavirus testing guidelines

Fauci Disagreed with Updated CDC Testing Guidelines


3 workplace COVID-19 trends that are likely here to stay

Increased attention to safety is here to stay

Employers also may see additional attention from the Occupational Safety and Health Administration and the National Labor Relations Board, Holstein and Robertson noted.

"OSHA is not all hard hats," said Holstein; "there's more to workplace safety." OSHA can and is regulating cleaning, social distancing and more to keep employees safe from COVID-19 exposure in the workplace, she said.

What's more, because the agency has been criticized for declining to issue emergency standards and instead favoring recommendations, state and local governments have filled that void, Robertson said; "And you're ending up with this crazy patchwork. You're ending up with a huge amount of regulation at the state and local level."

Telework as an accommodation & Expanded paid leave access hrdive.com

Lakeview, Ore., Only pharmacy in 90-mile radius fined $10K fine not requiring masks

Virginia Is First To Have Coronavirus Workplace Safety Standards

NY New Program: Awarding Businesses For Purchase of PPE - $500 Workers' Comp Credit

World Back to Work Offers Free Audits of Return-to-Work Strategy

OSHA Offers Free COVID-19 Posters & Print Resources

UK Government's Working Safely Retail Guidance During COVID-19

---

Hurricane Laura Hits Gulf Coast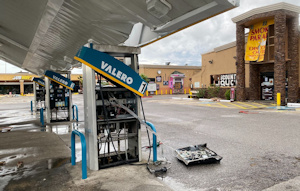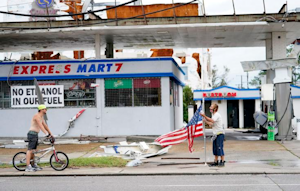 Hurricane Laura strikes Louisiana as Category 4 storm, battering Lake Charles area and bringing flood threat

Hundreds of thousands without power after 150 mph winds slam the gulf coast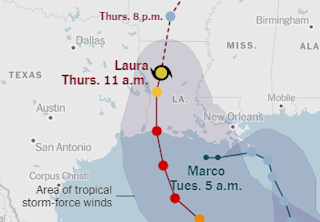 Hurricane Laura caused extensive damage in Lake Charles after making landfall early Thursday in southwest Louisiana as a Category 4 hurricane. Windows were blown out, roofs were peeled off and a storm surge flooded many roads and homes. Brandon Clement, a storm chaser with Live Storms Media, used a drone to survey the damage in Lake Charles after Hurricane Laura roared through the city.

The storm made landfall early Thursday as a Category 4 hurricane, with sustained winds of 150 m.p.h., and weakened steadily as it swept inland. Hundreds of thousands of people were without power. nola.com

Storm surge may last for another day
The storm surge in southern Louisiana and the Lake Charles area may last for another day, while hurricane-force winds reach north to the border of Louisiana and Arkansas, the director of the National Hurricane Center, Ken Graham, said early Thursday. nytimes.com

14-year-old first Louisiana Hurricane Laura death; images of damage surface

Texas officials say the state has suffered less destruction than they had dreaded

---

Cartel Used Dallas Retailer to Launder $10M in Drug Money
28 Charged in Cartel Money Laundering Scheme


A Mexican cartel boss and 27 coconspirators have been charged with laundering more than $10 million in drug proceeds through a local clothing retailer.

A federal grand jury charged 28 individuals connected to Cartel Jalisco Nueva Generacion - one of Mexico's most violent and powerful drug cartels - with conspiracy to launder monetary instruments and other financial, drug, and gun crimes, including conspiracy to distribute methamphetamine, conspiracy to distribute heroin, and possession of a firearm by an undocumented alien.

According to court documents, Jose Valdovinos Jimenez, a plaza boss who goes by "La Roca" or "The Rock," allegedly conspired with his codefendants to smuggle hundreds of kilograms of methamphetamine and heroin across the Mexican border, distribute the drugs within the United States, launder the proceeds, and then transfer the money back to CJNG leaders.

At Mr. Jimenez's direction, mid- and upper-level dealers transported drug proceeds to Yoli's Western Wear, a clothing retailer located on Buckner Boulevard in Dallas. The 23-year-old manager of Yoli's, Ivan Noe Valerio, and his family members then counted the money and separated it into thousands of transactions, sending it through a money remitter back to CJNG in Mexico.

If convicted, Mr. Jimenez and Mr. Valero face life in federal prison.

During the course of this investigation, agents seized approximately 700 kilograms of methamphetamine, approximately 80 kilograms of heroin, and approximately $500,000 in drug proceeds. Dozens of the charged defendants have already been arrested. justice.gov

Shopping Centers & Independent Stores?
California firestorm could claim more than 3,000 homes and structures
Nearly 2,000 structures have been destroyed by the historic fires sweeping across Northern California, but officials say that number could almost double before the blazes are extinguished.
latimes.com

Victoria's Secret's 'Sex Trafficking Tags' Video's Go Viral - 3M Hearts on TikTok
Victoria's Secret responds to viral videos claiming its bras track customers
Victoria's Secret has responded to a wave of videos circulating on social media claiming that the company has implanted chips inside bras to track customers. One TikTok video in June generated nearly three million hearts, and there now more than a dozen YouTube videos making this claim. Some conspiracy theorists have even referred to these trackers as "sex trafficking tags."

According to Victoria's Secret, these are simply RFID tags, which are commonly used in the fashion industry to track and manage inventory throughout the supply chain. In a statement provided to Fast Company, a spokeswoman for the company said: "Like many other retailers, this technology helps us deliver a great store experience by ensuring we have the right products available for our customers. We only use this technology in our back room and sales floors to help us manage inventory so that our associates can efficiently support our customers' needs."

The claim is not new, but it seems to have found new life this week with recently posted videos, some of which have attracted thousands of views on YouTube.

This is just the latest scandal Victoria's Secret has found itself in over the past few months and years. In February, the New York Times published an exposé about the toxic workplace culture at the company. Last year, the Times revealed how Jeffrey Epstein, the disgraced financier who committed suicide in prison, used his relationship with Victoria's Secret's founder to lure women and abuse them. fastcompany.com



Introducing The Amazon Fresh Grocery Store
Amazon's New Grocery Format Unveiled Today in Woodland Hills

Upcoming locations include three more in California and three in Chicago area

Amazon Fresh The 35,000-square-foot store. supermarketnews.com

---

Senior LP & AP Jobs Market

CVS Health Asset Protection Director - RI, MA, CT, NH, ME, NY Posted in Lincoln, RI
As the Field Divisional Asset Protection Director you will be responsible for all aspects of Asset Protection for a specified retail division within CVS. cvshealth.com



Director Of Loss Prevention job posted for Surf Style Retail Management in Hollywood, FL
The primary purpose of this position is to direct all Loss Prevention activities for Surf Style Stores and Distribution Centers. linkedin.com

---

Nike Shuts Down 9 Wholesale Accounts to Focus on DTC Themselves

Retail bankruptcies subside, but will return with a vengeance in Q1 2021

Dollar General to Open 1,000 New Stores in 2020

Fast-Food & Fast-Casual's 30% Nosedive & The Race for the Perfect Drive-Through

Judge Approves $47.7M in Retention Bonuses For 4,243 J.C. Penney Employees

Ruby Tuesday's Closing 150 Restaurants So Far Without Warning Staff

Lord & Taylor Liquidates All Stores


Quarterly Results
Dollar General Q2 comp's up 18.8%, total sales up 24.4%
Williams Sonoma Q2 comp's up 10.5%, e-commerce up 48%, net sales up 9%
Dollar Tree Q2 comp's up 7.2%, Family Dollar comp's up 11.6%, Dollar Tree comp's up 3.1%, net sales up 9.4%
Tiffany Q2 comp's down 24%, e-commerce up 123%, sales down 29%
Chico's Q2 net sales down 39.8%
Express Inc. Q2 comp's down 24%, net sales down 48%
Nordstrom Q2 net sales down 53%


Featured Job Spotlights




District Loss Prevention Manager
Fort Wayne, IN - posted August 24
The District Loss Prevention Manager ensures shrinkage control and improves safety in the stores through proper investigation and training. This position is responsible to provide feedback, guidance and protection for our Team Leaders and Associates. This role has oversight and responsibility for approximately 16 to 20 store locations...



Senior Asset Protection Specialist
Santa Monica, CA - posted August 6
The Senior Asset Protections Specialist contributes to REI's success by mitigating and reducing shrink (including theft and fraud by customers and employees) and increasing physical security for people and products in a specified retail store...




Asset Protection, Retail Safety and Security Specialist
Bellevue, WA - posted August 6
This job contributes to REI's success by ensuring the security and safety of your store team and members by providing a presence on REI property and at events. Activities include but are not limited to: fostering partnerships with staff and taking action to address shrink and security...



Division Safety and Loss Prevention Manager
Houston, TX - posted July 28
Under the guidance of the Directors of Loss Prevention (LP) and Health, Safety and Environment (HSE), the Loss Prevention & Safety Manager is responsible for overseeing and championing initiatives and company programs, processes and controls that builds a culture around continuous improvement in safety/environment incidents, loss prevention, and security outcomes...



VP - Loss Prevention
San Francisco, CA - posted August 24
The Vice President, Old Navy Loss Prevention will develop and lead the Loss Prevention and Safeness strategies and teams to protect the Old Navy organizations 1200+ stores, located in 3 countries, supported by 54,000+ employees who deliver approximately $8 billion USD in annual sales...



Senior Dir. of Safety & Loss Prevention
Atlanta, GA - posted August 25
This position is responsible for analyzing safety, shrink and total profit trends and exposures throughout the company. In addition, it is responsible for developing and implementing strategies to address them. The Divisional Safety & Loss Prevention Directors will dotted line report into this position...

Featured Jobs

To apply to any of today's Featured Jobs, Click Here