ADT Commercial Acquires Denver-Based Key-Rite Security



ADT Commercial, provider of commercial security, fire, life safety, and risk consulting services in the U.S., continues its strategic M&A strategy to expand its nationwide geographic footprint with today's announcement that it has purchased Key-Rite Security, based out of Denver, Colo.

"We're extremely excited to welcome the talented members at Key-Rite Security to the ADT Commercial family and to expand our service coverage and offerings across the state of Colorado. For decades, Key-Rite has shown the same passion for service excellence and integrity that is at the core of ADT Commercial, and we look forward to success and growth they'll bring to our organization," said Dan Bresingham, executive vice president, commercial, ADT.

Since 1975, Key-Rite Security has been a locally owned and operated security provider specializing in access control, surveillance, intrusion, and intercom systems for a wide range of commercial environments in the state of Colorado and for customers across the U.S.

For more information about ADT Commercial's commercial security offerings, please visit https://www.adt.com/commercial.

---

The U.S. Crime Surge
The Retail Impact

Another Mass Shooting Tragedy Rocks the Retail Industry
Mass Shootings Up 127% - Security Guard Killed - DOJ Responds - Stores Become Top Target



Deadly Mass Shooting Erupts Inside Buffalo Supermarket
Buffalo, NY: 10 killed, 3 wounded in mass shooting at Tops Friendly Market store

Store security guard among those killed in a mass shooting motivated by racism

A teenage gunman entranced by a white supremacist ideology known as replacement theory opened fire at a supermarket in Buffalo on Saturday, methodically shooting and killing 10 people and injuring three more, almost all of them Black, in one of the deadliest racist massacres in recent American history.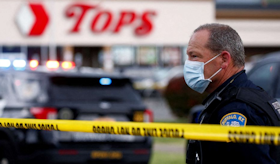 The authorities identified the gunman as 18-year-old Payton S. Gendron of Conklin, a small town in New York's rural Southern Tier. Mr. Gendron drove more than 200 miles to mount his attack, which he also livestreamed, the police said, a chilling video feed that appeared designed to promote his sinister agenda.

The attack, at a Tops Friendly Market in a largely Black neighborhood in east Buffalo, conjured grim comparisons to a series of other massacres motivated by racism, including the killing of nine Black parishioners at a church in Charleston, S.C., in 2015; an antisemitic rampage in a Pittsburgh synagogue in 2018 that left 11 people dead; and an attack at a Walmart in El Paso in 2019, where the man charged had expressed hatred of Latinos. More than 20 people died there.

In the Buffalo grocery store, where four employees were shot, the savagery and planning were evident: Mr. Gendron was armed with an assault weapon and wore body armor, the police said. And his preferred victims seemed clear as well: All told, 11 of the people shot were Black and two were white, the authorities said.

"It was a straight up racially motivated hate crime," John Garcia, the Erie County sheriff, said.

Based on what was written in the manifesto, the attack appeared to have been inspired by earlier massacres that were motivated by racial hatred, including a mosque shooting in New Zealand and the Walmart shooting in Texas, both in 2019.


The United States attorney in Buffalo, Trini E. Ross, said her office was also investigating the killings as federal hate crimes.

He shot four people in the parking lot, the Buffalo police commissioner, Joseph A. Gramaglia, said at the news conference, three of them fatally. When he entered the store and continued shooting, he encountered a security guard, a retired Buffalo police officer who returned fire. But Mr. Gendron was wearing heavy metal plating; he killed the guard and continued into the store, firing on shoppers and employees.

The 10 people killed in Buffalo represent the highest number of fatalities in a mass shooting in the United States this year, according to the Gun Violence Archive, which tracks them. Gun deaths reached the highest number ever recorded in the United States in 2020, the first year of the pandemic, surging by 35 percent, the Centers for Disease Control and Prevention reported on Tuesday. nytimes.com

Shooter Planned to Target Another Store After Tops Market
Buffalo mass shooting suspect had plans to 'continue his rampage' after killing 10 people at a grocery store, police say
The alleged Buffalo, New York, mass shooting suspect had plans to "continue his rampage" after opening fire at a supermarket, killing 10 people, city Police Commissioner Joseph Gramaglia said Monday.

"There was evidence that was uncovered that he had plans, had he gotten out of here, to continue his rampage, and continue shooting people," he told CNN. "He'd even spoken about possibly going to another store."

There is "some documentation" the suspect had plans possibly to shoot "another large superstore," Gramaglia said. "He was going to get in his car and continue to drive down Jefferson Avenue and continue doing the same thing."

Shock in this community and around the nation has multiplied as more details have emerged of a racist manifesto allegedly written by the 18-year-old White man suspected of traveling nearly 200 miles from his home to unleash an attack at the grocery in a predominantly Black neighborhood. cnn.com

Tops Issues Statement After Shooting
Tops Friendly Markets Issues Statement Following Mass Shooting at Buffalo Store

Tops Friendly Markets has issued a statement following the deadly mass shooting at one of its Buffalo stores Saturday afternoon.

"The Tops family is heartbroken over the senseless violence that impacted our associates and customers at our store on Jefferson Avenue. We are working quickly to make sure that all of our associates have access to counseling and support that they may need. Tops has been committed to this community and to the city of Buffalo for decades and this tragedy will not change that commitment. We are working to find alternatives for our customers in this community while the store is closed and will provide updates in the near future." erienewsnow.com

U.S. Department of Homeland Security Response
Center for Prevention Programs and Partnerships


The U.S. Department of Homeland Security Office for Civil Rights and Civil Liberties (DHS CRCL) is activating its Incident Community Coordination Team (ICCT) national conference call mechanism on Monday, May 16 2022, at 4:00pm ET to discuss the mass shooting in Buffalo and ongoing concerns with racially or ethnically-motivated violent extremism.

The ICCT is the only tool of its kind available for rapid two-way communication between the federal government and impacted communities in the aftermath of a homeland security incident or emergency. The ICCT national call provides timely information to communities and allows them to provide feedback to senior government officials. Senior leadership from DHS and other federal agencies will join us for the call. Information for the ICCT call is below:

Date: May 16, 2022
Time: 4:00pm ET
Call in information: Phone number: 800 913 8744

PLEASE DIAL IN 15 MINUTES BEFOREHAND. THIS IS AN OPERATOR ASSISTED CALL AND WE ANTICIPATE A LARGE NUMBER OF CALLERS.

There are limited spaces available on the call. Should you have questions related to this ICCT call, ycontact DHS CRCL's Community Engagement Section at CommunityEngagement@hq.dhs.gov

DOJ Responds to Supermarket Mass Shooting
Justice Department Statement on the Mass Shooting in Buffalo, NY


The Justice Department tonight released the following statement from Attorney General Merrick B. Garland:

"Tonight, the country mourns the victims of a senseless, horrific shooting in Buffalo, New York. The FBI and ATF are working closely with the Buffalo Police Department and federal, state, and local law enforcement partners.

"The Justice Department is investigating this matter as a hate crime and an act of racially-motivated violent extremism. The Justice Department is committed to conducting a thorough and expeditious investigation into this shooting and to seeking justice for these innocent victims." justice.gov

After Buffalo Shooting Video Spreads, Social Platforms Face Questions
Mass shootings - and live broadcasts - raise questions about the role and responsibility of social media sites in allowing violent and hateful content to proliferate.

The Buffalo Shooting: What Happened and Who Is Suspect Payton Gendron?

'He's a hero': Ex-cop Aaron Salter Jr. killed while firing at Buffalo shooter


Retail Settings Becoming More Common for Mass Shootings

More Mass Shootings are Happening at Grocery Stores
Mass shootings are becoming more frequent, deadly and hate-driven
Mass public shootings in which four or more people are killed have become more frequent, and deadly, in the last decade. And the tragedy in Buffalo is the latest in a recent trend of mass public shootings taking place in retail establishments.

What do we know about supermarket mass shootings?

Only one shooting in our database prior to 2019 took place at a supermarket. However, there has been a raft of mass shootings at American supermarkets since.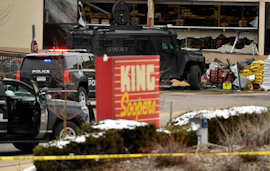 The Buffalo shooting on May 14, 2022, is similar to an August 2019 shooting at a Walmart in El Paso, Texas, where a man killed 23 people. Another shooting in 2019 took place at a Kosher grocery store in Jersey City, New Jersey, where four people were murdered.

Then in March 2021, a 21-year-old man of Middle Eastern descent with a history of paranoid and anti-social behavior entered a King Soopers in Boulder, Colorado, and shot dead 10 people. Six months later, in September 2021, a 29-year-old Asian man killed one person and injured 13 others at a Kroger supermarket in Tennessee.

No one profile of a retail shooter

Mass shootings are socially contagious. Perpetrators study other perpetrators and learn from each other, which may explain the rise in supermarket shootings in the past few years. However, the data shows there is no one profile of a supermarket mass shooter.

Racial hatred is a feature of about 10% of all mass public shootings in our database. Our analysis suggests that when it comes to retail shooters, around 13% are driven by racism - so slightly above the average for all mass shooting events.

But racial hatred appears to be just one of many motivations cited by retail shooters. Our data points to a range of factors, including the suspect's own economic issues (16%), confrontation with employees or shoppers (22%), or psychosis (31%). But the most common motivation among retail shooters is unknown (34%). theconversation.com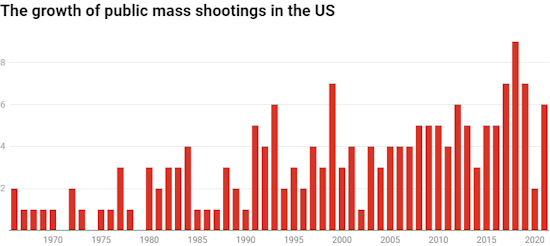 Buffalo Mass Shooting: A Continuation of America's Gun Violence Epidemic

Nearly 200 Mass Shootings in 2022 Already
It's 19 weeks into the year and America has already seen 198 mass shootings
The 10 people killed, and an additional three injured, make this weekend's racially motivated attack at a Buffalo, N.Y., supermarket the deadliest mass shooting of the year in the United States.

It is also the 198th mass shooting in 2022. With just over 19 weeks into the year, this averages out to about 10 such attacks a week.

The tally comes from the Gun Violence Archive, an independent data collection organization. The group defines a mass shooting as an incident in which four or more people are shot or killed, excluding the shooter. The full list of mass shootings in 2022 can be found here.

Such shootings are an American phenomenon

Mass shootings, as is well known by now, are a common recurrence in the United States. Around this time last year, the U.S. had experienced a similar number of mass shootings: also about 10 a week. We ended 2021 with 693 mass shootings, per the Gun Violence Archive. The year before saw 611. And 2019 had 417. npr.org

FBI Active Shooter Report
Active Shooter Incidents: Topical One-Pagers, 2000 - 2018

This report encompasses statistical data regarding 277 active shooter incidents in the United States between 2000 and 2018.

More incidents occurred in commerce areas-(121, 44%) than any other location, followed by educational environments (57, 21%). The four incidents involving multiple shooters occurred in businesses open to pedestrian traftic, a residence, and open space (neighborhood streets).

Ten incidents occurred in malls-that is, types of businesses typically consisting of more than one anchor store and many smaller businesses under a single roof, though they may include some open spaces.

In all, 28 (10%) of the 277 incidents involved shootings at two or more locations. (Incidents were categorized at the location where the public was most at risk.) fbi.gov

Mass Shootings - Weekend of May 14-15

Harris County, TX: 2 dead, 3 injured after shooting at flea market
Read the full story in today's Retail Crime column below

At Least 17 Wounded in Downtown Milwaukee Shooting, Police Say
No fatalities were reported in the shooting on Friday night, which happened blocks from the arena where an N.B.A. playoff game ended hours earlier.

One dead, multiple injuries in Laguna Woods church shooting

Gun violence-featured white terror in US deepens racial woes

---

Nationwide Protests

380+ Protests Organized Nationwide - Peacefully For Now
Abortion-Rights Supporters March to Protest Possible Overturning of Roe v. Wade

Thousands turn out at events in New York, Washington, D.C., Chicago, Los Angeles and Austin, Texas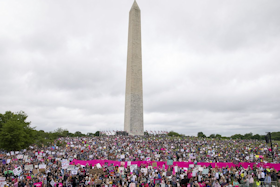 Crowds of pro-abortion rights protesters chanted, carried banners and marched in cities across the country Saturday, in the first large public response to a draft Supreme Court opinion indicating the high court may overturn Roe v. Wade, the 1973 decision that established a constitutional right to abortion.

More than 380 rallies organized under the slogan "Bans Off Our Bodies" were planned Saturday, including in New York, Los Angeles, Washington, D.C., Chicago, and Austin. The aim is to pressure state and federal lawmakers to safeguard abortion rights regardless of what the Supreme Court decides, organizers said.

In New York City, sign-waving protesters led by a pounding drumline packed onto the Brooklyn Bridge and marched slowly into lower Manhattan. At the National Mall in Washington, what appeared to be several thousand protesters supporting abortion rights marched up Constitution Avenue to the Supreme Court. In Austin, Texas, a crowd that appeared to number in the thousands filled the Capitol's front lawn in the midday heat.

Saturday's events were organized by abortion-rights and labor groups, including Planned Parenthood, UltraViolet, Women's March, MoveOn and the Service Employees International Union, or SEIU. wsj.com

Editor's Note: These demonstrations have so far been peaceful, but they could quickly turn more aggressive or even violent after the Supreme Court hands down it's final ruling this summer. If Roe v. Wade is overturned, we could again see nationwide protests that result in looting and rioting - something that the business and retail community should prepare for!

With fear and fury, thousands across U.S. rally for abortion rights

Pro-choice demonstrators rally across the US over expected reversal of Roe v Wade

Chicagoans march for abortion rights amid US Supreme Court leak

---

COVID Update

581.6M Vaccinations Given
US: 84.2M Cases - 1M Dead - 81.2M Recovered
Worldwide: 521.3M Cases - 6.2M Dead - 491.9M Recovered


Former Senior Loss Prevention Executive
Know of any fallen LP exec? Let's remember & recognize.
Private Industry Security Guard Deaths: 356 Law Enforcement Officer Deaths: 767
*Red indicates change in total deaths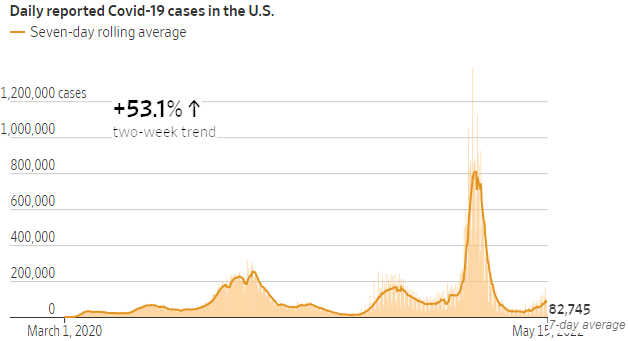 US hits 1 million deaths from COVID-19
The United States has reached 1 million reported deaths from COVID-19, according to figures from the Centers for Disease Control and Prevention, a number that shows the shocking toll the virus has taken on the nation.

The U.S. has had more deaths per capita than Western Europe or Canada, and while new deaths have fallen, they are still rising. It is also expected that the United States, like other countries, has undercounted the true number of deaths from the coronavirus.

Deaths have continued stacking up even into 2021 and 2022, after vaccines became widely available, disproportionately among people who did not get vaccinated or did not get booster shots. thehill.com

Over 200,000 Openly Discussing Defrauding Siloed States
"Unprecedented Levels of Fraud"

COVID Fraud: 'A magnet for rip-off artists': Fraud siphoned $163 billion from pandemic unemployment benefits

Identity theft and other sophisticated criminal schemes contributed to potentially $163 billion in waste, while inflicting harm on unwitting victims.

The more than $5 trillion approved since the start of the pandemic has become a wellspring for criminal activity, allowing fraudsters to siphon money away from hard-hit American workers and businesses who needed the help most.

The exact scope of the fraud targeting federal aid initiatives is unknown, even two years later. With unemployment benefits, however, the theft could be significant. Testifying at a little-noticed congressional hearing this spring, a top watchdog for the Labor Department estimated there could have been "at least" $163 billion in unemployment-related "overpayments," a projection that includes wrongly paid sums as well as "significant" benefits obtained by malicious actors. So far, the United States has recaptured just over $4 billion of that,

Criminals employed tools known as botnets to fire off thousands of applications, federal officials say, often with a single computer click. And they openly swapped tips for defrauding the government on popular websites and apps, including the messaging service Telegram. That has continued this year, as research showed at least two dozen groups with nearly 200,000 members openly discussed ways to avert states' defenses and siphon funds just over an eight-week period in March and April.

"The unprecedented explosion of unemployment claims, combined with years of disinvestment in our unemployment system, lack of state-by-state data sharing and weak identity controls, created a perfect storm for the fraud and identity theft in 2020 that we inherited." washingtonpost.com

Some Minority Workers, Tired of Workplace Slights, Say They Prefer Staying Remote

They say it's less painful to deal with 'microaggressions' at home. But they may pay a price for being away from the office.

As companies increasingly encourage workers to return to the office, many minority employees are reluctant. A September 2021 survey from the Society for Human Resource Management, for example, found that approximately half of Black workers said they prefer to do their job outside the workplace, compared with 39% of white workers and 29% of Hispanic workers.

Some minority employees, career coaches and workplace experts say that many of them don't want to face what are often referred to as "microaggressions"-everyday comments or actions that are interpreted as disparaging or communicating negative ideas about a person's identity, such as their race, disability, gender identity or religion. Such comments are often unintentional and can arise remotely or during in-person office encounters, these people say.

Out of sight

But members of minority groups who work from home to avoid enduring slights may be hurting their careers, workplace experts say. Remote workers face the chance of being forgotten by distant bosses. With 42% of supervisors say they sometimes forget about remote workers when assigning tasks. wsj.com

How America Lost One Million People to COVID

Covid cases are surging again. Why hospitalizations might not.
---

FRT Gaining More Acceptance
Tally of facial recognition bans being overturned keeps growing

The high tide for U.S. restrictions on police use of facial recognition (FRT) might have come and gone.

Seventeen partial or total bans on municipal and county use exist today, and a year ago privacy and civil rights advocates sounded confident that more were on the way. That looks less likely now.

In fact, a compendium of laws created by advocacy group Electronic Frontier Foundation could be updated with fewer restrictions before Independence Day.

In California and Ohio, local governments have acted in ways that could indicate that transparency in the use of face biometrics is not needed or, at least, repercussions for dodgy practices will be an acceptable cost of doing business. biometricupdate.com

What Impact Does This Have on Black Market?
Or in the stores once shipments start arriving?

What Caused the Baby Formula Shortage?

Tariffs, government labeling rules and state welfare monopolies all play major roles.


By now you've heard that some 40% of the nation's baby formula is out of stock, causing new mothers to hunt from store to store to feed their infants. This should never happen in America. How did it? Here's the government part of the story you won't hear from the political class.

Abbott Laboratories in February recalled several brands and shut down a plant in Michigan after complaints that four infants fell severely ill with a dangerous bacteria after ingesting its powdered formula.

The real culprit is government policies that have limited formula options.

There are only four major manufacturers of formula in the U.S. today: Mead Johnson, Abbott, Nestle, and Perrigo. One reason the market is so concentrated is tariffs up to 17.5% on imports, which protect domestic producers from foreign competition. Non-trade barriers such as FDA labeling and ingredient requirements also limit imports even during shortages. wsj.com

Walmart's College2Career Program
Walmart Anticipates a Store Manager Shortage Despite $200,000-a-Year Pay
It is a key position for the retail giant, one that requires long hours and in big stores overseeing an operation with roughly $100 million in annual sales and a team of 300.

Many managers leading the company's roughly 4,700 U.S. stores have been in their roles for at least a decade, and Walmart executives say they need to find a new generation to replace them. The tight labor market and competition for workers create another challenge-even for a job that often pays more than $200,000 a year.

"My talent pool for store manager three years from now was not going to be what I needed it to be," said Brandy Jordan, a longtime Walmart human-resources executive.

Those worries led Walmart to create a program to recruit and train college graduates to become store managers, promising a starting wage of at least $65,000 a year and an accelerated two-year track into the top store job. The program, known as College2Career, launched with two recent graduates this spring and aims to bring nearly 1,000 applicants through this summer. wsj.com

Best Buy to double outlet store count; four upcoming locations announced

Walmart Launches Mental Health First Aid Training Kit


Quarterly Results

US Foods Q1 net sales up 23.9%

Dillard's Q1 comp's up 23%, total retail sales up 22%

Tapestry, Inc Q3 NA sales up 22%, digital up 20%, revenue up 13%

Krispy Kreme Q1 organic revenue up 15%, net revenue up 15.8%

Fiesta Restaurant Group Q1 comp's up 8%, total revenue up 8.4% - (Pollo Tropical®)

Grocery Outlet Q1 comp's up 5.2%, net sales up 10.5%

Ahold Delhaize Q1 U.S. comp's up 3.3%, online sales up 4.6%, net sales up 5.8%, Global net sales up 8.3%

Party City Q1 brand comp' up 2.1%, 3rd party wholesale down 1.6%, total sales up 1.4%

---

Senior LP & AP Jobs Market
Director of Retail Security job posted for Apple in Cupertino, CA


As a business leader, the Retail Security Director will build and implement solutions for a variety of unique security challenges from physical security of our stores, to theft and fraud, and response to critical incidents affecting Apple. You will obsess over the employee and customer experience, and drive a global strategy that sets the bar for Apple and our Retail team. jobs.apple.com

VP Global Enterprise Risk Management & Insurance job posted for Estée Lauder
in Melville, NY


Lead the evolution of ELC's Enterprise Risk Management program though the development and deployment of risk management tools and practices. The VP will initiate and manage the annual enterprise-wide risk assessment process resulting in the establishment and/or revision of ELC's highest risks and opportunities that could impair and/or advance the achievement of the Company's mission, vision, strategic goals and competiveness. jobs.elcompanies.com

Director Loss Prevention ORC job posted for Ulta Beauty in Bolingbrook, IL


The Director, Loss Prevention will be responsible for leading and inspiring a team of Managers who support Organized Retail Crime functional area of Loss Prevention . This role will be responsible for all aspects of Organized Retail Crime and Special Investigations for the company to include boosting, fencing, financial fraud, serial robberies and burglaries, product tampering, and mobile device fraud. careers.ulta.com

Director of LP, Safety & Security job posted for Ross Stores in Perris, CA


Provides overall leadership to the Supply Chain network DC LP/Safety teams in safety, physical security, protection of company assets, Workers' Compensation and fire prevention programs. The Director is also responsible for supporting store merchandise loss investigations through investigation of missing deliveries. Develops and maintains a strong partnership with the DC VP's and their operating teams, and stores LP Directors. jobs.rossstores.com

Director of AP Operations job posted for Burlington in Burlington, NJ


As the Director of Asset Protection Operations, you will lead a team that applies analytical and critical thinking skills to solve complex business challenges and deliver the most effective analysis, recommendations, and execution to reduce shortage. This position requires at least ten years of relevant retail work experience with exposure to operations, shortage control and project management. burlingtonstores.jobs

---

Last week's #1 article --

Retail Body Cams to Thwart Crime & Abuse
Target, Woolies Employees To Wear Bodycams To Tackle Customer Abuse
Australian retail employees, including Target and Woolworths, have reportedly started trialling body cameras in selected stores in a bid to protect themselves from abusive customers.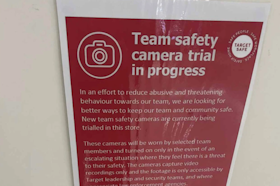 Signage at one Target store in Queensland said the cams worn by staff were "to keep our team and community safe".

"These cameras will be worn by selected team members and turned on only in the event of an escalating situation where they feel there is a threat to their safety," the sign said.

Head of the National Retail Association Dominique Lamb told the ABC that body cameras worn by retailers were becoming increasing more common, particularly noting spikes in retail crime throughout the pandemic.

"Predominantly, it is major retailers that are implementing technologies like this, mainly because obviously there's a certain amount of cost involved," she said, citing CCTV cameras and other deterrents. wsfm.com.au