Angry, violent customers abuse, curse, and threaten retail employees every day. Sometimes they follow through on those threats: Criminals killed 582 retail customers, employees, and security personnel last year, according to industry publication D&D Daily. Retail executives face different kinds of threats from angry, violent customers. Sometimes, trouble even follows the CEO all the way home.

In response to threats both in-store and out, retailers are quickly adopting technologies, including face matching, that offer advance warning when seconds count. Not all violence is preventable, but retailers can increase their chances of stopping attacks before they start. Here's how one retailer's fast, proactive reaction to a real-life threat led to vital evidence and enhanced situational awareness at work and at home.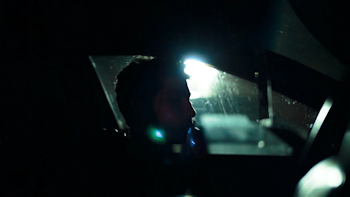 Here's how it started: An angry man called the retailer's customer service hotline. The caller gave the rep his name and phone number, and he complained of in-store ADA violations. Just before ending the call, the man told the rep: "I am sitting in front of [CEO's] home, and I will take care of this myself." The caller had the CEO's correct home address. Click.

When police responded to the CEO's home, they found no one outside, but they and the retailer asset protection team treated the threat as credible. They worked together to learn more.

The client AP team provided the name given by the hotline caller. The police ran the name and found an old arrest photo. They confirmed the man pictured had a long history of violence and threats, plus open arrest warrants.

Next, the retailer's AP team put the arrest photo into their custom FaceFirst system, then ran a search. Although the arrest photo had been taken 15 years before, the system instantly matched the image with a man who had been in the retailer's stores within the prior 30 days. That search yielded a better, current photo of the man presumed to be the caller. Investigators developed more evidence that led to the retailer securing an order of protection for the man. So far, the man has not returned to the retailer's stores. If he does return, the retailer's FaceFirst system is set to provide real-time notification and enable a fast response by the retailer and local law enforcement.

Calculate the risks of being caught unaware when a known offender enters your store. Or the risks of not having the tools to investigate and validate direct threats against you.

If you knew there was a proven solution to keep your valued customers, associates, and executive team safer from violent offenders, would you implement it? The real risk is answering no. FaceFirst's solution is fast, accurate, and scalable-take action today at facefirst.com.

---

The U.S. Crime Surge
The Retail Impact
Cities Across the Nation Prepare for Weekend Protests
From New York to Los Angeles, police said they plan to increase patrols Friday after Hamas's call to action. washingtonpost.com
U.S. law enforcement agencies have escalated security measures to safeguard Jewish and Muslim communities ahead of global pro-Palestinian protests expected on Friday but urged members of the public to go about their daily routines.
Police in the two most populous U.S. cities - New York and Los Angeles - said they would step up patrols, especially around synagogues and Jewish community centers, though authorities insisted they were unaware of any specific, or credible threats.
TIMES SQUARE PROTEST EXPECTED
"Every member of the New York Police Department will be ready and be in uniform tomorrow," NYPD Chief of Patrol John Chell told reporters. "We will not tolerate any hate, any acts of disorder, it will be quelled quickly and we will be ready."
Hochul said the New York National Guard had already been ordered to patrol vital transportation hubs.
Across the country, the Los Angeles Police Department issued a statement saying its officers would assume a higher profile around Jewish and Muslim communities "during this unimaginable time."
Federal law enforcement agencies were also on alert.
"The FBI is aware of open-source reports about calls for global action on Friday, October 13th, that may lead to demonstrations in communities throughout the United States," the agency said in a statement. "The FBI encourages members of the public to remain vigilant." reuters.com
The Budget Act of 2022 (Senate Bill 154) established the Organized Retail Theft (ORT) Prevention Grant Program. Per the state Budget Act, funding for the Organized Retail Theft Grant Program shall be for competitive grants for city police departments, county sheriffs' departments, and probation departments. Grant funds shall be used to support local law enforcement agencies in preventing and responding to organized retail theft, motor vehicle or motor vehicle accessory theft, or cargo theft.
See the list of ORT Prevention Grantees
Alameda DA Rolls Out ORT Prosecution Team
Oakland CA, October 12, 2023 – Today, Alameda County District Attorney Pamela Price will introduce her Organized Retail Theft Vertical Prosecution Team. In September, the Alameda County District Attorney's Office (ACDAO) was awarded a significant two million dollar grant to fund a new prosecution unit to address the growing issue of Organized Retail Theft (ORT) in the community.
Alameda County is one of 13 district attorneys' offices across California that received funding to establish new vertical prosecution units. The proposal submitted by DA Price and her team on behalf of the ACDAO was ranked second in the entire state. Two of the 31 City Police Departments awarded ORT Prevention Grants are in Alameda County: Fremont Police Dept. and Newark Police Dept.
The grant is part of the state's largest-ever investment to combat organized retail crime in California. The funds will be allocated in annual installments over the next three years.
The first-of-its-kind model will focus on the investigation and prosecution of organized retail theft crimes, using a vertical prosecution model. Under the grant program, DA Price has created the team which includes Deputy District Attorneys, Inspectors, and Senior Program Specialists, working together to investigate and prosecute ORT cases from start to finish. alcoda.org
The project is funded by a $2 million from a state grant and a matching $2 million put up by the DA's office. abc7news.com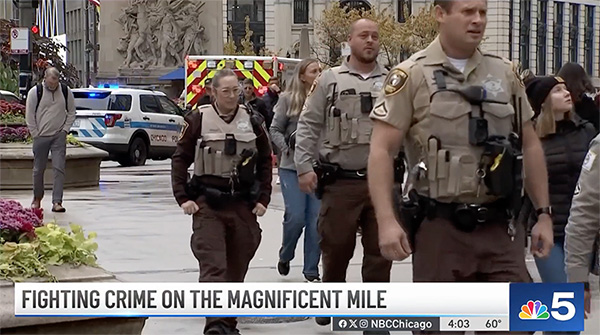 A grant from the Illinois Attorney General's office has allowed Cook County Sheriff's deputies to patrol Chicago's Magnificent Mile, and the program is yielding results, according to officials. Retail crime overall is down, according to Chicago police data. The sheriff said the department is "thrilled" with the results, and praised Chicago police as critical partners in the endeavor. Chicago police cars have become more common in the Mag Mile area in recent months, with lights flashing and officers conducting patrols on foot to help deter organized retail thefts.
That grant of $276,000 was designated to help battle the growing issue of organized retail crime in the busy shopping corridor, according to Sheriff Tom Dart.
Dart says the program and extra patrols are working, with at least 100 arrests in recent months. Retail crime overall is down, according to Chicago police data.
"We have only been doing this for about six months, and we have seen a drop of about 20%, which is a lot," Dart said.
Kimberly Bears, president of the Magnificent Mile Association, echoed those sentiments about the increased patrols.
"We have seen them out of the avenues, stopping in to talk to merchants and retailers, and bringing back an officer-friendly (approach)," Bears said.
Dart and other officials expressed hope that the program will continue into the future, but there's no official word on whether it will continue. nbcchicago.com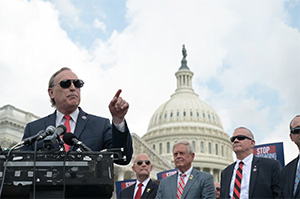 Memphis #1 Robbery & ORC City in U.S.
What do the first 100 days look like in terms of new initiatives and plans?
I wouldn't say new initiatives. I think the first thing I want to do is make sure that we're elevating the urgency around the crisis that we have around crime and violence in our community.
I often point to the fact that during the pandemic, we had that conference call every week where you had all of the CEOs of the major hospitals, all of the mayors of Shelby County, all of the division directors in the city and county, all of us were on the same call every week talking about how do we reduce the level of the virus in our community.
I want that same level of urgency around how we reduce the level of crime that we're seeing in our communities.
And certainly violent crime is top of the list, but I think we also have to focus on some of the crimes that give us indications of chaos.
And my goal in the first 100 days is to elevate that urgency and bring a unified front on how we're going to resolve those issues. dailymemphian.com
Community thinks crime is 'much higher' than 5 years ago

Residents overwhelmingly want more police in Memphis

Crime taking its toll as residents consider relocation, poll shows

Barnes: Poll on crime shows residents want more from leaders
DC's "Culture of Lawlessness"
House Republicans probed the rise of violent crime in D.C. in a contentious hearing Thursday, describing the District as embroiled in a "culture of lawlessness" and pressing authorities to impose harsher punishments on those convicted of violent offenses.
There was, however, rare consensus among nearly all federal lawmakers and testifiers in the room: Crime in the nation's capital has reached a point of crisis.
Homicides in the District are on pace to reach highs not seen since the late 1990s, and the latest police data shows overall violent crime up by 40 percent compared with the same time last year, largely driven by a spike in robberies.
"No section of this city can be considered safe anymore,"
Charles Stimson, a policy expert at the Heritage Foundation, a conservative think tank, in his testimony criticized Superior Court judges for "notoriously light sentences" washingtonpost.com
12 October 2023- In the wake of recent rampant and violent looting in Philadelphia that caused significant property damage and loss, House Republicans today unveiled a package of anti-looting legislation that will increase penalties on looters, put additional teeth in juvenile curfews, crackdown on social media coordination of looting and enhance penalties for those looting state property, including liquor stores.
"The uncontrolled looting and violence we saw in Philadelphia recently was more than unacceptable: It was disastrous and disgusting," said House Republican Leader Bryan Cutler (R-Lancaster).
With some of the looting and violence promoted and furthered by the Philadelphia social media influencer known as "Meatball," Rep. K.C. Tomlinson (R-Bucks) will be introducing legislation to create a new criminal offense for those who utilize social media to incite rioting, burglaries, thefts or other dangerous criminal conduct that threatens others.
With an understanding that many recent looting incidents have involved juveniles, and youth curfews are a useful tool to prevent patterns of looting, Rep. Tomlinson will also introduce legislation to put teeth in youth curfews by providing a tool for police to arrest and charge juveniles that intentionally violate a lawful curfew with the intention to commit a crime.
You can view the co-sponsorship memos for this package of bills here. tristatealert.com
Over recent months, shopping malls in the Charlotte area have seen several incidents of criminal activity, which is part of a larger wave of offenses committed at other malls in large urban areas throughout the U.S.
Crime is not a new phenomenon at Charlotte's Northlake Mall, as the mall has been host to shootings and other incidents over the last several years.
Tenants at Northlake have expressed ongoing concerns over the safety of the premises and mall patrons.
One such retailer is American Eagle Outfitters, who after exiting the mall was sued by its parent company, The Spinoso Real Estate Group over allegedly violating its lease agreement due to the store not being in continual operation during the lease term.
American Eagle then filed a counterclaim against Spinoso, alleging that the mall is unsafe for operation due to "rampant violence."
Other stores in Northlake have also left the mall over the last year, with retailers Chico's, Michael Kors, Soma, and White House Black Market closing up shop. Apple, who also operated in Northlake, recently moved to a new location in the Huntersville area.
In an emailed statement to Carolina Journal, former Mecklenburg County Sheriff Irwin Carmichael said the mall incidents are part of a larger pattern of criminal behavior at retail stores in other parts of the country.
Northlake is not the only retail establishment facing issues with criminal incidents. SouthPark Mall has also seen its fair share of criminal activity in recent months. On August 7, SouthPark's Belk store was robbed at gunpoint by two individuals.
Charlotte city councilman Tariq Bokhari recently called attention to an incident via a Facebook post where shop lifters allegedly stole merchandise from Dick's Sporting Goods.
"This madness must stop," he said in response. "It's time for our leaders to get serious about taking the offensive."
To combat the rising retail theft in the Charlotte area, lawmakers and retail stores have turned to retail theft laws and enhanced security measures to protect customers.
Despite these occurrences, a recent study conducted by personal finance company WalletHub indicated that Charlotte ranks 45th out of 182 U.S. cities in terms of overall safety. carolinajournal.com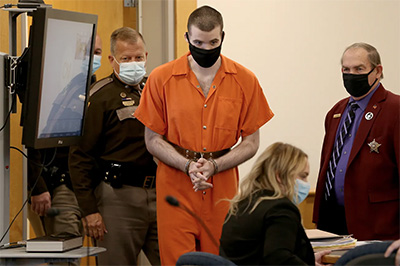 The security firm that hired a man who fatally stabbed a Timberland marketing director he was supposed to protect has settled a wrongful death lawsuit brought forward by the Exeter woman's estate.
Michael Cormier, husband of the late Catherine "Cassie" Heppner, filed the civil negligence suit in Rockingham Superior Court against the firm Securitas Security Services USA, which was contracted to provide security guards for Timberland's headquarters in Stratham.
The 15-count lawsuit also named Cadient, the North Carolina firm that owns Securitas' online employee screening program used to weed out unfit security guard candidates, as a defendant. The suit alleged Securitas negligently hired Robert Pavao, then 20, of Berwick, Maine, with zero security guard experience and ignored "red flags" displayed on the job about his mental state.
According to the lawsuit, Securitas failed to properly screen and supervise Pavao as required in its contract with Timberland. Cadient's online psychological assessment tool picked up no red flags or concerning behavior, and Securitas did not contact any of the personal references for Pavao or have him take a drug test certified by a lab as required by its contract with Timberland.
When Securitas hired Pavao at $13 per hour on Sept. 17, 2019, the lawsuit claimed the only onsite training he received consisted of a few shifts "shadowing" another guard and that he worked 57 unsupervised shifts at Timberland from Oct. 5, 2019, through Feb. 8, 2020.
One of the guards he worked with, according to the suit, observed Pavao being "antisocial" and demonstrating "significant anxiety." He also believed Pavao smoked marijuana at work and that he "used other drugs like mushrooms and LSD" but never reported it as required by the Securitas' security guard handbook.
Additionally, the lawsuit outlines dozens of instances where security guards that Securitas and Cadient "deemed trustworthy and sound" committed crimes dating back to 2001. The most notable ones included Securitas guard James Fields Jr., who drove a car into a crowd of anti-white supremacist protesters in Charlottesville, Virginia, killing one in 2017. In a 2019 case, a guard was charged with the assault of an 11-year-old girl he suspected of shoplifting in Boston, Massachusetts.
In its answer, Securitas denied it cut any corners in hiring, noting they contacted prior employers and conducted a background check of Pavao, "which included his absent criminal history."
Pavao was convicted of murdering Heppner, a 46-year-old mother of a young son, on Feb. 9, 2020, by stabbing her twice in the neck with scissors in a storage room he had unlocked for her. Police reported Heppner's hands showed defensive wounds and Pavao told a responding Stratham police officer, "he thought" he killed Heppner. He pleaded guilty to second-degree murder and was sentenced to 55 years to life in prison on Nov. 3, 2021.
Cormier's attorneys from the law firm Abramson, Brown & Dugan, informed the court Sept. 26 that Cormier "reached a confidential agreement" to resolve his claims against Securitas and Cadient. seacoastonline.com