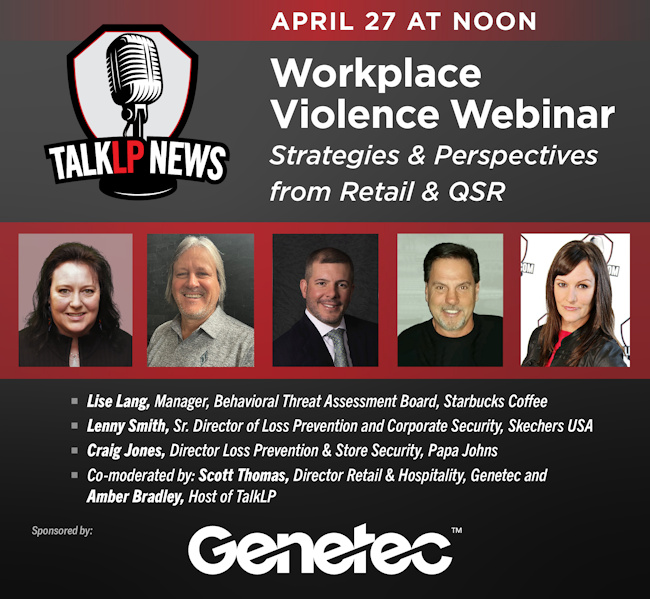 TalkLP joins forces with Genetec to create a valuable conversation about workplace violence in retail and the quick-service restaurant environment. Hear from multiple loss prevention executives about the strategies to reduce workplace violence in the full scope of a potential incident - including defining incidents, predicting, training, and then responding post-incident.

---

The U.S. Crime Surge
The Retail Impact

'Organized Retail Crime: An Assessment of a Persistent and Growing Threat'

New NRF Report Details ORC's 'Persistent & Growing Threat'
NRF Report Shows ORC a Growing Threat for U.S. Retailers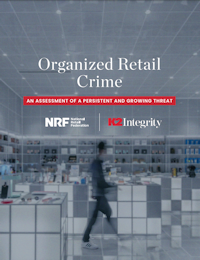 WASHINGTON, April 13, 2023 - Organized retail crime (ORC) is a perpetual and burgeoning problem for the U.S. retail industry, and evidence suggests it is growing in both scope and complexity, according to a new report released today by the National Retail Federation. The report, Organized Retail Crime: An Assessment of a Persistent and Growing Threat, was conducted in partnership with K2 Integrity, a global risk advisory firm.

"Organized retail crime has been a major concern for the retail industry for decades, endangering store employees and customers, disrupting store operations and inflicting billions in financial loss for retailers and the communities they serve," said NRF President and CEO Matthew Shay. "These concerns have grown in recent years, as criminal groups have become more brazen and violent in their tactics and are using new channels to resell stolen goods. NRF and its members have been forcefully advocating for the 'Combating Organized Retail Crime Act' in Congress because it's time for decisive action, not just platitudes and endless debate."

Key findings in the report include:

• ORC groups largely target everyday consumer goods - which offer a favorable balance between ease of theft, monetary value and ease of resale. Only 11% of the ORC groups examined in the report targeted luxury goods.

• The median ORC fencing operation handled about $250,000 in stolen merchandise prior to being apprehended by law enforcement.

• ORC fencing operations rely on online marketplaces as one resale channel. About 45% of ORC groups for which fencing information was available used online marketplaces for resale operations.

• ORC fences that conduct online resale operations appear to be shifting away from third-party online sellers and toward peer-to-peer websites that facilitate direct engagement among buyers and sellers.

• ORC groups rely on advance planning to ensure the success of their theft operations.

• There are significant deficiencies in the availability of consistent and consolidated data regarding ORC across national, state and local authorities, as well as the retail industry.

"Organized retail crime is growing as a real threat to the safety, operations and bottom line of retailers across the nation and now forms a part of the criminal and illicit financing landscape," said Juan Zarate, global co-managing partner and chief strategy officer at K2 Integrity. "The ORC industry will grow more dangerous, complex and profitable, and its illicit proceeds will fuel more organized criminal networks and operations in the United States, globally and virtually, if more concerted action is not taken to disrupt these trends. We are proud of the role we played in developing an assessment of ORC and look forward to our continued partnership with NRF."
Click here to view the full report | View the full press release here

Snapshot from the Report: The ORC Cycle & Its Perpetrators


The key distinguishing features of ORC are centralized coordination of operations, and division of labor and specialization across the various steps of the ORC cycle (Figure 1 ) - from the theft of goods through the laundering of proceeds generated from the resale of stolen merchandise.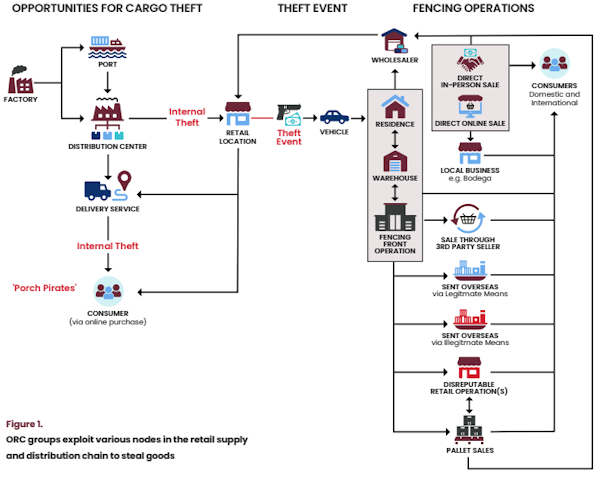 Shoplifting's Negative Impact on Retail Employees
"Employees may feel a sense of paranoia if the store has a shoplifting issue."

Is Shoplifting Killing Store Morale?
A university study finds mandatory policing of shoplifting and other "customer deviant behavior" often produces strong negative emotions in retail associates, leading to perceptions of unfairness and increased turnover.

Research from Florida Atlantic University and three other schools based on a series of in-depth interviews, three experiments and a survey found:
Employees expect managers to be more active in guarding the store.

More than a quarter of respondents don't know their employers' policies for guarding the store.
"Front-line employees [FLE] are being asked to do too much, policing the misbehavior and confronting shoplifters, often without extra money or training," said Melanie Lorenz, Ph.D., an associate marketing professor at Florida Atlantic University's College of Business.

David Johnston, VP, asset protection and retail operations at the National Retail Federation, in a recent blog entry, said shoplifting and retail theft had reached an "epidemic level," with "brazen" thieves openly stealing and stores closing or shortening hours to avoid theft.

Most retailers have a policy against associates chasing or physically confronting suspected shoplifters. The approach is intended to protect the safety of associates and avoid the risk of racially profiling innocent shoppers.

In a Houston Chronicle article exploring shoplifting's impact, Neil Kokemuller writes, "Employees may feel a sense of paranoia if they constantly hear the store has a shoplifting issue. The negative measures taken to deter shoplifting can impede employee instincts toward a positive and welcoming attitude with customers. Employees also may become overly suspicious of customers and get overzealous in their efforts to protect the store's inventory."

A Harlem View article also noted that shoplifting makes staff uncomfortable. Nejah, an associate at a Harlem pharmacy who declined to give his last name, said, "Retail or working somewhere where you have to worry about shoplifting is definitely a crazy experience." retailwire.com


AP/LP's Evolving Role Amid Retail's Crime Surge
Asset protection's role is evolving in retail. Here are 5 things for grocers to know.

This shift to focusing on the holistic protection of people, profits, property and brand has sped up as heightened stress brought on by the pandemic has increased the risk for violence.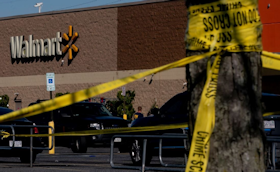 Once focused mainly on loss prevention, asset protection has taken on a broader range of potential threats and issues for grocers, with that shift accelerating during the pandemic, according to the Food Industry Association.

In some cases, grocers' asset protection teams are working more closely with operations teams to reduce shrink beyond theft, said Doug Baker, vice president of industry relations at FMI. Disasters, such as fires and floods, civil unrest and cyberattacks, are blending into the realm of asset protection.

"One of the things I'm starting to see is not only this move from loss prevention to asset protection but this idea that risk management is the umbrella under which all of these security-type positions fall," Baker said.

This shift to concentrate on the holistic protection of people, profits, property and brand has sped up as heightened stress brought on by the pandemic has increased the risk for violence. In addition, felony theft thresholds increased in dozens of states prior to the pandemic.

Theft in specific departments

Store items are not typically stolen because of their dollar value, but rather for their ability to be resold, FMI noted. Certain areas of the store also were cited as needing to be watched because they attract crime. Surveyed respondents said they focus heavily on the outer perimeter and parking lot as well as checkout areas. Behind the scenes, grocery stores' receiving and front end, generator and electrical rooms as well as the cash office must be monitored closely.

Growing collaboration

Many grocers have enlisted the help of third-party companies to help combat theft if they do not have the bandwidth to build those teams internally, Baker said. This help comes in the form of anti-theft technology as well as professional investigators.

Computer vision leading tech innovation - Keep an eye on internal theft - Future opportunities: grocerydive.com


Another State Rolls Out ORC Legislation
SB 206: Alabama Senate Introduces Organized Retail Theft Bill
Relating to crimes and offenses; to create the Retail Theft Crime Prevention Act; to provide for the crime of retail theft in various degrees; to provide for the crime of organized retail theft; to provide criminal penalties for a violation; and in connection therewith would have as its purpose or effect the requirement of a new or increased expenditure of local funds within the meaning of Section 111.05 of the Constitution of Alabama of 2022. (Judiciary) fastdemocracy.com


Crime & Drugs Running Rampant in San Francisco - Forcing Closures
Man died from overdose at S.F. Whole Foods months before closure
Seven months before Whole Foods abruptly closed at Trinity Place in San Francisco's troubled Mid-Market neighborhood, a man overdosed from fentanyl and methamphetamine and died in the grocery store's bathroom. The 30-year-old man died on the evening of Sept. 20, 2022, from the lethal combination of drugs, according to the San Francisco Medical Examiner's office.

Whole Foods cited the safety of workers as the reason for the temporary closure, but the company has not provided details of incidents and did not immediately respond to a request for comment on Wednesday. Supervisor Matt Dorsey, who lives in the neighborhood and shopped at the store, has said it was hit by "drug-related retail theft, adjacent drug markets, and the many safety issues related to them." The store is across the street from U.N. Plaza, where drug dealing and use are commonplace.

Luke said he also witnessed numerous disturbing incidents, and that he wasn't surprised by the store's temporary closure on Monday, which was made to protect staff. About a month ago, Luke said a man began urinating in the store, alarming a staff member who told him to leave. The man replied that he wasn't finished, Luke said.

In an apparent response to crime, the store cut its operating hours, closing at 7 p.m. instead of 9 p.m. It also began requiring a proof of purchase to use the bathroom, Luke said.

Patrick Glenn, a Civic Center resident who visited the store around 10 times, said a "small army" of security guards would often tell people to remove products from their pockets.

"Every single time I was there, security was having some sort of confrontation with a homeless person or someone who seemed to be crazy," he said. sfchronicle.com

San Franciscans say they feel less safe than in 20+ years, city survey shows


Why the plan to build new supervised consumption sites in S.F. may have just died in the water
San Francisco City Attorney David Chiu plans to prevent that money from being used for the sites over fear of legal ramifications. As the city attorney must sign off on every contract, she and the nonprofits claim Chiu is single-handedly blocking the sites from opening.

In August of last year, Gov. Gavin Newsom vetoed SB57, a bill to permit drug overdose prevention and supervised consumption sites to open in the state. sfchronicle.com


Theft & Security Issues Pushing Retailers Out of Big Cities
Walmart announced Tuesday that the company is closing four stores in Chicago.

A retail expert spoke with ABC7 about why some big box stores can't turn a profit in urban areas.

Walmart announced four other Chicago locations are closing on Sunday, including a superstore in Chatham and three neighborhood markets in East Lakeview, Little Village and Bronzeville. Lack of profits, theft and security issues are some of the reasons behind the decision.

"Instead of looking at the bottom line, I think these retailers need to focus on where did they drop the ball," said Donnavieve Smith, associate professor of marketing at North Central College.

Ald. Mitts said communication between corporate executives, the community and the store is vital to keep these locations open. After Walmart reopened stores following looting in 2020, Mitt's said her store and others have been hanging on like a thread.

"It's not a loss we want to have in our ward, so we will do whatever we need to do to to make it work, whether it's coming up with a new vision or working on vision already in place," said Dr. Elizabeth Lockhart, with the 37th Ward executive committee.

From a veteran alderman to a new one, Ald. Mitts said Mosley shouldn't give up on keeping the Walmart in his ward open. She suggests meeting with Walmart executives first and if that doesn't work, make some noise with protests. abc7chicago.com


Opinion: The crime in America is out of control

Derby PD chief weighs in as local retailers deal with more theft than ever

---

NYC Embracing Biometrics - Including Facial Recognition
Aggressive automation stance in NY pays off for vendors

New York City's mayor has a message for companies selling technology that might help crime rates to continue to fall: Welcome.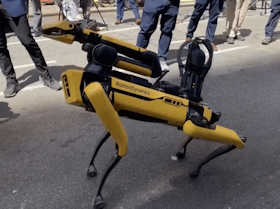 Anyone opposing biometric surveillance, four-legged drones and vehicle tagging are not being asked to leave by Mayor Eric Adams, but they will not find an ally in City Hall. Adams this week set that tone that likely means hurdles to municipal use of facial recognition are being lowered, if not removed.

"If it wasn't for our camera system that you see throughout the city, we would not have made the apprehensions on some of the most dangerous people in this city and state," he said. AI is "allowing us to go even further."

During a press conference hosted by Police Commissioner Keechant Sewell during which reporters met a couple dog-shaped, remotely controlled devices and a tagging mechanism designed to attach a GPS tag to suspects' cars for less-dramatic chases.

Sewell compared the Hyundai/Boston Dynamics Digidog and egg-shaped Knightscope K5 ASR machines - neither of which will initially perform facial recognition tasks - to past innovations like horseback patrols and fingerprint biometrics. Adams compared them to 911 emergency services.

The mayor, who habitually identifies himself as a technology geek, implied that his predecessor put the city's safety at risk after "a few loud people" in 2021 complained about a pilot using some of the machines.

"That is not how I operate," Adams said, leaving the impression that he will shovel mechanical watchdogs onto city streets if they prevent or solve crime.

"This is the beginning of a series of roll outs," according to Adams. biometricupdate.com


Lawmakers Take On Major Retailers Over Child Labor
Senators press major retailers, brands on child labor in supply chains

Sens. Alex Padilla and John Hickenlooper questioned Walmart, Target, J. Crew and others about compliance practices after reports of exploitation in the U.S.

Two senators are asking 27 major U.S. companies about the use of child labor in their supply chains following recent media investigations into exploited migrant children.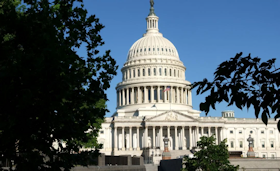 Sen. Alex Padilla, chair of a subcommittee on immigration, and John Hickenlooper, chair of a subcommittee on workplace safety, asked some of the largest U.S. companies how they vet their contractors and train their own employees to prevent child labor violations.

The senators addressed their April 5 letter to the CEOs of Walmart, Target, PepsiCo, Frito Lay, J. Crew, Whole Foods, General Mills, Ben & Jerry's, Ford and General Motors, among others named in a New York Times report on migrant child laborers working for major companies or their contractors.

The letter posed six questions directly to the companies regarding their corporate practices and vetting of contractors. The Senate leaders asked for responses by April 26.

"We ask that you carefully examine your hiring procedures, workplace safety, and compliance with wage and hour laws as they apply to minors," the senators wrote. "Your staff must be trained, and retrained if necessary, on federal and state child labor laws to ensure that children are not being placed in harm's way, and employees must have the opportunity to report unfair labor practices without risk or fear of retaliation." retaildive.com


LVMH CEO, World's Richest Man, Has Become 'Lightning Rod' For Protesters
Executive Protection Becomes High Priority & Challenge

LVMH's Paris Headquarters Stormed by Protesters
PARIS-Protesters stormed the headquarters of luxury conglomerate LVMH Moët Hennessy Louis Vuitton SE on Thursday as the nationwide protest movement against President Emmanuel Macron's pension overhaul morphed into a populist rebuke of France's establishment.

Video footage captured a crowd of men waving flares and banners as they forced their way through the entrance of the luxury group's headquarters on Paris's tony Avenue Montaigne. Another video clip shows the crowd proceeding up an escalator to a reception area that leads to higher floors where LVMH Chief Executive Bernard Arnault, the world's richest man, has offices along with other top executives.

People at the headquarters said the intruders didn't stay in the building for long. Protesters had cleared out of the area by the early afternoon.

Weekly protests have raged across France for months as Mr. Macron has forged ahead with plans to raise the country's retirement age to 64 from 62 by 2030.

Mr. Macron's wife, Brigitte Macron, is well-known for donning Louis Vuitton outfits during state visits and other public appearances

Mr. Arnault has become a lightning rod since the protests began in January, with protesters carrying mock wanted posters featuring his face and exhorting him and other billionaires to do more for the common good. Protesters filing into LVMH's headquarters on Thursday chanted, "There is money in the pockets of billionaires." wsj.com


Urban America's Challenges Have Just Begun
Crime may continue to surge.

Two million people fled America's big cities from 2020 to 2022
Two million people fled America's largest cities from 2020 to 2022, new research shows, signaling that a retreat from urban centers to suburbs, exurbs and smaller cities in the early months of the pandemic has hardened into an enduring and potentially worrisome trend.

More than 1.2 million people left the nation's large urban counties between July 2020 and July 2021, according to a report published this month by the Economic Innovation Group, a bipartisan public policy organization. Another 860,000 people departed between July 2021 and July 2022.

Only a fresh influx of immigrants saved big cities from dramatic population declines. Even with the immigrants, 17 of the nation's 25 largest counties suffered population losses between April 2020 and July 2022, according to census data tabulated by The Hill.

The historic exodus, combined with chronic office vacancies and surging crime, pose profound and potentially existential challenges to America's great cities.

In 10 of the largest U.S. cities, half of all offices sit empty, according to weekly data from Kastle Systems, a company that manages office-access security.

The virtual work exodus comes at a time when urban crime rates are rising, invoking memories of a much worse urban crime problem in the last millennium.

One large-scale survey, published last year, found that 19 million Americans planned to move because of remote work, vastly outnumbering the 4 million Americans who had already moved.

"It's not big cities in general. It's a very small number of extremely large cities," Fowler said. "What you see is that migration is moving down the urban hierarchy," from larger cities to smaller ones.

The challenge for city leaders, urban experts say, is to adapt to remote work: by converting empty offices to affordable housing, by managing public safety in struggling neighborhoods, and by working with public schools to preserve tax-funded education as a viable option for urban parents. thehill.com


'MD. becomes national leader in standardizing licensing, vetting & training of security guards'
Bill to bolster security guard oversight in Maryland heads to governor's desk for final approval
Most security guards in Maryland now will have to be trained, licensed by the state and covered by insurance, under legislation passed in the final hours of the legislative session Monday night.

As things stand, only guards who work for private security companies in Maryland are required to have licenses issued by state police. If a guard is employed directly by a non-security business, like a grocery store, they don't have a state-issued "guard card." The state has not required training for guards, regardless of their employer, and hasn't tracked when they use force against people at work.

Sponsored by Sen. Jill Carter, a Democrat from Baltimore, the legislation passed Monday establishes training requirements for private security and mandates guards or their employers report to the state when they use force, bringing Maryland closer to having universal standards for people who work in the police-adjacent industry.

Senate Bill 760 now heads to the desk of Democratic Gov. Wes Moore, who can sign the legislation into law, let it go into effect without his signature, or veto it.

Amitay highlighted bill provisions that require use of force and de-escalation training for all guards and mandate that all guards - not just those working for security companies - undergo FBI fingerprint-based background checks before working.

"With the passage of this bill, Maryland becomes a national leader in standardizing licensing, vetting and training of security guards, which will benefit all Maryland residents," Amitay said.

MD Senate Bill 760 Enrolled Bill baltimoresun.com


Consumers Pull Back Retail Spending for 2nd Straight Month
Retail sales declined in March as consumers cut back spending
Consumers pulled back on spending at retail stores for the second straight month, causing retail sales to fall 1% in March, the Commerce Department said on Friday. The strong consumer spending that has long underpinned the economy is fading.

The biggest spending drop-off last month was at gas stations, where retail sales fell sharply by 5.5% last month, helping drag down the overall figure. That decline may be a reflection of cheaper gas since the data is not adjusted for inflation.

Even after stripping out gas stations, retail sales fell 0.6% - a notable decline after February's 0.2% drop. That is the result of less spending across a broad range of retail categories, including stores that sell building supplies (-2.1%), electronics (-2.1%), and clothing (-1.7%).

The bottom line: The data sends a worrying signal about the health of the consumer, which has been a consistent bright spot for the economy. axios.com


7-Eleven looks to hire 50K employees this month

Manhattan Retail Rents Are Up 8% As Luxury Brands Boost Recovery

UK: British economy stalls as strikes offset retail growth

---

Senior LP & AP Jobs Market
Manager of Supply Chain, Asset Protection job posted for Burlington Stores in Burlington, New Jersey


The Manger of Supply Chain Asset Protection supports both shortage and overall company objectives by managing Asset Protection activities in Burlington's supply chain network. This role works closely with field AP teams and the Investigations team to identify and resolve theft cases that originate out of Burlington DCs and Pool Point locations across the network. Develops and maintains a strong partnership with DC AP teams, DC Inventory Control, Logistics, and DC Operations. burlingtonstores.jobs

---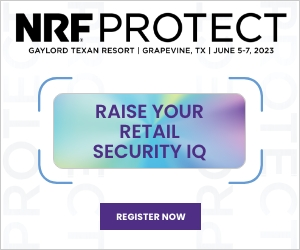 Attackers Gaining Access to Video Security Data
Critical Vulnerability in Hikvision Storage Solutions Exposes Video Security Data

Video surveillance giant Hikvision this week informed customers that it has patched a critical vulnerability affecting its Hybrid SAN and cluster storage products.

The vulnerability, tracked as CVE-2023-28808, has been described by the vendor as an access control issue that can be exploited to obtain administrator permissions by sending specially crafted messages to the targeted device.

The impacted products are used by organizations to store video security data, and an attacker exploiting the vulnerability could gain access to that data.

In a notification sent by Hikvision to partners - a copy was also shared with SecurityWeek - the company said it's not aware of in-the-wild exploitation.

"While Hikvision is not aware of this vulnerability being exploited in the field, we recognize that some of our partners may have installed Hikvision equipment that is affected by this vulnerability and we strongly encourage them to work with their customers to install the patch and ensure proper cyber hygiene," the company told partners.

Hikvision noted in its advisory that an attacker needs to have network access to the targeted device in order to exploit CVE-2023-28808.

However, Arko Dhar, the CTO of Redinent, the India-based CCTV and IoT cybersecurity company credited for finding the vulnerability, told SecurityWeek that many impacted systems are exposed to the internet and remote exploitation is possible.

"The Hybrid SAN storage is primarily meant to store CCTV video recordings. But it can also be configured to store business data as well. The impact is very wide - an attacker can delete video recordings and business data at the same time, delete backups and cause significant impact to the business," Dhar warned. securityweek.com


Business Grapple with ChatGPT Risks
ChatGPT at work: What's the cyber risk for employers?

The use of ChatGPT could run afoul of company policy, copyright concerns, customer confidentiality or even international privacy laws


Companies across the world are taking measures to regulate how their employees use OpenAI's ChatGPT at work. As with all new technologies, generative AI models like ChatGPT can be a source of both benefits and risks.

After researching industry best practices, some organizations are deciding that - at least for now - the risks outweigh the benefits. As a result, they may choose to declare the use of ChatGPT unauthorized, and block access to it from company networks until appropriate support and direction can be established.

Nearly half of human resources professionals said they were formulating guidance on their employees' use of ChatGPT, according to Gartner. This is no surprise considering the number of people who've admitted to using the chatbot at work.

A Fishbowl survey suggests 43% of working professionals have used AI tools like ChatGPT to complete tasks at work. More than two-thirds of respondents hadn't told their bosses they were doing so.

ChatGPT is the fastest-growing digital platform in history, amassing more than 100 million users in its first two months of availability. For comparison's sake, WhatsApp had that many users after three-and-a-half years, and Facebook took four-and-a-half years to reach the same milestone. cybersecuritydive.com


Montana on the Verge of Banning TikTok?
A Plan to Ban TikTok in Montana Is a Preview for the Rest of the Country

The fight has shown the difficult test and legally perilous road facing lawmakers or the White House if they try to enact a national ban on the social media service.

Lawmakers in Washington are pushing for an outright ban of TikTok on American soil. Montana might beat them to it.

The state's Legislature is further along than any other body in the United States to passing a ban of the popular Chinese-owned video app, which has faced scrutiny for whether it is handing sensitive data about Americans to Beijing. A Montana bill to block the app was introduced in February, and the State Senate approved it last month. The State House, where the bill has a strong chance of passing after two more votes, is scheduled to consider it on Thursday.

Along the way, the proposal has encountered obstacles. A major internet provider said it could not block TikTok in Montana, prompting lawmakers to rewrite the legislation. A trade group funded by Apple and Google, which operate the app stores that would be forbidden to carry the app, also declared that it was impossible for the companies to prevent access to TikTok in a single state.

The fight in Montana is a preview of what the United States might confront at a national level if lawmakers or the White House tries to enact a nationwide ban of TikTok. Even if legislation disallowing the app is passed, carrying out a ban is technologically difficult and would involve companies across the digital economy. nytimes.com


What is the true potential impact of artificial intelligence on cybersecurity?

Greater scale and symbolic models are necessary before AI and machine learning can meet big challenges like breaking the best encryption algorithms.

Will artificial intelligence become clever enough to upend computer security? AI is already surprising the world of art by producing masterpieces in any style on demand. It's capable of writing poetry while digging up arcane facts in a vast repository. If AIs can act like a bard while delivering the comprehensive power of the best search engines, why can't they shatter security protocols, too?

The answers are complex, rapidly evolving, and still murky. AI makes some parts of defending computers against attack easier. Other parts are more challenging and may never yield to any intelligence, human or artificial. Knowing which is which, though, is difficult. The rapid evolution of the new models makes it hard to say where AI will or won't help with any certainty. The most dangerous statement may be, "AIs will never do that." csoonline.com


Adobe Inc. Agrees to Pay $3 Million to Settle Kickback Allegations Involving Federal Software Sales
Adobe Inc. has agreed to pay $3 million to resolve False Claims Act allegations that it made payments in violation of the Anti-Kickback Act in return for influence over the sale of Adobe software to the federal government.

How will the government enforce the national cyber strategy?
Efforts to enact laws and regulations that impose greater responsibility on the technology sector aren't likely to come quick or easy.
St Louis: Dept of Homeland Security: 3 Romanians plead guilty to fraud in St. Louis following HSI, APD investigation
Three Romanian citizens pleaded guilty to federal charges in St. Louis and admitted running a "short-change fraud" in stores across the country following a joint investigation by Homeland Security Investigations (HSI) and Missouri's Arnold Police Department. Loredana Angel, 34, pleaded guilty in U.S. District Court April 13 to felony charges of conspiracy to commit wire fraud and illegal reentry of an alien. Daniel Rostas, 30, pleaded guilty Wednesday, and Legenda Rostas, 28, pleaded guilty March 1 to the same charges. Angel and Legenda Rostas told authorities that they are sisters and that the Rostas are married.

All three admitted engaging in sleight of hand to defraud Target stores since 2017 while buying various denominations of Visa gift cards. When purchasing the cards, they displayed the full purchase price in cash, then folded over a portion and kept it while handing the rest to store employees. They targeted younger or less experienced employees and wired the money they made to family in Romania. Target records show Legenda Rostas was involved in $224,666 in fraud at stores throughout the country, her plea agreement says. Angel admitted involvement in about $83,865 in fraud. Records show Daniel Rostas wired approximately $62,534 to Romania and elsewhere. ice.gov


Los Angeles, CA: Two Men Arrested in Home Depot Theft Ring in Southland
One man pleaded not guilty Thursday and another man is scheduled to be arraigned Friday in an alleged retail theft ring that operated out of Los Angeles, Orange and San Diego counties for about two years and netted more than $76,000. Luis Alberto Delasancha, 31, pleaded not guilty to 25 counts of grand theft and a count of organized retail grand theft, all felonies. He was ordered to return to court April 21 for a pretrial hearing in the Central Justice Center in Santa Ana. Co-defendant Agustin Garfiaz, 26, of Bellflower, was charged with organized retail grand theft and a count of receiving stolen property, both felonies. He was scheduled to be arraigned Friday in the jail courtroom in Santa Ana. Both were arrested Wednesday. Co-defendants Jose Delasancha, 32, and Everado Carrillo-Avilez, 39, were both listed in court records as fugitives. mynewsla.com


Tarzana, CA: Video shows thieves stealing $25,000 worth of wigs, other merchandise from Tarzana beauty store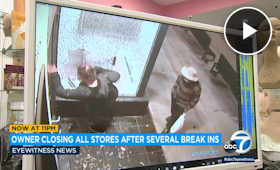 A beauty supply store owner said she's been forced to shut down her shop in Tarzana after thieves broke into the business and stole about $25,000 worth of wigs and other merchandise - and she said this is one of the many break-ins she's experienced. It happened late Wednesday night at Evette's Beauty Supply located in the 18000 block of Ventura Boulevard. Owner Evette Ingram said a man and woman were caught smashing a window to get in the store before taking off with the merchandise in a getaway vehicle. Surveillance video shows the suspects inside the business, placing different pieces of merchandise in large black garbage bags. abc7.com


Halifax, NS, Canada: Serial shoplifting suspect faces 62 charges, thousands in merchandise taken
Police in Halifax have arrested and charged a man accused of stealing thousands of dollars worth of merchandise in at least 14 shoplifting incidents. In total, the man faces 62 charges. According to Halifax Regional Police (HRP), the thefts took place between Feb. 10 and April 12 from a "number of different" retailers - mostly large big box stores. As well, police said the man did not show up to a court date on March 23 and a warrant had been issued for his arrest. Brandon Germaine Rogers, 35, was scheduled to appear in Halifax court on Thursday to face 14 counts of theft under $5,000, 13 counts of possession of property obtained by crime, 34 counts of breaching a court order and one count of failing to appear. HRP spokesperson Const. John MacLeod called it a "significant" number of theft charges, and noted that retail theft complaints have increased in the past couple of years. "The increase is not specific to Halifax. It's a national trend, unfortunately we're not immune to that," MacLeod said. He said police are working with retailers and the greater community to address the spike in cases. globalnews.ca


Toronto, Canada: Police searching for three thieves after $19,000 worth of products taken from Toronto shopping centre
Police are looking to identify three suspects after about $19,000 in merchandise went missing from a store in Toronto. The alleged theft happened around 7 p.m. March 16 at a mall in the area of Bayview Avenue and Sheppard Avenue East. The location appears to correspond to Bayview Village Shopping Centre. Police say two of the suspects went into the store while the third kept watch outside. The three fled with their haul in a red Dodge Caravan. Officers were notified on March 22 of the theft. durhamradionews.com


Murfreesboro, TN; Police Need Help Identifying Trio in $7,500+ Walmart Theft Case

Fresno, CA: More than $3,500 in Lego sets stolen from River Park Target

Spring Township, PA: Police Arrest Kohl's $1600 Theft Suspect

Murfreesboro, TN: Theft Case Involved Hundreds of Dollars Worth of Light Fixtures

Wichita, KS: Stolen retail goods popping up on online marketplaces

Bethel Park, PA: Police searching for pair of felony theft suspects with active warrants

Shootings & Deaths

Shreveport, LA: Update: Man found guilty in connection to shootout that left bystander dead
A Shreveport man has been convicted of second-degree murder in connection with a Stoner Hill neighborhood shootout that left a bystander, who was a single father and veteran, dead. It took the six-man, six-woman jury in District Judge Chris Victory's court less than an hour to unanimously convict Cortez De'Shun Hines, 30, in connection with the Sept. 1, 2019, slaying of 42-year-old Sherman Earl Rambo Jr. He was killed by crossfire during a shootout on East Stoner Avenue. The jury heard evidence from seventeen witnesses, including four civilians, two expert witnesses and eleven Shreveport police officers, says Caddo Parish District Attorney's Office. Hines was one of three men indicted in connection with Rambo's death. The other men, Jacody Demetrius Wilson and Carl Wayne McClinton Jr., still await trial. Wilson is set for arguments and hearings on May 3; McClinton is set for the same proceedings on April 17. ksla.com


Washington, DC: Man Shot, Killed Inside McDonald's in Northeast DC
A man died after he was shot inside a McDonald's in Northeast D.C. on Wednesday evening, authorities said. Andre Wallace Jr., of Northeast D.C., was the victim, police said. He was 19. Officers were called to the restaurant in the 1600 block of Benning Road NE at about 6:20 p.m. The shooting victim was found inside and was pronounced dead on the scene, police said. A large area around the restaurant was shut down, News4 footage shows. No arrests were immediately announced. Anyone with potentially relevant information is asked to contact police. A reward of up to $25,000 is available. nbcwashington.com


Berkeley County, SC: Family of gun store employee killed files suit against owner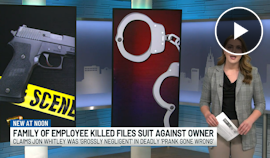 The family of the gun store employee who was shot to death in what was described as a "prank gone wrong" has filed a wrongful death lawsuit against the gun store's owner and the business. Stefan Mrgan's family claims that Jon Whitley, the owner of Coastal Firearms on Cainhoy Road in Berkeley County, was grossly negligent before and when he allegedly shot Mrgan in the face. According to the court documents Whitley believed the gun he had picked up was unloaded at that time. They go on to say that Whitley had a duty to exercise reasonable care in keeping his employees safe and not to put them in unreasonably dangerous situations. It also alleges that he did not ensure that loaded firearms were properly secured and employees were not trained well. In April 2022, the South Carolina Occupational Safety and Health Administration fined the business $3,000 and conducted a follow-up inspection.
That case still remains "open." live5news.com


Nashville, TN: Investigation Underway after Employee Shoots Alleged Pregnant Shoplifter at Walgreens
Detectives are investigating a shooting that left a pregnant woman injured after she allegedly shoplifted from a East Nashville Walgreens on April 12, 2023, WSMV reports. The incident happened in the parking lot of the store located on Gallatin Avenue just before 8 p.m. after Walgreens team leader, 21-year-old Mitarius Boyd, received reports of two women stealing. According to MNPD, Boyd told officers that he saw the women put items into a large bag and he began to record them on his phone. He eventually followed them as they exited the store without paying for the items. Boyd claims that when he approached the women as they were putting the items in the truck of of their car, one of the women sprayed him with mace, resulting in Boyd pulling out his gun and firing shots, WSMV reports. Travonsha Ferguson, who was seven months pregnant at the time, was struck multiple times. Police say that Boyd said he was in fear of his life and was unsure if they were armed. He then called 911 as the women fled the scene. The other women took Ferguson to General Hospital and she was later transferred by ambulance to Vanderbilt Medical Center. An emergency C-Section was performed. The infant was not injured by the gunfire but is in critical but stable condition, according to police. Ferguson is also in critical but stable condition at Vanderbilt Medical Center. sumnercountysource.com


Houston, TX: Gunfight erupts at gas station near South Loop after 5 suspects attempt armed robbery, demanding customers' belongings
According to police, five suspects arrived at the gas station and four entered the building while the other person remained behind the wheel. Houston police officers say the four suspects who entered the store with face masks on began demanding customers' belongings at gunpoint. That's when a civilian who happened to be inside the store pulled out his own firearm and began shooting at the suspects. Gunfire was exchanged and HPD said three out of the four suspects inside were hit by bullets. Additionally, one innocent bystander who did not have a weapon was also struck by gunfire. That person was transported to the hospital and is said to be in stable condition. click2houston.com

---

Robberies, Incidents & Thefts


Riverside, CA: Man Who Tried to Burn MoVal Store Clerk During Theft Sentenced
A transient who attempted to set a Moreno Valley store clerk on fire when the worker prevented the defendant from fleeing with stolen groceries was bound for state prison Thursday to serve a roughly two-year sentence. Raul Genaro Bautista, 31, reached a plea agreement with the Riverside County District Attorney's Office Wednesday, admitting charges of assault with a deadly weapon and attempted robbery. In exchange for his admissions, prosecutors dropped charges of attempted murder and attempted arson. Superior Court Judge Brian Aronson certified the plea deal and imposed the sentence stipulated by the prosecution and defense - three years in state prison. However, after the judge factored in the time Bautista has already served in county jail awaiting disposition of his case, as well as state-mandated credits, it effectively reduced the sentence to 21 months.

patch.com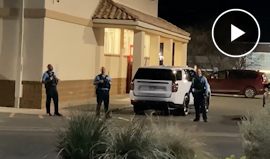 St George, UT: Robbers leave both St. George Walgreens stores empty-handed, police search for suspects
Two men attempted to rob both of St. George's Walgreens stores late Wednesday evening but left with nothing. While police are searching for the suspects, they remain at large, officers said. Officers are still trying to put together the chain of events, but ultimately, cooperation between the stores on Bluff Street and Sunset Boulevard helped leave the robbers with nothing to show for their efforts, St. George Police Officer Tiffany Mitchell told St. George News.

stgeorgeutah.com




Las Vegas, NV: Fired Las Vegas store employee stole, pawned thousands in diamond jewelry


A Las Vegas man working in a store's jewelry department allegedly stole nearly two dozen diamond pieces, including rings and bracelets, pawning them off for cash, police said in documents the 8 News Now Investigators obtained Thursday. Carlos Flores-Ochoa faces charges of theft, burglary, and obtaining money, property, rent or labor by false pretenses, records showed. The 23 stolen diamond pieces were worth nearly $150,000 in total, police said. In each case, Flores-Ochoa allegedly disarmed an alarm and pocketed the jewelry, police said. In November 2022, an employee at a Centennial Hills big box store near Centennial Center Boulevard and West Tropical Parkway filed a police report alleging Flores-Ochoa, an employee, had stolen jewelry. Police said Flores-Ochoa admitted to the employee that he had stolen the jewelry and pawned the items. The store manager then subsequently fired him, documents said. Store employees told police Flores-Ochoa was hired in September 2022 and promoted to the jewelry department in October, documents said.

8newsnow.com




Akron, OH: Dollar store customers offered $100 to beat 'snitch'
Dollar store customers were offered $100 to beat a man for reporting a theft in the store, according to an Akron police report. Akron police were dispatched to the Family Dollar store along North Arlington Street just after 11 a.m. on Monday, April 10. A 45-year-old man who was in the store told police he witnessed a man steal a trashcan full of bathroom vanity items including soaps. He and the store employees pursued the theft suspect out of the store, but lost sight of him. The witness told store employees he saw the suspect enter an apartment along McNaughton Street, according to the report. Another person then started yelling at the witness for "snitching," and claimed he lived at that apartment. He took a $100 bill from his wallet, waved it around and offered it to anyone who would beat the man. One man sucker-punched the witness in the face. The witness fought back against him and a woman who joined the fray, while a clerk called 911.

wdtn.com




Philadelphia, PA: $100,000 in Dimes stolen from Philadelphia truck in bizarre coin heist

Featured Job Spotlights

An Industry Obligation - Staffing 'Best in Class' Teams

Every one has a role to play in building an industry.
Filled your job? Any good candidates left over?
Help your colleagues - your industry - Build 'Best in Class' teams.

Refer the Best & Build the Best
Quality - Diversity - Industry Obligation


---






Director of Retail Solutions - North America
Denver, CO - posted April 5
This role will be focused on selling our SaaS retail crime intelligence platform by developing new prospects, and progressing Enterprise level prospects through our sales process. You will report directly to the VP of Retail Solutions - North America, and work alongside our Marketing, Partnerships and Customer Success team to grow our customer base...






Manager, Regional Loss Prevention
Minneapolis, MN - posted April 4
This position is responsible for managing all aspects of loss prevention for a geographic area to reduce and control shortage and other financial losses in 124+ company stores. The coverage areas average $850+ million in sales revenue...






Field Loss Prevention Manager
Atlanta, GA - posted March 21
As a Field Loss Prevention Manager (FLPM) you will coordinate Loss Prevention and Safety Programs intended to protect Staples assets and ensure a safe work environment within Staples Retail locations. FLPM's are depended on to be an expert in auditing, investigating, and training...





Regional Distribution Asset Protection Specialist
Landover, MD - posted February 24
This role is responsible for leading asset protection initiatives and investigating matters pertaining to inventory shrink, policy violations, unauthorized access, fraud, and theft within assigned distribution center(s) - Landover MD, Severn MD, Bluefield VA, Norfolk VA, Lumberton NC...






Corporate Risk Manager
Charlotte or Raleigh, NC - posted February 14
Summary of Role and Responsibilities: Proactive approach to preventing losses/injuries whether they are to our employees, third parties or customers valuables. They include cash in transit, auto losses or injuries; Report all incidents, claims and losses which may expose the company to financial losses whether they are covered by insurance or not...






Director of Asset Protection & Safety
Mount Horeb, WI - posted January 27
The Director of Asset Protection and Safety is responsible for developing strategies, supporting initiatives, and creating a vibrant culture relating to all aspects of asset protection and safety throughout the organization. As the expert strategist and leader of asset protection and safety, this role applies broad knowledge and seasoned experience to address risks...






Loss Prevention Analyst
Ashburn, VA - posted February 21
This position pays $67,725 - $75,000 per year: The LP Analyst protects the company's assets from internal theft by using investigative resources (i.e., exception-based reporting (EBR), micros reporting, inventory reporting, CCTV, etc.). The primary responsibility of the LP Analyst is to identify potential loss prevention issues such as employee theft in SSP America's operation across North America...





Manager of Asset Protection (Corporate and DC)
North Kingstown, RI - posted February 17
The Manager of Asset Protection - Corporate and Distribution Center ("DC") role at Ocean State Job Lot ("OSJL" and "Company") will have overall responsibility for the ongoing safety and security of all operations throughout the corporate office and supply chain...





Business Continuity Planning Manager
Jacksonville, FL - posted January 26
Responsible for developing, implementing and managing the company's Business Continuity (BCP) and Life Safety Programs to include but not limited to emergency response, disaster recovery and site preparedness plans for critical business functions across the organization. In addition, the position will develop and lead testing requirements to ensure these programs are effective and can be executed in the event of a disaster/crisis...





Region Asset Protection Manager-St Augustine and Daytona Beach Market
Jacksonville, FL - posted January 18
Responsible for managing asset protection programs designed to minimize shrink, associate and customer liability accidents, bad check and cash loss, and safety incidents for stores within assigned region. This position will develop the framework for the groups' response to critical incidents, investigative needs, safety concerns and regulatory agency visits...






Region Asset Protection Manager: Fresco y Mas Banner
Hialeah, FL - posted January 18
Responsible for managing asset protection programs designed to minimize shrink, associate and customer liability accidents, bad check and cash loss, and safety incidents for stores within assigned region. This position will develop the framework for the groups' response to critical incidents, investigative needs, safety concerns and regulatory agency visits...

---

Featured Jobs

To apply to any of today's Featured Jobs, Click Here