Are The Lifecycles Of Security Systems Getting Shorter?

Some products may become obsolete faster than others, while some may have a longer life span due to ongoing innovation and demand. Technology and security threats are continuously evolving, and older security systems may no longer be effective in protecting against the latest threats. Additionally, older systems may have outdated technology, making them more vulnerable. We asked this week's Expert Panel Roundtable: Given rapid technology development, are the lifecycles of security systems getting shorter? Explain.



Charles Pitman - Product Marketing Manager, Genetec, Inc.

The answer varies for software or hardware products. Today's software development cycles are moving towards a continuous delivery model. New features are released frequently to meet changing market demands and new technological developments. As the pace of innovation increases, modern software products adapt at the same pace, accommodating the longer lifecycles users prefer without impacting innovation. Hardware development requires components from many suppliers. Since sourcing parts can be difficult (especially with the recent supply chain fragility), manufacturers are forced to seek alternatives where possible, and adapt lifecycles when they aren't. Delays in obtaining a single part can have cascading impacts that make supplying and maintaining a product challenging. This can force manufacturers to rework product lifecycles which can leave customers in the lurch. Hence, it's important to choose manufacturers who build their systems on an open architecture that can accommodate different types of hardware.



Ryan Zatolokin - Senior Technologist, North America, Axis Communications

Even with rapid technology development, the lifecycles of network security systems aren't necessarily getting shorter. With proper lifecycle management, modern IP systems can remain operational while also bearing opportunities for enhancements and additions in the future. In looking at a system's lifecycle, proactive maintenance is the best way to ensure a more stable, secure, and lasting operation. This is especially true in today's ever-expanding ecosystem of connected and interdependent devices and solutions. Additionally, because of how quickly technology is evolving, modern security tech support teams are skilled not only in fixing product-related issues, but also in thoroughly understanding various product portfolios, customer challenges, typical application areas, and more. This helps organizations easily and efficiently maintain existing security systems while implementing upgrades as new solutions are introduced. securityinformed.com

---

Take action now against active shooter threats

How one retailer's proactive face matching led to ID, arrest without violence

Active shooter attacks spiked by 52.5 percent in 2021, according to the FBI. Most happened in "commerce" areas, such as shopping malls and grocery stores. In response, retailers are quickly adopting technologies, including face matching, that offer advance warning of threats.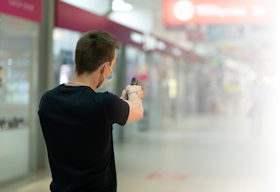 Not all violence is preventable, but retailers can increase their chances of stopping attacks before they start. Here's how one retailer's fast, proactive reaction to a real-life threat led to an arrest with no violence or injuries-and most importantly, before the threatened attack happened.

The retailer became aware of a potential active shooter threat on a popular social media platform. An unknown and unverified individual made a direct threat of gun violence in his post, and he suggested that customers with children avoid the retailer's store.

Minutes after the threat was posted, the retailer ran the profile photo through the FaceFirst Visitor Search Investigation tool. Had the person of interest visited any of the retailer's stores in the past 45 days? Within seconds, the search revealed two face matches at two locations, one from two weeks back and another just one day prior.

The retailer's asset protection team reviewed the matched events and security camera video, then collaborated with local law enforcement. Officers confirmed the man was a known offender, with a record of violent crimes against another retailer and a history of mental illness. Using face matching technology, the retailer formed a threat profile for the man in less than two hours.

Eight days later, the man returned to the retailer's store. As he entered, the FaceFirst system matched his face and immediately generated a match notification. The store management team confirmed the notification and followed the retailer's policy on the notification: "Do not approach-call LE." Law enforcement officers responded quickly and arrested the man nearby. The incident was resolved without violence, and a restraining order was issued soon thereafter. The man has not returned to any of the retailer's stores since his arrest.



Calculate the risks of being caught unaware when a known offender enters your store. If you knew there was a proven solution to keep your valued customers and associates safer from violent offenders, would you implement it? The real risk is answering no. FaceFirst's solution is fast, accurate, and ethical-take action today at facefirst.com.

---

Robberies Up 18% From Previous Year - Highest Since 2016
Jewelry Stores Top Retail Sector




Robberies & Burglaries by Store Type
Jewelry Takes #1 Spot for First Time Ever - Overtaking C-Stores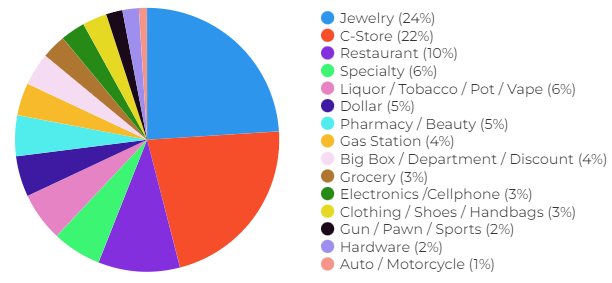 Click here to see the full report

Sponsored by


---

The U.S. Crime Surge
The Retail Impact

The Great Debate Over Walmart's Store Closures
Lawmakers argue over whether crime is forcing stores to shut down

Texas and Portland, Oregon, politicians take to Twitter to argue over why Walmart is closing stores

The mayor of Portland, Oregon, replied to Texas Gov. Greg Abbott's tweet about Walmart leaving the city.

The mayor of Portland, Oregon, hit back against an accusation from Texas Gov. Greg Abbott that Walmart is leaving the city because of crime.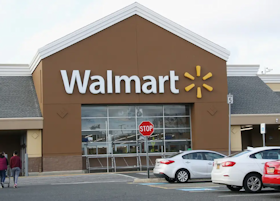 On Sunday, Abbott, a Republican, tweeted a link to an article about Walmart's decision to close its last two stores in Portland. The story noted that Walmart considered various factors in making the closures, including the stores' financial performance. An accompanying video segment quoted a shopper complaining about shoplifting at the store.

Abbott commented on the article, saying, "This is what happens when cities refuse to enforce the rule of law." Mayor Ted Wheeler replied on Monday, referring to "dozens of Walmart stores that have closed in Texas in recent years."

Walmart has routinely shuttered stores over the last several years, including in 2016, when it closed 28 stores in Texas because they were too close to other Walmart locations. This year, the retailer is closing more stores, from Portland to Washington, DC.

Theft at retailers has received more attention as trade groups have reported an increase in crime in the last few years. They say that the problem isn't individual shoplifters but organized retail crime that involves multiple thieves taking large quantities of goods from stores.

One Walmart store in Albuquerque, New Mexico, is set to close this week. A Walmart spokesperson told Insider: "There is no single cause for why a store closes." businessinsider.com


Armed Officers Deployed in Stores to Stop Theft
But it carries to risk of more retail shootings - Walmart has seen 364 since 2020

'Shoplifting as a Sport?' New Bills and Busts Clamp Down on Crime
The New Mexico House of Representatives last Wednesday passed by a 62 to 3 margin a bill that would enhance penalties for shoplifting based on the amount of merchandise stolen and frequency of arrests.

HB 234 now goes on to the state senate, where it is expected to pass and then be signed by top supporter Gov. Michelle Lujan. The bill, empowering prosecutors to charge perpetrators with the cumulative amount stolen in a 90-day period, puts on the books a new offense of "organized retail crime" to be treated as a second-degree felony. In addition, the legislation would redefine the term "robbery" to include any use or threatened use of violence in the commission of a theft.

While the state legislature in New Mexico is stepping up in novel ways to aid prosecutors, law enforcement across the country in Yonkers, N.Y. is going undercover to curb shoplifting in the city of more than 200,000, just north of Manhattan.

The initiative focuses on putting plain-clothes officers in retail centers, particularly big-box stores to assist loss prevention in stopping thieves. A pattern crimes unit will be deployed to patrol parking lots, a communications division will prioritize shoplifting calls for response and field intelligence officers will follow up on outstanding cases.

As promising as efforts like those promised in Yonkers sound, stronger police presence at retail stores also means more firearms on the premises and greater potential for escalation when confronting suspects.

Saturday morning at a Walmart in Phoenix, a would-be shoplifter was approached by loss prevention staff when a uniformed, off-duty police officer came to assist just outside the entryway. According to reports, the man then pointed a gun at the Walmart employee and the officer, prompting the officer to fire at the suspect. The bullet missed, however. He was later apprehended and no damage to persons or property was reported as a result of the officer's misfire.

This incident increases the tally of gun-related incidents at Walmart to more than 364 since 2020, by far the most of any retailer, according to a Guns Down America study published last fall. sourcingjournal.com


More & More Retail Theft Goes Unreported
Shameless theft video highlights bigger problem, thefts go unreported
Retail theft is a problem all over the country. It's no secret, it also happens in and around Baton Rouge. What you might not know is a lot of it goes unreported.

If you look around the parking lot and the building itself at the Walgreens on South Acadian Thruway and Government Street, you'll notice no visible surveillance cameras. Brian McGowen lives next to the Mid City Walgreens and has taken it upon himself to post surveillance cameras.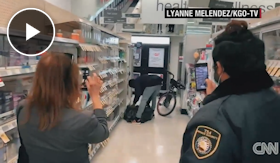 "You're sending a signal to the public that you just don't care what's going on in your parking lot. It's bad for business," McGowen said.

Police admit that thefts are happening, but they are not being called in. It's something that's happening all over the country.

In San Francisco, CNN reported that theft at Walgreens stores was running rampant. "Some of those businesses have policies in which they don't really call for police assistance, they let those persons leave that business with that merchandise and write it off as a loss," McKneely said.

Brittany Weiss asked Walgreens corporate about why theft is going unreported in Baton Rouge. A spokesperson didn't answer the question, but did say the company takes measures like installing anti-theft devices and using security personnel to deter theft. Baton Rouge police have an idea why they aren't receiving calls about thefts.

"They don't want that type of image on their business," McKneely said.

Inside several Baton Rouge Walgreens stores, customers might notice the amount of stock behind plexiglass. It includes detergent, fabric freshener, deodorant, body wash and several other items. Petty theft is a criminal enterprise and everyone plays a part-from the seller, to the retailer, the criminal, the consumer and the unaware online shopper. wbrz.com


More ORC Stings & Jail Time Coming?
Update: Retail theft stings may lead to more jail time with new Oregon Senate bill

Senate Bill 340 would target criminals involved in organized retail theft

A series of retail theft stings are now underway by Salem law enforcement as they try to stop a growing problem that's causing some businesses to close their doors.

In a hearing on Senate Bill 340 in the Judiciary Committee Wednesday, law enforcement officers, grocery store representatives and retail lobbyists testified in support of increasing jail time for criminals involved in organized retail theft.

Retail theft rings involve multiple people who engage in frequent theft, and who often resell the stolen property online.

Washington County District Attorney Kevin Barton said creating tougher penalties for these rings is only one piece of the solution.

"What it is we need to have is law enforcement whose able to respond, prosecutors who are willing to prosecute. We need courts that are able to convict, and we need jails and prisons that are able to incarcerate. And all of those things need to be present. Sadly, they're not all present everywhere in Oregon," Barton said.

There's a second bill that pulls $5 million in tax money into a fund that cities, counties and the state can all use to help pay for law officers who work overtime to run these sting missions.

The next step for these bills is a senate floor vote. Those wanting to voice an opinion about the bill can contact their state lawmaker. koin.com


Another State Hopes to Tackle the ORC Surge
Lawmakers urged to allow e-commerce alcohol sales, reduce retail theft
A spokesperson for grocers in Wisconsin is urging lawmakers to take action this session to allow e-commerce alcohol sales and reduce retail theft.

Jim Hyland, vice president of communications and public affairs for Roundy's Supermarkets, spoke yesterday during a hearing hosted by the Assembly Committee on Jobs, Economy and Small Business Development.

he noted retail theft at grocery stores has also increased in recent years, and called on legislators to consider passing a law to address that "major problem" for the industry. He described an "organized retail crime approach" to such theft, which involves selling the stolen goods online or elsewhere.

"We're hoping the Wisconsin Legislature will consider retail theft legislation during the current session that will give serial offenders as well as those contemplating retail theft second thoughts about their actions," he said.

Watch a video of the hearing. wisbusiness.com


Fatal Mall Shooting Lawsuit
Parents of slain Georgia football star Elijah DeWitt sue mall where he was killed
The parents of slain Georgia high school football star Elijah DeWitt are suing the mall where he was killed, claiming its owners ignored serious safety risks to their son's ultimate detriment. DeWitt, 18, was fatally shot on Oct. 5 outside a Dave & Buster's in an attempted robbery outside the Sugarloaf Mills Malls in Lawrenceville, Georgia.

With full knowledge of the "dangerous and hazardous conditions," the mall "negligently represented to its invitees that the [premises] were properly maintained and reasonably safe," lawyers for DeWitt's parents, Craig and Dawn, said in their suit filed in the State Court of Gwinnett County. The suit names Simon Property Group, Sugarloaf Mills Limited Partnership, Universal Protection Service, the mall's security director Jason Choy, Dave & Buster's of Georgia and five John Does as defendants. nypost.com


Did Crime Contribute to Grocery & C-Store Chain Closures?
Green Zebra grocery to shut down, close all Portland stores at the end of the month
Green Zebra, the chain of health-focused grocery and convenience stores, plans to shutter all three Portland locations at the end of March.

Amex follows rivals in ditching gun code
Card company Discover Financial Services said it removed a new gun merchant category code from its April network updates. That statement followed news reports today that larger rivals Visa and Mastercard weren't implementing the code.

A violent night in D.C. as Senate votes to nix crime bill
There were five shootings in the city from Tuesday night through early Wednesday evening

Panama City Beach PD to use K-9 dogs, crime cameras in Spring Break crackdown

Biden to Visit California and Call for Tougher Gun Control Measures

---
Last Chance to Show Your Support for
Lawmakers Fighting Retail Crime
Sign the thank you card for retail crime-fighting legislation

This is one last request to sign the thank you card to bipartisan lawmakers who introduced the Combating Organized Retail Crime Act. This bill is critical to addressing rising retail crime and targets criminal gangs hurting retailers and threatening public safety.

Your signature will help bring awareness to the importance of Congress advancing this legislation and will demonstrate much-deserved support to these congressional leaders who are supporting the retail community in the fight against organized retail crime.
---

Albertsons Can't Avoid Illinois Biometric Privacy Suit
An Illinois federal judge Wednesday refused to dismiss or send to arbitration a proposed class action accusing an Albertsons subsidiary of collecting and storing employees' voiceprints without securing the informed permission required under Illinois' biometric privacy law. law360.com


Educating Readers on the Benefits of RFID and the Internet of Things
White papers are a valuable source of information for those seeking to learn more about innovative technologies. Here are several recent papers we've added to our library.

Mar 02, 2023RFID Journal has long invited members of the academic, industrial and research communities, as well as vendors and other businesses, to submit white papers relevant to the fields of radio frequency identification (RFID) and the Internet of Things (IoT). Topics discussed in our white paper archive include supply chain, manufacturing, healthcare, retailing, security, asset tracking, privacy, standards and regulations, and more. The white papers we accept for publication are also spotlighted in our email newsletters to maximize exposure to our readers.

RFID Journal's goal is to help businesses improve their decision-making when it comes to RFID and other IoT technologies. rfidjournal.com


Finalists Announced for 17th Annual RFID Journal Awards
The winners will be revealed at the RFID Journal LIVE! 2023 conference and exhibition, to be held on May 9-11, in Orlando, Fla.

"The projects nominated this year have been complex and large-scale, demonstrating how RFID and IoT solutions have become the technology of choice for mission-critical applications," says Debbie Hughes, RFID Journal's senior editorial director of events. "The finalists hail from all around the world, including Belgium, Brazil, El Salvador, Germany, Norway, Poland, the United States, the United Kingdom, Taiwan, and Turkey, and we're excited to have several of them speaking at LIVE! 2023, where they will share their experience with attendees."

End-user companies were nominated in six categories. rfidjournal.com


Retailers: 60% Say No Layoffs & 50% Are Growing Workforces
Layoffs not widespread in retail

Big layoffs have not hit the retail industry.

That's according to a survey of in-house lawyers, C-suite executives and human resources professionals across industries by Littler, the world's largest employment and labor law practice representing management. In the survey, 21% of retail and hospitality industry respondents said their companies have conducted, or are conducting, workforce reductions or layoffs, compared to 24% of all respondents and 60% of tech industry respondents.

But while a quarter of all respondents (24%) say they have implemented workforce reductions layoffs or are in the process of doing so, the more interesting finding may be the lack of layoffs, the report noted. Six in 10 respondents say they are not planning or even considering them - and 50% of respondents say they are either currently, planning on or considering growing their workforces. chainstoreage.com


Retail Quits Trending Up Despite Industry-Wide Pay Increases
Retail worker quits are on the rise again even as workers in other industries increasingly try to hold onto their jobs

The increase is surprising in part because major retailers are spending big money to keep workers.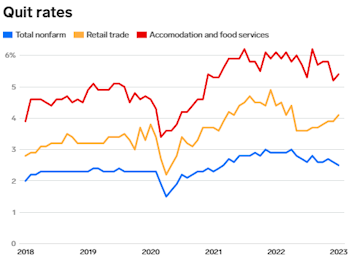 Quitting - sometimes loudly, sometimes quietly - peaked as a trend a little over a year ago and has been slowly dialing down as talk of an economic downturn dialed up.

But over the past few months, the quit rate among retail workers has ticked gradually up, reaching 4.1% in January and topping the pre-pandemic highs for the industry for the first time since last April, according to the latest Job Openings and Labor Turnover Survey from the US Bureau of Labor Statistics.

What makes the rising quits in retail especially notable is the fact that the biggest employers like Walmart, Home Depot, Kroger, and more have been spending a lot of money to try to keep that from happening. Plus, they've promised to spend a lot more in the coming years.

Long known for having some of the lowest wages around, retail workers collectively have seen their pay increase more since 2019 than almost any other group. businessinsider.com


Canadian Tire Pilots First of its Kind Humanoid General-purpose Robot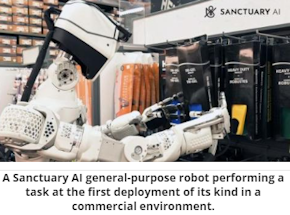 The deployment of a general-purpose robot with "human-like intelligence" took place at a Mark's retail store in Langley, BC, Canada, during a week-long pilot in January. The results were spectacular.

The Canadian Tire Corporation-owned store successfully tested the general-purpose robot in a "real-life" store environment with 110 retail-related tasks completed correctly, including front and back-of-store activities such as picking and packing merchandise, cleaning, tagging, labelling, folding, and more.

Sanctuary Cognitive Systems Corporation (Sanctuary AI), announced it was the "first ever deployment of a unique system designed to deliver the world's first human-like intelligence in general-purpose robots at a customer commercial facility through its partnership with Canadian Tire Corporation (CTC)." risnews.com


Dick's bets on House of Sport brand, shutters Field & Stream
The company is closing its last 17 hunting stores, but sees potential for 100 of the experiential sports-oriented locations over the next five years.

Rodents shut down food sales at California Walgreens

Mastercard SpendingPulse: Retail sales up 6.9% year-over-year in February

Economy adds 311,000 jobs in February, reflecting ongoing labor market strength

'Unrivaled, unparalleled' storm hits California; evacuations, flood fears heightened


Quarterly Results

Build-A-Bear Workshop Q4 net retail sales up 10%, Commercial & International franchise sales up 60.5%, e-commerce sales up 0.9%, net sales up 11.6%
Build-A-Bear Workshop FY net retail sales up 12.2%, Commercial & International franchise sales up 58%, e-commerce sales down 7.8%%, net sales up 13.7%
Barnes & Noble Education Q3 comp's up 5.9%, wholesale sales up 5.2%, consolidated sales up 11%

United Natural Foods (UNFI) Q2 net sales up 5.4%

Gap Q4 comp's down 5%, store sales down 3%, online sales down 10%, net sales down 6%
Old Navy Q4 comp's down 7%, net sales down 6%
Gap Q4 comp's down 4%, net sales down 9%
Banana Republic Q4 comp's down 3%, net sales down 6%
Athleta Q4 comp's down 5%, net sales down 1%

Gap FY comp's down 7%, store sales down 6%, online sales down 7%, net sales down 6%

Tilly's Q4 comp's down 13.7%, e-com sales down 13.4%, net sales down 11.8%
Tilly's FY comp's down 12.9%, e-com sales down 15%, net sales down 13.3%

---

Senior LP & AP Jobs Market
Dir. Security Operations job posted for Simon Property Group in Indianapolis, IN


This position will have regional responsibilities for the design and implementation of security programs that contribute to the protection of employees, customers, tenants and assets of the company, audit of contractual security programs, provides corporate security representation to local, state and federal law enforcement agencies and coordinates the deployment and ongoing management of technical security programs. simon.wd1.myworkdayjobs.com

---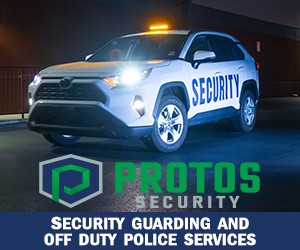 In Case You Missed It
RH-ISAC Releases Benchmark Reports
Cybersecurity Budgets Increase for Retail & Hospitality Industry
Despite economic headwinds and layoffs in other areas, most retail and hospitality CISOs expect to add staff in 2023, according to a new report.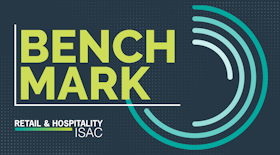 Vienna, VA (January 25, 2023) - Information security teams have always had to do more with less, but 2023 might be the year when they are able to do more with more. Riding a three-year trend, 70% of CISOs expect their budgets to increase again this year, while 60% also expect more FTEs, according to the CISO Benchmark Report released today from the Retail & Hospitality Information Sharing and Analysis Center (RH-ISAC).

The annual report surveys cybersecurity leaders from consumer-facing industries to assess data about budgets, personnel, and organizational priorities.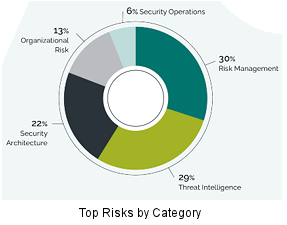 The increase in budget and personnel reflects how cybersecurity has grown as a critical part of business operations in many organizations. This year, business disruption emerged as a top 10 (No. 7) risk that organizations currently face, up seven spots from No. 14 in 2021. Similarly, 50% of CISOs now have business continuity/disaster recovery as part of their core responsibilities, an increase of 11 percentage points since last year.

"The retail and hospitality industries are constantly evolving, and so are the cybersecurity challenges they face," said Suzie Squier, president of RH-ISAC. "The RH-ISAC Benchmark Reports provide valuable insights and actionable information for CISOs and other information security professionals to stay informed about trends and resource allocation among infosec teams."

The full reports are available to RH-ISAC members, and summary versions of each report are available to download: CISO Benchmark Report | Practitioner Benchmark Report

Click here to read the full press release



---

Cybersecurity is a Must in the Remote Work Era
Remote work: Make cybersecurity a top priority, say data security pros

Workers using personal devices for work has opened up a huge new pathway for cyber criminals to gain access to sensitive company data - 91% of data security professionals see high risk implications from remote work, says a new report.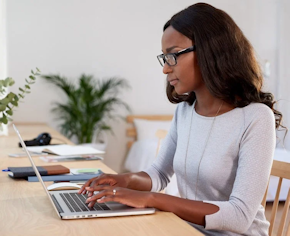 Senior leaders see big data security risks coming from remote work and hybrid schedules, a report has found.

FTI Consulting's "The Most Valuable, Vulnerable Commodity" reported that 91% of data security professionals have seen negative risk implications from remote and hybrid work.

Forty-five percent of respondents say remote and hybrid work has increased the potential for data breaches, while 41% say data has been shared on and through unapproved devices, systems and networks outside their company data privacy policies.

In addition, 38% said remote work has increased their potential attack surface, or potential avenues unauthorized users can use to access company data.

The report likens data to "the new oil," an immensely valuable asset for businesses but also one that can create cataclysmic fallout if those entrusted with protecting it, including legal chiefs, fail to do so.

Information technology security expert Daniel Andrea, a partner at the cybersecurity consulting firm KLR, said in a recent article that companies with remote workforces often also allow employees to use their own devices, instead of company-provided ones.

These policies, referred to as "bring your own device," or BYOD, often become a massive vulnerability, Andrea said.

Executive risk consultant Kelly Geary said that during the COVID-19 pandemic many companies suddenly switched to remote work schedules. The initial motivation was to protect employee health, but then companies were reluctant to call employees back to the office because they didn't want to lose them during the Great Resignation. benefitspro.com


Members of Congress at Risk after Data Breach
US Lawmakers Face Cyberattacks, Potential Physical Harm After Breach

The threat actor who posted the data for sale has claimed credit for multiple other breaches, including one at grocery platform Weee! that exposed data on more than 1.1 million customers.


Hundreds of US lawmakers and their families are at risk of identity theft, financial scams, and potentially even physical threats after a known info-theft threat actor called IntelBroker made House of Representatives members' personally identifiable information (PII) available for sale on the "Breached" criminal forum.

The information, confirmed as being obtained via a breach at health insurance marketplace DC Health Link, includes names, Social Security numbers, birth dates, addresses, and other sensitive identifying information. The data on the House members was part of a larger data set of PII belonging to more than 170,000 individuals enrolled with DC Health Link that the threat actor put up for sale this week.

DC Health Link: A Significant Breach

In a March 8 email to members of the House and their staff, US House Chief Administrative Officer Catherine Szpindor said the attack on DC Health Link does not appear to have specifically targeted US lawmakers. But the breach was significant and potentially exposed PII on thousands of people enrolled with DC Health Link.

"The FBI also informed us that they were able to purchase this PII, along with other enrollee information, on the Dark Web," Speaker of the House Kevin McCarthy (R-Calif.) and House Minority Leader Hakeem Jeffries (D-N.Y.) said in a joint letter to the executive director at DC Health Link on March 8. The letter sought specifics from the health exchange on the breach, including details on the full scope of the attack and DC Health Link's plans to notify affected individuals and offer credit monitoring services for them. darkreading.com


9M Impacted in AT&T Data Breach
AT&T Vendor Breach Exposes Data on 9M Wireless Accounts

AT&T is notifying customers of a Customer Proprietary Network Information compromise, exposing years-old upgrade details.

A compromise of an unnamed marketing vendor used by AT&T has exposed data associated with nearly 9 million wireless telecom accounts.

The breached data did not contain payment information, account passwords, Social Security numbers, or other personally identifiable information, AT&T said in a statement provided to Dark Reading. Instead, the cyberattack allowed unauthorized access to information used to determine eligibility it said, characterizing the data as years old.

The mobile carrier is notifying affected customers, it said. According to notification letter in an AT&T Community forum.

"We recently determined that an unauthorized person breached a vendor's system and gained access to your Customer Proprietary Network Information (CPNI)," the data breach notification letter in the AT&T community forum read. "In our industry, CPNI is information related to the telecommunications services you purchase from us, such as the number of lines on your account or the wireless plan to which you are subscribed." darkreading.com


Business-grade routers compromised in low-key attack campaign

IceFire Ransomware Portends a Broader Shift From Windows to Linux
Capitola, CA: 2 East Bay women arrested in suspected Santa Cruz County retail theft spree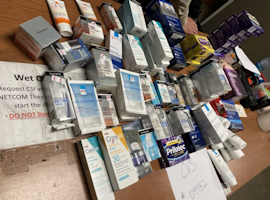 Police arrested two young East Bay women they are linking to a spate of pharmacy burglaries across Santa Cruz and Santa Clara counties. After Scotts Valley Police Department issued a vehicle description for a car believed to be associated with a burglary Tuesday, Santa Cruz County Sheriff's Office deputies pulled over 20-year-old Elani Flenaugh of Berkeley and 19-year-old Kiera Lee of Oakland around 9:30 p.m. on 41st Avenue in Capitola. Inside the vehicle, deputies took possession of thousands of dollars worth of apparent over-the-counter medications and supplements, property they believe came from retail thefts in the region. According to the Sheriff's Office, the women's vehicle also matched witness descriptions from the prior retail theft reports. Both Flenaugh and Lee were arrested and bailed out within hours of their arrest, according to county jail records. They initially were booked on suspicion of conspiracy, receiving stolen property, grand theft and burglary. mercurynews.com


Myrtle Beach, SC: 10 charged, $9K in merchandise recovered in shoplifting ring bust
Authorities said 10 people have been charged in a shoplifting ring bust in Myrtle Beach, South Carolina. The Myrtle Beach Police Department said the multiple-day operation was designed to identify shoplifters in retail establishments by working with loss prevention professionals. Officers were able to identify and recover approximately $9,067.69 worth of stolen merchandise at various retailers throughout the area. Shoplifting is a serious offense that harms our business community and is often related to other serious criminal acts," said Chief Amy Prock. "This operation targeted organized crime. It shows the strength of intelligence sharing among our community members and team members and our commitment to partnerships to reduce retail theft and related crimes in Myrtle Beach." mynews4.com


Burbank, CA: 4 arrested in sports card store burglary; 2 at large
Four men have been arrested for allegedly burglarizing a sports card store in Burbank early Thursday. Burbank police responded to a call regarding a commercial burglary at Burbank Sportscards, located at 1610 West Burbank Blvd., around 1:30 a.m. Police were able to apprehend four of the six occupants that ran from the vehicle. A significant amount of property stolen from Burbank Sportscards was found within the vehicle and in the suspects' possession, according to police. The suspects were identified as Tony Pineda, 30, of Huntington Park, Francisco Mena, 26, of Los Angeles, Diego Erazo, 20, of Tujunga, and Henry Flores, 19, also of Tujunga. Authorities are looking into the likelihood that the same suspects targeted another sports card store in Burbank, after two probation searches at two homes related to the four men in custody located evidence linking them to the burglary of Bullpen Burbank on March 1. The owner of Bullpen Burbank reported that the business lost more than $230,000 in currency and merchandise. ktla.com


Cleveland, OH: Parma police arrest suspects of dealership break-ins
Parma officers arrested four men believed to be involved in a "large number" of dealership break-ins. Makilin Wilson, Kyer Allen, Dahmere Lymon and Miguel Hernandez were arrested in connection to the recent dealership-break-ins, according to a release from Parma police. According to a release from the department, around 8:39 p.m. Saturday an officer was on traffic patrol, targeting aggressive and drunk driving, as well as complaints of speeding or other violations throughout the city. The officer found a stolen Dodge Durango Hellcat that is suspected of being involved in the break-ins, thefts and pursuits, driving in the 5400 block of State Road. Parma police were assisted by the Ohio State Highway Patrol, the Independence Police Department, the Seven Hills Police Department, the Ohio Investigative Unit, the Oakwood Police Department, the Brooklyn Heights Police Department and the Cleveland Division of Police, all of which set up a perimeter around the area. According to Parma police, these types of incidents involving multiple high end car thefts and pursuits have occurred in Ohio, Pennsylvania, and Michigan. cleveland19.com


Memphis, TN: Burglary at Southland Mall
On March 5 around 9:35 a.m., officers responded to a call from within the Southland Mall Security Office regarding a business burglary. The security officer informed the MPD officers that the rear mall door had been pried open. Checking the surrounding area, the officers found that one of the stores within the mall had been broken into. The store's owner informed officers that $30,000 to $35,000 in merchandise was taken. Video surveillance from the mall showed that 5 unknown individuals wearing dark clothing and masks taking clothing from the store's racks. The suspects are believed to be between the ages of 16 and 25. This is an ongoing investigation. actionnews5.com


Cornelius, NC: Update: Police release surveillance footage of suspects stealing $200,000 of High-end cars at dealership

Shootings & Deaths

Philadelphia, PA: Husband subdues gunman who shot wife, daughter in pizza shop during armed robbery
A Philadelphia mother and daughter were wounded in a shooting inside their family-owned pizza shop during an attempted armed robbery on Wednesday, according to police and a local report. A 19-year-old suspect walked into Mayfair Pizza in the 7400 block of Frankford Avenue in Holmesburg just before 9 p.m. armed with a gun and demanded money, FOX29 Philadelphia reported, citing police. Police said the suspect fired three shots, striking the 66-year-old mother once in the stomach and her 34-year-old daughter once in a shoulder. After the shots were fired, the husband and father of the victims jumped into action, with the help of other store workers, and tackled the gunman, according to police. The suspect was taken into custody and a weapon was recovered from the scene once police arrived. The victims were rushed to Jefferson Torresdale Hospital, where they were in stable condition, the report said. foxnews.com


St Peters, MO: Suspect on the run after attempted robbery, shooting at St. Peters grocery store
A man who allegedly shot a woman in a Schnucks parking lot Friday night in St. Peters was charged but remained on the loose Wednesday. The suspect, 24-year-old Tyrone Miller of O'Fallon, Illinois, was charged with one count each of first-degree assault, first-degree attempted robbery and armed criminal action in connection to the shooting. St. Charles County police said Miller tried to take a woman's purse at about 8 p.m. Friday in the store's parking lot. A probable cause statement provided by the St. Charles County Prosecuting Attorney's Office stated that when the woman in her 50s did not surrender the purse, Miller shot her in the face and left the scene. The woman's husband was with her and recounted the incident. ksdk.com


Chile: Attempted $32 million heist at Chile's largest airport ends in shootout that kills Security officer and alleged robber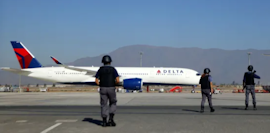 The "highly armed" men allegedly entered Arturo Merino Benítez International Airport in three different vehicles before shooting and killing an airport security officer as they tried to steal approximately $32.5 million, according to CNN Chile. The money was brought into the country from a LATAM Airlines plane arriving from Miami, and set to be transferred to several armed trucks and then taken to banks in the country, CBS News reported. One of the robbers was also shot and killed in the robbery as a shootout ensured with security officials, per CNN. Two of the vehicles allegedly used in the attempted heist were later found destroyed on a nearby highway. news.yahoo.com

---

Robberies, Incidents & Thefts


Londonderry, NH: 3 Suspects Face Charges After NH Armed Robbery, Police Chase in Mass
Three suspects from New York City are facing charges following an armed robbery in New Hampshire and police chase that ended in central Massachusetts, and those suspects are expected in a courtroom on Thursday, according to state police. The suspects, who were identified Thursday by authorities as Isaiah Graham, Lacine Cisse and Aguibou Karambe, are expected to be arraigned at Clinton District Court on receiving stolen property charges, according to a spokesperson from Massachusetts State Police. The official said additional charges were possible from state troopers or a local police agency. The suspects will need to answer to charges that stemmed from the initial incident in New Hampshire, according to MSP. The suspects were taken into custody Wednesday in Sterling, Massachusetts, after the chase began in New Hampshire following the armed robbery of an AT&T store in Londonderry, police said.

nbcboston.com




Bronx, NY: Allerton Foodtown worker attacked while trying to stop shoplifters returns to job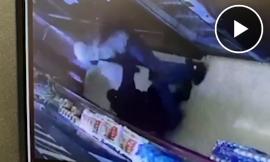 An Allerton Foodtown worker has returned to the job after being attacked while trying to stop a pair of shoplifters. The store owner says the violent attack occurred after the employee confronted a man and a woman attempting to leave with food they hadn't paid for. Within seconds, the couple began to attack the worker, who fell to the ground as they punched him. Store manager Louis Porcelli tells News 12 that shoplifting has become an increasingly common problem over the last year. He fears for the safety of his employees and customers. "I hope people will think twice before they steal. If you're hungry, ask for it. Maybe we'll give you a steak or whatever, but don't go in steal," he said. Porcelli is joining calls from the Collective Action to Protect our Stores, an initiative calling for lawmakers to act against repeat theft offenders. CAPS responded to the incident by stating, "Now is the time for our leaders in City Hall and Albany to step up and change policies and pass laws that will protect employees and customers. Enough is enough- it is time for action."

bronx.news12.com




Richmond, VA: Violent Felon Pleads Guilty to Armed Robberies Across Virginia, Pennsylvania, and Maryland
A Maryland man pleaded guilty today to committing five different armed robberies of convenience stores, hotels, and banks between October 2021 and December 2021. According to court documents, over the course of two months, Rickley Joshua Senning, 33, and Jesann Willis, 36, traveled throughout Ohio, Florida, Virginia, Maryland, and Pennsylvania to commit armed robberies. At each location, Senning entered brandishing a firearm at employees. In total, 15 different victims were held at gunpoint.

justice.gov




Queens, NY: NYPD searching for teens who ransacked Queens restaurant
Outrage is on the menu at a Queens Chinese restaurant where a rowdy group of masked and hooded teenagers ransacked a dining hall, flipping tables and chairs while horrified workers looked on. Damages at Fish Village in College Point included a large broken window that was shattered Saturday night when the marauders stormed the business and began trashing the place without any warning. Viral video shows the group upending tables and sending plates flying while patrons were eating. "From the time they entered to the time they left, it only took a minute," restaurant manager Tony Hu told WCBS-TV. "They didn't say a word. We have no idea what was happening." Hu said the stunt caused more than $20,000 in damages.

nydailynews.com




Indianapolis, IN: IMPD, FBI investigating after Brinks truck robbed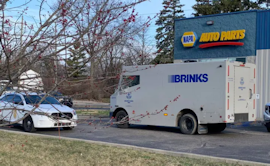 Indianapolis Metropolitan police and federal agents are investigating an armed robbery involving a Brinks armored truck. The incident was reported Thursday morning in the 6100 block of East Washington Street on the east side. We found a large police presence near a Brinks truck outside a NAPA Auto Parts store along East Washington Street and North Catherwood Avenue. IMPD confirmed it was investigating an armed robbery and said no injuries were reported. They described it as an "active and ongoing investigation," and added that officers were in the area gathering more information. An FBI spokeswoman said FBI personnel were on the scene with IMPD.

fox59.com




Newark, NJ: Man found guilty in Middlesex, Union liquor store armed robbery spree

Storm Lake, IA: Man sentenced to 10 years for liquor store Armed Robbery

Evansville, IN: Felon with 2 prior robbery convictions sentenced to federal prison for Circle K Armed Robbery

Cincinnati, OH: 3 women indicted for conspiring to place arson device in local nail salon

Fortuna, CA: Police Warn of Skimming Scam, Seek Public's Help Cracking Case

Montgomery County, PA: Card Skimmers: More Suspicious Devices Found at two 7-Elevens

Vancouver, WA: 16-year-old arrested in string of 4 C-Store and Gas Station Armed Robberies

Featured Job Spotlights

An Industry Obligation - Staffing 'Best in Class' Teams

Every one has a role to play in building an industry.
Filled your job? Any good candidates left over?
Help your colleagues - your industry - Build 'Best in Class' teams.

Refer the Best & Build the Best
Quality - Diversity - Industry Obligation


---






Retail Partnership Manager
Denver, CO - posted February 22
The Retail Partnerships Manager will play a key role within Auror's North American team; taking ownership of some of our key customers. The role is a great fit for someone who seeks variety and is great at relationship building. You will be seen as a thought leader and trusted advisor for both our customers and the industry alike...





Regional Distribution Asset Protection Specialist
Landover, MD - posted February 24
This role is responsible for leading asset protection initiatives and investigating matters pertaining to inventory shrink, policy violations, unauthorized access, fraud, and theft within assigned distribution center(s) - Landover MD, Severn MD, Bluefield VA, Norfolk VA, Lumberton NC...






Corporate Risk Manager
Charlotte or Raleigh, NC - posted February 14
Summary of Role and Responsibilities: Proactive approach to preventing losses/injuries whether they are to our employees, third parties or customers valuables. They include cash in transit, auto losses or injuries; Report all incidents, claims and losses which may expose the company to financial losses whether they are covered by insurance or not...






Director of Asset Protection & Safety
Mount Horeb, WI - posted January 27
The Director of Asset Protection and Safety is responsible for developing strategies, supporting initiatives, and creating a vibrant culture relating to all aspects of asset protection and safety throughout the organization. As the expert strategist and leader of asset protection and safety, this role applies broad knowledge and seasoned experience to address risks...






Loss Prevention Analyst
Ashburn, VA - posted February 21
This position pays $67,725 - $75,000 per year: The LP Analyst protects the company's assets from internal theft by using investigative resources (i.e., exception-based reporting (EBR), micros reporting, inventory reporting, CCTV, etc.). The primary responsibility of the LP Analyst is to identify potential loss prevention issues such as employee theft in SSP America's operation across North America...





Manager of Asset Protection (Corporate and DC)
North Kingstown, RI - posted February 17
The Manager of Asset Protection - Corporate and Distribution Center ("DC") role at Ocean State Job Lot ("OSJL" and "Company") will have overall responsibility for the ongoing safety and security of all operations throughout the corporate office and supply chain...





Business Continuity Planning Manager
Jacksonville, FL - posted January 26
Responsible for developing, implementing and managing the company's Business Continuity (BCP) and Life Safety Programs to include but not limited to emergency response, disaster recovery and site preparedness plans for critical business functions across the organization. In addition, the position will develop and lead testing requirements to ensure these programs are effective and can be executed in the event of a disaster/crisis...





Region Asset Protection Manager-St Augustine and Daytona Beach Market
Jacksonville, FL - posted January 18
Responsible for managing asset protection programs designed to minimize shrink, associate and customer liability accidents, bad check and cash loss, and safety incidents for stores within assigned region. This position will develop the framework for the groups' response to critical incidents, investigative needs, safety concerns and regulatory agency visits...






Region Asset Protection Manager: Fresco y Mas Banner
Hialeah, FL - posted January 18
Responsible for managing asset protection programs designed to minimize shrink, associate and customer liability accidents, bad check and cash loss, and safety incidents for stores within assigned region. This position will develop the framework for the groups' response to critical incidents, investigative needs, safety concerns and regulatory agency visits...

---

Featured Jobs

To apply to any of today's Featured Jobs, Click Here