How Does Risk Influence Buying Decisions For Security?

Risk is a core concept in the practice of physical security. However, the risk is not always assessed effectively. Ideally, an organization's appetite for risk guides its security strategy and action planning to the minutest detail, including buying decisions for security equipment and systems. We asked this week's Expert Panel Roundtable: How does the concept of risk influence buying decisions in the security market?

Sean Foley - SVP, Customer Success, Interface Systems LLC



In the QSR (Quick Serve Restaurant) space we have seen an uptick in physical safety risks to employees and customers from harassment and violence. In certain urban environments, the risk becomes a wholesale inability to run the business. Major QSR brands can be located just steps away from mini-tent cities where drug use, violence, and general desperation bring panhandling, outbursts in dining rooms, and provocation in the drive-thru. Instead of focusing solely on the business, employees must police the premises. It's not uncommon to see high turnover and employees refusing to show up to work. Some businesses have resorted to security guards, but costs can be prohibitive, and the service is not always reliable. Many QSRs are turning to virtual guard interactive remote video monitoring solutions. This can include tours to clear areas of vagrants, escorting employees to and from vehicles, and responding instantly to issues without waiting on police at a fraction of the cost.

Larry Newman - Senior Director of Sales - Americas, Axis Communications



In considering the risks of a big purchasing decision, it is important to determine the Total Cost of Ownership (TCO) of the investment. Strategic buyers who adopt a TCO mindset understand the importance of looking closely at the long-term commitment and costs associated with procuring, deploying, and operating a system throughout its lifetime versus only focusing on the upfront investment price. In taking the time to evaluate TCO, buyers are better positioned to make informed decisions when comparing and ultimately purchasing systems. TCO takes into account many factors, including risk management considerations, the probability of various scenarios, and potential negative impacts. It also allows buyers the opportunity to understand a manufacturer's level of expertise and how they will operate as a strategic partner to aid in overall success. This upfront due diligence uncovers and mitigates the cost of unforeseen risks so strategic buyers can feel confident in their purchasing decisions.

---

Summer 2023 Weekend Shooting Analysis
America's Crime & Violence Surge Continues

502 Shootings - 130 Killed - 525 Injured in 15 Big Cities Over Last 4 Weekends
That's a 15% increase in shootings compared to last year, though deaths have fallen by 16%

The D&D Daily's Big City Weekend Violence Study - Memorial Day to Labor Day

The Daily's annual study analyzes weekend shooting data in 15 major U.S. cities from Memorial Day Weekend through Labor Day Weekend 2023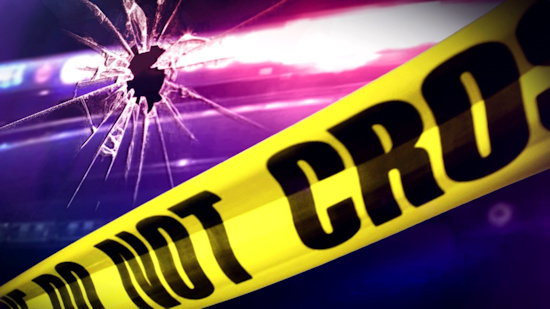 Starting Memorial Day Weekend, the D&D Daily compiled and analyzed data from 15 major U.S. cities to get a snapshot of summer gun violence.

Over this past weekend, from June 16th through June 18th, there were 113 shootings recorded in these 15 big cities, resulting in 28 deaths and 130 injuries.

In total, over the past four weekends, these cities have recorded 502 shootings, resulting in 130 deaths and 525 injuries.

Compared to last summer at this time in the study, total shootings in these cities are up 15%, deaths are down 16%, and injuries are up 14%.

The D&D Daily will continue to track this data throughout the summer to capture the weekend violence trend in our nation's big cities as warm weather typically brings about more crime and violence.

Click here to see the list of incidents per city and follow along each week as this spreadsheet will be updated every Monday. docs.google.com

Read more coverage about America's crime and violence surge in the section directly below

---

The U.S. Crime Surge
The Retail Impact

Another Violent Weekend in America
There have been 307 mass shootings so far in 2023

Mass shootings and violence leave dead and injured across the US this weekend

Fatal shootings broke out in Illinois, Missouri and Washington in a night of gun violence that injured more than 30 people.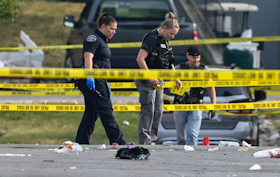 Mass shootings and violence killed and wounded people across the United States this weekend, including at least 60 shot in the Chicago area alone. Four people were found shot to death in a small Idaho town, a Pennsylvania state trooper was killed in an ambush, and bullets struck 11 teenagers, killing one, at a party in Missouri.

The shootings happened in cities and rural areas alike, following a surge in homicides and other violence over the past several years that accelerated during the coronavirus pandemic. Officers responded to mass shootings in Washington state, Philadelphia, San Francisco, Southern California, Milwaukee and Baltimore.

"There's no question there's been a spike in violence," said Daniel Nagin, a professor of public policy and statistics at Carnegie Mellon University. "Some of these cases seem to be just disputes, often among adolescents, and those disputes are played out with firearms, not with fists."

Researchers disagree over the cause. Theories include the possibility that violence is driven by the prevalence of guns in America, or by less aggressive police tactics or a decline in prosecutions for misdemeanor weapon offenses, Nagin said.

There have been 307 mass shootings in the U.S. in 2023, according to the Gun Violence Archive, a nonprofit project that tracks incidents. It defines a mass shooting as a single incident in which at least four people - other than the shooter - are shot. washingtonpost.com nbcnews.com

More Coverage of America's Bloody Weekend

• Shootings on Juneteenth weekend leave at least 12 dead, more than 100 injured
• At least 11 killed, 63 others wounded over long weekend in Chicago
• 3 mass shootings reported in Chicago area over a single weekend


NYC Retailers Say Facial Recognition is Helping Combat Shoplifting Epidemic
But the City Council is now proposing a ban on the software

Grocers cry foul as NYC weighs ban on face-ID tech that stops shoplifters

One store owner says facial recognition technology saves him at least $150 per week per store

Big Apple grocers who have been using facial-recognition technology to battle a citywide shoplifting epidemic are fuming over a City Council proposal that would ban the software - just as shopkeepers say it is beginning to prove effective.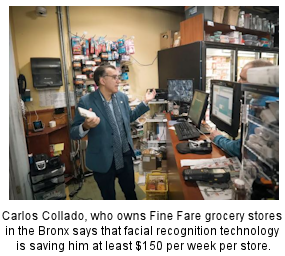 The proposed bill - which follows the city's feud with Madison Square Garden owner James Dolan, who has used the tech to bar his legal enemies from events at his sports and entertainment venues - would require private businesses and residential buildings to obtain customers' written consent before their biometric information is captured.

Such a rule would make it practically impossible for supermarkets to use the technology to combat theft - even as Dolan has grabbed headlines for using it at Radio City Music Hall, where he barred one lawyer from attending the Rockettes' Christmas Spectacular with her daughter's Girl Scout Troop.

"I hope this doesn't advance because I think it penalizes small businesses," said Councilman Robert Holden (D-Queens), who attended the hearing as a member of the technology committee.

The security industry maintains that facial recognition technology has improved so much that concerns about racial profiling are outdated. Jake Parker, director of government relations for the Security Industry Association said, "... Today's software is very accurate, high-performing and uses artificial intelligence."

Earlier this year, a group of independent grocers formed a political coalition to demand that legislators and law enforcement clamp down on shoplifters, whose heists have multiplied since the pandemic.

Scores of businesses, including Fairway and Westside Market, have invested in facial-recognition technology. Between 30% and 40% of all independent groceries are using some version of the software, according to Jay Peltz, senior vice president of government relations for the Food Industry Alliance of New York.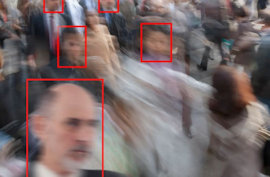 The stores are building databases of thieves who have stolen from them at least once, identifying them initially on surveillance cameras. Images are then plugged into the facial-recognition software, which becomes more effective over time.

"We are losing a lot of staff because they are literally afraid to work in the store," Garcia said. "It's insane that [the city] want to take this [technology] out of my stores when it's cutting down on such confrontations."

Success stories like Garcia's convinced Morton Williams' owner to shop for facial recognition software to install in his 16 stores in the city. nypost.com

RELATED: Stores Protest NYC's Proposed Restrictions on Facial-Recognition Software


Rampant Theft is Turning San Francisco Into 'Ghost Town'
Abandoned stores, streets overtaken by the homeless and drug-addled, theft so rampant that candy is locked away

San Francisco tourism is down by 16% from pre-pandemic levels, workers have abandoned their offices to work from home and stores are empty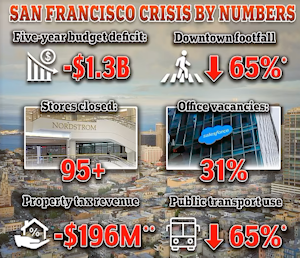 Today, San Francisco's once bustling Union Square and downtown area is a shadow of its former self: rows of empty stores, sparse crowds even on peak weekend shopping days and nearby hotels - including a huge Hilton - unable to cover their mortgage payments.

The historic Flood Building stands largely empty: Gap has gone along with nearly every other business in the property with the exception of a tired branch of Dr. Martens and an Urban Outfitters store offering 70 per cent discounts.

On the other side of Market Street is the soon-to-be sold Westfield San Francisco Center - its doorways reeking of urine and every store staffed by hulking security guards. Westfield announced its planned departure on Monday and several occupants of the mall have already said they'll follow.

Days later AT&T announced its iconic flagship store around the corner at 1 Powell Street, one of the largest in the country, was to permanently close. The local branch of Walgreens is boarded up, although still open, and was recently the scene of a fatal confrontation between a homeless trans woman and a security guard.

Ross Dress For Less and Saks Off 5th are operating a one-in, one-out system to deter thieves while Nordstrom Rack is closing down altogether in September - along with its sister Nordstrom and scores of other stores such as T-Mobile and Payless Shoes.

An analysis of official figures and other research reveals San Francisco may lose hundreds of millions of dollars through an exodus of businesses and its failure to recover from Covid. dailymail.co.uk

RELATED: Crime so out of control in San Francisco, stores are locking up candy


Former Williams Sonoma VP Real Estate - $20M in Kickbacks & Rebates to His Shell Company

New Jersey man admits to role in $12M scheme defrauding Williams-Sonoma

Defendant Admits to Paying Over $12 Million in Kickbacks to Obtain Warehouse Logistics Business



SAN FRANCISCO - Michael Podhurst, 62, of Monroe Township, pleaded guilty June 13 in San Francisco federal court to charges related to his involvement in a multimillion-dollar fraudulent kickback scheme that defrauded Williams-Sonoma Inc. (WSI), the parent company of brands such as Williams Sonoma, Pottery Barn and West Elm.

In the plea agreement, he admitted paying kickbacks in exchange for his co-defendant, Eric Marsiglia, a former executive at WSI, directing that company's business to three warehouse logistics companies where Podhurst held executive positions and ownership interest.

Marsiglia was WSI's Vice President of Engineering, Projects, Planning, Facilities, and Real Estate, and, as such, was responsible for identifying commercial real estate opportunities for the company. In his position, Marsiglia allegedly orchestrated the negotiation of real estate contracts on behalf of WSI that required third parties to pay millions of dollars in brokerage fee rebates to WSI. According to the indictment, rather than ensure that WSI received the brokerage fee rebates, Marsiglia instead created a shell company and then conspired with others to have the rebates paid to his company. In addition, as part of this scheme, Marsiglia allegedly paid a portion of the proceeds of this illegal scheme to his co-conspirators. Separately, Marsiglia also allegedly received kickback payments from another co-conspirator in exchange for directing contracts for business to companies controlled by the co-conspirator.

In total, WSI awarded companies connected to Podhurst more than $48 million in contracts for work done at warehouses around the country, and Marsiglia and Podhurst arranged for more than $12 million in kickbacks to be paid to Marsiglia's company, REM Group.

The indictment alleges that from approximately 2018-2022, Marsiglia received nearly $20 million through his shell company, REM Group, all of which was in the form of stolen broker rebate payments or kickbacks received for awarding business to entities related to Podhurst.

"As alleged in the indictment and admitted to in the plea agreement, between approximately October 2018 and July 2022, Podhurst worked for three companies that provided WSI warehouses with forklifts, warehouse racking systems, and machinery. WSI used these warehouses to store and distribute WSI goods around the United States," according to prosecutors. "Using his position and interest within the companies where he worked, Podhurst caused his companies to pay his co-defendants kickbacks in exchange for his co-defendant causing WSI to award and sign contracts with and make payments to the companies affiliated with Podhurst.

"During a four-year period, Podhurst directed the three companies where he worked to pay more than $12 million in kickbacks to a shell company owned and controlled by his co-defendant," prosecutors said.

Podhurst faces a maximum of 20 years in prison for each of the wire fraud conspiracy and money laundering conspiracy counts, as well as a $250,000 fine for the wire fraud conspiracy count and a $500,000 fine for the money laundering conspiracy count.

Last month, another co-defendant in the scheme, Kourosh Mirmehdi, pleaded guilty to wire fraud and money laundering conspiracy charges. Charges against two of Podhurst's co-defendants, Marsiglia - the alleged ringleader - and Augusto Alizo, remain pending. irs.gov


Another Big City Retail Store Crime Closure
Wawa in Philly's Headhouse Square to close

Neighborhood groups had complained to Wawa about aggressive panhandling, crime, and drug use at the store.

The Headhouse Square Wawa will close July 16, a company official told the Inquirer. The move comes after neighborhood associations had complained to Wawa about aggressive panhandling, crime, and drug use at the store and outside on the sidewalk.

The site will become the sixth Center City Wawa to shutter since 2020.

Joe Dain, co-founder of the Delancey Square Town Watch, which was formed earlier this year, said his group and other neighborhood organizations had met with Wawa officials in April to discuss ongoing concerns at the Headhouse Square Wawa. By that time, the company, he said, had already taken measures to curb panhandlers and other public nuisance issues, including curtailing its hours, hiring private security and working with city police to provide patrols.

Wawa notified the group that it would be instead closing the location, he said. The closure will be only the latest vacancy to hit the historic cobblestone district. A CVS across the street from the Wawa also closed its doors in recent years. The drug store had been battling many of the same concerns.

In October, when Wawa announced it was closing stores at 12th and Market Streets and 19th and Market Street, the company cited "continued safety and security closures. At that time, the total number of reported thefts doubled in the previous two years. Wawas at 13th and Chestnut, Ninth and South, and Broad and Walnut have also closed in recent years. And more Center City branches have been scuttling 24-hour service.

"We would have groups of kids coming in and ransacking the place at night," he said. Some of the panhandlers that often congregated outside the store had become aggressive, he said. The store had also become a gathering spot for people in addiction, he said, who would then camp in the historic Shambles structure or by the Headhouse Square Fountain. inquirer.com


Downtown Chicago Mag Mile Losing Retailers
AT&T closing store on Michigan Avenue, latest in retail exodus
AT&T is the latest in a line of stores to pull out of Chicago's Magnificent Mile.

Other stores like Gap, Banana Republic and Verizon Wireless have already left the stretch.

The Mag Mile Association said about 25% of its store lots are vacant right now, similar to the 28% of vacant storefronts in the Loop. abc7chicago.com


Memphis Smash-and Grabs Doubled in 2022
DA explains new approach to handling smash-and-grab thefts
Smash-and-grabs have become a real concern in Memphis. Business owners have continued to plead for an end as the crime continues to make headlines.

"What we've been doing for the past 10 years, hasn't been working," Shelby County District Attorney Steve Mulroy said. "We noticed a pattern. It's happening a lot and a lot of businesses are reaching out to us and explaining that you know the dollar amounts involved are really high."

He said they are now trying something new. All smash-and-grab cases will be funneled through the same prosecutor.

"That prosecutor will be looking for patterns for repeat offenders," Mulroy said. They'll also be working with MPD's task force and other agencies.

Shelby County Sheriff's Officer says they've responded to twice as many smash-and-grabs last year compared to 2021. msn.com


Another Retailer Facing Bomb Threats
Kroger Releases Statement After 7th Cincinnati-Area Bomb Threat in One Week
Another Kroger location, this one near University of Cincinnati's campus, received a bomb threat around 4 p.m. on June 14.
The mega-grocer, which is headquartered in Cincinnati, received bomb threats at six stores around Cincinnati and northern Kentucky on June 10 and 11, prompting evacuations of customers and employees:

• Oakley
• Newport
• Bellevue
• Erlanger
• Cold Spring
• North College Hill

The threats were all determined to be false alarms. Kroger said it's working with the FBI to investigate similar threats at Kroger stores in other parts of the country, including an April threat at a Kroger in West Virginia. citybeat.com


The Flip Side of Not-Stopping - 'Target is teaching Youths it's OK to Steal'
Long Beach neighborhood wants Target to stop daily student shoplifting
When the bell to go home rings at Long Beach Unified's Stanford Middle School in East Long Beach's Los Altos Village neighborhood, dozens of students from the 1200 strong diverse student body make a bee line to the nearby North Los Altos Center that is home to the popular East Long Beach Target .

There they congregate in the snack aisles: candy, chips, cookies, and the cold drink section. The students often fill the area to hide the thefts.

Neighborhood leaders have witnessed students riding their own scooters or the store handicap electric carts, throwing store items at each other, running around, yelling and screaming, and of course stealing. According to the Target staff it has been going on ever since the store started to ignore the petty thefts. Students have figured out that the store staff does nothing to stop them.

When any of the Target staff, including the lower managers and loss prevention staff, are asked about why they are just watching the thefts they respond that it is a corporate policy that they ignore the thefts.

Neighborhood leaders witnessed the student thefts being allowed and learned from the store staff the store is allowing it to continue. Neighborhood leaders are frustrated that by allowing the ongoing thefts, Target is teaching the neighborhood youth that stealing is OK. newsbreak.com


D.C. Violent Crime Spikes 21% in 2023 YTD
Fatal shootings of young people in D.C. are exceeding last year's pace
Police say 11 people younger than 18 have been fatally shot in D.C. this year, exceeding the pace of 2022. Gunfire in the first half of 2023 has killed children ages 10, 13, 14, 15, 16 and 17. Homicides overall in the District are up 16 percent over this time last year, according to the most recent statistics posted by police on Friday.

Friday, police said 58 people younger than 18 had been hit by gunfire this year, double from the same period in 2022. Meanwhile, D.C. police staffing is at its lowest in a half-century.

Violent crime in the District has spiked 21 percent this year over last, driven in part by robberies, homicides and sexual abuse cases, police statistics show. The city's homicide count is on a pace to exceed 200 for the third consecutive year; before 2021, D.C. hadn't recorded 200 killings since 2003. washingtonpost.com


Video: Lawmaker Demands Harsher Punishments & Enforcement To Halt Retail Theft

Video: Rep. Andy Biggs Decries Rise In Organized Retail Crime

Theft decreases in San Antonio, but nationally it's on the rise

---

NYC's Retail Crisis: Empty Storefronts Create 'Fractured Cityscape'
Empty storefronts in NYC are becoming part of the landscape, with Harlem's iconic 125th Street among the hardest hit

Empty windows and "for rent" signs line 125th St. in Harlem, one of the most iconic business corridors in New York City.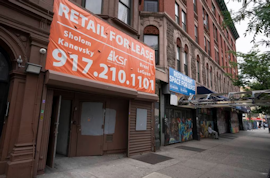 The city's commercial areas are struggling with vacant businesses and shuttered storefronts - and it's apparent across the city. Vacant storefronts dot the five boroughs from Midtown and the Upper West Side to Flushing, Brighton Beach and Staten Island, creating a fractured cityscape.

This is strongly felt in Harlem along 125th St., where, according to the latest city data, there are more than 70 vacant storefronts on the east and west ends on the street combined. It's a gut punch to the area, which was seeing an economic upswing as an emerging retail center in the years before the pandemic.

But amid a post-pandemic shift in retail, stores in the area are left scrambling to stay afloat, with little answer as to why - or what the answer is.

Experts point to different reasons for it: High rent prices, the continuing growth of online shopping and the lingering effects of a pandemic that has upended New York's retail landscape.

Shopping and safety

On top of a rocky post-pandemic economy, public safety has deteriorated across the city and shoppers are more selective about when they will go out. Mavruk pointed to public safety: "I used to open up 10 o'clock on Tuesday," he said. "Now I open 11 to five, six hours a day. So that alone tells you how we feel. It's not safe. It's not safe at all."

COVID and online shopping

COVID gave the retail sector in New York an extra push, but storefront retail shops actually started to gradually decline around 2014, he said. Then, lockdown happened. People got used to ordering online, and it hasn't slowed down much since. "The pandemic just really accelerated some trends that were already causing New York's retail sector to shrink, particularly e-commerce," Bowles said. nydailynews.com


Retail Brick & Mortar is Making a Big Comeback
Brands Wanted to Cut Out Stores. Not Anymore.

Nike and others are selling through traditional retailers they once shunned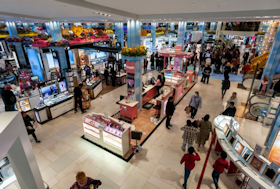 These companies-and other, more-established brands that followed them-found that cutting out the middleman was harder than they anticipated.

"Wholesale is profitable from day one," Checketts said, referring to the practice of selling goods through a third party such as a department store or mall chain. "E-commerce takes longer. Some digital brands never reach profitability because they spend so much money on marketing to acquire customers."

The miscalculation was the rising expense of acquiring customers online, they said. A flood of startups all buying Facebook ads and other digital marketing initially pushed up costs. Advertising online got more expensive after privacy changes by tech companies restricted how people are tracked as they move around the web.

"Beating customers over the head with marketing is far less efficient than shipping a crate of shoes to Nordstrom," said Tom Nikic, an analyst with Wedbush Securities. "The cost of acquiring customers has been the big whoops," Nikic added. "All these brands kept selling more stuff and losing more money."

One solution was to open physical stores. Everlane, Allbirds and other online startups raced to build bricks-and-mortar footprints. But that is expensive too.

Those brands and others have since turned to an even more old-school way of selling-displaying their wares in department stores and other traditional retailers-which executives say carries fewer costs and instantly exposes the brands to thousands of new potential customers. wsj.com


160 Bills in 34 States Coming
'Tsunami' of state AI regulations coming

There are more than 160 bills and regulations on AI being considered across the country, a management-side lawyer said.

On the other side of AI adoption are potential lawsuits and compliance hurdles.

All of the new AI tools coming into play are both "kind of cool and kind of horrifying," Dobbs Bunting told attendees Tuesday at the Society for Human Resources Management annual conference in Las Vegas. While there's a lot of opportunity, there's also a lot of risk.

The federal government has been steadily releasing guidance on AI on potential discrimination, including Americans with Disabilities Act violations, among other things. And states and municipalities are passing laws on how the technology is used. In legislation that went into effect this year, New York City now regulates how companies can use automated employment decision tools, namely by requiring a bias audit and that candidates and employees are notified beforehand.

"Everybody's getting in on this," Dobbs Bunting said. "There are currently more than 160 bills or regulations related to AI that are pending right now in 34 different state legislatures. There is a huge tsunami coming of state regulation. If you are a multi-state employer, go to God." hrdive.com


NYC Retail Sector Still Struggling down 45,000 since 2015 (13.2%), & 37.800 (11.1%) Since 2020

Payment Fraud losses to surpass $40B by 2027: report

Walmart, Sam's Club Aim to Eliminate Threats to Tuna Supply Chain


Quarterly Results

H&M Q2 net sales up 6%

---

Senior LP & AP Jobs Market
Director, AP & Safety job posted for Guitar Center in Westlake Village, CA


The Director of Asset Protection oversees and directs all related functions for a Corporate Office, multi-state distribution centers and large retail store network. Incumbent will be responsible for enterprise direction and strategy as it pertains to Asset Protection with a goal of minimizing shrink, reducing loss and maximizing security and associate safety as well as overall performance of the Asset Protection function. careers.guitarcenter.com

---

Last week's #1 article --

Why Walmart, Costco, and Sam's Club workers check your receipts