Across San Francisco, many small business owners like Li are in a tough predicament: They saw revenues plunge during the COVID-19 pandemic, as well as additional losses from commercial burglaries. Now, they say, they're hanging on by a thread — and accuse the city of failing to act. Some merchants say the repeat burglaries make doing business in the city untenable — which has ominous implications for a city reeling with an exodus of downtown business anchors, tens of thousands of tech layoffs and a drug and homelessness problem that has made it a target of criticism across the nation.
"I've never seen people so angry and frustrated," said Ben Bleiman, one of the leaders of the Discover Polk Community Benefit District, which represents about 40 businesses on Polk Street. "So at the end of their ropes."
The city suffers from high rates of property crime. Commercial burglaries take a toll on neighborhoods, said San Francisco Chamber of Commerce CEO Rodney Fong.
City Hall officials said they were "working to get as many police officers as possible on our streets," pointing to Mayor London Breed's call for a $27 million budget supplement for that effort.
San Francisco police spokesperson Adam Lobsinger said burglaries of all kinds rose citywide over the past three years, likely a response to the decline in tourism during the pandemic and related issues.
City leaders have repeatedly blamed poor police response times and clearance rates on low staffing — something other cities across the country also say they're dealing with.
"The good news is that violent crime is under control," said Supervisor Aaron Peskin. "The bad news is that robberies and property crime are out of control." sfchronical.com
The hardest-hit area is the Tenderloin, which has the highest rate of commercial burglaries in the city.
Crime tops the list of concerns for Chicago voters in the mayoral election after 2022 brought the most crime in five years and after 2021 was the deadliest year in the past quarter-century.
Chicago crime statistics
Crime in Chicago overall has increased during the past five years by nearly 20%, according to an official report by the Chicago Police Department. The year-over-year change in crime was even greater last year. Between 2021 and 2022, overall crime in Chicago increased by 41%, after overall crime had decreased each year in 2019 and 2020 and slightly increased in 2021.
Theft is driving the overall increase in crime. Car theft is up 114% since 2018, and other thefts increased by 32% since 2018. Just last year, motor vehicle theft increased by 102% and theft by 56%.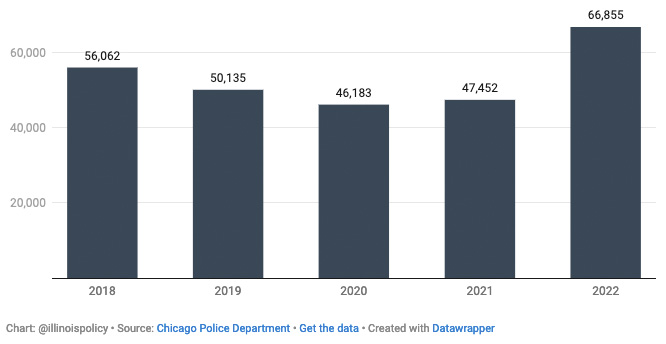 Types of theft drive increase in crime since 2018
Types of theft drove the overall increase in crime since 2018. Motor vehicle theft increased the greatest at 114%, followed by theft at 32%. However other theft was up 56% from 2021.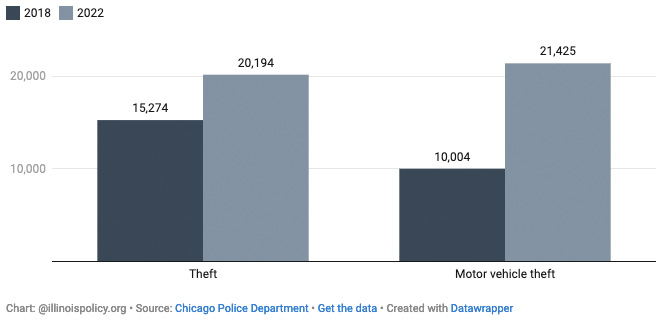 Meanwhile, instances of criminal sexual assault, robbery, aggravated battery and burglary have all decreased during the five-year period. Burglary had the biggest decline with 35% fewer instances in 2022 than in 2018.
Despite a five-year decline in robbery and burglary, the year-over-year change showed each increased last year by 14%. Criminal sexual assault and aggravated battery still recorded declines in the past year. Murders also declined last year by 14%, despite an overall increase of 20% during the five-year period.
Crime drives out Chicago residents
In 2021, Chicago saw more than 45,000 people stop calling the city their home. New York and San Francisco both experienced greater populations losses than Chicago, with New York losing over 305,000 people.
But population loss isn't the only similarity Chicago and New York share. Both cities had a drop in murders in 2022 compared to 2021. Yet both cities also had overall crime jump by over 20%. illinoispolicy.org
Rehabilitating Seattle's downtown and improving public safety will continue to be top priorities for Mayor Bruce Harrell
Harrell's annual address relied on notions that Seattle as a whole will improve if downtown becomes more lively and if public safety resources, including bolstering the Seattle Police Department and finding public safety alternatives, become more robust — both topics the mayor has emphasized in the past.
Harrell said he would use "unabashed boldness" to revamp the center city, which, like downtowns of most major cities, has been slow to rebound from coronavirus-related closures and an uptick in crime.
Harrell said, suggesting zoning changes to allow housing in vacant office buildings (they're all talking about this btw) and potentially establishing a "24/7 street" (great for robberies) for late-night businesses.
Harrell's comments on downtown were promptly lauded by the business community, including the Downtown Seattle Association, which commended the mayor's priorities in a statement, adding that "if downtown isn't welcoming and safe for all, then everything else falls flat."
The other major factor in improving downtown, Harrell said, is public safety.
Noting that overall crime was up in 2022, with a decline in December, Harrell claimed his early approach to public safety — which has focused on hot spot policing and aggressively recruiting more officers — seems to be working. He rehashed many of his talking points from his campaign and first year in office, promising more police officers, a crackdown on fentanyl distribution and a "holistic" approach to public safety.
In the next month and will introduce a suite of legislation to the City Council this year to "[ensure] we are aligned on the number of officers we need, a comprehensive strategy and a vision for the future of public safety."
The mayor also expanded on a previous promise to establish a new public safety department geared toward a nonpolice response to emergencies, describing for the first time his plan to convert the Community Safety and Communications Center — which currently directs 911 calls — to a new Civilian Assisted Response and Engagement Department. seattletimes.com
Seattle increased funding for law enforcement for the first time since 2020
Homicides skyrocketed by 24% while motor vehicle thefts climbed by 30% in the city last year. Overall crime ticked up by 4%.
Mayor Bruce Harrell pushed for increased police presence to curb the issue Tuesday, saying, "We need immediate action and innovation to respond to our public safety issues… Seattle saw a 4% rise in reported crime last year… We need more officers to address our staffing crisis."
"The Defund the police movement ruined Seattle." "If you want to commit a crime, move to Seattle," she said. "The crime is just getting worse and worse,"
Piro reported data from Seattle's city's budget office showing funding for law enforcement increased for the first time since a major slash was made in 2020.
Choe, a reporter from the area, slammed the "Defund the Police" movement for being behind the crime rise as well as the "woke" activist class who he said are perpetuating the problem. foxnews.com
According to a yearly crime report released by the Seattle Police Department (SPD). king5.com
Safeway is appealing the $7,250 in fines issued by the Oregon Occupational Safety and Health Administration (OSHA). The fines were levied after an investigation into alleged safety issues following last summer's deadly shooting at the store on Bend's east side.
The OSHA investigation was launched hours after the Aug. 28, 2022, shooting — based on a tip from an employee.
OSHA found that one of the only three back door emergency exits that night was blocked by hundreds of pounds of drinks and food on stretcher-sized carts. As the gunfire rang out, security photos showed that customers and employees attempted to shove the carts clear of the exit, including a father with his toddler in a shopping cart.
The other violation was for failing to review the emergency action plan with new employees or whenever the action plan was changed.
"Safeway has appealed both OSHA citations related to our Highway 20 Bend Safeway," a Safeway spokesperson said in an emailed statement. "The claims brought forth by OSHA do not have merit nor do they accurately reflect the level of safety and training standards we have in place to safeguard our associates and customers."
Two people were killed in the shooting.
The OSHA investigation found that nothing the store did contributed to employee Donald Surrett Jr's death at the back of the store as he chose to stay and attack the shooter. And customer Glenn Bennett's death occurred at the front of the store, seconds after the gunman walked inside.
You can watch our full report on OSHA's findings in the video below centraloregondaily.com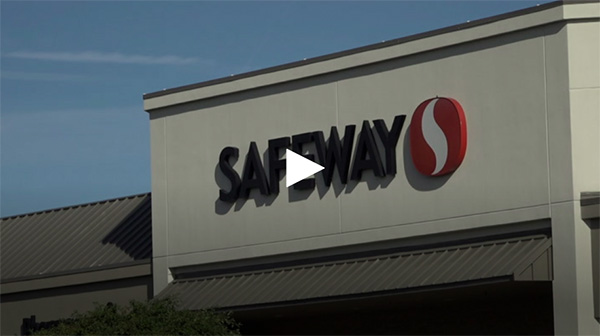 A recent study set out to determine how monetary sanctions can affect the likelihood young people will reoffend. Do fees and fines act as a deterrent, steering juvenile offenders away from future crimes?
In "A Statewide Analysis of the Impact of Restitution and Fees on Juvenile Recidivism in Florida Across Race & Ethnicity," researchers found that fees and restitution assessed against young people actually increased juvenile recidivism in Florida.
This was especially true for Black and Hispanic youth who received more costly fines, even though both groups had financial penalties assessed at similar proportions to white juvenile offenders.
"When we think about the criminal justice system, and we think about helping kids, especially kids, we want to do as little harm as possible," lead study author Alex Piquero told The Crime Report. "That's the overall goal of the system. And these kinds of punishments aren't meeting that objective, they're having the opposite effect."
The average dollar amount of fees for Black youth in Florida was $709.50, $633.33 for Hispanic youth and $426.50 for white youth. However, restitution payments were relatively the same among the groups. The overall average of fees assessed in the study was $587.57, excluding young people who were not assessed any fines. Restitution payments had an average of $1,864.81.
Fees were highest for property offenses, felony or administrative offenses and among youth with higher "risk levels." But according to the study, just under 70 percent of the youth sampled in the study were classified as low risk. So how did those fees impact youth recidivism?
A Shoddy Deterrent?
According to the report, 19.4 percent of youth who were assigned fees committed a new crime compared to 15.7 percent who were not charged fees. Restitution payments had little impact on rates of recidivism.
"These fees charged to children and their families are promoting recidivism instead of rehabilitation," said Sarah Couture, Florida State Director at the Fines and Fees Justice Center. thecrimereport.com
Community Nonpolice Response Programs - It'll Take Time to See If They Work
MACRO, a $16 million program in the Oakland Fire Department that began last April with the intention of taking nonviolent, nonemergency 911 calls out of law enforcement's hands. But they're also trying to provide assistance before those calls need to be made.
Cities across the Bay Area and beyond are experimenting with community nonpolice response, hailed by progressives and police reformists as a pathway for treating those experiencing crises with compassion, not suspicion. San Francisco, New York City and Portland have all started pilot programs, while cities across the East Bay, from Antioch to Hayward, have explored the addition of mobile crisis teams.
In Oakland, though, MACRO often finds itself under scrutiny from those who had expected the teams to spend most of their time responding to lower-stakes 911 calls, allowing Oakland police to focus on violent crime.
The rest of the interactions were classified as "on-view" or "self dispatch," which involve two-member teams driving the streets and looking for those who need help.
A recent impact report released by the program detailed a case where a person looking to steal from Safeway would have likely ended up in jail if MACRO had not tracked them down and transported them to a shelter. eastbaytimes.com
Sean Fieler is right to be concerned about privacy as we consider a U.S. central bank digital currency ("A Digital Dollar Would Empower the Fed, Not Americans," op-ed, Feb. 8), but he fails to consider the troubling status quo if America doesn't act to establish standards and safeguards for the future of money. Payments data is increasingly centralized in large databases maintained by commercial or government actors, which creates significant honey pots of sensitive information susceptible to surveillance and monitoring. Consider that Alipay and WeChat have more than two billion users transacting within their proprietary databases and that China's digital yuan gives the government control over the ledger for its fiat currency.
With digital technology, the question of surveillance, privacy protection and other programmable features is a matter of policy and design choices.
When considering the future of money, we must soberly consider the inevitability of a move to digital. This unlocks a great opportunity to design and implement a future greenback that satisfies American privacy expectations, including Mr. Fieler's. wsj.com
The airline has rolled out the new tech to identify passengers becoming the first Canadian airline to do so.
In a bid to reduce wait times in airports across Canada, Air Canada has become the first airline in the nation to roll out facial recognition technology for passenger identification, according to a release Tuesday.
Select travellers flying from Vancouver YVR and Toronto Pearson airports are being invited to try the new facial recognition system in lieu of the traditional boarding pass and government ID-verification. thestar.com
Remote Work's Financial Disaster Wake For Big Cities
No more big Urban push for retailers. At least until empty offices become condo's.
Nearly 30 percent of all work happened at home in January, six times the rate in 2019, according to WFH Research, a data-collection project. In Washington and other large urban centers, the share of remote work is closer to half. In the nation's biggest cities, entire office buildings sit empty.
The share of all work performed at home rose from 4.7 percent in January 2019 to 61 percent in May 2020. Some economists consider the remote-work boom the greatest change to the labor market since World War II.
Workplace experts say remote work is here to stay. Workers love it. Employers have learned to live with it. The average worker saves 70 minutes of daily commuting time by working from home — and spends almost half of that extra time doing work: a win-win.
Much of corporate America has settled on a weekly formula of three days in the office and two at home for the hybrid worker. Tuesdays, Wednesdays and Thursdays are popular choices for trudging into the office. On Fridays, city centers can look like depopulated ghost towns.
The work-from-home movement has reshaped the largest cities. Only last month, for the first time since the pandemic began, did the occupancy rate in urban office buildings reach 50 percent in the 10 largest cities.
As of last week, 49 percent of desks sat empty in Chicago, 53 percent in D.C., 51 percent in New York and Los Angeles.
For some mayors, tax collectors and downtown businesses, the remote-work boom has seeded fiscal disaster. New York, alone, "is going to see about $12 billion less in expenditures in downtown Manhattan" because of remote work, Bloom said.
Working from home "means less consumer spending, and it means less transit use," in big cities.
The number of CEOs lobbying for a return to fulltime office work "is dwindling to basically zero," Bloom said. thehill.com
A South Carolina company may have violated the Stored Communications Act (SCA) when it accessed a former worker's private email account after inadvertently discovering the messages following her termination, the 4th U.S. Circuit Court of Appeals held Feb. 9 (Carson v. EmergencyMD LLC, No. 22-1139 (4th Cir. Feb. 9, 2023)).
With the company's approval, the worker used her personal Gmail account for her job, according to court documents. After she was terminated, she joined an alleged competitor, and the company and her new employer filed claims against each other in state court for unfair competition and misappropriation of trade secrets, court documents said. During the litigation, the company discovered, reviewed and allegedly printed out emails from the worker's Gmail account, which had been left open on the web browser of a company computer. The emails discussed joining the new employer and bringing company employees and information with her. The company published the emails in state court, and the worker sued it for violating the SCA.
A federal district court granted summary judgment to the company, but the 4th Circuit reversed and sent the case back for trial. The SCA prohibits intentional and unauthorized access of stored electronic communications, the appeals panel explained. Here, there was no evidence the company's initial discovery of the emails was intentional, but its subsequent conduct raised jury questions over whether it intentionally accessed the emails without the worker's authorization, the panel held. The SCA doesn't define "authorization," but "the term is commonly understood to involve knowing, intentional action," the Fourth Circuit said. hrdive.com