Sensormatic Solutions by Johnson Controls shares annual North American holiday traffic analysis
• Sensormatic Solutions accurately predicted ten out of ten busiest days in the U.S. and four out of five in Canada

• In-store visits during the 10 busiest days in the U.S. accounted for 36.9% of the season's total brick-and-mortar traffic, up from 35.8% in 2021



NEUHAUSEN, Switzerland-January 4, 2023-Sensormatic Solutions, the leading global retail solutions portfolio of Johnson Controls, today released its annual in-store traffic recap for the U.S. and Canada's 2022 holiday season. The organization's analysis examined traffic during the six-week period from the Sunday before Thanksgiving Day, Nov. 20, 2022, through Saturday, Dec. 31, 2022. The annual recap is informed by retail traffic data analytics within the Sensormatic Solutions intelligent operating platform, Sensormatic IQ.

Sensormatic Solutions shopper traffic data showed that the predictions for the busiest days of the holiday shopping season aligned with stores' actual peak traffic days. Based on historical data, Sensormatic predicted that the season's 10 busiest shopping days in the U.S. would account for approximately 40% of all holiday traffic in the region. This was in line with actual performance, as in-person visits during the 10 busiest days accounted for 36.9% of all brick-and-mortar traffic.

Read more here

---

Webinar Coming Tomorrow





Make Friends and Influence People:
New Uses of LP Camera Infrastructure
January 10 | 1:00 p.m. ET

Over the last 15 years, amid much pushback, LP teams in retail successfully deployed CCTV across their fleets, creating a security blanket over vast spaces. Now, that coverage is a source of envy for Store Ops, who want to use the cameras to get better space analytics; Marketing, who can measure campaign impact; and Merchandising, who can get SKU-by-SKU metrics around views and engagement. In this webinar, we talk about helping your friends be more successful, and in turn increasing budget for LP/AP deployment of shared resources.


---

The U.S. Crime Surge
The Retail Impact

4,000 NYC Stores Demand Shoplifting Crackdown
NYC grocers demand clampdown on shoplifters as violent heists escalate
Thousands of independent grocers across New York City are forming a fast-growing political coalition to demand that elected officials and law enforcement clamp down on shoplifters, claiming that increasingly brazen and violent heists have created a crisis, The Post has learned.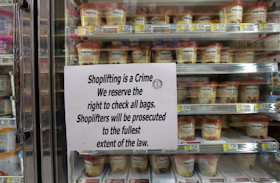 The group - which already represents nearly 4,000 stores, including corner bodegas and supermarkets like KeyFood and C-Town in the New York metro area - is calling for prosecutors and judges to set bail for "repeat theft offenders," reversing key provisions of New York's sweeping and controversial bail reform law in 2019.

Collective Action to Protect our Stores, or CAPS, is also asking lawmakers to make assaults on retail workers a Class D felony - a protection given to MTA and NYPD officers and livery drivers in New York that grocers argue they should receive as essential workers, too.

"We have been assaulted, terrorized, and our physical and mental health jeopardized," the group said in a letter being sent to Gov. Kathy Hochul and Mayor Eric Adams on Monday in addition to other city and state officials. "A rise in larceny cases has hit independent supermarkets hard."

The group also wants legislators to tackle a problem that many believe is at the heart of the spike in burglaries: the fact that thieves are not typically prosecuted or arrested for stealing less than $1,000 worth of goods. CAPS is asking for a change in the law so that serial shoplifters who cumulatively steal more than $1,000 worth of goods over time will be charged with grand larceny instead of petit larceny.

"Repeat offenders are the key words," Carlos Collado, who owns two Fine Fare grocery stores in the Bronx and Harlem, told The Post. "We are not asking for elevated charges for first-time offenders, but to send a message to those who make it a career."

Businesses that resell stolen goods should likewise be put on notice, CAPS says in the letter, which asks Albany legislators to reclassify such transactions as Class A misdemeanors that could result in fines and even short jail time for operators.

"Ninety-seven percent of the shoplifters do it to sell the stuff," said Francisco Marte, who owns two bodegas in the Bronx and heads up the Bodega group. Very few are "doing it because they are hungry," Marte added. nypost.com


NYC Mayor Says Retail Theft is Among His Top 2 Concerns
With Robberies & Burglaries Driving the 22% Overall Increase

Major Crimes Rose 22 Percent in New York City, Even as Shootings Fell
Homicides fell last year to their lowest level since 2019, before the pandemic, but other categories of crime, including robbery and burglary, drove the overall increase compared with 2021.

Surges in robbery, burglary and other crimes drove a 22% increase in overall major crime, despite a significant drop in shootings and murders.

Still, the Mayor said the city must drive down robberies, burglaries and grand larcenies - categories that contributed to the increase in major crimes last year, to 126,537 from 103,388 in 2021.

The mayor said retail theft and subway safety are among his top concerns.

There were 189,777 arrests citywide with the NYPD making the most gun arrests in 27 years, 4,627.

Robberies and burglaries greatly contributed to the 22% overall increase in the most serious crimes.

There were about 10,000 robbery arrests and a 37% increase in robberies in the first three quarters of the year, with some improvement in Q4. 17% of those arrested in robberies were under 18.

John Jay Professor says, "Crime is up in New York City, and it's up quite a bit." nytimes.com


Regardless - Larceny is Still Growing - No Decline There
Violent crime declined in Minneapolis last year, but rates still well above norm
Analysts say it's too early to say why it fell, though some credit a return to normalcy in the Twin Cities and around the nation.

For the first time in three years, Minneapolis saw a drop in homicides, shootings and carjackings in 2022, a sign that the deadliest wave of violence to hit the city in a generation may be cresting.

The number of shots recorded in the city fell 20%, resulting in 100 fewer victims compared to 2022. Carjackings, which peaked in 2021, also dipped about 20%.

These declines, which occurred as staffing for the Police Department remained hundreds of officers below the city's mandatory threshold, still don't put Minneapolis anywhere close to its public safety baseline in the decade prior to 2020. Before these past three years, the city. Before these past three years, the city averaged about 40 murders per year and half as many gunshot victims. Killings hadn't surpassed 80 since 1996.

Some Minneapolis crime declined in 2022, but remained above average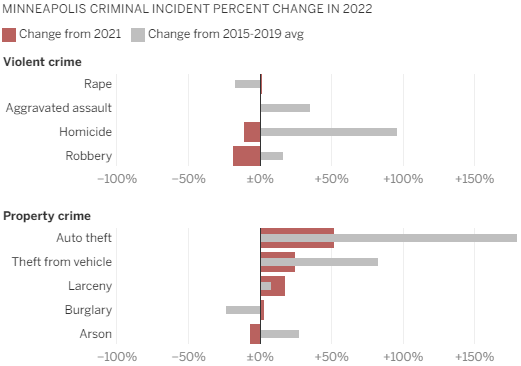 One piece of national trend

Minneapolis is not alone in seeing violent crime decline in 2022.

The Star Tribune found 50 major cities in the United States that saw homicide rates drop last year, evidence that Minneapolis is part of a greater trend.

"If you think that 2020 was a perfect storm of many factors that contributed to rising violence, if those have started to recede, then you'd expect the same thing to happen to crime trends, too," said Ames Grawert, who analyzes crime patterns in America as senior counsel for the nonpartisan Brennan Center for Justice.

Minneapolis homicide rates still at generational highs

The 2023 MPD budget earmarks $500,000 for community safety pilot projects, including the hiring of violence interrupters that police can dispatch to help diffuse tensions. startribune.com


Duluth crime is down, overdoses are up - and the Police Department is short-staffed
The Police Department reported an increase of 1,500 total calls for service in 2022, but Ceynowa said this marks an uptick in proactive policing. Officers are using data and connections within the community to monitor specific areas which Ceynowa said is directly related to a sharp decline in crime.

Violent crime incidents - murder, rape and assault, which are labeled Part A crimes - were down 1,629 from 2021. Lesser crimes - frequently property crimes and labeled Part B crimes - decreased by 338.

Duluth Police Crime Data 2010-2020 Yearly Crime Stats startribune.com


Stores Creating 'Secure Areas' To Fight Theft Epidemic
Safeway combats theft with separate shopping section for high-theft items at certain locations

Blatant unchecked shoplifting is a big problem in Portland. Now some stores are changing the way they operate to curb it.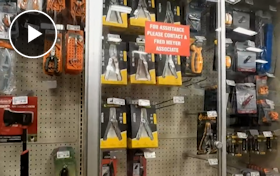 The shoplifting epidemic in Portland is happening in plain sight. KGW has documented people stealing armloads of products that security experts like Scott Castleman say are resold on the black market.

"In my career in loss prevention, I've never seen anything to the degree that we have today. The brazenness of the shoplifters. Going in, knowing that they won't get caught, they don't even try and conceal anything anymore," said Castleman.

If you walk into the Safeway store on Southwest 10th and Jefferson, you can see their new efforts to try and stop it: adding a dedicated, secured area within the store for what appears to be the most "lifted" items. You have to pay there before you can ever get close to the exit doors.

Maybe that gives security officers a better chance to stop the theft. Safeway is not talking about their strategy here, or at the Safeway store in the Pearl district, the two stores KGW found with the new more secure areas.

Safeway sent KGW a one-line explanation, reading, "Like other local businesses, we are working on ways to curtail escalating theft to ensure the safety of our employees and foster a welcoming environment for our loyal customers."

Near the Jefferson Street Safeway is a Plaid Pantry. This convenience store is one of a half dozen with security concerns that could end up closing them. The local convenience store chain is trying to avoid that, so in the past year management has installed walk-up windows similar to what is found at banks. Customers are not allowed in the stores at night. kgw.com


Here's What's Driving the 'Booster Plenty' Market for ORC
Expert on U.S. drug abuse says conditions in S.F.'s Tenderloin are tragically familiar
As a journalist and author covering America's drug and homelessness epidemics for years, Quinones said what he witnessed has become alarmingly familiar across the country - and the crisis in the Tenderloin is not the uniquely San Francisco horror that locals and outside observers think it is.

"This story is the same all over the nation, because the drugs have covered the nation. It's everywhere, and the massive supply that's available now is the reason."

That explosion, he said, is also helping drive a spike in homelessness around the country - because not only is fentanyl many times more powerful than heroin, but the newly more potent meth also causes extreme psychosis and instability. Both trap people in a cycle of addiction and hopelessness that makes it difficult to get off the street.

What he saw this week in the Tenderloin and other areas of San Francisco mirrored what he's seen in Kentucky, Los Angeles, Reno, Portland, Ore., and Denver.

"This has gone beyond what any city or county can deal with," said the 64-year-old writer, who lives in Nashville. "It's a national poisoning. We need to understand that this is supply-driven. It's just way too available in massive quantities. And just like with homelessness, there is no one fix."

In 2008, meth cost about $20,000 a pound in Fresno, but today it costs between $500 and $800. Mix that with fentanyl and it's a lot cheaper and easier to get high - most hits of meth and fentanyl cost between $1 and $5, cheaper drug highs than available 10 or 20 years ago. sfchronicle.com


Bay Area homicides 2022: Map and details

D.C. residents frustrated with rise in crime

'Swatting' now a felony under Ohio governor's new law

---

COVID Update

665M Vaccinations Given
US: 103M Cases - 1.1M Dead - 99.9M Recovered
Worldwide: 668.6M Cases - 6.7M Dead - 639.9M Recovered


Private Industry Security Guard Deaths: 362 Law Enforcement Officer Deaths: 829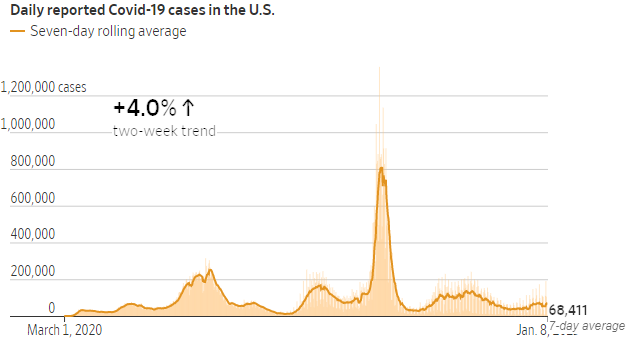 What to know as new COVID virus variants like XBB.1.5 spread fast across the U.S.
XBB.1.5, BQ.1, BQ.1.1 variants gaining rapidly across U.S.
Sure enough, just as the holiday COVID case surge seemed to be fading, new variants are spreading quickly across the U.S. and are expected to gain ground here too.

One omicron variant in particular - XBB.1.5 - has caught the attention of infectious disease experts, as it is new and seems to be spreading quickly, even after most of us already have had some combination of COVID infections, vaccines and boosters. So what does that tell us?

"We know it's very immune-evasive, much more than all of its cousins, and that's cause for concern," said Dr. John Swartzberg, professor emeritus of the University of California-Berkeley's school of public health division of infectious diseases and vaccinology.

The good news: The new variant doesn't seem to be causing more serious illness or deaths, he said. "There's nothing we've seen thus far that it's more virulent than the other variants."

Here's what else we know about XBB.1.5:

Swartzberg said. XBB.1.5's origins are unknown, but Swartzberg said it may well have started in the U.S. It is dominant in the Northeast, but only 8% of cases in California and other Southwest states.

So what's there to worry about?

A COVID is still claiming 350 to 400 lives a day in the U.S. and a daily average of more than 30 Californians. That's higher than the 240 deaths a day seen across the U.S. at the pandemic's low point in the early summer of 2021. At the current rate, the U.S. would lose 128,000-146,000 people a year to COVID.

By comparison, influenza killed an estimated 12,000-52,000 people a year over nine seasons from 2010 to 2019. The rate of annual U.S. automobile fatalities is around 39,000-43,000, in line with average annual flu deaths. mercurynews.com


COVID Deaths Surging in New York
NY sees a 30% spike in COVID deaths in December, most since early 2022
COVID deaths in New York state spiked 30% last month - to the highest tally since early 2022 - nearly three years after the virus first ravaged the state, a Post analysis shows.

There were 915 deaths linked to coronavirus and its variants in the Empire State in December - about 30 a day - compared with 664 deaths in November.

The monthly death toll hit levels unseen since since February 2022, The Post review of state Health Department data found - and comes despite widely available vaccines and antiviral drugs to treat COVID-19.

Public health experts said the rising rate is proof COVID can still be considered a pandemic rather than a rear-view-mirror nuisance. nypost.com


The XBB.1.5 variant is taking over on the East Coast. Will it happen in California too?

China's Covid wave threatens another snarl of U.S. medical supply chain

---

Support & Approval of Unions Up 71% - Highest Level Since 1965
Unionizing Petitions Up 23% in 2022 - Largest increase since 1976

Experts expect unionization efforts to gain steam in 2023

Here's what employers need to know.

The National Labor Relations Board, the government agency that oversees union activity and collective bargaining, saw 2,510 petitions for new unions in fiscal year 2022 - up 53% from the year before and the highest number since 2016. Charges for unfair labor practices also grew 19% from 15,082 in fiscal 2021 to 17,988 in fiscal 2022.

Taken together, the total number of cases at the NLRB in fiscal 2022 reached 20,498 - an increase of 23% - which was the largest increase in cases since 1976 and the largest percentage increase since 1959.

"After years of declining membership, unions are gaining representation rights for workers at unprecedented rates," said Jerry Cutler, an attorney, author and lecturer at Columbia University and an expert on labor relations. "My perspective is that it's not temporary. It's hard to get the cat back in the bag."

Experts say business owners should expect labor organizing to stay high for years as a once-in-a-lifetime confluence of factors, including the use of social media, a younger workforce, a labor-friendly Biden administration and a global pandemic and labor shortage have created a perfect storm for union activity.

A Gallup poll in August that found U.S. approval of labor unions climbed to 71%, the highest level since 1965.

Support for unions is high among Gen Z, and the use of social media, including TikTok, to spread information about worker rights and organizing rules has helped galvanize younger workers and increase coordination among workers cross the country, Cutler said.

The Biden administration also rolled out online resources dedicated to unions and workplace organizing in September. bizjournals.com


#MeToo's Source of Anger & Concern
NDA's Covering Up Major Cases & Hiding Culpability'

Regulatory Update: New Law Ends Sexual Harassment NDAs

Employers with these contract terms should take steps to end them.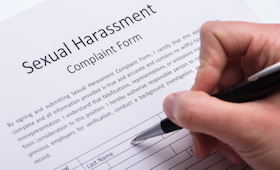 December 7th, President Biden signed into law the Speak Out Act (SOA), which prohibits employers from using nondisclosure agreements (NDA) and those addressing nondisparagement to block the victims of sexual harassment and assault from making their stories public-and all employers need to pay attention to its impact..

"I just signed the Speak Out Act, a bill that'll enable survivors to speak out about workplace sexual assault and harassment and increase access to justice," Biden declared on Twitter.

"Nondisparagement clauses" in sexual assault or harassment disputes consist of any contractual provision that requires any party not to make a negative statement about another party that relates to the contract, agreement, claim, or case. It is not unusual for employers to regularly include both of these clauses in employment agreements. Employers should remain aware that some state or local laws may restrict such provisions, such as those that have been enacted in California, New Jersey and Washington.

It applies only to pre-dispute NDAs, such as those included in employment contracts. Employers are still allowed to use these provisions as part of settlement agreements regarding disputes involving sexual harassment.

'In regard to sexual harassment in the workplace, it is bound to have an immediate effect on all employer organizations.'

What Is Excluded: ehstoday.com


2023 Trends: Legalization of Recreational Marijuana and Therapeutic Psychedelics
Three more states legalized adult recreational marijuana use in 2022, and it may only be a matter of time before such use is legal across the country.

Also growing in acceptance is the use of therapeutic psychedelics, such as psilocybin. Two states have legalized their use, some cities have decriminalized their use and more states may adopt laws legalizing them in the future.

But while use of these drugs may be legal, employers still do not have to permit employees under their influence to work.

Recreational marijuana is now legal in 21 states plus the District of Columbia.

The employment law implications are twofold-legal and practical, said August Heckman III, an attorney with Morgan Lewis in Princeton, N.J.

Employers with prehire or random drug-testing programs that test for THC may be at risk because they are not testing for impairment but for whether the employee has THC in their system, Heckman explained. "As a result, basing a no-hire or termination decision on the results of a prehire or random test can give rise to an employment claim," he said.

For this reason, employers should update and implement impairment assessment forms that document why an employee was suspected to be impaired, such as through behavior, appearance and performance, Heckman said.

State laws don't impact or alter the fact that cannabis remains illegal at the federal level as a Schedule I drug under the Controlled Substance Act, Duke noted. "This is critically important for employers that contract with the federal government or receive federal grants, as the federal government continues to prohibit cannabis use among its contractors," he said. shrm.org


$1.4B+ in Holiday Returns
Holiday returns rise 57% from 2021: report
Following an increase in returns last year, a Salesforce report predicts that consumers will return more than $1.4 billion holiday orders this season, an 57% jump year-over-year.

Consumers spent $97 billion online in the three weeks after Cyber Week, an 8% bump year-over-year. So far, U.S. online sales have risen 5% from 2021 to $245 billion, according to the report.

Nearly a quarter (23%) of online orders were buy online, pick up in-store (BOPIS) purchases during the last full holiday shopping weekend.

Salesforce noted the uptick in returns could be from consumers who bought gifts earlier this year and returned them to repurchase at a deeper discount. The report said that returns nearly doubled during the week after Cyber Week year-over-year and have been higher since then. retaildive.com


California Braces for More Widespread Flooding, Damaging Winds
California is bracing for another week of destructive storms that will probably bring flooding and hazardous winds Monday to an already battered state.

McDonald's plans to 'evaluate' corporate positions alluding to staff cuts; lean into marketing and digital

Party City Preps for Bankruptcy

Macy's closing more stores in 2023. See the list.

Consumer returns flatten as online ordering becomes more accurate

---

Senior LP & AP Jobs Market
Manager II Shrink Strategy job posted for Stop & Shop in Quincy, MA


In this role, you will provide Subject Matter Leadership to Leadership and Market DCT teams related to shrink performance across all channels and departments. Support and assist in defining Shrink Strategy and supporting Analytics; development of statistical strategy and oversight of analytics and reporting. Develop strategic responses to shrink trends and drivers using regression, correlation and other statistical analysis. krb-sjobs.brassring.com

---

Last week's #1 article --

Blizzard Over Holidays Triggers Mass Looting
Buffalo mayor rebukes looters stealing from stores, businesses during blizzard
Buffalo Mayor Byron Brown had sharp words for looters Monday who have broken into and stolen items from several stores around the city during the Blizzard of 2022.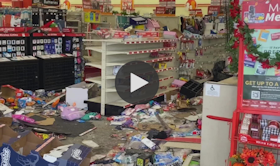 Videos of ransacked stores and businesses with people running out with various items have been shared broadly on TikTok, Facebook, and other social media platforms.

The mayor called these people the "lowest of the low."

Buffalo Police Commissioner Joseph Gramaglia who also spoke at the press conference said that police are aware of these incidents and working to get a full count of how many there have been.

"We have made a few arrests we have intervened in some of those, we've assisted with at least one location that I am aware of in getting a store boarded up so our officers are out there," said Commissioner Gramaglia. wgrz.com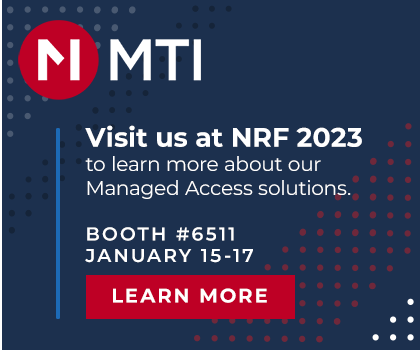 Tougher Data Breach Rules Coming?
FCC proposes stronger data breach rules, faster notifications for telecoms
The Federal Communications Commission on Friday launched a process to update its rules for how quickly telecommunication carriers notify consumers about breaches of sensitive information.

The new rule would eliminate the current seven-day waiting period for carriers to notify customers of a breach and require all breaches to be reported to the FCC, FBI and U.S. Secret Service. Instead, telecoms would need to report breaches to law enforcement as soon as intrusions are discovered and immediately to consumers, as well, unless otherwise advised by authorities.

The law would also update the definition of a breach under the law to include inadvertent exposure of customer information, not just outside hacks.

Current FCC rules require that carriers that have more than 5,000 customers notify the FCC of a data breach within seven days of discovery, while breaches affecting fewer than 5,000 customers must be reported no later than 30 days.

The FCC first adopted the rule in 2007. But its requirements are insufficient given the severity of hacks on phone companies in recent years, the FCC's Chairwoman Jessica Rosenworcel argued.

Telecom hacks and inside breaches have become rampant in recent years. T-Mobile suffered a breach of 50 million accounts in 2021, its fifth breach in three years. Sensitive data including Social Security Numbers, dates of birth and phone advertising ID numbers and the data quickly wound up on the dark web, officials in several states warned. In 2015, the FCC settled the investigation of a 2013 and 2014 data breach by AT&T with a $25 million civil penalty.

The FCC also previously proposed rules aimed at making it more difficult for scammers to take control of victims' phone numbers using their personal information. cyberscoop.com


Trusting Companies to Store Our Data
A Breach at LastPass Has Password Lessons for Us All

The hacking of the password manager should make us reassess whether to trust companies to store our sensitive data in the cloud.

While many of us were unplugging from the internet to spend time with loved ones over the holidays, LastPass, the maker of a popular security program for managing digital passwords, delivered the most unwanted gift. It published details about a recent security breach in which cybercriminals had obtained copies of customers' password vaults, potentially exposing millions of people's online information.


From a hacker's perspective, this is the equivalent of hitting the jackpot.

When you use a password manager like LastPass or 1Password, it stores a list containing all of the user names and passwords for the sites and apps you use, including banking, health care, email and social networking accounts. It keeps track of that list, called the vault, in its online cloud so you have easy access to your passwords from any device. LastPass said hackers had stolen copies of the list of user names and passwords of every customer from the company's servers.

This breach was one of the worst things that could happen to a security product designed to take care of your passwords. But other than the obvious next step - to change all of your passwords if you used LastPass - there are important lessons that we can learn from this debacle, including that security products are not foolproof, especially when they store our sensitive data in the cloud.

The LastPass breach is a reminder that it is easier to set up safeguards for our most sensitive accounts before a breach occurs than to try to protect ourselves afterward. nytimes.com


Chick-fil-A urges customers to take action, investigates 'fraudulent activity' on mobile app accounts
Chick-fil-A, Inc. informed customers of suspected "fraudulent activity" on some customers' mobile app accounts and has announced an investigation to determine the source.

"Chick-fil-A is aware of suspicious activity on some of our customers' Chick-fil-A One accounts," the company said in a statement Thursday. "While we are still investigating what happened and how certain customers became subject to this fraudulent activity, this is not due to a compromise of Chick-fil-A Inc.'s internal systems."

"Chick-fil-A is committed to protecting our customer's data and we are working quickly to resolve the issue. Please reach out to Chick-fil-A CARES online or by calling 1-866-232-2040 to report any suspicious account activity," the statement read. nypost.com


Microsoft Reveals Tactics Used by 4 Ransomware Families Targeting macOS
Microsoft has shed light on four different ransomware families - KeRanger, FileCoder, MacRansom, and EvilQuest - that are known to impact Apple macOS systems.

"While these malware families are old, they exemplify the range of capabilities and malicious behavior possible on the platform," the tech giant's Security Threat Intelligence team said in a Thursday report.

The initial vector for these ransomware families involves what the Windows maker calls "user-assisted methods," wherein the victim downloads and installs trojanized applications.

"Ransomware continues to be one of the most prevalent and impactful threats affecting organizations, with attackers constantly evolving their techniques and expanding their tradecraft to cast a wider net of potential targets," Microsoft said. thehackernews.com


Cybercriminals create new methods to evade legacy DDoS defenses

Notorious Russian hacking group resurfaces with fresh cyberattacks on Ukraine
New York Police Arrest Suspect After Shoppers Try to Stop Robbery at Yonkers Marshall's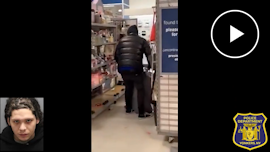 A 25-year-old Bronx man was arrested on January 6 on suspicion of repeatedly stealing merchandise from a department store in Yonkers, New York. The Yonkers Police Department allege Franklyn Rosario had also robbed the Marshall's store on Central Park Avenue a few days before his arrest, when he was allegedly filmed filling a large sack with merchandise before pushing past shoppers who tried to stop the robbery. Rosario returned to the store on January 6 and carried out another robbery before he was arrested across the street, police said. Police said it was Rosario's 13th arrest. Yonkers police also advised people not to intervene in shoplifting incidents for personal safety reasons. uk.news.yahoo.com


Monroe County, GA: Suspects of organized shoplifting ring arrested in Monroe County after car chase
Three suspects have been arrested in Monroe County after a car chase, where they threw stolen goods at deputies. In a release by the Monroe County Sheriff's Office, they say that around 6:35 p.m. on Saturday, deputies were asked to assist on a car chase initiated by officers of the Locust Grove Police Department. They say that Locust Grove officers were investigating an organized shoplifting ring when they made a traffic stop to pull the car over. Monroe deputies joined the chase near the High Falls Road exit, and saw that people in the car were throwing stolen items out of the windows. A Monroe County deputy conducted a PIT maneuver to stop the car near Johnstonville Road, and the car lost control, left the roadway, and overturned. When deputies searched the car, they found over $4,000 worth of stolen goods from stores around the Locust Grove area, and different stores in the Tanger Outlets. 13wmaz.com


Mount Pleasant, WI: Three Illinois residents charged in retail theft at Menards
At 5:41 p.m. on Thursday, an officer was sent to Menards at 3101 S. Oakes Road for a shoplifting. There were three suspects. Upon arrival, the officer saw one of the suspects trying to leave the store. She was identified as Evans. She was told she needed to go to the loss prevention office but she refused. While officers were dealing with Evans, they saw another suspect, identified as Moore, who denied stealing anything. Found near the door was the third suspect, Ross, who was also escorted to the loss prevention office. An employee said that on Jan. 1 he was told by the Menards in Kenosha that there were outstanding suspects from a felony retail theft at the store. The three came into his store and he recognized them as matching the description given by the Kenosha Menards. He saw Moore concealing an electric door lock in Evans's bag. Ross was seen walking up and down the aisles as lookout. Moore took a second lock and concealed it in the bag again. At this point, he approached them, and Ross exited the store. Evans attempted to throw her bag and leave but then officers arrived. The total amount of merchandise in the bag was $558. journaltimes.com


Greenfield, WI: Theft leads to police chase; 3 arrested
Three people were taken into custody Sunday morning, Jan. 8, after stealing from a store and leading Greenfield police on a chase. Greenfield police said three individuals stole from a store near 76th and Forest Home around 5 a.m. Police said two individuals fled the area in a car, leaving the person responsible for the retail theft behind at the store. Greenfield police were chasing the fleeing vehicle when they saw a firearm thrown out of the window and recovered it. Police said the chase ended around 5:30 a.m. near Forest Home and Grange when the people stopped driving. Greenfield police arrested the two people that were in the car and the person left behind at the store Officials said the group stole less than $200. fox6now.com


Nassau County PD/ MetroORC Organized Retail Crime Meeting Jan 25th
We will be hosting our next meeting on January 25, 2023 at 1200 pm in the Nassau County Police Department - David S. Mack Center for Training and Intelligence, 1 Law Enforcement Way, Uniondale NY. On November 17, 2022 the Nassau County Police Department met with Asset Protection professionals from the region to discussion recent trends in Organized Retail Crime (ORC), fencing operations and opportunities to develop investigations that impact the local businesses, public shopping experience and local law enforcement. Chief of Detectives Christopher J Ferro welcomed the members from New York's MetrOrca and local Businesses on behalf of Police Commissioner Patrick J. Ryder. After introductions, the attendees learned about NCPD's commitment to reducing the opportunities for ORC crews to operate in Nassau County. Additionally, NCPD detective squads have assigned a Detective Sergeant to become the liaison to the private sector; this allows for better coordination and a consistent contact person who will work with the Asset Protection professionals to build cases, look for patterns and ensure arrests. NCPD Intelligence Unit has assigned an intelligence analyst to work with members of the NCPD and security professionals to identify patterns and trends. Best practices, trespass letters and the use of cameras was discussed with the group. Organizations conducting business in Nassau County and the metropolitan area are welcome to join us at our quarterly meetings. If you are interested in receiving additional information regarding our ORC initiative please contact Detective Elliot Lichtenstein at elichtenstein@pdcn.org. The next meeting is scheduled for January 25, 2023


Calgary, Canada: 20 people face charges for theft, shoplifting and stolen vehicles in Airdrie area
Authorities say an enhanced enforcement plan in the City of Airdrie and Rocky View County has paid off. Airdrie RCMP say they arrested 20 people over the month of December with the assistance of a number of retail loss prevention officers. Officials say the strategy, from the detachment's crime reduction unit, focused mainly on theft, shoplifting and stolen vehicles. "The project resulted in 20 new criminal code charges and the execution of 38 outstanding warrants, for charges including robbery, possession of stolen property, fail to comply with conditions, fail to attend court, break and enter, theft and drugs," RCMP said in a release. Over the course of the month, RCMP were able to recover nearly $35,000 in stolen property. calgary.ctvnews.ca


Chicago, IL: Chicago police investigating burglary at Patagonia store in Fulton Market

Yonkers, NY: Police nab repeat shoplifter who had at least 12 prior arrests

Dearborn, MI: Man arrested with more than $1,200 in stolen merchandise from Macy's

Cumberland County, PA: Man steals numerous vacuums in felony retail theft at Walmart

Laredo, TX: Fajita felon found: Laredo woman allegedly stole over $1K in meat

Shootings & Deaths
Macon, GA: 14-year-old shot in Macon food mart parking lot
Bibb County deputies are investigating how a young teen was shot in South Macon Sunday night. The Sheriff's Office says shortly after 7:30 p.m., they responded to a 14-year-old boy shot in the parking lot of Lucky's Food Mart located at 2400 Second Street near Houston Avenue. The teen was shot in the back and is now listed in stable condition, according to the Sheriff's Office. 13wmaz.com


Huntsville, AL: 2 dead, several injured after shooting outside strip mall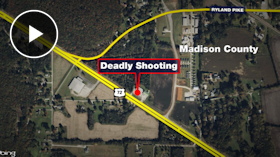 Madison County Sheriff's Department (MCSO) responded to a shots fired call and found numerous people injured and two dead early Sunday morning. According to a Facebook post by MCSO, deputies responded to a call around 12:30 a.m. at a "strip mall" establishment in the area of Mastin Drive and Highway 72, between Ryland Pike and Jordan Road. Once on the scene, deputies found two females dead. Numerous victims were taken to Huntsville Hospital and are being treated for gunshot-related injuries. Don Webster with HEMSI said that multiple other gunshot victims transported themselves to the hospital, but could not comment on how many other victims there were or their condition. Junkabillies, an antique store in the "strip mall" near the location of the shooting announced on Facebook Sunday afternoon that they would be "closed for the next few days." whnt.com


New York, NY: East Harlem street renamed for Burger King worker killed during robbery
An East Harlem street was renamed on Sunday for a 19-year-old Burger King worker killed a year ago during a robbery. Kristal Bayron-Nieves was fatally shot in the torso. The shooting death "shook our city to its core," Mayor Eric Adams said. "May her memory serve as a reminder of our sacred duty to keep our city safe," he said. East 116th Street and Lexington Avenue, the intersection nearest to the Burger King, was co-named in the slain worker's honor. Kristie Nieves, her mother, said she wants her daughter to be remembered forever. Bayron-Nieves had hopes of becoming a nurse. She was working to save money and help her mother. Now her mom is encouraging other mothers to hug their children each night. pix11.com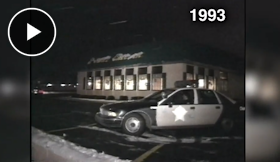 Palatine, IL: Brown's Chicken massacre: 30 years later, investigator reflects on tech advances that solved case
It happened three decades ago Sunday, and is one of the most shocking massacres in Illinois history. Now, investigators and state police are speaking about the progress made since tracking down the killers who brought seven lives to a cruel and callous end at a Brown's Chicken restaurant in northwest suburban Palatine. For nine years, it was one of the most mystifying murders in Chicagoland. Seven people brutally killed on a cold January night, executed and piled up in a freezer just minutes before closing time at Brown's Chicken restaurant in Palatine 30 years ago. abc7chicago.com


Lakeville, MN: Woman rushed to the hospital after shooting outside Amazon warehouse
A woman is in the hospital in serious condition Monday morning after being shot outside the Amazon Fulfillment Center Warehouse in Lakeville. In information released to the media, police said officers were called to the warehouse at 9800 217th Street West just before 7 p.m. Sunday night for a report of a gunshot victim. Police found a 31-year-old woman in her car in the warehouse parking lot. Emergency responders worked to provide aid and the victim was taken to Hennepin County Medical Center with injuries officials described as "life-threatening." According to officials, a male acquaintance of the victim was involved in the incident. Details about the extent of his involvement and the circumstances are still in the early stages of the investigation, police said. Police don't have any other suspects at this time and don't believe the general public is in danger. Officers said the male acquaintance was on the scene when police arrived and is currently cooperating in the investigation. kare11.com

---

Robberies, Incidents & Thefts
Christmas Brawl At Waffle House Turns Employee Into Instant Celebrity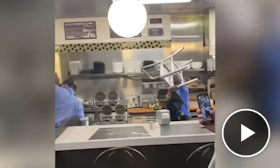 When I was younger, there was nothing better to do on a weekend night than to go to the local Waffle House, or even in the morning following a night of drinking. On Christmas Day, a viral video emerged out of Texas showing a Waffle House employee defending herself against a violent attack. The three-second clip showed the employee in Austin somehow managing to avoid a chair being thrown at her head by an unruly customer. But the way that she avoided getting hit is what everyone is talking about and why the video has gone viral. Musician and actor Mekka Don shared the moment on Twitter with the caption, "She needs to be the lead in the next action film. Waffle House job training is off the chain" along with the observation that an underrated part of this video is the other employee quickly ducking when the chair was thrown.

rantsofizzo.com




Family Dollar employee stabbed by shoplifter in Yonkers
An employee of a Family Dollar store in Yonkers was stabbed by a shoplifter Saturday, police say. Authorities say just before 7:30 a.m., an employee at the Family Dollar on Main Street confronted a shoplifter, who then stabbed the worker and fled the store. The victim suffered a non-life-threatening injury to the abdomen, according to police. Authorities are still searching for the suspect.

westchester.news12.com




Memphis, TN: Man assaults Domino's employee, slashes tires on cars for wrong order
The Memphis Police Department said they responded to an assault at a Domino's restaurant on Nov. 18. At the location, they arrested Richard Johnson. An employee at the Domino's said Johnson came to pick up an order he placed online. The employee said Johnson left the store, but returned to say his order was wrong. The employee said the online ordering policy wouldn't allow him to return the pizza, but he could make another order. According to the police report obtained by WMC, Johnson then became irate and threw the pizza next to the employee before leaving the store. Johnson then reportedly came back into the store while the employee was cleaning up the pizza, approached the employee in an aggressive manner and attempted to take the broom the employee was using. The employee told police Johnson tried to hit him, and a physical fight took place between the two. Other employees attempted to break up the fight, and Johnson stopped fighting and left the store, according to WMC. The employee said Johnson later called Domino's back that night to have a pizza delivered. A few hours later, Johnson reportedly came back to the Domino's location, where an employee said they saw him slashing several other employee's tires along with those on a customer's vehicle, according to police. A witness told officers that when she came outside, she saw Johnson using a cutting tool to slash her front tire. She said she saw him drive off in a four-door SUV. Police said they were able to use the given information to identify Johnson as a person of interest. Surveillance video helped them to determine Johnson was responsible for the assault and vandalism. Officials said the total cost of damage to the cars came to over $1,300. Police charged him with assault and vandalism costing $1,000 or less.

wmbfnews.com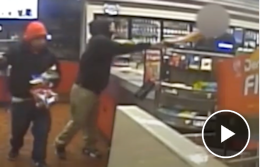 Sedgwick County, KS: Suspects threw hot drink at employee before Kan. Robbery
Law enforcement authorities are investigating a robbery and released a video asking for help to identify suspects. Just before 2:30a.m. November 21, police responded to an assault call at the QuikTrip on W 31st Street South in Wichita, according to Officer Trevor Macy. A 911 caller reported two suspects had stolen items from the store and one of them threw a hot drink in an employees face. The employee was treated on scene for minor injuries, and video surveillance was obtained that shows two suspects selecting various snack items before throwing a hot cup of liquid in the clerks face and leaving the store.

hayspost.com




New York, NY: Brinks Armored truck robbed as suspects asked driver for directions
Two thieves allegedly distracted an armored truck driver while their accomplice grabbed a bag containing $300,000 in cash near a Brooklyn bank on Friday, police said. KTLA's sister station WPIX reports. The driver was making a money drop at Chase Bank on Eighth Avenue around 1 p.m. when two suspects asked him for directions, according to the NYPD. A third suspect then swiped the bag with $300,000 in cash when it was left unattended on the bumper of the armored Brink's truck, police said. According to police, the bag thief then ran south on Eighth Avenue while his accomplices fled in an unknown direction. All three suspects remain at large as of Sunday.

ktla.com




Milwaukee, WI: Police chases, 7 in 6 days to start 2023

Queens, NY: Suspect Targeting 7-Eleven Stores In Queens In Multiple Robberies

Men Robbed 25 Gaming Machines at gas stations and 7-Eleven stores around the Philly region