The D&D Daily's Exclusive - Publicly Reported
'Retail Fatalities Report' Q1 2019
Retail Fatalities Up 22% Since 2016
122 Retail Violent Deaths - Down 2% in Q1 from 2018
---
1st Quarter
2016 - 2017 - 2018 - 2019
Q1 Deaths Down 2% since '18
Q1 Criminal Acts Same since '18

Q1 Deaths Up 9% since '17
Q1 Criminal Acts Up 11% since '17

Q1 Deaths Up 22% since '16
Q1 Criminal Acts Up 31% since '16

Q1 2019 Totals
• 122 Retail Violent Deaths
• 113 Criminal Acts

Q1 2018 Totals
• 125 Retail Violent Deaths
• 113 Criminal Acts

Q1 2017 Totals
• 112 Retail Violent Deaths
• 102 Criminal Acts

Q1 2016 Totals
• 100 Retail Violent Deaths
• 86 Criminal Acts

---


122 Retail Violent Deaths in Q1 2019 by Category
34% Suspects - 66% Victims
41 Suspects, 59 Customers, 20 Associates, 2 LP/LE/Security





122 Total Q1 2019 Violent Deaths
• 34%, 41 Suspects - up 17% from '18
• 48%, 59 Customers - down 5% from '18
• 16%, 20 Associates - down 28% from '18
• 2%, 2 LE/LP/Security

125 Total Q1 2018 Violent Deaths
• 28%, 35 Suspects - down 32% from '17
• 50%, 62 Customers - up 112% from '17
• 22%, 28 Associates - up 8% from '17
• 0%, 0 LE/LP/Security

112 Total Q1 2017 Violent Deaths
• 46%, 52 Suspects
• 26%, 29 Customers
• 23%, 26 Associates
• 4%, 5 LE/LP/Security

---


Q1 Totals: 71 Homicides - 51 Retail Crime Deaths







58% (71) of Q1 '19 deaths were homicides
Arguments, murder/suicides, workplace violence, fire
• 15%, 11 Suspects
• 85%, 60 Victims

42% (51) of Q1 '19 deaths occurred during retail crime
Robberies, burglaries, shoplifting & carjacking
• 59%, 30 Suspects
• 41%, 21 Victims

70% (88) of Q1 '18 deaths were homicides
Arguments, murder/suicides, workplace violence, fire
• 16%, 14 Suspects
• 84%, 74 Victims

30% (37) of Q1 '18 deaths occurred during retail crime
Robberies, burglaries, shoplifting & carjacking
• 56%, 21 Suspects
• 43%, 16 Victims

46% (52) of Q1 '17 deaths were homicides
Arguments, murder/suicides, workplace violence, fire
• 44%, 23 Suspects
• 56%, 29 Victims

53% (60) of '17 deaths occurred during retail crime
Robberies, burglaries, shoplifting & carjacking
• 48%, 29 Suspects
• 52%, 31 Victims


---

Q1 Total Deaths In Parking Lot, In Store & Off Premises




Q1 2

019 Totals


•

45%, 54 killed in parking lots


•

37%, 46 inside store or mall


•

18%, 22 died off premises

Q1 2018 Totals
•

51%, 64 killed in parking lots


•

35

%, 44 inside store or mall


•

14

%, 17 died off premises



Q1 2017 Totals


•

57%, 64 killed in parking lots


•

37%, 41 inside store or mall


•

6%, 7 died off premises
---
Q1: 46 In-Store/Mall Violent Deaths



Q1 2019 Totals


•

96%, 44 were shot


•

2%, 1 was stabbed/beaten


•

2%, 1 n/a

Q1 2018 Totals
•

86

%, 38 were shot


•

14%, 6 stabbed/beaten

Q1 2017 Totals
•

83%, 34 were shot


•

17%, 7 stabbed/beaten

---
Q1: 81 Customers, Associates & Law Enforcement Killed
Q1 2019 Totals
• 51%, 41 killed outside the store
• 42%, 34 killed inside store/mall
• 7%, 6 killed off premises

Q1 2018 Totals
• 53%, 48 killed outside the store
• 40%, 36 killed inside store/mall
• 6%, 6 killed off premises

Q1 2017 Totals
• 59%, 49 killed outside the store
• 38%, 32 killed inside store/mall
• 3%, 3 killed off premises

---

Q1: 20 Associates Violently Killed
Q1 2019 Totals


• 11

killed during robberies, burglaries or thefts




• 5

killed in

murder/homicide/suicide


• 3

killed in work

place violence/co-worker




•

1 killed in crash





Q1

2018 Totals
• 11

killed during robberies, burglaries or thefts




•

11 killed in murder/homicide/suicide




•

4 killed in workplace violence


•

1 killed in accident




•

1 killed

by former co-worker/relative/other



Q1

2017 Totals


• 24

killed during robberies, burglaries or thefts




•

1

killed by former co-worker


•

1

killed by relative/customer






---
Q1: 20 Associate Deaths By Gender & Method
Q1 2019 Totals


• 70

%, 14 Males
• 25%, 5 Females


• 5%, 1 n/a





Q1

2018 Totals


• 57

%, 16 Males
• 36%, 10 Females


• 7%, 2 n/a





Q1

2017

Totals
• 73

%, 19 Males
• 27%, 7 Females




Q1 2019 Totals
• 95

%, 19 Killed by gun
• 5%, 1

car crash



Q1 2018 Totals
•

86

%, 24 Killed by gun
• 11%, 3

stabbed/beaten


• 3%, 1

run over





Q1 2017 Totals
• 77

%, 20 Killed by gun
• 19%, 5

stabbed/beaten


• 4%, 1 fire



---

Q1 Deaths by Gender



Q1 2019 Totals


• 81%, 99 Males
• 11%, 14 Females


• 7%, 9 n/a



Q1 2018 Totals
• 77%, 96 Males
• 18%, 23 Females


• 5%, 6 n/a



Q1 2017 Totals


• 89%, 100 Males
• 9%, 10 Females


• 3%, 4 n/a



---
---

2019 Total Deaths by Store Type
2016 Totals:
1. C-stores (26%)
2. Gas Stations (25%)
3. Big Box (21%)
4. Restaurants (9%)
5. Dollar Stores (8%)

Q1 2017 Totals:
1. C-stores (28%)
2. Restaurants (15%)
3. Big Box (14%)
4. Other (9%)
5. Grocery Stores (5%)

Q1 2018 Totals:
1. C-stores (19%)
2. Other (13.6%)
3. Gas Stations (12.8)
4. Malls/Shopping Centers (9.6%)
5. Restaurants (8.8%)
Q1 2019 Totals:
1. C-stores (20%)
2. Gas Stations (11%)
3. Grocery (10%)
4. Restaurants (9%)
5. Specialty (9%)
---

Q1 Violent Deaths by Weekday
Weekends, Wednesday & Tuesday Highest

201

6
Days Ranked:
1. Sunday
2. Friday
3. Saturday
4. Wednesday
5. Monday
6. Tuesday
7. Thursday


Q1

201

7
Days Ranked:
1. Saturday - 19
2. Monday - 19
3. Sunday - 18
4. Tuesday - 17
5. Wednesday - 16
6. Thursday - 14
7. Friday - 7


Q1 201

8
Days Ranked:
1. Wednesday - 31
2. Sunday - 19
3. Monday - 19
4. Tuesday - 17
5. Thursday - 16
6. Saturday - 16
7. Friday - 7


Q1 2019
Days Ranked:
1. Tuesday - 28
2. Wednesday - 23
3. Thursday - 20
4. Saturday - 17
5. Sunday - 13
6. Friday - 12
7. Monday - 9

---

Q1 Violent Deaths by State
Texas & California Top 2 in Most Deaths
2016 States
Ranked
1. Texas (43)
2. California (39)
3. Florida (31)
4. Georgia (23)
5. Ohio (17)
Q1 2017 States Ranked
1. Texas (15)
2. California (12)
3. Georgia (9)
4. FL & NC (7 each)
5. AR & TN (5 each)
Q1 2018 States
Ranked
1. Texas (17)
2. California (16)
3. North Carolina (8)
4. Florida (7)
5. GA, AL & AZ (6)
Q1 2019 States Ranked
1. Texas (15)
2. California (11)
3. Florida (8)
4. Virginia (7)
5. North Carolina (6)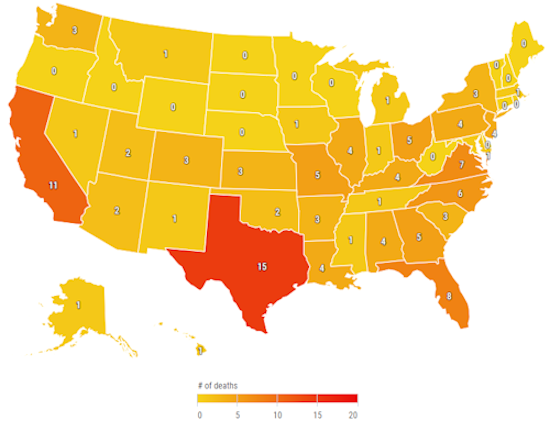 ---

Q1 Violent Deaths by City
Houston & Birmingham Most Deaths
Q1 2019 Top Cities
1. Ft. Worth, TX
2. Charlotte, NC
3. DeKalb, GA
3. Philadelphia, PA
3. Wayne, NJ

Q1 2018 Top Cities
1. Birmingham, AL
2. Houston, TX
3. Melcroft, NC
4. Las Vegas, NV
5. Jacksonville, FL

Q1 2017 Top Cities
1. Houston, TX
2. Memphis, TN
3. Little Rock, AR
4. Indianapolis, IN
5. Atlanta, GA

2016 Top Cities
1. Houston, TX
2. Atlanta, GA
3. Detroit, MI
4. Phoenix, AZ
5. Chicago, IL

Q1



Methodology: The Daily collects this retail store specific information from public news media sources throughout the United States and reports it daily in our Retail Crime column. We do not survey any retailers or third parties nor collect information from any retail executive. All of this information is available through public news media outlets. We do not claim nor does it represent all such incidents or deaths that may occur in retail locations or retail corporate facilities as many may not be reported in the news media depending on a number of variables outside of our control. We are not responsible for the accuracy of the information reported in the various news media outlets. We do not name any retailer, retail executive, suspect, or victim.

Copyright: We reserve the rights to this industry exclusive report and do not authorize its republication or reproduction without written consent which may include a fee. By re-publishing or reproducing this report or any parts of it without authorization the party agrees to pay a fee determined by the D&D Daily.

---

Share on Facebook

Share on Twitter

Share on LinkedIn

---

Security Resources


Sponsor of the D&D Daily's Retail Crime Column
Thanks Security Resources for making this column and report possible.
Hey LP and AP Execs - Thank Security Resources!