Security tech's role in mitigating the spread of coronavirus
Many security vendors are looking into how they can leverage their existing solutions or are seeking out complementary technologies to help business address risks related to COVID-19 exposure.



Developed at the request of Chicago's McCormick Place convention center, Genetec recently debuted its new "Contagion/Contaminant Proximity Report" feature for users of its Synergis access control system. The reporting function correlates physical proximity of an infected individual with other employees and badged visitors based on the use of the access control system.

"With Synergis, any organization can produce a detailed report that shows exposure metrics for employees and visitors utilizing existing access control data," Thibaut Louvet, Product Group Director, Access Control at Genetec, explains. "It considers that if two people went through the same door in a short period of time, chances are high that they had some level of interaction. This forensic analysis can be extremely beneficial to organizations seeking to use the technology they already have to better protect employees, visitors, and the broader community." securityinfowatch.com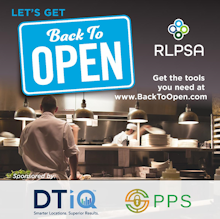 RLPSA Posts New Resources for Restaurants at BackToOpen.com

RLPSA's BackToOpen.com is a resource site providing tools for restaurants to open safely including state regulations, technology and safety products, as well as content including:

New resources include:
● Legal aspects: 10 Steps to Secure Your Organization Post COVID-19
● Helpful scripts associates can use when encountering COVID-19 issues
● Restaurants Managing Crisis Whitepaper

---

Coronavirus Tracker: May 4

US: Over 1.2M Cases - 69K Dead - 179K Recovered
Worldwide: Over 3.6M Cases - 250K Dead - 1.1M Recovered

U.S. Law Enforcement Deaths | NYPD Deaths: 37
Private Industry Security Guard Deaths: 82+

---

Reopening America
Various Stages of Re-Openings Happening in 31 States

Some states are starting to reopen and lift lockdowns,
even as the battle against the coronavirus rages on.

Click here to see a full rundown of what all 50 states are doing.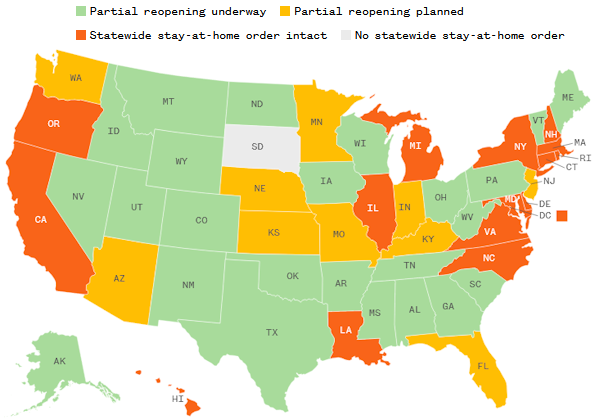 Study: Reopening states will cause 233,000 more people to die from coronavirus

As America reopens, most US states fall short of basic coronavirus testing standards

NY to partner with six states to stock up for possible second coronavirus wave


Openings

Malls are reopening, with masks, social distancing and hand sanitizer-spritzing doormen
More than a dozen states began emerging from their coronavirus lockdowns, leaving business owners, workers and consumers to decide what normal means now.

More than half of America's governors have relaxed restrictions put in place to stem the spread of the coronavirus. But the reopenings are largely piecemeal and vary in scope. In Georgia, Gov. Brian Kemp (R) last week opened nearly all businesses, including tattoo parlors and hair salons. Colorado began allowing in-person shopping on Friday, with strict social distancing protocols in place. Ohio edged into reopening, allowing elective surgeries to resume.

The landscape is even more muddled within states, with many large cities extending stay-at-home orders even as they are lifted in more rural areas. Officials in Nashville, Denver, St. Louis and other cities have told residents to stay home even as their states have moved to reopen. Texas Gov. Greg Abbott (R) has insisted the entire state follow his plans to reopen, even though mayors in cities such as Austin and Dallas have balked.

Public health experts, meanwhile, have warned that premature openings could lead to a resurgence of the virus, which has killed more than 64,000 Americans.

There's no question that at the end of this we'll have to reopen as a society, but right now it's happening scattershot without any consistency," said Mark Cohen, director of retail studies at Columbia Business School. "Nobody has a playbook."

"It's a lot harder for retailers to say, 'We don't want to pay rent,' if the malls are open," Saunders said. "That's the calculation." washingtonpost.com

Malls re-open this week in Tampa and Atlanta
Florida and Georgia will see several malls re-opening this month.

Retailers, malls reopen in Texas as state lifts some restrictions
Texas reopened its economy on May 1, and some malls and stores in the state are following suit and reopening stores.

Simon Property opened 21 Texas Malls Friday.

Macy's Opens 68 stores Today

Best Buy, Macy's, J.C. Penney and Neiman Marcus are only opening some stores.

J.C. Penney opened two stores in Texas on Friday, at Fairview, north of Dallas, and in San Antonio. It has 10 Texas stores open for curbside service and several more in Arizona, Arkansas, Florida, Kentucky, Missouri and Virginia. dallasmorningnews.com chainstorage.com

---

Exclusive D&D Daily
Publicly Reported Retail Crime Data

April 2020 vs. April 2019:
COVID-19's Impact on Retail Crime

Most Noteworthy
Retail Violent Fatalities Up 37%
Retail Burglaries Up 132%



April 2020 Violent Retail Fatalities: Key Findings
Top 5 Locations:
- C-Stores (12)
- Restaurants (3)
- Liquor (3)
- Dollar Stores (2)
- Big Box (2)

Top Five States:
- Texas (4)
- California (4)
- Missouri (3)
- Ohio (2)
- Florida (2)
2020 April ORC Cases: Key Findings Show:

- "Human survival" Products Shift in Theft: Electronics, Tools, Guns, Cigarettes & Baby Products most targeted items

- Burglaries accounted for 38% of cases.

2019 April ORC Cases: Key Findings Show:

- Clothing, Electronics, Tools/ Hardware, Perfume/Cosmetics, Jewelry most targeted items

- Burglaries accounted for 9% of cases


April 1st Deadliest Day of Month with 5 Deaths - click to see incidents

See the most notable ORC cases of April 2020 in the ORC column below

---

April is Over - One for the History Books

Where are we now & Where is it going?

Retail Casualties Begin - 26 More Looming?
1st Big Retail COVID-19 Casualty
J Crew Files Bankruptcy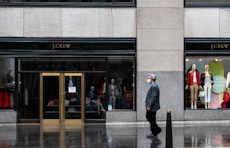 It was struggling before the coronavirus pandemic, but J. Crew is unlikely to be the last retailer to fall.

It is the first major retailer to fall during the coronavirus pandemic, though other big industry names including Neiman Marcus and J.C. Penney are also struggling with the toll of mass shutdowns. nytimes.com

Editor's Note: Will Penney's and Neiman be next or will we have a surprise this week? Yes, this week we'll hear of a more such casualties in our opinion.

With Simon opening 49 Malls, just the beginning of their 200 properties, and strip-centers starting to open the retail 'C' teams will be facing tough questions and answers in the month of May.

As this month will be even more historic then April was, as it relates to the retail casualty list. Banks, VC's, hedge funds, and outside financial lenders will be tightening their portfolios and cutting dead weight at a speed we've never seen before. With the number 1 circle on the target being Mall-based specialty retailers. As it may end up resembling a DMZ Zone. Where it has been bombed so much that virtually no one even goes there.

If consumers were scared for their safety before the pandemic, they'll certainly be scared now, as a number of very recent studies reported here in the Daily have shown.

COVID-19 Tsunami:
These 27 retailers could file for bankruptcy

It's Not a Question - Is a Wave Coming
It's a Question of When Will It Hit & How Big's the Tsunami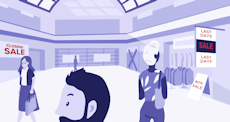 An unprecedented crisis has created a whole new set of challenges for struggling retailers, likely setting the stage for a large wave of consolidation.

In this environment, retailers that were already struggling with heavy debt, tight liquidity and/or negative profits face a potential financial crisis. Others that might have had downward trending numbers but some room to breathe could be forced to the edge faster than nearly anyone thought possible.

Observers expect bankruptcies in retail to rise; it's just a question of how much, when the wave(s) will hit and what will become of the companies that file.

L Brands, Children's Place and Caleres, which owns Famous Footwear, had the largest drops in their FRISK scores since March 1. retaildive.com
Retailers with an elevated risk of bankruptcy - Companies with a FRISK Score of 1 or 2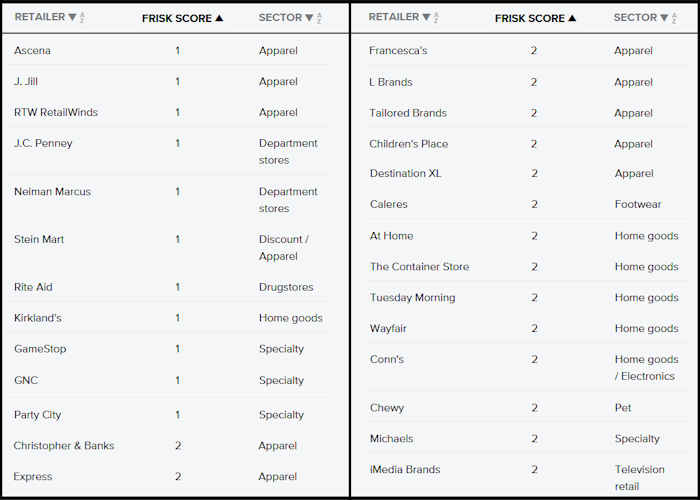 ---

Walmart Hires 200,000 Associates and Pays $180 Million in Early Associate Bonuses
Recognizing the hard work ahead of our associates as COVID-19 spreads and to help provide more cash in hand for them sooner, we shared plans to accelerate the payout for our quarterly incentive, which store, club and supply chain associates received today. With this we paid nearly $180 million in cash bonuses to hourly associates, with more to come next month on our originally scheduled quarterly bonus payout date. This is in addition to the special cash bonus for all U.S. hourly associates earlier this month, which was $300 for full-time hourly and $150 for part-time hourly, a total of more than $365 million paid to our associates.

In addition, we've fulfilled our commitment to hire 200,000 associates in our stores, clubs, distribution centers and fulfillment centers, since March 19. walmart.com

Security Guard Shot & Killed Over Face Mask
Flint, MI.: 3 charged with murder of Family Dollar security guard
over face mask dispute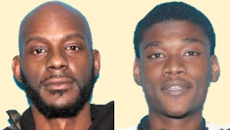 Genesee County Prosecutor David Leyton said Sharmel Teague and her daughter went in the Family Dollar at 877 E. Fifth St. in Flint around 2 p.m. Friday. While inside, security guard Calvin Munerlyn confronted Teague's daughter about not wearing a face mask.

All three suspects are facing a charge of first-degree premeditated murder. Larry Teague and Bishop also are facing several weapons charges, along with violations of Gov. Gretchen Whitmer's order to wear face coverings in enclosed public spaces.

Surveillance video showed them inside the store and Teague leaving in a red GMC Envoy, entering the nearby River Village Apartments complex. Minutes later, Teague made a phone call to Larry Teague.

About 20 minutes after Sharmel and her daughter left the store, Leyton said Larry Teague and Bishop drove the same GMC Envoy to the store. Leyton said surveillance video shows Larry Teague and Bishop enter the store and start an argument with Munerlyn. Witnesses reported hearing the suspects ask Munerlyn who disrespected his wife.

During the altercation, Leyton said Bishop pulled out a handgun and shot 43-year-old Munerlyn in the head. He was rushed to Hurley Medical Center, where he died later Friday. abc12.com

NYC Theft's Increasing - Financial Problems & No Fear of Getting a Ticket
NYC Private Interview & Interrogation Services Spikes amid Mandated Shutdowns
According to Sondae Esposito, Vice President of USPA International Security, calls for internal theft investigations have nearly doubled in recent months. She attributes the uptick in internal theft to a combination of misguided bail reform laws and desperation. "Our internal theft interviewers are getting admissions from our clients' employees that they are worried about their family's financial future as well as not afraid of an appearance ticket if they are caught."

Just last month, nearly 20% of the NYPD's uniform officers were out sick at the same time. On April 1, there were 6,000 NYPD officer out sick, causing mandated overtime, with mounting calls for aided cases in the 5 boroughs. Law enforcement is dealing with the COVID-19 crisis and doing their best to combat crime in NY, but their hands are tied when it comes to a court system which frees the arrestee, immediately after he is charged.

According to Esposito, "With a strained police force, an economic downturn and a criminal justice system easy on petty crime (bail reform), we are seeing the use of loss prevention personnel as well as internal theft investigations increase in the city." knnit.com

Crowd Control in New York
New Rochelle, NY: Costco calls cops to help control chaotic crowds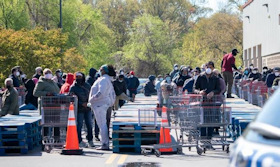 Cops were called to a Costco Wholesale warehouse in New Rochelle Saturday when a crowd of impatient shoppers got out of control. Hundreds of shoppers who lined up outside the Costco wanted the doors open so they could begin shopping at 8 a.m. — but it took workers an extra half hour to open. Furious shoppers began chanting and erupted into "total chaos," as one shopper described it.

"I thought I was going to get trampled by shoppers, and it seemed like they were giving food away the way the customers acted, until cops and workers brought it under control," said a resident named Jose.

Workers used wooden pallets to create lines and order — letting only a certain number of the restless shoppers in at a time, as required by orders from Gov. Andrew Cuomo. nypost.com

More Hero Pay For Essential Workers
Call It Hero Pay or Hazard Pay, Essential Workers Want More of It

Some companies are ending coronavirus crisis bonus pay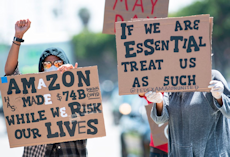 Businesses are starting to reassess the bonus pay for hourly employees who have been going into work through the coronavirus pandemic.

Employers paying coronavirus-related bonuses remain relatively few. One in four companies that require employees on-site are offering hazard pay, according to an April survey by WorldatWork. Retail workers were more likely to get extra pay, with 46% of grocers and other essential retailers offering hazard wages, compared with 29% of health-related employers.

Democrats in the U.S. Congress, along with Republican Sen. Mitt Romney, are pushing for money for essential workers, potentially in the form of a "heroes fund" for hospital and grocery workers as part of the next coronavirus relief package, or hourly bonuses paid jointly by the federal government and employers.

The New York City Council introduced a Covid-19 relief package in April that would require companies with more than 100 workers, including grocery stores, to pay nonsalaried staff an extra $30 for shifts of up to four hours, $60 for shifts up to eight hours and $75 for shifts longer than eight hours.

"Providing additional wage increases will jeopardize our ability to preserve current jobs and impact our ability to bring back furloughed employees," the CEO of HMSHost said last week. wsj.com

Temporarily waiving background checks?
Employment-Screening Options During the COVID-19 Pandemic
"COVID-19 has caused courts and other public-records repositories and drug-testing laboratories to either close or be difficult to access," said Pamela Devata, an employment attorney and partner in the Chicago office of Seyfarth Shaw. "Criminal and civil records reviews and previous employment and education verifications are not as readily available due to closures and remote working. Some applicants may also be reluctant to visit drug-testing labs, and labs may have suspended in-person services."

Court Records: Not all courts are closed, and some are reporting that they are currently open for fulfilling public-record search requests, according to state courthouse websites, so an employment screen's success or failure depends on the county in question.

Work and Education Verifications: Work history and education credential verifications are likely a challenge right now as well.

Drug Tests: Most labs are still conducting drug tests as part of employment screens but may not be available for in-person visits, and some candidates may express reluctance to visit a lab due to fears of exposure to COVID-19.

Stop Screening? Organizations seeking to hire during the pandemic have a few courses of action they can take if their normal hiring process includes pre-employment background checks and drug tests. Martinez explained that another concern with temporarily waiving background checks is the risk of undercutting their future validity.

Expect Delays - Organizations can also maintain the status quo and continue to run the same checks as usual, knowing there will be delays. "Many employers choose to hire candidates based on the information available to them now and are reserving the right to conduct additional background checks post-hire, once courts, schools and other sources become available."

Drug-Testing Alternatives - Employers not regulated by the DOT have more options for testing, Current said. "Consider oral-fluid testing, where employees can swab their own mouth and the observer can remain at a safe distance. Oral-fluid collection is also being done via video using Skype, FaceTime or Zoom with a trained observer before the test is sealed and shipped to a lab." shrm.org

The Ripple Effect & Inventory Piling Up
Off-price stores like TJ Maxx and Ross are shut down
And it's making things worse for desperate clothing retailers
With massive inventory stuck in most retailers and the off-pricers NOT taking unsold inventory some will have to make difficult decisions over next couple of months. Especially with 'Back-To-School' right around the corner.

Typically an avenue for apparel retailers to offload unsold product it isn't there this season. And remember TJ Maxx, Marshalls, Ross, and Burlington are not selling anything online. Which keeps them from damaging brands when consumers see the same merchandise deeply discounted at off-pricers.

Analysts have predicted a massive boom for off-price retailers in the coming months as people become more budget-conscious. businessinsider.com

Flying after COVID-19 will never be the same
Here's what airplane seats could look like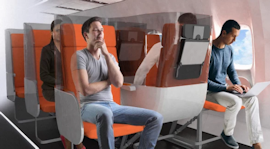 Transparent guard that wraps around the sides and back of each seat

The idea of packing into a small, enclosed space with a crowd of people never had much appeal to me. Now, it has less appeal than ever.

The Italian company Avio Interiors released two new seat concepts that are designed to reduce the spread of germs in these notoriously tight spaces. fastcompany.com


Virtual Security Showcase Features Latest Technology Insights
from Leading Security Providers


Security industry professionals seeking the annual trend and product news updates they've always learned at trade shows now have a new option. From May 12-14, fifteen leaders in the security industry will present their latest insights and solutions at a new online event. Called Virtual Security Showcase, the event is being presented free of charge. Attendees will benefit from the open flow of information on the latest solutions for professional security and business intelligence applications. virtualsecurityshowcase.com

DHS Report: China Hid Virus's Severity To Hoard Supplies

American Airlines and Delta Now Require all Passengers to Wear Face Masks

Worcester, MA: Walmart store sees 81 employees test positive for coronavirus

Quarterly Results
Publix Q1 comp's up 14.4%, net sales up 10.3%


Last week's #1 article --

Nation's Biggest Mall Operator - 204 Locations Opening Next Week!
Simon plans mall re-openings with traffic limits, shorter hours & safety protocols
Simon Property Group plans to begin the "phased reopening" of its mall properties soon, contingent on state and regional closure orders and criteria issued by the federal government.

Simon plans to open five malls in Arkansas, Oklahoma and South Carolina on May 1, with more malls to follow in the first weeks of May, per the memo. Opening May 4th in 10 states.

As it opens malls, Simon is rolling out COVID-19 safety protocols, including limited hours, occupancy limits, spacing configurations to promote social distancing, employee screening for symptoms, employee training and face mask requirements for workers, among several other steps.

As it reopens properties, Simon is limiting foot traffic to 1 person per 50 square feet for properties as a whole. To enforce that, the mall operator will restrict how many entrances are open and create queues to enter. cnbc.com retaildive.com