---

Interface Asset Protection & Business Intelligence Solutions Boost Safety and Operations at Panda Express

Interface helps Panda Express save over $100K per year in false alarm fees and thousands of dollars per month per store in reduced shrink at the POS



With more than 2,200 locations and 41,000 associates, Panda Express is America's largest family-owned and operated Asian dining concept. Challenged with losses at the point of sale (POS) and growing false alarm penalties, the company turned to Interface Security Systems, a leading managed services provider delivering managed network, interactive alarm monitoring, video surveillance and business intelligence solutions to help them dramatically decrease shrink and resolve security inadequacies. Read more in today's Vendor Spotlight column below.

Lyle Forcum, Executive Director of Asset Protection at Panda Restaurant Group, will be sharing insights on how to maximize ROI on security infrastructure in a webinar that will take place on Thursday, June 18, 2020 at 2PM EST/1PM CST/11AM PST. Register here!


LPF Announces Hanwha Techwin as Newest Bachelor Level Partner


The Loss Prevention Foundation (LPF) announces Hanwha Techwin, a global supplier of IP and analog video surveillance solutions, as the newest Bachelor Level Partner. The Bachelor level partnership allows Hanwha to provide LPQ and LPC certification course scholarships, as well as LPF memberships, to loss prevention industry professionals.

With US headquarters in Teaneck, NJ, Hanwha Techwin offers video surveillance products including IP cameras, storage devices, and management software. Their end-to-end security solutions have achieved global success across many industry verticals including retail, education, banking, and hospitality. yourlpf.org

---

Retail Under Scrutiny
C-Level Misconduct - Lack of Diversity & Inclusion

Some Adidas Staff Ask Board to Investigate HR Chief

Employees petition for further changes after raising concerns about workplace culture following George Floyd killing

Some employees at Adidas are calling on the company's supervisory board to investigate its chief human-resources officer and create an anonymous public platform to submit complaints about racism, after the sportswear giant promised to hire more people of color and invest in black communities.

A group of 83 employees asked the supervisory board to investigate whether Karen Parkin, the company's global head of human resources, has taken the right approach to address racial issues in the workplace, according to a letter dated June 15 that was reviewed by The Wall Street Journal. The letter also asked for a system to voice allegations of racism and for protection against retaliation for speaking up.

"We welcome the commitment of our people to stand against racism," Adidas said in a statement. "Our Black employees have led the response that we will continue to implement together and that we have committed to as a company. We are now concentrating our efforts on making progress and creating real change immediately."

"We strongly reject all statements made in the letter to the supervisory board," the company said. Adidas said it has a hotline and email address that employees can use to file complaints. The company said it has a zero-tolerance policy for abuse or retaliation, and that it recently hired a third-party investigator to monitor that policy.

At an all-employee meeting last year at the Boston headquarters of Reebok, which is owned by Adidas, Ms. Parkin said racism was "noise" that is only discussed in America, and that she didn't believe the brand had an issue with racism, the Journal has reported. wsj.com

Apple's Diversity Chief Leaves as Companies Vow to Tackle Racism
Apple Inc.'s head of diversity and inclusion Christie Smith is leaving the iPhone company, according to people familiar with the matter. Apple said the move was planned two months ago, though a person familiar with the matter said Smith's last day was Tuesday.

Last week, Chief Executive Officer Tim Cook said Apple is launching a $100 million Racial Equity and Justice Initiative, adding to the company's response to the police killing of George Floyd last month. Earlier this month, Cook wrote in a letter to employees and customers that society needs to do more to push equality, particularly for Black people.

Smith joined Apple in 2017 after 16 years at consultancy Deloitte. Unlike her predecessor, who reported directly to the CEO, Smith reported to Apple's Senior Vice President of Retail and People Deirdre O'Brien. The previous person in the role, Denise Young Smith, lasted only six months and left after apologizing for controversial comments she made about the mostly white makeup of Apple's executive team. bloomberg.com

UK retailer John Lewis under fire for lack of diversity in top ranks
The lack of diversity in the management ranks at the high-street favourite John Lewis has been criticised after it emerged that just six of the retail group's top 158 UK managers are people of colour. Of the permanent senior UK managers at the company – which is owned by its staff and runs 50 department stores and the Waitrose supermarket chain – three directors are from an ethnic minority. theguardian.com

Retailers Address Racial Inequality As Consumers Demand Action

Kohl's Creates Task Force for Diversity & Inclusion + 4 Other Commitments to Fight Racial Injustice

McDonald's CEO says the chain has 'probably' created more Black millionaires than any other corporation

Combating Bias at Work: Free LinkedIn Learning resources on diversity and inclusion topics


1st Cyberstalking Case Ever on a Global Security Team
eBay Federal Charges Follow Up:
EBay's Former PR Chief Is 'Executive 2' in Cyberstalking Indictment
EBay Inc.'s former communications chief is "Executive 2" in a federal indictment accusing company employees of cyberstalking a Massachusetts couple, according to two people familiar with the matter.

Steven Wymer, who has not been charged with a crime, was EBay's public-relations chief for about nine months in 2019, when six EBay employees allegedly harassed the proprietors of an e-commerce newsletter that wrote articles about the company. Bloomberg reported Monday that "Executive 1" is former chief executive officer Devin Wenig, who is also referred to in the indictment but not charged with anything.

Wymer allegedly sent a text to Wenig in April of last year saying, "We are going to crush this lady" after the newsletter published a story about Wenig's compensation, according to the indictment. bloomberg.com

Editor's Note: This has to be the biggest cyberstalking case ever indicted on corporate executives and 1st one ever on a global security team.

Read more about this case in the D&D Daily's Special Report


Conspiracy Costs Consumers $600 Million
Former Bumble Bee CEO Gets 40M's Fed. Prison - Fixing Prices Of Canned Tuna
Christopher Lischewski, former Chief Executive Officer and President of Bumble Bee Foods LLC, was sentenced to serve 40 months in jail and pay a $100,000 criminal fine for his leadership role in a three-year antitrust conspiracy to fix prices of canned tuna.

Lischewski was charged on May 16, 2018. After a four-week trial in late 2019, he was convicted on the single count of participating in a conspiracy to fix prices of canned tuna. In imposing Lischewski's 40-month prison sentence, the Court found that Lischewski was a leader or organizer of the conspiracy and that it affected over $600 million dollars of canned tuna sales.

Bumble Bee pleaded guilty and was sentenced to pay a $25 million criminal fine. In September, StarKist Co. was sentenced to pay a statutory maximum $100 million criminal fine. In addition to Bumble Bee and StarKist, four executives, including Lischewski, were charged in the investigation. The other three executives pleaded guilty and testified in Lischewski's trial.

"The sentence imposed today will serve as a significant deterrent in the C-suite and the boardroom."

Editor's Note: The Daily has been following this case for three years and it's the first time we've seen a CEO get prison. justice.gov

---

Riot Fallout Continues
Charges in Guard's Murder - More Arrests

Follow Up to Yesterday's DOJ Murder Charges Filed Post:
2nd Night of Nationwide Protests, HS Federal Officer Killed in Oakland

Alleged 'Boogaloo' extremist charged in killing of federal officer



"They Came to Oakland to Kill Cops" FBI SAC San Francisco

Air Force sergeant who was arrested in the fatal ambush of a Santa Cruz County deputy was charged Tuesday in connection with the killing of a federal security officer during George Floyd protests in Oakland last month. Staff Sgt. Steven Carrillo, 32, was charged with murder and attempted murder in the killing of federal officer Dave Patrick Underwood, 53.

Underwood was one of two officers who were shot May 29 while guarding the Ronald V. Dellums Federal Building. The other officer was critically wounded in the drive-by attack. Both were members of Homeland Security's Federal Protective Service.

Authorities said Carrillo and a second man traveled to Oakland with the intent to kill police and believed the large demonstrations spurred by the death of Floyd in Minneapolis — which they were not a part of — would help them get away it. nbcnews.com

Brainerd Man Charged In Minneapolis Police Third Precinct Arson

Philadelphia, PA: Man Charged for Sending Racist, Threatening Emails to Police Commissioner

Philadelphia, PA: Woman Charged for Arson of Two Police Cars During Protests

Lincoln, NE: Man arrested for starting fire in gas station during riot

Albany, NY: Man arrested for setting tractor trailer on fire during May riot

Put-in-Bay, OH: Officer involved in riot arrest placed on leave

---

Coronavirus Tracker: June 17
US: Over 2.2M Cases - 119K Dead - 903K Recovered
Worldwide: Over 8.3M Cases - 447K Dead - 4.3M Recovered

Fallen Officers From the COVID-19 Pandemic: 47 | NYPD Deaths: 45
Private Industry Security Guard Deaths: 150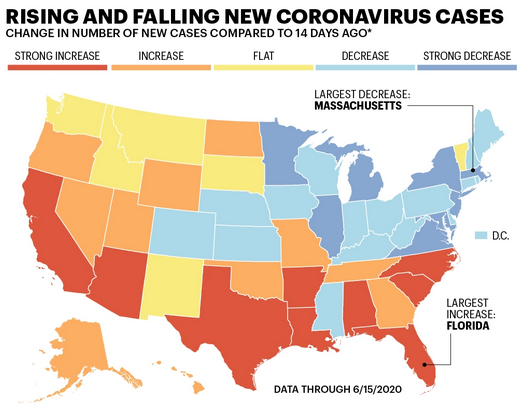 ---

Webcam Interviewing
Rise to the Challenge of Remote Investigations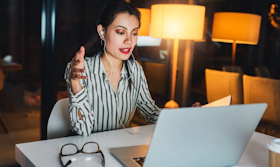 Investigating workplace issues is rarely easy and doing so remotely can be even harder. Some employers insist on in-person investigatory interviews, even as telecommuting has increased during the coronavirus pandemic. But many now rely on remote investigations, which bring unique challenges: stilted conversations, difficulty making credibility assessments from afar and at-home distractions.

"It is harder to establish rapport with anyone when you are not meeting face to face," said Janene Marasciullo, an attorney with Epstein Becker Green in New York City. "Likewise, it may be difficult to ensure confidentiality of any communications because you and the person you are interviewing are not together, and the person you are interviewing may not have sufficient privacy to speak candidly."

It's also harder to assess credibility without being able to see someone's body language, she added.

If interviewing in person isn't feasible, videoconferencing, rather than conducting the investigation by phone, can help with credibility assessments because it allows the investigator to see the interviewee's facial expressions. That will help the investigator know if an interviewee is uncomfortable with a particular subject. shrm.org

Going Beyond Zoom
The New Town Hall Meetings

Picnics with prepackaged sandwiches might take the place of packed conference rooms and buffet lunches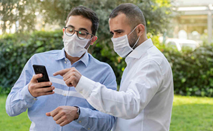 How can organizations meet state guidelines for social distancing, protect people's health and keep up interactions with the whole workforce?

Blended Format - "Some are talking about removing chairs to create six feet between each seat," he said. "Others don't have the space to spread out chairs and still [be able to] accommodate a group of 50 to 150." Companies without enough space are exploring a blended format. A portion of the staff will gather in a large meeting room, with others joining in virtually from their desk in another part of the building.

Increased Frequency - States have different guidelines for group gatherings, and travel restrictions into and out of each state differ, as well.

The frequency has gone from quarterly and has increased to monthly and she says Microsoft Teams is working better now than when the company tried video conferencing a few years ago. SMRT President Ellen Belknap is also encouraging staff to reach out to one another to connect, much like they would stop by a colleague's desk at the office.

What's on the Menu? - Adams predicts that companies won't be able to serve communal food for a long time. Buffets and self-serve dishes will be replaced with individually wrapped, grab-and-go items. Bottled beverages will substitute for pitchers and shared coffee pots.

Consider picnic-style town hall meetings. Scheduling staff gatherings at parks may be an option for fostering the communal aspect of meeting in-person while having ample space for social distancing.

Evolving as Times Change - Town hall meetings work because they invite conversation and engagement between leadership and staff. Knowing how to read an audience to encourage participation is vital, as is managing feedback. In-person staff meetings rely on nuances of physical face-to-face interactions that can be missed in virtual meetings. Participants may also be reluctant to contribute online.

"The awkward silence hits differently on video than in person. I preface calls with, 'I know it's awkward to meet via video, but please participate as much as possible'," Adams said. "Polling is one feature that has helped in having people give feedback in a controlled format so it doesn't turn into mass chaos when you have 55 people on a virtual meeting."

It may take a bit of creativity and a willingness to evolve through trial and error to find a format that works with the new normal for in-person or virtual all staff meetings.

"Pulse surveys are a great way to solicit feedback on what you're doing, to measure engagement and find out what is working or not working," Adams said. "If it doesn't work, try to tweak it until it does." shrm.org

That Random Number Calling You Might Be a Contact Tracer
Contact tracing, essential to fight against coronavirus, hits roadblocks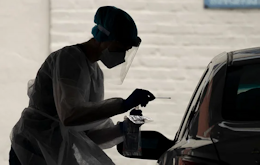 One of the most crucial parts of the fight against the spread of COVID-19 relies on significant cooperation from the public, and so far, the results are mixed.

Public health workers are trying to break the chains of COVID-19 transmission by reaching out to people who have tested positive for the disease and asking them to both self-isolate for two weeks and provide a list of people they had contact with 48 hours before becoming sick, who will, in turn, also get a call.

But in the age of robocalls and scams, so-called contact tracers are having a difficult time getting people to answer their phones or return missed calls.

Governors and public health officials in recent days have pleaded with the public to answer their phones if they get a call from the health department. "If it comes up on your phone, please answer," Louisiana Gov. John Bel Edwards (D) said Friday during a news conference, after reminding everyone of the phone number to look for. "In many cases, people are simply missing the call, or I suspect they don't recognize the number and they just choose not to answer." thehill.com

49% of Consumers Waiting on Vaccine
KPMG survey: Consumer behavior shifts due to COVID-19 may be permanent


A recent KPMG survey of 1,000 consumers in the U.S. revealed that consumer behavior and purchasing patterns are rapidly changing, and is impacting consumer and retail companies. As consumer-facing businesses adapt to the "new reality," they face more challenges to innovate and reinvent their businesses to survive.

Survey found that:

- 49% of consumers said that they will not return to pre-COVID-19 levels of activity until there is a vaccine available.

- Millennials saw an average of 47% reduction in their income.

- Most consumers expect recovery within two years; however, there are significant numbers of consumers who believe the economy will not return to pre-COVID-19 levels.

- Survey respondents indicated that consumer activities that migrated to online shopping due to COVID-19 will remain online in the future.

"Retailers need to rapidly re-evaluate their customer base, uncover the signals of permanent change and transform their business to meet customers where they are, in the new reality," said Scott Rankin, Principal, Advisory, Strategy, KPMG LLP. "Strategies may include revised price, promotion and discount structures, as well as preparing leading digital platforms and applying advanced data and analytics to achieve greater efficacy." kpmg.com

CrewMinders Launches Platform Designed to Rapidly Communicate Health and Safety Messages to Frontline Workers

Apple to reopen 10 NYC stores, appointment-only

COVID-19 closes some reopened restaurants in Florida

Texas Governor Says 'No Reason Today To Be Alarmed' As Coronavirus Cases Set Record

---





Have an LP/AP Hero On Your Team?
Send us the story and let's share them with the industry.
Let's Show Their LP Pride & Actions

---

Walmart tests new all-self-checkout system in Arkansas store
Walmart hopes the new system will shorten lines and reduce checkout time

Customers can check out their own items, but they can also still have a store employee scan and bag their purchases at these kiosks, if they prefer.

"In our Fayetteville store, we're redesigning what that front-end checkout looks like, so it will look a little bit different to customers," Walmart spokesperson Kory Lundberg told TODAY Style. However, he added, "customers will continue to have all of the same options they've always had when it comes to checking out, whether they want to check out with an associate scanning their items and bagging their groceries, or if they want to use a self-checkout." today.com

Coronavirus Accelerates Target's $15/Hour Plan
Target raising minimum wage to $15 an hour, giving frontline workers $200 bonus
Target said Wednesday that it is raising its minimum wage for U.S. hourly workers to $15 beginning July 5. The increase is for all U.S. hourly full-time and part-time team members at stores, distribution centers and headquarters locations, the company said, noting it set a goal in September 2017 to raise the starting rate to $15 an hour by the end of 2020. In June 2019, it increased wages to $13 an hour.

The Minneapolis-based retailer also said it will give its frontline store and distribution center hourly workers a one-time recognition bonus of $200 "for their efforts throughout the coronavirus pandemic." usatoday.com

WSJ Video: The Economic Ripple Effect of Retail Sales
Analysts and economists are paying close attention to monthly retail sales numbers as a way to gauge how the economy may be recovering from the impact of the coronavirus pandemic. wsj.com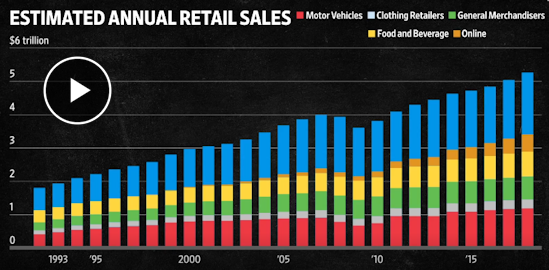 Some Hotel Rooms Aren't Coming Back
The country's biggest hotel market will likely see the permanent closure of thousands of rooms. While the reopening of New York City has seen occupancy rise from a low of near 20% in April to nearly 50% in June, a full recovery isn't expected for years. The hotel industry across the country is reeling from the pandemic and its consequent shutdowns. Some Atlanta hotels are seeing only 10% to 15% occupancy. Hilton Hotels announced this week that it was cutting over 2000 corporate employees — about 22% of its corporate workforce. linkedin.com

After merger, T-Mobile lays off hundreds of Sprint employees

Mall of America Misses Third $7M Mortgage Payment

New Jersey's American Dream Mall Had Retail Problems Before Coronavirus. Now, They're Worse.

7-Eleven cancels Free Slurpee Day on July 11th - 7/11 - because of coronavirus

Stein Mart warns "substainable doubt" about surviving pandemic disruption

Simon, Brookfield could team with Authentic Brands on bid to buy J.C. Penney

---

Senior LP & AP Jobs Market
Director, Business Continuity & Crisis Management for T-Mobile in Plano, TX


The New T-Mobile is a Fortune 40 leader and as a Director in Business Continuity, you will help protect our biggest assets - our people and our customers and help us to become a leader in the technology and telecommunications industry.

This leader will architect our strategies, coordinated with the enterprise, to prepare for natural disasters, manmade disasters, and any other events that affect the continuity of our business. This leader owns the full playbook from end to end on how we manage a crisis, and will be the point person to coordinate cross-functional support and enterprise decision-making. Additionally, this leader will lead our coordinated response efforts supporting local leaders who will have decision rights, consistent with our agreed-upon playbook, and applied as the situation on the ground requires to ensure 1.) employee safety, 2.) asset protection, 3.) coordination with governmental emergency management offices, 4.) customer assistance across all products, and 5.) overall business continuity. brassring.com

---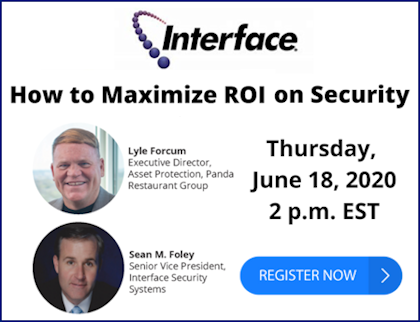 ---


---

Interface Asset Protection & Business Intelligence Solutions Boost Safety and Operations at Panda Express
Interface helps Panda Express save over $100K per year in false alarm fees and thousands of dollars per month per store in reduced shrink at the POS

Earth City, MO - With more than 2,200 locations and 41,000 associates, Panda Express is America's largest family-owned and operated Asian dining concept. Challenged with losses at the point of sale (POS) and growing false alarm penalties, the company turned to Interface Security Systems, a leading managed services provider delivering managed network, interactive alarm monitoring, video surveillance and business intelligence solutions to help them dramatically decrease shrink and resolve security inadequacies.

Panda store managers faced continuous distractions from false alarms, receiving calls from the legacy alarm company at all hours of the night and incurring fines from local law enforcement for needless police dispatches.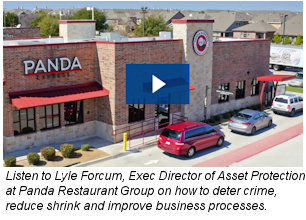 "When an alarm went off overnight, our managers would always err on the side of caution, send police in, or go in themselves. That was dangerous in itself if there was actually a burglary happening inside the store," says Lyle Forcum, Executive Director of Asset Protection at Panda Restaurant Group, parent company of Panda Express. "Additionally, we were losing significant amounts of money on false alarm charges."

To address the false alarm challenge, Interface installed a next-generation IP Interactive Monitoring system with live video and two-way audio, which offers a virtual, guard-like level of protection in every Panda location. Operators in the Interface monitoring center instantly verify any alarm from a Panda store with live streaming video, eliminating false alarms.

Panda had also implemented a customized, exception-based POS reporting system, which notifies Panda management whenever a suspicious transaction takes place at the register. Interface took the tool a step further by integrating it with the video surveillance and alarm systems at each of the Panda locations, allowing management to immediately connect to the video of any problematic transaction. The solution enables loss prevention professionals to quickly identify anomalies and prevent shrink. Top offenders from thousands of employees doing millions of transactions can easily be bubbled up to the top. The combination of business intelligence and video surveillance resulted in a massive reduction in shrink and cash shortage at the register. Read the full case study here.

Lyle Forcum, Executive Director of Asset Protection at Panda Restaurant Group, will be sharing insights on how to maximize ROI on security infrastructure in a webinar that will take place on Thursday, June 18, 2020 at 2PM EST/1PM CST/11AM PST. Register here!
---
RH-ISAC 90-Day Complimentary Membership Offer



RH-ISAC is excited to offer a 90-day complimentary membership for retail, travel, and hospitality companies to join our highly active intelligence and information sharing community. This exclusive offer ends on June 30, so make sure to contact us today at membership@rhisac.org.

Join the strong community RH-ISAC has built to secure and protect the retail and hospitality sectors and the billions of people who rely on a stable, functioning system. rhisac.org

RH-ISAC Virtual Regional Intelligence Workshop Hosted by Lowe's
is NEXT WEEK - Wed, June 24 @ 10:00 AM EST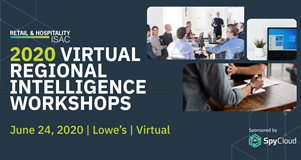 The RH-ISAC is excited to announce that it will be offering a one-day virtual workshop for retail and hospitality practitioners in the Southeast! This program will be virtually hosted by Lowe's, a leading member within the RH-ISAC community, and is proudly sponsored by SpyCloud.

Spend the day with top retail and customer-facing cybersecurity practitioners, network with peers, and walk away with practical strategies for actioning on your cyber threat intel.

The RH-ISAC Virtual Regional Intelligence Workshop series is built by members for their retail cybersecurity practitioner peers in various regions throughout the United States and is designed to deliver practical strategies and insights for retailers on intelligence programs, requirements, and processes at the tactical, operational and strategic levels. Register Here

---

Hosting Provider Hit With Largest-Ever DDoS Attack



"The absolute kitchen sink was thrown in for this attack"

Attackers leveled a massive distributed denial-of-service attack against a specific website in early June, topping a bandwidth of 1.44 terabits-per-second and 385 million packets-per-second, the largest volumetric attack encountered by Internet infrastructure firm Akamai.

Akamai said a second attack topped 500 gigabits-per-second and targeted a different site at the same provider. While the company would not give more details about the targeted sites, Akamai believes the attacker focused on the websites for a "social" reason, and the hosting provider was not the actual target, says Roger Barranco, vice president of global security operations for Akamai.

The sheer variety of data types used in the attack, along with signs of significant coordination, suggests a knowledgeable attacker, he says.

"What was really different is that the absolute kitchen sink was thrown in for this attack," Barranco says. More than nine different types of traffic were used in the attack - far more than the two or three types used in a typical attack - and the traffic surge lasted about an hour. Most attacks are measured in minutes, so this was notable. "It's has been a long time that we've seen the duration that long and an attack of that size." darkreading.com

Massive Vulnerability Found Across 100's of Millions IoT Devices
Recently, JSOF, a boutique cybersecurity organization, discovered a series of vulnerabilities stemming from one small software library that has rippled across the supply chain. These vulnerabilities affect 100's of millions of IoT devices that could potentially allow nefarious actors, including nation-states, to remote take-over of these devices across industries, ranging from telecom, oil/gas, nuclear, medical and many others across critical infrastructure. securitymagazine.com

Apple, Google Urged To Ax COVID-19 Apps With No Gov't Ties
Attorneys general from nearly 40 U.S. states and territories are pressing Google and Apple to ensure that their app stores are only offering mechanisms to track the spread of COVID-19 that are affiliated with public health authorities and that all contact tracing apps are taken down once the public health crisis has ended.

As governments around the world continue to fight the spread of the novel coronavirus, both apps and physical teams of people are being deployed to keep tabs on had who's had contact with individuals who have tested positive for the virus. These efforts include a recent joint initiative by Google and Apple to develop software that governments can use to build apps to digitally track the virus' spread through Bluetooth technology. law360.com

Europe Rolls Out Contact Tracing Apps, With Hope and Trepidation
Italy and Germany activated apps this week as tools to avoid a second wave of coronavirus infections, fueling a debate about privacy rights.

Apple Faces Two EU Antitrust Probes Over Apps

New Ransomware-as-a-Service Tool 'Thanos' Shows Connections to 'Hakbit'
---

---

Canada's Policing & Racism Debate
'Defund the Police' - Retail Under Scrutiny

Canada's first Black police chief says it's time for 'a much better approach'

'The system is really failing us'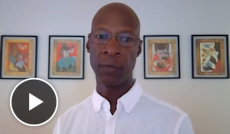 A former police chief in Winnipeg is adding his voice to the chorus calling for police officers to be separated from duties that have little if anything to do with law enforcement.

"I would never dispatch a police officer to someone who's having a heart attack, something that requires medical attention – but I think, in many cases, we're sending the police to events that are strictly medical, where people need someone else," Devon Clunis told CTV's Your Morning on Tuesday.

"Police have become the catch-alls of anything and everything happening in the community, and I think we're recognizing that the system really is failing us."

Questions around the future of policing have become a major issue in both Canada and the U.S. in recent weeks. In Canada, the conversation has been shaped in part by the fatal police shootings of two Indigenous Canadians, Chantel Moore on June 4 and Rodney Levi on June 13.

Their deaths, among others, have amplified calls in Canada to defund police, which means moving the responsibility to respond to some emergencies from police to a new and hopefully less deadly form of law enforcement, and redirecting a large portion of police budgets to the new initiative.

Clunis, who became the first Black police chief in Canada when he was appointed to the top job in the Winnipeg Police Service in 2012, said he is not personally in favour of defunding police, but does support shifting some current police responsibilities elsewhere. ctvnews.ca

Former Aritzia Employees Call Out Company's Anti-Black Racism

The Vancouver-based retailer has now committed to "immediate action" to improve its diversity and inclusion program. huffingtonpost.ca

'Black Lives Don't Matter' baby outfit sold through Amazon Canada prompts outrage

Racism Kills in Canada as Much as in the United States

---

COVID-19 Fallout
2nd Wave? - 2,500 Closures - 'Hero Pay' Backlash

Canadian retailers ready for a possible second round of closings
After three months of forced closings, furniture stores are up and running again — and doing a brisk business, too. But there's no guarantee how long that boost will last as health experts warn a second wave of novel coronavirus is inevitable in the coming months. If stores are forced to close again, what have retailers learned from the first go-around they can lean on for the second time?

Andrew Tepperman, president of HFA member Tepperman's, a six-store chain in Canada, said his company began planning for a second wave as soon as it began receiving government relief funding. "Our thought was, let's pull every dollar we can, out of every resource," said Tepperman, who said he borrowed "a ton" of money and then invested it in a guaranteed investment certificate that Canadian banks sell.

"I'm very nervous that things are going to be even worse if there are more shutdowns (or) the governments run out of money," he said. "So, it's almost like buying an insurance policy right now, like by withdrawing all these funds, but it allows us to sleep at night, too. Liquidity is the number one issue for me now."

Rick Howard, president of Sklar Furnishings in Boca Raton, Fla., said it's important to pare expenses and build your cash reserves for the coming months. But ultimately, he's focusing on his staff. "It all comes down, to me, to people," he said. myhfa.com

As many as 2,500 retail store closures expected in Canada

Related Stories:

• These retailers are closing Canadian locations in 2020
• 44% of closed businesses in Saskatchewan might never open


Backlash as Grocery Retailers Roll Back Hourly 'Hero Pay' in Canada

Related Story: Unions call on retailers to make pandemic-related wage premiums permanent


Sask. grocery manager dances through the aisles to brighten shoppers' days during pandemic

Opinions mixed among Montreal shoppers on COVID-19 safety measures

Roots reports loss on virus-related supply chain issues, closures

More than a dozen employees at Home Depot in Richmond Hill test positive for COVID-19

---

Movie Theater Industry In Turmoil Globally
UK-Based Cineworld Cancels $2.1B Purchase of Canada's Cineplex - Legal Battle Coming

DavidsTea Inc. may pursue formal restructure, hasn't paid rent in three months

Jean Coutu warehouse workers overwhelmingly back strike mandate

Understanding Canadian Cybersecurity Laws: Interpersonal Privacy and Cybercrime

Toronto accounting firm hit by ransomware


Vancouver, BC: 2 suspects steal $45k worth of wigs & hair extensions from store
Vancouver Police say that multiple wigs were stolen during a break-in to a hair salon near City Centre Mall last week. In a news release, police state that two male suspects broke into JO Hair salon located at 3017 Cambie Street and stole multiple wigs, hair toppers, and hair extensions worth over $45,000 in the morning of June 3. "Investigators believe the thieves targeted this particular store to specifically steal the wigs and hair extensions," says Constable Tania Visintin, VPD. vancouverisawesome.com

'Wild Friday at Walmart': Regina store evacuated after bear spray incident

Mississauga, ON: Man dead in daylight shooting near hotel, strip mall

North Grenville, ON: $900 perfume thief sought


Click here to read the full 'Canadian Connections' column

How are we doing? We need your input & suggestions. Send to lpnews@d-ddaily.net

View Canadian Connections Archives

---

---
---

Ecommerce During April & May Surpassed the Entire 2019 Holiday Season
Ecommerce shopping reached $153 billion during April and May, surpassing spend during the 2019 holiday season by 7%, according to Adobe. Consumers spent $70.2 billion online in April and $82.5 billion online in May during lockdowns, $52 billion more than forecasted last year.

The share of mobile transactions grew 10% in May from January, while buy online pick up in store (or BOPIS) grew 195% YoY. BOPIS activity is starting to level off after a sharp increase in March and April, but 23% of shoppers still say they prefer curbside pickup to home delivery.

People are also starting to get back to their regular shopping habits. Daily online grocery sales were down 14% in May, while electronic sales were up 11% and apparel rose 12%. adexchanger.com

Walmart directly competes with Amazon for third-party SMBs
Walmart is partnering with Shopify to open its Walmart Marketplace e-commerce marketplace to SMB sellers.

The discount giant is integrating Walmart Marketplace with Shopify, an e-commerce platform aimed at small-to-mid-sized businesses (SMBs) with over 1 million users. According to a corporate blog post announcing the partnership, Walmart will focus the Shopify collaboration on "U.S.-based small and medium businesses whose assortment complements ours and have a track record of exceeding customers' expectations."

Calling the expansion of Walmart Marketplace a "strategic priority," Walmart says it will start integrating new sellers now and expects to add 1,200 Shopify sellers this year. The retailer's e-commerce business grew 74% in the first quarter of 2020, boosted by COVID-19-related demand for remote shopping. chainstoreage.com

Amazon to turn former Macy's into tech space with 600 employees
Bellingham, WA: Man Suspected Of Stealing $200K Worth Of Beehives Across 5 States
A man who stole dozens of beehives across the West has been arrested in Washington state, the Lincoln County Sheriff's Office said. The bees could be worth more than $200,000. "The case has the potential of over 30 victims spread across California, Idaho, Montana, Oregon and Washington," the Sheriff's Office told the Bellingham Herald. Perry David Bayes, 56, was arrested and charged with possession of stolen property in the first degree, which is a class B felony, according to officials. It was not immediately known if he has a lawyer. The investigation began after the Sheriff's Office received a report from a beekeeper whose bees were taken. sacramento.cbslocal.com

Rocky Mount, VA: Man wanted after stealing nearly $7,000 worth of items from Franklin Co. store
They said a white male was captured on surveillance footage entering the Exchange Milling Company around 10:00 p.m. Saturday, June 13. Investigators said he stole clothing, boots and other items from the store, on Franklin Street in Rocky Mount, totaling over $6,600. wset.com

Valencia, CA: Macy's Grand Theft Suspects Charged For Stealing Over $1,000 Of Merchandise
On Monday around 3 p.m., deputies received reports of a grand theft call at the Macy's location at the Valencia town Center, said Shirley Miller, spokesperson with the Santa Clarita Valley Sheriff's Station. "The two suspects allegedly took merchandise totaling $1,500," Miller said. After units on scene put out a crime broadcast, deputies located the vehicle and conducted a traffic stop on Magic Mountain Parkway west of the Valencia mall, according to officials. Jaron Ellis, 24, and Garrett Hughes, 20, both from Bakersfield, were arrested on felony grand theft charges and misdemeanor narcotics charges for possession of a controlled substance, Miller said. hometownstation.com

Athens-Clarke, GA: Sunglass Hut in Georgia Square Mall victimized by shoplifters;
1 suspect arrested
Police detectives arrested a man recently in the wake of an investigation into the theft of thousands of dollars worth of sunglasses at the Sunglass Hut in Georgia Square mall. Police detectives are also trying to identify a woman seen in the store on three different occasions when sunglasses were stolen this month. onlineathens.com

Jupiter, FL: Woman arrested for theft of 20 clothing items and a large screen TV valued at over $500

---
---

Shootings & Deaths

Dallas, TX: 1 wounded, 1 sought in Galleria shooting
One person was shot Tuesday at a busy Dallas shopping mall, and police were seeking a single suspect. The incident happened shortly before 7 p.m. at the Galleria in north Dallas. Two individuals, who police say appeared to know each other, got into a physical altercation in the Food Court. Police said the wounded person was taken to Parkland Memorial Hospital. The mall was evacuated as officers reviewed security video and made a store-by-store search of the mall for the suspect. No other shootings or injuries were reported. wmur.com

Bloomington, MN: Restaurant Owner shot, critically wounded during Robbery
The owner was inside Penn Lake Roast Beef early Tuesday night when he was shot in the abdomen and hand, according to Police. Police said the man was in critical, but stable condition. startribune.com

Robberies, Incidents & Thefts

Milwaukie, OR: Man stabbed Domino's Pizza worker who asked him to stop smoking in store

Eli Parks, 44, stabbed the employee multiple times, according to investigators. The incident occurred on Sunday just before 11 p.m.. The worker fought with Parks before another employee grabbed a gun and challenged the suspect, causing Parks to immediately drop the knife and stop attacking the victim, according to law enforcement. Parks was detained at the scene and treated for minor injuries. Parks is facing charges including attempted murder assault in the first degree, menacing, and unlawful use of a weapon. The victim on Tuesday was still recovering in the ICU at an area hospital. kptv.com

Decatur, IL: Man with saw steals 5 pizzas from Pizza Hut delivery driver

Clemmons, NC: Man gets 26 years for robbing store and trying to set the clerk and the store on fire

Albany, NY: Customer caught on camera punching store employee after argument over mask wearing

Hong Kong: Police hunt smash-and-grab robbers who stole $150,000 worth of jewelry from Tin Shui Wai store

Arson

Atlanta, GA: Fire Department releases new photos of 2nd suspect in Wendy's arson


On Tuesday afternoon, officials shared new images of one of the two suspects at a press conference at a fire station on Manford Road. Both suspects believed to be connected to the crime are white women. Earlier photos of a suspect showed an individual wearing black clothing and a face covering. Atlanta Fire Department officials say that the fire at the fast-food restaurant started in multiple locations using multiple incendiary methods and devices. Officials estimated that there were at least 10 attempts to set the building on fire. fox5atlanta.com
• Ace Hardware – Yakima County, WA – Robbery
• C-Store – Rocky Mount, NC – Robbery
• C-Store – Kenner, LA – Armed Robbery
• Clothing – Rocky Mount, VA – Burglary
• Dollar General – Carroll County, GA – Armed Robbery
• Guns – Clackamas County, OR – Burglary
• Jewelry – Calistoga, CA – Burglary
• Liquor – Van Nuys, CA – Burglary
• Marijuana – Tacoma, WA – Robbery
• Restaurant – Decatur, IL – Armed Robbery (Pizza Hut)
• Restaurant – Bloomington, MN – Armed Robbery/ Owner shot
• Restaurant – Macon, GA – Armed Robbery (Subway)
Daily Totals:
• 8 robberies
• 4 burglaries
• 1 shooting
• 0 killed

---

None to report.
Submit Your New Hires/Promotions
or New Position
See all the Industry Movement
---


Feature Your Job Here For 30 Days -
70% Aren't On The Boards
Post your job listing
---
Featured Job Spotlights

Cressona, PA Area
The District Loss Prevention Manager ensures shrinkage control and improves safety in the stores through proper investigation and training. This position is responsible to provide feedback, guidance and protection for our Team Leaders and Associates. This role has oversight and responsibility for approximately 8 to 10 store locations...

Physical Security Leader
Corte Madera, CA
Responsible for leading and execution of the Protection and Prevention tiers of the Profit Protection strategy for all RH locations including our Corporate Campus in Corte Madera, CA - PROTECTION - Access Control | Alarms | CCTV | Guards - PREVENTION - Awareness | Audits | P&P | Training...

Featured Jobs
---
JOB TITLE
COMPANY
CITY/STATE
DATE ADDED

Vice President
Allied Universal
Santa Ana, CA
Jan. 6
VP, Profit Improvement
Tractor Supply
Nashville, TN
May 18

Director
Dir. of LP
10 Spot/MadRag
North Bergen, NJ
June 10
Dir. of Security & LP
Anzar Enterprises
San Diego, CA
June 4
Dir. Food Safety & Quality Assurance
Brinker International
Coppell, TX
June 9
Asset Protection Dir.
Goodwill Industries of Dallas
Dallas, TX
May 21
Dir. Safety/Risk Mgmt.
Goodwill of SE Louisiana
New Orleans, LA
April 2
Assoc. Dir. Safety & LP
HelloFresh
Grand Prairie, TX
June 5
Dir. of Loss Prevention
Mapco
Franklin, TN
June 2

Maggie's Farm Marijuana

Pueblo, CO

June 2

Parker's C-Stores

Savannah, GA

June 3

Sr. Dir. Security & Threat Mgmt
PayPal
New York, NY
June 8
Dir. Business Continuity & Crisis Mgmt
T-Mobile
Plano, TX
June 17
Dir. Emergency Response
Verizon
Irving, TX
June 9

Corporate/Senior Manager
Corp. Mgr. Security Operations
Carvana
Phoenix, AZ
April 6
Sr. Loss Prevention Manager
Gap Inc.
San Francisco, CA
Oct. 29
Home Depot
Atlanta, GA
Feb. 18
Dept Head, AP & Associate Safety
Ocean State Job Lot
North Kingstown, RI
June 12
Manager, Asset Protection Solutions Supply Chain
Walgreens
Windsor, WI
Mar. 25

---


---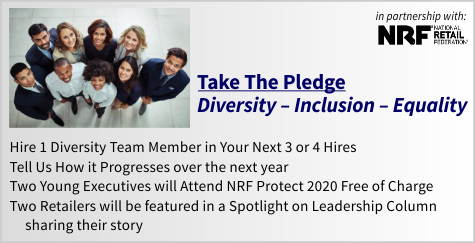 ---

When you think you've got your job mastered think again. That's usually when something bad happens in ones career or company. If you reach that point, and most everyone does, its time to re-evaluate everything you're doing. Go on the hunt for new technology, new ideas, rewrite your program, take a fresh look at every aspect of your department and maybe even bring in a consultant you don't know or have ties to. Someone who will challenge you and debate with you, and won't be there to merely confirm what you're doing and agree with your approach. But someone who will test you and force you to grow someone who you may even be uncomfortable with. Get out of your comfort zone and have some fun!

Just a Thought,
Gus



(content subject to approval)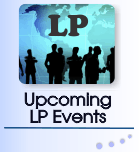 ---
Recruiting?
Get your job e-mailed to everyone... everyday
Post on our Featured Jobs Board!
Not getting the Daily?
Is it ending up in your spam folder?
Please make sure to add d-ddaily@downing-downing.com to your contact list, address book, trusted sender list, and/or company whitelist to ensure you receive our newsletter.
Want to know how? Read Here



36615 Vine Street, Suite 103
Willoughby, OH 44094
440.942.0671
copyright 2009-2019
all rights reserved globally