Stichd and Nedap collaborate to create a fully transparent supply chain

RFID adoption enables higher availability of products from brands like Levi's, Puma and Tommy Hilfiger leading to increased profitability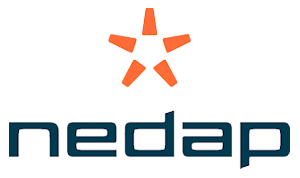 Today, Nedap announced a strategic cooperation with stichd, previously Dobotex International, an A-brand partner for legwear, bodywear, swimwear and fanwear belonging to the Puma Group. Stichd produces and markets merchandise for brands like Tommy Hilfiger, PUMA, Levi's, HEAD, Calvin Klein, Mercedes, Ferrari, Porsche and McLaren. Nedap's leading RFID-based inventory management software platform !D Cloud will allow for full item traceability from the stichd logistics warehouse in Tilburg to their customers' online and offline retail channels. Full item visibility enabled by RFID will lead to transparent, reliable, and actionable data for optimal replenishment. This ensures availability of body and legwear items, boosting the profitability of both the retailer and stichd. nedap-retail.com

---

What They're All Saying
The Story Behind the Story
eBay's Former CEO Directed His Rage?

eBay Cyberstalking Makes All Major News Outlets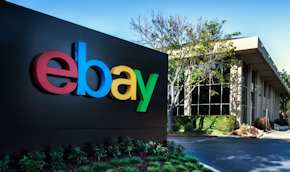 As published in yesterday's Daily and Special Report, the DOJ charged six former eBay security team workers with leading a cyberstalking campaign against a Massachusetts couple who publish an e-commerce blog, EcommerceBytes, that criticized the company.

The alleged actions by the employees, whom eBay fired in September after an investigation, followed criticism of EcommerceBytes by top executives that included Devin Wenig, the company's chief executive at the time, according to the complaint, which doesn't identify Mr. Wenig by name.

"We are going to crush this lady," an unnamed eBay executive texted on April 10, 2019, to another unnamed eBay executive, identified as "Executive 1" in the complaint. The text included a link to an EcommerceBytes blog post about "Executive 1's compensation," the complaint says. The blog post is titled "eBay CEO Devin Wenig Earns 152 Times That of Employees," indicating that Mr. Wenig is Executive 1 in the complaint. That person hasn't been charged.

Later, after an unspecified EcommerceBytes post on May 31, Mr. Wenig texted: "Take her down." At another point, he also used an expletive to refer to The Wall Street Journal's coverage of the company. "The journal is next on the list," he said in the text, according to the complaint. It couldn't be determined if the Journal or any of its reporters was targeted.

"It goes pretty far up the chain at eBay," U.S. Attorney Andrew Lelling said Monday at a news conference. He noted that the Justice Department investigation continues.

Ina Steiner, the editor of EcommerceBytes and the author of the posts, as well as her husband David Steiner, didn't respond to requests for comment Monday. wsj.com

Taking it Over the Line - Going Too Far & Now Being Held Accountable
eBay's Federal Case Yesterday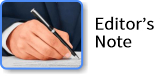 Many of us in the private industry have at times taken investigative steps that walked the line of ethics and privacy, always rationalized by the end result of doing good and serving justice. But in this case, those basic criteria weren't even at play, as it appears to have been motivated simply to satisfy a CEO's request and rage and possibly to impress him with the team's abilities.

However, it's these types of actions and frame of mind that leads to abuse and consequences that are dated back in the 1950's and Hoover's days.

Every investigator faces these internal questions as they work their way through their careers and attempt to obtain as much information as possible, as many confessions as possible, and persuade and impress those around them. But this one takes the cake for going too far and taking it so far over the line that the players are now facing federal prison sentences.

The lesson is that every security executive, regardless of what stage you're at in your career, must be self-governed and self-aware of their actions, their words, and their responsibility as a leader/teacher in everything they do. Because at the end of the day, it's the leader's responsibility for the direction and actions of their teams. And conversely, every team member has a responsibility to themselves and to their industry not to follow in a path that ultimately one knows is inherently wrong or just not right. Therein lies the conundrum for youth: When do you question your leader and or not follow them?

Just some thoughts -Gus Downing

---

Protests Over Racism & Policing Continue
Flare-Ups in Portland - Mourning in Atlanta - Protester Shot
Portland protests turn violent as mourners peacefully gather in Atlanta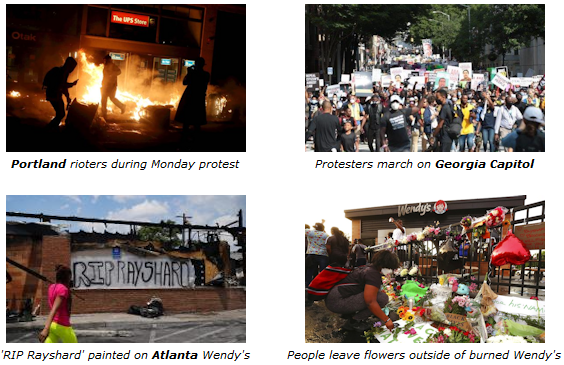 Nightly protests against police violence and systemic racism continued Monday, June 15, 2020 in
Portland
. In some pictures,
rioters can be seen setting fire outside a UPS Store downtown
.

The demonstrations come as Portland Police announced on Monday that they would
remove most of the fence surrounding the Justice Center
that was erected in response to protests against police brutality.

Meanwhile, in
Atlanta
, mourners continued to gather outside a burned down Wendy's following the death of 27-year-old Rayshard Brooks as he tried to flee after wrestling with officers and grabbing a Taser outside the fast food restaurant

The NAACP planned a demonstration Monday outside the
Georgia Capitol
in Atlanta, where Republican leaders returning to work in the legislature after a prolonged coronavirus shutdown
pushed back against swift consideration of a slate of changes Democrats want in policing and criminal justice.
arkansasonline.com
oregonlive.com
Albuquerque, NM: Man shot as protesters try to remove Spanish conquistador statue
Vigilante groups possibly behind the violence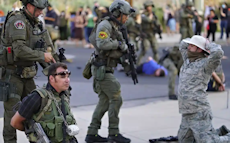 A man was shot in Albuquerque, New Mexico on Monday night as protesters tried to tear down a bronze statue of a Spanish conquistador outside the city museum. Authorities later announced that the statue would be removed until next steps could be determined.

The FBI confirmed it was assisting local authorities. The Albuquerque police department said it received reports of vigilante groups possibly instigating violence, though it was not certain who was responsible for the shooting.

A group of armed men had tried to protect the statue, a bronze of Spanish conquistador Juan de Onate around which protesters wrapped a chain which they began pulling while chanting: "Tear it down." One protester repeatedly swung a pickaxe at the base of the statue. Moments later, gunshots could be heard. theguardian.com

Here Are the 96 U.S. Cities Where Protesters Were Tear-Gassed
Most Widespread Domestic Use of Tear Gas Since 60s & 70s
At least 96 law enforcement agencies — many in large cities — used some form of tear gas against civilians protesting police brutality and racism in recent weeks, according to an analysis by The New York Times. This brief period has seen the most widespread domestic use of tear gas against demonstrators since the long years of unrest in the late 1960s and early '70s, according to Stuart Schrader of Johns Hopkins University, who studies race and policing. nytimes.com
---

America's Police Reform Effort
NYPD's 'Seismic Shift' - Cuomo Declares Victory - PD Morale Down?

'Seismic Shift in Police Culture'
N.Y.P.D. Disbands Plainclothes Units Involved in Many Shootings

The commissioner is reassigning about 600 officers from teams that target violent crime.



The New York police commissioner announced on Monday that he was disbanding the Police Department's anti-crime units: plainclothes teams that target violent crime and have been involved in some of the city's most notorious police shootings.

Roughly 600 officers serve in the units, which are spread out across the city and work out of the department's 77 precincts and nine housing commands. They will immediately be reassigned to other duties, including the detective bureau and the department's neighborhood policing initiative, the commissioner, Dermot F. Shea, said.

Mr. Shea said the plainclothes units were part of an outdated policing model that too often seemed to pit officers against the communities they served, and that they were involved in a disproportionate number of civilian complaints and fatal shootings by the police. He said the department now depends much more on intelligence gathering and technology to fight crime and "can move away from brute force."

The reversal comes after 30 years of decreased crime that brought city murder totals to 319 last year, from 2,262 in 1990. nytimes.com bloomberg.com forbes.com

NY Gov. Cuomo Declares Victory After Passage of Police Reform Package:
'You Don't Need to Protest'

Following his signing of the state legislature's police reform package on Friday, New York Gov. Andrew Cuomo called on protesters to end their demonstrations.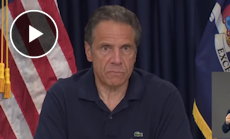 The governor says protesters have succeeded in changing public sentiment and have the attention of lawmakers. The second step, he says, is defining what kind of reform they want.

"Let's sit down at a table, with the local government with the police with the other stakeholders. How do we design the local police department?" Cuomo said. "What do you want the police to be in New York City? Let's design it."

The NYS Police Reform & Reinvention Collaborative, signed by the governor, gives the 500 municipalities in New York nine months to propose and enact police reform or the state will withhold funding. The plans must address force by police officers, crowd management, community policing, implicit bias awareness training, de-escalation training and practices, restorative justice practices, and community-based outreach. nbcnewyork.com

Atlanta police chief and 8 officers resign as morale plummets

Working group to help revise Chicago police use of force policies announced by Mayor Lightfoot

Trump signs executive order on police reform Tuesday

NYPD determine 'no criminality' after officers hospitalized from drinking Shake Shack milkshakes

---

Coronavirus Tracker: June 16
US: Over 2.1M Cases - 118K Dead - 892K Recovered
Worldwide: Over 8.2M Cases - 443K Dead - 4.2M Recovered

Fallen Officers From the COVID-19 Pandemic: 47 | NYPD Deaths: 45
Private Industry Security Guard Deaths: 147

---

As Lockdowns Ease, Here's How Companies Are Reopening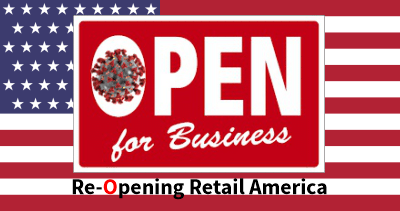 With the United States slowly begin to reopen following coronavirus lockdowns, companies in various industries, spanning from retail to finance, are announcing their plans for the future — whether that means returning to the office, reopening for customers or rethinking how to operate.

Apple: Going against the trend of most tech companies, Apple is already having some employees return to the office in phases. Employees will be offered optional coronavirus tests, and break-room kitchens will be closed. Its Silicon Valley headquarters will reopen to a "very limited" number of employees starting June 15.

Amazon: Option to work from home until at least October.

Gap: Closing its fitting rooms and holding returned merchandise for a day.

Kohl's: Closing all of its dressing rooms until further notice and is holding returned items for 48 hours.

Macy's: Reopening stores in phases, will leave open only a few fitting rooms and will hold all merchandise tried on or returned for 24 hours.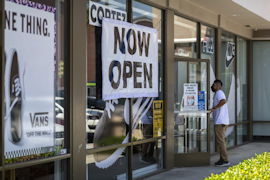 McDonalds: The company has sent U.S. franchisees a 59-page guide to reopening dining rooms that includes how to enforce social distancing, clean bathrooms every half-hour and turn off soda fountains if they aren't able to assign an employee to operate them.

Starbucks: Has opened most of its U.S. locations, though the majority of stores will remain drive-thru and pickup-only. Starbucks is also cutting hours for some employees as it keeps more dining rooms closed than previously planned until September.

Unibail-Rodamco-Westfield Malls: Appointments to be made by customers via the Westfield mobile app for a specific store within the malls.

Walmart: Employees must wear masks, practice social distancing "whenever possible," and wash hands regularly.

Walt Disney World: Planning a phased reopening of Walt Disney World's Magic Kingdom and Animal Kingdom on July 11 and Epcot and Hollywood Studios on July 15. linkedin.com

Here are more Retailer In-Store COVID-19 Safety Programs - compiled by The Daily.


Pandemic Planning Is No Panacea
Business continuity planning alone is not enough to survive a global pandemic. There is no amount of planning that could have prepared retailers for what has transpired over the past several months. This is especially true for retailers and brands which distribute exclusively in the U.S. where a significant percentage of revenue was abruptly cut off when stores closed. The coronavirus enveloped the country in one quick, fell swoop, especially disrupting retailers which began the year on a strong footing, building on solid performances from 2019. Ironically, many retailers have been listing pandemics in their annual reports for years as possible risks to earnings. Since this is the case, why weren't they more prepared for this event?

Managing Risk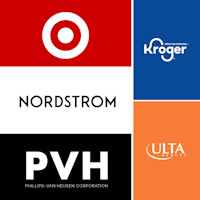 A global pandemic such as coronavirus brings numerous uncertainties. Covid-19 impacted the world on three simultaneous fronts — people, environments and economies – which made it very complex for companies to respond in timely and effective ways. There is no pandemic playbook for quick and decisive solutions, however they do rely heavily on strong, visionary leadership. Preparing theoretically for what might unfold and reacting to what actually happens can be quite different. Retailers had to learn on the fly, then respond and react accordingly since market factors changed daily; adaptability and resilience were key.

And while many retailers were caught off guard by the pandemic, there is one thing that's true about the industry: It's full of bright, innovative and resilient people who can rise to the challenge. For example, Nordstrom, Target, PVH and Macy's include the serious potential for this type of disruption in their annual reports. When they were actually hit with the reality of the 2020 pandemic, their successful strategies varied greatly.

Read More: Three Case Studies: Target, Nordstrom and PVH | Kroger Collaborates | Ulta Beauty Rebounds | A Winning Formula | Continuity Planning | therobinreport.com


Chief Heath Officer?
Cambridge Retail Advisors: COVID-19 IMPACT STUDY
Retail and Restaurant Market Analysis

83% of C-level Executives Feel that Retail & Dining Will Be Changed Forever

As retail and restaurant organizations continue to deal with the new realities caused by the COVID-19 pandemic, they are modifying people, process and technology to adapt to evolving consumer expectations and new guidelines and mandates for health and safety. The COVID-19 Impact Study identifies how retailers and restaurateurs were dealing with the key challenges related to the impact of the COVID-19 pandemic on their businesses.

The top priorities identified by C-level retail and restaurant executives include:

• 86% Employee Compensation and Safety
• 67% Implementing BOPIS improvements
• 62% Shifting HQ to work at home

Retailers and restaurants should consider creating a c-level position focused on public health to address pandemic-related concerns, according to a new study.

"Customer experience and employee satisfaction are more dependent on enhanced protection protocols than ever before," wrote Cambridge Retail Advisors, a new consultancy created by former members of Boston Retail Partners (BRP), in the study. "New C-level leadership, a chief health officer, is needed to establish a vision for chainwide public health and to ensure store level initiatives are executed timely and effectively." retailwire.com cambridgeretailadvisors.com

Study: 61% Of Consumers Fear Getting Sick From Brick-and-Mortar Retail


NYC's coronavirus contact tracers told not to ask if individual attended protests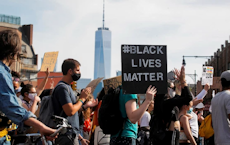 Mayor de Blasio has expressed concern that the George Floyd protests could boost the coronavirus pandemic just as New Yorkers have finally gained the upper hand — but City Hall doesn't seem too interested in finding out for sure.

Workers for the city's contact tracing program are told not to ask those who've tested positive for the bug whether they've taken part in the demonstrations, instead relying on them to cough up the information themselves, officials said.

While there is no specific directive barring tracers from asking about protest participation, Cohen separately told The City, which first reported the indirect approach, that people won't be asked. nypost.com

COVID-19 Soars in Prisons - Doubling in last month to 65,000 cases

Prison deaths tied to the virus have risen 73 percent since mid-May with 600 deaths.

By now, the five largest known clusters of the virus in the United States are not inside nursing homes or meatpacking plants, but inside corrections institutions, according to data collected by The New York Times on confirmed coronavirus cases since the pandemic began. nytimes.com

---

NRF Announces Target Board Chairman and CEO Brian Cornell as Next Guest in Retail Leadership Series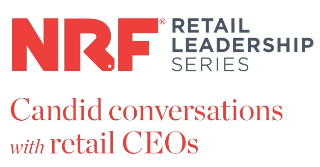 WHAT: The NRF Retail Leadership Series is a virtual program featuring candid conversations between NRF President and CEO Matthew Shay and CEOs from retail brands and leaders across the economy. Shay and Cornell will discuss how Target is facing pain with purpose in the wake of the pandemic, working to advance social justice, and evolving for the future of the industry.

WHO: Moderator: Matthew Shay, president and CEO, NRF
Guest: Brian Cornell, board chairman and CEO, Target

Other upcoming guests will include Ritch Allison of Domino's, Marvin Ellison of Lowe's, John Furner of Walmart U.S., Jeff Gennette of Macy's Inc., Kevin Johnson of Starbucks, Patrice Louvet of Ralph Lauren, Chris Nassetta of Hilton, Sonia Syngal of Gap Inc., and many more.

WHEN: Thursday, June 18, 2020, at 11 A.M. EST

REGISTER: Register here. After registering, you will receive a confirmation email containing information about joining the webinar.

---

Biggest One-Month Increase Ever
Retail Sales Rebound in May - Rising 17.7%
National retail sales in the United States rebounded in May as thousands of stores and restaurants reopened after lockdowns were lifted and federal stimulus checks and tax refunds fueled a burst of spending.

Total sales, which include purchases in stores and online as well as money spent at bars and restaurants, rose 17.7 percent in May from the previous month, the Commerce Department said Tuesday. That followed a 14.7 percent plunge in April, the largest monthly decline in nearly three decades of record-keeping, and an 8.3 percent decline in March. nytimes.com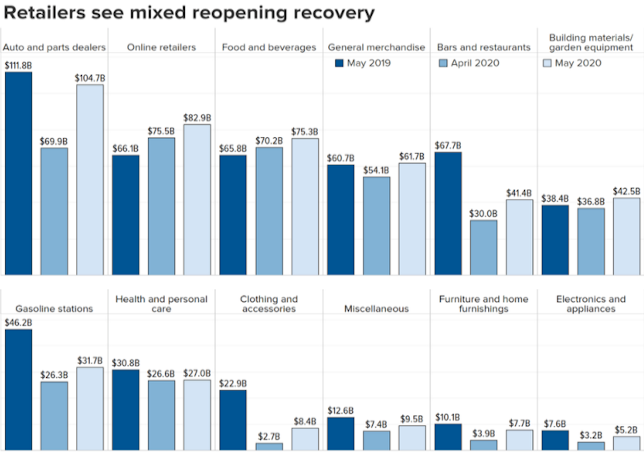 Another Retail Victim
24 Hour Fitness files for bankruptcy, closes over 130 gyms amid pandemic

"If it were not for COVID-19 and its devastating effects, we would not be filing for Chapter 11," CEO says

24 Hour Fitness announced Monday the company is filing for Chapter 11 bankruptcy after having to close more than 130 gym locations around the country amid the coronavirus pandemic.

Its remaining some 300 locations are expected to reopen by the end of June according to state and local public health agency guidelines. The company has also altered its club experience to include a new workout reservation system, touch-free club check-in and stringent cleaning and social distancing protocols. foxbusiness.com

Juneteenth Becomes a Paid Holiday for Target, J.C. Penney and Nike
A growing number of companies are planning to make this Friday a company holiday for the first time so that employees can mark Juneteenth, which celebrates the end of U.S. slavery. Nike, Target, J.C. Penney, TikTok, the NFL, Mastercard, Twitter and Vox Media are among the businesses making June 19 an annual day off as demonstrations take place across the country over racial injustice. While Juneteenth — which marks the date in 1865 when Union soldiers landed in Galveston, Texas, and announced to the slaves there that they were free — is not a federal holiday, most states honor it. linkedin.com

The D&D Daily Proudly Supporting:
Justice Department Files Civil Action to Support Major Expansion of Arlington National Cemetery

Expansion Will Link Arlington National Cemetery with U.S. Air Force Memorial.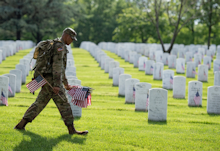 The incorporation of this land into the cemetery will create a 49-acre contiguous parcel available for cemetery development. When completed, the Arlington National Cemetery Southern Expansion Project will provide for approximately 60,000 additional burial sites, including an above ground columbarium. The expansion will extend the timeline for Arlington National Cemetery to continue as an active military cemetery.

U.S. A.G. Office: Every day the ultimate sacrifice of America's men and women is commemorated at Arlington National Cemetery, our nation's most hallowed ground. With today's civil action, we are proud to assist with this important expansion of Arlington Cemetery, which may now continue to serve as a burial ground for America's fallen well into the future." justice.gov

AT&T closing some Cricket stores

Garden Fresh Restaurants to liquidate assets online

Walmart tests self-checkout-only store in Fayetteville, AR

DoorDash to deliver non-prescription items for CVS


Shootings & Deaths

Reading, PA: A man was shot and killed outside C-Store in Reading
Felipe Luis Morales, 20, died after the shooting shortly after 1 a.m. Monday. "We are actively investigating this matter as a homicide," Berks County District Attorney John Adams said. Adams said that there was a fight at a neighborhood store before shots were fired. Medics rushed Morales to Reading Hospital, but he died on the way there. wfmz.com

Fresno, CA: Fight involving 40 people ends in gunfire outside Liquor store
Fresno police are investigating after a fight involving about 40 people ended in gunfire in northeast Fresno. The fight broke out shortly after midnight at the Save On Liquor Store, and it moved into the parking lot. Some of the people involved got into a car and truck and drove away. Police say someone opened fire on the vehicles. One person in the truck was struck in the right arm and the right leg. Investigators say an innocent bystander was also injured in the fight inside the store. abc30.com

Phoenix, AZ: Police Officer shoots suspect who brandished knife outside Asian Market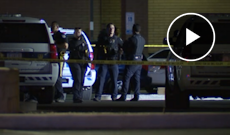 Authorities say the incident occurred Sunday night near 43rd Avenue and Union Hills Drive. The suspect entered a store and started threatening to stab people. Police say an employee managed to get the man outside and then locked the doors. Investigators say he then proceeded to threaten people in the parking lot. When a police officer showed up, the suspect allegedly chased her around the patrol car. After continuing to refuse commands to put the knife down, she fired her weapon at him. The 55-year-old suspect was transported to a hospital. Police said he was listed in stable condition Monday. abc15.com

Baton Rouge, LA: Gun fired at Cortana Walmart after deputy confronted Shoplifting suspect, EBRSO says; no injuries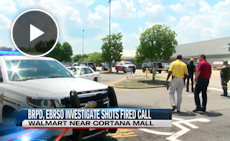 A gunshot fired at a Baton Rouge Walmart stemmed from a scuffle between a sheriff's deputy and a suspected shoplifter Monday afternoon near the Cortana Mall, authorities said. A sheriff's deputy working at the Walmart at 9350 Cortana Place had been notified of a possible shoplifting around 2 p.m., said Sheriff's Office spokeswoman Casey Rayborn Hicks. When confronting the suspect at the store's entrance with a loss prevention employee, they began to scuffle with the suspect and caused the deputy's gun to fire, she said. klfy.com

Update: Sangamon County, IL: Man dies of injuries; Shot inside 7 Brothers Grocery Sunday evening

Robberies, Incidents & Thefts

Hurricane, WV: State Police investigating; Cashier handed over bank deposit to a Fake corporate employee who called on the phone
West Virginia State Police have released a new photo they hope will help them identify one of the suspects involved in a robbery in Hurricane in which a clerk gave a bag of cash to a woman after getting a fake phone call. The new picture shows the woman State Police said entered the GoMart Friday and picked up the money. Troopers said the man who called the clerk, claimed he was a convenience store executive vice president and told the employee to compile the cash remained on the phone while the woman took the money. wchstv.com

Sentencing Due for SoCal Men Who Plotted with Deputy to Rob Pot Warehouse
Two Southern California men who conspired with an off-duty deputy sheriff to stage a fake drug raid and rob more than a half-ton of marijuana from a downtown warehouse face sentencing Tuesday. Jay Colby Sanford and Eric Rodriguez — who will be appear in court by videoconference — are among six co-defendants convicted of plotting with ex-Los Angeles County sheriff's deputy Marc Antrim to stick up the legal pot warehouse in October 2018. Antrim and his associates escaped with over 1,200 pounds of marijuana and two large safes filled with more than $600,000 in cash — but arrests began just days later. mynewsla.com

Fayetteville, NC: Police receive 450 tips about Walmart looting; new images released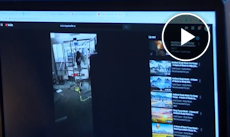 Police released more pictures Monday of suspects accused of breaking into the Fayetteville Walmart on Skibo Road May 30. Police are working to identify more than 100 people from pictures caught on store security cameras. They're using the public's help, and social media, to track them down. Fayetteville Officer Jeremy Strickland says they've received about 450 tips so far. Detectives are looking through hours of witness video from that night, as well as security camera footage. cbs17.com

Seattle business owner says police never responded to a burglary at his shop in the CHOP zone

Singapore, Southeast Asia: Pawnshop Director allegedly siphoned $3.9 million to buy luxury car, gamble at casino

Kankakee County, IL: Thieves steal 10 golf carts from Manteno Golf Club

Sentencings

Helena, MT: Former GardaWorld employee sentenced to prison after $390K stolen from armored truck
A former GardaWorld employee convicted at trial of spending stolen money from an armored truck on gambling, day trading and a trip to France, was sentenced Monday to 30 months in prison and three years of supervised release, U.S. Attorney Kurt Alme said. After a four day trial in January, a jury found John Gregory Alexander Herrin, 30, of Helena, guilty of one count of interstate transportation of stolen property and eight counts of money laundering. In evidence presented at trial, the prosecution said that on Nov. 20, 2013, three bags containing $390,000 went missing from a GardaWorld truck. kpax.com

Northumbria, England: Thug who assaulted Asda worker and vandalized store jailed for four years