---

2020 GLPS - Group LP Selfies
Your Team - Your Pride - Our Industry
Building Industry Pride - One Team Selfie at a Time

Sears & Kmart Asset & Profit Protection
Caribbean (Puerto Rico & US Virgin Islands)
Adapt, Improvise and Overcome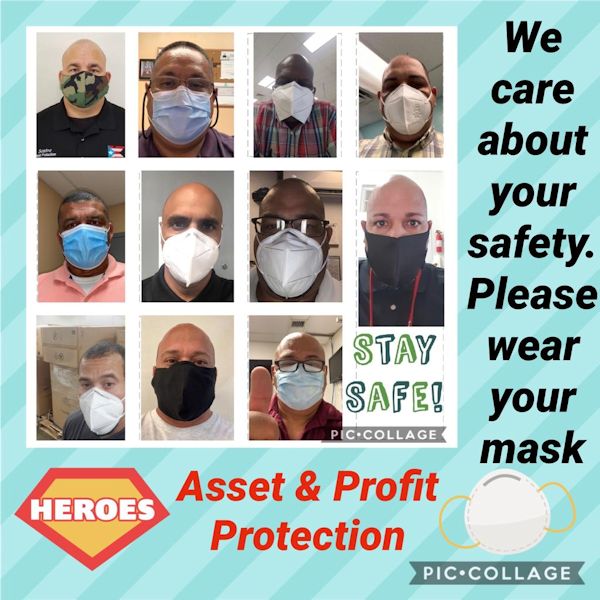 Top - Left to right
• Alex Sostre - APP Market Leader Puerto Rico & US Virgin Islands
• Jose Sotil - APM Kmart 7419
• Charles Dore - APM Kmart 7793
• Abimael Laracuente - APM 3882

Center
• Miguel Rodriguez - APM Kmart 4844
• Carlos I Garcia - APM Kmart 7788
• Osiris Gonzalez - APM 3829
• Angel Arroyo - APM Kmart 7741

Bottom
• Cesar Ostolaza - APM Kmart 7768
• Joel Pagan - APM Kmart 7783
• Agustin Encarnacion - APM Kmart 7413


Message from Alex Sostre, Market APP Leader, Puerto Rico & Virgin Islands

I would like to recognize all the Asset & Profit Protection Managers from the Caribbean (Puerto Rico & US Virgin Islands) for the excellent job done during these difficult times.

We all know that we as a community are passing through difficult times never seen before and that we never been trained before, so we are learning together to overcome this.

I just wanted to express my gratitude to all of you for giving the extra mile to ensure our associate and member are safe and that we can continue to serve our members every day.

Thank you for your leadership and for been a role model for our organization, communities , we are here giving our best to make a better community and setting the example of what selfless service, indomitable spirits and servant leadership is.

Thank you, Alex, for submitting this photo.

---
| | | |
| --- | --- | --- |
| | Show Your LP/AP Team Pride! | |
---


Taking an AP Team & Program to the Next Level
Jim Connolly, Senior Vice President of Asset Protection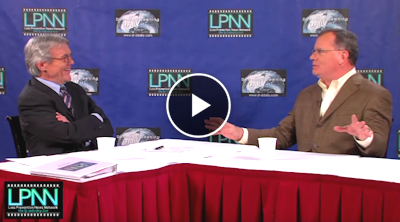 Filmed in January 2014 at the Daily's 'Live in NYC at the NRF Big Show 2014' event
Jim Connolly, Senior Vice President of Asset Protection, talks about the keys to establishing a successful LP program - and how you take that program "to the next level" once it has matured. In 2010, Jim successfully engineered the biggest re-organization of Burlington Stores' LP program in the history of the company. Here, he offers tips on how to retain, challenge and develop team members, while keeping it fresh and exciting for the executives.


---

---

Vector Supporting First Responders

Vector Security Donates Meals to Lancaster Emergency Medical Services Association (LEMSA) as Show of Appreciation



As a show of appreciation for Lancaster Emergency Medical Services Association (LEMSA), Vector Security, Inc., the provider of intelligent mobile security and automation solutions to homes and business, will donate meals to employees on Friday, May 1. The meal donation will feed approximately 80 employees, including members from two platoons as well as administrative staff. Read more in today's Vendor Spotlight below.


Checkpoint unveils new system that tracks real-time in-store occupancy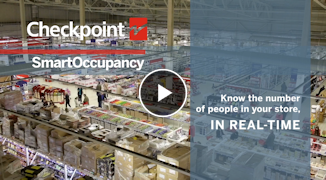 Checkpoint Systems, a global leader in source-to-shopper solutions, has launched a new system to help retailers view in-store occupancy levels and receive alerts in real-time. The SmartOccupancy solution is designed for stores with an occupancy limit or those with high shrink rates. It helps retail associates or security guards view the number of shoppers currently in a store in real-time, while helping managers deploy staff efficiently, combating risk and deterring theft more effectively.

SmartOccupancy accurately counts the number of people entering and exiting a store, and sends an alert to staff when the store is close to maximum capacity. Managers can set and change threshold levels, and create different zones with distinct entry/exits, as well as concession areas or toilets. This way, SmartOccupancy gives a clear view of multiple areas with the overall store capacity included. prnewswire.com

---

Coronavirus Update: April 29
US: Over 1 Million Cases - 60K Dead - 143K Recovered
Worldwide: Over 3.1 Million Cases - 220K Dead - 980K Recovered
U.S. Law Enforcement Deaths | NYPD Deaths: 37
Private Industry Security Guard Deaths: 79+

Best Coronavirus Graphs and Charts - COVID-19 Stats

Click the interactive graph below to see if the curve is flattening where you live.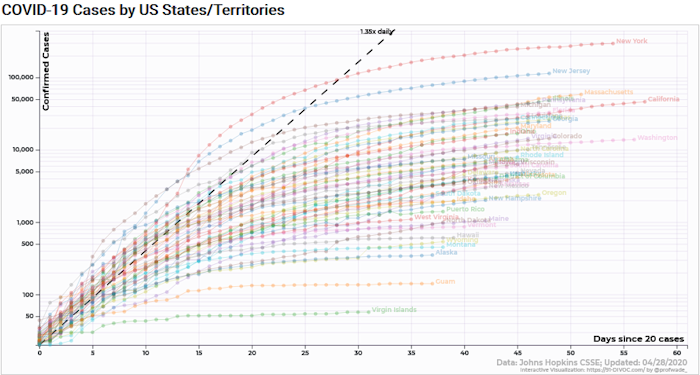 ---

RLPSA Launches BackToOpen.com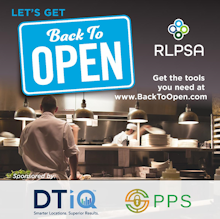 RLPSA's BackToOpen.com is a resource site providing tools for restaurants to open safely including state regulations, technology and safety products, as well as content including:

● De-escalation Q&A in the time of COVID-19
● How to partner with law enforcement and top tips on physical security
● Printable signage from the CDC including hand washing signs, etc.
● Social Distancing signage for printing
● National Restaurant Association Opening Guidelines
● And more!

Protecting Front-Line Workers
1st Federal Case of Its Kind in U.S.; Federal Robbery Charges
COVID-19 Being Used By Shoplifters Nationwide

'Shoplifters coughing to elude security'

It'll be a Big Problem for Quite Some Time

San Francisco: There's a new breed of shoplifter, one who claims to have the coronavirus in hopes of eluding security, police say.

But what suspects don't know is that what ordinarily could be considered a petty theft case could be elevated to a felony robbery prosecution, legal experts say.

In Vallejo, police are trying to identify a woman who stole merchandise from the Target store and walked right past the cash registers without paying.

When confronted outside, store security, police say she approached them and purposely coughed in their faces.

It's a scene that's been repeated across the country in this age of COVID-19, "people who resisted arrest by either coughing at police officers or by claiming to have corona as their line of defense," said federal criminal defense attorney Nick Oberheiden.

The Solano County district attorney's office could potentially argue she used force or fear to get away from Target workers, the definition of a so-called "Estes robbery" under state law.

And in the first case of its kind in the country, the U.S. Attorney in San Francisco has charged two women with federal robbery charges for allegedly coughing and saying "we have COVID" while stealing from the Walgreens at Post and Franklin in San Francisco.

"It's coercion by fear or the threat of a biological weapon or virus," said John Bennett, special agent in charge of the FBI in San Francisco.

Authorities say Carmelita Barela and Rosetta Shabazz went into the drug store without masks on and put items into empty bags.

Their haul? Just $92 in merchandise. But under the Hobbs Act, which allows for federal robbery charges, the key factor is fear of the illness, not how much is stolen.

Bennett said, "While this is a unique way of using this particular act, it's very effective" in prosecuting criminals while at the same time protecting front-line workers. fox10phoenix.com

Breaking News: Fauci touts clinical trial of COVID drug as 'quite good news'
Remdesivir patients saw a 31 percent improvement over placebo patients, Fauci said. "Although a 31 percent improvement doesn't seem like a knockout 100 percent, it is a very important proof of concept," Fauci said. What it has proven is that a drug can block this virus." He added the drug will be "the standard of care." thehill.com

Businesses Seek Sweeping Shield From Pandemic Liability Before They Reopen
Business lobbyists and executives are pushing the Trump administration and Congress to shield American companies from a wide range of potential lawsuits related to reopening the economy amid the coronavirus pandemic, opening a new legal and political fight over how the nation deals with the fallout from Covid-19.

Government officials are beginning the slow process of lifting restrictions on economic activity in states and local areas across the country. But lobbyists say retailers, manufacturers, eateries and other businesses will struggle to start back up if lawmakers do not place temporary limits on legal liability in areas including worker privacy, employment discrimination and product manufacturing.

The biggest push, business groups say, is to give companies enhanced protection against lawsuits by customers or employees who contract the virus and accuse the business of being the source of the infection. nytimes.com

States Get Jump on CDC Draft Guidelines and Start to Reopen
Over the weekend, the Centers for Disease Control and Prevention (CDC) sent the White House draft recommendations to help business establishments, schools and places of worship reopen safely by gradually lifting "stay-at-home" state mandates

Among the CDC recommendations: businesses should close company break rooms, restaurants ought to consider using disposable menus and plates, and students should eat their lunch in their classroom.

But prompted by frustrated business owners and ordinary citizens tired of remaining indoors, several states have already begun loosening or abolishing restrictions aimed at containing the spread of the novel coronavirus. More states are expected to loosen business and societal restrictions once the White House formally releases the CDC guidance. inhomelandsecurity.com

A Recipe For Aggressive Behavior
72 Percent of Americans Say They'll Hit Mental 'Breaking Point' if Stay-At-Home Orders Continue
Nearly three-quarters of American adults said they will hit a mental "breaking point" by early June if coronavirus stay-at-home orders extend through the start of summer, says a recent survey.

Interviews with 1,895 U.S. adults between April 3-6 were led by Kelton Global, a consumer insights agency, which found that 69 percent of Americans are "extremely worried" about flying on airplanes once the stay-in-place orders are lifted and 62 percent are worried about going to restaurants.

A majority of respondents said they were concerned about traditional transportation and business activities when the country does lift coronavirus pandemic health protections, but 72 percent noted that another month of lockdown orders will make them hit an emotional "breaking point." securitymanagement.com

What the CEO's Read
Opinion: Culling the Herd Has Become a Slaughter

'Five Forces Shaping Retail's Post-Pandemic Future'
This is a precarious time for all retailers, but particularly those deemed non-essential: Inventories are piled up and on-orders slashed; relationships with suppliers, landlords and employees are fraught; cash is scarce and the timelines for stores opening and customers responding are murky. Many, if not most, are focused only on short-term survival.

Multiple Scenarios

As we plan for the post-pandemic future, we'd do best to plan for multiple possible scenarios. For over a decade now, we assumed steady consumer spending growth, some jockeying among competitors and steady momentum continuing towards digital. Today, there are so many more variables at play and a much wider range of outcomes to consider, contingencies to plan for and opportunities to exploit.

1. Acceleration

The march to ecommerce has become a sprint, which is perhaps the most obvious outcome of the coronavirus crisis. Remember several years ago when website developers adopted the mantra of mobile first? It's clear now the paradigm for much of retail, today and for the foreseeable future, will be digital first. For an increasing number of retailers, the primary role of brick and mortar will be to facilitate digital transactions and promote brand loyalty through the experiences of showrooming, ordering, fulfilling, pick-up and return.

The impact of digital first on stores is crystal clear. Even before the pandemic, a large part of the mall-based, non-essential retail economy was past maturity and in decline. This crisis will kill off the weak, including full-scale retail brands, retail locations and shopping centers.

2. Distortion - 3. Depression - 4. Natural Selection - 5. Government - What Next?

Read the full article - For the serious retailers

Meat Workers: 20 Dead - 6,500 Ill From COVID-19
Trump orders meat plants to stay open during COVID-19 pandemic

Staves Off Nationwide Food Shortages

President Trump on Tuesday ordered beef, pork and poultry processing plants to remain open despite safety concerns and signs executive order. Intends to shield companies from liability.

The United Food and Commercial Workers International Union said Tuesday that 20 frontline workers have died from the novel coronavirus. Another 6,500 U.S. employees have become either ill or were exposed to the virus. Over 22 plants have closed across the country.

Tyson Foods ran a full-page ad in the NY Times Sunday warning that the country faces a meat shortage: "As pork, beef and chicken plants are being forced to close, even for short periods of time, millions of pounds of meat will disappear from the supply chain and saying: As saying goes society is 9 meals away from food riots. desmoinesregister.com

Editor's Note: This could have had a terrible impact on grocery stores in general. Not to mention the food supply and nutrition. All of which could generate security issues we have never seen before if it hit and was sustained for any period of time. I understand you may be wondering why we've been covering this. But at the end of the day it is about planning for worst case scenarios and this could have a huge impact. And quite frankly we're still not out of the woods on this one.

Doctors Blast White House for Protecting Meat Industry at Expense of Americans' Health

Waving Goodbye to the Handshake: 7 Alternatives to a Workplace Custom
The time-honored handshake spreads goodwill in the workplace-in job interviews, at staff meetings and during other face-to-face interactions. But the handshake also spreads germs.

During the coronavirus pandemic, handshakes have given way to fist bumps, elbow taps and other greetings that eliminate hand-to-hand contact but don't necessarily decrease transmission risks associated with coronavirus. Once people start filtering back to workplaces in great numbers, will they shake hands again?

While the handshake probably won't disappear altogether, it likely will be pushed aside by other methods for people to acknowledge each other. Dr. Anthony Fauci, the director of the National Institute of Allergy and Infectious Diseases and a leader in the fight against the pandemic, advocates an end to the practice of shaking hands to reduce transmission of the coronavirus and other germs. Years ago, President Donald Trump, a self-proclaimed germaphobe, called in one of his books for the disappearance of the handshake.

So, if the traditional handshake loses its place in the workplace-either temporarily or permanently-what are the alternatives? Here are seven possibilities.

Offer a Nod and a Smile - Take a 'Dip' - Make a Good First Impression - Develop a Workplace Code - Take a Bow - Go for 'Namaste' - Focus on Eye Contact shrm.org

A record-setting flu season's end doesn't ease COVID-19 worries

Starbucks Expects to Open 90% of Stores by June

Chico's to reopen May 4th

The Victoria's Secret Contract That Anticipated a Pandemic

Best Buy resumes 'Geek Squad' and delivery services

NYPD sick rate sinks to 8.8%; down signifantly from 19.8% high


Quarterly Results
Canada's Loblaw Q1 Food retail comp's up 9.6%, Drug retail comp's up 10.7%, revenue up 10.7%
Starbucks Q2 Global down 10%, U.S. comp's down 3%, International comp's down 31%, net revenue down 5%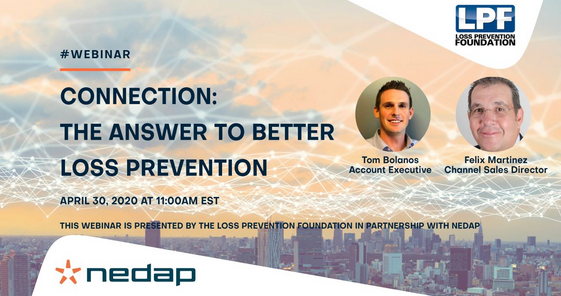 ---

Vector Security Donates Meals to Lancaster Emergency Medical Services Association (LEMSA) as Show of Appreciation
Donation feeds 80 Lancaster EMS employees and supports
local eatery Central Manor Bakery.

LANCASTER, PA, April 29, 2020 – As a show of appreciation for Lancaster Emergency Medical Services Association (LEMSA), Vector Security, Inc., the provider of intelligent mobile security and automation solutions to homes and business, will donate meals to employees on Friday, May 1.

The meal donation will feed approximately 80 employees, including members from two platoons as well as administrative staff.

"We are pleased to show our appreciation to the hard-working employees of Lancaster EMS during this time," said Jim Lorah, General Manager of Vector Security's Lancaster Branch. "As a company that prides itself on local service delivery, community is important to us. This is our way of giving back and saying 'thank you' to those that help protect our citizens."

"Additionally, in support of local business, we will be ordering these meals from a local neighborhood favorite…Central Manor Bakery, so we are doing good while doing business," Jim added.

Lancaster EMS is the busiest EMS provider in Lancaster County, Pennsylvania, serving more than 260,000 residents in 21 municipalities.

Read More Here

---
Retail & Hospitality- ISAC
Cyber Thursday
Join the RH-ISAC on April 30 for Cyber Thursday featuring webinars from URBN, RH-ISAC and PCI Security Standards Council. URBN will start the day off at 11 a.m. ET with a session on building a culture of cybersecurity in your organization. RH-ISAC will highlight benefits of membership to new members and prospective members at 1 p.m. ET. Finally, PCI SSC will round out the day at 3 p.m. ET with a panel of experts that will explore the issue of software security and what merchants need to know about it. Details and registration below:

CYBER THURSDAY: Security Awareness Training: One Size Does NOT Fit All
Thu, April 30 | 11:10 AM EST



One of the more precarious components of cybersecurity is creating a cyber-aware workforce. How do CISOs and cyber teams engage employees and adapt to the ever-changing landscape of personas and emerging services within the enterprise? When Tony Vitello became the CISO at URBN, his first time in a retail environment, he quickly realized that understanding the employee culture and landscape was the best way to engage with teams and increase awareness around cybersecurity. As Tony began this journey, he leveraged five key tactics: shorten messaging, market cybersecurity as a brand, increase engagement with events and offerings, use gamification for training, and have a persistent presence. In this session, Tony shares details on this innovative approach, successes he's seen, and what he has planned for the future.

Key Takeaways:

1. Understand your audience demographics to create an effective approach to awareness and training
2. Inform leadership to get buy-in for programs and initiatives
3. Find ways to incentivize employees who are more cyber-aware during their day-to-day
4. Make it fun!

Speaker: Tony Vitello, CISO, URBN

ELIGIBILITY: This webinar is open to RH-ISAC Core members and retail and hospitality cybersecurity practitioners eligible for Core Membership. Ineligible registrants will have their registration canceled. To learn about eligibility, visit rhisac.org/membership. Email events@rhisac.org with any questions.

---

NIST Guide: Improving the Cybersecurity of Managed Service Providers

Recommendations to Protect Against Ransomware and Other Data Loss Incidents



Many small- and medium-sized businesses use managed service providers (MSPs) to remotely manage their organization's IT infrastructure, cybersecurity, and related business operations. As a result, MSPs have become an attractive target for cyber criminals. When an MSP is vulnerable to a cyber attack, it also increases the vulnerability to the small- or medium-sized businesses an MSP supports.

The NCCoE published a quick planning guide for MSPs to minimize the impact of data loss incidents - such as ransomware, hardware failure, or accidental or intentional data destruction. The guide provides recommendations to MSPs to conduct, maintain, and test backup files for themselves and their clients.

For more information, visit the NCCoE's Improving Cybersecurity of Managed Service Providers project page. This information is also available on the NIST Small Business Cybersecurity Corner.

PCI: Additional Remote Assessment Considerations During COVID-19


While PCI SSC does not manage compliance programs and therefore cannot comment on compliance impacts, we are working hard to provide useful guidance to help entities and assessors navigate their assessment processes during this time. One effect of the global travel advisories and restrictions currently in place is that assessors may not be able to complete onsite PCI assessments at an entity's location.

This blog post builds on the guidance provided in an earlier post, Remote Assessments and the Coronavirus, to provide additional direction for entities and assessors in these unusual circumstances. pcisecuritystandards.org

IT Security Helped Get Remote Workforce Up & Working Securely
47% of Security Pros Reassigned to IT Tasks (Remote Workers) During COVID-19
Most security practitioners surveyed say their job functions have changed during the pandemic, and 90% are now working remotely full time.

Nearly half (47%) of security practitioners surveyed say they've been temporarily removed from cybersecurity responsibilities to assist with IT-related tasks as businesses shift to remote work.

(ISC)² polled 256 security pros to learn how the coronavirus pandemic has changed their work. Its "COVID-19 Cybersecurity Pulse Survey" found 81% of respondents, all of whom are tasked with protecting their businesses' assets, saying their job functions have changed during the outbreak. Most (96%) say their organizations have closed physical work environments in favor of work-from-home policies. Nearly half (47%) say all employees are now remote, and 49% say at least some are. Ninety percent of respondents say they themselves are now working remotely full time.

Best Practices vs. Expediency

Overall, 81% of respondents indicate their organizations view security as an essential function, and an even greater number (92%) say their organizations are using best practices in securing their remote workforce. Still, the survey found that half of respondents believe their companies could do more to secure remote workers.

"Security at this point is a best-effort scenario," said one respondent. "Speed has become the primary decision-making factor. This has led to more than a few conversations about how doing it insecurely will result in a worse situation than not doing it at all."

Another respondent says companies are rushing to implement VPN, remote access and collaboration tools without due diligence or taking security into account. Yet another said: "IT wants to relax security controls without due process and analysis, and the times we are in are exactly the WORST time to do that." isc2.org

Opinion: Contact Tracing Won't Ever Take Off In the U.S.
Apps to Track the New Coronavirus Have an Old Problem: Getting the Downloads

60% of population has to opt in for contact-tracing apps to work well

"Below that would still have an impact, but it'd be less of an impact," But the looming challenge will be to convince enough people to hit the download button.

Bluetooth can provide privacy features that might entice more people to opt in because the technology measures a user's proximity to infected people, Ms. Wanger said. GPS data, on the other hand, shows physical locations with a centralized server and can more easily point back to individual users.

Instant notifications of at-risk users, coupled with other measures like quarantines, could reduce the estimated number of people a contagious person infects from as many as three without public health interventions to below one, the replacement rate.

"Our models show we can stop the epidemic if approximately 60% of the whole U.K.

Singapore's TraceTogether app had a 20% download and Australia's COVIDSafe only 8% when they rolled out contact tracing apps in mid-April. wsj.com

Editor's Note: So the issue is does the U.S. and or the states have a better download outcome and are the American citizens really ready to be traced?

5-Year-Long Cyber Espionage Campaign Hid in Google Play

OceanLotus targeted Android devices in the so-called PhantomLance campaign.

A targeted cyber-spying mission waged by a notorious hacking team out of Vietnam preyed mainly on Android users in Southeast Asia and evaded detection in Google Play, APKpure, and other app markets for five years. Researchers at Kaspersky today revealed details of their study of the attack campaign they call PhantomLance, which they believe is the handiwork of OceanLotus. darkreading.com

Overview of the latest AWS Security Service - Amazon Detective

---
---

Canadian Crime & Counterfeits Spike During Pandemic

Crime data during COVID-19 shows spike in business break-ins, stunt driving

Early data could indicate how pandemic is influencing crime in Canada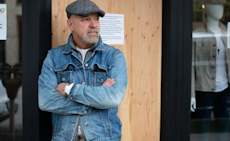 While it's still too early to get a picture of how the pandemic may be affecting crime rates overall, some police forces are reporting initial data and trends they have noticed in recent weeks, including increases in commercial break-and-enters and stunt driving.

Toronto, Ottawa, Edmonton, Vancouver and York Region police forces are all reporting increases in business break-ins.

Vancouver is reporting an increase of about 100 per cent over the last eight weeks compared to the same period last year. Close to 600 break-ins were reported. A snapshot of the weeks between March 18 and April 15 shows an increase of 147 per cent.

Non-essential businesses have been forced to close, and without crowds of people out on the streets that might notice suspicious behaviour, thieves are taking advantage of businesses at a time when many are already struggling financially. cbc.ca

From counterfeit medical masks to fake treatments, criminals cashing in on pandemic panic

Just like the contagion itself, the counterfeiters are finding their way to Canada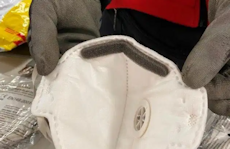 Suspected counterfeit medical masks were stopped at the Canadian border and fake COVID-19 test kits seized at a U.S. airport. Bogus vaccines are selling online and putrid sanitizer factories crank out weak goop in Italy. Doses of what is claimed to be chloroquine, an unproven proposed treatment, are for sale on a Canadian dark web marketplace.

Criminals made a quick pivot to pandemic panic. And just like the contagion itself, the counterfeiters are finding their way to Canada.

Dubious quality masks, face shields, safety glasses and disinfectants, as well as supposed treatments, are sold in Canada through online retailers including those housed on Amazon and Facebook.

Health Canada recently issued a warning over masks and respirators that are claimed to be N95-rated — which is the gold standard for novel coronavirus protection — but are in fact substandard fakes.

The players remain largely the same — meaning organized crime groups previously involved in producing and distributing counterfeit goods such as high-end running shoes, designer clothing and fake sports jerseys quickly shifted to new health-related products to suit current demand. nationalpost.com


---

'Never seen anything as catastrophic':
Malls in Canada face massive hit as unpaid rent surges

In the country's enclosed regional malls — a category that includes Toronto's Eaton Centre — only 20 per cent to 25 per cent of tenants paid rent in April

Canada's malls are facing a wave of skipped rents and could see vacancy rates triple by year-end, with the coronavirus poised to leave its scars on a fragile retail sector long after the pandemic ends.

In the country's enclosed regional malls — a category that includes Toronto's Eaton Centre and Pacific Centre in Vancouver — only 20 per cent to 25 per cent of tenants paid rent in April, according to brokerage firm JLL Canada. Big box shopping centres and community strip malls took in only a little over half their expected rent.

"I've been in this business over 30 years and I have never seen anything as catastrophic or as impactful in a negative way in our business," Tim Sanderson, who heads retail at JLL Canada, said in an interview. "It's the mid-tier smaller-scale landlord that cannot make their mortgage payments to their lender that are going to be in trouble."

Malls and main-street shops, bastions of community commerce, were already under pressure after two years of weak retail sales, rising property taxes and the shift to e-commerce. Nationwide shutdowns of all but essential stores during the pandemic have added further strain, with landlords facing lost rental income and tenant closures. Longer term, fear of new outbreaks may only accelerate the shift online — even for movies and restaurants, which had been touted as potential buffers for malls. financialpost.com

Cyberattack behind Manitoba beer shortages
A computer virus is behind a shortage of brews seen at some Manitoba beer stores. Signs posted at vendors across the province warn customers about limited stock after the province's largest supplier of beer was hit with a computer virus late last month.

Brewers Distributor Ltd. (BDL), which supplies popular beer brands across western Canada, was the victim of a cyberattack March 25, and it's impacting the company's ability to process orders from liquor stores. Bill Walker, a spokesperson for BDL, told Global News deliveries are still happening, but not the way they normally would.

A spokesperson for Manitoba Liquor & Lotteries said they're working with BDL to manually process orders to help make sure beer vendors, licensees, and Liquor Marts receive shipments. globenews.ca

After the pandemic, will you ever use cash again?

Preparations Begin for the Reopening of Retail Stores in Canada

Roots to shutter seven U.S. stores, liquidate American unit

Why Canada isn't Running Out of Food During the Coronavirus Pandemic

Canadian Government Announces 75% Rent Relief for Small Retailers and Businesses

Statistics Canada launches online tool to explain pandemic's economic impact


Halifax, NS: Multiple stores shut down after "shots fired" emergency alert
The emergency alert was issued to Nova Scotians just after 4 p.m. The alert said police were on the scene in the wooded area between Haliburton Hills and Highland Park Heights subdivisions in the community of Hammonds Plains, which is a suburb of Halifax. Police tweeted at 5:37 p.m. local time there was no evidence of shots fired in Hubley, Tantallon and Hammonds Plains. An updated alert message said residents no longer had to shelter in place. Following the initial alert, multiple stores in Bedford, Sackville and Dartmouth Crossing were closed down. cbc.ca

(Update) Nova Scotia mass shooting started with assault on girlfriend, ended with dead gunman at gas station

Sasktatoon, SK: Man threatens to stab customers at Giant Tiger

Grand Falls-Windsor, NL: Police Looking for Man in Connection With Credit Card Fraud


---

Robberies & Burglaries

● C-Store - Thunder Bay, ON - Armed Robbery
● Liquor Store - Campbell River, BC - Armed Robbery

How are we doing? We need your input & suggestions. Send to lpnews@d-ddaily.net

View Canadian Connections Archives

---

---
---

Facebook Restructures Its Security Teams - Increasing Automation
The social network displaced more than two dozen employees who work on security, as the company fights threats such as cyberattacks.

The changes, which took place last week, affected Facebook's detection-engineering and alert-response teams. The employees, whose duties included anticipating cyberattacks and preventing hackers from breaching the platform, were in Facebook's offices in London, Seattle and Menlo Park, Calif.

Facebook has dissolved and dispersed its security group over the last two years, the people said. The latest cuts are part of a change in philosophy on security efforts, spurred by infighting and long-running issues within the department, they said.

Facebook has said that it continued to invest heavily in security, and that the restructuring was designed to update its methodology.

Its security operations were previously housed together in one large group under Alex Stamos, the chief information security officer. After Mr. Stamos left Facebook in 2018, the security teams were reassigned and reported into different parts of the company, such as engineering and policy. Facebook has since eliminated the chief information security officer position. nytimes.com

Google Will Require Proof of Identity From All Advertisers

A slew of scams and misleading ads pushed the search giant to expand its verification policy

In an effort to fight off fraudulent or misleading online ads, Google will require that all advertisers across its sprawling network prove who they are and where they operate, the company said in a blog post on Thursday.

The names of the companies or people behind ads, as well as their countries of origin, will begin appearing on Google ads this summer, starting with several thousand advertisers a month in the United States before expanding worldwide. The measure, which could take years to implement, is designed as a defense against businesses and individuals who misrepresent themselves in paid online promotions, Google said. nytimes.com

Instacart to hire 250,000 new shoppers; adds new safety measures

Online grocery sales up 37% in April

UPS, CVS to launch drone delivery service in Fla.
---
D&D Daily Survey:
How will COVID-19 impact Loss Prevention & Organized Retail Crime at your stores as the nation prepares to reopen?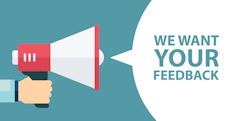 The industry values your input! The D&D Daily wants to hear your thoughts as retail prepares to reopen following mass closures due to the COVID-19 pandemic.

Given the past seven weeks, we've all had a chance to think about what is going to happen as we reopen the doors, but are we prepared for the impact the pandemic will have on Loss Prevention and Organized Retail Crime?

What does ORC look like in the coming months? How are your stores preparing?

Click here to take a two-minute survey and share your thoughts!

---

Top ORC Cases from 2017 - By Dollar Amount

We at the D&D Daily compiled the top ORC cases we reported in 2017, ranked by dollar amount. Here is the #1 case of the year, with the full 2017 countdown coming Thursday and Friday.

1. $170M - Russian National Confesses to Major $170M Credit Card Fraud in Letter to US Court
A Russian national has pled guilty to a US District Court in the state of Washington on credit card theft amounting to some $170 million in losses to businesses and individuals, according to a handwritten confession letter to the court obtained by Sputnik.

David Burghardt - Roman Seleznev, a native from Russia's Far Eastern region of Vladivostok, was arrested by US Secret Service agents in the Maldives in 2014 and transported to Seattle, Washington to face court on suspicions of cybercrimes that affected hundreds of businesses and thousands of individuals in Washington. Overall some 3 million credit cards were suspected of being stolen by Seleznev, though the court was able to prove only 1.7 million stolen cards. sputniknews.com

---

Akron, OH: 3rd Family Dollar targeted in theft of cigarettes
The front door of a Family Dollar store was smashed out and cigarettes stolen, police say, the third time a Family Dollar store has been burglarized in two days. The most recent burglary occurred at 2:45 a.m. Tuesday on South Hawkins Ave. Police say an alarm was set off at the Family Dollar and that when officers arrived, they found the glass in the front door had been shattered. An undetermined amount of cigarettes were stolen. cleveland.com

Mountain Home, AR: Man arrested for theft of $12,000 worth of makeup
A Mountain Home man has been arrested for the alleged theft of over $12,000 worth of makeup from the Merle Norman Studio in Mountain Home. Calvin Larry Summers is facing two felony charges in the case. Video surveillance from a nearby business showed an individual preparing to break into the business. On Saturday, Mountain Home Police officers responded to a welfare check call and while at the location, they saw an unusually large amount of Merle Norman cosmetics. An investigator was called to the scene and recognized an individual at the residence, identified as Summers, as the person who was seen in the video. While being questioned by police, Summers admitted to the theft. ktlo.com

Boulder County, CO: $35,000 in bikes stolen from Lyons' Redstone Cyclery

---

Shootings & Deaths

Cleveland, OH: The Northern Ohio Violent Fugitive Task Force arrest Liquor store homicide suspect
Marshals arrested Dorian Lynch, 23, on Tuesday morning in Cleveland's Hough neighborhood. On March 20 of this year, Cleveland Police were called to a liquor store at the 4000 block of Lee Road for a shooting. Investigators say Lynch and a 17-year-old male got into an argument with the victim, 24-year-old Kevin Boyd, who was inside the store. wkyc.com

Update: Howard County, IN: Man arrested in Walmart shooting faces attempted murder charge


A Chicago man accused of shooting another man inside Walmart on Saturday afternoon is now being charged with a Level 1 felony charge of attempted murder. Keith N. Terrell, 30, is also facing a Level 3 charge of aggravated battery for his role in the incident, and he is currently being held without bond at the Howard County jail. The incident occurred shortly before 3 p.m. Saturday when Terrell and an unidentified male — along with that male's family members — were involved in a verbal altercation inside the store that carried over to a physical argument near the front checkout section, according to a probable cause affidavit filed through the Howard County Prosecutor's Office. During that argument, Terrell pulled out a handgun from inside his waistband and shot the other male in the abdominal area, the affidavit states. kokomotribune.com

Robberies, Incidents & Thefts

Houston, TX: Employee fights back as man tries to rob Cricket Wireless store 3rd time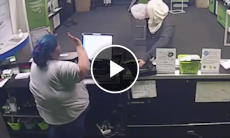 Harris County Sheriff's Office deputies are looking for a man they believe has robbed a Cricket Wireless store a number of times. Surveillance video shows a robbery in December where the man got away with money, and new video from last Thursday shows another incident involving what appears to be the same man. Thursday, however, when the man came in the store, employees fought back. "That's when he came back and tried to fight me, and that's when I tried to hit him with a pole," said Kimberly Thompson. Thompson said when they told the culprit to go away he came behind the counter and that's when a tussle began. One of the clerks was able to remove the head covering from the man's head, as he ran out of store. Deputies have a clearer picture of the culprit's face, but he is still on the run. abc13.com

Tucson, AZ: Pipe-wielding suspect attacks 77 year old woman, gets away with only a pizza

Long Beach, CA: Armed man, 3 teens accused of robbing ice cream truck by gunpoint in Southern California

Appleton, WI: Police make arrests in Boost Mobile armed robbery

Prince William County, MD: 2 more suspects jailed in connection armed robberies at area 7-Eleven stores

Lawrenceville, GA: Man named Speedy Gonzalez arrested for mail fraud after months on the run

Fairbanks, AK: Man sentenced to 3 years for attempted ATM theft
• Bikes - Boulder County, CO – Burglary
• C-Store – Waterville, ME – Robbery
• C-Store – Kansas City, KS – Robbery
• CVS – El Paso, TX – Armed Robbery
• Collectables – Keene, NH – Burglary
• Cricket – Houston, TX – Robbery
• Family Dollar – Akron, OH – Burglary (3rd in area)
• Gas Station – Tulane County, CA - Armed Robbery
• Gas Station – Rochester, NY – Robbery
• Grocery – Atlanta, GA – Robbery
• Pharmacy – Cleveland, OH – Robbery
• Restaurant - Paso Robles, CA -Armed Robbery (Inside job)
• Salon – Columbus, OH – Burglary
• Thrift – Visalia, CA – Burglary
• Vape – Prescott, AZ – Robbery

Daily Totals:
• 10 robberies
• 5 burglaries
• 0 shooting
• 0 killed

---

None to report.
Submit Your New Hires/Promotions
or New Position
See all the Industry Movement


Feature Your Job Here For 30 Days -
70% Aren't On The Boards
Post your job listing
---
Featured Job Spotlights
NEW


Birmingham/Montgomery/Tuscaloosa, AL
The District Loss Prevention Manager ensures shrinkage control and improves safety in the stores through proper investigation and training. This position is responsible to provide feedback, guidance and protection for our Team Leaders and Associates. This role has oversight and responsibility for approximately 8 to 10 store locations...

Roanoke, VA
The District Loss Prevention Manager ensures shrinkage control and improves safety in the stores through proper investigation and training. This position is responsible to provide feedback, guidance and protection for our Team Leaders and Associates. This role has oversight and responsibility for approximately 8 to 10 store locations...

District Loss Prevention Manager
Knoxville, TN
● Investigate reports of asset losses, injuries, or harassment to determine proper facts and execute proper disciplinary actions. ● Conduct physical security checks to minimize asset loss and maintain CCTV and Alarm systems. ● Train new associates in the areas of Asset Protection and safety. ● Create and recommend ideas for increased shortage control and fewer accidents...

Fresno, CA
Our Area Loss Prevention Managers ensure safe and secure stores through the objective identification of loss and risk opportunities. Our Area Loss Prevention Managers plan and prioritize to provide an optimal customer experience to their portfolio of stores. They thrive on supporting and building high performance teams that execute with excellence...

Physical Security Leader
Corte Madera, CA
Responsible for leading and execution of the Protection and Prevention tiers of the Profit Protection strategy for all RH locations including our Corporate Campus in Corte Madera, CA - PROTECTION - Access Control | Alarms | CCTV | Guards - PREVENTION - Awareness | Audits | P&P | Training...

Loss Prevention Manager
Las Vegas, NV
● Demonstrate management leadership skill to achieve the goals of the Company. ● Experienced with and has knowledge of regulatory agencies to include: TSA, DOT and OSHA. ● Establishes and communicates a risk business plan consistent with the objectives of the Company that pro-actively identifies and corrects poor behaviors...

Featured Jobs
---
JOB TITLE
COMPANY
CITY/STATE
DATE ADDED

Vice President
SVP, Chief Safety & Risk Officer
Allied Universal
Santa Ana, CA
Jan. 6

Director
Dir. Global Asset Protection
eBay
Draper, UT
Mar. 6
Dir. Safety/Risk Mgmt.
Goodwill of SE Louisiana
New Orleans, LA
April 2
Director of Security
Grassroots Cannabis
Chicago, IL
April 6
Dir. Asset Protection SE
Home Depot
Atlanta, GA
Jan. 6
Dir. Loss Prevention Stores
Tractor Supply Co.
Brentwood, TN
Feb. 11

Corporate/Senior Manager
Corp. Mgr. Security Operations
Carvana
Phoenix, AZ
April 6
Sr. Loss Prevention Manager
Gap Inc.
San Francisco, CA
Oct. 29
Home Depot
Atlanta, GA
Feb. 18
National Mgr, ORC & Special Investigations
Rite Aid
Camp Hill, PA
April 6
Manager, Asset Protection Solutions Supply Chain
Walgreens
Windsor, WI
Mar. 25

---


---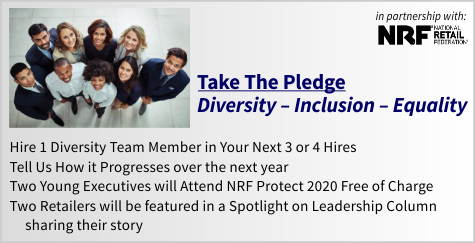 ---

In college Philosophy 101, they introduce the question "If a tree falls in the woods and no one is there to hear it, does it make a sound?" My answer is yes, but you've got to listen and hear it. Listening and hearing what they say is oftentimes two entirely different functions that most of us don't do on a daily basis, if ever. One of the keys to success is listening and hearing what people say and don't say. It's not just the words, it's the meaning and the intention behind what everyone says in every conversation or interview. Listening is the key and hearing is the lock the key fits into. If you expect to lead a group or land that perfect job, you've got to listen and hear what they're saying in order to respond, influence and truly make a difference.

Just a Thought,
Gus



(content subject to approval)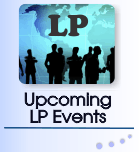 ---
Recruiting?
Get your job e-mailed to everyone... everyday
Post on our Featured Jobs Board!
Not getting the Daily?
Is it ending up in your spam folder?
Please make sure to add d-ddaily@downing-downing.com to your contact list, address book, trusted sender list, and/or company whitelist to ensure you receive our newsletter.
Want to know how? Read Here



36615 Vine Street, Suite 103
Willoughby, OH 44094
440.942.0671
copyright 2009-2019
all rights reserved globally