The D&D Daily's 2019 Year in Review
Top News Stories

Below are the Top 10 most popular new stories published in the D&D Daily in 2019.

#1 (Published Oct. 2, 2019)
These 28 retailers could go bankrupt in the next year


#2 (Published Aug. 12, 2019)
Mass shootings in the United States: When, where they have occurred in 2019
According to data from the Gun Violence Archive, a total of 253 mass shooting incidents have occurred as of August 4.

In 2018, a total of 340 mass shooting incidents occurred across the U.S., which is a slight decrease from 346 incidents in 2017.

The number of 2019 incidents is higher than that of the same time period in 2018, in which 88 incidents occurred through May 7, 2018.

According to the Gun Violence Archive, a mass shooting is described as four or more individuals being shot or killed in the same general time and location. The F.B.I. defines a "mass killing" as the killing of three or more people in a public place, but the federal agency also defines a "mass murderer" as someone who has killed four or more people in the same location.

The Gun Violence Archive lists itself as a not-for-profit organization that documents gun violence and gun crime nationally. abc15.com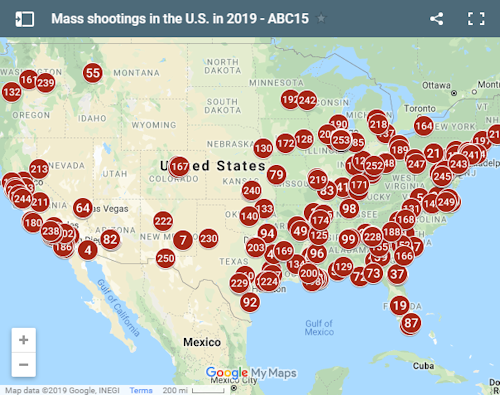 Click image to view interactive map of 2019 shootings


#3 (Published Nov. 22, 2019)
Inside Home Depot's efforts to stop a growing theft problem at its stores
Theft pressures profits
During the first three quarters of 2019, Home Depot reported that an increase in "shrink" hurt its financial results. "There's been pressure to our margin from shrink, which was the highest contributor to the decrease year over year," Home Depot CFO Richard McPhail said in the third-quarter earnings call Tuesday.

Scott Glenn, Home Depot vice president of asset protection, said he has seen a correlation between higher rates of organized retail crime and areas of the country where the dollar amount for felony thresholds have been raised. The felony threshold is the dollar value of goods stolen that determines if charges are a felony or a misdemeanor. It varies widely by state - from $200 in New Jersey to $2,500 in Texas.

Glenn said the opioid epidemic fuels organized retail crime in many cases, and e-commerce amplifies its reach. With the rise of e-commerce, it is easier to sell items quickly online than in person at pawnshops or other methods.

Going after organized retail crime



Home Depot may not stop the theft as it happens, but it's not ignoring the problem.

"We know that we're not going to get everybody. But if we can get those folks that are really hurting us, we can actually drive our shrink numbers down and make the store safer," Glenn said.

The retailer is building case files that not only help law enforcement go after suspects, but help change laws. Utah is one state where Home Depot, eBay and law enforcement have been working together to identify and prosecute organized retail crime rings. In Salt Lake City, the retailer worked with the state's attorney general's office over several years to close down a $1.5 million fraud case that involved seven pawnshops and a crime ring that was stealing and reselling the stolen goods.

The retailer has instituted a number of deterrent tactics to make it harder for criminals to steal, including the addition of more visible camera surveillance and alarmed spider wraps on certain high-value products. At the same time, however, it works to ensure the anti-theft strategy doesn't impede the shopping experience for paying customers.

Organized retail crime is a higher priority on Home Depot's list than in the past - not just because it hurts the bottom line but also because it hurts the community, Glenn said. cnbc.com


#4 (Published Nov. 1, 2019)
The 2019 Security 500 Rankings
Which security programs are taking the lead? These 500 enterprises have been ranked through metrics to determine the forerunners in 20 sectors.

Retail/Restaurants (Company Name & Security 500 Member)

1. Starbucks Corp. - Garrett Petraia, Vice President, Global Security and Resilience
2. L Brands, Inc. - John Talamo, Senior Vice President, Asset Protection
3. Under Armour, Inc. - Fred Bealefeld, Vice President; Chief Global Security Officer
4. Abercrombie & Fitch - Shane P. Berry, Group Vice President of Asset Protection
5. Brinker International, Inc. - Bill Heine, Chief Security Officer
6. Big Y Foods, Inc. - Mark Gaudette, Director of Loss Prevention
7. Yum! Brands, Inc. - Steven Antoine, Chief Security Officer, Global Assets Protection
8. VF Corp. - Justin Cullinan, Head of Global Security
9. Lululemon Athletica, Inc. - Greg Brumley, Vice President, Asset Protection and Facilities
10. Big Lots!, Inc - Robert LaCommare CFI, VP, Asset Protection & Safety
11. Pappas Restaurants, Inc. - Joe Wojcik, Senior Investigator
12. Ascena Retail Group, Inc. - Eric Pidgeon, VP, Asset Protection
13. Costco Wholesale Corp. - Larry Montague, Director of Security
14. Art Van Furniture, Inc. - Michael F. Case, Senior Director of Loss Prevention
15. Kohl's Corp. - Randy Meadows, Senior Vice President of Loss Prevention
16. The Kroger Co. - Mike Lamb, Vice President of Asset Protection
17. Safeway/Albertsons - Kathleen Smith, Vice President of Asset Protection
18. Things Remembered - James Baumgart, Senior Manager of Loss Prevention
19. AutoZone, Inc. - Patrick Barker, Corporate Security Manager
20. HAC, Inc. - Craig Nelson, Director, Risk Management and Loss Prevention

Listed Alphabetically

Bed Bath & Beyond - Jake Wilson, Corporate Director, Loss Prevention
Papa Johns - Paul R. Johnson, Chief of Global Security
Party City - John Voytilla, Senior Vice President, Facilities, Construction, Procurement, and Loss Prevention
PetSmart - Matt Lincoln, CFI, Vice President, Loss Prevention, Security and Safety
Qurate Retail Group - Richard Casado, Director, Global Security & Business Continuity
Sherwin Williams - Michael Hagenbush, CFI, Director of Enterprise Risk Management and Compliance
Stage Stores - Allan Watters, Senior Vice President; Asset Protection
The TJX Companies, Inc.- David Mendonca, AVP, Director, Asset Protection and Technology
Tiffany & Co. - David F. McGowan, Vice President, Worldwide Security Services securitymagazine.com

#5 (Published Aug. 15, 2019)
Ulta Responds to Employee Claims That LP Encourages Racial Profiling
Over the last several days, multiple Ulta Beauty employees have accused the retail giant of encouraging its staff to racially profile customers. Now, the beauty store is addressing the brewing controversy.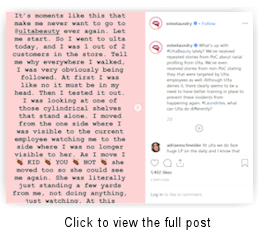 Beauty industry watchdog @EsteeLaundry shared makeup artist Adeola Ash's story of being racial profiled at her local Ulta store. The Instagram account then received the following direct message from a former Ulta employee: "I worked for Ulta years ago and quit because they would literally pull cashiers from the front to follow black customers around as soon as they walked through the door. During a loss prevention corporate meeting they literally encouraged us to racially profile."

Several former and current Ulta employees shared similar stories, including @nicole_emiliaxo who wrote, "Mmm I used to work for @ultabeauty and the GM would make me follow Hispanics/ black people the second they'd come in. And if I didn't then she would get mad at me, and cut my hrs."

In a statement shared with TODAY Style, Ulta shared the following response: "These accounts are disappointing and contrary to our training and policies. We stand for equality, inclusivity and acceptance and strive to create a space that is welcoming to all. That is why we have our associates participate in ongoing trainings on diversity and inclusion. This is our responsibility and we take it seriously. We know it is about daily action and accountability. We will continue to reinforce our policies and values across the company because we never want to hear that a guest has anything less than a great in-store experience." today.com


#6 (Published Jan. 15, 2019)
Macy's marks worst day ever on Wall Street, will shut eight stores in 2019


#7 (Published Nov. 6, 2019)
Security Systems News Welcomes "40 Under 40" Class of 2019 Winners
Security Systems News is excited to bring you this year's inaugural "40 under 40" class of 2019, made up of a diverse and talented mix of young professionals representing the next generation of leaders in security.

Opening the award up to consultants for the first time added new depth and perspective to this year's class, bringing all winners - consultants, integrators, monitoring professionals and end users - together into one "40 under 40" class. Prior to this year, the award was called "20 under 40" and included two classes, comprising 20 end users and 20 integrators. This year's "40 under 40" class includes 14 end users, 11 integrators, 10 consultants and 6 monitoring professionals.

Below are some of the winning security executives. Click each picture to read more about them.

For a full list of all the winners, click here: securitysystemsnews.com
| | | |
| --- | --- | --- |
| Randy Guarneri, 39, Vice President of Loss Prevention, Fresh Value Supermarket | Joseph Biffar, 38, Director of Loss Prevention, Security & Digital Fraud Mitigation, Chico's FAS | JT Mendoza, 40, Deputy Director, Air Force Insider Threat Hub |
| Trenton Pinson, 27, Physical Security Support Engineer 11, Security Integration Group, Amazon | Deric Morrow, 37, Commercial Account Executive, Johnson Controls | Michael Castillo, 32, Enterprise Security Risk Group (eSRG) Manager, Aronson Security Group (ASG)/ADT Commercial |

#8 (Published May 29, 2019)
A Must Read for All LP/AP Executives
One Secret to Costco's Success: A Tight Rein on Shoplifting
Ahead of Costco's earnings report later this week, it's worth noting that one of the secrets to the warehouse club's financial success has been to keep shoplifting to a bare minimum.

The company's shrinkage, or shrink, the catchall industry term for merchandise lost to shoplifting and employee theft, as well as damage or cashier errors, is just 0.11% to 0.12% of sales, against a 1% to 2% average in the retail industry.

Costco Wholesale (ticker COST) may have the lowest shrinkage of any major retailer-although few provide specific figures. Costco's performance is important because the company has rock-bottom profit margins-a critical element in the value proposition for its 53 million members.

Shrinkage comes up periodically as an issue for retailers as it did on last week's J.C. Penney (JCP) earnings conference call. The struggling department-store retailer said it's making progress on combatting the problem.

"We have taken immediate action to improve shrink and are beginning to see improved results on recent technology investments and staffing adjustments," said the company's chief financial officer, Bill Wafford. He said that "security tag implementations" have led to a "20% reduction in shrink dollars in their respective areas."

Editor's Note: The founder had taken great pride in their shrink numbers over the years in a number of articles. From saying they lock up all the expensive items like jewelry and closely monitor the entrances and exits with their door greeters checking receipts. Leaving each store manager accountable for their own business operation. But when you have every members home address and identification what would you expect. Other than internal theft, reduced external theft, and probably very little ORC. It's more about store design, bulk merchandise, and environment. As they virtually eliminate electronics theft and grab and runs. barrons.com




#9 (Published Dec. 2, 2019)




ORC Makes CNBC's 'On The Money'
C.L.E.A.R. President Ben Dugan Interviewed

Retailers aren't only bracing for shoppers this holiday season. They're also getting ready for sophisticated organized crime rings. How do stores stop the thieves and combat these criminals? Ben Dugan, President of the Coalition for Law Enforcement and Retail, explains how widespread the problem is and how it could be costing you. cnbc.com

#10 (Published March 25, 2019)
'She Lied to My Face': Inside the Hectic Last Days of Gymboree's Retail Bankruptcy

In Case You Missed it

---

Share on Facebook

Share on Twitter

Share on LinkedIn


Click here to read all of the Daily's exclusive retail crime reports

---
FaceFirst
Sponsor of the D&D Daily's Top Industry News Column

Thanks, FaceFirst, for making this column and this report possible.
Hey LP and AP Execs - Thank FaceFirst!