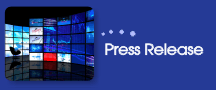 Submit Your Press Release

Reach Your Entire Target Audience on the D&D Daily
And tell them all in one day

Promote your News, Events, Announcements,
Promotions & New Product Rollouts

Tell the whole LP & Safety community in real time what's happening in your company.
Don't wait for the rumor mill to deliver it & change it.
Want to really feature your company and maximize your impact?
Try our "Vendor Spotlight"

Sharing the News Educates Today's Executives,
Develops Tomorrow's Leaders,
& Makes the Industry Stronger
Help the industry grow and share your news.
If you need any help or assistance please feel free to contact our team.
Submit Your Press Release
*All content is subject to approval and verification.
We will be in touch within 24 business hours of your submission.
PAYMENT BY PAYPAL OR CHECK:
Once we receive your press release and verify we have all the information needed to post it,
we will send you a PayPal invoice. You can use any form of payment you wish,
and can feel secure in the knowledge that we do not receive any of your sensitive information.
If you do not have a PayPal account please let us know. You can then print out the invoice
and return it with your check. 87.2 million people worldwide trust PayPal and so do we.


Press Release Submission Details:
Appearing in the News Brief section of the Daily with small "press release logo to the left of your message. Includes your logo. $250.
With a digital picture $300
Publish it an additional day
for only $125 more.
---
Additional ideas for reaching your target audience:
Post your Upcoming Event
in the Events Column
$250 - 30 days
Give them time to
plan to attend.
Don't have finished copy?
We can write it for you for an additional charge

Customized marketing plans are available – let the D&D Daily Team design and write your next marketing program/ project. Click here for more details & connect to the power of the Group