Interface Security Systems Makes Virtual Security Guard Monitoring Affordable for Retailers of all Sizes



Company Expands its Interactive Remote Video Monitoring Services with new low-cost offering

Interface Security Systems, a leading managed service provider delivering business security, managed network, and business intelligence solutions to distributed enterprises, today announced it is expanding its Interactive Remote Video Monitoring services with a new highly-affordable Virtual Security Guard Monitoring package ideally suited to the needs of small and mid-sized retailers and retail chains with moderate security challenges. With installation costs starting at just $2,500, retailers are now able to protect their employees, customers, and assets with the help of trained security professionals monitoring their premises with live video and two-way audio.

Read more in today's Vendor Spotlight below.

---

COVID Update
US: Over 5.9M Cases - 181K Dead - 3.2M Recovered
Worldwide: Over 23.9M Cases - 820K Dead - 16.4M Recovered

Private Industry Security Guard Deaths: 186 Law Enforcement Officer Deaths: 93
*Red indicates change in total deaths

CDC Issues Guidance to Retailers Over Mask Violence
Don't Argue With Anti-Mask Shoppers, CDC Guides Retail Employees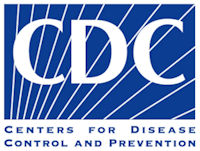 The Centers for Disease Control and Prevention has issued a warning about a new coronavirus health risk you probably didn't expect: getting slapped, choked or kicked in the workplace by angry customers. And the best way to avoid it is not to engage.

The health agency issued guidance this week for retail and service workers suggesting ways consumer-facing companies can limit violence toward workers that may occur when businesses implement policies to stop the spread of the virus. Or in other words, how to protect workers tasked with the unenviable job of asking shoppers to wear masks, keep six feet apart or wait their turn before entering a capacity-limited store.

The new CDC page gives a series of actions companies can take to protect workers, from installing panic buttons to having staff enforcing mask-wearing operate in teams of two. Above all, workers shouldn't put themselves in the direct line of danger, according to the federal agency that usually focuses on disease prevention.

"Don't argue with a customer if they make threats or become violent," the guidance warns. Likewise, if a shopper appears upset when asked to mask up or told about the in-store limit on toilet paper, don't attempt to make them follow the policy, the CDC says.

That advice mirrors what the world's biggest retailer, Walmart Inc., told its own workers in July: Stay calm and show understanding, but if customers insist on walking in without a mask, just get out of the way.

Read CDC's Guidance for Retailers Here: Limiting Workplace Violence Associated with COVID-19 Prevention Policies in Retail and Services Businesses


'A really tough spot' for employees:
How companies are enforcing mask compliance
As Lowe's, Home Depot, Starbucks, Walmart, McDonald's and other businesses implemented mandatory mask orders earlier this summer, workers and customers alike found themselves frustrated by noncompliance.

"At Lowe's," one frustrated employee wrote to Yahoo Finance, "we are told to not confront customers who will not wear a mask, or wear it properly. How is a policy without enforcement, actually a policy?"

Since the beginning of the coronavirus crisis, businesses have both reacted quickly to mask mandates and encountered problems as their usage has been politicized.

Six months into the crisis, however, the situation is normalizing and businesses are learning and evolving — as are their customers. yahoo.com

Lawsuit Over Pandemic Security Practice
Walmart Customer Accuses Chain of Discrimination
Over Designated COVID-19 Shopping Hours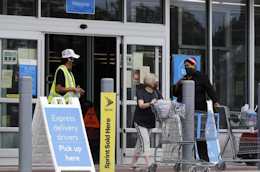 In a motion late last week with the United States District Court for the District of Columbia, plaintiff Cheketa McKnight-Nero — on behalf of immunocompromised shoppers — asked a federal judge to certify a class action lawsuit that accuses Walmart of discrimination.

In June, McKnight-Nero filed a proposed class action to represent a class of customers who oppose Walmart's practice, introduced amid the pandemic, of relying on security guards to determine who is eligible to enter stores during the hours set aside for elderly or vulnerable individuals as well as people with disabilities.

According to the plaintiff, who is diabetic and has a rare type of blood cancer, a Walmart guard did not allow her to shop during the company's dedicated COVID-19 shopping hour at a store in Washington, D.C., after he allegedly did not believe she was immunocompromised.

"Plaintiffs allege that Walmart's policy of posting door guards or hired security to determine who is immunocompromised or not is an unfair policy that disproportionately impacts those with unseen or non-visible disabilities and increases their risk of harm by shopping with the general public," McKnight-Nero said in the motion on Thursday.

Walmart has moved to dismiss the lawsuit. It argued, according to court records, that McKnight-Nero's experience was "regrettable" but does not qualify as disability discrimination. footwearnews.com

Two Surveys Same Response - Safety & Child Care
Employers say safety, child care issues prevent workers from returning
Employers cited child care nearly as often as they did health and safety issues in evaluating why some workers are unable to fully return to work, according to the Aug. 3 results of a survey from the U.S. Chamber of Commerce Foundation.

Forty percent of the 170 employers surveyed said they have offered child care assistance, benefits or accommodations in response to the pandemic. Nearly 30% said this additional assistance took the form of remote work, and about a quarter said they offered flexible working hours or working days.

Twenty-five percent of employers said they would be willing to invest more heavily in employee childcare needs. More than half said they would do so were the government to provide incentives such as tax benefits or subsidies. hrdive.com

COVID-19 Exposure #1 Fear of Returning to Work
Poll: Fielding pandemic accommodation requests, employers offer remote work

More than half of employers have been asked to provide accommodations.

Reasoning behind such requests stemmed chiefly from increased vulnerability to the novel coronavirus (77%), HR professionals reported. Next up came a fear of returning to the worksite (61%), childcare issues (58%) and disability (33%).

In response, the vast majority of employers (92%) are offering remote work options. Nearly two-thirds reported they allow modified work schedules or alternate shift assignments. And 60% said they provide personal protective equipment or modifications to it. hrdive.com

Retail Landlords Offer Pandemic Clauses in New Leases
Retail landlords are including pandemic language in new leases, a previously rare feature as tenants seek protection after the first government-mandated coronavirus shutdowns in March complicated their negotiations for rent relief. Because many insurance policies didn't cover pandemic-related losses, landlords have offered various concessions to attract and retain tenants, including allowing them to defer part of their rent if another shutdown is ordered. Both sides get breathing room: Tenants are able to lower expenses while landlords are still able to collect some money for overhead and their mortgage. wsj.com

More pain ahead for landlords as restaurant bankruptcies poised to balloon in coming months

Nation's biggest business lobby is behind the push to shield employers from coronavirus liability

American Airlines is cutting 19,000 jobs when federal aid expires in October

30 states have been approved to offer an extra $300 a week in federal unemployment benefits

Spending to increase on computers, desks as students go back to school – virtually

---

Protests Devolve Into Riots & Looting

Jacob Blake Shooting Prompts Tense Protests & Fires in Several Cities
Some Kenosha, Wisconsin residents were stunned as buildings went up in flames. Protesters were upset that the police shot Mr. Blake, a Black man, in the back as he tried to enter a vehicle.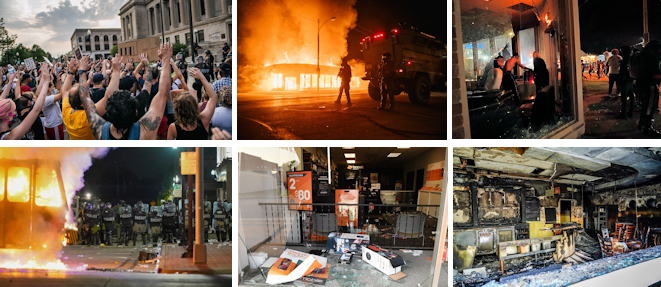 Peaceful marches in protest of a police shooting gave way to fires, destruction and looting in Kenosha as a strip of businesses in a central residential neighborhood was consumed in flames early Tuesday.

Residents emerged from their houses overnight to gape at billowing smoke that could be seen for miles. Lost in the blaze, neighbors said, was a mattress store, a storefront church, a Mexican restaurant and a cellphone store. Less than a mile away, a probation and parole office was also on fire.

A line of National Guard members, called to Kenosha amid rising tension over the shooting on Sunday of Jacob Blake, a Black resident who was shot by a white police officer, prevented anyone from getting close as firefighters worked to douse the flames.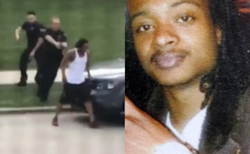 "This is our town," said Mike Mehlan, 33, a chef, as he stared at the buildings, stunned. "People have lost their damn minds." Mr. Mehlan said that just a half-hour before, he saw at least 20 cars pull up to a nearby gas station, break in and then head to the stores one block away. They entered the mattress store and set it on fire, he said.

In several other cities around the country overnight, there were demonstrations and, in some cases, flashes of destruction in protests that cited the shooting of Mr. Blake as the nation's latest example of police violence.

One resident said he had little problem with burning businesses to spur social change and reform to policing. "It's unfortunate, but it has to be done," said Wayne Gardner, who lives around the corner. nytimes.com

Police use tear gas as Jacob Blake protests in Kenosha devolve into looting, fires

National Guard called out to Kenosha as protesters wreck largely black neighborhood

Jacob Blake's father says son paralyzed from waist down after police shooting in Kenosha

Nearly $1 million already donated to cover Jacob Blake's medical bills, children and legal fees

Kenosha Professional Police Association issues statement


More Social Unrest Throughout the U.S.

Madison, WI: Protesters light dumpster fires, smash windows on Capitol Square; police bring out tear gas

Portland, OR: Police move in quickly, declare riot as fires set outside union HQ; 25 arrested

Seattle, WA: Officer injured, 1 arrested after multiple fires set during Seattle protest

NYC: Hundreds March From Times Square in Support of Black Man Shot by Wisconsin Police

Minneapolis, MN: Protesters Take To Downtown Minneapolis After Jacob Blake Shooting; 11 Arrested Outside Detention Center

Lafayette, LA: Police clash with protesters over the weekend after police fatally shoot 31-year-old Black man


External Security Shutters Business Booming
Minneapolis businesses bar external security shutters since 2004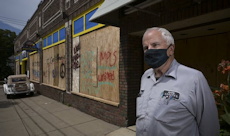 Unlike the City of St. Paul, which allows external shutters as long as owners request a permit, Minneapolis limits security shutters to the inside of a property, leaving windows vulnerable to attack. In a report justifying the rule change, Minneapolis officials argued that external shutters "cause visual blight" and create the impression that an area is "unsafe" and "troublesome."

But in the wake of the riots, when police failed to prevent widespread looting and damage to more than 1,500 businesses in the Twin Cities, property owners say they can no longer count on the city to protect their property. City council is in the process of reviewing the ordinance.

QMI, an Illinois company and provider of security shutters in the U.S., indicate orders have doubled since this spring. "It's nationwide, and it's impacting the whole industry," Miller said. startribune.com

---

Police Defunding

Houston police chief recruits officers from defunded police departments
Houston Police Chief Art Acevedo is inviting officers laid off by defunded police departments throughout the country to join his force telling "Fox & Friends Weekend" on Sunday, "We're hiring." As local governments in other parts of the country, like Austin, Texas, have considered cutting budgets and defunding departments to reform police, Acevedo noted Houston's plan to hire 400 new officers. He wants to implement a new program making it easier for out-of-state officers to take positions on Houston's force. foxnews.com

NYPD Budget Cuts Put Crime-Scene Investigations at Risk, Union Says
The New York Police Department has begun ordering hundreds of civilian staffers to tow vehicles from crime scenes and accidents without first providing proper training and safety equipment. Officials at the union representing the workers said that the directive is meant to drive down overtime hours in the wake of funding cuts for the department in New York City's latest budget, but jeopardizes criminal investigations and puts members at risk. wsj.com

In Effort To Combat Rash Of Gun Violence, NYPD To Change Officers' Schedules, Require Many To Work Weekend Day

Defund the Police: Can other cities learn from Seattle's stumbling blocks?

Fact Check: Both Biden and Trump say their rival wants to defund the police

---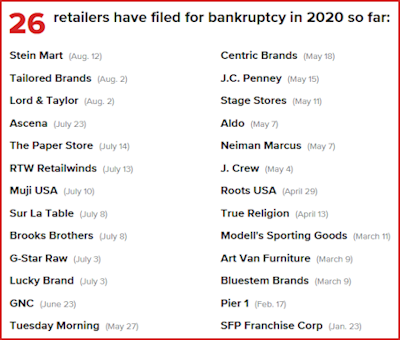 NYC: Grocers alarmed by uptick in theft, quality of life crimes
An uptick in shoplifting and other violations during the coronavirus lockdown has hundreds of independent supermarket owners around the city complaining the NYPD hasn't been responsive enough when they call — whether it's about thieves, maskless shoppers or neighborhood drug peddlers

"We're pretty much on our own," said Pedro Goico, who owns six grocery stores in the Bronx and Brooklyn. "Right now, it's very tough to be in the grocery store business. We're getting no help from the city." Goico said his stores have been plagued with shoplifters and estimates that 6% to 7% of his bottom line has disappeared because of it since March. Before COVID-19, he said he'd typically lose about 1% to shoplifters.

NYPD stats show that petty larceny cases have risen 3%, up 1,931 cases this year compared with 1,875 cases for the same period in 2019. The petty larceny designation includes any theft under $1,000, not just shoplifting. An NYPD spokeswoman noted that while petty larceny stats are up citywide, they're down in the Bronx and Brooklyn. aol.com

Creating a Safe Space at Work for Discussing Social Justice Topics
Social justice and racial equality are more than just hot topics on social media. Employees are talking about these issues in the workplace, and employers can bolster their diversity, equity and inclusion efforts by providing a safe space for workers to have respectful and honest conversations.

The Society for Human Resource Management's (SHRM's) recent report, The Journey to Equity and Inclusion, found a need for more awareness in the workplace about racial inequality. Significantly, almost half of Black HR professionals (47 percent) said they do not feel safe voicing their opinions about racial justice issues in the workplace, while only a little more than one-quarter of white HR professionals (28 percent) say the same. Black and white workers generally agreed, however, that discussions about race can be uncomfortable. shrm.org

Coin shortage hits retailers, laundromats, tooth fairy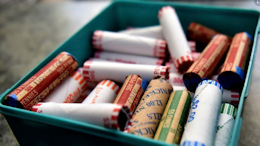 A convenience store chain is offering a free beverage or sandwich in exchange for them. A laundromat owner drove 4 hours across state lines to get $8,000 worth. A young girl in Illinois wrote the tooth fairy saying she'll gladly take dollars as a substitute if it helps.

There is a shortage of coins across the U.S., yet another odd side effect of the coronavirus pandemic. Quarters, dimes and nickels aren't circulating as freely as they usually do because many businesses have been closed and consumers aren't out spending as much.

The Federal Reserve announced in June that the supply system for coins had been severely disrupted. The U.S. Mint and Treasury Secretary Steven Mnuchin have urged Americans to use coins or turn them in to banks. As the economy recovers and businesses reopen, the coin supply is expected to normalize.

Meanwhile, retailers large and small have urged shoppers to use cards or exact change whenever possible. Some won't provide change. Grocery giant Kroger Co. is still accepting cash, but offers customers the option to load their change onto loyalty cards to use on their next visit or to donate the balance to charity. abcnews.com

Chipotle accused of shortchanging customers in lawsuit
Attorneys of two Chipotle customers filed a complaint in a Pennsylvania court on Aug. 20 claiming Chipotle is shortchanging its customers. The plaintiffs' attorney alleges the company has a "top-down policy" in place in response to the national coin shortage that has "misappropriated or ... stolen, money from the customer." The suit also seeks class action status.

"If a restaurant is low on change as a result of the nationwide coin shortage, our policy is to only accept exact change or other non-cash forms of payment. Restaurants that are impacted have signage … and employees have been instructed to alert guests prior to ordering," Chipotle said in a statement to Delish.

In the lawsuit, one customer alleges to have received only $4 in change after paying $20 for a $15.51 order effectively rounding up the order total to $16 and costing $0.49 more without any warning. restaurantdive.com

Mall of America Stays Out of Foreclosure
The mall's owner is three months behind on the $1.4 billion mortgage
Entered a cash-management agreement to avoid foreclosure.

The loan was transferred to special servicing in May after Canada-based Triple Five was no longer making full payments. At the time, a mall representative said revenue had fallen 85%.

Requiring Canadian owner Triple Five increased reporting requirements and monthly remittance of net cash.

Triple Five pledged a 49% stake in the Mall of America for its American Dream megamall in East Rutherford, N.J., which hasn't been able to fully open. startribune.com
Coresight Research
Week 34 Store Tracker
7,637 2020 YTD Closures
3,305 2020 YTD Openings
Lidl Unveils Plans To Add 50 New Stores And 2,000 New Jobs By End Of Next Year

Nike shutting down 9 wholesale accounts in shift to DTC

LVMH and Tiffany push back deal deadline by three months: source

Parent company of Kings Food Market, Balducci's files for bankruptcy


Quarterly Results
The Buckle Q2 online sales up 99%, net sales up 6%


---

Senior LP & AP Jobs Market
Senior Dir. of Safety & Loss Prevention job posted for Floor & Decor in Atlanta, GA


This position is responsible for analyzing safety, shrink and total profit trends and exposures throughout the company. In addition, it is responsible for developing and implementing strategies to address them. The Divisional Safety & Loss Prevention Directors will dotted line report into this position. Responsibilities include: Promote a culture of safety across the company, Review Safety Audits and walks completed by the Divisional Safety & LP Directors, Review safety audits monthly and analyze to improve results Validate that the DS&LPD's are reviewing the daily safety walk process and store management team is executing with high standards, and more. flooranddecor.com

Reposted Job
Director Asset Protection job posted for Stop & Shop in Quincy, Mass.

The primary purpose of this position is to provide protection of company assets by organizing the investigation and distribution of information. The AP Director is responsible to ensure Brand needs are met through staffing and development of their respective AP team. The incumbent works closely with the Operations Lead & Shrink Lead to ensure programs that positively impact profits and reduce shrink are executed effectively and provide required results. In addition, the incumbent partners with the Investigations Lead regarding large-scale ORC investigations. brassring.com

---