---

Chris Ortega promoted to Director - DC Loss Prevention & Safety for The Michaels Companies, Inc.

Chris has been with Michaels for more than 11 years, starting with the company in 2009 as an LP Investigator. His most recent role before being promoted was LP Investigations, eCommerce Fraud & Chargebacks Manager. Before that, he held various other LP roles with the company, including LP Investigations and Security Manager and Regional DC LP & Safety Manager, among other positions. Earlier in his career, he spent more than 3 years as an LP Manager with Sears. Congratulations, Chris!

APG Cash Drawer Promotes

Jarrett Buckholz

to New Director of Operations


APG Cash Drawer, a global manufacturer of cash management solutions announces the promotion of Jarrett Buckholz to Director of Operations for North America. Mr. Buckholz who celebrated 17 years at APG in June, will lead the company's North American manufacturing, material management, receiving and warehouse in procurement, development and delivery of innovative cash management solutions. Read more

See All the Executives 'Moving Up' Here

Submit Your New Corporate Hires/Promotions or New Position


---

New Dual-Sensor Camera from Axis:
Excellent overviews and detailed coverage helps cover every angle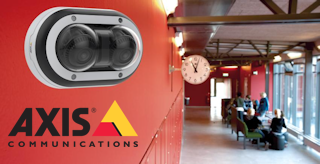 Axis Communications announces AXIS P3715-PLVE Network Camera, a dual-sensor camera designed for excellent wide angle overviews and zoomed-in detailed coverage, around the clock and even in challenging light conditions. Ideal for school hallways and corridors, it can monitor two different views with a single camera solution.

With its unique peanut-shaped dome design, this multidirectional camera offers cost-effective installation and flexible positioning of both varifocal camera heads. Each head can be individually controlled to capture scenes in two directions simultaneously. It's also possible to position the two cameras close together to capture both a wide angle and zoomed-in view of the same target. Read more here

Learn more about Axis' integrated solutions that address the challenges of today's unique retail environment in today's Vendor Spotlight below.


Checkpoint's RFID Solution Helps Quarantine Products to Ensure Shopper Safety
As apparel retailers reopen their brick-and-mortar businesses, one unexpected challenge they face centers around fitting rooms. Customer discomfort with using fitting rooms during the COVID-19 pandemic is expected to cause an increase in returns as garments are purchased without being tried on for size.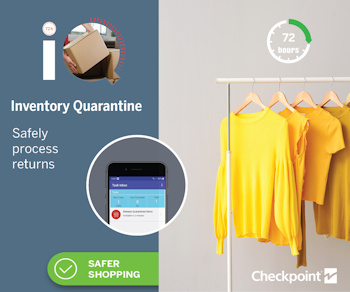 Checkpoint Systems has released a solution that leverages RFID technology to help retailers manage the quarantining of garments and other goods after they have been tried on or returned, thereby helping to prevent the transmission of COIVD-19 as stores reopen. The solution, known as Inventory Quarantine (IQ), helps stores ensure that goods are properly removed from the sales floor for preset intervals after they have been tried on or received back from a customer, or after they have arrived from another store. The cloud-based software-as-a-service solution automates the capturing of data indicating when an item was put into quarantine. It is designed to alert sales personnel once that quarantine period has ended, as well as help them locate items that are ready to return to the sales floor. rfidjournal.com

---

BLM Movement - The Retail Impact
Consumers Boycott - Brands Respond

'Boycott for Black Lives'
People plan to stop spending at companies that don't support BLM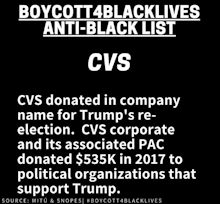 On June 19 (Juneteenth), advocates of Black Lives Matter plan to support the namesake civil rights movement by not spending money with companies that aren't aligned with the movement or have remained silent. Some efforts include boycotting celebrities and politicians who've been vocal in opposition to the movement.

One Facebook event titled Boycott for Black Lives will feature a list of public figures and organizations people can boycott.

"Our overall objective is to encourage companies and people to stop participating in anti-Black behavior, and we're doing this by withholding our dollars and protesting with our pockets," Carmie Basnight, co-organizer of Boycott for Black Lives, told USA TODAY. yahoo.com

Fight Against Racism Targets Familiar Retail Brands


After some 130 years, Aunt Jemima will soon be no more. And Uncle Ben appears to be on his way out, too. Mrs. Butterworth's could also be in trouble.

According to reports, those products will gain a new name and look later this year, and consumers should notice them on supermarket shelves by fall. No other immediate details about the fate of existing Aunt Jemima products were available by Wednesday afternoon.

PepsiCo, through Quaker Oats, owns Aunt Jemima. progressivegrocer.com

Walmart's Black Executives Lost Ground Since Five Years Ago

Walmart is now 'thoroughly reviewing' its hiring practices

As civil unrest over systemic racism roils the U.S., Walmart Inc.'s chief executive officer has pledged to make changes giving the company's 340,000 Black workers more opportunities. According to the company's latest diversity report, they need them.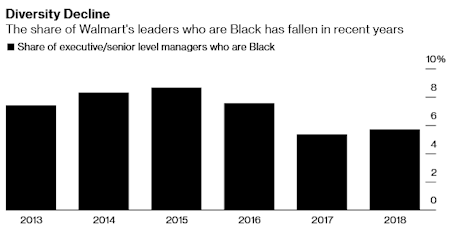 The share of senior Black executives at the world's largest retailer has declined since 2015, while the share of Black mid-level managers has stagnated, the report shows. The information is only updated through 2018, so does not account for recent promotions and departures, and the company says the numbers have improved since then.

Many of Walmart's rivals, like Target Corp., are also struggling to create a more diverse workforce. And Walmart's leadership ranks are more diverse than the overall retail industry, according to composite figures provided for comparison in Walmart's diversity report. bloomberg.com

Voices of protest, crying for change, ring across US, beyond

Publix supermarkets won't allow Black Lives Matter garb, responds to Black teen employee

Taco Bell says employees can wear BLM masks after a worker was fired for wearing one

Google commits $175 million to racial equity with focus on black-owned businesses

Here's a running list of all the companies observing Juneteenth tomorrow
Best Buy, J.C. Penney, Nike & Target among retailers making it a paid holiday

---

Riot/Protest Fallout Continues
Protest Outsiders? - Officer Charged - More Arrests

Less Than 10% of Demonstrators Were 'Outsiders'
Here's how many George Floyd protesters in NYC came from outside the city
Only about 9 percent of demonstrators protesting the police killing of George Floyd in New York City came from outside the five boroughs, according to a location-based study.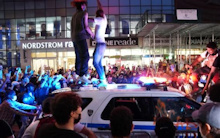 "One thing we're seeing in New York and virtually all cities, is that most protesters were residents. There were not that many 'thugs' coming from outside areas — which would appear to contradict the popular narrative," Anindya Datta, CEO of the data analytics firm Mobilewalla, told the Post.

Of the 8,152 New York City protesters tracked via their cellphones during three days of protests between May 29 and May 31, the majority of outsiders came from nearby counties in New York and New Jersey, such as Westchester or Bergen, according to data provided by Mobilewalla.

The majority of far-away protesters — roughly 228 or 2.8 percent — came from the Arlington, Va. area, while others flocked from states including Colorado, California and Arizona. nypost.com

Ex-Atlanta cop Rolfe faces murder charges, possible death penalty,
in Rayshard Brooks case


The ex-Atlanta cop who shot and killed Rayshard Brooks will be charged with felony murder — and could face the death penalty, prosecutors announced Wednesday.

Garrett Rolfe, 27, who was fired Saturday after shooting Brooks twice in the back during a scuffle outside a Wendy's restaurant, will face 11 charges in all — including aggravated assault, Fulton County District Attorney Paul Howard said at a press conference.

Howard said the second officer involved in Brooks' death, Devin Brosnan, 26, will face three charges, including aggravated assault — but will testify against Rolfe, the first time an Atlanta cop has crossed the thin blue line." nypost.com

Queens Man Charged In Connection With Arson Of An NYPD Vehicle In Manhattan

Staples Man Charged In Minneapolis Police Third Precinct Arson

Trenton, NJ: Man Arrested for Attempting to Ignite Police Vehicle During Protests

Ocala, FL: Man Pleads Guilty To Illegal Possession Of A Destructive Device

Gainesville, GA: Men indicted on federal arson charges for setting fire to police car

New Mexico Shooting Raises Specter Of Right-Wing Violence Around Statue Protests

---

Police Reform in America
Lawmakers Clash - States & Cities Take Action

GOP & Dems clash over dueling police reform proposals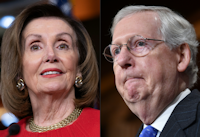 Senate Majority Leader Mitch McConnell came out firmly against a Democratic plan to overhaul policing on Tuesday, saying that Democrats want to "federalize all of these issues. That's a non-starter. The House version is going nowhere in the Senate."

The emerging GOP plan has a major emphasis on incentivizing states to take action. The Democratic plan, in contrast, has a heavy emphasis on setting national standards, such as mandates for federal uniformed officers to wear body cameras and banning chokeholds.

GOP Sen. Scott said Tuesday that his proposal does not include an outright ban on chokeholds but argued "we get very, very close to that place" by blocking federal grant funds to departments that don't ban chokeholds themselves.

Democrats on Monday announced legislation to overhaul procedures by law enforcement officers, limit the use of deadly force, ban racial profiling and set up a national database to track use-of-force incidents.

More than 220 House Democrats have signed onto the House legislation, a strong sign of Democratic support that ensures it will pass that chamber next week. cnn.com nj.com

Here Are the Differences Between the Senate and House Bills to Overhaul Policing

Minnesota State to review law enforcement education programs

Cities across US announce police reform following mass protests against brutality

NYPD cops encouraged to 'strike' on July 4 to give city its 'independence'

---

Coronavirus Tracker: June 18
US: Over 2.2M Cases - 120K Dead - 921K Recovered
Worldwide: Over 8.5M Cases - 453K Dead - 4.4M Recovered

Fallen Officers From the COVID-19 Pandemic: 48 | NYPD Deaths: 45
Private Industry Security Guard Deaths: 150

3 states just broke records for new COVID-19 cases, as they vow to stay open
Infections soar in Florida, Texas & Arizona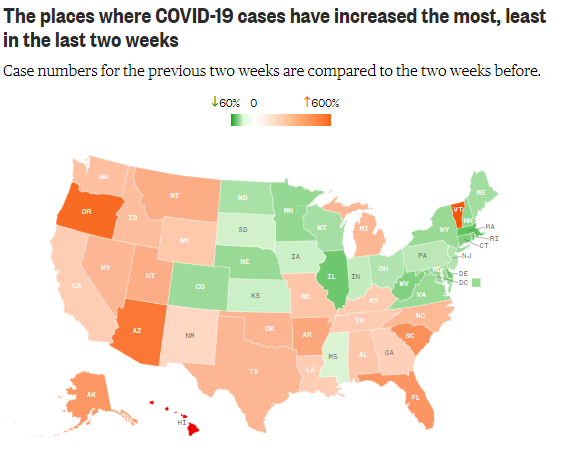 NYC Will Enter 'Phase 2' of Reopening on Monday, Mayor Says
New York City, once the epicenter of the coronavirus pandemic in the United States, will enter its next phase of reopening on Monday, with as many as 300,000 workers expected to get back to work as outdoor dining, in-store shopping and office work resumes, Mayor Bill de Blasio confirmed on Thursday.

The move, which Gov. Andrew M. Cuomo said on Wednesday could go forward, will put the city one step further on its path to economic recovery from a devastating virus that killed more than 21,000 residents and triggered one of the strictest shutdowns in the United States.

Under New York's plan, outdoor dining, some in-store shopping, hair salons, barbershops, real estate firms and some offices in the city would be allowed to reopen in the second phase, with social distancing and restrictions on capacity. Playgrounds will also reopen during Phase 2, Mr. de Blasio said.

The newly reopened businesses will likely offer a jolt of energy to New York City's streets, which had been eerily quiet as the state's lockdown orders shuttered businesses and kept residents at home. The looser restrictions are also expected to send more riders onto the city's public transportation system, especially the subway, where ridership plunged by more than 90 percent as the pandemic hit. nytimes.com

Consumers to be more conservative in spending once stores fully reopen, utilize omnichannel options more
Thirty-eight percent of consumers said they will be more conservative in their spending as it relates to shopping in the future once respective state and national business restrictions lift, according to a survey from digital commerce provider Scalefast. And 29% report they will spend less during the holidays.

In the report, "Rebuilding Retail," consumers also said that moving forward, due to COVID-19 they are more likely to order online and pickup curbside (35%), utilize a third-party delivery service (24%), and set up and use contactless payment (22%). chainstoreage.com

About a third of consumers are shopping at pre-COVID-19 levels. They're just doing it online.
According to a report from PYMNTS.com, 32.8% of shoppers are buying retail goods as much as they did before the coronavirus outbreak but are now making their purchases online. That's higher than the number of consumers who have moved online more often to shop for groceries or to order from restaurants, which stand at 12.8% and 16.1% respectively. retaildive.com

UK: Supermarkets look to collaborate to combat coronavirus
The British Retail Consortium (BRC) is exploring where collaboration could help supermarkets and whether there are implications for competition law. "We are hoping to secure guidance from Defra/CMA to allow members to plan the forms of collaboration which might be available should the situation deteriorate, such as sharing data, collaborating on product specifications and aligning store opening," the BRC added. talkingretail.com

Fitting room coronavirus closures make it hard for bridal, menswear shops

Scammers Exploiting Legitimate Coronavirus Contact Tracing

22Miles Delivers First of a Suite of Protection-as-a-Service Digital Signage Solutions to Support a Safe Return to Work

---

Atlanta Security Director Pleads Guilty to Gun Fraud Scheme
Used Hospital Funds to Buy & Sell Guns for 100% Profit


Russell Richardson, former DeKalb Medical Center, Inc. (DeKalb Medical) Director of Security, has pleaded guilty to fraudulently using hospital funds to acquire multiple handguns that he then sold for his personal benefit and financial gain.

"Richardson abused his position at the hospital, and manipulated the system for personal profit," said U.S. Attorney Byung J. "BJay" Pak. "His actions diverted hospital funds that could have been used to purchase critical medical supplies."

After acquiring firearms purchased with hospital money, Richardson advertised that he had guns for sale at gun courses he taught in South Carolina and on his social media sites. He eventually sold many of them for 100% profit. According to ATF records, and Richardson's own admission, he acquired approximately 100 firearms since the inception of his fraud scheme. justice.gov


RILA: Retailers Applaud SCOTUS Decision: LGBTQ Employees Protected


Brian Dodge, president of the Retail Industry Leaders Association (RILA), the trade association for America's leading retailers, issued the following statement Monday in response to the United States Supreme Court decision holding that Title VII of the Civil Rights Act of 1964 protects LGBTQ employees:

"Today's landmark U.S. Supreme Court decision affirming that LGBTQ employees cannot be discriminated against in the workplace is cause for celebration. Leading retailers are committed to ensuring a safe and welcoming environment for all people, whether they are employees, customers, or business partners. To promote inclusivity at work, everyone should feel protected from discrimination and have access to the same legal federal protections. RILA and our members are thrilled the Supreme Court has unequivocally delivered these rights to our LGBTQ colleagues and friends." rila.org

RILA: During COVID-19 crisis, Dreamers helped to keep stores open


NRF: Retailers applaud Supreme Court ruling supporting dreamers


The National Retail Federation welcomed today's U.S. Supreme Court ruling in favor of the Deferred Action for Childhood Arrivals program. NRF was among more than 140 businesses and trade associations that filed a friend-of-the-court brief last year asking the Supreme Court to uphold DACA. NRF has argued that ending the program would upend the lives of young immigrants, lead to businesses losing valuable talent, and cause disruptions in the workforce.

"This is a landmark ruling that inherently recognizes that these young people are law-abiding, tax-paying Americans who have never known adult life anywhere else," NRF President and CEO Matthew Shay said. "They are both valued workers and, in many cases, entrepreneurs and business owners. Some of them are healthcare workers fighting to protect our nation against the coronavirus pandemic. An adverse decision would have inflicted significant harm on individuals, businesses and the U.S. economy. Even with this ruling, it is still important for Congress to pass legislation permanently protecting these individuals so their future will never be in question again." nrf.com

NRF: May retail sales improve dramatically over April but still below last year


AT&T to shutter 250 stores and lay off thousands

J.C. Penney begins liquidation sales at 136 stores in 37 states

Neiman Marcus says it's on track to exit bankruptcy by fall

Subway franchisees to hire 50,000 workers as it brings back $5 footlong deal

Hudson Accelerates Reopening Of 700 Shuttered Stores At U.S. Airports

Tulsa, OK: QuikTrip closing some downtown stores due to safety concerns ahead of Trump rally

Arizona Bush Fire doubles in size as California wildfires break out


Quarterly Results
Kroger Q1 comp's without fuel up 19%, digital sales up 92%, total sales excluding fuel up 19.1%
---





Have an LP/AP Hero On Your Team?
Send us the story and let's share them with the industry.
Let's Show Their LP Pride & Actions

---
Publishing Note: The D&D Daily will not be publishing tomorrow, June 19, in observance of the Juneteenth holiday. We will resume publishing on Monday.

Learn more about the history behind Juneteenth here.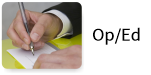 ---

Having a Prosperous LP Career Without Compromising Ethical & Moral Standards

By John Velke, SVP of Risk Management & Loss Prevention, Total Wine & More; NRF LP Advisory Council, 2000-2016



The recent news that several security executives and contractors at EBay have been charged with serious crimes apparently motivated by a desire to please their higher-ups disturbs me. What is not yet clear is whether their bosses directed or knew what they were doing. Regardless, if the allegations made in their indictments are true, their behavior was nothing less than horrific.

Perhaps what bothers me the most is that apparently none of the accused had the moral courage to say, "Stop, this crosses the line, and I won't be part of it." The suggestion they might have been concerned about their career and livelihood by taking a stand might be legitimate, but I'm writing today to let your readers know that that concern is not justified.

For every media story about a bad security/loss prevention/asset protection executive who made poor choices there are hundreds of non-published stories of executives who made a different choice and did not suffer negative career or livelihood choices. To illustrate this point, but without getting into the details, I'll share with your readers that during my 40+ year career I have been asked or directed by someone above me five times to do something that crossed my ethical line. In several instances I was given a directive that would have violated the law. The first time was when I was 23 years old. I refused a direct order from my boss (who has long since left the industry) and went home. I expected to get a call that evening telling me not to come back to work. Instead I got a call back from my boss's boss and he asked me to tell him what happened. After explaining what I had been told to do and why I refused, he told me to come back to work the next day and that he would handle it - and he did. Several months later I was promoted, and my career began to take off.

In every instance after that, when asked to do something I felt crossed the line I quietly met with the executive (up to and including CEO's), explained why what was being asked of me was improper, and made it clear that I would not be part of it. I am certain that in several of those instances the executive simply did not understand the ethical or legal reason for my concern, and once explained, the directive was withdrawn. In only one instance did I feel the executive took my refusal as defiance of his authority over me. He and I both knew he could not use my refusal as a reason to fire me, but I also knew that the culture he had created was not going to work for me long-term. I left that company on my own terms and timeframe.

There are two lessons I hope you get from this. One - people in high places don't always understand the legal implications and consequences of their directives, and two - you can enjoy a long and prosperous career in this industry without compromising your ethical standards and morals. The key is to face these infrequent misguided directives in a calm, professional way, that allows the person giving them an opportunity to save face.

Click here to read more insights from John Velke in excerpts from his book, 'Prove 'Em Innocent: The Art & Science of Workplace Investigations'
---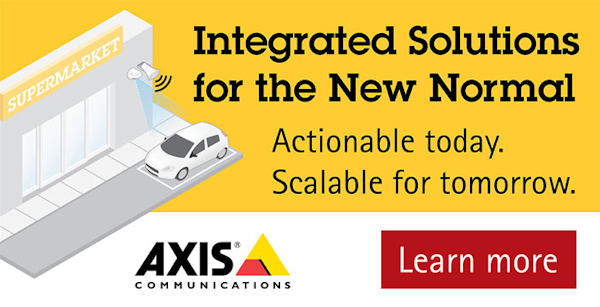 Axis is here to help

Below are a variety of solutions that we believe will help retailers as they address the current challenges of today's environment but also scale to fit the needs of tomorrow. Learn More Here

---
BEC Attacks on the C-Suite Dropped 37% in Q1
While hackers focus more on targeting Accounts Payable departments
Business email compromise (BEC) attacks increasingly are targeting accounts payable departments and attempting to establish trust via email exchanges before launching an attack.

Ken Liao, vice president of marketing at Abnormal Security, says people who work in finance or accounts payable often don't know every vendor – many companies have hundreds, even thousands of vendors and suppliers.

"The AP people are lower in the organization, but they still have the ability to make large payments," Liao says. "The criminals impersonate the vendor by folding into the natural workflow."

The numbers don't lie: In a report released today, Abnormal Security saw a 28% increase in the size and frequency of BEC attacks over the fourth quarter of 2019 and a 17% increase in large campaigns aimed at 10 or more recipients. Individual BEC attacks targeting the C-suite dropped by 37%. darkreading.com

AWS said it mitigated a 2.3 Tbps DDoS attack, the largest ever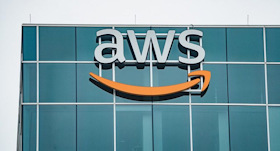 Amazon said its AWS Shield service mitigated the largest DDoS attack ever recorded, stopping a 2.3 Tbps attack in mid-February this year. The incident was disclosed in the company's AWS Shield Threat Landscape [PDF], a report detailing web attacks mitigated by Amazon's AWS Shield protection service.

The report didn't identify the targeted AWS customer but said the attack was carried out using hijacked CLDAP web servers and caused three days of "elevated threat" for its AWS Shield staff. CLDAP (Connection-less Lightweight Directory Access Protocol) is an alternative to the older LDAP protocol and is used to connect, search, and modify Internet-shared directories.

The protocol has been abused for DDoS attacks since late 2016, and CLDAP servers are known to amplify DDoS traffic by 56 to 70 times its initial size, making it a highly sought-after protocol and a common option provided by DDoS-for-hire services.

The previous record for the largest DDoS attack ever recorded was of 1.7 Tbps, mitigated by NETSCOUT Arbor in March 2018. Before that, the biggest DDoS attack ever recorded was a 1.3 Tbps DDoS attack that hit GitHub, a month before, in February 2018. zdnet.com

Gartner Forecasts Worldwide Security & Risk Management Spending Growth to Slow but Remain Positive in 2020

Short-Term Demand for Cloud & Remote Worker Security Props Up Overall Market

Worldwide spending on information security and risk management technology and services will continue to grow through 2020, although at a lower rate than previously forecast, according to Gartner, Inc.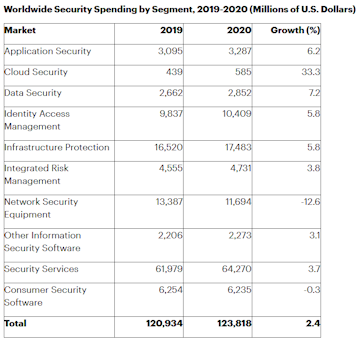 Information security spending is expected to grow 2.4% to reach $123.8 billion in 2020. This is down from the 8.7% growth Gartner projected in its December 2019 forecast update.

The coronavirus pandemic is driving short-term demand in areas such as cloud adoption, remote worker technologies and cost saving measures.

"Like other segments of IT, we expect security will be negatively impacted by the COVID-19 crisis," said Lawrence Pingree, managing vice president at Gartner. "Overall we expect a pause and a reduction of growth in both security software and services during 2020."

"However, there are a few factors in favor of some security market segments, such as cloud-based offerings and subscriptions, being propped up by demand or delivery model. Some security spending will not be discretionary and the positive trends cannot be ignored," he said. gartner.com

New SOC Research Reveals Security Teams Overconfident
in Detecting Cyberthreats
A new report that examines the processes and effectiveness of corporate security operations centers (SOCs) reveals that 82% of SOCs are confident in the ability to detect cyberthreats, despite just 22% of frontline workers tracking mean time to detection (MTTD), which helps determine hacker dwell time.

Compounding this unfounded confidence, says the 2020 State of the SOC Report, is that 40% of organizations still struggle with SOC staff shortages and finding qualified people to fill the cybersecurity skills gap.

"From 2018-2019, we learned that dwell time - or, the time between when a compromise first occurs and when it is first detected - has grown. Based on this, it is surprising for SOCs to report such inflated confidence in detecting cyberthreats," said Steve Moore, chief security strategist at Exabeam. "We see great progress in the SOC with attention paid to employee well-being, measures for better communication and more. However, disparate perceptions of the SOCs' effectiveness could be dangerously interpreted by the C-suite as assurances that the company is well-protected and secure, when it's not."

Highlighting the imbalance is that SOC leaders and frontline analysts do not agree on the most common threats facing the organization. SOC leaders believe that phishing and supply chain vulnerabilities are more important issues, while analysts see DDoS attacks and ransomware as greater threats. security magazine.com

DOJ compliance guidance offers risk-management lessons for cybersecurity leaders
Prosecutors use this guidance to assess criminal liability in a compliance breach, so it behooves business and security leaders to understand the expectations.

Target's former CISO joins FireEye as Chief Strategy Officer

Zoom 'Will Mostly Run On Amazon Cloud For Foreseeable Future', Says AWS CEO Andy Jassy
---
Leadership and COVID-19: How to Lead Your Cannabis Business During a Crisis
Leading through a crisis situation like the COVID-19 pandemic is challenging in all industries, and the cannabis industry is no exception. From effectively meeting customers' needs and generating revenue to keeping employees motivated, effective leadership is critical to keeping a cannabis business or ancillary business afloat.

To be an effective leader during times of uncertainty and change, you need to lead by example, communicate often, and take risks. There is no roadmap to follow when the economy shuts down. However, it's up to you to lead your team and your business through any crisis. By focusing on innovation, motivation, and emotional intelligence, you'll be well-positioned to do it successfully.

Prioritize Innovation over the Status Quo
What your cannabis business has been doing is unlikely to continue working during a crisis. Being agile is the new norm and being able to pivot as changes occur is crucial to surviving – and even thriving – during any crisis, including a global pandemic like coronavirus.

Be a Motivator
As a leader, you can motivate your employees by giving them a reason to want to work. It's natural for employees to become unmotivated, especially during a crisis when things change continually. Most people dislike change.

Exercise Emotional Intelligence: cannabisbusinessexecutive.com

Despite COVID-19, NY Still Pushing Toward Legalization of Recreational Cannabis
Just when the COVID-19 started to spread, New York's lawmakers and advocates were already over a year in the process of legalizing recreational cannabis for adults 21 and older. Political negotiations were made, proposals were presented from all sides but a "final deal" did not take place since, among other things, issues with the tax revenue were not resolved at the time. On top of this, to this day, New York has been hit the hardest by COVID-19 and the numbers are only slowly decreasing with 288,000 affected and over 17,000 deceased.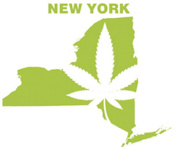 Just last week, one of the top lawmakers in New York expressed their hope to finally get marijuana legalized this year despite COVID-19 being in the spotlight. Apparently, one of the main hurdles was financial. It just didn't fit into the governor's budget anymore that currently needs to be used for effectively diminishing the COVID-19.

Other options would be ballot referendums that were used in states, such as California, Nevada, Maine and Oregon. These are usually introduced by lawmakers and activists that collect enough petition signatures to get the referendum on the ballot but it's been argued that in New York's case this would be very difficult to achieve due to the special type of infrastructure that it has compared to other states. sapphirerisk.com

How cannabis retailers can operate safely during and in the aftermath of coronavirus

Upcoming Webinar
Keeping Your Cannabis Business Safe: Q&A Session with Cybersecurity Expert Michelle Drolet
---

---
---

Amazon uses Augmented Reality in warehouses to help with social distancing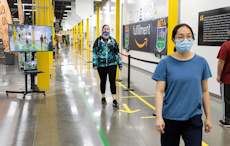 From the outside, at least, Amazon's COVID-19 response has been a mixed bag. The company has noted in various reports the things it's been doing in an attempt to curb the virus's spread — particularly among warehouse employees deemed essential workers. But various attorneys general, senators and other lawmakers have demanded more information about working conditions, infection rates and the firings of multiple whistleblowers.

These days, the company is hoping to shed a bit more light on what it's doing within the warehouse setting to deal with the novel coronavirus. This morning, it showcased a new "Distance Assistant" designed to help workers maintain a WHO-prescribed social distance of six feet.

Amazon's VP and robotics head Brad Porter detailed the augmented reality system that's already in place in a smattering of the company's fulfillment centers. "The standalone unit uses machine learning models to differentiate people from their surroundings. Combined with depth sensors, it creates an accurate distance measurement between associates. As people walk past the camera, a monitor displays live video with visual overlays to show if associates are within six feet of one another. Individuals remaining six feet apart are highlighted with green circles, while those who are closer together are highlighted with red circles."

Amazon says it's set to roll out hundreds of additional systems in its buildings over the next few weeks, due to positive feedback over early tests. techcrunch.com

Amazon's Jeff Bezos calls on companies to commemorate Juneteenth
In a memo to employees Tuesday, Bezos encouraged them to cancel all meetings on Friday to honor Juneteenth, which celebrates the emancipation of Black people from slavery in the U.S. On that date in 1865, Union Gen. Gordon Granger read the Emancipation Proclamation to African Americans.

Rather than making it a company holiday, Amazon will offer a "range of online learning opportunities" for employees throughout the day, Bezos said. He added that employees should "take some time to reflect, learn and support each other." cnbc.com

Authentic Brands brings Forever 21 back online
Fraudulent Returns Scheme on Steroids
DOJ Charges: RI Businessman Charged with Running Elaborate Scheme
to Defraud Amazon


Providence, RI., The former owner of an East Providence automobile transport company who is awaiting sentencing in federal court for fraudulently obtaining more than $400,000 from various financial institutions and using the stolen personal identifying information of another person to continue to illegally operate his auto hauling business after being ordered to shut down for safety violations, was arrested and charged today with allegedly executing an elaborate scheme to defraud Amazon.

It is alleged in court documents that Michael Chaves, 40, former owner of CAT Inc., executed a scheme to defraud Amazon through fraudulent transactions and theft of inventory through falsely represented returns. It is alleged that Chaves ordered thousands of products from Amazon and replaced the original products with lesser value replacements, often items different than the ones he originally ordered, before returning the packages to Amazon for refunds.

According to court documents, since March 2017, Chaves has held approximately 30 Amazon customer accounts under various names and email addresses. Over this time period, Chaves' accounts placed approximately 10,795 orders totaling approximately $713,970.78, most of which have been refunded based on Chaves' return of the items purchased. Chaves received a total of approximately $643,324.04 in concessions or refunds on approximately 7,450 orders, including nearly approximately 7,200 items that were physically returned to Amazon. Many of the returned items were sent back in the original packaging in an attempt to deceive Amazon's incoming inspection process. Amazon's standard inspection process flagged approximately 149 of the returned items as potentially fraudulent, valued at $23,872.89.

Chaves has six active Amazon accounts. The majority of Chaves' purchases and returns consist of auto and commercial motor vehicle parts. Chaves also purchased and returned many other non-vehicle related items, including, but not limited to; electronics including cellular telephones and televisions, household items including chandeliers, closet organizers, lawn sheds, lawn mowers and vacuum cleaners. Most of these items were returned in an unsellable condition.

A United Parcel Service (UPS) driver told investigators that he would stop at Chaves' business location every day delivering Amazon packages and picking up returns, often times dropping off an Amazon package one day and picking up the same package the next day as a return back to Amazon.

Chaves having pleaded guilty in August 2019 to falsification of US DOT records, aggravated identity theft, five-counts of bank fraud, two-counts of wire fraud, and tax evasion. justice.gov

Kingman, AZ: ORC Suspect denied new attorney amid plea offer for five cases
Austin Richard Peacock, 25, asked Superior Court Judge Derek Carlisle for a new attorney, arguing that he has not been in contact with his defense attorney, Jon Gillenwater. The defendant is being held in county jail on a $15,000 bond. Gillenwater said he has been in contact with his client only once since taking the case in March but that another attorney and an investigator in his office also have contacted the defendant.

Carlisle again denied Peacock's request for a new attorney, ruling he didn't find a complete breakdown in the communication with his defense attorney. Deputy Mohave County Attorney Jeff Pyper also offered a new plea deal, stipulating a 10-year prison sentence. Peacock previously rejected another plea offer, which stipulated a 13-year prison sentence. At the last hearing, Carlisle explained the sentencing ranges in all five cases where Peacock faces up to 200 years in prison if he is convicted of all 12 charges. The sentences could run consecutively to each other since the alleged crimes took place on separate occasions. Peacock is charged in three 2020 cases of crimes including forgery and misdemeanor theft in one case, organized retail theft in another and trafficking in stolen property and two counts of organized retail theft in a third case. mohavedailynews.com

Victoria, BC, CN: Man stopped outside Real Canadian Superstore with $1,100 of stolen items spits at Loss Prevention
Police were told the man spat before walking away from the cart. They located him near the store and learned that he had also been breaching court-ordered curfew conditions by being away from his home. A search of his backpack located more items that had not been paid for. timescolonist.com

White Township, PA: PA State Police seeking Lowe's Power Toll Thief

---
---

Shootings & Deaths

Update: Dallas, TX: Police Release Surveillance Picture As Search Continues For Galleria Dallas Shooter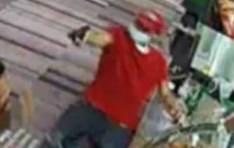 Dallas police released an image of the gunman responsible for a shooting Tuesday at Galleria Dallas. It's a chilling still frame of security camera video showing a man pointing a gun inside the mall. According to Dallas police, two young men go into an argument in the third floor food around 6:45 p.m. — just before closing. Police believe the victim and suspect knew each other. The Galleria Dallas opened for regular hours on Wednesday. One person was shot and the unidentified gunman is still on the loose. dfw.cbslocal.com

Prince George County, VA: Wanted man shot by officers outside Lowe's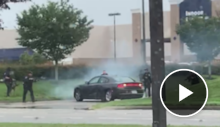 A wanted man suffered non-life-threatening injuries Wednesday afternoon after an officer-involved shooting in Prince George County. Police say the incident began at approximately 4:05 p.m., in a parking lot on Waterside Road, when members of the Prince George County Police Department attempted to execute an arrest warrant originating from the City of Petersburg. Police say the suspect, identified as a 20-year-old Colonial Heights man, was also the subject of an on-going Prince George County investigation involving guns, drugs, and a prior high-speed police pursuit. Dramatic cell phone video shows the incident which happened between a Lowe's store and the Virginia Eye Institute in the Waterside Commons shopping center. wtvr.com

Nashville, TN: Armed citizen shoots would-be robber in Opry Mills parking lot
An armed citizen shot a man who attempted to rob him in the Opry Mills parking lot Wednesday night. Metro police were called to the shopping center around 7:15 p.m. The suspect approached the victim with a revolver and demanded his belongings, according to Metro police. The victim then reportedly pulled out a handgun in self-defense and shot the suspect in the knee. Metro police said the suspect ran away and was found in front of the Opryland Hotel a short time later. He was taken to the hospital with non-life threatening injuries. The victim was not injured in the exchange. wkrn.com

Rochester, NY: Man accused of killing Chappa Grocery Store owner arraigned
The man accused of killing a local store owner is due back in court later this week. 30-year-old Gilberto Rivera was arraigned Wednesday morning. He's charged with second-degree murder following his arrest Tuesday. Police say Rivera and another person tried to rob the Chappa Grocery Store in Rochester back in April. whec.com

Robberies, Incidents & Thefts

Santa Ana, CA: Gang member kidnaps elderly man, forces him to pay for shopping spree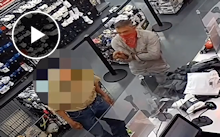 A California gang member with a rap sheet dating back 30 years allegedly kidnapped an 82-year-old man from his home and forced him to shell out money for food, alcohol and clothes during an hourslong ordeal, local cops said. Video released by Santa Ana Police shows the two men inside a Warehouse Shoe Sale, where the victim pays for multiple clothing items while Arechiga, wearing a red bandana on his face, stands in wait. nypost.com

Clemmons, NC: Zip-tied and doused with gas, NC gas station clerk escapes fire
Arsonist sentenced to 26 years. A gas station clerk was doused with fuel, bound with zip ties and watching the store burn around him as two men made off with cash from the register and more than $1,000 in tobacco products, according to court filings and media reports. Now, nearly a year-and-a-half later, one of the perpetrators has been sentenced. A federal judge in North Carolina ordered David Curtis Smith, 59, to spend at least 26.5 years in prison after he pleaded guilty to robbery, carjacking, brandishing a firearm and arson. charlotteobserver.com

Philadelphia, PA: Looters stole $90,000 in electronics from Olney shop
The group allegedly forced open the security gates of Global Electronics on N. Fifth St., around 2 a.m. on May 31. Police said they stole televisions, cellphones, radios, speakers and others electronics – plus a gun. phillyvoice.com

Tampa, FL: Police Release video showing Sprint Store being looted
This footage was taken on May 31 inside a Sprint store along Dale Mabry Highway, in Tampa, Florida. After breaking through windows, individuals can be seen rummaging through the store and making off with items. sg.tv.yahoo.com

Syracuse, NY: Police investigating burglary at Destiny USA
Early Wednesday morning, Syracuse Police responded to Destiny USA to investigate a possible burglary. Officers found damage to an exterior window that led into the mall. Inside, men's designer and urban fashion store, Levels, was found to be broken into. A register was tampered with and clothes were taken. localsyr.com

Sandy Springs, GA: Duo arrested for allegedly zip tying T-Mobile employees during a cell phone store robbery

Lakewood, WA: Rifles, ammo stolen in Lakewood Big 5 burglary; reward offered

Fraud

Nine Pharmacists Charged for Role in $12.1 Million Health Care Fraud Scheme
Nine pharmacists were charged in three separate indictments unsealed last week for their alleged participation in a $12.1 million health care fraud scheme executed in Detroit and southern Ohio. The nine defendants are licensed pharmacists and/or owners of pharmacies in Michigan and Ohio: Eastside Pharmacy Inc. (Eastside), Harper Drugs Inc. (Harper Drugs), Wayne Campus Pharmacy LLC (Wayne Campus), Universal Pharmacy LLC (Universal) and City Drugs Pharmacy Inc. (City Drugs), each located in the Detroit metro area, and Heartland Pharmacy LLC (Heartland) and Heartland Pharmacy 2 LLC (Heartland 2), which are located in Ohio.

The indictments allege that, using the pharmacies, the defendants billed Medicare, Medicaid, and Blue Cross Blue Shield (BCBS) for prescription medications that were neither purchased nor dispensed. The indictments further allege that the defendants billed Medicare and Medicaid for medications that were often medically unnecessary and for some medications that were purportedly dispensed to deceased beneficiaries after their dates of death. justice.gov
• Auto Parts – Columbus, OH – Burglary
• Auto Parts – Columbus, OH – Burglary (2 of 2)
• Auto Parts – Levy County, FL – Burglary
• C-Store – Janesville, WI – Armed Robbery
• C-Store – Peru, VT – Burglary
• C-Store – Laredo, TX – Armed Robbery
• C-Store – Laclede County, MO – Robbery
• CVS – Nottingham, MD – Robbery
• CVS – Suffolk County, NY – Robbery
• CVS – Clovis, CA – Armed Robbery
• Check Cashing – Bronx, NY – Armed Robbery
• Farm & Fleet – Sioux Falls, SD – Burglary
• Gas Station – Dallas, TX – Armed Robbery
• Grocery – San Antonio, TX – Robbery
• Grocery – Lewes, DE – Robbery
• Liquor – Farmington, CT - Burglary
• Mall – Syracuse, NY – Burglary (Destiny USA)
• Marijuana – Gresham, OR – Robbery
• Pharmacy – Perry Hall, MD – Burglary
• Pharmacy – St George, UT – Burglary
• Restaurant – Fayetteville, NC - Burglary (Dunkin)
• T-Mobile – Sandy Springs, GA – Robbery
• 7-Eleven – Parkland, WA – Armed Robbery
Daily Totals:
• 13 robberies
• 10 burglaries
• 0 shootings
• 0 killed

---
| | |
| --- | --- |
| | Ken Velasquez, CFI promoted to Zone Loss Prevention Manager (Acting) for the Michaels Companies, Inc. |
Submit Your New Hires/Promotions
or New Position
See all the Industry Movement
---


Feature Your Job Here For 30 Days -
70% Aren't On The Boards
Post your job listing
---
Featured Job Spotlights

Cressona, PA Area
The District Loss Prevention Manager ensures shrinkage control and improves safety in the stores through proper investigation and training. This position is responsible to provide feedback, guidance and protection for our Team Leaders and Associates. This role has oversight and responsibility for approximately 8 to 10 store locations...

Physical Security Leader
Corte Madera, CA
Responsible for leading and execution of the Protection and Prevention tiers of the Profit Protection strategy for all RH locations including our Corporate Campus in Corte Madera, CA - PROTECTION - Access Control | Alarms | CCTV | Guards - PREVENTION - Awareness | Audits | P&P | Training...

Featured Jobs
---
JOB TITLE
COMPANY
CITY/STATE
DATE ADDED

Vice President
Allied Universal
Santa Ana, CA
Jan. 6
VP, Profit Improvement
Tractor Supply
Nashville, TN
May 18

Director
Dir. of LP
10 Spot/MadRag
North Bergen, NJ
June 10
Dir. of Security & LP
Anzar Enterprises
San Diego, CA
June 4
Dir. Food Safety & Quality Assurance
Brinker International
Coppell, TX
June 9
Asset Protection Dir.
Goodwill Industries of Dallas
Dallas, TX
May 21
Dir. Safety/Risk Mgmt.
Goodwill of SE Louisiana
New Orleans, LA
April 2
Assoc. Dir. Safety & LP
HelloFresh
Grand Prairie, TX
June 5
Dir. of Loss Prevention
Mapco
Franklin, TN
June 2

Maggie's Farm Marijuana

Pueblo, CO

June 2

Parker's C-Stores

Savannah, GA

June 3

Sr. Dir. Security & Threat Mgmt
PayPal
New York, NY
June 8
Dir. Business Continuity & Crisis Mgmt
T-Mobile
Plano, TX
June 17
Dir. Emergency Response
Verizon
Irving, TX
June 9

Corporate/Senior Manager
Corp. Mgr. Security Operations
Carvana
Phoenix, AZ
April 6
Sr. Loss Prevention Manager
Gap Inc.
San Francisco, CA
Oct. 29
Home Depot
Atlanta, GA
Feb. 18
Dept Head, AP & Associate Safety
Ocean State Job Lot
North Kingstown, RI
June 12
Manager, Asset Protection Solutions Supply Chain
Walgreens
Windsor, WI
Mar. 25

---


---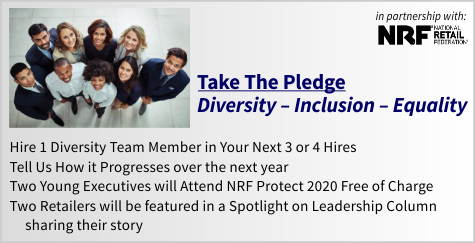 ---

Looking at one's career should be viewed as a long-term investment tool that maximizes the individual's return on their efforts. Similar to any other investment strategy, a career is the building blocks for retirement. However, as most studies show, job satisfaction and recognition is as important and in some studies more important than monetary rewards. So how one reaches a balance is the key and making sure you challenge yourself about them periodically is wise.

Just a Thought,
Gus



(content subject to approval)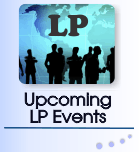 ---
Recruiting?
Get your job e-mailed to everyone... everyday
Post on our Featured Jobs Board!
Not getting the Daily?
Is it ending up in your spam folder?
Please make sure to add d-ddaily@downing-downing.com to your contact list, address book, trusted sender list, and/or company whitelist to ensure you receive our newsletter.
Want to know how? Read Here



36615 Vine Street, Suite 103
Willoughby, OH 44094
440.942.0671
copyright 2009-2019
all rights reserved globally