Sekura launches new technology to help retailers get back to business

Sanitising robots and social distancing tags unlock 'the new normal' for retail



Retail technology company Sekura Global has launched two new products to enable retailers to ramp up operations post-coronavirus. SteryBot®, the world's first autonomous retail sanitising robot, and a dynamic social distancing system have been added to the company's range of PPE and safety essentials to make stores and distribution centres Covid-safe for customers and staff.

"Our Covid-safe product range is about helping retailers get back up and running" said Chris Napthine, Director of Operations at Sekura Global. "Coronavirus has disrupted the entire industry. By making their shoppers and their staff feel safer, these solutions bring the reassurance retailers need to get moving again."

Read more in today's Vendor Spotlight column below.


Interface Security Systems Expands its Interactive Monitoring Services with Integration of Wearable Personal Protection Devices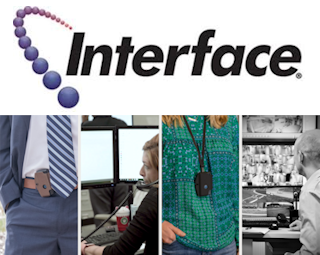 Interface Security Systems, a leading managed services provider delivering managed network, asset protection, and business intelligence solutions to distributed enterprises, today introduced a new interactive security service that allows businesses to equip at-risk staff with a wearable safety device that is directly connected to the Interface Interactive 24/7 Central Command Centers.

Through a partnership with RiskBand, a leading provider of wearable live-monitored safety devices, Interface is enabling businesses including retailers and restaurants to make wearable safety devices an essential component of their emergency response strategy. prnewswire.com

---

Protests Go Worldwide
From London to New Zealand to Brazil to Paris

In the U.S. More Protests - Looting - Violence
Shootings & Deaths & Organized Retail Crime
67,000 National Guard Troops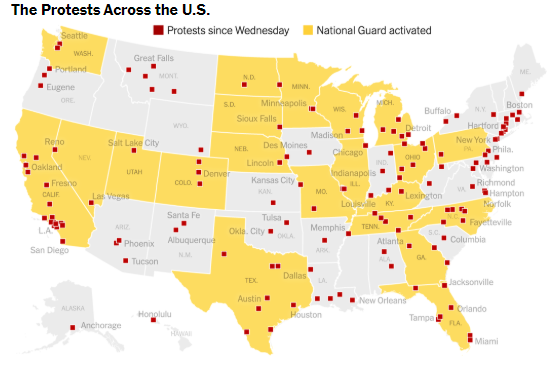 Riots, Looting Amid Protests Upend National Return to Normalcy
As brands and retailers across the U.S. started to reopen after the coronavirus lockdown, chaotic protesting has forced closures and led to a great deal of damage.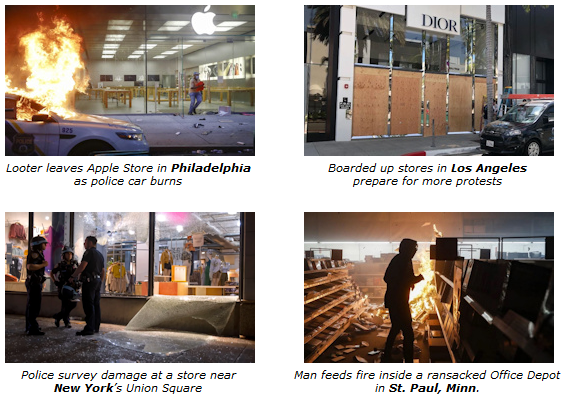 The World is Standing Up Against Prejudice
America's Own Challenge Reaches Out Worldwide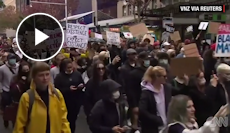 Worldwide people are coming out and protesting in light of George Floyd. By the thousands people are standing up against prejudice and racism. Except without the riots and looting, which appears to be America's exclusive reaction strangely enough.

With more protests scheduled around the world it appears as though the current climate will continue, at least for a short time. Floyd's mural appearing in numerous places with the words 'I can't breath' breathing life into the crowds and giving protestors a focus point. cnn.com

Most Restrictive Curfews In More Than 70 years
Historic curfews in Los Angeles and New York are the harshest in decades
In Los Angeles, the curfew is the harshest since the riots in 1992 following the acquittal of the officer who beat Rodney King. On the East Coast, New York City has enacted the strictest curfew since the race riots of 1943. As a result of the violence many cities have enacted curfews to curb the violent and destructive nature of some attendees of these protests. cnn.com

Retailers Organizing Companywide Discussions - With Townhalls & Forums
Protests Derail Comeback Plans for Restaurants and Retailers
Unrest over death of George Floyd shifts businesses' focus to protecting staff and inserting themselves in racial discourse.

Macy's delayed the reopening of some stores shut by coronavirus. Apple stores that had recently unlocked their doors were boarded back up. Chains from Kroger to Popeyes cut back their hours. And the CEOs of Starbucks and McDonald's organized companywide discussions of the social unrest that has disrupted efforts to restart business as pandemic lockdowns ease.

The widespread protests over the death of George Floyd while in police custody had chief executives looking for ways to balance their efforts to run their companies, protect their employees and property, and articulate a response to their customers, staff and communities about racism and deep-seated problems in American society. For many, it followed months of struggles to reopen after the crippling global pandemic.

McDonald's plans to hold a company town hall meeting Tuesday to allow U.S. employees to tell executives what the burger giant can do to foster more racial inclusion and corporate outreach.

Starbucks held a forum over the weekend for employees to talk about the death of Mr. Floyd and racially motivated violence, and 2,000 employees participated, CEO Kevin Johnson said in a company letter. He said the company will continue to hold forums for workers to share their responses.

In a letter to employees, Macy's CEO Jeff Gennette urged staffers to look out for one another. "Check on your teams and fellow colleagues-both furloughed and nonfurloughed," he wrote. "Be each other's ally and seek help when you need it."

"There is no place for racism in America, and every company, every public institution and every individual needs to take accountability for calling it out by name and stopping it," Mr. Cil said. wsj.com

Widespread Looting Hits Manhattan Before Curfew Begins
Macy's Flagship Among Stores Hit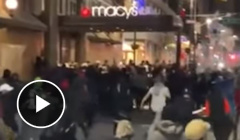 New York City hit an 11 p.m. curfew on Monday after widespread looting erupted in the central business district of Manhattan, long a symbol of the city's prominence, with shattered glass and smashed storefronts on several blocks.

Looters tried to ransack some of the city's best-known retailers, including the Macy's flagship store in Herald Square and luxury stores along Fifth Avenue.

Mayor Bill de Blasio acknowledged that the Monday night curfew, which had only been announced several hours before it was to begin, had failed to quell the criminal violence that marred the otherwise peaceful protests of previous nights.

As a result, he said, a curfew would be imposed again on Tuesday, this time starting three hours earlier, at 8 p.m.

Overall, there were few reports of clashes between the authorities and those who had assembled to rally against police brutality and racism. The crowds had mostly dispersed by 11 p.m., although some protesters continued to walk the streets in Manhattan and near the Barclays Center in Brooklyn in violation of the curfew. nytimes.com

Other NYC Stores Hit by Looters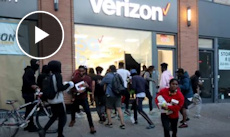 - Aldo Shoe Store
- Coach
- CVS
- Foot Locker
- Microsoft
- Nike
- Verizon northjersey.com


Uber, Lyft and DoorDash pause services in cities with curfews due to protests
At least 40 cities and Washington, D.C., have imposed curfews in the wake of protests that began last week. Ride-sharing and food delivery service apps are suspending operations in some cities across the nation in order to comply with curfew orders. usatoday.com

---

Shadowy "Outsiders" Inflaming the Debate
Violent Agitators & Organized Criminal Enterprises

Truly Organized Retail Crime - Historic Levels Never Seen Before
Curfews Fail to Deter Overnight Violence Following Peaceful Protests

Looting and violence reported after curfews in several cities where protests continue

Daytime and early evening protests were largely peaceful across the country Monday. Looting and destruction has mostly been taking place after nightfall, say law-enforcement officials.

In Minneapolis, where the protests began one week ago and sparked national unrest, the city had its second night without widespread violence.

Property owners and witnesses described organized teams of looters in locations around the country, with scouts finding properties, others showing up to break windows and begin stealing and others guarding stolen goods outside stores before they could be carted away.

In New York, looters broke into several retail stores, including Macy's flagship store in Manhattan on Monday night, police said. The demonstrations continued after the 11 p.m. curfew, which Mayor Bill de Blasio ordered after looting in the SoHo neighborhood Sunday night.

Looting and violence were reported elsewhere Monday, including St. Louis, where four police officers were hit by gunfire after protests that started peacefully Monday became violent late Monday night, said Police Chief John Hayden. Chief Hayden said none of the officers faced life-threatening injuries.

He said that after thousands of peaceful protesters had largely dispersed, about 200 people took to the streets, attacking officers with rocks and fireworks and looting. "They obviously had no intention on protesting or doing anything constructive," he said.

"Folks came down here just to steal, just to destroy property and just to hurt officers," he said.

In Louisville, people broke into a Kroger Co. supermarket overnight Tuesday, according to a widely shared Facebook live video posted from the scene. The store had been closed Monday and was boarded up, but protesters can be seen wheeling carts full of groceries and other supplies out of the store. wsj.com

Shadowy protesters inflame, muddle George Floyd debate
The shadowy identity of the violent agitators trashing cities across the country has muddled the national debate over racial justice, inflaming partisan tensions, triggering finger-pointing from all sides and threatening to sap the power of those seeking reforms after the death of George Floyd at the hands of the Minneapolis police.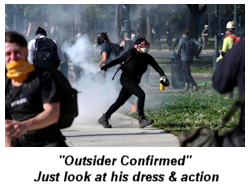 While a majority of those demonstrators have marched peacefully, violence has flared from Seattle and Santa Monica, Calif., to Atlanta and Miami, where vandals have smashed police cars, looted shops and torched vehicles and businesses with seeming indiscrimination. In Washington, D.C., on Sunday night, some sought to burn a historic church.

The violence has consumed much of the media coverage, as images of burning streets and masked demonstrators clashing fiercely with law enforcers have dominated cable news. And it's prompted plenty of speculation that outside groups - left and right - have seized on a tragedy to push a political agenda largely divorced from the issues of racial inequality and police brutality that Floyd's death has thrust into the national spotlight.

"If you look at these protests when they begin, they are always nonviolent. Then there comes a moment ... when all of a sudden there comes a new element, which clearly could not have come from these nonviolent protesters. It has to have come from somewhere else," Del. Eleanor Holmes Norton (D-D.C.) said Monday by phone.

And on Monday, Louisville's mayor fired the city's police chief after a black restaurant owner was fatally shot by law enforcers clearing a crowd just after midnight.

Meanwhile, BET compiled more than a dozen videos from social media showing unidentified white people spray painting "BLM," or Black Lives Matter, on property, breaking glass and vandalizing businesses, and instigating fights with police.

"White Extremists Terrorize and Loot: 13 Videos of Destruction Black People Will Be Blamed For," the headline read.

"Nashville is being destroyed right now. Every brick I saw thrown without exception was thrown by white people," tweeted Tennessee writer and author Nancy French. "This [black] man was yelling at these white people who'd just put horse excrement on a cop car and broke out their windows. He said, 'they'll blame us!'"

In DC Police Chief Peter Newsham said "There's federal statutes and local statutes that can address an organized continuing criminal enterprise to come in here and destroy our property," said Newsham, flanked by D.C. Mayor Muriel Bowser (D) and other city officials. thehill.com

Outsiders Start to Get Arrested
"I lit it on fire" MN Sprint Store & Looted Office Depot
Federal Criminal Complaint Charges Illinois Man
Traveling To Minnesota To Riot, Possession Of Explosive Devices


United States Attorney Erica H. MacDonald today announced a federal criminal complaint against MATTHEW LEE RUPERT, 28, charging him with civil disorder, carrying on a riot, and possession of unregistered destructive devices.

According to the allegations in the complaint, on May 28, 2020, RUPERT posted messages on his Facebook account referencing the public protests occurring in the Twin Cities following the death of George Floyd, including one that stated, "I'm going to Minneapolis tomorrow who coming only goons I'm renting hotel rooms." On May 29, 2020, RUPERT posted a self-recorded cell phone video to his Facebook account indicating that he was in Minneapolis, Minnesota. In the video, RUPERT can be seen passing out explosive devices he possessed, encouraging others to throw his explosives at law enforcement officers, actively damaging property, appearing to light a building on fire and looting businesses in Minneapolis.

In the video, RUPERT stated, "They got SWAT trucks up there . . . I've got some bombs if some of you all want to throw them back . . . bomb them back . . . here I got some more . . . light it and throw it." RUPERT makes these statements as he hands out an item with brown casing and a green wick to other individuals. The video also depicts RUPERT asking for lighter fluid before entering a Sprint store, followed by his statement, "I lit it on fire." RUPERT then goes to a nearby Office Depot and states, "I'm going in to get [expletive]." RUPERT can be seen taking items from the store. justice.gov

---

Deaths, Injuries & Charges
Police - Protestors - Looters

6 Police Officers Shot
US cities endure another night of violence, looting amid George Floyd protests
The nighttime chaos unfolded Monday in places including New York City, Las Vegas, Buffalo and St. Louis, where four police officers were shot in the downtown area ransacked by looters and left in flames.

In Buffalo, wild video shows the moment an SUV plows through a line of officers at a protest, injured at least two. The driver and passengers were taken into custody.

And a Las Vegas police officer is now fighting for his life after being shot in the head while trying to disperse protesters in front of the Circus Circus on the Las Vegas Strip.

Peaceful protests in Philadelphia took a turn when police fired tear gas at demonstrators blocking a highway, causing a stampede, according to the Philadelphia Inquirer. Protesters and men wielding baseball bats also squared off as residents fought to protect their neighborhood.

Two people were killed in the Chicago suburb of Cicero, officials there said, adding that the violence was linked to protests.

Meanwhile, looting broke out across the country, including in Manhattan - where hundreds of opportunists breached Macy's flagship store in Herald Square and other businesses across the city.

Dozens of cities have imposed curfews in hopes of curtailing the violence and looting, while governors in 23 states and DC have activated 67,000 troops with the National Guard. nypost.com

Philadelphia, PA: South Philly Gun Shop Owner Shoots, Kills Looter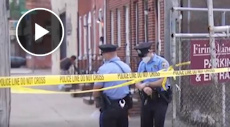 Police Say A South Philadelphia gun shop owner shot and killed a man trying to break into his store early Tuesday morning amid heightened looting concerns. Philadelphia police said the owner of Firing Line Inc. was staying the night inside the shop on South Front Street because over the last few nights someone had tried breaking in. The owner told police he was monitoring his surveillance camera and saw three or four people trying to get in around 4 a.m. The group was using bolt cutters on the gate.

A broken lock could later be seen on the ground. The group then smashed in the back door, police said. When they made it upstairs the owner started shooting and shot one man in the head. That man died in the store, police said. The other men ran off. Police found a gun that the owner said does not belong to his shop at the scene, so they think someone brought that with them. nbcphiladelphia.com

Las Vegas, NV: Shootings following Monday protest leave officer in 'grave condition,' man dead
Las Vegas Metropolitan Police Sheriff Joe Lombardo said an officer was in "grave condition" after being shot on the Strip, and that another man was dead in a separate shooting, both following protests in the area Monday night. Lombardo said the officer shot near Circus Circus was in "grave condition" and on life support at University Medical Center on Tuesday morning. As Metro made attempts to disperse a crowd in the area around 11:30 p.m., Lombardo said the officers took rocks and bottles from the crowd. While attempting to place several people in custody, he said a shot rang out and the officer was down. The suspect was identified later in the night and was taken into custody by SWAT and K9 officers. fox5vegas.com

Davenport, IA: Two people dead after rioting; officer shot;
Police "ambushed" with gunfire
Two people were killed and one officer was injured after rioting broke out in Davenport Sunday evening. Davenport Mayor Mike Matson and Davenport Police Chief Paul Sikorski held a press conference early Monday morning. They said Saturday's protests and demonstrations were peaceful, however, it was a different story Sunday evening. Around 10 p.m., the police department started to see numerous disturbances near NorthPark Mall. There were more than 100 cars filled with rioters. kwwl.com

St Louis, MO: 'Mayhem': 4 police officers shot during night of violence & destruction
Four police officers were shot in downtown St. Louis early Tuesday, as a day of peaceful protests turned into a violent and destructive night in the city. Early in the day, hundreds of people gathered across the St. Louis region again Monday to protest the Memorial Day death of George Floyd in Minneapolis. But tensions rose after the sun fell in downtown St. Louis. Just after midnight, four officers, all men, were shot near 16th and Olive streets. All four are conscious, and their injuries are considered non-life-threatening. Two officers were shot in the leg, one was shot in the foot, and one more was shot in the arm. stltoday.com

Lynchburg, VA: More arrests come after protesters shoot at officers Monday night
Lynchburg police released information just before 1 a.m. Tuesday about Monday night's protest in Lynchburg. Protesters shot directly at officers during one of several reports of shots fired, according to police. Police said they aren't aware of any injuries connected to the shots fired incidents. wsls.com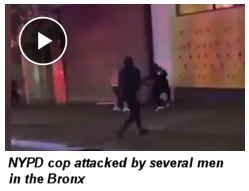 Louisville, KY: Police Chief fired after protest shooting death

NYC Curfew Extended Through Sunday; 700 Arrested as 'Packs' of Looting Youth Defy Order

Alleged looter at George Floyd protest in SoHo shot - by fellow looters

Video shows NYPD cop being attacked by several men in the Bronx

NYPD Sergeant, Officer Struck By Hit-And-Run Drivers In Separate Incidents

Las Vegas, NV: 155 arrested during night 4 of Las Vegas Strip protests

Washington, DC: Prosecutors drop many rioting charges as dozens charged in D.C. protests appear in court

Sioux Falls, SD: Both Nebraska and South Dakota activate National Guard after protests turn violent; Rocks thrown at Police, several businesses in the area of the Empire Mall had windows damaged

---

Coronavirus Tracker: June 2
US: Over 1.8M Cases - 107K Dead - 616K Recovered
Worldwide: Over 6.4M Cases - 378K Dead - 2.9M Recovered

Fallen Officers From the COVID-19 Pandemic: 40 | NYPD Deaths: 43
Private Industry Security Guard Deaths: 135+

---

2nd Wave Fear
ReOpenings Slowed Due to Riots
From Miami beaches to Minnesota's Mall of America-while Chicago and Philadelphia are considering slowing reopening efforts planned for this week.

Beaches in Miami-Dade County were scheduled to reopen on Monday, but the closure there will now stay in effect indefinitely, Mayor Carlos Gimenez announced this weekend, after protests in the area gave way to rioting and looting, while the Mall of America in Minnesota and the upscale South Coast Plaza in Costa Mesa, California have also called off planned reopenings.

The mass protests seen across the U.S., which has had the most coronavirus infections of any country in the world, has raised concerns among health officials that the demonstrators could aid in sparking a second wave of infections.

That concern has led officials in cities like Chicago and Atlanta to ask that anyone who was out protesting to go into a voluntary 14-day self-quarantine. edmdigest.com

Will Protests Set Off a Second Viral Wave?


Protests Could Be - 'Super-Spreaders'
Protests risk spread of coronavirus

Tens of Thousands Yelling & Screaming - Spitting - Touching

The tens of thousands of Americans marching to protest of the death of an unarmed black man may be putting themselves at risk of contracting the coronavirus, setting off what could be a second wave of cases just as the number of new infections begins to ebb in major cities.

Images from almost a week of protests across the country show many peaceful protesters wearing masks. But few appear to be following social distancing guidelines.

The California Department of Public Health published recommendations for protesting while maintaining social distance.

Over the weekend, Los Angeles Mayor Eric Garcetti (D) said he worried the protests could become "super-spreader" events.

The peaceful protesters face a cruel irony that raising their voices against injustice for George Floyd comes at the risk of exposing them to a virus that preys on systemic injustice. With 60% of the deaths comprised of African Americans.

The virus has already impacted brown and black people at far greater rates than whites, for a host of reasons: Minorities are more likely to live in densely populated areas where air pollution that leads to underlying conditions is worse. They are more likely to work in service sector jobs that put them in close proximity with others, raising the prospects that they could come into contact with the virus. thehill.com

New COVID-19 hot spots emerge across the U.S.
Select areas in California, Wisconsin, Arkansas and more are seeing spikes in cases, and some areas are even reporting the highest numbers they've seen since the pandemic hit the U.S.

Alabama - Alabama, reaching an all-time high last week, nearly two weeks after the state reopened. Never issued a stay-at-home.

California - 25 percent increase in confirmed cases in the past 14 days.

North Carolina - 40 percent increase in cases over the past two weeks.

Virginia - The virus continues to spike in the state, and it looks like it could get worse before it gets better.

Wisconsin - just saw its highest single-day increase in confirmed COVID-19 cases and deaths this week. Court Stopped stay-at-home order. yahoo.com

Will COVID-19 spur a surge in biometrics technologies?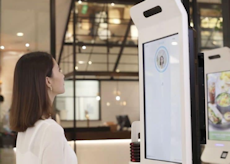 The coronavirus was a wakeup call. Following the success seen in places like Taiwan and South Korea using biometrics to prevent the spread of the virus, countries around the world may look to replicate similar strategies in their own deployment of the technology. As biometrics make their way into the public infrastructure, that opens the door to novel use cases to make our communities safer and our lives more convenient. But how likely is this biometrics revolution, and what would it actually look like?

The next stage of the customer experience

The inspiration for larger deployment of biometrics systems may come from the pandemic but, as we know from our own use of biometrics in our daily lives, the technologies aren't restricted to public health. Once the groundwork has been laid, biometric identification solutions also offer a valuable tool for businesses to improve their customer experience.

Biometric safety also means digital security

A majority of consumers already prefer biometrics to traditional security measures, and as the technology becomes a regular feature in public spaces, it provides an opportunity for businesses to further highlight how they're protecting their customer's data when they take the bus, shop for new clothes and more.

So, what does the future of biometrics look like? It's impossible to know exactly how widescale deployment will unfold in the years to come, but the coronavirus is likely to become a catalyst for much broader public investment in the technology around the world. We've already seen the success of a select few countries in leveraging biometrics to contain the spread of the pandemic. As others look to safeguard their own citizens, the amplification of public space biometrics technologies will help to keep our communities safer, make our lives easier and our identities more secure. biometricupdate.com

Protests, Pandemic Create Workplace Stress
After this weekend's protests over the death of George Floyd-plus the stress of the coronavirus pandemic-people will be coming to work with a lot on their minds. How can you support employees who are worried, angry or scared? How can you work to eliminate racism from your workplace?

Taking Steps to Eliminate Racism in the Workplace
"Unless we are prepared to have a discussion about the impact of stereotypes and how they affect decisions that are made within organizations, we are not going to make any more progress toward eradicating racism," said Binna Kandola, a British business psychologist.

7 Practical Ways to Reduce Bias in Your Hiring Process
A vast body of research shows that the hiring process is biased and unfair. Unconscious racism, ageism, and sexism play a big role in whom we hire. But there are steps you can take to recognize and reduce these biases. So where should you start? And how can you help others on your team do the same? shrm.org


Jack Hayes Report on Loss Prevention Newsletter - Summer 2020 (Vol 35 No 3)
Articles In This Quarter's Issue:



● 32nd Annual Theft Survey (page 1)
- Two-thirds of retailers participating in this survey reported an increase in shrink in 2019.
- Shoplifting apprehensions and recovery dollars increased 3.0% and 3.5% respectively.
- Employee theft apprehensions were down 2.9%, but recovery dollars from those apprehensions increased 7.8%.

● Competition's Impact on Shoplifting (page 2)
When evaluating your location's shoplifting vulnerability, do you look outside your four walls at what other retailers are doing within your center/mall, especially your immediate competition?

● Top 10 Safety Violations (page 3)
OSHA recently released their statistics for the "Top 10" most frequently cited safety violations during 2019.

Read the full newsletter.

---

Senior LP & AP Jobs Market
Mapco post Director Of Loss Prevention position in Franklin, TN.
MAPCO has 346 corporate-owned convenience stores operating primarily in Tennessee, Alabama and Georgia with additional locations in Arkansas, Virginia, Kentucky and Mississippi. mapcorewards.com

The Director of Loss Prevention will be responsible for ensuring MAPCO's assets are protected through analyzing retail data, establishing appropriate key performance indicators, reporting, directing or conducting investigations, and educating retail managers and employees on loss control and prevention measures. linkedin.com

Director of Security job posted for Maggie's Farm Marijuana in Pueblo, CO
Maggie's Farm Director of Security is responsible for the identification, development, implementation and management of the organization's security strategies and programs for risk and threat management. The Director of Security directly reports to the COO with additional reporting relationships to the Director, Retail Operations and Director, Farm Operations. indeed.com


Senior LP Job Postings Removed from Website:

● Director, Loss Prevention Stores - Tractor Supply Co. - Brentwood, TN


---

Google expands tools to help businesses impacted by COVID-19

CVS Health Reaches Goal of 1,000 COVID-19 Test Sites With 1.5M Test Monthly Goal

New OSHA COVID-19 Regulations in South Carolina

Chicago issues regulations for restaurants re-openings

Five Below Opens 75% of 900 Stores - Plans 100 to 200 New Stores in 2020

Pier 1 gets OK to liquidate


Quarterly Results
Big Lots Q1 comp's up 10.3%, sales up 11.1%
Costco Q3 comp 's up 7.8% excluding fuel, digital sales up 65%, net sales up 7.3%