---
Andrew Beckett promoted to Director, AMZL Loss Prevention, Americas Region for Amazon

Andrew has been with Amazon for more than six years, starting with the company in 2015 as Regional Loss Prevention Manager. Before being promoted to Director, AMZL Loss Prevention, Americas Region, he spent two years as Senior Manager, LP, Amazon Logistics and over three years as Sr. Manager, Logistics LP - Amazon Transportation Services. Earlier in his career, he held AP/security roles with Weis Markets and FedEx. Congratulations, Andrew!

Brooke (Anderson) Murota, MBA promoted to Sr. Manager Asset Protection Operations for Old Navy


Brooke has been with Old Navy for more than two decades, starting with the company in 2000 as a Sales Associate. Before her latest promotion to Sr. Manager AP Operations, she spent more than four years as Manager of LP Awareness and Communication. Prior to that, she spent nearly two years as Business Process Owner of Compliance and Technology. She has held various other roles with Old Navy throughout her career with the company. Congratulations, Brooke!

Justin MacIntyre, CFI, LPC promoted to Manager of Corporate Investigations for Bealls, Inc.


Justin has been with Bealls for six years, starting with the company in 2015 as District Loss Prevention Manager. Before his promotion to Manager of Corporate Investigations, he spent a year and a half as Senior Zone LP Manager. With Bealls, he has also served as Zone LP Manager, District LP Manager, and Regional LP Manager. Earlier in his career, he spent nearly 12 years with Von Maur in various loss prevention roles, including Director of LP. Congratulations, Justin!

Frederick D. Hassel, Jr. named Assets Protection Operations Manager for Target


Before joining Target as Assets Protection Operations Manager, Frederick spent more than three and a half years at Walmart, most recently as Environmental, Health and Safety Operations Manager and also as Safety, Compliance and Trust Sr. Business Partner. Earlier in his career, he held AP/LP roles with Jet.com, Walgreens, and SDA Inc. Congratulations, Frederick!

Robert Grant promoted to Senior Area Loss Prevention Manager for Ross Stores, Inc.


Robert has been with Ross Stores for nearly five years, starting with the company in 2016 as a Store Manager. Before his promotion to Senior Area LP Manager, he spent more than four years as Area LP Manager. Prior to joining Ross, he spent a short time at Big Lots as a Store Team Lead. Earlier in his career, he spent more than four years in a separate stint with Ross Stores in various LP roles. Congratulations, Robert!

See All the Executives 'Moving Up' Here

Submit Your New Corporate Hires/Promotions or New Position

---

---

3xLOGIC Announces Dealer Webinar for US Launch of New VIGIL CLOUD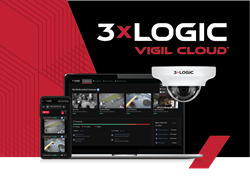 April 15th webinar promises fast-paced hour-long webinar staffed by product experts

3xLOGIC, Inc., a leading provider of integrated, intelligent security solutions, today announced its upcoming VIGIL CLOUD webinar, targeted at existing and prospective 3xLOGIC integrators/installers. The webinar is billed as:

Join a fast-paced hour-long webinar April 15th when 3xLOGIC's experts introduce the company's latest, evolving technology release, VIGIL CLOUD. 3xLOGIC is expanding our ecosystem into the cloud with product features designed to harness the power, scalability, and ease of use that are the hallmarks of cloud services. prweb.com

---

Protests & Violence

A Look at the Tight Security Surrounding the Derek Chauvin Trial








'Parade of Police Officers' Lines Up to Testify Against Chauvin
Most Damning Witnesses in Chauvin Trial are Fellow Cops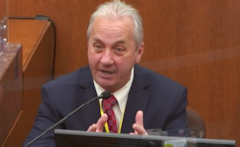 Lt. Richard Zimmerman, who leads the Minneapolis Police Department's homicide unit, said Chauvin's use of force while Floyd was already pinned down and handcuffed was "totally unnecessary." Police Chief Medaria Arradondo testified that officers are not trained to kneel on the necks of suspects. Sgt. Jody Stiger, an LAPD use of force expert, said Chauvin had employed "excessive" force. Another police officer, Nicole Mackenzie, said officers are required to provide medical help and to call emergency services for suspects who appear in distress.

Prosecutors have of course selected witnesses who bolster their case. But most of the officers who testified came across as sympathetic, subtly embroidering the wider arguments about police brutality in America. It's impossible for an outsider to know what's really going on: Is one officer being thrown overboard to shield the Minneapolis Police Department from wider claims of endemic brutality and misconduct? Or are witnesses revealing a rogue colleague whose actions left an unfair impression of the force and the police more generally?

In either case, it is highly unusual to see a parade of US police officers testify so uniformly against one of their own. More often, they close ranks. cnn.com

The Debate over George Floyd's Cause of Death
Medical expert: 'In a vise,' George Floyd did everything he could as he struggled to breathe
Even after George Floyd took his final breath and went motionless under Derek Chauvin's knee, the since-fired Minneapolis police officer kept the pressure on for another three minutes and 27 seconds, a Chicago-based lung and critical care expert testified Thursday.

Dr. Martin Tobin, a Chicago physician who has written textbooks and specialized in respiratory and critical care medicine for decades, showed through graphics and video how Floyd pressed the fingers of his cuffed right hand to the ground and his knuckles against a police squad-car tire as he fought in vain to open up his side to pull air into his right lung.

"Mr. Floyd died from a low level of oxygen," Tobin said. "This caused damage to his brain that we see, and it also caused a [pulseless electrical activity] arrhythmia that caused his heart to stop." startribune.com


Police Homicides Down But Murders Up in the BLM Era

Police Killings Decrease in Cities With BLM Protests
The Effects of Black Lives Matter Protests

Research shows places with BLM protests from 2014 to 2019 saw a reduction in police homicides but an uptick in murders.

There's long been a fierce debate about the effect of Black Lives Matter protests on the lethal use of force by police. A new study, one of the first to make a rigorous academic attempt to answer that question, found that the protests have had a notable impact on police killings. For every 4,000 people who participated in a Black Lives Matter protest between 2014 and 2019, police killed one less person.

From 2014 to 2019, Campbell tracked more than 1,600 BLM protests across the country, largely in bigger cities, with nearly 350,000 protesters. His main finding is a 15 to 20 percent reduction in lethal use of force by police officers — roughly 300 fewer police homicides — in census places that saw BLM protests.

Campbell's research also indicates that these protests correlate with a 10 percent increase in murders in the areas that saw BLM protests. That means from 2014 to 2019, there were somewhere between 1,000 and 6,000 more homicides than would have been expected if places with protests were on the same trend as places that did not have protests. vox.com


Nationwide Crackdown on Protests?

Lawmakers Push for Harsher Penalties for Protesters
Civil rights groups say the laws could have 'chilling effect' on free speech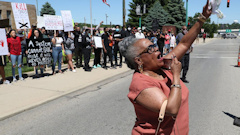 In the wake of nationwide racial justice protests, Ohio and other states are considering legislation to impose harsher punishment for rioters, go after organizers of violent protests and penalize those who harass or harm first responders.

Supporters say more protection is needed for police, firefighters and EMTs who are being targeted for doing their jobs and stiffer penalties against those who turn peaceful protests into violent, destructive events.

The American Civil Liberties Union of Ohio, however, says the broad sweeping bills contain ambiguities that could have a chilling effect on free speech.

HB109 increases penalties for disorderly conduct during a riot or illegal protest and expands the state's corrupt activities law to apply to those who provide "material support or resources" to rioters.

It also creates a new offense for harassing or intimidating a first responder if the behavior results in death, serious injury or more than $5,000 in damages.

Those who provide support to rioters — anything from bottled water to weapons — could be prosecuted under the corrupt activities law and their organization could be dissolved and assets seized, Daniels said. daytondailynews.com

Iowa Bills to Impose Stiffer Penalties for Rioters
One arrested, police officer assaulted at Iowa Capitol as group rallies
against bills increasing protest-related penalties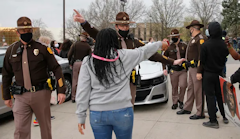 State troopers arrested an 18-year-old activist at the Iowa Capitol Thursday as a group rallied against proposed legislation that would increase qualified immunity for law enforcement officers and heighten penalties for some protest-related offenses.

Activists on Thursday rallied against a handful of proposals this year to raise penalties for crimes like rioting and unlawful assembly while increasing protections for police officers and raising the level of immunity they have against lawsuits. Protesters also gathered in opposition of legislation that would prevent the inclusion of "divisive concepts" in diversity training used by state and local governments, including schools and colleges.

Co-organizer Harold Walehwa said the Iowa bills don't make sense after last summer's protests and the push for racial justice in the aftermath of the death of Floyd.

"We're at literally in the middle of the Derek Chauvin trial, but we're trying to pass bills to (increase) qualified immunity?" he said. desmoinesregister.com

---

COVID Update

175M Vaccinations Given
US: 31.7M Cases - 573.8K Dead - 24.2M Recovered
Worldwide: 134.6M Cases - 2.9M Dead - 108.4M Recovered

Former Senior Loss Prevention Executive
Know of any fallen LP exec? Let's remember & recognize.

Private Industry Security Guard Deaths: 279
Law Enforcement Officer Deaths: 282
*Red indicates change in total deaths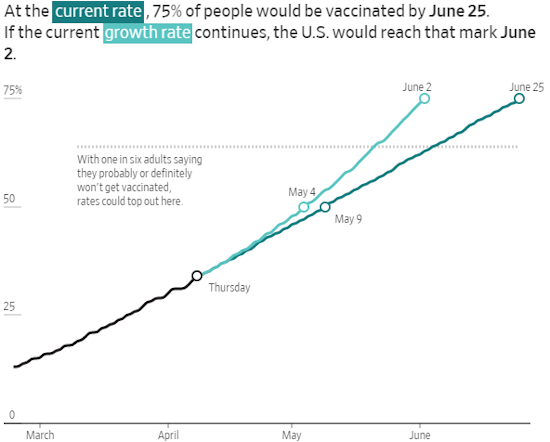 Cases, Deaths Surge in the U.S. & Globally
Countries worldwide hit new records for virus cases, deaths
Ambulances filled with breathless patients lined up in Brazil as nations around the world set new records Thursday for COVID-19 deaths and new coronavirus infections. The disease surged even in some countries that have kept the virus in check. In the United States, Detroit leaders began making a plan to knock on every door to persuade people to get vaccine shots.

The U.S. has now fully vaccinated nearly 20% of its adult population, and New Mexico became the first state to get shots in the arms of 25% of its residents — milestones that are still far off for many hard-hit countries.

That variant is more contagious, and the U.S. Centers for Disease Control and Prevention said this week that it is now the most common variant in the United States, raising concerns it will drive infections and cause more people to get sick. apnews.com

Michigan is 'Worst-in-the-Nation'
Biden to surge vaccinators, testing to hard-hit Michigan
Washington is surging federal resources to support vaccinations, testing and therapeutics, but not vaccines, to Michigan in an effort to control the state's worst-in-the-nation COVID-19 transmission rate, the White House said Friday.

President Joe Biden outlined the moves late Thursday in a call with Gov. Gretchen Whitmer to discuss the situation in the state, according to senior administration officials. It will not include a "surge" of vaccine doses, a move Whitmer has advocated.

Instead, Biden outlined how the federal government was planning to help Michigan better administer the doses already allocated to the state, as well as surge testing capacity and drugs for virus treatment. apnews.com

Researchers identify 5 new cases of 'double mutant' variant in California


Retailers Continue to Shine in Vaccine Effort
Target offering vaccines to its 19,000 team members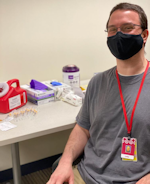 This week, Target began offering vaccines to its more than 19,000 frontline store and distribution center team members in Minnesota at 17 designated vaccination sites across the state. This marks another significant milestone in removing barriers for team members who choose to get vaccinated.

The vaccines have been allocated by the Minnesota State Health Department for Target frontline and essential team members working in stores and distribution centers located in Minnesota. Target will partner closely with CVS and Medcor as they administer the vaccine in accordance with state and federal guidelines.

Team members working at Target's three Minnesota distribution centers will have the opportunity to get vaccinated on-site, and team members working at Minnesota's 74 Target stores can visit any of the 14 designated locations across the state to receive their vaccine.

Target is also continuing to support its team and communities during the pandemic by partnering with CVS locations within Target stores to offer vaccines to eligible guests. Target is also currently making fitting rooms available to CVS at nine Target stores in Minnesota to use for COVID vaccination clinics as part of the federal pharmacy program. Vaccine-eligible guests can register for appointments by visiting CVS.com to see if there's a participating location in their area. voiceofalexandria.com

More than 1 in 4 US adults are fully vaccinated against Covid-19
While more than 66 million people have received two doses, more than a third of Americans -- or 112 million -- have received at least one dose, according to data published Thursday by the US Centers for Disease Control and Prevention.

Officials and experts hope to get Americans vaccinated quickly as lockdown fatigue takes its toll and many people are letting down their guard just as more transmissible, and perhaps more deadly, variants of the virus become dominant. In that effort, all 50 states have committed to opening vaccinations to all Americans 16 and up by April 19. cnn.com

America may be close to hitting a vaccine wall as demand is met


Kroger Investigation Coming?
Councilmen Want Investigation Into Kroger Closing Stores Over Hero Pay


Two councilmembers Wednesday introduced a motion to have the city investigate the reasons the Kroger Co. decided to close three Los Angeles stores following passage of a city ordinance that requires large grocery and pharmacy retailers to offer employees an additional $5 per hour in hazard pay amid the COVID-19 pandemic.

"The city has an interest in considering whether it should take legislative action to address these closures and potentially future closures of other grocery stores especially in areas of the city that are commonly known as Food Deserts,'' the motion introduced by Councilmen Marqueece Harris-Dawson and Paul Koretz reads.

"In order to do so, the City Council should seek information from the grocery stores and their executive management to better understand their actions and inform the City Council on ways that might protect the city and its residents from the consequences of these types of closures.'' nbclosangeles.com

Backlash to Kroger's 'Hero Pay' Store Closures
Workers protest announced Kroger closures amid COVID 'Hero Pay' ordinance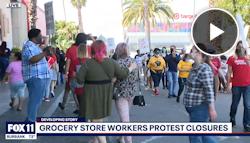 A large group of protesters gathered on Thursday afternoon amid the announced closure of Food 4 Less in East Hollywood. It is one of the three Kroger stores in the Los Angeles area set to close due to a "Hero Pay" ordinance.

In response, Kroger issued the following statement:

"Ralphs and Food 4 Less have made the difficult decision to close three of its 68 locations in the City of Los Angeles. The closures follow the Los Angeles City Council's mandate that requires a select group of employers to provide extra pay for frontline workers, but not all companies who employ frontline workers. The mandate will add an additional $20 million in operating costs over the next 120 days, making it financially unsustainable to continue operating the three underperforming locations. Despite our efforts to overcome the challenges we were already facing at these locations, the extra pay mandate makes it impossible to run a financially sustainable business that ensures our ability to continue serving the Los Angeles community at those three locations with reliable access to affordable, fresh groceries and other essentials. We are proud of our role as a leading employer in Los Angeles and remain committed to our dedicated associates on the frontlines serving in our 65 other area locations."

On Wednesday, two councilmembers introduced a motion to have the city investigate the reasons the Kroger Co. decided to close three Los Angeles stores following the passage of a city ordinance that requires large grocery and pharmacy retailers to offer employees an additional $5 per hour in hazard pay amid the COVID-19 pandemic. foxla.com

Glendale, Calif. Approves 'Hero Pay' For Local Grocery Workers

---

Fast Food Price-Fixing Scandal Continues
McDonald's will pursue damages from Tyson and Pilgrim's Pride in chicken price-fixing scandal

McDonald's is seeking damages after a chicken price-fixing scandal rocked the world of fast food, according to an internal memo obtained by Insider.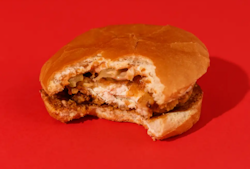 On Tuesday, the fast-food giant told franchisees it had informed Tyson and Pilgrim's Pride, which is owned by meat-industry giant JBS SA, that it will pursue damages related to allegations the brands illegally conspired to raise chicken prices, according to two people who were not authorized to speak on the record about the matter.

The chicken giants have been embroiled in a price-fixing scandal for years. Tyson, Pilgrim's, and other major chicken companies have been accused of conspiring to fix prices on chickens from 2008 to at least early 2019.

"McDonald's distribution centers (DCs) may have been victims of the purported conspiracy, unknowingly purchasing broiler chickens from Tyson and Keystone Foods (now owned by Tyson) at alleged wrongfully-inflated prices, which our DCs then resold to McDonald's and franchisees," Marion Gross, McDonald's chief supply chain officer, and Angie Steele, the interim US general counsel wrote in the memo that was sent on Tuesday.

In February, Pilgrim's Pride pled guilty to conspiring to fix prices for chicken products and agreed to pay $107 million in criminal fines following a Department of Justice investigation. Pilgrim's previously agreed to pay $75 million to chicken buyers to settle an antitrust lawsuit, according to financial documents filed in January.

Tyson Foods said in a filing in late January that it will pay $221.5 million to settle class price-fixing claims. businessinsider.com

Retailers are Investing in Racial Equality
Target to spend over $2B with Black-owned companies by 2025

A wave of American retailers, from Sephora to Macy's, have committed to spending more money with Black-owned businesses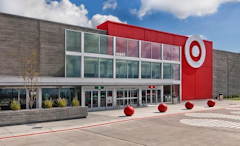 Following up on its promise to help Black guests feel more included, Target on Wednesday announced its commitment to spending $2 billion with Black-owned businesses by 2025.

The retail giant plans to work with over 500 Black-owned businesses to add products across different categories, according to a company press release. Target said it also intends to boost its spend with Black-owned firms in other areas such as marketing agencies, construction companies and facilities maintenance providers.

Alongside the investments, Target plans to create new resources, including a program called Forward Founders to engage with Black-owned startups earlier and a team dedicated to helping its Black vendors scale their operations in mass retail.

After last year's protests over police brutality, a wave of American retailers, from Sephora to Macy's, have committed to spending more money with Black-owned businesses. Many of them have joined a movement known as the 15 Percent Pledge, which supports devoting enough shelf space to Black-owned businesses to align with the African-American percentage of the national population. retaildive.com nytimes.com

Racial Bias Suit Tossed Out
Saks Gets Black Employee's Racial Bias, Retaliation Suit Tossed

- Alleged retaliation for reports of bias, harassment
- Judge finds racism and treatment of worker aren't linked

A former Saks Fifth Avenue employee in Missouri failed to allege she was fired based on her complaints about racial discrimination and harassment in the store, in part because many of the actions she described weren't within the statute of limitations, a federal court said Thursday. news.bloomberglaw.com

More Curbside Pickup is Hurting In-Store Restaurants
McDonald's Is Closing Hundreds of Its Walmart Restaurants

Fast-food chains are closing more in-store restaurants as the Covid-19 pandemic accelerates the demise of a once mutually beneficial relationship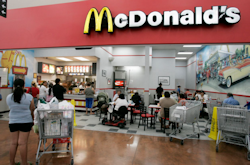 McDonald's is closing hundreds of restaurants located in the largest U.S. retailer's stores, the last vestiges of a roughly 30-year-old experiment between the companies. Around 150 McDonald's stores will remain at U.S. Walmart locations after another wave of planned closures that are expected to finalize by this summer, according to the burger giant. At the peak of the partnership, there were roughly 1,000 McDonald's restaurants inside Walmart stores.

Franchisees of Subway, one of the largest fast-food chains in the world with locations across Walmart stores, also say they are closing locations this year, citing diminished foot traffic and lower profits.

More Walmart customers are picking up their goods in store parking lots during the pandemic, which means fewer sandwich sales, said Jim Miller, a Subway franchisee. "The Walmart locations have been our toughest challenge," said Mr. Miller, who aims to close four of his five Walmart restaurants located in Michigan, Ohio and Indiana by June. wsj.com

Retail Defaults & Bankruptcies
Retail defaults to ease in 2021; leveraged retailers remain vulnerable
There is good news and bad news for the U.S. retail industry when it comes to defaults and bankruptcies.

The default rate in retail and apparel speculative debt will fall to 5.3% this year, down from the record high of 20% last year, according to a new research report from Moody's Investors Services. Retailers with high leverage, however, could still find themselves unable to make their debt payments even as the country emerges from the pandemic, warned the credit watchdog.

"With 20% of Moody's-rated U.S. retailers defaulting last year, the pandemic exacted a heavy toll on the industry," said Raya Sokolyanska, a Moody's VP and senior analyst. "But we believe the sector has a brighter horizon in 2021, thanks to big liquidity boosts from capital raises, broad balance sheet improvement and macroeconomic growth."

At the same time, Sokolyanska added, the retail default rate remains historically high. chainstoreage.com

Friday's Comic Relief
Six-foot lizard discovered scaling shelves of beverage section in Thai 7-Eleven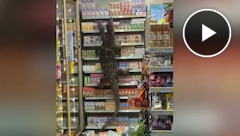 Staff and customers at a 7-Eleven in the Thai city of Nakhon Pathom, near Bangkok, were stunned this week by the intrusion of a giant Asian water monitor, which barged through the store and scaled shelves next to the beverage cooler, drink cartons cascading down in its wake.

Shrieking bystanders recorded some of the action. Once. Twice. Thrice it almost crashed to the floor. But the lizard was muscular. It appeared determined. It could not be deterred by nine shelves of snacks, footage reveals.

A member of staff said that while the animal was guided out of the shop, rescuers did not catch it. "It just ran away into the bushes," the employee told a British tabloid. "I've never seen a monitor lizard that big in my life." washingtonpost.com

Regal Cinemas to re-open 500 locations this spring

Mall vacancy rate increases by a record margin

Will suburbia save the mall?

Retail Import Surge Expected Through Summer

BJ's Wholesale Club CEO and President Dies at 49

---
Senior LP & AP Jobs Market
In Case You Missed It - New AP Director Job at Target
Director AP - Investigations Operations job posted for Target
in Brooklyn Park, MN


This role within the AP team means leading a team that develops the Assets Protection investigations process and program strategy. Your team will be responsible for developing and coordinating Assets Protection investigations training, tools and resources. You will work closely with the field and headquarters teams, Stores/DC Assets Protection, Store Operations, Merchandising, Supply Chain, Inventory Accounting, Shortage Research and Analysis and other internal partners. Your team will also serve as a liaison to external partners including the Loss Prevention Research Council, RILA, NRF, ORCAs and other industry associations. jobs.target.com

---
---


Powered by Experience.
Driven by Excellence.
ADT Commercial is the commercial channel of ADT and a premier provider of commercial security, fire, life safety and risk consulting services in the United States. Headquartered in Boca Raton, Fla., ADT Commercial supports more than 300,000 customer locations with its strong network of more than 5,000 employees across 150 offices. ADT Commercial is built on a foundation of customer service excellence and strengthened by decades of industry expertise. For more information, please visit www.adtcommercial.com and follow us on Facebook and LinkedIn.
Solutions to help manage your organization's risks
ADT Commercial can help manage your organization's risks with custom integrated solutions to help cover all your locations - inside and out. Our local teams will tailor your systems to meet the specific needs of each facility.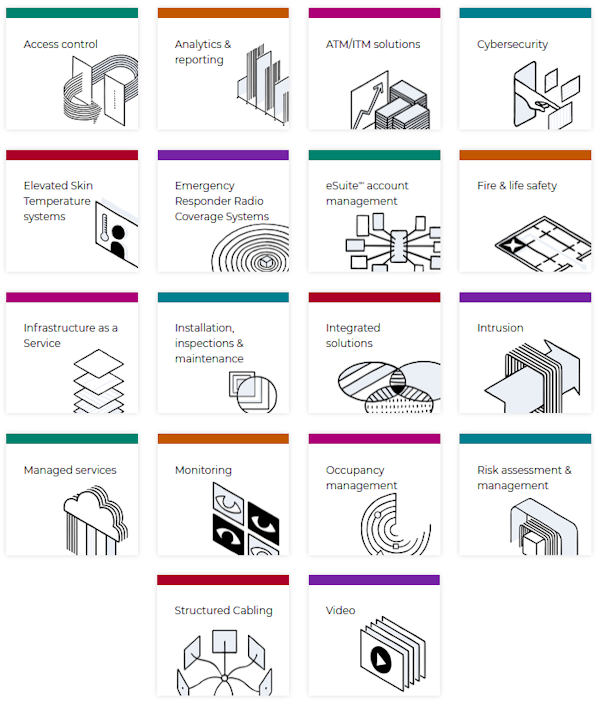 ---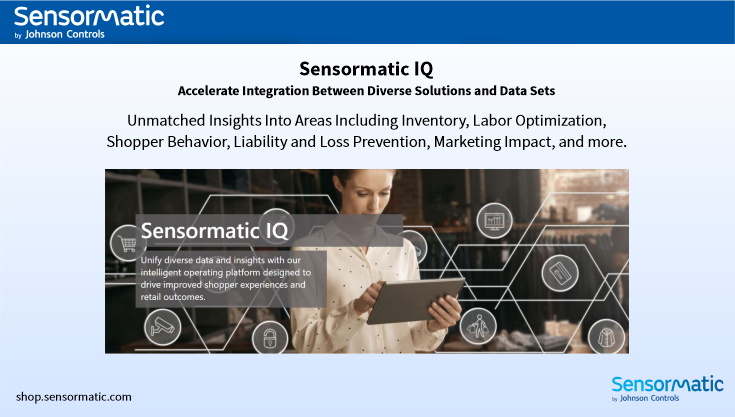 From Russia With Love
Top Biden cyber official: SolarWinds breach could turn from spying to destruction 'in a moment'
President Biden's top cybersecurity adviser says the "likely Russian" hackers who breached the popular IT monitoring software SolarWinds could use their access to "degrade" or "destroy" networks rather than simply spy on them "in a moment."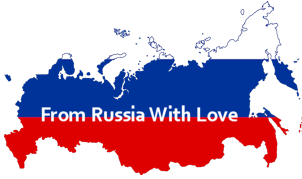 Speaking Wednesday evening during a digital panel discussion hosted by the Council on Foreign Relations, Anne Neuberger, the deputy national security adviser on cyber and emerging technology on the National Security Council, said, "Even if it's routine espionage," the action is "still counter to our interests" and requires the U.S. government to find ways to force the perpetrators to reconsider their actions in the future. "How do we change our attackers' calculus to make them think about those hacks they may be doing?"

Neuberger's remarks come amid an ongoing debate about whether the breach was an act of digital warfare or a carefully crafted espionage campaign, and on the heels of an essay by Marcus Willett, a former senior cyber adviser to Britain's digital intelligence agency, GCHQ, urging the U.S. to be cautious about retaliating. Willett deemed SolarWinds a "surgical" espionage campaign on the part of the Russians, rather than a reckless and destructive effort.

The Biden administration is still investigating the aftermath of the expansive SolarWinds breach, which gave the hackers, believed to be Russian, access to at least nine U.S. government agencies and a large number of private U.S. companies. While senior administration officials have yet to explain what a response to the breach might look like, they continue to insist it's coming in "weeks, not months," according to discussions with reporters in mid-March. news.yahoo.com

Trade Secret Theft Detection
Coca-Cola trade secret theft underscores importance of insider threat early detection

A research engineer used basic exfiltration techniques to steal trade secrets from Coca-Cola, but wasn't caught until she attempted to steal similar data from another company.

The trial of Xiaorong You is set to begin today, April 6, in Greenville, TN. She is accused of trade secret theft and economic espionage after allegedly stealing bisphenol-A-free (BPA-free) technologies owned by several companies, including her former employers Coca-Cola and Eastman Chemical Company. The value placed on the development of the stolen technologies is $119.6 million. Other affected companies include Azko-Nobel, Dow Chemical, PPG, TSI, Sherwin Williams and ToyoChem.

The details of the case suggest that the damages You is allegedly responsible for could have been minimized if better real-time insider threat detection methods had been in place. They also outline possible motives for the theft of the intellectual property: ego and money.

How You allegedly stole BPA-free trade secrets

You is alleged to have stolen trade secrets from her two employers and availed these to a Chinese company that her co-conspirator managed. The theft was carried out in a straightforward manner: She uploaded information to Google Drive; for the more sensitive documents she used her smartphone's camera to take screenshots of the documents, avoiding detection from the infosec team.

Insider threat takeaway: Early detection is critical

The time between You's departure from Coca-Cola (August 2017) and her indictment (February 2019) indicates that the upload of the trove of documents from the Coca-Cola infrastructure to You's Google Drive account was not detected by the information security team in real time and was discovered after the fact. The actions taken at Eastman Chemical are indicative of a real-time detection of an anomaly that resulted in an immediate investigation resulting in You's firing. She copied internal information to an external drive.

Two actions could have stopped the theft or lessened its impact:



●

Real-time alerts and processes designed to prevent sensitive and protected data from exiting the corporate environment.



●

Prohibiting personal and non-authorized electronic devices, including smartphones, from proximity to trade secrets or sensitive installations. Using the smartphone's camera to copy documents and workspace is a throwback technique of espionage days of old, when miniature and subminiature cameras would be used to copy documents from within restricted spaces. csoonline.com

One-Third of Organizations Saw Daily Cyberattacks in 2020
The Cyberthreats Keeping IT Pros Up At Night
In this year's Cyber Protection Week Global Report, concerns over cyberthreats run high across the board for IT professionals. Nearly 80% of the IT professionals surveyed from around the world reported concern over all of the cyberthreats identified in the survey.

That said, there were some threat vectors and categories that loomed especially large. When ranked, the cyberthreats that most concern IT pros today are:

1. Malware
2. Data theft / data breaches
3. Phishing attacks
4. DoS / DDoS attacks
5. IoT attacks
6. Ransomware
7. Insider attacks
8. Cryptojacking

Given that the pandemic saw cyberattacks grow by 400% and that one-third of organizations were attacked on a daily basis in 2020, it makes sense that concern runs high for IT teams. What makes less sense, is the method IT professionals have taken to respond.

Defenses have gotten complicated

79% of IT professionals surveyed reported that they had up to 10 different security and protection tools running simultaneously – from data protection to anti-malware and regular patch management and vulnerability assessments. The remaining 21% had even more than that.

Remote work challenges persist, downtime grows - IT priorities in 2021: helpnetsecurity.com

RaceTrac & Shell Impacted by Third-Party Cybersecurity Incident

Unauthorized parties accessed data stored in Accellion's File Transfer Appliance

RaceTrac stated that unauthorized parties were able to access a subset of RaceTrac data stored in the Accellion File Transfer Appliance by exploiting a previously undetected software vulnerability. This includes email addresses and first names of some RaceTrac Rewards loyalty users. The incident was limited to Accellion services and did not impact RaceTrac's corporate network. Additionally, the systems used for processing guest credit, debit and RaceTrac Rewards transactions were not impacted. The convenience store retailer notified law enforcement and is continuing to investigate the incident with Accellion and third-party security partners.

Shell stated that upon learning of the incident involving Accellion's File Transfer Appliance, which it uses to securely transfer large data files, it addressed the vulnerabilities with its service provider and cyber security team, and began an investigation to better understand the nature and extent of the incident. It found no evidence of any impact to Shell's core IT systems, as the file transfer service is isolated from the rest of Shell's digital infrastructure. csnews.com

LinkedIn Phishing Ramps Up With More-Targeted Attacks
---
---

---
---
Amazon Defeats Unionization Attempt
Amazon Has Enough Votes to Bust Bessemer Union
Amazon secured a majority of "no" votes in counting, the Retail Wholesale and Department Store Union has indicated that it plans to mount legal challenges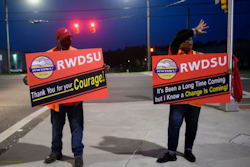 Amazon employees at a 5,800-worker warehouse in Bessemer, Alabama, have voted against unionizing
, according to a preliminary vote count by the National Labor Relations Board. Amazon secured a majority of "no" votes in counting that took place Thursday afternoon and Friday morning. There are still hundreds of contested ballots, however, even taking into account those ballots, Amazon has enough votes to bust the union.
The Retail Wholesale and Department Store Union (RWDSU) has indicated that it
plans to file objections to Amazon's conduct during the election, and the NLRB did not immediately declare Amazon victorious.
Despite international press coverage and endorsements from prominent politicians and celebrities, the union faced an uphill battle in winning an election against one of the world's most powerful companies, which campaigned against the union, and in a legal environment that is stacked in favor of employers.
RWDSU plans to challenge the election, it said in a statement Tuesday night. In particular,
the union could file a complaint against Amazon for emailing USPS employees in early 2020 and pressing the agency to install a mailbox feet from the entrance of the warehouse.
"
Our system is broken, Amazon took full advantage of that
, and we will be calling on the labor board to hold Amazon accountable for its illegal and egregious behavior during the campaign," Stuart Appelbaum, president of RWDSU, said in a statement on Thursday night. "But make no mistake about it; this still represents an important moment for working people and their voices will be heard."
vice.com
5 key mistakes retailers make when moving to online grocery
1. Poor user experience
- No customer in the world likes to wait to be serviced. Similarly, there is nothing more frustrating for a potential customer than navigating a slow grocery website.
Optimize your online store speed and get it to load in under 3 seconds.
2. Lack of product information
- While price and choice are incentives for customers to buy, information about the product is just as important. When in a store, customers can view products from all angles, evaluate the quality and in some cases even try them.
Ensure all products listed on your online store have the maximum information possible on their product page
3. Poor management of out-of-stock products
- Managing your product inventory and updating your online store accordingly is essential to maintain a positive customer relationship.
4. Complex checkout process
-
Optimizing your checkout process
is a crucial piece of the puzzle. Offer your visitors an alternative way to complete their checkout process (i.e., without having to create a user account).
5. Hard-to-reach customer service
- Last but not least, customer service should not be neglected in order to preserve the reputation of your site and the loyalty of your users. An online store that makes it hard to reach out to customer service can prompt potential customers to steer clear. First off, be sure your online store has an 'About us' page clearly filled with your brand, registered business number and contact information. Additionally, consider including your business phone number on every page of your website. Having a contact form is also highly recommended. Bonus points if you have a live chat feature and a frequently asked questions (FAQ) section.
supermarketnews.com
Knoxville, TN: East Towne Mall demolition begins as Amazon moves in
---
Whitehall, OH: Whitehall Police arrest 21 suspects in theft "Blitz"
Police collaborated with local businesses to catch shoplifters and other theft-related crimes and arrested 21 suspects for theft and additional charges. Undercover and patrol officers and detectives saturated the Great Eastern, Town and Country, and Walmart shopping centers. They provided a coordinated response to incidents. "Blitz" is defined by Whitehall Police as targeted enforcement of a specific crime, targeted enforcement in a specific area, or both.

"Our targeted enforcement efforts have proved very successful over the last few years," said Deputy Chief Dan Kelso in a news release Thursday. "We do this on a small scale almost every day and frequently on a larger scale like this blitz. The message is if you come to Whitehall to steal or commit other crimes, expect to end up in jail."

In addition to multiple theft and shoplifting charges, police arrested suspects for drug offenses, an OVI, a stolen car, improper handling of a firearm, falsification, resisting arrest, and several felony warrants. One suspect who was caught shoplifting had 10 warrants for theft. nbc4i.com

Lafayette, IN: Police seize assets, $200k in cash; Purdue professor emeritus, ex-wife face multiple charges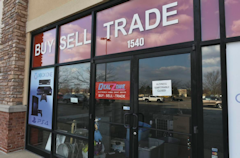 Katherine Jenkins, an employee, said dozens of officers, seeing her move to open the store, had left their cars to execute a search warrant for Treasure on Pallets. Jenkins handed over the store key, answered questions about where the store's money was and showed the police around. A gray-haired woman from the Internal Revenue Service showed Jenkins her badge, which made her think her boss hadn't been paying taxes, she said. West Lafayette, Lafayette and Tippecanoe County police were involved, as were detectives from non-local agencies.

Local police departments, the Tippecanoe County prosecutor's office and the state of Indiana on Monday filed a civil forfeiture lawsuit against the owners of Treasure on Pallets, asking that their assets be frozen and seized because of allegations of racketeering and money laundering. CD Land Inc., which shares a name with a former electronics store on Earl Avenue that also sold guitars, T-shirts and posters, is now listed under the same address on Old U.S. 231.

The owners, the divorced couple Menashi and Fran Cohen, also own Deal Zone, a business on Creasy Lane that was similarly raided by dozens of police officers on March 5. Police also served search warrants at the Cohens' separate residences in Lafayette. The raids commenced a multi-agency investigation of the owners, officials said.

"Offenses involving theft were committed by knowingly or intentionally purchasing stolen property; aiding, inducing or causing others to commit theft; and/or ... failing to report money owed to the state of Indiana" in taxes, the forfeiture lawsuit says. The initial search warrants yielded nearly $200,000 in cash alone, the lawsuit states. A list of other items seized includes jewelry and gold items at Fran Cohen's residence, as well as firearms and electronics from Menashi Cohen's residence. Civil forfeiture laws allow law enforcement agencies to seize and keep cash and other items based on the property's suspected connection to possible criminal activity. Neither Cohen has yet been charged with a crime, according to online records. purdueexponent.org

Nashville, TN: Trio from 5-Member Shoplifting Ring charged in Thefts
at Mapco Stores
Masi Kingston is the latest to be charged in series of Mapco thefts from 2019. He was served overnight as he was transferred into the Metro Nashville Jail. He will join two more co-defendants, Jerock Walker and Annisha Holmes, who were previously arrested, on their next court date to answer to the charges. Metro Nashville Police have charged Masi Kingston, Jerock Walker, and Annisha Holmes, in a series of thefts from Mapco stores on Old Hickory Boulevard. Though some were served on the outstanding warrants in recent months, the latest defendant was charged overnight.

Metro Police say in 2019, a group of five people entered the Mapco at 629 Old Hickory Blvd. and worked together to distract employees so they could conceal and steal multiple items. Masi was observed on security footage reaching across the counter to the lottery tickets, and all five co-defendants fled with multiple stolen items. Two of the individuals have yet to be served with the warrants in the case. scoopnashville.com

Eau Claire, WI: Woman gets probation for making fraudulent credit cards, no further contact with Menards
An Eau Claire woman will spend two years on probation for making credit cards with stolen information. The fraudulent purchase of a washing machine at an Eau Claire store led to the discovery of the crime, police said. Whitney J.L. Moore, 35, pleaded no contest Thursday in Eau Claire County Court to two felony counts of identity theft. Ten additional identity theft charges and a felony count of retail theft were dismissed but considered at sentencing by Judge Michael Schumacher. Moore was fined $2,180 and must pay $959 in restitution. As conditions of probation, Schumacher ordered Moore not to have contact with Menards stores or possess other peoples' personal identifying information. news.yahoo.com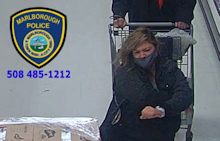 Marlborough, MA: Police seek $1,000 Shampoo thieves
Police are seeking three people — two women and a man — who they believe swiped more than $1,000 worth of merchandise during a visit to the Price Chopper grocery store last weekend. Authorities released security camera photos of the people they believe went on the shoplifting spree, according to Detective Scott DeCeiro. "They shoplifted more than $1,000 worth or products, mostly expensive shampoo," he said. Police released photos of the three suspects taken by store security cameras. One of the two women and the man have carriages as they move along the store. metrowestdailynews.com

New York, NY: Scissor-wielding thief robs five cellphone stores throughout the Bronx and Manhattan

Newark, NJ: Man Arrested for Stealing $300 Chainsaw from Home Depot in Bloomfield
---
---

Shootings & Deaths

Bryan, TX: Mass Shooting in Texas; Cabinet factory shooter ID'd as
27-year-old Larry Bollin

The Texas cabinet factory worker accused of shooting six co-workers and a state trooper in a deadly Thursday afternoon rampage has been identified as 27-year-old Larry Bollin. Bollin has since been charged with murder and is being held on a $1 million bond. One of the shooting victims at a Kent Moore Cabinets factory in Bryan was killed, and four of the five injured workers are in critical condition, police said in a statement.

A Texas DPS Trooper was also shot by Bollin, and seriously injured, during a police pursuit about a half-hour away from the crime scene, officials said. Bollin was reportedly captured in Grimes County, northwest of Houston, two hours after the 2:30 p.m. mass shooting. Police have not revealed a possible motive for the workplace shooting, and are expected to announce the names of the victims Friday, according to the local station, which spoke to Bollin's co-workers. abc7.com

Cuyahoga Falls, OH: McDonald's employee fatally shot, coworker arrested
A Cuyahoga Falls McDonald's employee was fatally shot by a coworker on Thursday, according to police. Police said Christopher Riddick confronted a coworker at the McDonald's location on Howe Avenue at 1:30 p.m. According to police, Riddick shot the man in the chest. Riddick fled the scene on foot, but was arrested a short time later. The victim was transported to Akron City Hospital, where he later died. Police said Riddick has been charged with aggravated murder. news5cleveland.com

Atlantic City, NJ: More police, substation eyed for Atlantic City Boardwalk after store owner's death

Nashville, TN: Man shot during argument at Waffle House

Billings, MT: Man sentenced to 19 years for shooting C-store clerk during robbery
---

Robberies, Incidents & Thefts

Des Moines, IA: Teen charged with attempted murder in stabbing of Subway employee
The Des Moines Police Department said a 16-year-old is charged with attempted murder in connection with a stabbing at a Subway restaurant. Police said Thursday that 16-year-old Brian Michael Schnathorst is charged with one count of attempted murder and one count of willful injury. The stabbing occurred around 3:30 p.m. Wednesday. According to Des Moines police Sgt. Paul Parizek, 18-year-old Subway employee Connor Kernes was stabbed shortly after entering the restaurant to begin his work shift.

Parizek said the attack was almost instantaneous. "When we reviewed the video, it looked like the suspect was already in the store … maybe getting ready to order some food," he said. "The victim walked in, there was a real brief instance where they looked like maybe they exchanged a few words and then he was stabbed. (It was) just that sudden." Police said the investigation has yet to confirm a motive, but the suspect and victim knew each other. kcci.com

Cape Coral, FL: Police investigating stolen vials of Johnson & Johnson Covid-19 vaccine
A Cape Coral business left without Covid-19 vaccines after more than $2,000 worth are stolen. A total of ten vials of the Johnson & Johnson Covid-19 vaccine were stolen from Physicians' Primary Care of Southwest Florida. It's the first crime of its kind here in the area and it has left police just as confused. "This is the only one I've heard of," says Master Corporal Phil Mullen with the Cape Coral Police Public Affairs Department. "This is brand new. When we did see it yesterday, we figured you guys would come calling. It's unique." According to a police report, an officer was called to Viscaya Parkway Wednesday just after 3 p.m. for the theft. Ten vials of the Johnson & Johnson Covid-19 vaccine that had been once stored in a refrigerator were missing. fox4now.com

Orange County, FL: Repeat Offender faces life in prison for role in DeBary gun store Burglary


An Orange County man faces a sentence of mandatory life in prison after he was convicted of participating in the theft of 18 guns during the burglary of a DeBary gun store. The burglary was unusual because undercover Orange County deputies had tailed the teens into Volusia and watched as they broke into the store. Jaquez Tuijay Smith, 21, was found guilty of principal to armed burglary following a jury trial on Tuesday. Smith faces mandatory life in prison when he is sentenced because he was classified as a prison release reoffender since he committed the crime within a three-year window of being released from prison. news-journalonline.com

Anchorage, AK: Man Sentenced to Nine Years in Federal Prison for Using Craigslist to Setup Armed Robberies
An Anchorage man was sentenced to nine years in prison followed by three years of supervised release for possession of a firearm during two separate armed robberies of Craigslist sellers. According to court records, on August 24, 2019, Cloyd Lacap Jr., 22, robbed two individuals at gun point after arranging to meet them for the supposed purpose of purchasing items each had listed for sale online. justice.gov

Lynn, MA: Man Sentenced for Convenience Store Robberies
Paul Pacheco, 47, was sentenced by U.S. District Court Judge Allison D. Burroughs to 27 months in prison, two years supervised release and ordered to pay $380 in restitution. Pacheco pleaded guilty to one count of robbery in November 2020. Between September 2019 and January 2020, Pacheco committed five robberies at two convenience stores in Lynn. During each robbery, Pacheco displayed what appeared to be a firearm and demanded money. When Pacheco was arrested committing the fifth robbery on Jan. 16, 2020, law enforcement recovered the firearm Pacheco displayed, later determined to be an air pistol, and marked money stolen from the convenient store. justice.gov

Two women cook their own meal at Waffle House after finding store unlocked and worker asleep in his car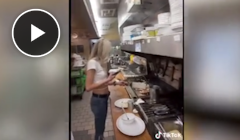 The video begins with the women going past an employee sleeping in his car. The women then make it to the kitchen counter and begin cooking using the restaurant's pots and pans, with one woman trying to make an omelet. One of the women later shows off the food that they made at the restaurant. The video has racked up over 52,000 likes on TikTok so far. dailymail.co.uk

Orlando, FL: Man Sentenced To 35 Years In Federal Prison For Four Armed Robberies; C-Store and Banks

Charlotte, NC: Man sentenced to 16 years in prison after Dollar General Armed Robbery

Fresno, CA: Man arrested for committing a series of Armed Commercial Robberies

Denver, CO: Police asking for information about suspects in CVS Robbery

Edmonton, Alberta, CN: Woman says she was racially profiled, accused of shoplifting at wellness store
● C-Store – West Seattle, WA – Robbery
● C-Store – Labette County, KS – Robbery
● CVS – Denver, CO – Robbery
● Discount- Staten Island, NY – Robbery
● Gas Station – Mentor, OH – Armed Robbery
● Jewelry – Santa Cruz, CA – Burglary
● Jewelry – Lexington, KY – Robbery
● Laundry – La Crosse County, WI – Burglary
● Pharmacy – Cape Coral, FL – Burglary
● Restaurant – Oklahoma City, OK – Burglary (Domino's)
● 7-Eleven – Honolulu, HI – Armed Robbery
● 7-Eleven – Honolulu, HI – Armed Robbery
● 7-Eleven – San Mateo, CA – Armed Robbery

Daily Totals:
• 9 robberies
• 4 burglaries
• 0 shootings
• 0 killed
Weekly Totals:
• 51 robberies
• 23 burglaries
• 0 shootings
• 0 killed

---
| | |
| --- | --- |
| | Andrew Cahill promoted to District Asset Protection Manager for Lowe's Companies |
Submit Your New Hires/Promotions
or New Position
See all the Industry Movement
---



Feature Your Job Here For 30 Days -
70% Aren't On The Boards
Post your job listing
---
Featured Job Spotlights

Corporate Security Manager
Calabasas, CA - posted April 6
The Corporate Security Manager will, among other things, (a) be responsible for ensuring a safe and secure environment for our employees, vendors, and visitors, (b) develop, manage, execute and continuously improve corporate security processes and protocols, and (c) lead a team of security specialists at our corporate offices...



Regional Asset Protection Manager
Roanoke or Richmond, VA - posted March 16
To provide support for loss prevention and safety for restaurants in assigned regions and protect the assets of the company by leveraging partnerships at all levels of the company and utilizing existing Asset Protection and Restaurant Operating systems and processes...

Sr. Manager, Retail Asset Protection
Baltimore, MD - posted Feb. 23
The Senior Manager, Retail Asset Protection is responsible for implementing strategies and training to ensure the effective execution of Protect Retail initiatives. This position will be responsible for leading a team that executes core programs and strategies relating to safety and security, theft and fraud mitigation and operational excellence in retail stores...

Regional LP & Safety Manager
Denver, CO - posted Feb. 9
The Regional Loss Prevention & Safety Manager implements Risk Management and Loss Prevention objectives within assigned region. The position will provide assistance and training to the field operations teams to address specific Risk Management and Loss Prevention issues within an assigned span of control. Read job description here

Manager of Asset Protection & Safety Operations
Rockaway, NJ - posted Feb. 4
The Manager of Asset Protection & Safety Operations is responsible for the control and reduction of shrinkage and safety compliance for Party City Holdings, by successfully managing Asset Protection (AP) Safety programs and reporting...

---

Featured Jobs
---
JOB TITLE
COMPANY
CITY/STATE
DATE ADDED

Director
Dir. AP Investigations
Bloomingdale's
Long Island City, NY
March 16
Sr Dir AP-Operational Readiness
CVS Health
Cumberland, RI
March 8
Sr Dir AP Strategy & Profitability
CVS Health
Cumberland, RI
March 8
Sr. Dir. Risk Management, LP & Safety
Goodwill of Central Florida
Orlando, FL
April 6
Dir. Safety/Risk Mgmt.
Goodwill of SE Louisiana
New Orleans, LA
April 2
Sr. Dir. LP
Harbor Freight Tools
Calabasas, CA
January 28
Sr. Dir. AP
Macy's
Herald Square & NYC
April 6
Dir. Safety & Loss Control
Marsh and McLennan
Fort Lauderdale, FL
April 6
Senior Dir. LP
Nike
Beaverton, OR
March 19
Executive Dir. AP
Panda Restaurant Group
Rosemead, CA
January 28

Parker's C-Stores

Savannah, GA

June 3

LP Dir.
Rent One
St. Louis, MO
April 6
Director, AP Finance & Analytics
Rite Aid
United States
January 26
Dir. LP Insight & Intelligence
Sally Beauty
Denton, TX
March 26
Director AP, Investigations Operations
Target
Brooklyn Park, MN
April 7
Exec Dir-Corporate Security
Verizon
Basking Ridge, NJ
March 9
Dir. AP Solutions
Walgreens
Deerfield, IL
January 28

Corporate/Senior Manager
Senior Manager, Field AP
Carvana
Atlanta, GA
March 9
AP Operation Manager

Follett Corporation

Westchester, IL

January 7

Group Investigations Manager
JCPenney
Plano, TX
January 19

---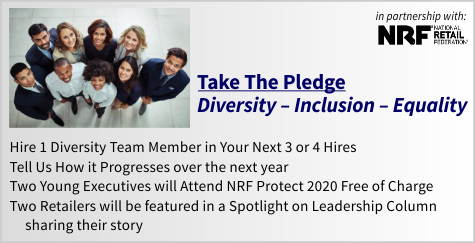 ---

Sometimes it's not what you say that's important as much as it's what they feel six months after the conversation. Being a good wordsmith is a skill, but ensuring that what you say leaves the right impression long term is a true art and one that is only reached by reflection and intention.

Just a Thought,
Gus



(content subject to approval)
---

Recruiting?
Get your job e-mailed to everyone... everyday
Post on our Featured Jobs Board!
Not getting the Daily?
Is it ending up in your spam folder?
Please make sure to add d-ddaily@downing-downing.com to your contact list, address book, trusted sender list, and/or company whitelist to ensure you receive our newsletter.
Want to know how? Read Here



36615 Vine Street, Suite 103
Willoughby, OH 44094
440.942.0671
copyright 2009-2019
all rights reserved globally