LPNN's All-Time Most-Watched Videos
Stay tuned in the coming weeks as we count down the industry's Top 10 LP Leader and Top 10 Solution Provider interviews. Read more here.



Want to be a Senior Leader?
There's a Price
Bob Oberosler, SVP Loss Prevention for Dollar Tree & Family Dollar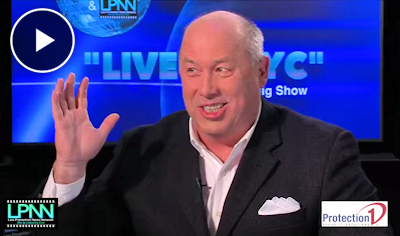 Filmed in January 2015 at the Daily's 'Live in NYC at the NRF Big Show 2015' event
Bob Oberosler, Senior Vice President of Loss Prevention for Dollar Tree and Family Dollar stores, has traveled several times throughout the U.S. for his career, worked seven days a week building an LP program from scratch and spent more hours than he can count taking on extra projects and responsibilities to help him advance in his career. If there's an executive who's paid the price, Bob is it. In this LPNN interview, Bob shares just what it takes to be a senior leader in the LP industry. From volunteering for extra tasks at work to choosing a house you can resell quickly, learn the things executives don't always think about when moving up in an organization.
---

---

Agilence Whitepaper: Balancing BOPIS & Loss Prevention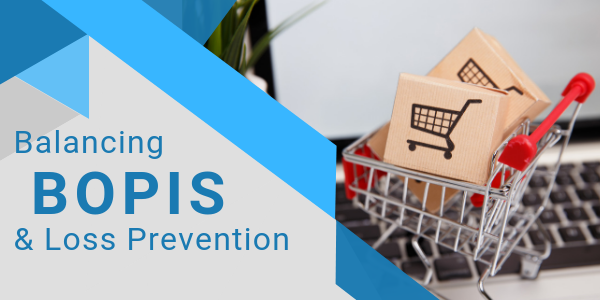 Buy Online Pickup in Store (BOPIS) is becoming a must-have service for retailers of all sizes. Consumers now expect the convenience of online ordering, especially through mobile devices, and quick pick-up no matter how big the retailer is. Unfortunately, the percentage of fraudulent BOPIS purchases is above average with retailers reporting a loss of 3-5% (with some as high as 10% or more).

Enabling the convenience of BOPIS without forsaking massive loss is the delicate balance that Loss Prevention professionals now face which is why we've created this easy guide to balancing BOPIS and LP. Download the whitepaper here.

LPF Announces Auror as Newest Bachelor Level Partner


The Loss Prevention Foundation (LPF) announces its newest Bachelor Level Partner, Auror USA, Inc. The Bachelor level partnership allows Auror to provide LPQ and LPC certification course scholarships, as well as LPF memberships, to loss prevention industry professionals.

Specializing in retail crime intelligence and crime prevention, Auror offers a platform for retailers to report, solve, and prevent crime in their stores. The Auror Retail Crime Intelligence Platform streamlines the crime reporting process and connects the dots on criminal activity, and distributes real-time intelligence on threats, fundamentally transforming how retailers prevent crime. yourlpf.org

---

Coronavirus Update: April 1

US: 200K+ Cases, 4K+ Dead -- Globally: 875K+ Cases, 43K+ Dead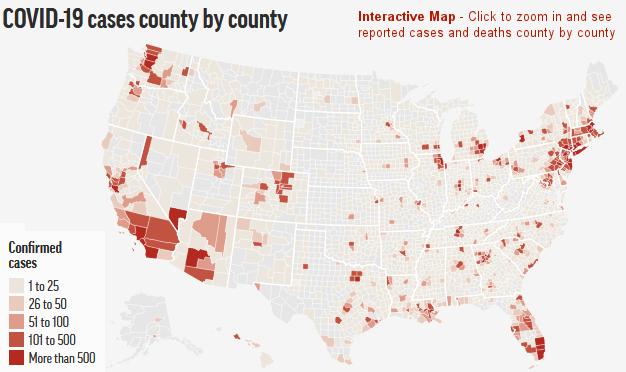 Traffic at Walmart, Costco and Target falls for the first time in weeks as coronavirus stockpiling behavior shifts

Shopper traffic could climb again, though social distancing and e-commerce
may keep consumers away from stores

Walmart traffic was down 6.7% year-over-year for the third week of March. The previous week, traffic was up 18.4%. At Costco, traffic fell 8.7% year-over-year for the third week of March. The second week of March, traffic jumped 34.7%. And at Target, traffic slumped 20.5% in the third week of March after climbing 19.2% year-over-year the previous week.

"There is a downside to stocking up for the long haul," wrote Ethan Chernofsky, vice president of marketing for Placer.ai, in a post on the company's blog. "Once you have all the things you need, there is little need for more visits."

Placer.ai data shows that the slowdown was more pronounced in areas that have been hit harder by the coronavirus outbreak. For instance New York, which is most affected in the U.S., saw the sharpest decline, while in Arizona, where the impact has been far less, the decline wasn't as steep.

"The positive here is that the data indicates that as the situation improves, and doesn't worsen, consumer behavior tends to return to more normal patterns," Chernofsky wrote. "Should this trend hold, it's a very strong endorsement for those who believe that wider retail activity could quickly return to previous levels should the preventative measures being enacted serve their ultimate goal." marketwatch.com

Walmart Amps Up Its Virus Response for Workers

Mandated One-Way Aisles - Employee Masks, Gloves & Temperature Checks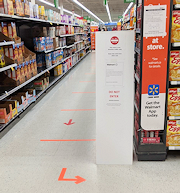 The nation's biggest private employer will begin supplying "high-quality" masks and gloves to associates who request them starting this week, and will conduct temperature checks on them at its warehouses and stores.

It's also trying to reduce crowding in stores by implementing procedures like one-way aisles that are normally reserved for high-traffic events like Black Friday. The personal protective equipment will go to warehouses first and then reach stores in the coming weeks, beginning in areas hardest hit by the coronavirus.

While it's hard enough to keep employees safe, an even bigger challenge for Walmart is managing the flow of customers eager to stock up on food, toilet paper and disinfecting wipes. Grocery sales rose 68% over the past two weeks, according to Nielsen data. Walmart is experiencing "astonishing volume," Bartlett said, and is working with local officials to test and implement "crowd-management protocols." Still, he said that it's hard for employees "to have to be enforcers of social distancing." Walmart has already begun mandating one-way aisles in the U.K. and Canada, he said.

The unprecedented stresses on cashiers and shelf-stockers have resulted in more of them than normal missing or skipping shifts, said Bartlett, who described the situation as "manageable." Walmart has also hired nearly 50,000 new associates as of last night, he said, part of its pledge to bring on 150,000 and increase its U.S. workforce by 10%. bloomberg.com

Walmart Blog Post: Additional Steps We're Taking for the Health and Safety of Our Associates

Home Depot asks employees to take temperatures before coming to work, will limit traffic

Costco limits members to one guest while shopping

Kroger announces $2 'hero bonus' for staff members working during pandemic

Whole Foods workers hold 'sick-out' to demand hazard pay during pandemic
Whole Foods workers organized a national "sick-out" protest on Tuesday, demanding that the grocery store give employees double their normal wages as "hazard pay" for working on the frontlines during a pandemic. The Whole Foods protest follows worker-organized strikes for better coronavirus protections at Instacart, the grocery delivery service, and at an Amazon warehouse in New York.

Whole Worker, an organization of Whole Foods employees, called on workers to stay home sick on Tuesday to pressure the company to improve health protections for grocery workers, including paid sick leave for all workers who need to self-isolate, reinstatement of healthcare coverage for part-time workers, better sanitation equipment, and the immediate shutdown of any store location where an employee tests positive for Covid-19. theguardian.com

Could the coronavirus outbreak lead to a wave of unionization in retail?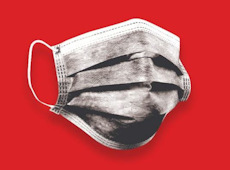 The coronavirus outbreak has led workers from all kinds of industries to push for greater protections from their employers. Retail is no exception.

At retail stores that have been classified as essential, like pharmacies and groceries, some workers are pushing for hazard pay, as they grow increasingly worried that coming into their stores each day means putting their personal health at risk. They're also asking for their employers to provide them with personal protective equipment, like masks and gloves. Meanwhile, some workers at stores like GameStop and Joann Fabrics have tangled with managers over the fact that they believe corporate has wrongly classified their stores as essential.

This begs the question of how, once the coronavirus outbreak slows, which temporary changes to a retailer's paid sick leave policy or pay increases will stick. One potential outcome: that more retail workers will seek to unionize. modernretail.co

Apple Asks Store Workers to Take On Tech Support Roles
Apple Inc. is asking retail store employees to temporarily become remote technical support staff while stores remain closed. A subset of retail staff are participating in the program to become work-from-home AppleCare employees so the company has enough workers to handle customer requests. The company quietly piloted the move in recent weeks before prodding many employees this week to take part. In a video message on Friday, Apple retail chief Deirdre O'Brien said the effort "has been going great." bloomberg.com

Retailers agreed to coronavirus testing in their parking lots. Then they hit hurdles

4 retailers have collectively opened only 5 drive-thru testing locations so far,
None available to the general public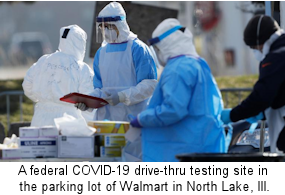 After a meeting with President Donald Trump in mid-March, executives from Walmart, Target, CVS and Walgreens flanked him in the White House Rose Garden while he announced the new public-private partnership that would lead to the opening of drive-through coronavirus testing sites.

Four national retailers have collectively opened five testing sites since the March 13 news conference where Trump announced the initiative. Walmart is hosting two testing sites on its properties in the Chicago suburbs and Walgreens has one in the same area. CVS has one drive-through testing center near Worcester, Mass., and drug store company Rite Aid is now operating one testing site in Philadelphia.

Those sites are only for health professionals and first responders exhibiting symptoms and were selected by retailers working in collaboration with government authorities to identify stores that are best suited to handle testing in critical areas, HHS said.

The retailers said they remain committed to opening additional drive-through testing locations, while acknowledging that they had encountered certain difficulties at the pilot sites. Walmart, for example, has struggled with a shortage of personal protective equipment, or PPE, for the professionals administering tests at sites in Northlake and Joliet, Ill., and found like many state and local governments that testing kits were in short supply. mcclatchydc.com

New York governor begs for help amid 'staggering' death toll
New York's governor has issued an urgent appeal for medical volunteers amid a "staggering" number of deaths from the coronavirus. He said an additional 1 million health care workers are needed to tackle the crisis.

"Please come help us in New York now," Governor Andrew Cuomo said as the state's death toll climbed by more than 250 in a single day to a total of more than 1,200 victims, most of them in the city.

Meanwhile a Navy hospital ship, the USNS Comfort, also sent to the city after 9/11, had arrived with 1,000 beds to relieve pressure on overwhelmed hospitals. yahoo.com

NYPD has 5,600 officers (15% of uniformed force) out sick - 1,200 have coronavirus, 5 dead

Home Depot halts coronavirus N95 mask sales, implements temperature checks for workers

Ahold Delhaize USA donates $10 million relief package to local communities

L.L.Bean CEO: Congress needs to step up for 'middle market retail'

Pa. Mall Rips Wells Fargo's 'Outrageous' COVID-19 Rent Grab






JC Penney furloughs 'majority' of hourly store associates and 'significant portion' of corporate staff

Belk furloughs workers and extends store closures

Hobby Lobby quietly reopened stores in at least 2 states, defying coronavirus-related shutdowns and prompting police intervention

Best Buy to pay employees for two more weeks while stores remain closed

Urban Outfitters says it won't pay rent for an undisclosed amount of time

---

Nike and the Post COVID-19 "New Normal" Disruptive Future of Retail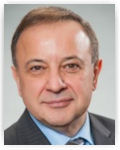 By Tony D'Onofrio, Global Retail Influencer

During China's peak of the COVID-19 outbreak earlier this year, nearly 760 million people were in some form of home lockdown. Nike's omni-channel response is an example of the positive actions taken by retailers during the health crisis.

This article summarizes the COVID-19 China's "new retail" strategies, generational commerce transformation trends, and the latest global / regional retail sales forecasts post the pandemic.

China COVID-19 Lessons Accelerating the Future of Retail

Conceived by Alibaba co-founder Jack Ma, "New Retail is a critical chapter in the comeback story of physical retail, and the digitization of all retail." As China has now transitioned through most of the COVID-19 crisis, here are a few lessons from new retail: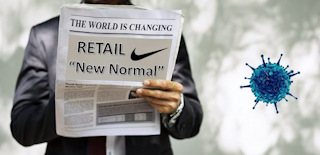 ● China's online retail market was projected to reach nearly $2 trillion in 2019 or 35.3% of total retail sales. This infrastructure was vital in responding to COVID-19.

● To protect consumers and delivery services couriers, Chinese companies rolled out "contactless delivery" services that in addition to home provided lockers or designated pick up locations. Some delivery apps, took it a step further in "offering up temperature readings of restaurant workers and couriers alongside every order of noodles or fried chicken."

● Delivery robots and drones were called into delivery service during the crisis.

Read more here: tonydonofrio.com

---

Australian security business 'acted as a front' for $100 million
money laundering syndicate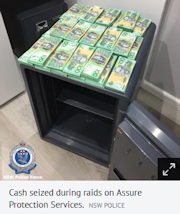 A sixth person has been charged in connection with a south-west Sydney security business that allegedly acted as a front to launder $100 million from organised crime groups in Australia and abroad.

Assure Protection Services in Guildford was raided by the NSW Criminal Groups Squad in July last year, after an unrelated drug investigation uncovered an alleged money laundering syndicate.

Police allege the security firm was a semi-legitimate business servicing retail, industrial and commercial industries, however its primary function was to "act as a front" for the money laundering operation; taking cash, depositing it at local banks, withdrawing it and handing it back.

After raids on the security business police alleged syndicate members collected cash and moved it through a series of financial transactions in order to disguise its origins and to "give it legitimacy." The cash was then allegedly withdrawn and returned to organised crime syndicates or remitted offshore. smh.com.au

Chanel and The RealReal Both Nab Wins in Ongoing Counterfeit Lawsuit
The RealReal and Chanel have each scored a few wins in the highly-watched trademark-centric lawsuit that the famous French brand waged against the resale giant for allegedly selling counterfeit goods, and using the Chanel name to "deceive consumers into falsely believing that [it] has some kind of approval from or an association or affiliation with Chanel [when it doesn't] or that all CHANEL-branded goods sold by The RealReal ("TRR") are authentic." In response to the motion to dismiss that the San Francisco-based resale site filed last year, a New York federal court has agreed to toss out a number of Chanel's claims, while enabling three to remain intact. thefashionlaw.com

Jack Hayes Report on Loss Prevention Newsletter - Spring 2020 (Vol 35 No 2)


Articles In This Quarter's Issue:

● Theft By Impersonators (page 1) - Be on the lookout for people visiting or calling your stores pretending to be someone else for fraudulent reasons.
● Workplace Violence (page 2) - This article discusses a recent retail workplace violence incident and lists some warning signs of potential coworker violence.
● Testing For Success (page 3) - With the 31st Annual Retail Theft Survey reporting the average dishonest employee case value in 2018 being $1,361.37 and up 30.1% from the previous year, take a short quiz to see how your current employee theft prevention stacks up.
● Shrink Stats & Trends (page 4) - In this article you will find some additional shrink stats including Average Case Value and Shrink Trends.

Bankrupt Lucky's Market to sell 23 stores, distribution center for $29 million

Art Van Furniture in 'Cataclysmic' Situation, Facing Liquidation

Modell's Gets Pause In Chapter 11 Due To COVID-19

Williams-Sonoma owes $1M to FTC over misleading 'Made in America' claims

Coronavirus helps push Macy's out of the S&P 500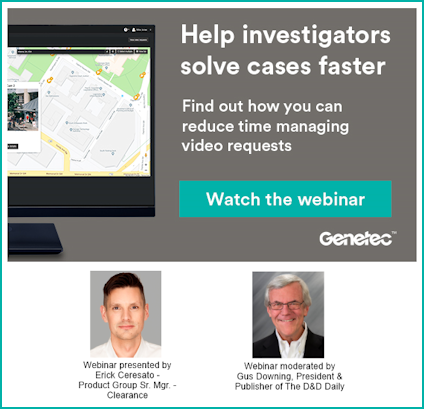 ---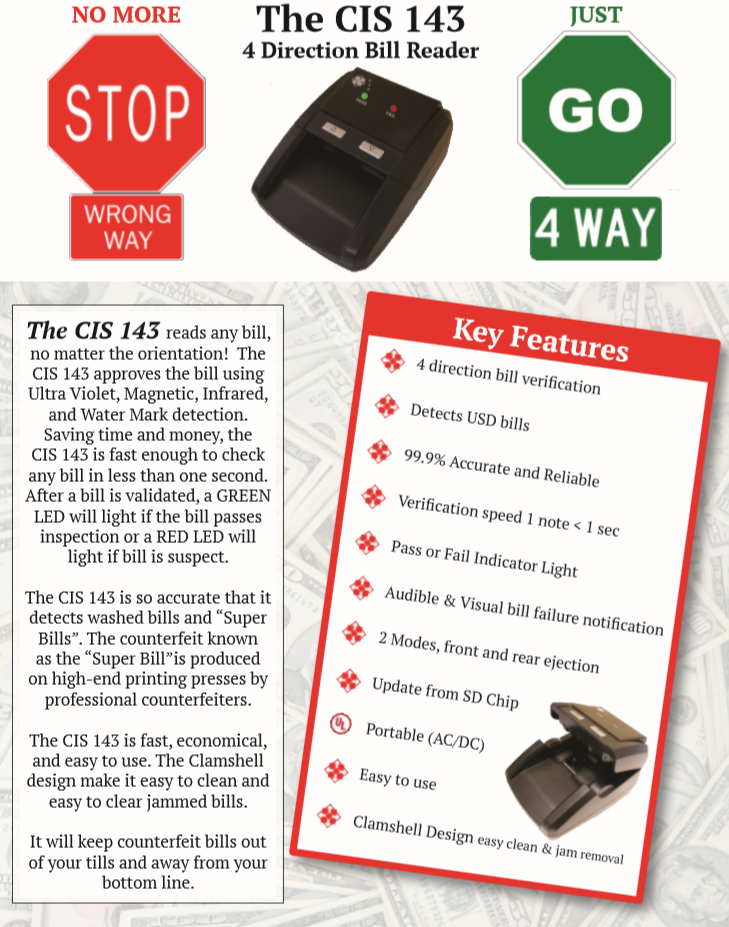 Call for more information 772-287-7999 or email to info@cisssinc.com
---
Marriott Hacked... Again
Hotel chain suffers 2nd major breach in 16 months, affecting 5.2M customers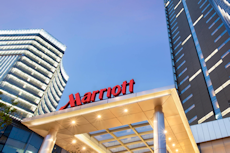 In November 2018, hotel giant Marriott disclosed that it had suffered one of the largest breaches in history. That hack compromised the information of 500 million people who had made a reservation at a Starwood hotel.

On Tuesday, Marriott announced that it had once again been hit. Up to 5.2 million members of the Marriott Bonvoy loyalty program may have had their personal information stolen, although be aware that sometimes those numbers get upwardly revised.

The details of this latest hack seem to be not quite as devastating as the last one, too, given that sensitive information like passport numbers doesn't seem to be affected. Still, that a major company could get hit twice in such a relatively short time frame underscores how at-risk your data is - and how not enough is being done to protect it.

According to details provided by Marriott on Tuesday, the intrusion dates back to mid-January, when someone used the credentials of two franchise property employees - whether those credentials were stolen is unclear at this point - to access an "unexpected amount of guest information." Those data points included contact details like names, email and home addresses, and phone numbers, as well as gender, birthday, frequent flier numbers, loyalty account info, and hotel preferences, like whether you like being near or far from the elevator. wired.com

Top 3 COVID-19 Phishing Campaigns
The cyberthreats following in the wake of the COVID-19 pandemic are not substantively different from the threats that security professionals have dealt with during other national or global calamities. However, this crisis is unique in the scale and the level of disruption it has ushered in. Security teams are scrambling to support an increasing number of remote workers who in many instances introduce new devices to the network, put pressure on VPNs, and heighten the risk of Business Email Compromise (BEC).

This attack vector is almost always the simplest, and therefore the first option for many cybercriminals who are now using COVID-19 lures to compromise as many accounts as they can. Their goal is to harvest as many credentials as they can while the pandemic dominates the headlines. Below are summaries of the latest observed campaigns.

● CDC and WHO impersonation phishing campaigns: These campaigns play on peoples' need for reliable COVID-19 information, and are mainly designed for Microsoft Outlook credentials theft via links to phishing pages.

● Fake government stimulus check phishing emails: The FBI is warning of an ongoing phishing campaign that uses fake government economic stimulus checks as bait to steal personal information from potential victims

● Fake intracompany or departmental advisories phishing emails: These are phishing emails masquerading as IT, human resources, or business continuity and emergency advisories from within the organization. Employees might be motivated to open malicious attachments or click on links that promise to provide COVID-19 updates or information pertaining to remote work policies, or staff downsizing or realignments. rhisac.org

FBI: Cybercrime Gang Mailing 'BadUSB' Devices to Targets

Malicious USB Devices Accompanied by Fake Gift Cards to Entice Would-Be Victims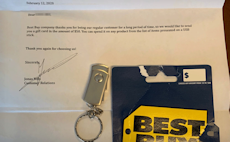 Never underestimate the power of a weaponized tchotchke, especially when paired with a free teddy bear and gift card.

The FBI recently warned businesses that they may be targeted by a fiendish new scheme being practiced by the FIN7 gang, also known as the Carbanak Group and the Navigator Group.

The notorious gang has already been tied to more than $1 billion in fraud, typically by infecting point-of-sale devices with malware and using it to steal payment card details (see: The Art of the Steal: FIN7's Highly Effective Phishing). govinfosecurity.com

Criminals Resurrect A Banking Trojan To Push COVID-19 Relief Payment Scam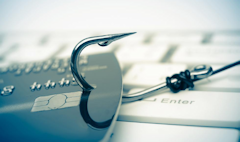 The Zeus Sphinx malware is making a comeback. For the past three years it's been almost completely silent. Now it's back and it's masquerading as COVID-19 relief payments.

In December of last year, researchers with IBM X-Force started detecting signs of activity again. After what appears to have been a brief testing period, that activity has spiked this month.

Like so many of the COVID-19 campaigns that have sprung up in recent months, Zeus Sphinx is being distributed as so-called "malspam." Emails claiming to offer financial relief bring with them infected documents disguised as government claim forms. inhomelandsecurity.com

---

Canada Coronavirus Update: April 1

Click here to follow Canada's coronavirus store closings
93 brand closures in Canada (Updated Daily)

'No Mask, No Service' Policy Spreads in Toronto
Some Supermarkets Require Shoppers to Wear Masks to Shop

Critics say stores are 'encouraging civilians to take away medical equipment that's already in short supply'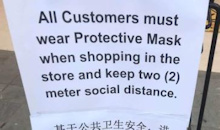 Shoppers in certain areas of Toronto are noticing a disturbing new trend at local supermarkets: a "no mask, no entry" policy. This is leaving people wondering if these policies are mandatory or even legal, and if they're encouraging civilians to take away medical equipment that's already in short supply from healthcare workers.

Staff members at both Field Fresh Supermarket and Sunfood Supermarket confirmed over the phone that customers would not be allowed inside the store unless they were wearing masks. In fact, there's a sign up at Sunfood Supermarket notifying customers that they must wear protective masks when shopping in the store.

It's unclear to what degree these policies can legally be enforced but one shopper, Matthew Dang, told blogTO he tried to enter Sunfood on March 28 and was denied entry by an employee because he wasn't wearing a face mask. blogto.com

Downtown Vancouver shops are boarding up their storefronts as COVID-19 outbreak drives crime rates up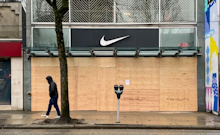 Storefronts in downtown Vancouver are boarding up doors and windows, as property crime rates in the city have risen amidst the COVID-19 pandemic. In a release last week, the Vancouver Police Department (VPD) said it reported 86 commercial break-ins around Vancouver from March 1 to 15.

The number of break-ins spiked the following week, with 81 taking place from March 16 to 24. A total of 35 of those incidents took place in downtown Vancouver, where the biggest increase in break-ins has been reported.

Many businesses across the region have voluntarily shuttered on their own accord as a preventative measure for their staff and customers, while others were forced to close due to new government restrictions. dailyhive.com

Meanwhile in Toronto, Major Crime Drops While COVID-Related Crime Spikes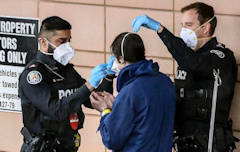 Calls for service may be dropping in some Canadian cities and major crime is falling in Toronto — but police across the country are busy battling on a new frontier of lawbreaking: COVID-19 crime.

As businesses have closed and Torontonians have holed up inside, early trends show the shifting nature of crime in a pandemic: since March 16, calls for non-emergency service have sunk and reports of assaults, break-and-enters, robberies and car thefts have all dropped, police said Monday.

And yet amid global efforts to contain the spread of the novel coronavirus, police have been busily slapping charges on those finding novel ways to profit, scam a few days off work or flout public safety regulations.

Meanwhile, the Canadian Anti-Fraud Centre is taking in a higher-than-normal volume of reports, despite its hotline temporarily shutting down due to reduced staffing. Since March 6, the centre has received 111 reports from across the country about COVID-19-related fraud. thestar.com

COVID-19: Health officer says large supermarkets can let more than 50 people in, subject to strict guidelines

'This order does not directly apply to the retail food and grocery industry'

Noting that retail food and grocery stores were deemed and essential service, Dr. Henry said "While this order does not directly apply to the retail food and grocery industry, the spirit of the order should be followed. This means that, for example, in large grocery stores where it is feasible to have more than 50 people present at one time, it is permissible to do so provided that appropriate physical distancing can be maintained." vancouversun.com

Meet the man in charge of coronavirus-proofing Walmart stores in Canada

Retailers in Canada United in Condemning Price Gouging

COVID-19: Canada layoff tracker

Nordstrom Launches Canadian E-Commerce Site After Shutting All Stores Amid Coronavirus

Reitmans lays off 90% of retail staff as coronavirus shutters stores

Frontline Peel Regional Police officer tests positive for COVID-19

Alberta gun owners stocking up on ammo, firearms amid COVID-19 fears, say retailers

'Be patient and kind': London Drugs staff face threats before, during virus pandemic


Click here to read the full 'Canadian Connections' column

York, ON: Man who allegedly beat cop in mall parking lot now charged with attempted murder

Edmonton, AB: Three charged with more than 70 offences after store robbed, witness shot at

Calgary, AB: $50K in rare Fantastic Four comic books stolen from shop

Kingston, ON: Police investigating pellet gun shooting at mall

Portage la Prairie, MB: Shoplifting Spree Ends With Suspect in Custody for Unrelated Matters


Click here to read the full 'Canadian Connections' column

How are we doing? We need your input & suggestions. Send to lpnews@d-ddaily.net

View Canadian Connections Archives

---


---

Coronavirus Spurs a Wave of Suspect Websites Looking to Cash In

Hundreds of e-commerce sites are popping up daily to sell virus-fighting product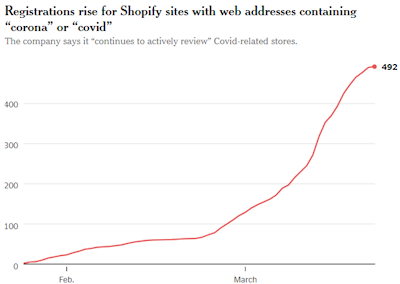 A popular technology company that has helped launch thousands of online retail sites has become a favorite tool for fly-by-night businesses looking to cash in on the coronavirus pandemic. New e-commerce sites that use the company's services are filled with wildly exaggerated claims about virus-fighting products that may not even exist.

The New York Times analyzed registrations with the company, Shopify, which allows just about anyone with an email address and a credit card to create retail websites in short order. The company, which in the past helped build such successful e-commerce sites as Kylie Cosmetics, the $1.2 billion beauty brand founded by Kylie Jenner, has registered nearly 500 new sites over the past two months with names that include "corona" or "covid," The Times found. Untold others have been started using other names.

One of the new sites marketed an "oxygen concentration" machine for $3,080. Another had the "Corona Necklace Air Purifier," which for $59 claimed to provide "All Day Protection." A third offered a $299 pill that promised "Anti-Viral Protection" for 30 days. And sites such as CoronavirusGetHelp.com and test-for-covid19.com marketed home test kits for $29.99 to $79, none of which have been approved by the Food and Drug Administration.

Many of the sellers do not actually possess the goods, nor have they verified that the products are legitimate. Often, the sites' operators are middlemen who fulfill customers' orders by buying items on other websites — a kind of digital arbitrage known as "dropshipping." Shopify is attractive to these new businesses because its software can integrate the sites with the distant vendors, mostly in China. nytimes.com

The Appeal Of eCommerce Amid The Coronavirus
Consumers have stepped up their activity in eCommerce, as they are not staying in hotels, eating in restaurant dining rooms or using public transit, per a PYMNTS COVID-19 consumer survey. More affluent consumers appear to be focused on avoiding public spaces and making purchases through the web instead. And in toy retail, KiwiCo has seen a rise in orders for eCommerce subscriptions and one-off products at a time when children are home from school because of the coronavirus crisis. pymnts.com

Top 10 E-Commerce Security Threats
---
'2019's Top 10' ORC Cases Countdown



#3 (from March 28, 2019)
Jersey City, NJ: 23 charged in multi-million dollar shoplifting ring
Walgreens, CVS, Duane Reade, and Ulta among chains targeted
Police in New Jersey said 23 people were charged in a multi-million dollar shoplifting ring. Officials said a year-long investigation revealed that shoplifters would steal items from retailers costing them millions of dollars. It targeted large chains, including Walgreens, CVS, Duane Reade, and Ulta Beauty.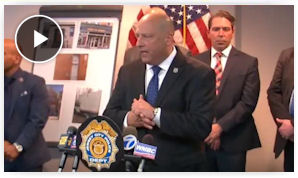 Those items were then sold online for full price to unsuspecting shoppers. Law enforcement described the ring as a "sophisticated operation." The operation originally started with hundreds of thousands of dollars in Jersey City, and that snowballed into millions of dollars in organized retail theft, spanning all the way out to Suffolk County, Long Island.

Police identified the ringleader as Stephan Williams, of Jersey City. The organization also employed a financier, drivers, cashiers, and individual shoplifters. Police said Williams or other high-ranking targets would find individuals and show them a catalog of items, such as over-the-counter medications, vitamins, and beauty supplies. The drivers would load up a car of five to 10 shoplifters and drop them off at retail locations throughout New Jersey and New York.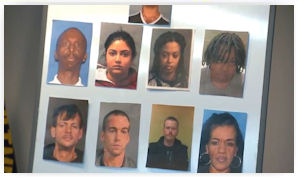 Those shoplifters were then tasks to steal items from the catalog and were paid for each item shoplifted. The items were then broken down, brought to a stock room on Bidwell Avenue in Jersey City, and sold on eBay. At least seven counties in New Jersey were targeted, as well as Queens, Nassau County, and Suffolk County. abc7ny.com
COMING APRIL 6: The D&D Daily countdown of the Top 10 ORC Cases of the past 5 years


---

St. Clair County, MI: Sheriff's office investigates $10,000 Boost Mobile Armed Robbery
Authorities from the Sheriff's Office are looking for two individuals who held up a local cell phone store. It happened around 2pm Monday at the Port Huron Township Boost Mobile. Two suspects are believed to have entered the store posing as customers attempting to make a purchase. They are accused of ordering the store's employee at gunpoint to stay in the store's bathroom while they proceeded to steal approximately $10,000 worth of merchandise. wphm.net

Avondale, PA: PA State Police investigating over $1,000 theft and Assault of Walmart employee
Police are investigating the attempted theft of more than $1,000 worth of merchandise from the Walmart in East Marlborough Township on March 28. A report said store employees tried to stop the suspect, described only as a white female. Police said she fled after throwing items from the shopping cart onto the ground in the path of the manager who was trying to stop her. chaddsfordlive.com

Gillette, WY: Over $1,000 of merchandise was stolen from Walmart over the weekend in five separate incidents of "skip scanning"

Orland Park, IL: Shoplifter arrested with 9 priors banned from Jewel Osco for life
---

Shootings & Deaths
Bethany, OK: C-Store shooting leaves 3 people dead, one injured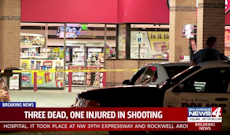 Around 1 a.m. Wednesday, Bethany Police responded to the OnCue near N.W. 39th Expressway in reference to a man inside the store suffering from a gunshot wound. When police arrived on scene, they found four gunshot victims, two males and two females. Police say both females and one male were pronounced dead at the scene. The other male suffered "what appeared to be a non-life-threatening gunshot wound" and was taken to the hospital in an unknown condition, according to police. The deceased individuals have been identified, but police are not releasing their names at this time, pending death notifications to their next of kin. Investigators are not looking for any outstanding suspects at this time. kfor.com

Auburn, WA: Employee killed in fatal robbery at Automotive store
Police are investigating a fatal robbery Tuesday night at an automotive store in Auburn that left an employee dead. Officers with the Auburn Police Department responded to a robbery just before 9:45 p.m. at an automotive store at the 3502 C Street NE in Auburn. Authorities found an employee dead at the scene. komonews.com

Update: Chehalis, WA: Man Accused Of Allegedly Ramming Over A State Trooper Is Charged With Murder
Investigators on Friday documented homicide allegations against a man blamed for hitting and killing a state trooper while escaping law implementation. On March 24, Trooper Justin Schaffer was endeavoring to send spike strips to carry the interest to a stop when the escaping vehicle hit him on Interstate 5 in Chehalis, as indicated by the Washington State Patrol. Schaffer was taken to a Centralia medical clinic where he passed on. Investigators accused Thompson of first-degree exasperated homicide, second-degree endeavored murder, first-degree burglary, first-degree attack, second-degree ambush, endeavor to evade police, driving with a suspended permit, driving while permit renounced and driving without an interlock. Schaffer, 28, joined the State Patrol in late 2013. Data on a dedication administration will be discharged sometime in the not too distant future. thedigitalwise.com

Update: Woman arrested in shooting outside of C-Store; store employee wounded
Monday evening around 9:37 P.M. Richmond County deputies were dispatched to the Smart Grocery in reference to shots fired. When deputies arrived, they discovered there was an argument in the parking. The clerk, who was an innocent bystander, went outside to try to calm the situation. He says after everyone got in their cars, he heard a gun go off and realized he had been shot in the hand. The injury is considered non life threatening. wjbf.com

---

Robberies, Incidents & Thefts
Lake Isabela, CA: Kern County Sheriff's Office makes arrest in attempted homicide at Dollar General
According to the Kern County Sheriff's Office, deputies arrested a suspect in connection to an incident that took place at the Dollar General Store in Lake Isabella. KCSO deputies were called to the Dollar General Store on Webb Avenue Monday evening at about 8:45 p.m. When they arrived an adult male who was suffering stab wounds to his face and back. He was transported by air ambulance to a local hospital where he was listed in critical, but stable condition. Deputies also found a female victim suffering minor injuries. She declined medical aid. Over the course of the investigation, deputies identified the suspect as 23-year-old Darrin Tannehill. He was located and was arrested on attempted murder and assault with a deadly weapon charges. turnto23.com

Rikers Island, NY: Inmates charged with violent crimes poised for release due to COVID-19
Two men allegedly involved in a robbery where a New York City police detective was killed in friendly fire were among the violent offenders on the list of inmates slated to be released from the infamous Rikers Island jail complex due to the coronavirus pandemic, until prosecutors intervened, multiple sources told ABC News. Christopher Ransom, 28, and Jagger Freeman, 26, were charged with armed robbery in connection with the February 2019 shooting death of NYPD Detective Brian Simonsen. They appeared on a list of names obtained by ABC News that also included Viktoriya Nasyrova, 45, who was accused of trying to kill a woman in 2016 with a poisoned cheesecake. The only thing that kept alleged violent offenders from being released was the intervention of the city's five district attorneys, who said in a joint letter issued Monday that "we want to make clear that the categories of those proposed for release have, in some instances, included individuals who pose a high risk to public safety." abc15.com

Hilton, NY: Woman outside Family Dollar beaten, robbed for wearing a mask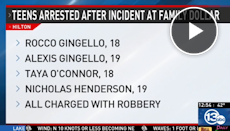 Four people were arrested after Monroe County Sheriff's deputies said a woman was punched in the face and robbed at a store in Hilton because she was wearing a respirator mask. On March 23, deputies were called to the Family Dollar on South Avenue around 6:50 p.m. When deputies arrived, a woman told them that a group of people had confronted her because she was wearing a respirator mask while inside the store. The group reportedly harassed her, yelling at her that she was infected with coronavirus. After she walked out of the store, the woman told deputies that she was punched in the face by multiple people. Some of those people then stole her wallet and keys and ran away. The four suspects jumped into a car and drove away. Deputies and Ogden Police located the suspects. All four were charged with second-degree felony robbery. 13wham.com

Lancaster, PA: Giant Eagle Employee charged with $600 Theft
Eli Samuel Rodriguez, 27, of Lancaster, was charged with retail theft for stealing $600.53 worth of merchandise on five separate occasions while working at the Columbia Avenue Giant Food Store from Jan. 19 to Feb. 14, according to police. lancasteronline.com

Rotterdam, NY: Man intentionally coughed on customers at Walmart, said he had COVID-19
A Brooklyn man has been arrested at the Rotterdam Walmart for allegedly coughing on people and stating he had COVID-19, police said Tuesday night. The incident happened just before 8 p.m. at Walmart, police said. Officers responded there for a report of a man inside the store "stating he has COVID-19 and intentionally coughing on multiple customers," police said in a release. Arriving officers found the man and identified him as Marvin Herring, 23, of Brooklyn. He was charged with one count of making a terroristic threat, a felony, and third-degree menacing, a misdemeanor. Rotterdam police Lt. Kyle Girard said later Tuesday evening that they've requested Herring be tested for the coronavirus. dailygazette.com

Bronx, NY: Crook breaks through ceiling of Supermarket, steals $5G cash, worker paychecks and a gun
A crook broke through the ceiling of a Bronx supermarket and stole $5,000 cash, the employees' payroll checks and a handgun, police said Tuesday. The burglar bashed a hole into the roof of the Bruckner Blvd. grocery store near Logan Ave. in Schuylerville sometime after closing at 8:30 p.m. on Sunday, officials said. nydailynews.com

Sacramento, CA: Grocery Store and Bank Armed Robbery Suspect Arrested
A man wanted in connection to two armed robberies at the same south Sacramento shopping center has been arrested, officers say. Sacramento police say detectives have been investigating two separate armed robberies that happened at a West Stockton Boulevard bank and grocery store back in late February and March. In both robberies, detectives say the suspect brandished a rifle. sacramento.cbslocal.com

Fresno, CA: Police search for arsonist who set fire to Visalia R-N Market
• Auto Parts – Auburn, WA - Armed Robbery/ Employee killed
• Boost – Port Huron, MI – Armed Robbery
• C-Store – Orange County, NY – Armed Robbery
• C-Store – Mooresville, NC – Armed Robbery
• Check Cashing – Eureka, CA – Armed Robbery
• Gas Station – Palo Alto, CA – Armed Robbery
• Gas Station – Madison, WI – Armed Robbery /Assault
• Grocery – Bronx, NY – Burglary
• Grocery – Katy, TX – Burglary
• Guns – Greenville, MS – Burglary
• Guns – Kooskia, ID – Burglary
• Pawn – Reading, PA – Armed Robbery
• Restaurant – Hartley, IA – Burglary
• Restaurant – Chicago, IL – Armed Robbery
• Restaurant – Chicago, IL – Armed Robbery
• Tobacco - Santa Barbara, CA – Armed Robbery
• Walmart – Norfolk, VA – Robbery
• Walmart – Godfrey, IL – Robbery
• 7-Eleven – Anderson County, SC – armed Robbery
• 7-Eleven – New Castle, PA – Armed Robbery
Daily Totals:
• 15 robberies
• 5 burglaries
• 0 shootings
• 1 killed

---




Mark Stevenson named Security Manager UK & Ireland for Pirelli

Dale Hatfield promoted to Loss Prevention Site Lead for Amazon

David Sugg promoted to Loss Prevention Manager III for Amazon

Kelsey Carnell promoted to Regional Sales Manager for
Axis Communications
Submit Your New Hires/Promotions
or New Position
See all the Industry Movement
---


Feature Your Job Here For 30 Days -
70% Aren't On The Boards
Post your job listing
---
Featured Job Spotlights

Fresno, CA
Our Area Loss Prevention Managers ensure safe and secure stores through the objective identification of loss and risk opportunities. Our Area Loss Prevention Managers plan and prioritize to provide an optimal customer experience to their portfolio of stores. They thrive on supporting and building high performance teams that execute with excellence...

Ontario, CA
Solink is looking for a dynamic leader to define and ensure the entire company is aligned on our product strategy. There are many facets to this role, but most importantly, you will manage and inspire the development team towards building a product that will continue to revolutionize the way our customers use video by creating opportunity through data....

Draper, UT
This role will lead a global team of investigators to execute our value proposition. Candidates should be passionate about the eBay customer, and efficient self-starter with an ability to operate effectively in a fast paced, rapidly-changing environment...

Seattle, WA
The Regional Asset Protection (Loss Prevention) and Safety Manager will lead the Pacific Northwest Region (Washington, Oregon & British Columbia) in shrink reduction and profit maximization efforts. The position will proactively seek to bring economic value to the company, promoting profitable sales and world class customer service while ensuring a safe place to work and shop...

Physical Security Leader
Corte Madera, CA
Responsible for leading and execution of the Protection and Prevention tiers of the Profit Protection strategy for all RH locations including our Corporate Campus in Corte Madera, CA - PROTECTION - Access Control | Alarms | CCTV | Guards - PREVENTION - Awareness | Audits | P&P | Training...

Loss Prevention Manager
Las Vegas, NV
● Demonstrate management leadership skill to achieve the goals of the Company. ● Experienced with and has knowledge of regulatory agencies to include: TSA, DOT and OSHA. ● Establishes and communicates a risk business plan consistent with the objectives of the Company that pro-actively identifies and corrects poor behaviors...

Featured Jobs
---
JOB TITLE
COMPANY
CITY/STATE
DATE ADDED

Vice President
SVP, Chief Safety & Risk Officer
Allied Universal
Santa Ana, CA
Jan. 6
VP Asset Protection
BJ's Wholesale Club
Westborough-Home Office, MA
Feb. 28
VP, Asset Protection

Casey's General Stores

Ankeny, IA

Jan. 27

Director
Sr. Director, Enterprise Security
Coca-Cola Consolidated
Charlotte, NC
Mar. 5
Dir. Global Asset Protection
eBay
Draper, UT
Mar. 6
Dir. Asset Protection SE
Home Depot
Atlanta, GA
Jan. 6
Asset Protection Dir.
McLane
Temple, TX
Mar. 2
Dir. Loss Prevention Stores
Tractor Supply Co.
Brentwood, TN
Feb. 11

Corporate/Senior Manager
Sr. Loss Prevention Manager
Gap Inc.
San Francisco, CA
Oct. 29
Senior Manger, Asset Protection
Home Depot
Atlanta, GA
Feb. 18
Manager, Asset Protection Solutions Supply Chain
Walgreens
Windsor, WI
Mar. 25

---


---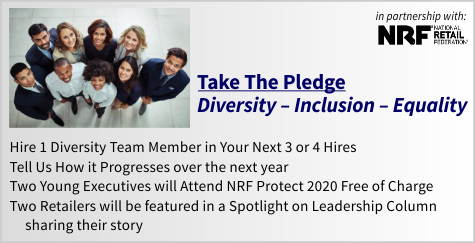 ---

Knowing the basic interview questions is one thing. Having the answers is another. What's more important is communicating openly and honestly in a professional manner that shows thought, vision and your business knowledge. Try to apply your background to the interviewer's business and how you can impact it and add value. The key to a successful interview is bridging the gap between your background and the prospective employer's company and needs. Preparation-preparation-preparation!

Just a Thought,
Gus



(content subject to approval)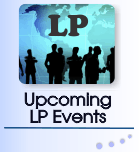 ---
Recruiting?
Get your job e-mailed to everyone... everyday
Post on our Featured Jobs Board!
Not getting the Daily?
Is it ending up in your spam folder?
Please make sure to add d-ddaily@downing-downing.com to your contact list, address book, trusted sender list, and/or company whitelist to ensure you receive our newsletter.
Want to know how? Read Here



36615 Vine Street, Suite 103
Willoughby, OH 44094
440.942.0671
copyright 2009-2019
all rights reserved globally