---

Coronavirus Update: March 25

US: 59K+ Cases, 804 Dead -- Globally: 438K+ Cases, 19K+ Dead
See Which States and Cities Have
Told Residents to Stay at Home

175M people in 17 states, 26 counties, and 10 cities are being urged to stay home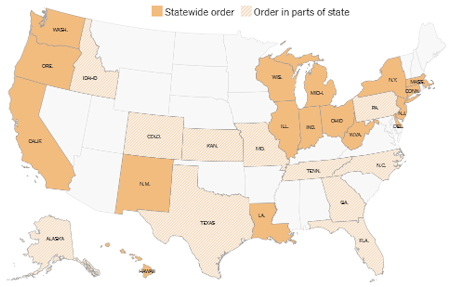 NYC Hot Spot Map

Interactive Map Shows Confirmed COVID-19 Cases Across New York State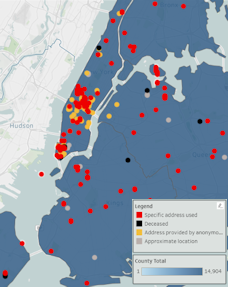 ---

The Domino Effect is Coming

1st Big Wave of Furloughs Hits the Market

The Next Two or Three days Will Be Interesting to Watch As More Will Join

Already weakened Pier 1 "furloughs" all associates in the stores and 65% of the corporate office associates and executives.

We're expecting this to resemble the Dec. 2008 to March 2009 'Great Recession' cuts we saw of over a million retail jobs. The only difference will be the shortened time period it'll probably happen within. Especially with Congress eliminating the one week waiting period and their commitment of getting the money to the family's immediately. And the presence of so many weakened retailers. Which wasn't the case in '08. So we have some different variables the industry is dealing with.

In some regards Pier 1's quick response may work out better for their employees as they can activate unemployment immediately before the backup becomes a bottleneck. Which according to sources has already happened. With the website being unavailable for the last week. Wonder why? Was it hackers? Or a system overload? We may never know the absolute truth to this one. Just a thought. -Gus Downing

Retail Layoffs & Furloughs

Newly bankrupt Art Van Furniture lays off workers, ends health insurance over one month early

Fashion retailer H&M weighs tens of thousands of job cuts because of coronavirus

Pier 1 furloughs 65% of HQ and some store employees

Mattress Firm furloughs undisclosed number of workers, cuts salaries and suspends some benefits

Luby's furloughs more than half of HQ staff, cuts salaries by 50% for rest of corporate staff

Casual-dining company J. Alexander's Holdings Furloughs 3,400 Workers Due to COVID-19

Macy's-Backed Retailer B8ta Furloughs Store Staff


Retail Hiring & Employee Investment

Retailers Are Looking To Hire Almost Half A Million Workers Because Of Coronavirus

17 retailers that are hiring during the coronavirus crisis

CVS Health to provide bonuses, add benefits and hire 50,000 in response to pandemic

Dollar General invests $35M in bonuses for all store, distribution center and private fleet employees

---

NRF: Retailers Welcome Bipartisan CARES Act to Help Businesses 'Get Through This Turbulent Time'

The National Retail Federation issued the following statement from President and CEO Matthew Shay in response to the Senate's expected vote today on stimulus legislation intended to ease the economic impact of the coronavirus pandemic:

"Retailers big and small and the associates they employ appreciate the efforts by leaders in the House and Senate and by President Trump to successfully negotiate the CARES Act and moving rapidly to make it law. Companies that were investing, growing and contributing to a vibrant economy just a few weeks ago have been thrust into survival mode through no fault of their own. They need a bridge to get through this turbulent time and back to the business of job creation and economic prosperity for their workers and the customers they serve. These companies are hurting and need help immediately. As we move forward, what we need is quick action and flexible relief, not further delay and restrictions. We need to move now." nrf.com

U.S. Coronavirus Outlook: Is This The End Of The Beginning?

Despite the headlines and the increase in absolute numbers, by the best metric for an epidemic, things are actually at least not getting worse. There is reason to believe things are getting better, as part of the perceived growth is due to better and more widespread testing.

At a minimum, current policies are keeping things from getting worse, and they are buying time for expanded testing and treatments. There is also reason to believe that within the next month, we will see those infection growth rates decrease, as we have seen in other countries with severe epidemics. We are not at the end of the process. But with current policies stabilizing case growth rates, we are likely at the end of the beginning. forbes.com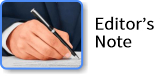 Trump Adjusts From Next Monday to Easter - April 12th As Goal To Open Up Country
Obviously after making such a point in their Monday evening press conference about the upcoming end date of their initial 15-day program coming this Monday, Trump must have been hammered by the medical SMEs to move his target date to Easter. Thereby giving it exactly two more weeks to make an impact.

Smart move given that the vast majority of the rest of the nation, states and retail America literally just rolled out over the last two days their two and, in some cases, three-week shutdown.

Trump would have looked foolish if he had continued the Monday target with literally the rest of America shut down and not even listening.

Interestingly enough Dr. Fauci reappeared last night at the press conference after being absent from Monday's, possibly showing his agreement now vs. his not agreeing Monday on the 30th end date. Just a thought. -Gus Downing

15K stores could permanently close in 2020, Coresight says
More than 15,000 stores could shutter in 2020, far surpassing 2019's record 9,548 closures, according to Coresight Research.

Around 100 retailers have moved to shut all, or at least many, of their stores temporarily as the country responds to rapidly expanding cases of COVID-19 domestically. According to Bloomberg data, more than 47,000 stores closed in a 10-day period — an unprecedented disruption of the entire industry. retaildive.com

In the UK: Thousands of shops may never re-open after coronavirus lockdown

Facing 20,000+ Closures & 235,000 Job Cuts

Thousands of shops up and down the country may have closed their doors for the last time this week following the government's 3 week coronavirus lockdown, experts have warned. talkingretail.co.uk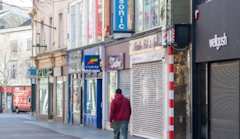 Empty windows, boarded-up storefronts dot the Magnificent Mile during coronavirus shutdown
Stores, like shoppers, got ready to hunker down during the coronavirus pandemic. Several shops on Michigan Avenue and nearby retail high streets have boarded up or emptied store windows.



It's not just about preventing vandalism or theft. Retailers likely want to make sure merchandise isn't locked up in stores where customers can't shop, said Robert Moraca, vice president for loss prevention at the National Retail Federation.

Gov. J.B. Pritzker's stay-at-home order will remain in effect through at least April 7, which means no one will be shopping in stores deemed nonessential for at least two weeks. Retailers that emptied stores are likely moving products to distribution centers where online shoppers can purchase them in the meantime, Moraca said.

"I think some might be looking in their crystal balls and saying it's going to a month or six weeks," he said. "Nobody knows."

Some still had merchandise on display. But the Disney store and MCM Worldwide walled off storefronts with plywood. So did luxury shoe and handbag boutique Jimmy Choo, on nearby Oak Street, leaving a gap only for a sign with the shop's illuminated name above the entrance.

Others, like Gucci and Louis Vuitton, left windows that usually display merchandise uncovered and illuminated but conspicuously empty.

Stores that left empty windows uncovered might be trying to show there's nothing easy to grab inside, Moraca said.

Sephora, which boarded up its Michigan Avenue flagship, said it has "standardized precautions" to protect properties across North America during temporary closures. The beauty retailer closed all North American stores through April 3. chicagotribune.com

Retailers Cancel Orders From Asian Factories, Threatening Millions of Jobs

Worse Than The 2008 Financial Crisis

Bangladesh Trade Group Pleads With Retailers To Pay For Canceled Orders

After struggling with supply lines amid China's shutdown, factories now face a drop in demand from U.S. and European clothing brands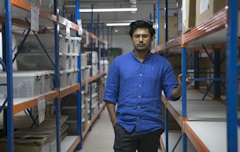 Retailers are suspending and canceling clothing orders, threatening millions of factory jobs in Asia just as China shows signs of recovering from the worst of the coronavirus outbreak.

Among the first to be hit by the consumer shutdown in the West are suppliers to the world's "fast-fashion" giants, like H&M owner Hennes & Mauritz AB. Their business models depend on being able to get orders from factory floors to retail outlets in a matter of weeks. They are now pausing or canceling factory orders, boding ill for Asian manufacturers of other, slower-moving consumer goods like cosmetics, smartphones and cars.

U.K. retailer Marks & Spencer Group PLC sent a note to suppliers this week suspending purchase orders. Primark and H&M say they, too, are pausing new orders.

In an emotional video address to clothing brands, Rubana Huq, president of the Bangladesh Garment Manufacturers and Exporters Association, a trade group, called on retailers to pay for goods they had already ordered.

She said that if retailers don't support Bangladeshi factories, 4.1 million Bangladeshi workers could lose their jobs. "This is a social chaos we cannot afford," she said.

Retail experts say the slowdown looks to be significantly worse than the financial crisis of 2008.wsj.com

Preventing coronavirus spread:
Walmart, Kroger, Albertsons among grocers adding sneeze guards
Some of the nation's largest grocery store chains are installing plexiglass barriers or partitions to help prevent the spread of the coronavirus and protect both shoppers and store employees. The protective screens will stand between a customer and a cashier so that any airborne droplets - either from a cough or a sneeze - will be blocked from hitting the person on the other side. usatoday.com chainstoreage.com

Dimensions of the plexiglass barriers vary by retailer, but most are installing a square or rectangle shape directly in front of cashiers, sized anywhere from 23" to 36" across.


'Terrified' package delivery employees are going to work sick

Don't Touch That Package Without Gloves Or Let It Sit There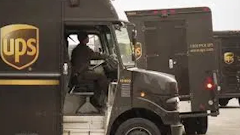 An increasing number of the workers sorting those boxes, loading them into trucks and then transporting and delivering them around the country have fallen sick.

"I have been coming in sick because I'm worried that I'll lose my job or just be punished if I call out."

Public health experts said the odds were relatively low that ill warehouse workers or truck drivers would infect the recipients of packages, in part because the virus does not survive on cardboard surfaces for very long. courant.com
How the coronavirus stimulus bill helps you
Congress' $2 trillion coronavirus stimulus package is the rare legislative agreement that will have an immediate — and lasting — impact on ordinary citizens around the country. axios.com

U.S. Retailers Plan to Stop Paying Rent to Offset Virus

'Significant amount' of face masks stolen from Brooklyn hospital

More Than 200 NYPD Coronavirus Infected - Nearly 3,000 More Out Sick

Cuomo: Density control measures are working to slow coronavirus in NY

NRF Coronavirus Updates & Resources

UK: Laura Ashley to Permanently Close 70 Stores of its 147 Stores

NYC to release 300 more Rikers inmates serving less than yearlong sentences for misdemeanors
or non-violent felonies

Pennsylvania Governor Revokes Emergency Gun Store Ban


Quarterly Results
Nike Q3 sales up 5%, digital sales up 36%
At Home Group Q4 comp's down 3.1%, net sales up 12.3%, full yr comp's down 1.7%, net sales up 17.1%

---

Thanks for reading, folks! If you do find that we're adding value, please thank our partners and sponsors, the advertisers who support the Daily. They are the ones that make it possible for us to do what we love - helping educate, inform and instill a sense of community for the retail Loss Prevention and Asset Protection executives of North America and even the UK. We appreciate you giving us your time and choosing to read what we feel our industry should be focused on each day - the news and trends impacting our retailers, our industry and our careers.

Please let's keep everybody safe out there and especially now - practice social distancing and please stop shaking hands! Good luck to you and your family.

Sincerely, Gus Downing, Gordon Smith, Mike Crissman, LPQ, Sean Colarossi, and Jan Nejedlik

---

LPF and Sensormatic Launch 'Webinar Wednesdays'

A 5-Week Series of Free LP/AP Training
This 5-week series focuses on relevant topics that you can use now and in the near future to help your retail organization. The focus will be on safety content from the Loss Prevention Foundation's LPC and LPQ training programs. Plus there will be short sections presented by solution providers. Invest in yourself and your company's success. Webinar attendees will also be eligible for drawings for LPF certification courses.

Register for the first one taking place next Wednesday, April 1: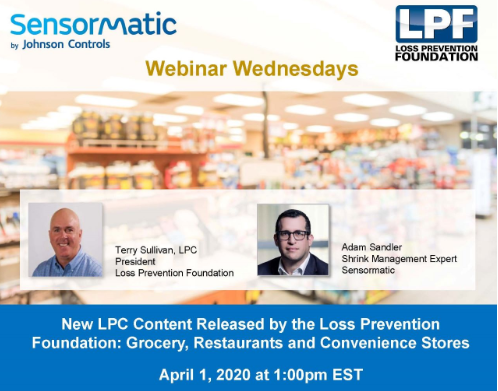 ---


Introducing OWS 24/7, a New Subscription Option for OpenEye Web Services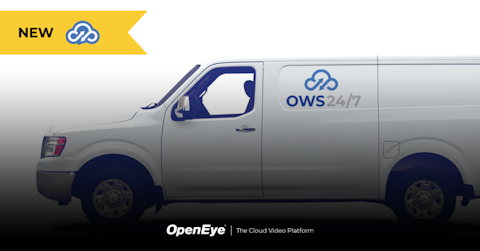 Liberty Lake, WASH. - OpenEye, a leading provider of cloud-managed video surveillance solutions, announces the introduction of OWS 24/7, the new monthly software subscription option for OpenEye Web Services users. The subscription model offers users an all in one solution that streamlines software license management and reduces upfront deployment costs.

OWS 24/7 combines OpenEye Web Service's IP camera recoding licenses and the cloud management licenses into a single convenient monthly software fee that reduces the complexity of purchasing and eliminates the need to keep track of software maintenance expiration terms. This makes OpenEye Web Services significantly more practical for organizations that want to use their operational budgets to fund deployment of a video surveillance solution.

"A subscription model offers users a more predictable way to budget for updates and maintenance of video solutions as an operating expense," said Ian Siemer, OpenEye VP Product and Marketing. "The monthly fee also reduces the upfront capital cost of the initial installation and eliminates lumpy renewal costs normally associated with software maintenance agreements."

Read More Here
---
Homeland Security Warns Terrorists May Attack during Coronavirus Pandemic
The Department of Homeland Security has sent a memo to law enforcement officials across the nation warning that terrorists may attempt to take advantage of the coronavirus pandemic by attacking the US in the near future, according to a report.

The memo by the federal agency's Counterterrorism Mission Center and Countering Weapons of Mass Destruction Office cautioned that, "Violent extremists probably are seeking to exploit public fears associated with the spread of COVID-19 to incite violence, intimidate targets and promote their ideologies, and we assess these efforts will intensify in the coming months," ABC News reported.

The agency said it has "no information indicating any active plotting is underway," but did note that it has evidence of both foreign and domestic extremist groups seeking to spread fake news about the potentially deadly virus.The memo, which was circulated Monday, contained a clipping from a weekly ISIS newsletter that called for supporters to carry out attacks against overwhelmed health care systems in Western countries, according to the report.

Also mentioned in the bulletin are online white supremacists, who the agency says have "advocated for violence against a range of targets, including critical infrastructure and faith-based and minority communities — including Asian Americans in response to the COVID outbreak," ABC News reported. securitymagazine.com

White supremacists encouraging their members to spread coronavirus to cops, Jews, FBI says

The alert was sent to local police agencies by federal officials.

Racist extremist groups, including neo-Nazis and other white supremacists, are encouraging members who contract novel coronavirus disease to spread the contagion to cops and Jews, according to intelligence gathered by the FBI.

In an alert obtained by ABC News, the FBI's New York office reports that "members of extremist groups are encouraging one another to spread the virus, if contracted, through bodily fluids and personal interactions." abcnews.go.com

Cybercriminals' Promises to Pause During Pandemic Amount to Little

Pandemics make for strange bedfellows - While outright fraud has increased

In mid-March, ransomware gangs claimed to be pausing operations against healthcare organizations for the duration of the coronavirus pandemic, following pleas from some security firms and questions from journalists. The group behind the Maze ransomware operation, for example, pledged that "we [will] stop all activity versus all kinds of medical organizations until the stabilization of the situation with the virus."

But the sincerity of such promises is suspect. The Maze Team reportedly was, at the same time they were pledging to stop activity, in the process of extorting money from a UK medical research facility, Hammersmith Medicines Research. The University Hospital of Brno in the Czech Republic reportedly suffered an outage on March 20 due to a cyberattack, possibly ransomware. Other groups have rapidly increased phishing attacks that leverage the subject of the coronavirus, and the COVID-19 disease it causes, as a lure. And outright fraud has increased as well, such as e-mail campaigns collecting "donations" for coronavirus-fighting charities, according security services firm CrowdStrike.

The chaos and fear created by the coronavirus pandemic is just too enticing for cybercriminals to resist, says Adam Meyers, vice president of intelligence at CrowdStrike. "When you have something this widely recognized, and you have people, frankly, freaking out about it, then it becomes an effective way to exploit those fears,"

Chatter in underground forums appear to show that some operators may have similar sympathies. When one would-be fraudster asked how they could take advantage of the COVID-19 chaos, other forum participants criticized them, in an exchange seen by threat intelligence firm Digital Shadows.

"It's hard to know whether the major nation-states or known major threat actors have ordered a detente or a truce — it's hard to know," he says. "But it doesn't really matter because the noise from the scammers continues to grow, and they can use all the noise as cover." darkreading.com

So We're Working From Home. Can the Internet Handle It?

A Garden Hose Vs. A Big Pipe - It's Going to Slow the World Down Some

Providers Are Upgrading - Lifting Caps - Freezing Terminations & Are Confident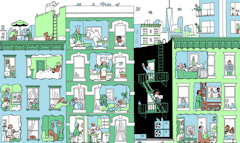 With millions of people working and learning from home during the pandemic, internet networks are set to be strained to the hilt.

As millions of people across the United States shift to working and learning from home this week to limit the spread of the coronavirus, they will test internet networks with one of the biggest mass behavior changes that the nation has experienced.

That is set to strain the internet's underlying infrastructure, with the burden likely to be particularly felt in two areas: the home networks that people have set up in their residences, and the home internet services from Comcast, Charter and Verizon that those home networks rely on.

That may challenge what are known as last-mile services, which are the cable broadband and fiber-based broadband services that pipe the internet into homes. These tend to provide a very different internet service from what's available in offices and schools, which typically have "enterprise grade" internet broadband service. In broad terms, many offices and schools essentially have the equivalent of a big pipe to carry internet traffic, compared with a garden hose for most homes.

"We just don't know" how the infrastructure will fare, said Tom Wheeler, a former chairman of the Federal Communications Commission. "What is sufficient bandwidth for a couple of home computers for a husband and wife may not be sufficient when you add students who are going to class all day long operating from home."

In Seattle, which has been a center of the virus outbreak in the United States, internet traffic started spiking on Jan. 30, nine days after the first positive case. Last week, overall internet traffic in Seattle rose 30 percent compared with a normal week for the city in January.

In response, Verizon, Charter, Cox, Comcast and AT&T said they were confident they could meet the demands placed on their home internet services, which includes cable broadband like Xfinity, fiber-based broadband like FIOS, mobile LTE services from Verizon and AT&T, and Wi-Fi hot spots. They added that they were taking measures to help people who were working and learning from home.

Comcast said that for the next two months, it would lift data caps that limit broadband use so that people who surpassed the limits of their data plans wouldn't be penalized.

Cox said that it would automatically upgrade users of its basic broadband internet package, with speeds of 30 megabits per second, to a package with 50 megabits per second.

AT&T, Verizon and Charter said they were also preparing to increase capacity on their networks if needed, with more equipment to upgrade networks and emergency roll-in cell towers that are used to keep people online during natural disasters.

On Friday, Ajit Pai, chairman of the Federal Communications Commission, also introduced the Keep Americans Connected Pledge, whose dozens of signatories include Altice USA, CenturyLink and Sprint. They committed to not penalize Americans with termination of internet service or fees if people delayed their internet service payments, at least for the next two months. nytimes.com

Largest Criminal Platform on the Internet Taken Down & Busted Black Market Kingpin Arrested

DEER.IO a Shopify-Like Cyber Platform Selling $17M in Criminal Products & Services Since 2013

FBI Takes Down a Russian-Based Hacker Platform; Arrests Suspected Russian Site Administrator

Russian-based cyber platform known as DEER.IO was shut down by the FBI yesterday, and its suspected administrator – alleged Russian hacker Kirill Victorovich Firsov, 28 yr.'s old, - was arrested and charged with crimes related to the hacking of U.S. companies for customers' personal information.

DEER.IO was a Russian-based cyber platform that allowed criminals to purchase access to cyber storefronts on the platform and sell their criminal products or services. DEER.IO started operations as of at least October 2013, and claimed to have over 24,000 active shops with sales exceeding $17 million.

FBI agents arrested Firsov, a Russian cyber hacker, on March 7 in New York City at JFK airport. Firsov not only managed the DEER.IO platform, he also advertised it on other cyber forums, which catered to hackers. Firsov is next scheduled to appear on April 16, 2020, before U.S. Magistrate Judge Allison H. Goddard.

According to a federal complaint, DEER.IO virtual stores offered for sale a variety of hacked and/or compromised U.S. and international financial and corporate data, Personally Identifiable Information (PII), and compromised user accounts from many U.S. companies. Individuals could also buy computer files, financial information, PII, and usernames and passwords taken from computers infected with malicious software (malware) located both in the U.S. and abroad. Law enforcement found no legitimate business advertising its services and/or products through a DEER.IO storefront. Store operators and customers accessed the storefront via the Internet. Specifically, in this case, the FBI made purchases from DEER.IO storefronts hosted on Russian servers.

The DEER.IO platform offered a turnkey online storefront design and hosting platform, from which cybercriminals could advertise and sell their products (such as harvested credentials and hacked servers) and services (such as assistance performing a panoply of cyber hacking activities). The DEER.IO online stores were maintained on Russian-controlled infrastructure. The DEER.IO platform provided shop owners with an easy-to-use interface that allowed for the automated purchase and delivery of criminal goods and services.

"Deer.io was the largest centralized platform, which promoted and facilitated the sale of compromised social media and financial accounts, personally identifiable information (PII) and hacked computers on the internet. The seizure of this criminal website represents a significant step in reducing stolen data used to victimize individuals and businesses in the United States and abroad.

Maximum Penalty: Ten years in prison, $250,000 fine, restitution. justice.gov

Securing Windows and Office in a time of COVID-19: update policies, remote options



---
Second Wave of Retail Bankruptcies Expected in Canada Amid COVID-19 Pandemic: Expert
The Canadian retail industry can expect a second 2020 wave of retail bankruptcies on the heels of the wave we saw in January and February, says a national retail expert. David Ian Gray, founder and strategist at DIG360 Consulting Ltd., said in an interview last week that will be the inevitable consequence of the devastating economic impact the COVID-19 (coronavirus) pandemic is having on retailers across the country.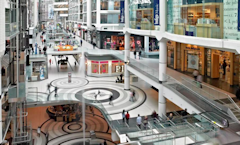 "What I find ironic is that for a long time there's this repeated phrase 'retail apocalypse' and it really wasn't happening that way," Gray said. "There was an erosion of physical retail to online, but it wasn't as if Amazon came in and then overnight retail was gone. In Canadian grocery, for example, the percentage of people buying online was so very small. Single digit," he said. "And now a real virus has an excellent chance to leave behind a true 'retail apocalypse'."

He said that he sees three phases: the current "Triage" phase (crisis management and reactive); an "Assessment" phase once we see the social restrictions end and stores re-open, where retailers take stock and reassess their own health and opportunities; and a longer term "Adapting" phase, where a return to strategy and business planning is based on a new 'normal'. retail-insider.com

RELATED: 'Canadian Retail Heading for a Meltdown'


'No Mask No Service'
Vancouver grocer refuses to serve customers who aren't wearing masks

As COVID-19 fears spread, one store's policy not helping says customer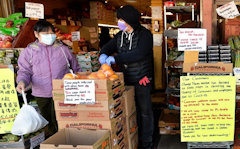 When Bullen approached Sandy Farm Market on West 41st Avenue as he normally does, he noticed the store had put up signs announcing new policies for customers — understandable in the cautionary climate of COVID-19. While he agreed with the store restricting the number of customers to no more than 15 at a time, it was the other requirement that caught him off guard: "No mask no service."

Bullen chatted briefly to someone working at the store but says he was "brushed off" and told the store had to take these kinds of measures and there was nothing else to it.

"I thought, OK, if I could get [a mask], then I'll comply just so I can make it easy to get my groceries," Bullen told the Courier. "But there's none at London Drugs or any of the obvious places. I noticed there was a store on 41st and West Boulevard that had a sign that said you could order them." timescolonist.com

Grocery chains install checkout shields, raise wages in response to coronavirus pandemic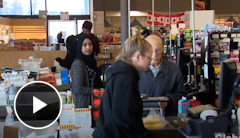 On Sunday, March 22, 2020, Sobeys announced pay increases for frontline workers in stores and distribution centres as well, to the tune of $50 a week, regardless of number of hours worked. Workers with 20 hours or more a week will get an extra $2 an hour. The increases are retroactive to March 8 and will be reassessed in late April.

Grocery chains across Canada are adapting to the increased demand on their stores during the novel coronavirus pandemic by raising wages for workers and installing plexiglass. Loblaws is temporarily raising wages by an estimated 15 per cent, while Metro is raising wages by $2 an hour.

Loblaws has also begun installing plexiglass shields at checkout counters and is trying to acquire more personal protective equipment for its employees. Metro is installing plexiglass protectors at the front end and at services counters in all its stores. Sobeys is also installing plexiglass shields at checkout counters. globalnews.ca

RELATED: Dollarama, Walmart Canada boost employee pay amid COVID-19 outbreak


Candian government considers fines, prison to enforce social distancing
The federal government will use tough enforcement measures, which include the threat of prison and massive fines, if Canadians don't take self-isolation and social distancing seriously, federal Health Minister Patty Hajdu says. "We will use every measure in our toolbox at the federal level to ensure compliance," she told a news conference on Sunday. theglobeandmail.com

Quebec and Ontario put security on essential services list

Canada's cyber spies taking down sites as battle against COVID-19 fraud begins

Canadian Mall Landlords Asked to Give Rent Relief to Retailers Amid Coronavirus Pandemic

Dollarama vows to hire thousands to meet ongoing demand amid COVID-19 pandemic

Toronto Is Pressuring Clothing Stores, Nail & Hair Salons To Close Amid COVID-19

Quebec premier announces all shopping malls closed amid more COVID-19 cases

Coronavirus, law fears fuel spike in firearms, ammunition sales across Canada

'Enough is enough': Trudeau warns Canadians flouting coronavirus social distancing

How to find out if your business qualifies for the COVID-19 wage subsidy

Foko Retail Offering Its Communication Platform for Free to Retail Teams During the COVID-19 Outbreak


---

How to prevent fraud in the workplace

Workplace fraud is top of mind for Canadians during Fraud Prevention Month

All Canadian companies – both large and small – are exposed to fraud, and the exposure to fraud risk is increased when employees are fully aware on what fraud looks like, or even how to report it.

According to a recent RBC Fraud Prevention Poll, 55% of Canadians have admitted they've shared their banking PIN or passwords with others. This is an indication of a lack of understanding about what the dangers of this are, according to Shane Troyer, a Vancouver-based anti-fraud expert and risk and forensic services partner at Grant Thornton LLP.

In light of this statistic, Troyer believes that fraud prevention in the workplace begins by creating a culture of fraud awareness that is instilled in the minds of the people in the company.

To create a culture of fraud prevention in a company, Troyer believes that it comes to educating employees on what fraud risks look like and to create outlets to report the fraud. Larger organizations have begun to set up whistle-blower and ethics hotlines, which Troyer says is a useful tool for companies to prevent fraud. canadiansecuritymagazine.com

Civil Demand in Ontario, Canada
Lawyers raise alarm on shoplifting settlement 'shakedown'
Retail store law firms are being suspected of demanding excessive settlements from alleged shoplifters via letters and aggressive phone calls.

In a series of tweets, lawyer Sean Robichaud said that people had contacted him regarding these demands for settlements in amounts "far above damages," with the usual demand set at $500. Tagging the Law Society of Ontario, he suggested that such practice should be banned because it reflected badly upon the legal profession.

"This intimidation is most pronounced among the vulnerable, uneducated, and recent immigrants," he said. "We shouldn't allow lawyers to act as shakedown goons towards these people." lawtimesnews.com

Judge orders Nygard companies into receivership


Click here to read the full 'Canadian Connections' column

Kamloops, BC: Robber to liquor store manager: 'You're going to die!'

Burlington, ON: Mans steals $3,249 in merchandise from music store

Essa Township, ON: Suspect thought after hardware store theft

Ottawa Police issue advice to prevent business break-and-enters


Click here to read the full 'Canadian Connections' column


How are we doing? We need your input & suggestions. Send to lpnews@d-ddaily.net

View Canadian Connections Archives

---
---


---
Amazon removes more than 3,900 seller accounts from US store due to 'coronavirus-based price gouging'
As coronavirus fears began to spread in early March, the company said it was investigating. On Monday, the retail giant also said in a blog post it has removed more than half a million items from its stores because of "coronavirus-based price gouging," about half the amount it had previously said it removed in response to price gouging or misleading claims.

"We began taking these enforcement actions promptly upon discovering this kind of misconduct, and we've been partnering directly with law enforcement agencies to combat price gougers and hold them accountable," Amazon said in the post.

Despite Amazon's earlier calls to curb gouging, it appeared it persisted and not just from third-party sellers. According to a report by the U.S. Public Interest Research Group released March 11, nearly 1 in 6 of the products sold directly by Amazon had prices spike 50% higher than the 90-day average.

The company reinforced its claim that it "has proactively reached out to every state attorney general in the country" to ensure bad actors were being held accountable.

Although the post did not mention Amazon's own pricing changes, it added its platform "strictly prohibits sellers from exploiting an emergency by charging excessively high prices on products and shipping" and that it is "issuing regular reminders to our sellers about these longstanding policies." usatoday.com

Amazon workers test positive for covid-19 at ten U.S. warehouses

Amazon Focus on Essentials Sows Panic, Confusion Among Merchants

Amid COVID-19 Lockdowns, New Online Behavioral Shifts Are Beginning to Take Shape
---
'2019's Top 10' ORC Cases Countdown



#8 (from May 8, 2019)
Polk County, FL: Retail theft suspects stole over $2 million in products across Florida, and shipped it to Cuba
Six people have been arrested and accused of orchestrating a retail theft scheme across 14 Florida counties, stealing over $2 million worth of goods. The suspects were arrested following an undercover investigation among state and local agencies in Florida. Detectives said the individuals targeted the following stores: Burlington Coat Factory, CVS, JCPenney, Publix, Walgreens and Winn-Dixie. Officials said the six suspects hit up to 10 businesses per day, between four and five nights a week. There were 150 reported thefts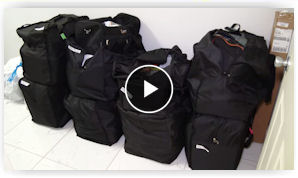 in the state, and at least 25 of those occurred in Polk County. The Polk County Sheriff's Office reported between $150,000 and $200,000 worth of goods were stolen.

The stolen items were then sold, and even shipped as far as Cuba for a profit, detectives said, which resulted in felony charges. Detectives worked with loss prevention personnel at each store, as well as the Tampa Bay Regional Intelligence Center (TBRIC), Hillsborough County Sheriff's Office, Tampa Police Department, Florida Department of Law Enforcement, and the Statewide Prosecutor for the Office of the Attorney General Ashley Moody. They obtained six arrests warrants and nine search warrants. fox13news.com polksheriff.org youtube.com
COMING APRIL 6: The D&D Daily countdown of the Top 10 ORC Cases of the past 5 years


---

American Fork, UT: Officials believe they've put a lid on $25,000 Home Depot trash can case


American Fork officials arrested an Orem man with active warrants who is believed to have stolen from Home Depot with damages exceeding $25,000. According to the probable cause statement, officers identified 42-year-old Alvaro Gonzalez Aguirre at another Home Depot location in American Fork. Authorities on scene recognized Aguirre and were aware that he was an outstanding theft suspect, alleged to have stolen over $25,000 from Home Depot locations across Utah County. Officials were also aware that there were active warrants out for Aguirre's arrest, including third-degree felony pattern of unlawful activity, third-degree felony damaging jails, class A misdemeanor possession of a controlled substance, and class C misdemeanor driving on a suspended or revoked license.

Since Jan. 22, Aguirre is suspected to have entered three Home Depot locations in American Fork, Lindon and Provo 57 times, each time committing a series of thefts, according to arrest documents. Until his arrest Monday, Aguirre had yet to be apprehended. During his time in each location, Aguirre was suspected of selecting a particular type of garbage can and filling it with high-dollar tools before proceeding to check out. Aguirre would then pay for only the garbage can and leave the last point of sale without purchasing the items inside, according to the probable cause affidavit. heraldextra.com

Urbana, IL: Walmart employee accused of stealing $16,000 via gift cards
An employee of the Urbana Walmart has been charged with felony theft for allegedly stealing thousands of dollars worth of gift cards from the store in the last week. Joseph Sloan, 19, was charged Monday with theft over $10,000, a Class 2 felony, alleging that between March 17 and 22, he stole money from the store. Urbana police investigator Duane Smith said Sloan allegedly "found a weakness in their system regarding loading gift cards and he was basically acquiring gift cards and loading them with cash through the Walmart registers to the tune of almost $16,000." Smith said the store manager noticed that the register where Sloan was working was short and began investigating. By looking at surveillance video, he saw Sloan "multiple times loading a gift card and putting it in his pocket," Smith said. If convicted, Sloan faces penalties ranging from probation to three to seven years in prison. news-gazette.com

Thousands of dollars of stolen Walmart merchandise recovered, 3 Arrested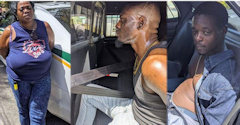 Stuart police said alert Walmart shoppers and store employees helped authorities arrest three suspects who fled the scene after shoplifting from the store. On Monday, police said a Walmart employee spotted a woman, later identified as Quanika Murray, leave the store with a cart full of items, some of which still had anti-theft devices them. Witnesses said they also saw the woman quickly unload the cart into a vehicle with the help of two men. Following a short chase, Police and Deputies from the Martin County arrested the 3 suspects for felony retail theft. Police said their vehicle contained thousands of dollars worth of merchandise. wflx.com

Polk County, FL: Couple accused of shoplifting $600 worth of items at Mulberry Walmart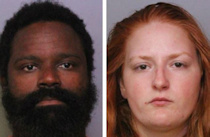 A Polk couple were arrested after shoplifting hundreds of dollars' worth of items from a Walmart store in Mulberry on Monday, according to the Polk County Sheriff's Office. Cleveland Carr, 41, and his live-in girlfriend, Jolene Parlett, 21, were arrested after loss prevention officers at Walmart caught them shoplifting more than $600 of clothing and shoes, the sheriff's office said in a news release Tuesday. Several stolen hand-baskets from Walmart and Publix were found inside the vehicle. In addition, Carr had warrants out for his arrest on third-degree felony charges of dealing in stolen property and providing false information to a pawn broker. heledger.com
---

Shootings & Deaths
San Jacinto, CA: Smoke Shop Robbery suspect dies in crash after pursuit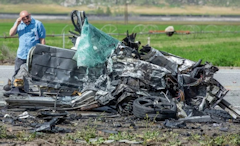 A suspect who tried to rob a business in San Jacinto early Tuesday afternoon, March 24, fled after an employee fired a gun at him and died when he sped from sheriff's deputies and crashed. Deputies were called to the attempted robbery just before 1:20 p.m., Deputy Robyn Flores said. The California Highway Patrol described the business as a smoke shop. It was not immediately known if the suspect, only described as a man, was struck by the gunfire, but he fled the scene. Deputies found the suspect vehicle in the area of Ramona Expressway and Hansen Avenue, Flores said. "When the suspect saw the sheriff's patrol vehicle, the suspect sped off, lost control, collided into a vehicle, was ejected, and pronounced deceased at the scene," she said. The CHP described the vehicle as "in two major pieces." A man and a woman were in the pickup truck struck by the fleeing suspect's car, and both were expected to survive. pe.com
---

Robberies, Incidents & Thefts
'Knucklehead' who coughed on Wegmans worker charged with terroristic threats, N.J. Gov. says


A Wegmans customer faces charges of terroristic threats and harassment after coughing on a worker at the grocery store chain's Manalapan location and claiming he had the coronavirus, Gov. Phil Murphy said Tuesday. The governor didn't provide many details about the incident during his daily coronavirus briefing, other to say "it demonstrates active law enforcement" is ready to respond to people who violate orders put in place in reaction to the outbreak.

Falcone was told by the employee he was standing too close to her and to an open display of prepared foods, according to the Office of the Attorney General. He then allegedly "stepped forward to within 3 feet of her, leaned toward her, and purposely coughed."

Falcone also allegedly laughed and said was infected with the coronavirus, authorities said, adding, "Falcone subsequently told two other employees they are lucky to have jobs." nj.com

Thurston County, WA: Man is Arrested after he Runs Over Burglary suspect
A 48-year-old man was taken into custody Monday morning after he jumped into his car and ran over a burglary suspect, according to the Thurston County Sheriff's Office. The 18-year-old victim was taken to the hospital with serious injuries, Lt. Ray Brady said. About 3:40 a.m. Monday, deputies were dispatched to a business after a caller reportedly had heard gunshots, yelling and a car speeding off. Then, the hospital contacted deputies to say they had two men at the hospital, one of whom had caught the 18-year-old man trying to break into Gull Harbor Mercantile. That man, 48, who apparently lives behind the business on Boston Harbor Road, had interrupted the burglary after the 18-year-old had taken out a hammer and broken a window. The 18-year-old ran off and the older man chased after him in his vehicle. Although the 48-year-old man claimed to have accidentally struck the younger man — he did drive him to the hospital — the Sheriff's Office later determined he had deliberately run him over, Brady said. The older man was booked on suspicion of first-degree assault, Brady said. theolympian.com

Edgewater, MD: Robbers Steal Medicine From Walgreens, Pepper Spray Employees

Urbana, IL: Missouri man gets 10 years for January Armed Robbery at Boost Mobile

Sedgwick County, KS: Little Caesar's Employee assault and robbed of deposit at gunpoint

Hickory, NC: Police make arrest in CVS pharmacy armed robbery

Farmington, UT: Woman, 60, has head-on crash with police officer after Walmart shoplifting chase, minor injuries

Sioux City, IA: Man sentenced to 30 years prison for Verizon and Audio Vision burglaries

Rapid City, SD: Police implementing Robbery Strike Force; investigating 12 business robberies in the Black Hills area that have occurred in the last month
• Bike – Grand Traverse County, MI – Burglary
• C-Store – Olympia, WA – Burglary
• C-Store – Norfolk, NE – Robbery
• C-Store – Adams County, PA – Armed Robbery
• C-Store – Nashville, TN – Robbery
• C-Store – Spartanburg County, NC – Armed Robbery
• C-Store – Spartanburg County, NC – Armed Robbery (2 of 2)
• C-Store – Rapid City, SD – Armed Robbery
• CVS - Catawba County, NC – Armed Robbery
• Gas Station – Daphne, AL – Armed Robbery
• Gas Station – Rome, NY – Burglary
• Gas Station – Waterford Township, MI – Robbery
• Jewelry – Pooler, GA – Robbery
• Pharmacy – Moultrie, GA – Armed Robbery
• Restaurant - Waxahachie, TX – Burglary (Super Sliders)
• Restaurant – Sedgwick County, KS – Armed Robbery
• Restaurant – Fort Wayne, IN – Armed Robbery (Burger King)
• Restaurant - Klamath Falls, OR – Burglary (McDonalds)
• Restaurant - Klamath Falls, OR – Burglary (Burger King)
• Restaurant – Athens, GA – Burglary
• Smoke Shop - San Jacinto, CA – Robbery/ suspect killed in crash
• Walgreens – Edgewater, MD – Armed Robbery/ Assault
• 7-Eleven – Woodbridge, VA – Armed Robbery
• 7-Eleven – Mishawaka, IN – Armed Robbery
Daily Totals:
• 17 robberies
• 7 burglaries
• 0 shootings
• 1 killed

---

None to report.
Submit Your New Hires/Promotions
or New Position
See all the Industry Movement
---



Feature Your Job Here For 30 Days -
70% Aren't On The Boards
Post your job listing
---
Featured Job Spotlights
NEW


Ontario, CA
Solink is looking for a dynamic leader to define and ensure the entire company is aligned on our product strategy. There are many facets to this role, but most importantly, you will manage and inspire the development team towards building a product that will continue to revolutionize the way our customers use video by creating opportunity through data....

Draper, UT
This role will lead a global team of investigators to execute our value proposition. Candidates should be passionate about the eBay customer, and efficient self-starter with an ability to operate effectively in a fast paced, rapidly-changing environment...

Seattle, WA
The Regional Asset Protection (Loss Prevention) and Safety Manager will lead the Pacific Northwest Region (Washington, Oregon & British Columbia) in shrink reduction and profit maximization efforts. The position will proactively seek to bring economic value to the company, promoting profitable sales and world class customer service while ensuring a safe place to work and shop...

Florida/Georgia (Home-based, must reside in the SE)
The successful candidate will be responsible for the management of the Asset Protection function in their assigned area. Guide the implementation and training of Asset Protection programs, enforcement of policies and procedures, auditing, investigations and directing of shrink reduction efforts...

Physical Security Leader
Corte Madera, CA
Responsible for leading and execution of the Protection and Prevention tiers of the Profit Protection strategy for all RH locations including our Corporate Campus in Corte Madera, CA - PROTECTION - Access Control | Alarms | CCTV | Guards - PREVENTION - Awareness | Audits | P&P | Training...

Loss Prevention Manager
Las Vegas, NV
● Demonstrate management leadership skill to achieve the goals of the Company. ● Experienced with and has knowledge of regulatory agencies to include: TSA, DOT and OSHA. ● Establishes and communicates a risk business plan consistent with the objectives of the Company that pro-actively identifies and corrects poor behaviors...

Featured Jobs
---
JOB TITLE
COMPANY
CITY/STATE
DATE ADDED

Vice President
SVP, Chief Safety & Risk Officer
Allied Universal
Santa Ana, CA
Jan. 6
VP Asset Protection
BJ's Wholesale Club
Westborough-Home Office, MA
Feb. 28
VP, Asset Protection

Casey's General Stores

Ankeny, IA

Jan. 27
VP, Information Security
Tractor Supply
Brentwood, TN
Jan. 3

Director
Sr. Director, Enterprise Security
Coca-Cola Consolidated
Charlotte, NC
Mar. 5
Sr. Dir., Voice Theft/Fraud
Comcast
Greenwood Village, CO
Mar. 2
Dir. Global Asset Protection
eBay
Draper, UT
Mar. 6
Dir. Asset Protection SE
Home Depot
Atlanta, GA
Jan. 6
Asset Protection Dir.
McLane
Temple, TX
Mar. 2
Cybersecurity & Privacy Protection Dir.
PwC
Seattle, WA
Nov. 5
Dir. Loss Prevention Stores
Tractor Supply Co.
Brentwood, TN
Feb. 11

Corporate/Senior Manager
Sr. Manager, Field Asset Protection
Carvana
Phoenix, AZ
Feb. 28
Sr. Loss Prevention Manager
Gap Inc.
San Francisco, CA
Oct. 29
Mgr. Physical Security Programs & Technology
Grainger
Lake Forest, IL
Feb. 3
Senior Manger, Asset Protection
Home Depot
Atlanta, GA
Feb. 18
Manager, Asset Protection Solutions Supply Chain
Walgreens
Windsor, WI
Mar. 25

---


---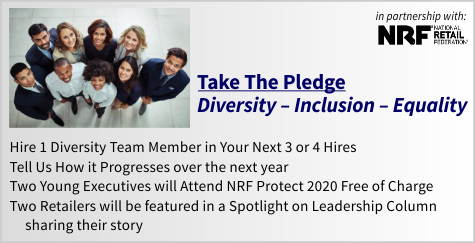 ---

Transitioning to a new position, a new job, a new market is a great opportunity to reinvent yourself and your brand so to speak. It gives you the perfect chance to look at yourself and say how can I improve and be truly what I want to be. It erases your blackboard and allows you the chance to write something new, something you've always wanted to be. A move, often times referred to as a geographical cure, can be just the medicine to help start a new you.

Just a Thought,
Gus



(content subject to approval)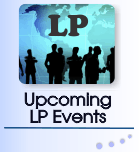 ---
Recruiting?
Get your job e-mailed to everyone... everyday
Post on our Featured Jobs Board!
Not getting the Daily?
Is it ending up in your spam folder?
Please make sure to add d-ddaily@downing-downing.com to your contact list, address book, trusted sender list, and/or company whitelist to ensure you receive our newsletter.
Want to know how? Read Here



36615 Vine Street, Suite 103
Willoughby, OH 44094
440.942.0671
copyright 2009-2019
all rights reserved globally