---

Second Wave of Retail Bankruptcies Expected in Canada Amid COVID-19 Pandemic: Expert
The Canadian retail industry can expect a second 2020 wave of retail bankruptcies on the heels of the wave we saw in January and February, says a national retail expert. David Ian Gray, founder and strategist at DIG360 Consulting Ltd., said in an interview last week that will be the inevitable consequence of the devastating economic impact the COVID-19 (coronavirus) pandemic is having on retailers across the country.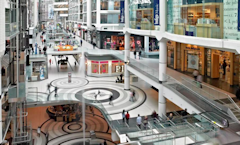 "What I find ironic is that for a long time there's this repeated phrase 'retail apocalypse' and it really wasn't happening that way," Gray said. "There was an erosion of physical retail to online, but it wasn't as if Amazon came in and then overnight retail was gone. In Canadian grocery, for example, the percentage of people buying online was so very small. Single digit," he said. "And now a real virus has an excellent chance to leave behind a true 'retail apocalypse'."

He said that he sees three phases: the current "Triage" phase (crisis management and reactive); an "Assessment" phase once we see the social restrictions end and stores re-open, where retailers take stock and reassess their own health and opportunities; and a longer term "Adapting" phase, where a return to strategy and business planning is based on a new 'normal'.

By the fall and the longer term, he says that 'a new normal' will set in for the consumer. "Many will think about what is important and others will still be economically impacted. However, in the Adapting phase there will be opportunities for surviving retailers, as well as ongoing threats." retail-insider.com

RELATED: 'Canadian Retail Heading for a Meltdown'

'No Mask No Service'
Vancouver grocer refuses to serve customers who aren't wearing masks

As COVID-19 fears spread, one store's policy not helping says customer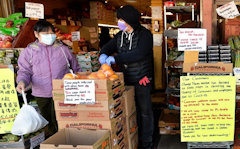 When Bullen approached Sandy Farm Market on West 41st Avenue as he normally does, he noticed the store had put up signs announcing new policies for customers — understandable in the cautionary climate of COVID-19. While he agreed with the store restricting the number of customers to no more than 15 at a time, it was the other requirement that caught him off guard: "No mask no service."

Bullen chatted briefly to someone working at the store but says he was "brushed off" and told the store had to take these kinds of measures and there was nothing else to it.

"I thought, OK, if I could get [a mask], then I'll comply just so I can make it easy to get my groceries," Bullen told the Courier. "But there's none at London Drugs or any of the obvious places. I noticed there was a store on 41st and West Boulevard that had a sign that said you could order them."

Bullen says he and his wife, who are healthy and active, have followed all the advice regarding protecting themselves and others from COVID-19. They no longer participate in group activities, and if they do step outside their apartment they make sure to keep their distance from people. And although Bullen hasn't noticed any other businesses in his neighbourhood requiring customers to wear masks, he worries that others might follow. timescolonist.com

Grocery chains install checkout shields, raise wages in response to coronavirus pandemic
On Sunday, March 22, 2020, Sobeys announced pay increases for frontline workers in stores and distribution centres as well, to the tune of $50 a week, regardless of number of hours worked. Workers with 20 hours or more a week will get an extra $2 an hour. The increases are retroactive to March 8 and will be reassessed in late April.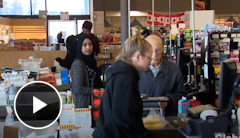 Grocery chains across Canada are adapting to the increased demand on their stores during the novel coronavirus pandemic by raising wages for workers and installing plexiglass. Loblaws is temporarily raising wages by an estimated 15 per cent, while Metro is raising wages by $2 an hour.

Loblaws has also begun installing plexiglass shields at checkout counters and is trying to acquire more personal protective equipment for its employees. Metro is installing plexiglass protectors at the front end and at services counters in all its stores. Sobeys is also installing plexiglass shields at checkout counters.

Workers in Sobeys are also washing their hands every 15 minutes and installing floor markers at checkout lines, to ensure each customer is two metres away from another in line. globalnews.ca

RELATED: Dollarama, Walmart Canada boost employee pay amid COVID-19 outbreak

Candian government considers fines, prison to enforce social distancing
The federal government will use tough enforcement measures, which include the threat of prison and massive fines, if Canadians don't take self-isolation and social distancing seriously, federal Health Minister Patty Hajdu says. "We will use every measure in our toolbox at the federal level to ensure compliance," she told a news conference on Sunday.

Over the weekend, social media displayed images of people gathering on beaches and in parks, restaurants and cafés. And while the provinces still have a patchwork of rules and approaches to enforcement, a trend to mandatory self-isolation and serious penalties is beginning to emerge, with Quebec banning all gatherings, indoor or outdoor, and Nova Scotia insisting on gatherings of no more than five people. theglobeandmail.com

Quebec and Ontario put security on essential services list
As a measure against the spread of COVID-19, Ontario Premier Doug Ford has ordered all non-essential businesses to close as of 11:59pm Tuesday, March 24, for at least 14 days. The Government of Quebec has enforced similar measures, which will take place just after midnight Wednesday until April 13. Both provinces have released lists of essential services and businesses that will be allowed to remain open. Read the full list here



Canada's cyber spies taking down sites as battle against COVID-19 fraud begins
As the fight continues to slow the spread of COVID-19, Canada's foreign signals intelligence agency is waging war against another type of virus: disinformation. The Communications Security Establishment says it's already taken down a number of fraudulent sites that have spoofed the Public Health Agency of Canada, Canada Revenue, and most recently, Canada Border Services Agency.

According to the RCMP, which is tracking reported scams, in at least one case fraudsters posed as the Public Health Agency and told Canadians they had tested positive for COVID-19, then asked for credit card information for a prescription. cbc.ca

Canadian Mall Landlords Asked to Give Rent Relief to Retailers Amid Coronavirus Pandemic
Amid the continued crisis of the COVID-19 (coronavirus) pandemic, shopping centres in Canada remain open - although some with reduced hours of operation. However, the Retail Council of Canada (RCC), a not-for-profit, industry-funded association that represents small, medium, and large retail businesses in every community across the country, has been "pushing" landlords to look at some measures of rent relief for retailers during this challenging economic time. retail-insider.com

Dollarama vows to hire thousands to meet ongoing demand amid COVID-19 pandemic

Toronto Is Pressuring Clothing Stores, Nail & Hair Salons To Close Amid COVID-19

Quebec premier announces all shopping malls closed amid more COVID-19 cases

Some electronic retailers to stay open during COVID-19 pandemic

Coronavirus, law fears fuel spike in firearms, ammunition sales across Canada

'Enough is enough': Trudeau warns Canadians flouting coronavirus social distancing

How to find out if your business qualifies for the COVID-19 wage subsidy

Foko Retail Offering Its Communication Platform for Free to Retail Teams During the COVID-19 Outbreak


---

How to prevent fraud in the workplace

Workplace fraud is top of mind for Canadians during Fraud Prevention Month

All Canadian companies – both large and small – are exposed to fraud, and the exposure to fraud risk is increased when employees are fully aware on what fraud looks like, or even how to report it.

According to a recent RBC Fraud Prevention Poll, 55% of Canadians have admitted they've shared their banking PIN or passwords with others. This is an indication of a lack of understanding about what the dangers of this are, according to Shane Troyer, a Vancouver-based anti-fraud expert and risk and forensic services partner at Grant Thornton LLP.

In light of this statistic, Troyer believes that fraud prevention in the workplace begins by creating a culture of fraud awareness that is instilled in the minds of the people in the company.

To create a culture of fraud prevention in a company, Troyer believes that it comes to educating employees on what fraud risks look like and to create outlets to report the fraud. Larger organizations have begun to set up whistle-blower and ethics hotlines, which Troyer says is a useful tool for companies to prevent fraud. canadiansecuritymagazine.com

Civil Demand in Ontario, Canada
Lawyers raise alarm on shoplifting settlement 'shakedown'
Retail store law firms are being suspected of demanding excessive settlements from alleged shoplifters via letters and aggressive phone calls.

In a series of tweets, lawyer Sean Robichaud said that people had contacted him regarding these demands for settlements in amounts "far above damages," with the usual demand set at $500. Tagging the Law Society of Ontario, he suggested that such practice should be banned because it reflected badly upon the legal profession.

"This intimidation is most pronounced among the vulnerable, uneducated, and recent immigrants," he said. "We shouldn't allow lawyers to act as shakedown goons towards these people." lawtimesnews.com

Judge orders Nygard companies into receivership



Kamloops, BC: Robber to liquor store manager: 'You're going to die!'


A Kamloops man who suffered serious injuries after being slashed with a machete during a robbery last week said his attacker yelled, "You're going to die!" while cutting his head and arm. Chris Lawrence told KTW he was working at the U-District Liquor Store on Thursday, March 19, when a man walked in with a duffel bag. "I told him, that's not how this works. At that point, he pulled a machete-type thing, told me I was going to die and started waving at me with it."

Lawrence, who manages the private liquor store in the Landmark Centre across from Thompson Rivers University, said the attacker then began hitting him with the blade. Lawrence described his injuries as "serious lacerations." He is recovering at home after receiving dozens of staples and stitches in hospital. kamloopsthisweek.com

Burlington, ON: Mans steals $3,249 in merchandise from music store

Essa Township, ON: Suspect thought after hardware store theft

Ottawa Police issue advice to prevent business break-and-enters


---

Robberies & Burglaries

● C-Store - Calgary, AB - Armed Robbery
● C-Store - Dartmouth, NS - Armed Robbery
● Cell Phone Store - Mississauga, ON - Robbery
● Circle K - Yellowknife, NT - Armed Robbery
● Liquor Store - Kamloops, BC - Armed Robbery
● 7-Eleven - Nanaimo, BC - Armed Robbery