---

Vector Security® Networks Hires Lucas Burroughs as National Accounts Manager


Vector Security® Networks, a division of Vector Security®, Inc. and the single source provider of managed network services and physical security solutions to multi-site businesses across North America, announces Lucas Burroughs has joined its team as National Accounts Manager.

Most recently, Burroughs was with CenturyLink Business as Lead Commercial Acquisition Account Manager working with enterprise and small business clients to provide solutions that allow them to focus on their core business. His areas of expertise include hybrid IT, network solutions, unified communications on VoIP, and cloud services. While at CenturyLink, he attended numerous President's Circle events as a top performer in sales.

Read full press release

See All the Executives 'Moving Up' Here

Submit Your New Corporate Hires/Promotions or New Position


---

2020 GLPS - Group LP Selfies
Your Team - Your Pride - Our Industry
Building Industry Pride - One Team Selfie at a Time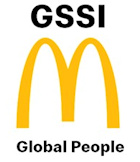 McDonald's U.S. Security Team in
San Diego - January 2020

"We enable a safe & secure customer obsessed culture which empowers our business partners with solutions that safeguard brand trust"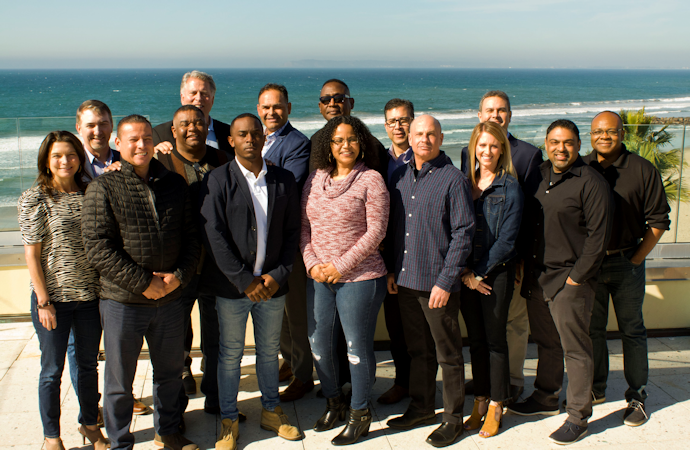 Back row (L-R) – Paulette Horne, Bill Ball, Rob Holm, Octavio Jara, Michael Peaster, Jed Weinstein, Andy Boros & Kevin Wright

Front row (L-R) – Hugo Cortez, Daniel Thomas, DeRon Finney, Sharon Cruz, Johnny Webb, Holly Hughes & Sruthy Kuruvilla

Thanks to William Ball, Field Security Manager, McDonald's U.S. Security, for submitting this photo.

---
Show Your LP/AP Team Pride!
Send in your team's 'Group LP Selfie'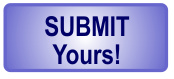 ---

---

Agilence Wins 3rd Stevie Award for Customer Service Department of the Year

Watch 'The Most Interesting Man in the World' Congratulate Agilence in a Video

The Stevie Awards for Sales & Customer Service are the world's top honors for customer service, contact center, business development, and sales professionals. Agilence recently won a Bronze Stevie® Award for Customer Service Department of the Year at the 14th annual Stevie® Awards for Sales & Customer Service.

They had "The Most Interesting Man in the World", famous for the Dos Equis beer commercials, film a shout-out to the Agilence team, congratulating them on their success. Watch the video here!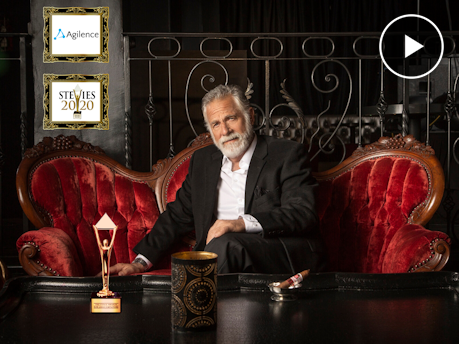 ---
Coronavirus Update

Security's Role - Huge Impact on Video Surveillance Industry

1st Mall Disruption - REI Shuts Washington HQ - Twitter Sends Employees Home

First Coronavirus Mall Disruption:
San Antonio North Star Mall reopens after infected coronavirus evacuee visited shopping center

San Antonio mall closed for deep cleaning after visit from coronavirus evacuee who tested positive for COVID-19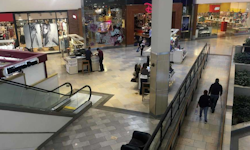 North Star Mall has reopened following a deep cleaning after a woman "visited our shopping center and was later found to have tested positive for the coronavirus," according to the mall's Facebook page.

North Star Mall closed on Monday for 24 hours after officials were notified of the woman's visit.

"The San Antonio Metro Health District has stated this individual was not exhibiting any symptoms and is considered to be relatively low risk to the public," officials for the shopping center said in a Facebook post Monday.

The woman was evacuated from Wuhan, China, in early February and met the criteria for release after testing negative for the COVID-19 coronavirus twice. A separate lab test that was pending when she was released revealed a positive test result.

According to the North Star Mall Facebook page, a "few stores will have delayed openings."

The woman was re-isolated after spending 12 hours in the San Antonio community where she visited the mall for around two hours and also checked into a hotel near San Antonio International Airport.

Officials with the shopping center said San Antonio Metro Health District maintained that the risk to the public "is considered to be relatively low." ksat.com

ASIS Magazine Lead Article This Month
In a Pandemic, Preparation Hinges on Prevention

No Country is Fully Prepared for Pandemics & All Have Gaps

Infectious diseases know no borders. So says the first Global Health Security (GHS) Index, a benchmarking assessment of health security and related capabilities across 195 countries, released in October 2019. The GHS Index produced alarming results—in measuring countries' abilities to prevent, detect, and respond to infectious disease threats, the average global score was a mere 40.2 out of 100. Unpreparedness stretched across all income levels as well; among the 60 high-income countries assessed, the score climbed to just 51.9.

According to the report, "national health security is fundamentally weak around the world. No country is fully prepared for epidemics or pandemics, and every country has important gaps to address."

The GHS Index also rated countries individually based on six factors: prevention of the emergence or release of pathogens; early detection and reporting for epidemics of potential international concern; rapid response to and mitigation of the spread of an epidemic; sufficient and robust health system to treat the sick and protect health workers; commitments to improving national capacity, financing, and adherence to norms; and overall risk environment and country vulnerability to biological threats.

Across those metrics, the most prepared countries overall include the United States, the United Kingdom, The Netherlands, Australia, Canada, and Thailand.

The Index also recommended strengthening information-sharing channels between veterinary, wildlife, and public health professionals and policymakers. Considering that direct contact with animals may be a risk factor for many serious diseases, such as Middle East Respiratory Syndrome (MERS), this level of communication is essential, especially for new or novel viruses. In late 2019 and early 2020, Chinese authorities linked the emergence of a new strain of coronavirus-triggered pneumonia to a seafood and live animal market in Wuhan, in central China.

"When it comes to continuity planning, businesses think through fires, floods, and IT disruptions, but they don't consider the flu," Hauer says. asisonline.org

Editor's Note: Great article on how a Global Security Advisor and his security team played a critical role in helping to contain and stop the Ebola outbreak in Nigeria and Senegal.

Research Shows Coronavirus Could Disrupt the Video Surveillance Market

90% of Global Production & 25% of Global Revenue

Although the coronavirus outbreak has had only a minimal impact on the video surveillance market so far, the industry still faces a risk from falling demand and a potential production bottleneck spurred by labor and component shortages in China, according to research from Omdia, a global technology research company.

Production of video surveillance equipment is heavily concentrated in China, with the country accounting for 90 percent of the global production of video surveillance cameras, and 45 percent of worldwide global market revenue in 2019. As a result, any coronavirus-related disruption to production, supply chains or workforces in the country could have a significant impact for a global video surveillance market, which totaled to $19.9 billion in 2019.

"Given China's status as the world's largest producer and consumer of video surveillance cameras, the country wields a proportionately massive influence on the global market for these products," said By Tommy Zhu, senior analyst, video surveillance, Omdia. "Video surveillance equipment suppliers in China currently are contending with reduced production because of a lack of manpower and delays following the Lunar New Year. sdmmag.com

Coronavirus in N.Y.: Outbreak Will Spread in City, Officials Warn

'Impossible' to contain in the short term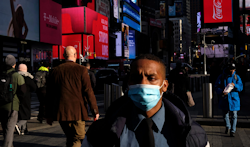 New York officials warned on Monday that the coronavirus was likely to spread in New York City, a day after confirming that a Manhattan woman had contracted the virus while traveling in Iran and was now isolated in her home.

"Community spread is going to be real," Gov. Andrew M. Cuomo said at a news conference, alongside Mayor Bill de Blasio. "That is inevitable."

The coronavirus had landed in Manhattan was sure to raise the level of anxiety across this dense city, where people spend their days in close quarters. By rush hour on Monday morning, every cough or sneeze on the subway sounded a little louder and closer than it did last week. A few people wore surgical masks; one woman held the end of a paisley scarf to her mouth and nose.

Mr. Cuomo also said the state would institute new cleaning protocols in crowded public places, including schools and busses. "If it smells like bleach when you get on a bus or when a child goes to school, it is not bad cologne," he said. "It is bleach." He said that the public health system was focused on reducing the spread of the virus, but suggested that eliminating it in New York was likely to prove impossible in the short term. nytimes.com

'Cryptic Transmission'
Genetic analysis suggests coronavirus infections double every six days,
spreading to hundreds
An evolutionary analysis based on the genome sequences of COVID-19 coronavirus samples taken from patients in the Seattle area suggests that the number of infections doubles roughly every six days, which translates into hundreds of infections over the course of the past six weeks.

The analysis laid out in a series of tweets from Trevor Bedford, a researcher at Seattle's Fred Hutchinson Cancer Research Center who specializes in the study of viral dynamics, concludes that many more people are likely to be part of a chain of infections leading from the first patient in the U.S. to be diagnosed with the virus. Some probably passed along the virus even though they didn't know they were infected — a phenomenon known as "cryptic transmission." geekwire.com

Twitter told its 5,000 employees to work from home because of the coronavirus

Don't Come In, Please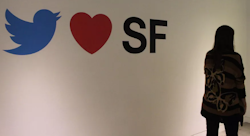 Over the last few days, a number of Silicon Valley companies have been coping with the virus's incursion into their workforces. Two Amazon employees based in Italy have contracted the coronavirus, and Facebook has reportedly advised its employees to "feel free" to work from home.

But Twitter went a step further on Tuesday.

"Beginning today, we are strongly encouraging all employees globally to work from home if they're able," the company said in a blog post. "Our goal is to lower the probability of the spread of the COVID-19 coronavirus for us — and the world around us. We are operating out of an abundance of caution and the utmost dedication to keeping our Tweeps healthy."

The company said that US offices would still be open for employees who feel the need to come in person. vox.com

Airport Shops Suffer 'Crisis' as Coronavirus Upends Travel
Airport retail at some of the major Asian hubs has tumbled 60% to 70%, according to the Moodie Davitt Report, a travel retail-intelligence service provider.

Airport foot traffic in San Francisco fell 15% in February, compared with a year earlier, and declined 20% at Los Angeles International Airport, according to geolocation data platform Advan Research.

At Terminal 1 of New York's John F. Kennedy International Airport, food-court vendors and retailers such as Hudson News said daily revenues have fallen as much as 50% in recent weeks as passenger traffic has plunged. wsj.com

REI Shuts Washington State Campuses After Potential Virus Exposure
Retailer to do a deep clean of buildings before workers return

Online shopping surges as coronavirus spreads, raising concerns about delivery workers

ASIS Disease Outbreak Security Resources

Washington, Florida Governors Declare State of Emergency for Coronavirus

Five Dallas Police Officers Sent Home After Arresting Man Being Watched for Coronavirus

Close to a Million in U.S. Could Be Tested for Coronavirus This Week

Las Vegas store shelves emptied as shoppers take precautions against coronavirus

'Where Do I Find Your Hand Sanitizer?' Sorry, We Have None.

---



In Case You Missed It
Q4 & 2019 Retail Violent Fatalities Report

Up 33%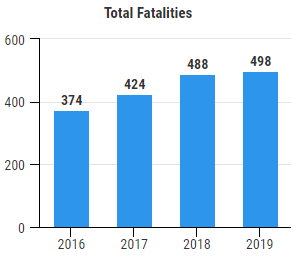 Up 20%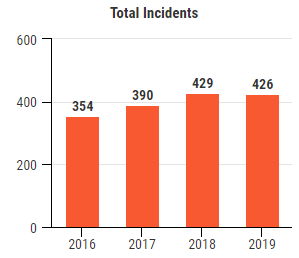 • Fatalities Up 33% since 2016
• Incidents up 20% since 2016
• Flat Over 2018

---

The Facial Recognition Company That Scraped Facebook And Instagram Photos Is Developing Surveillance Cameras
Clearview AI, the secretive company that's built a database of billions of photos scraped without permission from social media and the web, has been testing its facial recognition software on surveillance cameras and augmented reality glasses, according to documents seen by BuzzFeed News.

Clearview, which claims its software can match a picture of any individual to photos of them that have been posted online, has quietly been working on a surveillance camera with facial recognition capabilities. That device is being developed under a division called Insight Camera, which has been tested by at least two potential clients according to documents.

On its website — which was taken offline after BuzzFeed News requested comment from a Clearview spokesperson — Insight said it offers "the smartest security camera" that is "now in limited preview to select retail, banking and residential buildings."

Insight Camera's main site had no obvious connection to Clearview, but BuzzFeed News was able to link it to the facial recognition company by comparing the code from Insight and Clearview's respective log-in pages, which both shared numerous references to Clearview's servers. This shared code also mentioned something called "Fastlane," a "checkin app." buzzfeednews.com

A UPS employee was arrested after allegedly threatening a mass shooting with over 20,000 rounds of ammunition found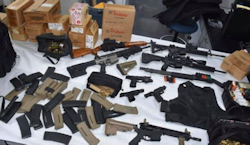 A United Parcel Service (UPS) employee was arrested after sending threatening text messages to his employer about planning a mass shooting at a UPS facility in Northern California, authorities said. Police found over 20,000 rounds of handgun and rifle ammunition, the Sunnyvale Department of Public Safety (DPS) said in the release Monday.

DPS patrol officers immediately began an investigation Sunday after receiving a report that Andrews sent text messages to his employer indicating that he was planning a mass shooting, the release said. Officers discovered four handguns and a rifle were registered in his name and began a search for the suspect.

A search warrant of his home revealed more than 20,000 rounds of handgun and rifle ammunition, high capacity magazines, five tactical style rifles, a shot gun, three handguns and body armor, the release said. Several backpacks with ammunition were at the front door of the apartment, the release said. cnn.com

One of the biggest problems in the sneaker resale market - Counterfeits

Entrupy Releases Legit Check Tech (LCT)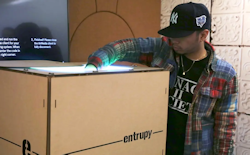 A device that uses artificial intelligence to determine whether a sneaker is counterfeit or not — and it only takes about a minute to use.

The technology is meant to equip high-level resellers and marketplaces with a quick way to authenticate sneakers.

Counterfeiting is a big problem for sneaker resellers. Authorities recently busted a counterfeiting operation that shipped $470 million worth of fake Nikes to the US. businessinsider.com

The running list of 2020 retail bankruptcies - Only 2 so far

Papyrus' parent company and home goods retailer Pier 1 are the first
major filings this year.

Last year sent 17 major retailers into bankruptcy. For some — including Payless, Gymboree and Charming Charlie —​ it was their second trip to court. Bankruptcy also proved fatal for more retailers in 2019, as liquidations increased. Inside and outside of bankruptcy, retailers closed more than 9,000 stores. retaildive.com


Jack Welch, Legendary CEO of General Electric, Dies at Age 84

1,000+ Shell Sites Offer Outdoor EMV Technology - EMV Deadline Oct. 1st

J.C. Penney Expands Curbside Pickup called "Style on the Go" @50 Stores


Quarterly Results
Publix Q4 comp's up 3.6%, sales up 5.1%, full yr. comp's 3.6%, sales up 5.6%
Target Q4 comp's up 1.5%, digital comp. sales up 20%, sales up 1.8%, full yr. comp's up 3.4%, digital comp. sales up 29%, sales up 3.6%
Kohl's Q4 comp's flat 0.0%, sales up 0.1%, full yr. comp's down 1.35, sales down 1.3%
Footlocker Q4 comp's down 1.6%, total sales down 2.2%, full yr. comp's up 2.2%, total sales up 0.8%

---




Sekura Global specializes in the design and development of innovative LP solutions in record time, with emphasis on volume supply and quality service. One of the world's leading single-source suppliers, Sekura's security tagging products are used by retailers across the globe.

Though we stock a wide range of proven LP products, we are always willing to collaborate with you to develop something new. From challenge to concept, through to training and instore rollout.

Whatever your LP problem, however complex, we guarantee our solution will be simple, easy and fast to implement, saving you both time and money.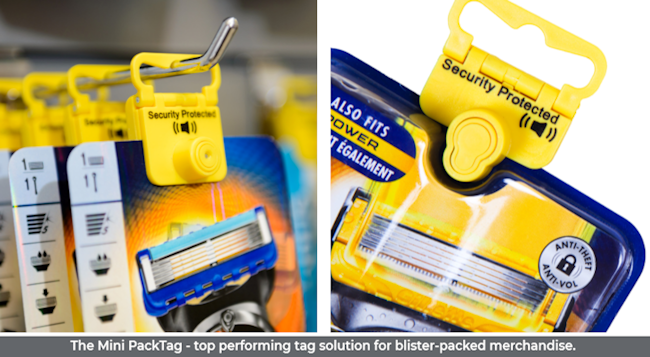 Sekura Global's range of one-piece security tagging solutions are safe to use, quick and easy to apply and remove, and instantly reusable. What's more, they have been designed to protect merchandize without impacting on its display appeal. A good example is the one-piece Mini PackTag from Sekura.



The Mini PackTag makes securing your blister-packed merchandise simple and easy. It has a retractable pin with a blunt tip for safety, ergonomically designed for fast and easy application, fitting closely to your merchandize.

The Mini PackTag is a solution for high-theft lines, developed specifically to ensure packaging remains intact. Unlike most other pin tags, the Mini PackTag has been developed to work with existing Euroslot or single hole hang tabs with contoured connection points for the most secure possible fit. The one-piece design also makes the Mini PackTag quicker to apply/remove, easier to store, and safer to use in general.

We developed the Mini PackTag in cooperation with one of the world's leading manufacturers of blister-packed merchandize, so you can be assured that this solution has been thoroughly tested with a wide range of additional security measures in place. The Mini PackTag is compatible with a range of anti-swipe peg hooks and is kept compact to minimize any impact on your instore display.

Available in AM or RF technologies with standard, Superlock, Hyperlock and S3 key compatibility. Sekura has also included ground-breaking anti-impact defeat technology to ensure the MiniPacktag is one of the most secure solutions on the market. Find out more and get your free samples now.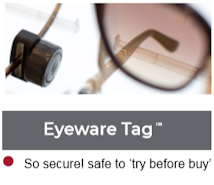 ---
Europol's EC# / European Cybercrime Center Releases
J-CAT / Joint Cybercrime Action Taskforce Update & Activities

Fighting Cybercrime in Europe and Beyond

The Joint Cybercrime Action Taskforce (J-CAT) is a 24/7 permanent taskforce, operating from Europol headquarters together with the European Cybercrime Centre. It helps fight cybercrime within and outside the EU.

Objective
J-CAT's objective is to drive intelligence-led coordinated actions against key cybercrime threats and targers. This is done by facilitating the join identification, prioritization, initiation and execution of cross-border investigations and operations by its partners.

Read More About J-CAT's Organization & 2019 Operations

How Target evolved its threat hunting program: 3 key steps

Target decided to re-evaluate its successful threat hunting program and found it could do better. This is what they did.

Evolution of a mature threat hunting program
Target's threat hunting program had been in place for five years when it decided to do a "soup to nuts" reworking of the program, the company's Principal Engineer of Cybersecurity David Bianco told attendees at the SANS Threat Hunting Summit in London last month.

Bianco said that Target's previous program was mature enough to be able to collect and use a high volume of quality security data from around the enterprise to create new analysis procedures. He labeled this a level 3 on Sqrrl's Cyber Hunting Maturity Model. "That is a great place to be," he said. "Most hunting teams would kill to be able to say on this model, 'We are definitely a level 3'."

The goal was to get Target to level 4 on that maturity scale and move beyond human-scale detection and drive more automation in its security processes. "Organizations at this level are able to not only successfully find those new incidents," said Bianco, "but the key difference is they treat their threat hunting program more as a driver for the improvement of their automated detection."

How to assess your threat hunting program

Before upgrading a threat hunting program, it's important to assess what's working and what isn't. At the start of the refresh Bianco spoke to key stakeholders to get their perspectives of the program. He asked the people running the threat hunting program, the executives who were sponsoring it, as well as those receiving the briefings from the team what was and wasn't working. He also sought to identify if there were any goals they wanted to accomplish that they previously hadn't thought possible.

Step 1: Focus the goals - Step 2: Ensure operational consistency - Step 3: Define the strategy

Self offers these key takeaways for companies looking to improve their current program:

• Hire full-time threat hunters.

• Give those hunters time to prepare before a hunt and document findings after a hunt.

• Ensure operational consistency and apply a proper strategy around what teams should be focusing on during hunts. csoonline.com

Over 40% of Privacy Compliance Technology Will Rely on Artificial Intelligence in the Next Three Years
Over 40% of privacy compliance technology will rely on artificial intelligence (AI) by 2023, up from 5% today, according to Gartner, Inc.

"Privacy laws, such as General Data Protection Regulation (GDPR), presented a compelling business case for privacy compliance and inspired many other jurisdictions worldwide to follow," said Bart Willemsen, research vice president at Gartner.

At the forefront of a positive privacy user experience (UX) is the ability of an organization to promptly handle subject rights requests (SRRs). SRRs cover a defined set of rights, where individuals have the power to make requests regarding their data and organizations must respond to them in a defined time frame.

According to the 2019 Gartner Security and Risk Survey, many organizations are not capable of delivering swift and precise answers to the SRRs they receive. Two-thirds of respondents indicated it takes them two or more weeks to respond to a single SRR. Often done manually as well, the average costs of these workflows are roughly $1,400 USD, which pile up over time.

"The speed and consistency by which AI-powered tools can help address large volumes of SRRs not only saves an organization excessive spend, but also repairs customer trust," said Mr. Willemsen. "With the loss of customers serving as privacy leaders' second highest concern, such tools will ensure that their privacy demands are met." marketwatch.com

How Security Leaders at Starbucks and Microsoft Prepare for Breaches

Executives discuss the security incidents they're most worried about and the steps they take to prepare for them.

This was the premise behind "Preparing and Responding to a Breach," a panel that took place at last week's RSA Conference in San Francisco. Security leaders from Starbucks, Microsoft, WhiteHat Security, and SecurityScorecard discussed the lessons they learned from the many breaches that took place in 2019 and how they plan to learn from these incidents to defend against threats of the future.

"The same things that are happening over and over again." What types of attacks were most frequent, he asked, and what did organizations learn from them?

As far as types of attacks we see, [they] generally tend to either be application security attacks, phishing attacks, misconfiguration of cloud environments, these kinds of things," said WhiteHat CTO Anthony Bettini. And while these threats are old news to security pros, his fellow panelists agreed they are also the ones organizations should have at top of mind for defensive strategies.

"The reason you keep hearing about phishing from speakers like us … it's not because we want to bore you with repetition," said Microsoft's cybersecurity field CTO Diana Kelley. "It's because phishing still works." Application vulnerabilities, misconfiguration, and phishing are the three areas where attackers are having the greatest success, which is why they should be prioritized.

"One thing I often see is the somewhat sophisticated criminal groups are starting to use the aftermath of breaches to do even more targeted social engineering or phishing attacks at scale," he explained. "It's not just the fact a breach occurred; it's that all of our company's data is somehow in there."

Credential reuse is a primary concern for Starbucks global CISO Andy Kirkland, who spoke to a concern prevalent in the retail and hospitality industries. "Whenever these credentials become available, we become a place where people want to see if they work," he said. The sharing of usernames and passwords across multiple platforms is "a big thing to watch" for companies. Cloud misconfigurations, which Kirkland calls "the rebranding of shadow IT," are another worry. darkreading.com
'Malware-free' attacks now most popular tactic amongst cybercriminals


---

The Basic Way to Search the Dark Web
The Dark Web is the hidden section of the Internet that requires specific software, like TOR, to access it. It allows users and website owners to be anonymous and difficult to trace. The Dark Web is generally not indexed, which makes it difficult to search.

You can search some of the Dark Web via Google. For example, if you want to search the word 'shoplift' you can type the following in the Google search box: "shoplift inurl:.onion.to". Your search results would show in Google same as in a basic search, but keep in mind you will need TOR to view the results in detail.

If you use a more complex search method like "shoplift + YOUR COMPANY name" you would get more refined results. This method won't find everything but can be useful in fraud and ORC investigations.
---


---
U.S. Congress: House Judiciary Committee
Congressmen Introduce SHOP SAFE Act to Protect Consumers from Dangerous Online Counterfeit
WASHINGTON — Yesterday a group of Congressmen introduced the Stopping Harmful Offers on Platforms by Screening Against Fakes in E-Commerce (SHOP SAFE) Act to stop the online sale of dangerous counterfeits. The bill incentivizes platforms to engage in a set of best practices to curb the presence of counterfeits on their sites.

The SHOP SAFE Act would:



•

Establish trademark liability for companies who sell counterfeits that pose a risk to consumer health and safety.



•

Require online platforms to establish best practices to vet sellers to ensure their legitimacy, remove counterfeit listings, and remove sellers who repeatedly sell counterfeits.



•

Call for online marketplaces to take steps necessary to prevent the continued sale of counterfeits by the third-party seller or face contributory liability for their actions. house.gov

Bipartisan bill would make e-commerce platforms liable for counterfeit goods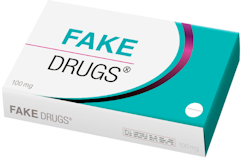 Amazon and other e-commerce platforms have a huge fake-goods problem, but courts previously decided that they weren't liable for counterfeit products third-parties sold on their websites. A group of bipartisan lawmakers wants to change that. The group has introduced a bill called the Shop Safe Act of 2020, which would create trademark liability for companies selling counterfeits from China and other countries that pose a risk to consumer health and safety -- counterfeit goods like drugs, medical equipment, baby formula, chargers, car seats and airbags.

Based on the information published by members of the group, the bill would require online platforms to vet sellers to make sure they're legit. The company will also have to remove counterfeit listings and their sellers, as well as be more proactive in preventing continued sale of counterfeits by third-party sellers.

As The New York Times notes, the Department of Homeland Security published a report earlier this year, urging companies to establish stronger policies to protect buyers from fake goods coming from sellers overseas. Peter Navarro, the White House Office of Trade and Manufacturing Policy director who helped oversee Homeland Security's recommendations, criticized Amazon for profiting off counterfeits. "Under current lax interpretations of the law," he said, "e-commerce platforms face virtually no liability for their counterfeit trafficking." engadget.com

Amazon Beats DTC's (Direct-to-Consumer) Hands Down in Online Poll in Virtually Every Category
Easier to Shop - Cheaper - Faster - Easy Returns - Prime Perks

Amazon Nixes More Delivery Driver Contractors — Leading to Over 3,242 Layoffs
As of December 2019, Amazon had a list of around 800 delivery service partners to tap for package deliveries to customers' homes and businesses. These contracted companies usually work solely for Amazon and handle driver logistics, such as wages, vehicle repairs and insurance. In 2019 alone, Amazon delivered 3.5 billion packages globally. footwearnews.com
---
Lady Lake, FL: Pair arrested in attempted theft of Michael Kors and Gucci merchandise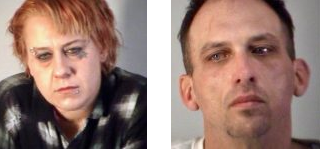 Nicole Ashley Misso, 30, and Jonathan Barron Tunstall, 35, both of Leesburg, entered the store at 5:13 p.m. Sunday, according to an arrest report from the Lady Lake Police Department. The pair split up after entering the store and Misso put a pair of Michael Kors shoes in a shopping cart along with Gucci cologne, a men's watch and other merchandise. She took the merchandise into a fitting room and left behind the box which had contained the watch. She then attempted to leave the store with merchandise, for which she had not paid, in her purse. Tunstall was spotted getting into green Kia Soul in the parking lot. He was taking off a pair of pants from Belk which had been placed over the pants he was wearing, the report said. He also had methamphetamine and a syringe in a backpack. Both Misso and Tunstall were taken into custody and booked at the Lake County Jail. villages-news.com

Seattle, WA: Some Seattle merchants see shoplifting on the rise; Stores increase security measures to stem uptick in the crime
Newly released Seattle police data shows that reported shoplifting incidents across Seattle dropped 11 percent between 2018 and 2019, to 4,486, after rising at nearly twice the rate of population growth between 2010 and 2018. At the Bartell Drugs store at Fifth Avenue and Olive Street, the war against shoplifting is turning into an arms race.

As the thieves have become more brazen — sometimes stealing armloads of inventory to sell on the street — the store has ratcheted up security. More high-theft items are now in locked cases: The current list includes earbuds, phone chargers, disposable razors, curling irons, electric toothbrushes and some L'Oreal products. The store has added more shifts by security guards.

But some employees say the theft continues unabated. They say much of the stealing is done by people who used to hit the Bartell at Third and Union, which, despite heavy security measures, closed in November after what former employees said was $1 million in theft-related expenses in 2019. securityinfowatch.com

Gansevoort, NY: New York State Police: Shoplifting case leads to felony charge; over $1,000 theft

East Lampeter Township, PA: Man charged with theft of nearly $650 of merchandise from Walmart

Newhall, CA: True Value hardware store the victim of a $450 theft
---
Shootings & Death
s
Pahrump, NV: Nye County Deputy arrested following Pahrump officer-involved shooting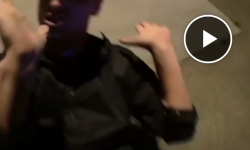 A Nye County deputy has been arrested following an officer-involved shooting in Pahrump that occurred on Feb. 26. Deputy James Ramos, 47, was arrested on the charges of assault with a deadly weapon and discharging a firearm where a person is endangered. An investigation determined his actions were not in accordance with the policy of the Nye County Sheriff's Office. The incident occurred when police responded to a shoplifting call at a Walmart around 2:55 a.m. Deputies arrested three suspects in the store's parking lot and were informed a fourth, 24-year-old Joseph Beltran, had tried to run away out the back of the building. Deputy Ramos pursued Beltran in his patrol car. Once he caught up to the suspect, he yelled for him to get on the ground. Within seconds of exiting his vehicle, Ramos fired one shot with his duty weapon, missing Beltran and hitting the concrete wall behind the suspect. No weapon was reportedly found on Beltran Ramos was taken into custody on March 2 and booked into the Nye County Detention Center. news3lv.com

Melbourne, Australia: Police refuse to rule out charging father and son who allegedly beat armed robber after gunman fired shots during hold-up
Police have not yet said whether they will lay charges against a pair of Melbourne shopkeepers who fought back against a gunman who tried to rob them. Police said they are still investigating the circumstances around the attempted robbery in Melbourne's northern suburb of Hadfield on Sunday night. Store owner Jackie Chen and his son Jason said they were lucky to be alive after a gunman's firearm allegedly went off as they fought to stop their store being robbed. dailymail.co.uk
---

Robberies, Incidents & Thefts
Jacksonville, FL: Hero bystander comes to help security guard during attempted robbery at liquor store
A bystander, who came to help a security guard fend off would-be robbers, is in the hospital. Jacksonville Sheriff's Office said the man sustained serious but not life-threatening injuries when one of the suspected robbers cracked a liquor bottle over the man's head. Police said multiple people witnessed the attempted robbery at the Sahara Liquor store on Beach Blvd. It happened just before midnight when two men entered the business and attempted to steal liquor, according to JSO. news4jax.com

Hampden County, MA: District Attorney Anthony Gulluni holds forum on wiping out criminal records to help people improve their lives
People convicted of many different non-violent crimes such as drug possession or shoplifting can petition to have their criminal records sealed or expunged to help them find a job or continue their education. Hampden District Attorney Anthony D. Gulluni, First Assistant District Attorney Eduardo Velazquez and members of the office's Community Safety and Outreach Team last week drew a capacity crowd to a forum at the Holyoke Public Library to teach people how to expunge or seal their records. masslive.com

Madison, WI: Security guard struck by getaway car after golf clubs stolen from Dick's Sporting Goods

Tigard, OR: Man accused of spending $5K in fake money at retail stores across Oregon

Memphis, TN: Cell phone store owners fear they're being targeted by violent criminals

Corpus Christi, TX: Jeweler installs high-tech security to protect what's his

Tyler, TX: Man indicted in connection with skimming device found at Tyler gas station; held on $1M Bond

Cargo Theft
• C-Store – Tuscaloosa, AL – Robbery
• C-Store – Tallahassee, FL – Armed Robbery
• C-Store – Oakdale, MN – Robbery
• CVS – Cuyahoga Falls, OH – Robbery
• CVS – Providence, KY – Burglary
• Dick's Sporting Goods – Madison, Wi – Robbery
• Dollar General – Eden, NC – Robbery
• Grocery – Parma, OH - Robbery (Bank inside)
• Guns – Hudson, NY - Burglary
• Jewelry - Fultondale, AL -Robbery
• Jewelry - Albuquerque, NM – Robbery
• Liquor – Jacksonville, FL – Robbery
• Liquor – Peoria, IL – Robbery
• Marijuana – Basalt, CO – Armed Robbery
• Pharmacy – Hampstead, NC – Armed Robbery
• Restaurant – Jacksonville, FL – Armed Robbery/clerk wounded
• Restaurant – Madison, WI – Armed Robbery
• Restaurant – Toledo, OH – Armed Robbery (Subway)
• Restaurant – Laredo, TX – Burglary
• Walgreens – Baton Rouge, LA – Robbery
• Walmart – Jacksonville, FL – Robbery/ Assault
Daily Totals:
• 18 robberies
• 3 burglaries
• 1 shooting
• 0 killed

---
| | |
| --- | --- |
| | Michael Mulholland, CPCI named District Loss Prevention Investigator for TJX Companies, Inc. |
Submit Your New Hires/Promotions
or New Position
See all the Industry Movement
---

Feature Your Job Here For 30 Days -
70% Aren't On The Boards
Post your job listing
---
Featured Job Spotlights

Florida/Georgia (Home-based, must reside in the SE)
The successful candidate will be responsible for the management of the Asset Protection function in their assigned area. Guide the implementation and training of Asset Protection programs, enforcement of policies and procedures, auditing, investigations and directing of shrink reduction efforts...

Profit Protection Leader
Corte Madera, CA
Responsible for leading and execution of the Protection and Prevention tiers of the Profit Protection strategy for all RH locations including our Corporate Campus in Corte Madera, CA - PROTECTION - Access Control | Alarms | CCTV | Guards - PREVENTION - Awareness | Audits | P&P | Training...

Loss Prevention Manager
Las Vegas, NV
● Demonstrate management leadership skill to achieve the goals of the Company. ● Experienced with and has knowledge of regulatory agencies to include: TSA, DOT and OSHA. ● Establishes and communicates a risk business plan consistent with the objectives of the Company that pro-actively identifies and corrects poor behaviors...

Region Asset Protection Manager
Jacksonville, FL
Responsible for managing asset protection programs designed to minimize shrink, associate and customer liability accidents, bad check and cash loss, and safety incidents for stores within assigned region. This position will develop the framework for the groups' response to critical incidents, investigative needs, safety concerns and regulatory agency visits...

Featured Jobs
---
JOB TITLE
COMPANY
CITY/STATE
DATE ADDED

Vice President
SVP, Chief Safety & Risk Officer
Allied Universal
Santa Ana, CA
Jan. 6
VP Asset Protection
BJ's Wholesale Club
Westborough-Home Office, MA
Feb. 28
VP, Asset Protection

Casey's General Stores

Ankeny, IA

Jan. 27
VP, Information Security
Tractor Supply
Brentwood, TN
Jan. 3

Director
Sr. Dir., Voice Theft/Fraud
Comcast
Greenwood Village, CO
Mar. 2
Dir. Asset Protection SE
Home Depot
Atlanta, GA
Jan. 6
Asset Protection Dir.
McLane
Temple, TX
Mar. 2
Cybersecurity & Privacy Protection Dir.
PwC
Seattle, WA
Nov. 5
Dir. Loss Prevention Stores
Tractor Supply Co.
Brentwood, TN
Feb. 11

Corporate/Senior Manager
Sr. Manager, Field Asset Protection
Carvana
Phoenix, AZ
Feb. 28
Sr. Loss Prevention Manager
Gap Inc.
San Francisco, CA
Oct. 29
Mgr. Physical Security Programs & Technology
Grainger
Lake Forest, IL
Feb. 3
Mgr. Risk Management
Harvest Health & Recreation
Tempe, AZ
Oct. 30
Senior Manger, Asset Protection
Home Depot
Atlanta, GA
Feb. 18

---


---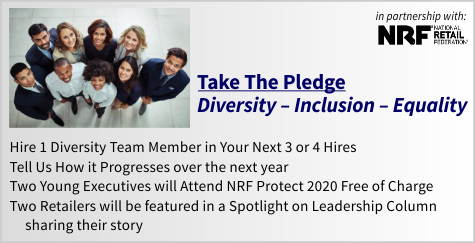 ---

One can never over prepare for an interview or a phone conversation. Actually, the biggest mistake executives make in the job search process is that they don't prepare enough for each individual interaction with a prospective future employer. Preparation is the path to success and increases an executive's performance exponentially. It includes five basic areas; the employer's company, the employer's main competitor, your career in relation to the specific position, the individuals you're interviewing with, and executives who have direct knowledge of the company and the executives.

Just a Thought,
Gus



(content subject to approval)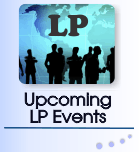 ---
Recruiting?
Get your job e-mailed to everyone... everyday
Post on our Featured Jobs Board!
Not getting the Daily?
Is it ending up in your spam folder?
Please make sure to add d-ddaily@downing-downing.com to your contact list, address book, trusted sender list, and/or company whitelist to ensure you receive our newsletter.
Want to know how? Read Here



36615 Vine Street, Suite 103
Willoughby, OH 44094
440.942.0671
copyright 2009-2019
all rights reserved globally