---

---

Prosegur Security Opens New Retail Headquarters
and Distribution Center in Florida

Prosegur Security, a global leader in security technology, has opened new headquarters for its retail solutions division in Deerfield Beach, Florida. Located near Boca Raton, the 40,000 square foot facility now houses the company's main distribution center for security products in North America, as wells as the new Experience Center and expanded corporate offices.

"As our retail business continues to grow worldwide, so does the need to always exceed our clients' expectations using state-of-the-art facilities," said Tony D'Onofrio, CEO of Prosegur's global retail business unit. "Opening this large and modern retail headquarters is really an investment into customer service, as it will enable us to showcase our growing retail portfolio and more importantly speed up delivery through improved distribution capabilities during these challenging times."

Read more in today's Vendor Spotlight below.

---

Protests & Violence

D.C. Insurrection Aftermath

The Lost Hours: How Confusion and Inaction at the Capitol Delayed a Troop Deployment

Congressional hearing on Jan. 6th security failures will be held Tuesday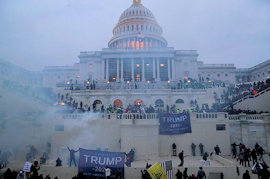 At 1:09 p.m. on Jan. 6, minutes after protesters had burst through the barricades around the U.S. Capitol and began using the steel debris to assault the officers standing guard, the chief of the Capitol Police made a desperate call for backup. It took nearly two hours for officials to approve the deployment of the National Guard.

New details about what transpired over those 115 minutes on that dark, violent day — revealed in interviews and documents — tell a story of how chaotic decision-making among political and military leaders burned precious time as the rioting at the Capitol spiraled out of control.

Communication breakdowns, inaction and confusion over who had authority to call for the National Guard delayed a deployment of hundreds of troops who might have helped quell the violence that raged for hours.

This period is likely to be a focus of a congressional hearing on Tuesday, when lawmakers will publicly question Steven A. Sund, the Capitol Police chief at the time, and other current and former officials for the first time about the security failures that contributed to the violence on that day. nytimes.com

National Guard on standby in DC for March 4 - the day QAnon followers believe that Trump will become president again
Almost 5,000 National Guard troops are expected to remain in Washington, DC, until mid-March, according to CNN. This is partly due to fears of potential violence from followers of the QAnon conspiracy theory on March 4, the media outlet reported. The request for 4,900 troops to stay until March 12 was made by US Capitol Police, defense officials told CNN.

Some QAnon adherents believe that former President Donald Trump will be sworn in on March 4. This date's significance is rooted in a bizarre conspiracy theory that a law enacted in 1871 secretly turned the US into a corporation, making all presidents in the last 150 years illegitimate. businessinsider.com

Oath Keepers member indicted for Capitol riot involvement
says she was providing security at Jan. 6 Trump rally
A member of the group known as the Oath Keepers is arguing in her motion for bond that she was present at the Jan. 6 rally for former President Donald Trump, but she was there to provide security, not as an insurrectionist. Six additional individuals associated with the Oath Keepers, some of whose members were among the rioters who stormed the U.S. Capitol on Jan. 6, were arrested this week and charged for conspiring to obstruct the certification of the 2020 presidential election results, among other charges. fox5dc.com

Study Says Few US Capitol Rioters Had Ties to Right-Wing Groups

Capitol Police Suspends 6 Officers, Investigates Dozens More After Capitol Riots

Defense Secretary: National Guard troops expected to leave Capitol March 12


Police Reform Bills

Minneapolis: Progressives Want Police Accountability Measures In Chauvin Trial Security Funding Bill
Just two weeks from Monday, the murder trial of Derek Chauvin in the George Floyd case gets underway with jury selection. The Legislature has yet to pass the governor's SAFE Act, which provides $35 million for mutual aid for security during the trial. Progressives want the money to come with tough guidelines for police conduct. A watered down version of those police accountability guidelines proved a no-go for progressives who sank the entire bill in the DFL controlled House. Two leaders with vital roles in the outcome say they would like to see a compromise that includes police accountability measures.

State officials have stressed that despite this debate over funding the number of boots on the ground will not be affected during deliberations and the verdict. That number is estimated at 2,000 National Guard and 1,100 police officers from around the state. cbslocal.com

San Diego, CA: New policy on protests outlines when police should use less-lethal weapons, deem events unlawful
The San Diego Police Department this week implemented a policy that sets parameters on officers' actions during demonstrations, from when they give dispersal orders during protests deemed unlawful to when they fire less-lethal rounds. Some protesters in San Diego have decried the way police responded to the protests — at times in tactical gear and large numbers, and with force. Meanwhile, San Diego police officials have described some of the protesters as unruly, saying some threw rocks and bottles at officers on the front lines. latimes.com

Virginia lawmakers kill bill targeting officer accountability
A Virginia Senate committee recently killed a bill intended to minimize police misconduct and incentivize accountability among law enforcement. House Bill 1948, introduced by Del. Mark Levine, D-Alexandria, required law enforcement officers to report misconduct by fellow officers. Another part of the measure, which some opponents called too subjective, was that on-duty officers provide aid as circumstances objectively permitted to someone suffering a life-threatening condition, or serious bodily injury. wtop.com

Protesters Urged Defunding the Police. Schools in Big Cities Are Doing It.
Los Angeles will eliminate a third of its school police officers, joining cities like Seattle, Denver and Minneapolis that took action after Black Lives Matter protests.

George Floyd case: In eight months, Minneapolis went from defunding Police to spending millions to recruit more officers

Georgia: GOP bill would ban defunding police in wave of reaction to 2020 protests


Couple suspected in torching of St. Paul, MN school and two stores during civil unrest are caught in Mexico

A Minnesota husband and wife accused in connection with setting fire to a St. Paul school and two stores during rioting in the Twin Cities last summer have been caught hiding out in Mexico and brought back to the United States, federal authorities say.

Jose A. Felan Jr. and Mena Dyaha Yousif, both of Rochester, Minn., appeared Wednesday in U.S. District Court in San Diego. Felan, 34, stands charged with three counts of arson and Yousif, 22, with being an accessory to arson after the fact. The couple is accused of setting fire to Gordon Parks High School on University Avenue on May 28, along with a nearby Goodwill store and 7 Mile Sportswear. startribune.com

Two protesters arrested at NYC Amazon warehouse demonstration
A local civil rights activist and a second protester were issued trespassing tickets during a demonstration at the newly opened Amazon warehouse in Brooklyn's East New York Friday evening, a law enforcement source told The Post. nypost.com

Covid: Anti-vaccination protests held in Australia ahead of rollout

---

COVID Update
US: Over 28.7M Cases - 511K Dead - 18.9M Recovered
Worldwide: Over 112M Cases - 2.4M Dead - 87M Recovered

Former Senior Loss Prevention Executive
Know of any fallen LP exec? Let's remember & recognize.

Private Industry Security Guard Deaths: 279
Law Enforcement Officer Deaths: 250
*Red indicates change in total deaths

Coronavirus in the U.S. - Things Are Looking Brighter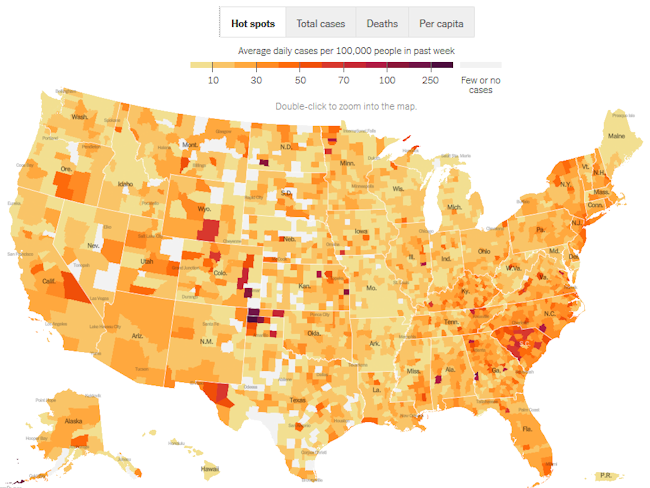 U.S. hospitals feel the drop in Covid-19 patients but urge caution

The number of Americans hospitalized for Covid-19 is at its lowest since early November, just before the surge that went on to ravage the country for months.

There were 56,159 people hospitalized as of Feb. 21, according to the Covid Tracking Project. That's the lowest since Nov. 7. It's a striking decline for a nation reaching 500,000 total deaths, once having some of the world's worst coronavirus hot spots.

While deaths remain high, because it can take weeks for patients to die from Covid-19, the number of U.S. hospitalizations has steadily and rapidly declined since mid-January, when the seven-day average reached about 130,000, according to a New York Times database. Experts attributed that peak to crowds gathering indoors in colder weather, especially during the holidays, when more people traveled than at any other time during the pandemic.

Experts have pointed to a variety of explanations for why the country's coronavirus metrics have been improving over the past few months: more widespread mask use and social distancing after people saw friends and relatives die, better knowledge about which restrictions work, more effective public health messaging, and, more recently, a growing number of people who have been vaccinated. The most vulnerable, like residents of nursing homes and other elderly people, were among the first to receive the vaccine.

While scientists hope the worst is behind us, some warn of another spike in cases in the coming weeks, or a "fourth wave," if people become complacent about masks and distancing, states lift restrictions too quickly or the more contagious variants become dominant and are able to evade vaccines. nytimes.com

Lower-Income Covid-19 Aid Recipients Seen Boosting Consumer Spending
Early signs point to an uptick in consumer spending at the start of the year, particularly by lower- and middle-income households receiving payments through the most recent Covid-19 relief package.

Spending by consumers who make less than $60,000 a year jumped by more than 20% in the week ended Jan. 10 - the week after the U.S. Treasury Department began electronically sending stimulus payments of $600 per adult and $600 per child for individuals with adjusted gross incomes under $75,000 - according to the research group Opportunity Insights' tracker of figures from Affinity Solutions. Spending by households making above $100,000 by contrast, was broadly flat compared with January 2020 that week.

Among households receiving stimulus payments, 88% spent their $600 check "like it burned a hole through their pocket," said Jonathan Silver, chief executive of Affinity Solutions. That jump in spending shows there is "significant pent-up demand for necessities" while higher-income groups "pulled back the reins" on spending, he said. wsj.com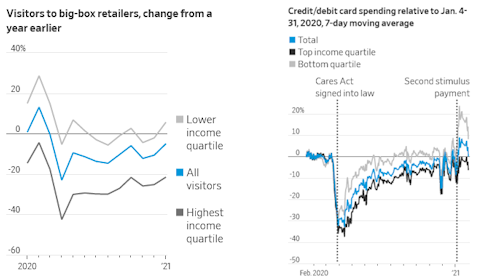 Another Roaring Twenties to Come?
Could the post-pandemic economy have a supercharged rebound?
Forecasters have always expected the pandemic to be followed by a period of strong growth as businesses reopen and Americans resume their normal activities. But in recent weeks, economists have begun to talk of something stronger: a supercharged rebound that brings down unemployment, drives up wages and may foster years of stronger growth.

There are hints that the economy has turned a corner: Retail sales jumped last month as the latest round of government aid began showing up in consumers' bank accounts. New unemployment claims have declined from early January, though they remain high. And measures of business investment have picked up. nytimes.com

Restaurants and Startups Try to Outrun Uber Eats and DoorDash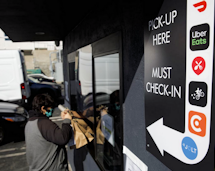 DoorDash, UBER Eats and Grubhub can charge restaurants up to 30% of every order - a chunk many owners say dents profits even as more orders come in. A new crop of services is promising online ordering at a lower cost to eateries, by letting the restaurants arrange more deliveries themselves.

Chipotle Mexican Grill Inc., Shake Shack Inc. and a growing number of chains have acknowledged the cost of app-based delivery orders, and many say they intend to address it.

Local governments from New York to Seattle have enforced rules capping delivery-app fees, in an effort to rein in restaurants' costs while the health crisis keeps people home. wsj.com

Hazard Pay for Grocery Workers Is Trending in California
Following in the footsteps of the city of Long Beach, the cities of Montebello and Oakland have passed premium-pay ordinances mandating additional pay for certain grocery store and drugstore employees.

Premium pay or "hazard pay" for grocery employees seems to be the new trend in COVID-19 regulations. This trend continues despite recent lawsuits filed in federal courts by the California Grocers Association, seeking to block the new ordinances in Long Beach, Oakland and Montebello. shrm.org

West Virginia's Vaccination Rate Ranks Among Highest In World

WV Governor eases COVID-19 restrictions on restaurants, stores and schools
As of today West Virginia has fewer than 10,000 active COVID-19 cases, so Governor Jim Justice is easing some of the rules. Restaurants and bars can increase seating capacity from 50% to 75%. Retail shops and grocery stores will be able to double the number of customers per square foot in their buildings. wowktv.com

Israel's Speedy Vaccination Campaign Now Faces Key Test in Return to Normal
Israel lifted restrictions on most commerce and public activity, opening malls, markets and museums - and requiring the use of a pass to document vaccination status for some activities. Sunday's moves illustrate how Israel, which rolled out the world's fastest Covid-19 vaccination campaign, is combining incentives and threats to get the rest of its population vaccinated - and how it learned from missteps. wsj.com

New York Times Depicts Total Covid Death Toll on Front Page

Kids represent a small fraction of overall COVID-19 deaths in the US, but 75% of them are children of color

Britain's leader Boris Johnson outlines a cautious plan to reopen England

Glasses-wearers up to three times less likely to catch coronavirus, study suggests

---

Winter Storm Overwhelms Texas Supply Chain
North Texas is thawing, but hunger remains as grocery stores and food banks struggle to meet demand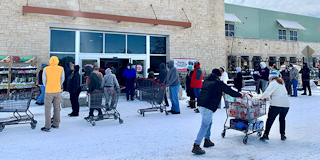 Melting ice across North Texas gave way to hungry residents looking to restock refrigerators and pantries, even while many in areas such as West Dallas' Ledbetter Eagle Ford neighborhood still struggled with intermittent power and lack of water.

Long lines of cars rolled into grocery distribution sites from Plano to South Dallas while supermarket employees worked to restock shelves with high-demand staples after the region's food system was crippled by power outages and frozen roads that have tested Texas' ability to care for itself in extreme conditions.

Grocery stores were much better stocked on Saturday than in previous days, but store officials say it could be days or even weeks before supplies return to normal.

Thawing ice only exacerbated the problem as freezing pipes burst and left residents at homes and apartment complexes without working water with which to cook, bathe and flush toilets.

Walmart closed more than 500 stores at points this week, and at other times stores operated only a few hours at a time. Since stores have reopened, deliveries have been inconsistent, revealing cracks in a modern, just-in-time food operation that can fail when food manufacturers, distributors and grocery stores are unable to work because of cold, snow and power outages. dallasnews.com

Do grocers need to get better at planning for weather-related disasters?

Austin, TX: H-E-B store gave groceries away after the lights went out


Global Security Firm Bidding War Concludes
Allied Universal Set to Create Private-Security Giant With $5.3 Billion G4S Deal

Canadian firm Garda World bows out of bidding war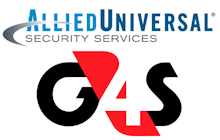 Allied Universal is set to win the bidding war for U.K. rival G4S PLC in a deal that would create a private security-services giant with global reach.

Closely held Allied, backed by private-equity firm Warburg Pincus LLC and Canadian pension fund Caisse de Depot et Placement du Quebec, moved into pole position after rival Garda World Security Corp., a Canada-headquartered security firm majority owned by asset-management firm BC Partners, decided not to raise its bid.

Allied would pay 3.8 billion pounds, equivalent to $5.3 billion, to acquire G4S, whose half-a-million employees specialize in guarding events and infrastructure, among other businesses. The two sides had been scheduled to settle the standoff this week in a rare bidding auction held by U.K. regulators. However, in a surprise move Monday, GardaWorld said it wouldn't raise its current offer of 2.35 pounds a share. That leaves Allied's bid of 2.45 pounds a share as the highest.

Allied's operations comprise more than 265,000 security guards, and remote video and alarm systems that protect sites across industries ranging from petrochemicals to retail in the U.S., Mexico and the U.K. The G4S acquisition would strengthen Allied's existing operations in the U.S. and the U.K., while extending its reach into markets in continental Europe, the Middle East and Africa. It would also more than double Allied's annual revenue to $20 billion, based on the 7.8 billion pounds that G4S earned in 2019.

The deal is a big bite for Allied to integrate. It would inherit G4S's bigger workforce of 558,000 employees, as well as operations in about 85 countries stretching across six continents. Allied's integration plan includes eliminating costs to support G4S's public listing and other administrative functions. However, bigger cuts won't be decided on until the deal is done, Allied has said. Allied could also draw scrutiny from unions and U.S. state officials, concerned over the deal's impact on workers at the new combined company. wsj.com

Jackson, MS: City will require security personnel at 24-hour convenience stores
Some convenience stores in the city of Jackson will soon be required to have security guards. At a special meeting Wednesday, the city council approved an ordinance requiring 24-hour convenience stores to have security personnel in place between the hours of 12 a.m. and 5 a.m. All other gas stations located in the Jackson corporate limits will be required to adopt a security plan and file it with the city within 100 days of the ordinance's passage.

The measure was approved unanimously, but some council members expressed concerns with the ordinance, saying the added expense of the security could could force gas stations to close during the hours required.

Ward Three Councilman Kenneth Stokes acknowledged that fact, but said "Safety has to be our primary issue now... We need to make sure these crimes are not occurring – the robberies, the murders, the shootings. It's our job to protect the citizens, not the store owners. If they have a problem with it, they can sue." wlbt.com

Tuesday Morning, Casper, Vince on S&P's latest 'most vulnerable retailers' list
S&P Global Market Intelligence included Tuesday Morning, which went through a Chapter 11 restructuring last year, in its latest monthly list of the most vulnerable retailers. Tuesday Morning has a 14.1% chance of default over the next year, according to S&P.

Also on the list are J. Jill (22.5% chance of default), Destination XL (19.1%), Revlon (15.1%), Wayfair (14.9%), Vince (14.7%), Build-A-Bear Workshop (13.1%), Casper (12.7%) and iMedia Brands (11.1%). Those companies have also appeared on S&P's previous lists. retaildive.com

McDonald's sets targets to diversify its leadership, seeks gender parity by 2030

Activist investor group looks to take control of Kohl's board

UK: John Lewis closing 8 of its remaining 42 department stores

Last week's #1 article --

Sears Continues On A Path Of Closing More Of Its Stores; Only 29 Currently Remain

---



---

Prosegur Security Opens New Retail Headquarters and Distribution Center
in Florida
Prosegur Security, a global leader in security technology, has opened new headquarters for its retail solutions division in Deerfield Beach, Florida. Located near Boca Raton, the 40,000 square foot facility now houses the company's main distribution center for security products in North America, as wells as the new Experience Center and expanded corporate offices.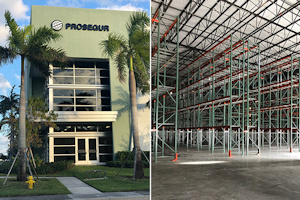 "As our retail business continues to grow worldwide, so does the need to always exceed our clients' expectations using state-of-the-art facilities," said Tony D'Onofrio, CEO of Prosegur's global retail business unit. "Opening this large and modern retail headquarters is really an investment into customer service, as it will enable us to showcase our growing retail portfolio and more importantly speed up delivery through improved distribution capabilities during these challenging times."

"This Florida based location will also serve as a regional Prosegur headquarters and feature a comprehensive Experience Center, where current and potential clients can see firsthand the latest in security innovation coming out of our R&D labs across industry sectors we serve, such as retail, transportation, data centers and healthcare," said Matt Sack, the company's executive chairman. "Being at the forefront of innovation is at the core of Prosegur's mission, and with our new space we aim to not just demonstrate that commitment but also to engage and involve our industry partners in jointly creating a safer world through advancements in security technology."

Both D'Onofrio and Sack emphasized the importance of partnerships between Prosegur and retailers, and extended an open invitation to the loss prevention community to visit the new facility and jointly design with Prosegur the future of security and retail.



About Prosegur Security USA
Prosegur makes the world safer by taking care of people and businesses while remaining at the forefront of innovation. The company is a global security leader operating in 26 countries, with over 165,000 employees and 26 command centers spread around the globe. In the U.S., the company offers a range of security services, including surveillance video systems, EAS and RFID tags and systems, guarding services, remote monitoring and cybersecurity services. The company prides itself on helping organizations large and small solve their security challenges through technology, teamwork, innovation and relentless customer focus.
---
Kroger: Some pharmacy customer data impacted in vendor hack
Kroger Co. says personal data, including Social Security numbers of some of its pharmacy and clinic customers, may have been stolen in the hack of a third-party vendor's file-transfer service.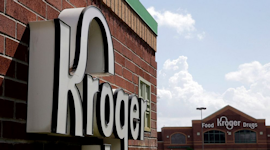 The Cincinnati-based grocery and pharmacy chain said in a statement Friday that it believes less than 1% of its customers were affected — specifically some using its Health and Money Services — as well as some current and former employees because a number of personnel records were apparently viewed.

It says it is notifying those potentially impacted, offering free credit-monitoring. Kroger said the breach did not affect Kroger stores' IT systems or grocery store systems or data and there has so far been no indication of fraud involving accessed personal data.

Kroger said it was among victims of the December hack of a file-transfer product called FTA developed by Accellion, a California-based company, and that it was notified of the incident on Jan. 23, when it discontinued use of Accellion's services. Companies use the file-transfer product to share large amounts of data and hefty email attachments.

Accellion has more than 3,000 customers worldwide. It has said that the affected product was 20 years old and nearing the end of its life. The company said on Feb. 1 that it had patched all known FTA vulnerabilities. abcnews.com

Microsoft Concludes Internal Investigation into Solorigate Breach
Microsoft, which calls the SolarWinds supply chain attack a "moment of reckoning," declared on Thursday it had completed an internal investigation of its own compromised network. It advises companies to strengthen security by adopting a zero trust mindset and protecting privileged credentials.

While the breach, which Microsoft calls "Solorigate", allowed sophisticated attackers to view source code for some of its products, Microsoft stressed that its investigators concluded neither the company's services nor its software had been used to attack others.

The closing of this investigation comes less than two months after Microsoft revealed that attackers had viewed some of the source code for its products and services. In a separate statement on Feb. 18, the Microsoft Security Response Center (MSRC) disclosed the attackers viewed specific source code repositories looking for passwords and development "secrets" used as keys to secure applications once compiled. darkreading.com

Black History Month 2021: Time to Talk Diversity and Cybersecurity

In an industry that consistently needs new ideas, it's essential to have individuals who think, speak, and act in diverse ways.

Now more than ever before, the entire cybersecurity industry must commit to improving representation and equality for people of all races, ethnicities, genders, and orientations. Below, I have outlined key steps organizations must take to get started.

Start at the Top
The conversation about diversity needs to start at the top. CEOs and other high-level executives need to take a hard look at the people they have at the decision-making table. If they don't have people of color helping to drive strategy for the company, how are they supposed to make changes for those people?

Provide Opportunities for People of Color
For organizations looking to improve representation, the entire hiring process must be rethought. Leadership needs to provide opportunities for people of color. HR teams and company recruiters should be working together to conduct outreach, not just to underrepresented groups, but also companies who already have initiatives in place. What are other organizations that are successful at diversity and inclusion efforts doing that your company isn't? Are you consistently going back to the same talent pools for new positions? Look at the makeup of the company and reach out to anyone who might be underrepresented.

Commit to Continued Conversation
The cybersecurity industry has one enemy: the digital adversary or cybercriminal. Uniting people of all colors, creeds, and genders under a common cause just improves the security posture for all by promoting different ideas and discussions. This can lead to new innovations and approaches in combating cyber-risk. darkreading.com

Exponential increase in malware and exploit activities
2020 was a chaotic year that shifted the threat landscape and changed the way many organizations manage their business operations. In addition to increasingly sophisticated and frequent attacks, Nuspire security experts observed a massive spike in malware with Visual Basic for Applications (VBA) agent activity, which overshadowed all other malware variants identified throughout the year. A new report finds a consistent increase of exploitation events through 2020 with an overall growth of 116% as attackers continued to leverage newly disclosed vulnerabilities. securitymagazine.com

Kia Denies Ransomware Attack as IT Outage Continues

Apple details major security, privacy enhancements in its devices

CrowdStrike Buys Log Management Startup Humio for $400M
---

Writing a report after a case can be an exhausting project, taking all the relevant details and putting them into a succinct, comprehensive document. Case management software, report wizards, and templates may have simplified this for investigators but there are still key elements that often go missing. One of the best perspectives to review a report is having a peer or another investigator, not involved in the case, read and provide feedback. If an investigator that isn't familiar with the case (maybe your supervisor) reviews the report and still has questions about the case, it suggests that there are valuable details omitted from the report. Many of you may have experienced this if you were ever called to testify regarding a case that was from your predecessor.

Read more
---

---

More Severe & Frequent Storms Could Dampen E-Commerce Growth
E-commerce is on a collision course with climate change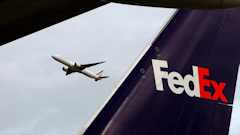 E-commerce sales have been a bright spot for US retailers, rising nearly 30% in the last three months of 2020. But it means more people are depending on online shopping for basics even as climate change wreaks greater havoc on delivery services, warehouses, and supply chains.

Hurricanes, snowstorms, large fires, and significant rainfall are not new kinds of weather phenomenon in the US. However, climate change is often making them more severe and more frequent, resulting in more delays and higher costs for retailers and logistics companies as online shopping grows in popularity and supply chains become more complex.

"Supply chains are surprisingly stretched out and can go all around the world," said Geoffrey M. Heal, a professor at Columbia Business School. "A lot of what we're ordering from Amazon [in the US] has components that come from Asian countries."

Some of that momentum in e-commerce growth was interrupted due to unusually low temperatures this past week. Since President's Day weekend, most of the lower 48 states have also received large amounts of snow, including several places that rarely get any.

Ongoing storm conditions, storm warnings, and power outages have significantly affected operations at several major companies, including Walmart, Amazon, Walgreens, CVS, UPS, and FedEx. Sorting hubs for UPS and FedEx in places like Dallas, Louisville, and Memphis are crucial for processing and moving goods across the country. Both companies said the weather could cause delays, according to the New York Times. The logistics networks for the US Postal Service and Amazon were also affected by the storms. qz.com

Amazon deliveries are still being delayed by the Texas freeze
Amazon's speed of delivery can feel like magic sometimes, but the severe Texas freeze has kept even the big kahuna of disruptors from operating in some of its biggest markets. Thursday was the fourth consecutive day that Amazon decided to close its delivery stations and keep its drivers off Texas roads. After monitoring weather reports, Amazon spokesman Daniel Martin said the company decided not to resume deliveries on Thursday and isn't sure about Friday.

Amazon has also closed some of its sites in Arkansas, Illinois, Oklahoma, Missouri, Tennessee, Indiana and Kentucky. Amazon employees are being paid for their scheduled shifts, the company said.

Customers placing orders are being given delayed delivery times at checkout. Same-day and next-day deliveries by local Amazon drivers are being delayed along with other packages. And even customers outside the storm area may have to wait longer if their items would normally ship from a closed facility in Texas. dallasnews.com

Groceries, sporting goods were big gainers in the Covid e-commerce boom of 2020

The Alabama Amazon Union Drive Could Be the Most Important Labor Fight in the South in Decades
---
Portland, ME: 'Ringleader' of Home Depot fraud schemers gets 6 months


The "ringleader" of a trio of Bronx men who schemed to defraud Home Depot stores in Maine, including in Auburn, was sentenced Friday in federal court to six months in prison. U.S. District Court Judge John A. Woodcock Jr. imposed that sentence on Gilbert Reyes, 22, to be followed by three years of supervised release. In his calculations for determining federal sentencing guidelines, the judge included the value of the merchandise actually stolen as well as the value of the merchandise the men attempted to steal from the stores using fraudulently obtained credit. The amount of restitution to be repaid was the subject of disagreement among the parties at the hearing. Although the value of stolen merchandise totaled roughly $33,000, some of it was later recovered. The defense argued the value of the merchandise returned to the store should be deducted from that total to be repaid in restitution. Woodcock gave the attorneys one month to present their written arguments on that issue. Reyes, who appeared at the hearing via videoconference from a friend's home in Bronx, New York, was given until May 19 to surrender to authorities to begin serving his time behind bars. sunjournal.com

Elizabethtown, KY: Two charged in $2,000 Home Depot shoplifting case
Two Louisville men were arrested early Thursday night by Elizabethtown police as they reportedly entered an on ramp to Interstate 65 with stolen merchandise from Home Depot. Brian Johnson, 57, and Tracy Marshall, 59, each were charged with theft by unlawful taking, shoplifting more than $500 and less than $10,000, a Class D felony. Johnson also was charged with tampering with physical evidence, also a Class D felony. According to their arrest citations, the men entered Home Depot and shoplifted $2,0921.24 worth of items, "passed all points of sale without attempting to pay for the items." They put the items in a black Chevrolet Cobalt with no visible registration plate and left. thenewsenterprise.com

Menomonee Falls, WI: Two wanted for stealing nearly $1,500 worth of merchandise at Woodman's
Menomonee Falls police are searching for two suspects wanted for stealing almost $1,500 worth of merchandise from Woodman's on Thursday, Feb. 18. Police say two unknown Black men pushed two shopping carts of stolen merchandise out of the store without payment. The merchandise is valued at $1,440.62. Some of it was recovered on scene. cbs58.com

Menomonee Falls, WI: Over $800 worth of merchandise stolen from Target
The Menomonee Falls Police Department is investigating a retail theft that occurred Friday, Jan. 8 at the Target on Shady Lane. It happened around 4:21 p.m. According to police, the suspect entered Target and put several items in a shopping cart, and then fled the store through a fire exit. The suspect stole $829.97 worth of merchandise. fox6now.com

Coral Springs, FL: 2 Arrested For Grand Theft After Stealing Nike Merchandise From Dick's Sporting Goods
After a brief pursuit, a man and a woman were arrested for grand theft after using tinfoil to cover up security devices to steal almost $1,000 worth of Nike merchandise from Dick's Sporting Goods. On February 13, Coral Springs Police responded to an in-progress shoplifting call from the Dick's. Following a short chase, police stopped the get-a-way vehicle. Officers could saw the three shopping bags inside the car that contained Nike branded merchandise. Officers could also see security sensors wrapped in tinfoil. A further search of the vehicle revealed Thompson's purse contained tinfoil and a knife they believe she likely used to remove the Nike security devices. Evidence collected from both the car and personal belongings directly matched up to evidence Dick's staff and police discovered in the fitting rooms. After returning the Nike items to the store, the value stolen was $979.99. Cromartie, who refused to speak to police, was found to have an outstanding warrant for his arrest for grand theft charges in Palm Beach County. coralspringstalk.com

Eugene, OR: Burglars hit small Music store stealing $9,000 of guitars

St. George, UT: Police track down active scheme to charge $3K at Best Buy on credit card stolen from car
---
---

Shootings & Deaths

Memphis, TN: Security Guard charged after shooting and killing a man outside Walgreens
A Mid-South man was arrested and charged after a deadly shooting in East Memphis. The shooting happened in the 1300 block of Poplar at Walgreens, according to the Memphis Police Department. Police said Devin Mitchell, who works as a security officer shot Michael Birdsong in the face after refusing to leave the store property. According to the suspect, when he asked Birdsong to leave, he put his hands inside his pants. Mitchell thought but he was reaching for a gun but told police Birdsong never pulled one out. The victim was pronounced dead at the hospital, officers reported. Mitchell was arrested and charged with second-degree murder, according to an affidavit from MPD. wmcactionnews5.com

New Orleans, LA: Three killed in Gun shop shooting
The Jefferson Parish Sheriff said an "initial shooter" opened fire, striking two people, which prompted several others at the shop to fire their own weapons. The two people and the initial gunman were killed. They have not been publicly identified. Officials said investigations into the shooting at the Jefferson Gun Outlet, in a New Orleans suburb, were ongoing. "It appears that several individuals ended up engaging that original suspect," Jefferson Parish Sheriff Joseph Lopinto told reporters. bbc.com

Fort Mill, SC: Suspect wanted for fatal shooting at Circle K
The Fort Mill Police Department is searching for a suspect after a fatal shooting at a convenience store. The shooting happened on Friday, Feb. 19, at a Circle K on South Sutton Road near US-21. A male victim was receiving treatments for his injuries, but police confirmed the victim died Sunday. The victim's name and age have not yet been released. Police are now looking for 23-year-old Anquante' El-Malik Lemel Watts, wanted on the charge of murder. wcnc.com

Indianapolis, IN: Man shot and killed at west side strip mall
One person is dead after a late evening shooting Sunday on the city's west side. Indianapolis Metro Police were called to the 5600 block of W. 38th St. around 10 p.m. When they arrived on scene, police found the body of an adult male on the ground in a strip mall. The victim was pronounced deceased at the scene from multiple gunshot wounds. Investigators are working to determine if the shooting was the result of a possible robbery or robbery attempt. It's also unclear if any of the businesses in the strip mall were involved in the incident. cbs4indy.com

San Antonio, TX: Security Officer Shoots Shoplifter At Walmart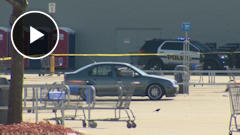 An off-duty San Antonio Independent School District officer working security at a West Side Walmart has shot a shoplifting suspect in a struggle. San Antonio police say officer Manuel Espinoza attempted to detain the man who was trying to leave the store on West Military near Loop 410 Saturday afternoon with unpaid merchandise. A struggle ensued and the man pointed a semi-automatic handgun at Espinoza. The officer then pulled his weapon and shot the suspect several times. The man was taken to University Hospital and SAISD officer Espinoza was taken to San Antonio police headquarters to give a statement. kens5.com

NYC security guard shot in the foot during gas station robbery caught on camera
Two crooks snatched a man's jewelry, then shot a security guard in the foot in a Bronx gas station robbery caught on camera, police said. The suspects strolled into the BP gas station on Webster Ave. and E. 176th St. in Mount Hope on Monday, authorities said. Video released by Thursday police shows the pair, dressed in dark clothes and hoodies, entering the gas station just after 7 a.m. As one suspect stands back, the other in a puffy jacket walks up to the victim, slides a magazine into his pistol and points it at his target, the footage shows. The robbers swiped the man's chain and bracelet, police said. As they ran off, the gunman shot at a 48-year-old security guard and struck him in the foot. news.yahoo.com

Monroe County, PA: Father, son charged with attempted homicide in gas station shooting
A father and son were arrested in connection with a gas station shooting in Monroe County Friday morning, police say. According to the police statement, troopers were requested around 9 a.m. to respond to the 600 block of Resica Falls Road in Middle Smithfield Township for shots fired into a gas station convenience store with close proximity to an occupied residence on the property. Officials say they learned that at approximately midnight, individuals shot eight rounds into the business and fled the scene. wfmz.com
---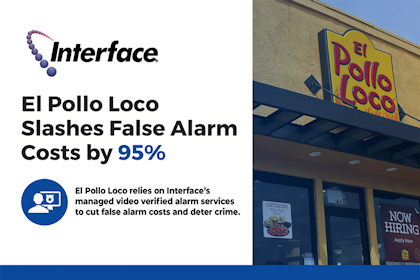 ---

Robberies, Incidents & Thefts

Northwood, IA: Two Former Employees sentenced for stealing thousands from Burger King
A final sentence is handed down in a case of Burger King embezzlement. Kristine Marie Morrow, 55 has been given three to five years of probation and must pay $5,000 in damages. Morrow has received a deferred judgment after pleading guilty to 2nd degree theft. Morrow and Angelina T. Hamilton were arrested in January 2020. The Worth County Sheriff's Office says the two stole thousands of dollars while working at the Burger King station in the Diamond Jo Casino and the full restaurant nearby. Hamilton previously pleaded guilty to the same charge as Morrow and also got a deferred judgment. kimt.com

Dover, DE: Man charged in 3 NJ jewelry Grab & Run heists totaling $177K tied to thefts in PA and MD
Suspect Arrested in NJ Grab-and-Run Being Investigated for More Thefts. U.S. marshals have arrested a 22-year-old man for an October grab-and-run at a jewelry store in New Jersey, and authorities believe he may be responsible for similar thefts in Pennsylvania and Maryland. Michael Larbi of Dover, Delaware was arrested last week in Delaware. delawareonline.com

Euclid, OH: Police look for 'misguided Santa' who dropped through ceiling to steal from Family Dollar

Royal Oak, MI: Test-drive auto theft suspect arrested, wanted in 4 states for 7 similar crimes

Dover, DE: Woman Charged With Stealing $5,000 in cash from voids and refunds from Uncle Willie's
● CBD – Denver, CO – Burglary
● CVS – Fresno, CA – Robbery
● Dollar General – Beech Creek, PA - Armed Robbery
● Dollar General – El Paso, TX – Armed Robbery
● Dollar Tree – Washington, NC – Armed Robbery
● Family Dollar – Euclid, OH – Burglary
● Family Dollar – Birmingham, AL – Robbery
● Gas Station – Bronx, NY – Armed Robbery
● Gas Station – Akron, OH – Robbery
● Gas Station - Anne Arundel County, MD – Armed Robbery
● Grocery – Seattle, WA – Burglary
● Grocery – Randolph County, NC - Burglary
● Guitars – Eugene, OR – Burglary
● Jewelry - Honolulu, HI – Burglary
● Jewelry – Fresno, CA – Armed Robbery
● Jewelry – Plano, TX – Robbery
● Jewelry – North Attleboro, MA – Robbery
● Jewelry – Citrus Heights, CA – Robbery
● Jewelry – Monroe, NC – Robbery
● Restaurant – Coral Springs, FL – Burglary (Subway)
● Restaurant – Lubbock, TX – Armed Robbery (Burger King)
● Sally Beauty – Exton, PA – Burglary
● 7-Eleven – Winchester, VA – Robbery

Daily Totals:
• 15 robberies
• 8 burglaries
• 0 shootings
• 0 killed

---

None to report.

Submit Your New Hires/Promotions
or New Position
See all the Industry Movement
---



Feature Your Job Here For 30 Days -
70% Aren't On The Boards
Post your job listing
---
Featured Job Spotlights

Regional Manager LP, Audit & Firearms Compliance
IL, WI, MN, IA, ND, SD, NE, OK, MO & KS - posted Feb. 12
The Regional Loss Prevention Manager is responsible for the control and reduction of shrinkage at the stores in their Territory. Investigate and resolves all matters that jeopardize or cause a loss to the company's assets...

Regional LP & Safety Manager
Denver, CO - posted Feb. 9
The Regional Loss Prevention & Safety Manager implements Risk Management and Loss Prevention objectives within assigned region. The position will provide assistance and training to the field operations teams to address specific Risk Management and Loss Prevention issues within an assigned span of control. Read job description here

Manager of Asset Protection & Safety Operations
Rockaway, NJ - posted Feb. 4
The Manager of Asset Protection & Safety Operations is responsible for the control and reduction of shrinkage and safety compliance for Party City Holdings, by successfully managing Asset Protection (AP) Safety programs and reporting...

Loss Prevention Auditor and Fraud Detection Analyst
Raleigh, NC - posted Dec. 14
As a Loss Prevention Auditor and Fraud Detection Analyst for Staples, you will conduct LP operational field audits remote, virtual and in person, within a base of 60 retail stores to ensure compliance to operational standards to drive operational excellence and preserve profitability....

Leader, Asset & Profit Protection
San Fran/Chicago/NY/West Palm Beach - posted Dec. 14
As the leader of the Data/Analytics & Investigations strategy, you should have strong analytical/investigation skills, the drive to innovate, and the ability to build strong partnerships to lead through the influence of others. They will be personable, open to learning, collaborating with others...

Customer Success Specialists
Multiple Locations - posted October 9
The role of the Customer Success Specialist is to engage, empower, and excite our community. As a Customer Success Specialist, your primary responsibility is to ensure both retailers and law enforcement, who make up our community, have great experiences and achieve real crime reduction outcomes from using our platform. Apply Here

Sales Representatives
NuTech National - posted October 13
NuTech National, an established and rapidly growing 40+ year electronic security company is expanding our National Sales Team. Seeking motivated, driven and successful sales reps to expand our national retail and governmental vertical markets. Top pay, benefits and signing bonus available. Please apply to melissa@nutechnational.com

---
---

Latest Top Jobs


Vice President, Loss Prevention
San Francisco, CA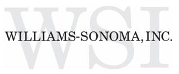 The Vice President of Loss Prevention reports to the Company's General Counsel and is responsible for leading the organization's global asset protection and security efforts. You will collaborate effectively across the Company. linkedin.com

Executive Director, Asset Protection
Rosemead, CA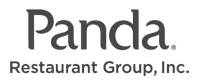 The Executive Director, AP is responsible for the company's AP function, protecting the company's integrity, people, processes, and assets from harm and loss. This position serves as the subject matter expert on a broad range of security standards and disciplines. pandarg.referrals.selectminds.com

Senior Director, Loss Prevention
Calabasas, CA


The Senior Director of Loss Prevention is responsible for setting and championing the Loss Prevention strategy for the enterprise, including retail stores, distribution centers, corporate offices and quality assurance labs. sjobs.brassring.com

Director, Asset Protection Solutions
Deerfield, IL


Responsible for developing and implementing department strategies and integrating efforts with division and company strategies, emphasizing product availability, inventory productivity, and cost productivity. jobs.walgreens.com

Senior Manager, Asset Protection
Atlanta, GA


The Sr Manager Asset Protection is responsible for ensuring that Asset Protection programs are fully implemented and are being executed per expectations within assigned distribution centers. careers.homedepot.com

BJ's Wholesale Regional AP Rollout - 8 New Positions


The Regional AP Manager oversees AP, security, theft, fraud, investigations, and related procedures within the field. The RAPM supports and continuously interacts with club management to analyze shrink, identify profitability gaps and address issues related to protecting company assets. See all the job listings

---

Featured Jobs
---
JOB TITLE
COMPANY
CITY/STATE
DATE ADDED

Vice President
Vice President
Mobilelink
Houston, TX
January 5
VP, LP
Williams Sonoma
San Francisco, CA
January 19

Director
Dir., Enterprise Safety & Security (International)
Adtalem Global Education
Miami, FL
January 28
Dir. AP
Albertsons Companies
Boise, ID
February 18
Director, Asset & Revenue Management
Caleres
St. Louis, MO
February 3
Dir. Field AP
Chipotle
Columbus, OH
January 13
Associate Dir. AP & Inventory Control
Crate & Barrel
Northbrook, IL
January 20
Dir. AP
Express Stores
East Brunswick, NJ
February 12
Dir. Risk & Analysis
Genesco
Nashville, TN
November 17
Dir. Safety/Risk Mgmt.
Goodwill of SE Louisiana
New Orleans, LA
April 2
Sr. Dir. LP
Harbor Freight Tools
Calabasas, CA
January 28
Sr. Dir, LP
HearingLife
Somerset, NJ
February 12
Dir. Global Distribution Safety & Security
Michael Kors
Whittier, CA
January 6
Dir. Physical Security
Netflix
Los Angeles, CA
January 5
Executive Dir. AP
Panda Restaurant Group
Rosemead, CA
January 28

Parker's C-Stores

Savannah, GA

June 3

Dir. Security
Pictsweet Company
Bells, TN
February 12
Sr. Dir. AP
Rite Aid
Camp Hill, PA
January 21
Director, AP Finance & Analytics
Rite Aid
United States
January 26
Sr. Dir. Environmental Health & Safety
Ross Stores
Dublin, CA
October 9
Dir. Safety & LP
Trinity Logistics
Milford, DE
February 2
Dir. Corporate Security
Veritiv
Atlanta, GA
January 7
Dir. AP Solutions
Walgreens
Deerfield, IL
January 28

Corporate/Senior Manager
Sr. Manager, AP Operations
Bath & Body Works
Columbus, OH
February 16
Mgr. Corp. Security
Constellation Brands
San Francisco, CA
February 12
AP Operation Manager

Follett Corporation

Westchester, IL

January 7

Sr. Mgr AP
Home Depot
Atlanta, GA
January 28
Sr Manager, Security
JB Hunt
Lowell, AR
February 8
Group Investigations Manager
JCPenney
Plano, TX
January 19

---


---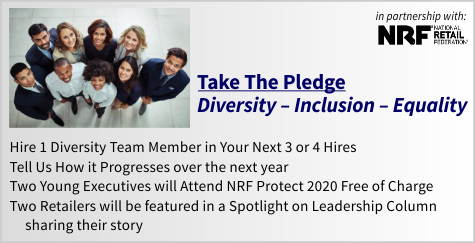 ---

As many of us speed through our days and work hard to accomplish our objectives, oftentimes the one thing that suffers is our active listening skills. These skills are important if we expect to truly change behavior or direction as quickly as today's pace requires. Active listening is difficult for some and requires an individual to hear things they may not be open to hearing or just hearing things that aren't said because oftentimes it isn't what's said that's important, it's what isn't said that can mean the most. Hearing that usually takes place upon reflection because most of us aren't intellectually fast enough to respond instantaneously. Active listening is a tool and a skill that can help an executive every day. It merely requires the thought and the practice.

Just a Thought,
Gus



(content subject to approval)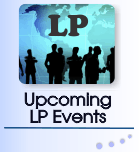 ---

Recruiting?
Get your job e-mailed to everyone... everyday
Post on our Featured Jobs Board!
Not getting the Daily?
Is it ending up in your spam folder?
Please make sure to add d-ddaily@downing-downing.com to your contact list, address book, trusted sender list, and/or company whitelist to ensure you receive our newsletter.
Want to know how? Read Here



36615 Vine Street, Suite 103
Willoughby, OH 44094
440.942.0671
copyright 2009-2019
all rights reserved globally