Russian Mall Inferno
Claimed 37 Children & 23 Adult Lives
15 Officials Get Prison Colonies
Fire Safety Violations - Corrupt Practices - Bribes For Building Permits
Negligence - Emergency Exits Locked & Fire Alarm Turned Off
Security guard had turned off the fire alarm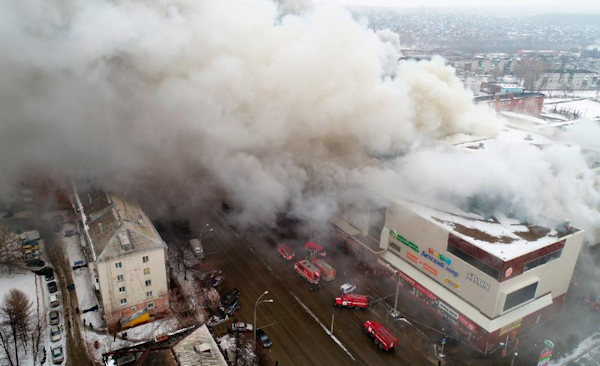 The Back Story of the Russian Mall Fire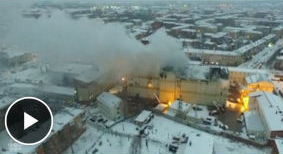 On 25 March 2018 at 4pm , a fire engulfed the "Zimnyaya vishnya" shopping mall and entertainment complex in Kemerovo, Russia. It killed at least 60 people (more than half of which were children) according to official statements. The blaze started somewhere on the top floor of the four-story complex, and people were seen jumping from windows to escape it. 100 people were evacuated, and another 20 were rescued. Others claim the number of people killed in fire is being covered up, and that the real figure runs into the hundreds.

Survivors reported that the fire started on the fourth floor play area, with the heat of the flames rising to 700 °C (1,300 °F), the heat so high it caused the bouncy castles to burst into flame. Many of the victims were in the mall's three cinemas, where two of the cinema roofs collapsed from the fourth floor into the third.

Several of the victims in the cinemas were children watching Sherlock Gnomes to start off the first day of a week-long school break. A survivor from the cinema claimed that those in the cinema heard no alarm, and had to break through one door and jump to safety. Once on the ground, survivors could only see dense black pungent smoke that had filled the children's playground and the other cinema hall. The fire alarm system at Kemerovo shopping mall was switched off by a security guard.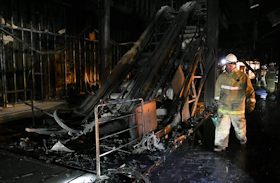 A short circuit could have been the cause of a recent deadly fire at the Zimnyaya Vishnya shopping mall in Kemerovo, Chief State Inspector for Fire Safety at Russia's Emergencies Ministry Rinat Yenikeyev said at a press conference.

"In our opinion, we are dealing with a short circuit and an overload of the current-carrying parts of a lamp. We do not know what had its impact but the root is there. The lamp may be the true cause," the chief inspector said.

This light-emitting diode lamp had a diffuser that melted and its fireball drops began to fall down, sinking into a foam-filled play area, he said.

Originally covered in the D&D Daily on March 26, 2018


15 Sentenced for Combined 146.5 Years in Prison or 'Strict Regime Colony'

1. Major-General Alexander Mamontov, guilty of negligence and misappropriation - 10.5 Years in 'Penal Colony'

2. Lieutenant Colonel Grigory Terentyev, Mamontov's subordinate, guilty of negligence and fraud - 8.5 Years

3. General Director and co-owner of Winter Cherry - Vyacheslav Vishnevsky, guilty of paying bribes - 8 Years in 'Strict Regime Colony' & Fined $240K


4. Head of State Construction Supervision Inspectorate, Tanzila Komkova, accepting bribes & falsifying building permits - 18 Years in 'Strict Regime Colony'

5. Komkova's son Eduard - 10 years in prison

6. His Deputy Svetlana Shengerei received 7 years

7. General Director of the ISK Resource company, Nikita Cherednichenko - 15 years in a 'Strict Regime Colony'

8. General Director of the company that owns the shopping center, Yulia Bogdanova guilty of negligence - 14 Years

9. General Director of the main tenant Nadezhda Suddenok - guilty of negligence - 13.5 Years

10. Technical Director of Zimnaya Cherry Georgy Sobolev - guilty of negligence - 11 Years.

11. Chief of a company that installed the fire alarm system, Igor Polozinenko - 6.5 Years

12. Chief's assistant, Aleksandr Nikitin - 5.5 Years

Firefighters were also charged with negligence for failing to organize and manage the rescue operation:

13. Head of the guard of the fire and rescue unit No. 2, Sergey Genin - 5 Years

14. Head of the fire extinguishing service of the 1st Kemerovo fire department, Andrey Bursin - 6 Years.

15. Security Officer, Sergei Antyushin - 8-year prison term. - Turned off fire alarm and emergency exits locked


June 27, 2023: Russian Officials Get Prison For the Winter Cherry Mall Fire in Kemerovo That Killed 37 Children & 23 Adults in March 2018
A senior emergency official has been sentenced to 10.5 years in prison over a mall fire that killed 60 people more than five years ago, Russia's Investigative Committee said Tuesday.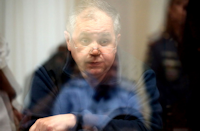 The Winter Cherry mall fire in the Siberian city of Kemerovo claimed the lives of 37 children and 23 adults when it broke out due to faulty wiring through a children's play area and cinema in March 2018.

Thirteen people, including the mall's former co-owner, its managers, building inspectors, firefighters and a security guard, have already received prison sentences ranging from five to 18 years on a range of charges in 2021-22.

On Tuesday, a Kemerovo court found the former regional emergency chief, Major-General Alexander Mamontov, guilty of negligence and misappropriation and handed him a 10.5-year sentence in a penal colony. Mamontov's subordinate, lieutenant colonel Grigory Terentyev, was found guilty of negligence and fraud and sentenced to 8.5 years in prison.

The aftermath of the deadly Winter Cherry fire exposed a litany of failures in fire safety procedures.

Fire safety violations are common in Russia due to corrupt practices of exchanging building permits for bribes. themoscowtimes.com


Oct. 7, 2022 Sentencing: Criminal negligence led to Kemerovo shopping mall fire: Putin
The Central District Court of Kemerovo sentenced the former general director and co-owner of Winter Cherry Vyacheslav Vishnevsky to eight years in prison for taking a bribe to the head of the regional Gosstroynadzor during the reconstruction of the building of the shopping and entertainment center with violations. He will serve his sentence in a strict regime colony, a TASS correspondent reports from the courtroom.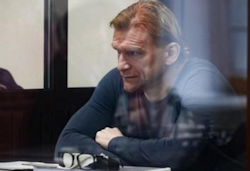 "Recognize guilty, impose a sentence of eight years in prison with a fine of 21 million rubles ($245,000) with a sentence to be served in a strict regime colony," the judge said, announcing the verdict. According to the investigation, Vishnevsky disappeared outside the Russian Federation in 2016. He was put on the international wanted list and arrested in absentia. The defendant was detained in Poland and then extradited to Russia.

Consideration of the criminal case of Vishnevsky began in court in November 2020. He is accused of giving a bribe of 7 million rubles ($81,000) to Tanzila Komkova, the current head of the State Construction Supervision Inspectorate of the Kemerovo Region. According to the state prosecution, this allowed Vishnevsky to reconstruct the shopping center without a building permit in violation of the approved project, which provided for the installation of automatic fire extinguishing systems on all floors of the building, but there were none.

A slew of prison sentences connected to the inferno

The head of the Kemerovo Gosstroynadzor Komkova last year received 18 years in a strict regime colony. The verdict was also handed down to other defendants: Komkova's son Eduard received ten years in prison, her deputy Svetlana Shengerei received seven years, and the general director of the ISK Resource company, which was engaged in the reconstruction of the shopping center, Nikita Cherednichenko, received 15 years in a strict regime colony.

The general director of the company that owns the shopping center, Yulia Bogdanova, received 14 years in prison, the general director of the main tenant Nadezhda Suddenok - 13 and a half, and the technical director of Zimnaya Cherry Georgy Sobolev - 11 years. All three were charged under Art. 238 of the Criminal Code (provision of services that do not meet safety requirements, resulting in the death of two or more persons) and Art. 219 (violation of fire safety requirements, negligently resulting in the death of two or more persons).

The mall's former security officer, Sergei Antyushin, was handed 8-year prison term.

Igor Polozinenko, the chief of a company that installed a fire alarm system in the mall, and his assistant, Aleksandr Nikitin, were sentenced to 6 1/2 and 5 1/2 years in prison, respectively.

Firefighters were also charged with negligence for failing to organize and manage the rescue operation: the head of the guard of the fire and rescue unit No. 2, Sergey Genin, received five years in prison, the head of the fire extinguishing service of the 1st Kemerovo fire department, Andrey Bursin, received six years. ruscrime.com


Back Story of the Security Guard Accused of Turning Off Fire Alarm System
Fire alarm button in Kemerovo shopping center was out of order, claims security guard


Sergei Antyushin, a security guard, switched off a fire alarm system at the shopping mall in the Siberian city of Kemerovo, the scene of a deadly blaze, Russia's Investigative Committee Spokeswoman Svetlana Petrenko said on Monday.

The man worked for a private security firm.

The guard claims the fire alarm button in Kemerovo's Zimnyaya Vishnya shopping mall went out of service several days before. But investigators believe he failed to turn on the fire alarm, they told reporters at a court hearing over his arrest.

"I pressed the button but it was out of order," he said. "I made an entry on that in the journal that the technical director signs every day. We also report every malfunction to engineers… It was on March 19," Antyushin said.

He added that he had not left the building and had participated in the evacuation. "Initially, the fire alarm went off in the kids' center on the fourth floor, it had previously gone off several times. But then I saw smoke on the fourth floor. Naturally, I immediately called 113 and also told the other guard that we were on fire," Antyushin said. tass.com

"Safety regulations were severely violated while commissioning the shopping mall, as well as during its operation. In particular, emergency exits were locked," Russian investigative committee spokeswoman said. tass.com


Today: The WHY Park, a place to remember, honor and heal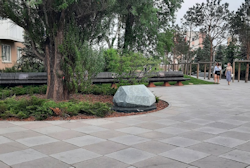 On the site of the shopping center "Winter Cherry" in Kemerovo began to build a public garden. The author of the project, architect John Calvin Weidman, told Interfax that when developing the project, the wishes of the relatives of the victims were taken into account - some wanted it to be a place of memory, others wanted the park to create conditions for family recreation. 60 pine trees will be planted along the paths of the park - according to the number of those killed in a fire in a shopping center. "The park was proposed to be called 'Why,' Weidman said, explaining that the word combines a child's question and an adult's thoughts about 'why, why did this happen'?


Trapped schoolchildren called parents from burning Russian mall - to say goodbye

Committee revises number of fatalities in Kemerovo fire to 60 instead of 64