'Lawlessness on UK's High Streets'

Retail Chairwoman: Britain's High Streets Becoming
"Looting Grounds for Organized Gangs"

1st of it's Kind: Project Pegasus - Mass Robberies - Shoplifting Epidemic -
Shoplifting Decriminalized - Locked Door Policy - Super Recognizers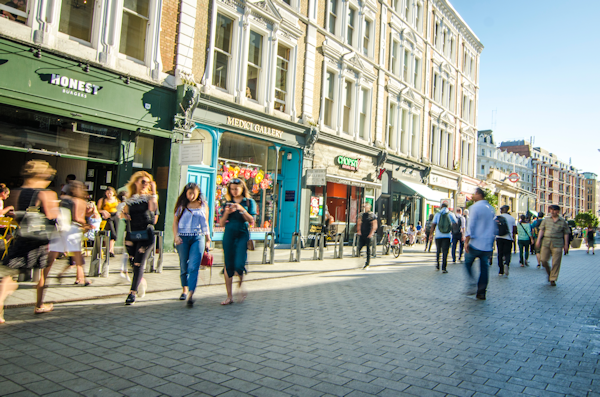 The Times: September 10, 2023

Loss Prevention Game Changer in the UK - Police & FRT + Stores
Supermarkets will pay police to scan shoplifters' faces

Project Pegasus to help identify where gangs are hitting hardest

Ten of Britain's biggest retailers have agreed to fund a new police operation to crack down on shoplifting as part of government efforts to ensure all forces show zero tolerance.

In return police forces will run each CCTV image of shoplifting offences provided by retailers through the Police National Database, which includes facial recognition technology.

The new partnership - named Project Pegasus - has been described as a game-changer by police chiefs because it will give them a national picture of where shoplifting gangs are operating and the shops they are targeting.

Shoplifting offences have soared by a quarter this year, according to the Office for National Statistics, but police have been accused of failing to take the crime seriously. In the 12 months to March, the police recorded 339,206 cases of shoplifting despite the British Retail Consortium estimating there were eight million incidents, which it says costs retailers nearly £1 billion a year.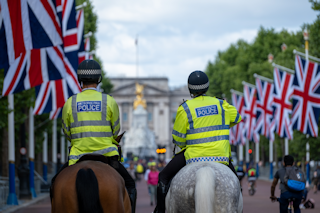 Only 48,218 incidents of shoplifting reported by the police were charged, 14 per cent, while 183,450 investigations, or 54 per cent, were closed with no suspect being identified.

Ministers met police chiefs and representatives from leading supermarkets and retailers on Thursday to hammer out plans to target shoplifters.

The huge spike in shoplifting has been driven by organised crime groups who deploy individuals to steal higher value items from supermarkets such as steaks and bottles of alcohol en masse that they sell direct to market owners, pubs, corner shops and through other means.

The new police project will be set up to identify and target the organised crime gangs. Pegasus will receive £600,000 from ten supermarkets and retailers including John Lewis, Co-op, Tesco, Sainsbury's, Waitrose and Next.

Chris Philp, the policing minister, has tasked police leaders with drawing up a target list of prolific shoplifters to create a national shoplifting database that can be circulated to retailers and police forces across the country.

He has also asked police forces to dedicate a proportion of officers that are funded by the government's new antisocial behavior hotspot policing initiative to patrol areas that report high levels of shoplifting.

Philp has asked police to report back within six to eight weeks with a "zero-tolerance plan to target shoplifting", arguing that shoplifting creates a sense of lawlessness.

Katy Bourne, the police and crime commissioner for Sussex who is the national lead for business and retail crime, has estimated that 20 per cent of offenders account for 80 per cent of shoplifting offences in her county.

A partnership with the Co-op supermarket chain in Sussex has targeted prolific shoplifters by allowing staff to report thefts at the touch of a button. This has reduced the time it takes to report an offence from 30 minutes to two minutes on average and has led to an increase in the number of reports being submitted to police.

"If you make a concerted effort to tackle prolific offenders at a local level, you can have a big impact on reducing crime overall," Bourne said.

The three types of shoplifter

At Thursday's meeting at the Home Office, which was also attended by Kevin Hollinrake, the minister for small businesses, police laid out three cohorts who shoplift. There are the opportunists, who are often younger and less predictable or prolific; adult offenders who are driven by an addiction to drugs, alcohol or gambling and tend to be prolific; and individuals who are working for organized gangs, which pose the biggest threat to retailers as they target the highest value and biggest volume of goods.

"All those at the meeting recognized that it's the organized criminality that is really hitting them hard and that's the bit they really want police to deal with. Pegasus will enable this to happen," Bourne said.

"It'll be a game changer for policing because for the first time ever, policing will get a complete picture across the country of where these gangs are hitting different areas and they'll have that data and intelligence to be able to put that out to local police forces to go after those gangs."

Philp said this approach was vital to ensure Britain does not fall victim to the type of shoplifting epidemic that hit San Francisco after it downgraded the theft of property worth less than $950 (£760) from a felony charge to a misdemeanor, the latter incurring shorter prison sentences and smaller fines than the former. Policing of shoplifting plummeted.

Since that change in 2014, many retailers have left San Francisco because the proliferation of shoplifting made it financially unviable. Philp told the meeting on Thursday: "I categorically do not want this happening in the UK."

The Co-op has recorded a 35 per cent increase in shoplifting in the first six months of this year and a 36 per cent rise in assaults on staff.

Paul Gerrard, Co-op's campaigns and public affairs director, who also attended Thursday's meeting, said: "I think Pegasus is a very good thing, we are very supportive of it financially and in terms of what it's trying to achieve and in particular we think it will give us police action on the back of the intelligence it creates. thetimes.co.uk

pa media: September 11, 2023

Britain's High Streets Becoming "Looting Grounds for Organized Gangs"
John Lewis boss calls for public inquiry into decline of UK high streets
The boss of John Lewis has called for a royal commission into Britain's high streets, which she said risk becoming "looting grounds" for crime and overrun with vacant shops.

There needs to be a "holistic view" of the problems facing high streets, rather than individually investigating issues such as tax, crime, planning, housing, and environmental policy, she argued.

Dame Sharon White, chairwoman of the John Lewis Partnership, which also owns Waitrose, said some UK towns and cities have become "shells of their former selves".

"Boarded-up shops left vacant, dwindling numbers of banks and post offices... and, in their place, seemingly endless rows of vaping and charity shops," she said, writing in The Telegrap

The British Retail Consortium said in a report in July that some 6,000 shops have closed down over the past five years, largely due to "crippling business rates and the impact of the Covid lockdowns".

She added: "High streets have long represented the spirit - the centre - of local communities. Yet they risk becoming a looting ground for emboldened shoplifters and organized gangs."

Dame Sharon said the UK needs a comprehensive plan to stop organized gangs, and called for Scottish legislation that makes the abuse of a retail worker an offence to be brought in nationwide. aol.co.uk


The Times: September 10, 2023

Asda Chairman "Shoplifting Has Been Decriminalized"
Only harsher penalties will make shoplifters reconsider
An epidemic of shoplifting, with the rate up by more than a quarter over the past year, is putting pressure on retailers of all sizes and damaging our social fabric.

A busy Co-op in Bristol, has seen a 52 per cent increase in crime. The manager was recently threatened with a knife at a different store in the city by two men in balaclavas. Retailers are now taking desperate measures. Tesco is offering store staff body cameras; John Lewis and Waitrose are providing the police with free coffee in the hope that their presence deters would-be shoplifters; and Dunelm is locking up duvets and pillowcases in cabinets. Lord Rose, the chairman of Asda, remarked last week that shoplifting had, in effect, been "decriminalized".

In 2014 the Conservative-led coalition downgraded the theft of goods worth £200 or less to a summary offence in most cases, often punishable by a £70 fine. Ministers should look at harsher sanctions for shoplifting - and at giving more powers to private retail security guards. In the meantime, the near-£1 billion annual cost of shoplifting will take the form of higher prices for the rest of us. thetimes.co.uk


The Times: September 9, 2023

'Lawlessness on UK's High Streets' - ORC is Out of Control
My day watching shoplifters at the stores under siege by thieves

Cheese, wine and steak is being placed under lock and key as Britain's shops face an epidemic of brazen petty crime. Louise Eccles saw the problem first hand

Shop theft nationally has risen by 27 per cent in the past year, according to the British Retail Consortium. Historically, retailers have refused to talk about shoplifting for fear it will scare off customers. However, John Lewis, Tesco and Asda have all joined Co-op in speaking out in recent weeks.

Paul Gerrard, Co-op's campaigns and public affairs director and a former customs officer, said: "When you have shops selling beans and bacon being attacked by masked gangs in the middle of the day, there is a level of lawlessness on the UK high streets that is quite terrifying.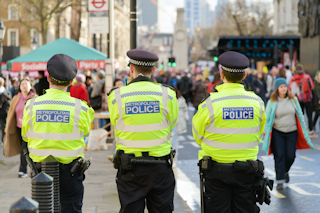 "Even when we have an individual who has committed a serious offence under our control in the store, and we have collected CCTV and witness statements, the police still do not show up in 80 per cent of cases. We have to let the individuals go."

He said the company was "getting to the point with some of our stores where, with the amount of effort and money and risk colleagues are under, we have to wonder whether it is safe and sensible to keep running those stores".

Co-op has invested more than £200 million in four years to boost security measures at its stores. As well as body-worn cameras and radios for staff, they have locked cases for everything from £8.50 steaks to £7 jars of Nescafé coffee. They have raised ledges around the chocolate and protein bar shelves so it is harder to empty dozens of products into a bag with one swipe of the arm.

Retailers blame a lack of police resourcing, as well as a perception of the crime as a low priority. Since 2014, stealing goods worth less than £200 has been considered a summary offence in England and Wales, a minor violation dealt with in a magistrates' court.

"It is really brazen," says Amelia. "People are coming in with bags and clearing shelves of items that are easy to sell on - branded energy drinks, meat, laundry powder, baby [formula] powder which is shipped abroad and used in the drug trade. They have a freedom to loot and they know there are no repercussions.

She said offenders tended to be substance addicts looking to sell goods "to fund their next fix" and organized criminals doing it "day in, day out, almost like a job for them".

"I feel like the Co-op is doing everything that we possibly can to make colleagues feel safe, but there is more that is needed. That comes from better police responses and also harsher sentences." thetimes.co.uk

The Times: August 25, 2023

Facial Recognition Combined With Super-Recognizers
AI firm recruits 'super-recognisers' for its war on shoplifters
A team of 12 "super-recognisers" handpicked from an initial pool of 200,000 are combining with artificial intelligence to help retailers fight shoplifting across the UK.

Super-recognisers are able to memorise and recall thousands of faces often after only seeing them once. The term was coined in 2009 by Harvard University and University College London researchers for those with significantly better-than-average ability to recall faces.

About 3 per cent of Britain's population have the cognitive skill necessary to call themselves super-recognisers but only a fraction of them know they have it.

The University of Greenwich launched a survey to make people aware that they may possess this secret skill.

More than 200,000 have taken the test in the UK and the 3 per cent who passed are given the opportunity for their details to be passed on to companies and organizations who want to take advantage of their unique skills.

One of those companies is Facewatch, a private facial recognition company whose software is used by more than 600 stores in the UK to tackle shoplifters.

Its software, which costs each store £10 a day, uses a live facial recognition system that can be hooked into CCTV cameras in shops and is connected to a database of images of prolific shoplifters. thetimes.co.uk


The Times: August 21, 2023

John Lewis's Chairwoman Warns: Criminals have license to shoplift in England & Wales
A shoplifting epidemic is going unpunished in the UK

Britain's high streets are suffering soaring rates of increasingly brazen theft - yet police lack the resources to tackle it

Two weeks ago London shoppers found themselves briefly locked inside three Oxford Street stores as police fought with and ran after hundreds of teenagers who had turned up expecting to take part in a mass robbery. Widely shared posts on TikTok and Snapchat had invited those interested to wear balaclavas and gloves to "rob JD Sports" at 3pm on a Wednesday afternoon, in a replication of a successful looting spree in an Oxford Street US-style candy store the year before.

A dispersal zone was imposed on the entire area for 48 hours. Even that was not enough to prevent trouble. Crowds surged down the street, with alarmed shoppers scattering to the side of them. Police with batons fought suspected troublemakers to the ground, a policeman was punched in the face, mounted police ordered people to leave. Thirty-four youths were given dispersal orders and nine arrested for offences including "going equipped to steal".

The home secretary's response was furious and fierce. Suella Braverman called for those responsible for the disorder to be hunted down and locked up, and warned that the UK must not allow "the lawlessness seen in some American cities".

She was right to issue the warning. The casual looting and chaos now visible in parts of San Francisco, Chicago, Portland and Los Angeles are chilling proof of what happens when crime isn't prosecuted. But Braverman and the Conservative politicians who preceded her are guilty of acute political hypocrisy. The policies implemented by every Tory government over the past 13 years have in effect decriminalised most shoplifting, mugging, theft, robbery and minor assault, encouraging exactly the kind of shameless lawbreaking planned this month. A quiet undermining of norms and order is unfolding on Britain's streets and it won't be reversed by a few theatrical actions and declarations.

The police no longer bother to respond to the majority of low-level crimes because after years of cuts, imposed from George Osborne onwards, they don't have the officers, resources or the premises to do so. The consequences for shops have been dire. The British Retail Consortium, representing 70 per cent of retailers, says "theft incidents" from shops have doubled since 2016-17, and are now running at eight million a year. Yet the number of people being charged has collapsed. A decade ago it was more than 80,000 a year; in the year to June 2022 it was just over 21,000.

There is a new level of brazenness and aggression in those stealing, as offenders have realized how unlikely they are to be prevented or penalized. Shoplifting was officially downgraded by the government in 2014 when it redefined the stealing of less than £200-worth of goods as a summary offence in almost all cases, punishable by a fine of just £70, and allowing those who plead guilty to pay by post without even the humiliation of attending court. It was a signal to the police that this offence was rarely worth investigating.

Sharon White, chairwoman of John Lewis, while pleading for action last month said that there is now a licence to shoplift in England and Wales, and violence is a constant worry. Co-op reports that crime is out of control and losses unsustainable; one shop was looted three times in a week. The surge is being driven by prolific offenders and organised gangs. The company says police are failing to turn up even in serious cases; 71 per cent of cases have been ignored.

Nowhere is immune in this new free-for-all. Prosperous suburban high streets have become easy targets.

Some shoplifting is driven by need but that must be dealt with by social policy; the answer to desperation can't be the licensing of random theft by anybody from any vulnerable business. thetimes.co.uk


The Times: August 23, 2023

London shopowners lock doors as shoplifting epidemic builds

Independent stores and chain brands have been hit by a wave of pick-pocketing, burglary and shoplifters.

Whistles, the women's contemporary fashion brand, recently posted a sign in its window alerting customers that it was open but "operating a locked door policy".

The community of shopowners described being vigilant over a small number of well-known drug addicts who have stalked their outlets intent on stealing. In the face of this rising crime, they have united to end a spate of shoplifting which they said has "ramped up" since the start of the summer.

Maverick and Wolf, an opticians on the same road, had locked its main door after an "increase in theft and threatening behaviour towards our team . . . Our team will open the door for you, and the door will be locked behind you. The safety of yourself and your team is our number one priority".

Andrew Goodacre, the chief executive of the British Independent Retailers Association, said: "We have heard of examples where a small gang has 'hit' a place, almost stealing to order. It is not dissimilar to the county line issue for drugs. For the small retailers this level of crime can remove all their profits. Many have invested in CCTV but security guards are out of the question.

"Criminals need to know that the punishment suits the crime. Retailers in general are frustrated at what they see as slow response times and a lack of punishment for the perpetrators. We hear that the [policing] minister and police and crime commissioners take it seriously - but all too often actions are not matching the words." thetimes.co.uk