Florence is still a dangerous storm
"The Worst is Yet to Come"
"Risk Of Life is Rising" - N.C. Governor
18 Dead - Over 1,000 Rescues - New Evacuation Orders - The Rain Continues
Storm 'Has Never Been More Dangerous,' North Carolina Governor Warns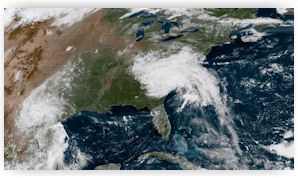 North Carolina confronted a spiraling statewide crisis on Sunday as Tropical Depression Florence slowly ravaged the region, flooding cities, endangering communities from the coastline to the rugged mountains, and requiring well more than 1,000 rescues.

The storm has "never been more dangerous than it is right now," Gov. Roy Cooper said at a news conference. "Wherever you live in North Carolina, be alert for sudden flooding."

All 100 counties in North Carolina had at least one type of National Weather Service alert, from a flash-flood warning to a hazardous weather outlook, in effect for Sunday or the days ahead

More Evacuations ordered across inland parts of North Carolina.

Cape Fear River expected to crest at 62 feet or more and send water sweeping through downtown Fayetteville and over bridges. nytimes.com

Florence Causing Catastrophic Flooding in Wide Areas of North Carolina, South Carolina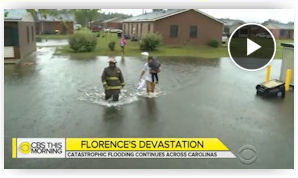 On Monday the National Weather Service has been issuing multiple tornado warnings throughout the area.

Hoke County Officials have issued a mandatory evacuation order for the listed areas below because of the potential breach of the dam at McLaughlin Lake.

Florence was downgraded to a tropical depression on Sunday.

Here's how to monitor potential flooding in your area.

A massive rescue effort is still underway. Crews said the conditions may only get worse as rain continues to fall.

Emergency & Helpful Resources & Links. abc11.com
Posted at 9:35 am this morning

'Sir, you know you're looting, correct?'
Family Dollar Told Police Do Not Arrest
Fox Reporter Confronts Hurricane Florence Looters Raiding Family Dollar store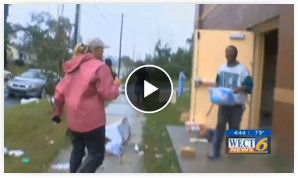 A local TV reporter confronted looters in the aftermath of Hurricane Florence. People were breaking into a closed Family Dollar store Saturday. WECT reporter Chelsea Donovan saw people wearing masks and carrying out items. They scattered when she pointed her camera at them.

Wilmington police say they were told by the Family Dollar store's management to stand down after receiving reports of looting. Police are now asking the public to help identify the suspects. There have been some arrests. fox2now.com

Wilmington, NC: Five charged after looters raid Family Dollar and Dollar General
On Saturday afternoon, dozens of individuals went into the Family Dollar on Greenfield Street and picked the place clean. Around 6:40 p.m., police were dispatched in response to another looting incident at the Dollar General on Dawson Street. Officials say five people were charged in connection with that robbery. abc11.com

From Fayetteville, Across the Piedmont & to the Mountains
Still several days of rain yet to come according to one reporter.

Authorities have ordered residents to stay inside and the evacuation orders were still in effect as of this morning in Jacksonville, N.C. With one Jacksonville river 10 feet over crest.

Flooding has kept power companies at bay from fixing power lines across much of the areas impacted by Florence.



Wilmington cut off from the rest of North Carolina
Police Standing Guard at One Retailer - Only 10 Customers Allowed in at a Time
Wilmington is cut off from the rest of N.C. by still-rising floodwaters from Florence, officials plan to airlift food and water to the city of nearly 120,000 people as rescuers elsewhere pull inland residents from homes threatened by swollen rivers.

"Not only are you going to see more impact across North Carolina ... but we're also anticipating you are about to see a lot of damage going through West Virginia, all the way up to Ohio as the system exits out," Brock Long of the Federal Emergency Management Agency said Sunday on Fox News.

In Wilmington , the state's eighth-largest city, residents waited for hours outside stores and restaurants for basic necessities like water. Police guarded the door of one store, and only 10 people were allowed inside at a time.

About 70 miles (115 kilometers) away from the coast, residents near the Lumber River stepped from their homes directly into boats floating in their front yards; river forecasts showed the scene could be repeated in towns as far as 250 miles inland as waters rise for days.

In North Carolina, fears of what could be the worst flooding in the state's history led officials to order tens of thousands to evacuate, though it wasn't clear how many had fled or even could.

As rivers swelled, state regulators and environmental groups were monitoring the threat from gigantic hog and poultry farms located in low-lying, flood-prone areas.

The industrial-scale farms contain vast pits of animal feces and urine that can pose a significant pollution threat if they are breached or inundated by floodwaters. houstonchronicle.com

Pollution fears: Swollen rivers swamp ash dumps, gigantic hog farms
Flooded rivers from Florence's driving rains have begun to swamp coal ash dumps and low-lying hog farms, raising pollution concerns as the swollen waterways approach their crests Monday.

Federal forecasters predicted several rivers would crest at record or near-record levels by Monday, and high water could linger for days. yahoo.com

Inside Cracker Barrel's war room: Military precision deployed in Hurricane Florence response
The Cracker Barrel crisis operations response team - assembled in the company's "war room" at its corporate headquarters in Nashville, Tennessee, on Monday - sent its first group email out at 11:05 a.m.: "Florence is projected as a Category 4 hurricane with the potential to reach category 5 status Friday morning at around 2 a.m. along the North Carolina coastline."

The email activated Cracker Barrel's emergency response plan, identifying the 10 restaurants and roughly 1,000 employees directly in the path of the storm. Cracker Barrel has closed 15 stores in the Carolinas so far with five more that opened on a delay. The company spent much of the first half of the week helping its employees evacuate affected areas. Although Florence has slowed, it's still bringing a life-threatening storm surge reaching heights of up to 11 feet. cnbc.com
More pictures from Hurricane Florence's Aftermath
How to find out when stores are reopening from Florence & which remain closed

Gun stores present a target for looters in hurricanes

Rain & Potential Floods Reaching Charlotte Today