Home Depot LP & Two Cops Shot

Suspect Arrested After High-Speed Chase

Dallas, TX: 2 Dallas Police Officers and a Home Depot Loss Prevention Agent In Critical Condition After Being Shot outside Home Depot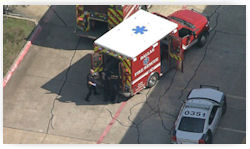 Police say Armando Juarez was being escorted out of a Home Depot store Tuesday afternoon when he opened fire, shooting two police officers and a civilian loss prevention officer. The two officers were responding to a call by an off-duty officer to assist in an arrest at the store late Tuesday afternoon, Dallas Police Chief Renée Hall told reporters in a news conference. Hall did not disclose details of the shooting, but said that the gunman had fled the scene. Fire Dallas Rescue took the injured officers to Texas Health Presbyterian Hospital. Hall said at a later news conference, that the two officers and the Home Depot loss prevention officer were out of surgery. She did not provide specifics on their conditions but asked for "continued prayers for them and their families." The Dallas Police Department's helicopter unit said that, after a "lengthy car chase," a suspect was arrested in connection with the shooting about 9 p.m. abc13.com

Editor's Note: If they were in fact escorting him out of the store and assisting in an arrest, why wasn't the suspect searched and handcuffed? None of the articles at this time answer these questions.





Armando Juarez is facing multiple counts of aggravated assault on a police officer
He had an outstanding warrant for felony theft (stolen vehicle) as well. A female who was also inside the truck with Juarez was also taken into custody. koaa.com




One officer "fighting for his life"
Civilian LP officer, other cop remain in critical condition
A five-hour hunt for the gunman who shot two Dallas police officers and a Home Depot employee Tuesday ended with a high-speed chase through the city. Dallas police announced early Wednesday that the three victims remained in critical condition.

Michael Mata, president of the Dallas Police Association, described one of the officers as gravely wounded — "fighting for his life."

Police have identified the wounded officers as Crystal Almeida and Rogelio Santander, who were both assigned to the Northeast Division. The third victim, a Home Depot loss-prevention officer, has not been named. dallasnews.com

Editor's Note: The Daily reached out to the Dallas Police Department and they notified us that no information can be released at this time regarding the HD Loss Prevention Employee.
Stay tuned to today's Daily for any updates as this story continues to develop.
---