Retail crime hurts small retailers
Small retailers highlight need for action
to address rising retail crime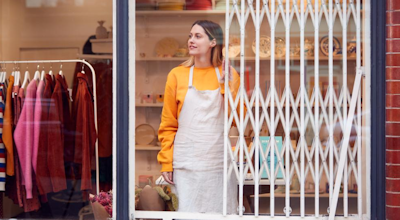 Retail crime is on the rise. While high-profile incidents of smash-and-grab robberies are headline news across the country, small retailers are also feeling the effects of this dangerous trend. "Retail crime impacts all stores, both big and small," says Tiffany Williams, owner of the Luggage Shop of Lubbock in Texas. "Whether the bad guys are hitting big stores or small, it hurts store owners and consumers alike."

Heightened security measures

Small retailers are increasing security measures because of the increase in crime. "I close at 5 o'clock. I don't want to be here in the dark. I'm scared to walk to my car," says Tara Riceberg, owner of Tesoro with two locations in Los Angeles and Beverly Hills, Calif. She has seen an increase in crime in her neighborhood including armed robberies, carjackings, and smash-and-grab heists at high-end stores down the street from her small business. She's concerned about her safety and wonders if she's going to be the next victim of crime.

Riceberg also keeps the door to her Los Angeles location always locked for her safety and must unlock the door every time a customer stops by. The rise in crime has led Riceberg to make the difficult decision to close her Los Angeles location when the lease expires after 12 years in business. "I'm gutted to leave my neighborhood," she says. "This has been my home, this is my community."

Increased brazen theft and violence

Violence and aggression associated with retail crime is also on the rise. According to the 2022 National Retail Security Survey, eight in 10 retailers report increased incidents of violence and aggression in the past year. "We have seen a steady increase in crime," says Kathleen Fuery, owner of Merle Norman Cosmetics in Minneapolis.

"People are getting bolder and bolder," Fuery says of the increased brazen behavior of retail criminals that have stolen from her shop. "They have the nerve to thank us as they leave the store."

"It is really getting bad with people stealing and getting violent with my employees," says Kam Johal, who has been in the convenience store business in Tampa Bay, Fla., for over 15 years. Adding to the issue, "The police are shorthanded and normally cannot respond in a timely manner," he says.

Fuery also notes difficulties in police response to retail crime. "One person has stolen over $1,500 of product from us, and the police never even showed up," she says.

Retail crime is personal

For many small retailers, retail crime hits on a personal level. Miriam Battson, president and CEO of the Gig Harbor Chamber of Commerce in Washington state, is concerned with the rising crime she's seeing at the businesses she represents. "Our local stores have had to deal with broken doors and windows, filing insurance claims for both," she says. "Morale is also impacted when this happens. For small business owners, it feels like a personal assault."

Legislative solutions that can help

"Our lawmakers have an opportunity to make a difference in this fight," says Williams, who recently discussed retail crime with her representative in Congress Jodey Arrington, R-Texas, on an NRF Store Tour. Retailers are calling on Congress to address the rise in retail crime by acting on two legislative measures - the INFORM Act will curb the sale of stolen goods online and the Combatting Organized Retail Crime Act will increase federal coordination to fight crime.

Join NRF in calling on Congress to address retail crime by participating in our grassroots campaign.