San Francisco's Progressive DA
Recalled Amid Crime Surge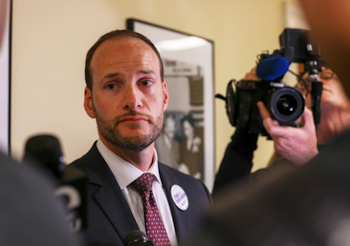 Voters in San Francisco topple the city's progressive district attorney, Chesa Boudin

San Francisco Police Officers Association labeled Mr. Boudin the "#1 choice of criminals & gang members."

Voters in San Francisco on Tuesday put an end to one of the country's most pioneering experiments in criminal justice reform, ousting a district attorney who eliminated cash bail, vowed to hold police accountable and worked to reduce the number of people sent to prison.

Chesa Boudin, the progressive district attorney, was removed after two and a half years in office, according to The Associated Press, in a vote that is set to reverberate through Democratic politics nationwide as the party fine-tunes its messaging on crime before midterm elections that threaten to strip Democratic control over Congress.

Ultimately the election was a contest between progressive Democrats who saw Mr. Boudin as a key leader of a national movement to address mass incarceration and a backlash by more politically moderate San Franciscans - a coalition of Democrats, independents and Republicans - who grew agitated by persistent property crimes and open drug use during the pandemic. The backlash won.

Boudin will be removed from office 10 days after the Board of Supervisors formally accepts the election results. The city's more moderate mayor, London Breed, will choose his immediate replacement, and voters will elect a new district attorney in November.

The results capped off a furious debate over crime and criminal justice in San Francisco, with the two sides fighting over Boudin's approach to incarceration and rehabilitation and his leadership. As his supporters lauded his efforts to find alternatives to jails and prisons - which he said had failed the public for decades - his detractors slammed him as too permissive. sfchronicle.com nytimes.com

What Comes Next Now That Boudin Was Recalled?

Boudin Was Recalled - Now What?
Explainer: What Happens Next If DA Chesa Boudin Is Recalled
The Standard reached out to John Arntz, the director of the San Francisco Department of Elections, to get a better idea of what would happen if the recall succeeds, when Mayor London Breed would be allowed to appoint an interim DA and when an election would likely take place to appoint a permanent successor.

If DA Chesa Boudin is recalled, will he immediately be out of office?

No. If the recall measure passes, a vacancy in the DA's office would occur 10 days after the Board of Supervisors declares the election results. After each election for local offices or measures, the director of elections-aka Arntz-certifies the results and then provides the certified results to the clerk of the board. The clerk's office would then include an item for the board to declare the results on the next meeting agenda.

When is the soonest Mayor Breed would be able to appoint an interim district attorney?

If the recall measure passes, Breed can appoint someone to fill the vacancy no earlier than 10 days after the board declares the results.

If the recall of DA Boudin succeeds, will there be an election for the top prosecutor job this November?

Yes. If the recall measure is successful, two things happen: Mayor Breed appoints an interim DA and an election to fill the DA position will appear on the November ballot, Arntz said.

The interim DA would be prevented from running in November 2022 if Proposition C also passes on Tuesday. Whomever wins the November 2022 election would serve the remainder of the current term, which ends in January 2024.

The regularly scheduled election for the next DA term in San Francisco will occur in November 2023. Anyone would be eligible to appear on the ballot for the DA's office in November 2023. sfstandard.com

Who Will the SF Mayor Pick to Replace Boudin?

Short List of Possible DA Replacements
Who would replace S.F. District Attorney Chesa Boudin if he's recalled?


Unlike the recall effort against Gov. Gavin Newsom, voters won't get a say in Boudin's potential replacement. That power falls on Mayor London Breed, a moderate Democrat who has exchanged barbs with Boudin and other progressives over the city's criminal justice strategies.

Breed has declined to comment on whether she supports the recall against Boudin or who she is considering as a possible successor if Boudin is recalled, but here are a few names that could be on her short list.

Catherine Stefani: Stefani, one of the few moderate Democrats on San Francisco's Board of Supervisors, is believed to be a top contender because of her experience as a former prosecutor in Contra Costa County and her alliance with Breed.

Brooke Jenkins: Jenkins, a former homicide prosecutor under Boudin, is now perhaps the most prominent face of the recall campaign. Jenkins declined to say whether she would seek the top cop role, but said she'd like to return to the office eventually.

Nancy Tung: Tung, a veteran prosecutor who lost to Boudin in the 2019 election, announced at a March San Francisco NAACP meeting that she would again seek the top cop post if Boudin is recalled.

Joe Alioto Veronese: The son of former San Francisco supervisor and mayoral candidate Angela Alioto has already filed paperwork to run for district attorney in 2023. sfchronicle.com

What the Loss Means for the Progressive Prosecutor Movement in the U.S.

WSJ - 6/5/22: Progressive Prosecutor Movement Tested by Rising Crime and Angry Voters

San Francisco District Attorney Chesa Boudin and other prosecutors advancing progressive measures around the U.S. face electoral challenges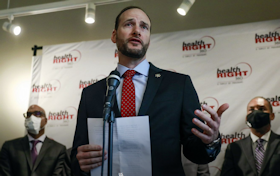 A successful recall of Mr. Boudin would mark a significant setback in what has been called the progressive prosecutor movement. Progressive prosecutors include the district attorneys of Los Angeles County; New York County, which encompasses Manhattan; Chicago's Cook County; and Philadelphia-all places where homicides went up during the pandemic and lockdowns. Homicides in the U.S. jumped nearly 30% in 2020 from 2019, the largest single-year increase ever recorded by the Federal Bureau of Investigation.

In just the past three weeks, candidates for district attorney with tough-on-crime messages in smaller counties have defeated progressive rivals in at least five elections in North Carolina, Oregon and Arkansas.

In Pennsylvania, legislation that would effectively bar a third term for Philadelphia District Attorney Larry Krasner, who has declined to file charges against people arrested for drug possession, cleared the Republican-led state House of Representatives in April with votes from several Democrats.

Groups allied with police unions and largely funded by business leaders have gathered tens of thousands of signatures in Los Angeles, Northern Virginia and Colorado to unseat prosecutors changing longstanding practices.

Los Angeles County District Attorney George Gascón is one recall target. wsj.com

Which Progressive DA Will Be Next?

Will LA's Progressive DA Be Recalled Next?
As Chesa Boudin faces recall, LA deputy DA warns George Gascon 'you're next'
A Los Angeles deputy district attorney predicted that San Francisco DA Chesa Boudin will be recalled Tuesday and that his own boss will be next.

"I think tomorrow Boudin is going to be recalled, and what I want to tell everybody and tell [Los Angeles DA] George Gascon is, you're next," Hatami told Fox News. "The people of Los Angeles have had enough."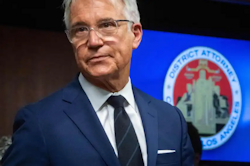 Gascon is facing his second recall attempt since taking office in December 2020, when he immediately implemented a series of progressive reforms, including not seeking cash bail or the death penalty. His opponents have blamed him for the region's crime surge.

"I think that people need to realize that the way the situation is going, the best thing for everybody here in Los Angeles is to recall George Gascon and get him out of office," Hatami said. "Even if you want some of the reforms that he wants to implement, I still believe that it's better to get him out."

A 2021 recall attempt failed to gather enough signatures by the filing deadline to go to a vote. The Recall George Gascon campaign said it had collected 500,000 signatures as of Monday, meaning 67,000 more are needed from registered voters by the July 6 deadline to put the recall question on a ballot. foxnews.com

Continue following the D&D Daily for coverage of America's crime surge & the progressive DA backlash

---