Mid-Year & Q2 2019 LP/AP Internet Jobs Report
Posted Jobs Up 33% Over 2018 - Up 15% Over 2015
The best job market in five years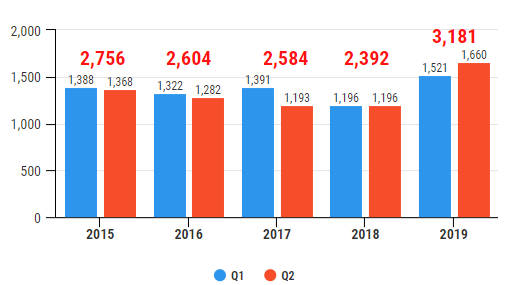 Mid-Year 2019
Up 33% from Mid-Year 2018
Up 15% - 425 jobs since 2015

Quarter 2 2019
Up 39% from Q2 2018
Up 21% - 292 jobs since 2015
Editor's Note: Over the last five years we've seen a somewhat steady market slightly decreasing up to 2018 with a big jump this year of 33% and Q2's jump of 39% being the strongest job growth quarter for LP/AP in years. The causal factors: obviously the reported increased shoplifting and increased violence.

Each day, the Daily scours the web for new LP/AP job postings, capturing the latest postings every 24 hours. Our "Daily Internet Jobs" section reflects single-unit, district, and regional positions.
Q2 and Mid-Year Comparison: LP Internet Jobs

Mid Year

2019: 3,181 jobs
Up 33% from '18

2018: 2,392 jobs
Down 7% from '17

2017: 2,584 jobs
Down 1% from '16

2016: 2,604 jobs
Down 5.5% from '15

2015: 2,756 jobs

Quarter 2

2019: 1,660 jobs
Up 39% from '18

2018: 1,196 jobs
Up .25% from '17

2017: 1,193 jobs
Down 7% from '16

2016: 1,282 jobs
Down 6% from '15

2015: 1,368 jobs

Copyright: We reserve the rights to this industry exclusive report and do not authorize its republication or reproduction without written consent which may include a fee. By re-publishing or reproducing this report or any parts of it without authorization the party agrees to pay a fee determined by the D&D Daily.
---

Share on Facebook

Share on Twitter

Share on LinkedIn

---
NuTech National

Sponsor of the D&D Daily's Featured Jobs Columns
Thanks NuTech National for making these columns and report possible.
Hey LP and AP Execs - Thank NuTech National!